Add hues and shades to your everyday make up with these unicorn make up ideas suitable for thematic events and other occasions. Easy to apply, use your imagination to use different shades in patterns to create this effect. Brows groomed like a masterpiece of artistic portrait, and filled in is a stunning color palette of rainbow, glitter, or monochrome color from the magical unicorn palette.
Party Unicorn Make Up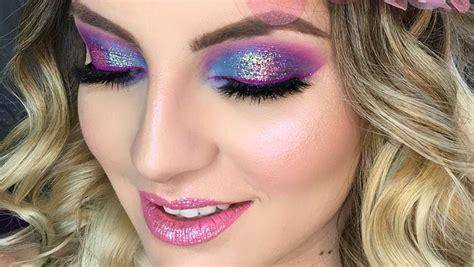 Throw in some colors and shades to your blitzy or matte attire with unicorn make up. Color palette bright in cream or matte is your choice. Alighting from the world of fantasy tasting the potions of magic leaving your mind and heart in a realm of sweetness. Usher the mythical side of you. No, bella, not everyone is going to welcome it. Wear it with a beautiful smile and happiness anyway, for it's just for a day.
Seriously though, do away with the unicorn horn if you will unless you are attending Halloween. But then again, what is the unicorn doing at the gothic theme party? breaking all rules in dulcet sweetness? Use glitter, crystal embellishments, colorful eyeshadow, color your hair in lavender and pink, or just choose parts of the contour of your face in these shades. It's up to you how dramatic or realistic you want to be choosing the unicorn make up ideas.
The Glitter Eye Unicorn Make Up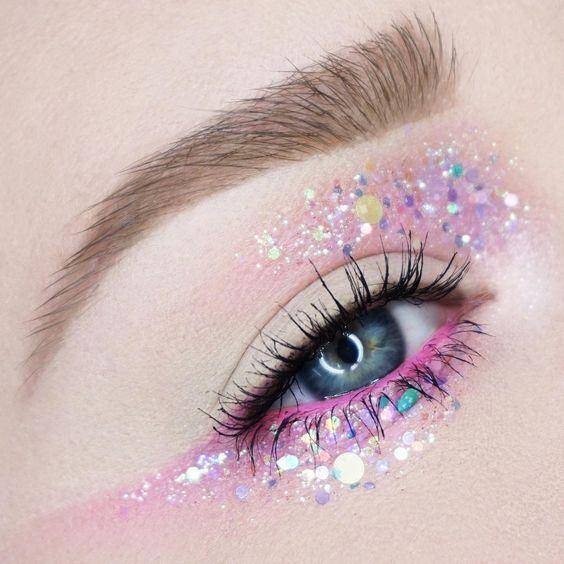 Go subtle, if you want to leave drama for any other day and be happy beaming in your fairytale world. A bit of glitter and subtle throw of eye shadow is what you need to get this look.
Suitable for all ages. A toddler, young, middle-aged, or older women, this is your best bet. Get more applause and awe that you carry it so well in your fantasy world looking real and beautiful. You don't need a tutorial to get this look, do you? It's that easy.
When The Drama Unfolds And Spreads Fairy Dust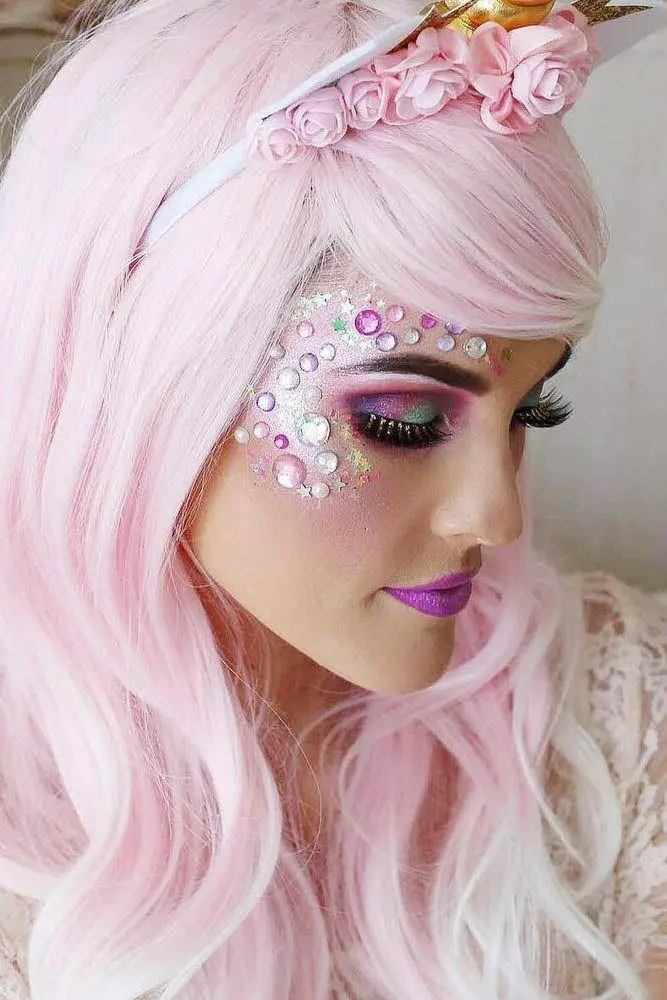 Once upon a time stories with fairies, guardian angels, unicorns, and more mystic and the other world creatures with potions of magic that add merry to your life. An easy tutorial to create the unicorn horn and a nice way to do the unicorn make up with minimal use of the highlighter.
How To Do Unicorn Make Up Mini Tutorial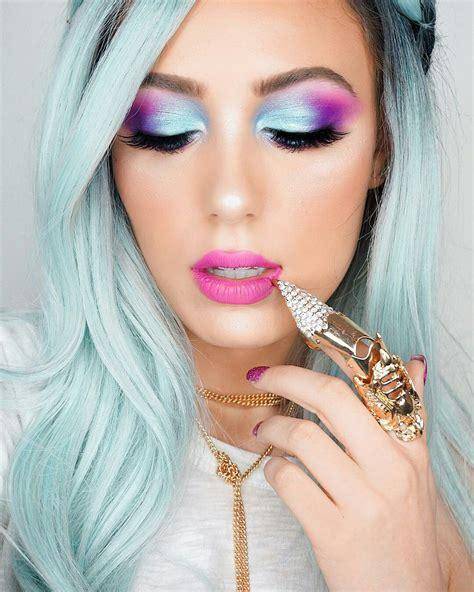 Unicorn make up is easy to apply in these few steps. Get started with cleansing before you apply foundation and concealer. Use foundation that has salicylic acid as it boosts the suppleness of the skin eliminating acne and blemishes. Mineral foundations are the best and work well for all skin types as they are chemical-free.
Dab primer and foundation to create a base.
Use a concealer to cover blemishes and under-eye dark circles
Evenly apply with fingers to cover the area and eliminate botches
Use color eye pencils in the shades of turquoise, lavender, pink
Create a base applying these shades in patches
Blend them with the brush
Use a powder based eye shadow of the same shades and blend well
Ensure you have shaped your eyebrows before you get started. Use brow gel and brow powder to make the eyebrows look fuller. Viola! This is an easy tutorial to get started. To add drama use highlighters, glitter, and pearl contouring to get the iridescent look. Use colorful lines, rhinestones to add more drama to the look.
Fairy Unicorn Make Up Ideas
The Elysian fairies full of harmony and sweetness, is a theme to make you feel good for a day. These are fairy unicorn make up ideas suitable for younger and middle aged women. Choosing a small size of embellished unicorn horn set inside the tiara gives you the look of a fairy from the unicorn land dressed in tulle, pastels, and soft fabrics.
Unicorn Make Up And Outfits For Kids
Kids look cutest and adorable in unicorn make up. Dress them up for birthday and theme parties in this make up and outfit. Use chemical-free colors and have fun creating a fantasy theme they love.
Unicorn Make Up For Brides From The Other Worlds
Its your day, and if you get to do the bridal your way, every moment is going to be blissfully spent in your fairytale like wedding set up. Hair in rainbow colors, rhinestones, tiaras, and glitter. Three or four elements do the magic of creating a fairy-like bride outfit for it is your day to feel out of the world.
Conclusion
Unicorns, Pegasus, and mystical fantasy creatures reminds us of the bliss of the other worlds of the cosmos filled with dulcet emotions and purity. For the soul is pure as an angel. These are the unicorn make up ideas to dress yourself up for a day and have a different beat to your otherwise realistic and pragmatic life! Throw in some magic and feel the universe singing in unison in your events and celebrations.