Since October is arriving, the special occasion is on its way. It's none other than Halloween, for which everyone is waiting for. So, have you started browsing for Halloween costumes for yourself and your better half? If yes, then you are in the right place.
But this time, why not do something else? I mean that instead of going for cute or matching Halloween outfits, let's try out a horrifying costume that will frighten adults or children and would be fun.
So, in this article, we have provided you with some best scary couple Halloween costumes that no one would be able to deal with!
10 Best Scary Couple Halloween Costumes
1- Ghostly Bride and Groom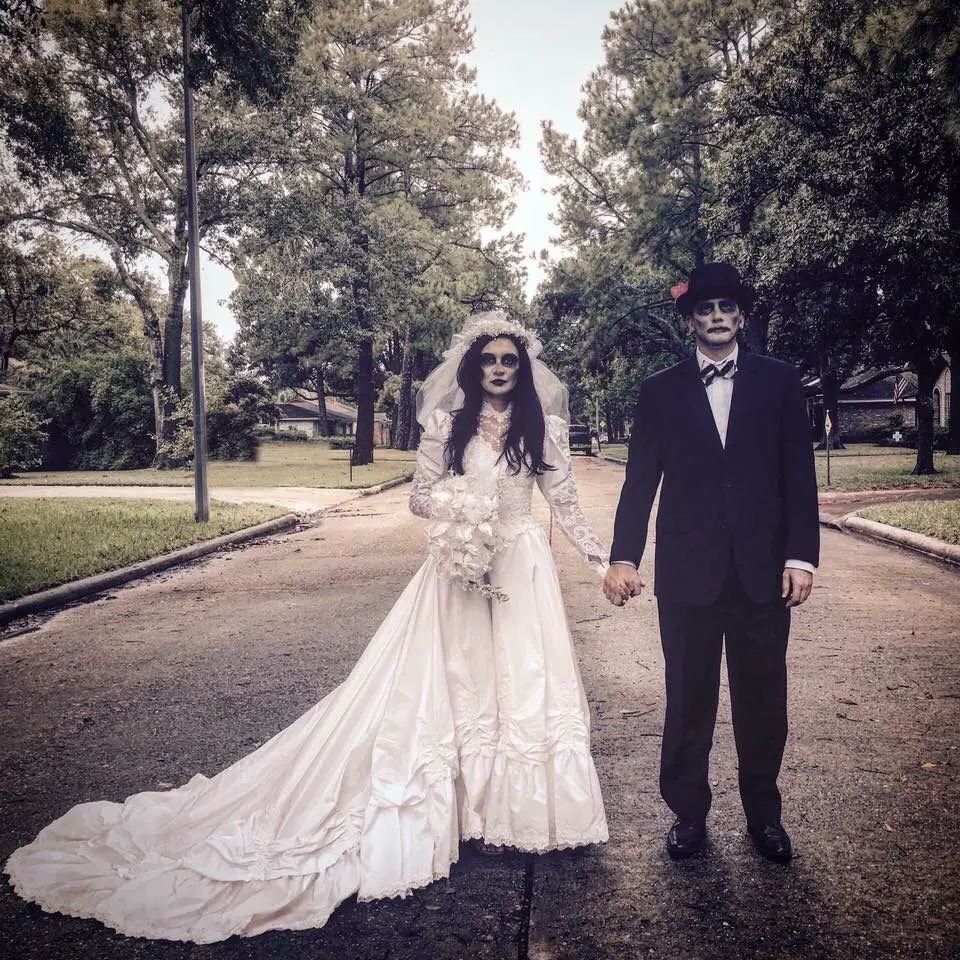 This scary couple Halloween costume is especially for newly married couples or those soon to get married. This is a great opportunity for married couples to relive their auspicious wedding day again this Halloween.
But instead of being a simple bride and groom, transform your look into a ghostly bride and groom. This would be quite frightening yet so exciting that you will tie the knot once again at the Halloween party in a different way.
2- Terrifying Clown Couple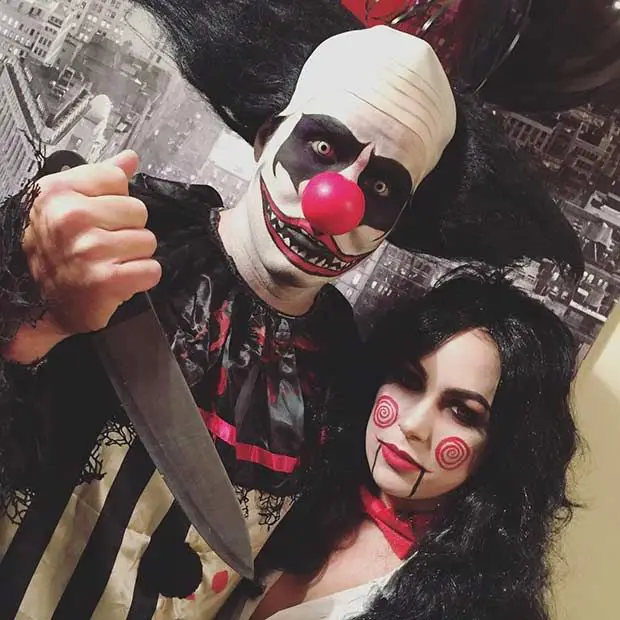 If you want to frighten everyone this Halloween, this scary couple Halloween costume is for you. We all know that a clown is just the perfect Halloween costume, and it would be perfect if you celebrated this Halloween with your partner.
Just dress as a killer clown and get ready to scare your friends or family during the day with this costume.
3-Chucky Couple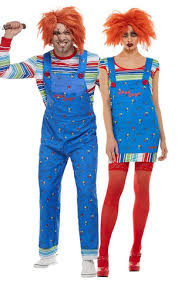 Dressing up like a cute doll is quite common nowadays. We all used to do this as kids. So let's forget about barbies and Ken and think about Chucky as it is an amazing scary couple Halloween costume idea.
I know you would be wondering who Chucky is. Let me tell you that Chucky is a scary doll from the movie Child's Play. One Chucky itself is very creepy and troublesome. If there were two chuckles, the trouble would also be doubled this Halloween.
4- Skullicious Couple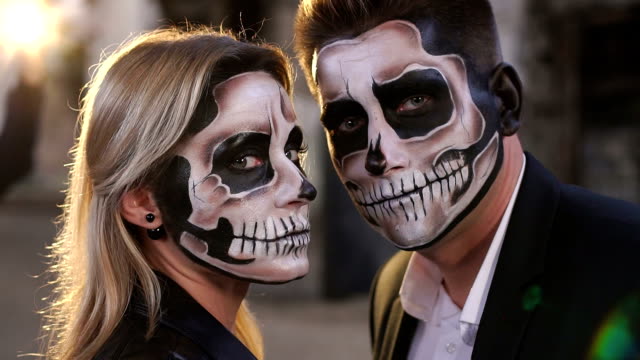 This scary couple Halloween costume idea is great for couples who want to memorize the ones who are no longer here. So, let's do something different this Halloween.
To all the ladies out there, pick up the most floral costume you will ever get, and men can go for a black suit. Get your faces painted as scary skulls to frighten those cute kids this Halloween. This costume is constantly gaining popularity on every occasion so go for it.
5- Mr. and Mrs. Jigsaw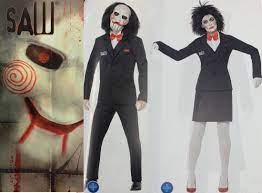 This one is the terrifying scary couple Halloween costume that comes to mind whenever I think of the Halloween film SAW. This film is based on a twisted puppet who tortures his victims.
So, don't you think this would be a perfect costume this Halloween, as there would not be just one but two puppets? So, pair up with your partner and get ready to spark this Halloween night with terror.
6- Storybook Couple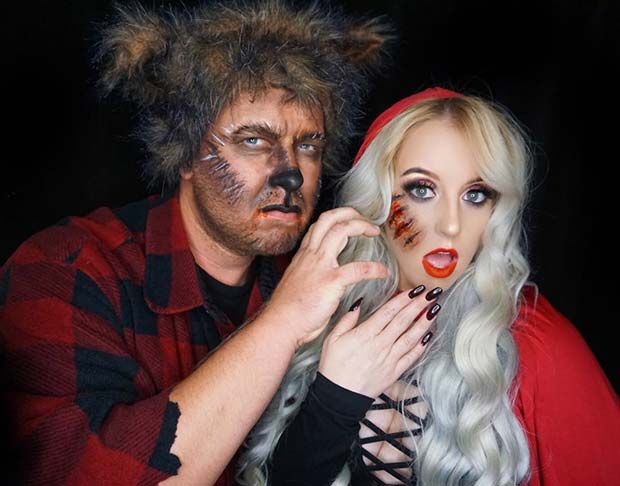 We all have heard of Red Riding Hood, who looks for her grandmother through the woods. This Halloween, why not dress as Red Riding Hood, who becomes a bad girl and is not frightened by the bad wolf?
Rest Riding Hood and bad wolf make up a scary couple's Halloween costume. Moreover, you can Little drops of blood to your costume to make your appearance more terrifying this Halloween.
7- Religious Devotees
Nuns, priests, or popes never look terrifying as they are religious people but since Halloween is arriving, let's transform the look of these people into something new.
Ladies can dress like scary nuns, and men can go for an undead pope. Paint your scary face and make yourself look frightening. Now stand behind every single guest and wait until they turn. You will laugh all night long. So, go for this scary Couple Halloween costume for fun.
8- The Devil Doctors
This scary couple's Halloween costume idea includes a doctor and a nurse working all day to serve their patients. They are the real heroes of our nation. But for just one day, let's transfer these classic characters into frightening ones.
Couples must add a lot of fake blood to their costumes to look scary. Also, hold a needle or knife in your hand and get ready to cause trouble this Halloween.
9- Blood Thirsty Vampires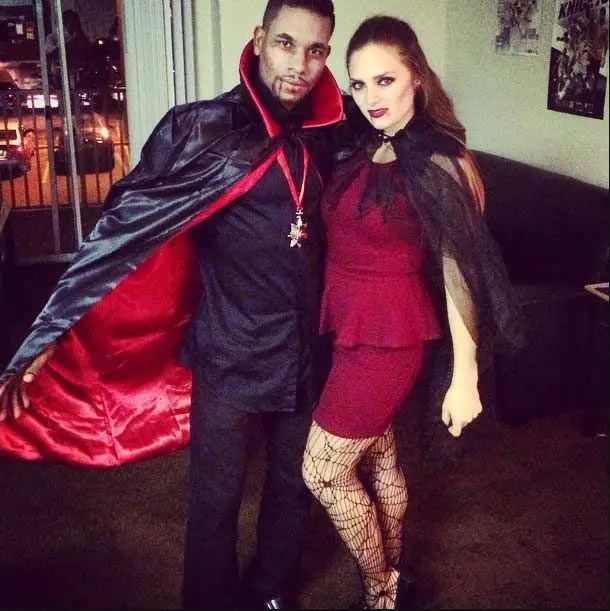 Another scary couple's Halloween costume idea is to dress up like vampires. Vampires love to suck the blood of humans and scare them in the extreme dark. 
So, this Halloween, dress up as vampires with your partner to cause trouble to the people the entire night. Be a combination of scary and sexy both. To dress like a vampire, you need to add vampire fangs, horrible-looking teeth, and some fake blood, and it's done.
10- Nightmare CoCouple

interest

The film nightmare inspires the last scary couple's Halloween costume before Christmas. Dressing up like its two characters, Skellington and Sally, would be the superhit couple this Halloween.

Men dressing up like Skellington need to cover their faces with a terrible-looking mask or a skeleton and wear a white sleeveless shirt, black jacket, pants, and white gloves. At the same time, ladies dressing up like Sally must wear a horrible-looking dress with a golden brown wig and gloves with no fingers. Now, get ready to scare people this Halloween as a nightmare couple.
Cessation | Scary Couple Halloween Costumes
Scary costumes are a DIY thing, so you will not face any difficulty. So forget about all the cute or sexy costumes and try something bold and scary this Halloween. So, I hope this article helped you to get some scary costume ideas for you and your partner. You can choose any of the costume ideas provided above and brace yourselves for this Halloween for fun, or if you have any more innovative ideas, feel free to drop them in the comments section below. You can also check Halloween decor ideas on our site.