Knotless Box Braids are everything that you may be looking for in a protective hairstyle. This hairstyle has been trending in the beauty world and for a very valid reason. It is effortlessly protective, versatile, and super easy to style causing less damage to your hair than the traditional style box braids. Let us tell you beforehand that, knotless box braids are here to stay for a long time.
If protective hairstyles are your skill, then it is very likely that you must have heard about knotless box braids. It is simple and low maintenance, lightweight, low tension, and is very manageable which ultimately makes this braid a standout in protective hairstyles. It is preferable by many women, especially if they are looking for hair growth and not damage. This hairstyle is also a great way to give your tresses a break that too with so much style.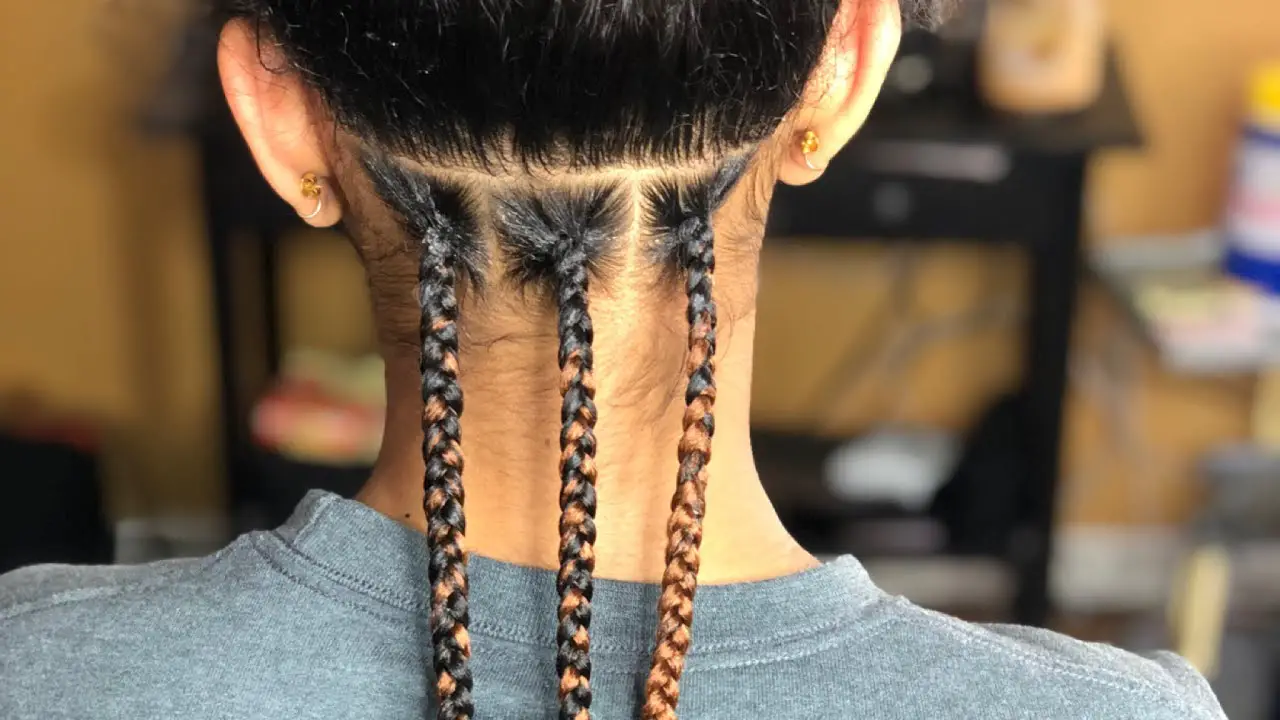 In a variation of box braids, knotless box braids do not put tension on your scalp with an anchor knot. Instead, your hairstylist will moderately weave the braiding hair with your natural strands which will give a seamless finish that will not destroy your edges or cause any breakage.
Knotless Box Braids are also a great way to show your creativity and free spirit. It is not only an amazing way to style your natural and gorgeous hair but also it is a way in which we can erase years of trauma that Black Women have experienced after getting braids.
Hope you are ready to take your braid game to the next level. In this article, we will tell you a detailed overview of everything that you need to know about knotless box braids. So let us jump right in!
What Is Knotless Box Braids?
Knotless Box Braids are box braids done essentially with a modern technique to install them without the traditional association of causing pain at the root of the install. It starts with your natural hair as extensions are fed in as your braid. It has a very natural finish look and is seamless from your roots and you can even tell where your hair starts or finishes. This hairstyle keeps your edge protected due to the less tension caused on your scalp and hair.
Knotless box braid does not include the small knot which starts from the root of the traditional box braids. They are traditional three-strand braid, which like a box braid divides your hair into square parts. This knot is used to attach braiding hair, traditionally but this hairstyle is created with a free in braid technique, which involves adding small amounts of your braided hair to your natural hair as you go. The outcome of which is that your braids are not so heavy on your scalp, which ultimately helps to minimize your hair breakage.
Knotless box braid is the hairstyle that you have wanted for a long time. It is a perfect stand-out for protective hairstyling which is easy to manage, lightweight, low tension, and has a very natural finish. The tension-free aspect of the hairstyle is the key reason that the modern take on knotless box braids is having so much success.
How Much Do Knotless Box Braids Cost?
There are a lot of factors that can affect the cost of knotless box braids. It depends on the length and thickness of the braid itself and also on the skill and location of your professional hairstylist.
The price can start from anywhere from $150 to $600. Long braids are at the higher end of the price range. Medium-length knotless box braid costs somewhere between $250. Installation of the knotless box braid can take up to a good four to seven hours.
Keep in mind that the factors of the cost of knotless box braid depend on the time factor, skill, expertise, length, technique, and size
Is It Possible To Do DIY Knotless Box Braids?
Well, many people are of the opinion that it is highly recommended to get done the knotless box braid with an experienced and professional stylist. But what if that we can tell you that you can get done a knotless box braid with just a DIY! Sounds about right? Right? Especially after you have got to know about its installation cost.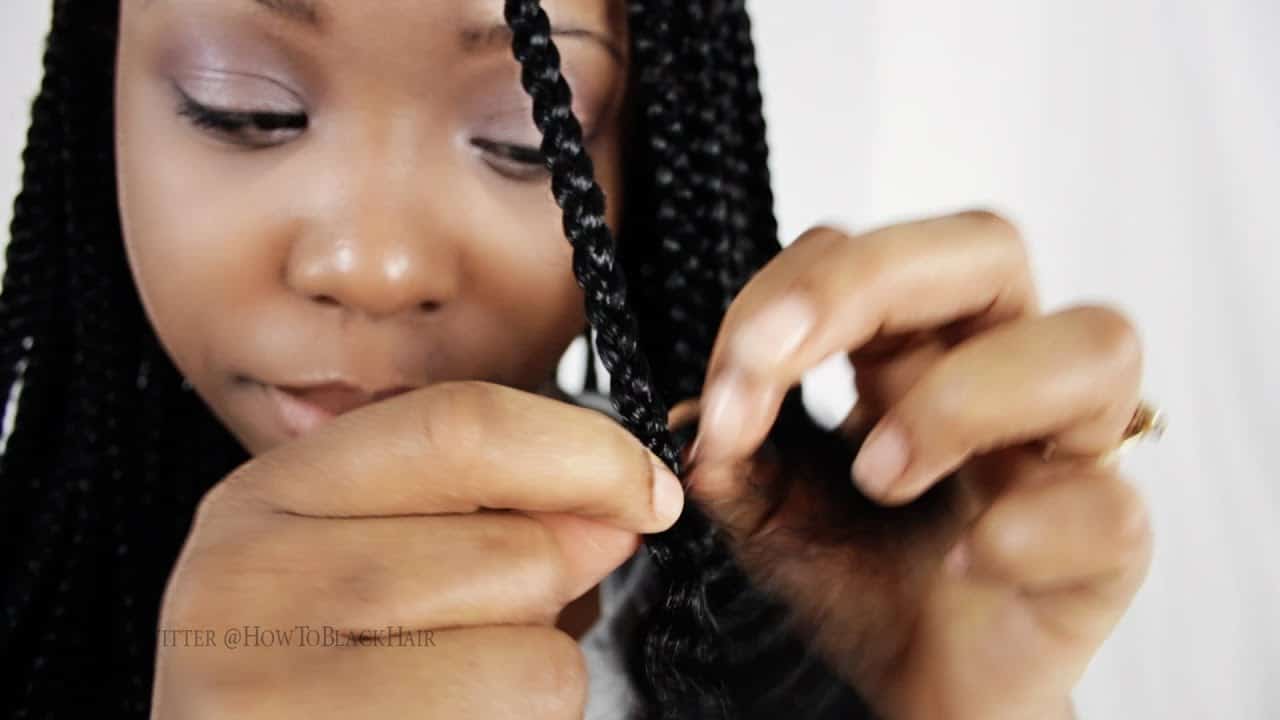 However, you should also be informed about the fact that a professional braider will ensure that the measurement of boxes is tailored to your crown. Talking about the long run, going to a professional will not only reduce hair breakage but also save your money on DIY supplies.
Yes, it is possible to do a DIY Knotless Box Braid but you can also look for a professional braider to get done the knotless box braid if you will to.
How To Do Knotless Box Braids? (step by step)
Now that you have knowledge about what knotless box braids are, whether you can DIY knotless box braid, and the installation cost, it's time to let you learn how to do knotless box braids. If you are someone who wants to do the knotless box braid at home then this is for you. Follow the step-by-step guide on how to do the knotless box braid effortlessly and with ease:-
Step 1: PREPARE YOUR STRANDS
You should kickstart with freshly cleaned, washed, and conditioned hair strands before you start styling your hair into any braided look, here it is the knotless box braid. To start things off on the right note, you need to provide your hair with long-lasting moisture as it is going to get braided. It is advisable to use a moisture-laden shampoo of any good quality and reputable brand.
Step 2: DETANGLE YOUR HAIR
The next thing you need to do is to detangle your hair. You will want to free your hair from any tangles and knots. Try using a wooden wide comb to detangle your hair from the end up to the root. Use a shampoo that adds moisture which makes this process much easier and faster.
Step 3: BLOW DRY YOUR STRANDS
Once your hair is free from all the knots and tangles, it is time for you to blow dry your hair. Also, you need to make sure that you should use a heat protectant to protect your hair from heat damage which leads to hair breakage.
Step 4: PART YOUR HAIR
Next, you need to divide your hair into four sections. Use a large clip to pin three of the sections out of your way for a while so that you can braid a specific section of hair properly and then move onto the next set.
Step 5: APPLY A HAIR CREAM
Now it is time to give your hair a bit more moisture before you braid them, to protect your hair for the duration of wearing your knotless box braids. Apply a moisturizing and nourishing hair cream to your strands, showing some extra love to your ends.
Step 6: CRAFT YOUR KNOTLESS BOX BRAID
Part your hair using a rattail comb to create a one-inch piece in a box shape or if you prefer, in a triangular shape. Use hair gel on the roots of the section of your hair, so that it can be in one place. Similarly, like feed-in-braids, split the section into three strands and knit your braid. After braiding it three times, add a new piece of your hair as you work your way down. Once you reach the end, then secure it with a hair tie.
Step 7: MIST YOUR BRAID WITH A HOLDING SPRAY
Mist your braid with a holding spray onto your braid from the roots to your ends, after the braid is complete. It will help your braid from unraveling.
Step 8: REPEAT THE PROCESS
Repeat the process of braiding on the remaining sections of your hair until you get a mane full of knotless box braids.
Step 9: APPLY HAIR MOUSSE
Take an egg-sized amount of hair mousse and apply it to your braid from the roots to the ends for a long-lasting and extra bold look.
Step 10: THE FINAL TOUCH
Once the mousse is fully absorbed in your braids, to give an additional and final touch, use a mist of a shine-boosting hairspray which will give your braids a natural shine.
Also Raed: Ways To Make Your Two Strand Twists Look Beautiful
How To Maintain Your Knotless Box Braids?
Now, you must be proud and flattered of having knotless box braids but what about after getting it done. You need to maintain your box braid just like any other protective style. You can follow the step given below to keep you knotless box braid in a proper shape:-
Oil Your Scalp Once A Week– It is important to keep your hair hydrated. Even if you have taken the necessary steps before to provide your hair with moisture, your strands need more hydration. Use your favorite oil on your hair once a week.
Protect Your Braids At Night– Make sure you tie up your hair at night before sleeping. Most of your hair is exposed even after being intervened with the extensions so you will definitely want to take the necessary precautions. Cover your hair with a bonnet or a scarf so that it protects your hair from frizz, after all, you do not want so much of your hard work to get wasted. Tie your hair with a silk scarf, pillowcase, and bonnet. Sleeping on a silk pillowcase will preserve your hair.
Take Down Your Braid At The Right Time– After six to eight weeks, it is time for you to take down your braids. Be careful while doing so as doing it inappropriately can lead to hair breakage. So, do it carefully and take it down at the right time.
How Long Does Knotless Box Braids Last?
Knotless box braids can last up to six to eight weeks totally depending on how well you take care of them. With salon maintenance too, it can last up to 2-3 months. The most sensitive part of your hair is the edges to clean your scalp. The length of the time varies on how well you take care of your hair.
It is more or less not about how long the knotless box braids can last up to but about the significant timeframe a person should keep them installed. Six to eight weeks is the maximum timeframe because if you keep your hairstyle for longer you will start neglecting your own hair. The maintenance and the texture of your hair is also a factor that will determine for how long you will keep the braids.
Which Knotless Box Braid Size Is Right For You?
The size ranges from jumbo to tiny braids. For first-timers, it is recommended to go for medium knotless box braids as it is less of your hair and more of a quicker turn around in the chair. If you are someone who wants to take advantage of a protective style, then you should go for smaller braids. It gives you a fuller look, is versatile, and lasts longer.
What Is The Difference Between Knotless Box Braids And Box Braids?
Knotless box braids are a traditional variation of box braids. It is a tension-less and painless variety of the box braids, where the braids are started with using your hair unlike in box braids where the formation of a knot is first.
The knotless box braids are knot-free making the braiding experience more pleasurable and painless, unlike box braids which are not knot-free. In a box braid, a knot is tightly used to secure the braid to your hair. But in knotless box braids, you use your hair to start the braid and then gradually feed in the braiding hair as moving ahead.
10 Knotless Box Braid Hairstyles
SHORT KNOTLESS BRAIDS-

For ladies who want to stand out from the crowd with low maintenance but still want to look pretty, short knotless box braids are an ideal option. They can look great at any length if done properly. You can even have your hairstylist add hair color to give it more of a personal touch. Short braids also weigh less giving no tension to your scalp.

JUMBO KNOTLESS BRAIDS-

Jumbo knotless braids have a very casual vibe that matches with free-spirited women, thus, making it an ideal choice for them. Though its name is 'jumbo' it takes less time to finish than small braids as they have few sections. They are a very good option for those who do not want to spend hours in the salon.

OMBRE KNOTLESS BRAIDS-

The term ombre refers to how a hair colorist dyes your hair, positioning the highlights and lowlights so that a multi-dimensional shaded effect is formed. They will interweave lighter and darker braiding hair giving you a very personalized and unique result. They are a great choice if you want to adapt them to suit your face shape.

KNOTLESS PASSION BRAIDS-

Knotless passion braids are the version of box braids that have passion twists. They are suitable for women who want that messy hair feeling at the same time keeping it neat. They look amazing on any face cut or shape.

KNOTLESS BRAIDS UPDO-

This style of braid does not give tension to your scalp as knotless box braids are ideal for an updo. To create this updo you will need your hair to be at a certain length. They are relatively easy and quick to style. All you need to do is secure your braids into a high ponytail then twist sections according to the shapes you want. It is a perfect hairstyle for a formal day or everyday wear.

BLONDE BOB KNOTLESS BRAIDS-

If you are a person who does not like long braids then the blonde bob knotless braid is for you. It is a very stylish look giving you a stunning appearance.

BOHEMIAN KNOTLESS BRAIDS-

This knotless braid has a very beachy vibe, keeping you very breezy and carefree. There are no specific rules when it comes to this braid. Uniqueness and unstructured- this is what this style is all about.

KNOTLESS GODDESS BOX BRAIDS-

Knotless box braids have a very classic and feminine feeling of goddess braids. They are thick and smooth leaving behind carefree and queen vibes. This knotless box braid is more bohemian.

KNOTLESS BRAIDS WITH CURLY ENDS-

This version of the knotless box braids is trending. Braids that have curly ends are suitable for any informal events. It suits any face shape or cut. Women who love curls are going to adore this knotless braid. It has a very unique and eye-catching finish.

WAIST-LENGTH KNOTLESS BRAIDS-

It has a very feminine appeal. They are versatile and you can get as creative as you want with them. If you want to be a show-stopper then this hairstyle is for you.
Knotless Box Braids Pros
Some pros of having knotless box braids are as follows:-
Knotless box braids last longer than traditional box braids.

They are lightweight and make your hair flow naturally.

No knot in the knotless box braids makes it painless unlike in traditional box braids where your hair is secured tightly making it painful.

Knotless box braids cause no tension to your scalp.

They have a more natural look.

A knotless box braid is a protective hairstyle.

It is very manageable, low maintenance, and simple.
Knotless Box Braids Cons
Few cons of having knotless box braids are as follows:-
It takes longer to make a knotless box braid than a box braid, also depending on the length of your hair.

Knotless box braids are more expensive as compared to box braids. Thus, not many desirable can choose to afford this if they are looking for a professional stylist.
Takeaway
By now you must have learned a lot about knotless box braids and everything related to it. You must have a clear picture about whether you want to get the knotless box braid done or not. The important factors that we discussed in knotless box braids must have catered to your knowledge!