There are worse things in life, but let's face it: a bad hair day may make you irritable. Whether you have frizzies, fine hair, dry hair, or just haven't had a chance to wash your hair, having a misbehaving crowning glory may ruin even the finest of occasions.
But, before you go for that baseball cap — or, even worse, those sewing shears — consider this: You can turn bad hair day into, well, stylistically acceptable days with considerably less work than you think.
What is the best place to begin? It all begins with a nice haircut.
Get the best haircut you can afford because the cut determines how easy your hair will be to style in the end." And a good one can go a long way toward preventing a bad hair day.
Hair naturally behaves better under all circumstances and is more likely to do what you want it to do when the cut is good.
Maintenance cuts should be done every six to eight weeks to keep it cooperating. It's crucial to keep your hair in good shape, especially if it's layered. Your style will be weighted down if it gets too long, so you won't have the bounce and body you had when the cut was new.
Use a shampoo that is appropriate for your hair type and scalp condition in between cuts.
Use a volumizing shampoo and conditioner if your hair is fine and limp. The new technologies can give your hair a lot of body and make a big difference in terms of styling. Other products, such as his own "hair flicker, thicken hair on the spot, giving it a fuller appearance and requiring less styling effort.
If your hair is damaged, find the most expensive salon-quality shampoo and conditioner you can. Make sure to include a leave-in conditioner in your hair care routine.
Why You're Having a Bad Hair Day?
Blame it on the rain
Humidity kills hair almost instantly, even if you don't realize it. Regardless of your hair type, it's an almost universal cause for frizzy or unruly locks. Even people who aren't prone to frizzy hair may experience dry, uncontrollable fluffy ends during periods of excessive humidity. Although moisture-laden air can cause terrible hair days on its own, the combination of humidity and other dynamics is often to blame for the unpleasant frizzy or limp and undesirable results.
Humidity can make bad hair day and makes your hair frizzy and full of flyaways if you have curly hair, and it can make it frizzy and full of flyaways if you have straight hair. Regardless, the higher the humidity, the more you should consider using a wax-based treatment, which will maintain your hair as close to normal as possible, regardless of the amount of moisture in the air.
One of the most evident factors affecting your strands is weather prediction. "Dry air in the winter can cause frizz, but more humid seasons encourage more curl or bounce," explains the expert "Tyson Kennedy, the founder of Fatboy and Cutler Brooklyn, is a hairstylist.
If you know your hair is weather-sensitive, customize your products accordingly. "In the winter, apply a rich, hydrating conditioner on your ends while using a product like a dry texture spray to improve volume and fullness in the roots," Kennedy advises. "Embrace the curl rather than fighting it during humid seasons by using a product like Fatboy Sea Salt Pomade to give you a natural, beachy look.
You shampoo far too frequently
You should not wash your hair every day, a bigger reason for having a bad hair day, regardless of how clean it seems. Washing your hair too frequently depletes your hair of crucial nutrients and oils. Those nutrients and oils are what give your hair an amazing appearance. Washing your hair too frequently exposes your tresses to more bad hair days.
Washing your hair every day, according to senior stylist Luke Kalat of Seagull Salon in New York, stimulates oil production, which can offset the clean feeling of shampooing and leave your hair looking oily and thus a bad hair day. Kalat suggests shampooing twice a week.
Your scalp will adjust after approximately a month and produce less oil. If you work out every day, washing your clothes twice a week could seem like a poor idea. Oil, on the other hand, can make thin hair look even thinner. Instead of shampooing every time you wash, I recommend rinsing your hair completely with warm water and massaging a light conditioner into your hair to break up oil and sweat.
Following this advice will allow you to keep a healthy level of natural oil on your scalp without too much grease buildup. To help combat a bad hair day, it's all about balance, just like everything else in life.
The temperature of Your Body
Your strands are just as affected by your internal thermostat as they are by the outside temperature. "Let's pretend you have fine hair and you're feeling a little hotter than usual. This may cause you to sweat more and increase the quantity of oil produced by your scalp, resulting in oilier hair than usual," says Sunnie Brook Jones of Head & Shoulders. She recommends bringing a travel-sized dry shampoo in your purse for touch-ups during the day.
If you're hot, tie your hair up in a loose bun to allow more air to circulate your neck, which will help you cool down. (Don't have time to shower? To remove grease from your bad hair day hair, try Captain Blankenship Mermaid Dry Shampoo, which is available at the Women's Health Boutique.)
The weather
One of the most evident factors affecting your strands is weather prediction. "Dry air in the winter can cause bad hair day, but more humid seasons encourage more curl or bounce," explains the expert "Tyson Kennedy, the founder of Fatboy and Cutler Brooklyn, who is a hairstylist.
If you know your hair is weather-sensitive, customize your products accordingly. "In the winter, apply a rich, hydrating conditioner on your ends while using a product like a dry texture spray to improve volume and fullness in the roots," Kennedy advises.
"Embrace the curl rather than fighting it during humid seasons by using a product like Fatboy Sea Salt Pomade to give you a natural, beachy look.
For far too long, you've been using the same shampoos and conditioners
If you've ever puzzled why your hair appears to be fresher and healthier after using a new shampoo and conditioner, only to find that your hair begins to dull after a few weeks of use, resulting in bad hair days, there's a simple explanation: The texture of your hair adjusts to the products you use over time.
After this, your hair reaches its pinnacle "excellent" style, if you will, and it's all downhill from there. There's an easy way to fix this: Change your shampoo and conditioner once a month or so to avoid poor hair days. Thus reducing the number of bad hair days you come across.
You'll notice a difference in your tresses, and you'll feel like you're refreshing yourself and your hair, which should make you feel fantastic.
Oh so you took a shower with extremely hot water
Who doesn't enjoy a hot shower first thing in the morning? They are, without a doubt, the best. The problem is that boiling water depletes hair of essential moisture: yes a bad hair day.
That means that, while the near-blistering heat may feel great, it's exacerbating the frizzy issue atop your head. Is that to say you'll have to take cold showers from now on? You won't be able to have your cake and eat it, thanks to a clever shower technique.
You messed up your wet hair just after a shower
Are you a fan of a good towel dry? Do you prefer combing damp hair to style it when it's dry? While these tasks may appear to be innocuous enough, they could be actively undermining your 'do.
Hair is most fragile while wet, seemingly innocuous chores like these (which stretch, strain, and induce unnecessary stress) increase the likelihood of frizz and breakage and bad hair day while also adding static electricity, making styling much more difficult down the road.
Turn a Bad Hair Day Into a Good One
Wouldn't it be great if you could have stunning, celeb-worthy hair every day? You certainly can! And it's a lot easier than you might believe (pinky promise). We asked the pros for these secret little tips that would instantly take any look to the next level of gorgeousness, with no drama. Spoiler alert: brushing your teeth and going to the gym can genuinely improve your hair and less bad hair days!
Before going to bed, use dry shampoo
Rachel Bodt, the senior colorist at Cutler Salon, recommends that misting your scalp with dry shampoo before bed to avoid a bad hair day, oily strands in the morning, and improve volume. Plus, you'll have more time to catch some Zzz's!
Make Your Pony More Cheerful
Double (or triple) up on hair ties to sharpen up your look! The extra fabric will lift your hair, giving it a fuller, higher look that you'll want to twirl around all day. Trust us!
With a toothbrush, you can get rid of flyaways
Anessa Daviero, the founder of Headdress Hair Salon, recommends spraying hairspray on a toothbrush and gently brushing in a downward motion to reduce flyaways. Just remember to use a different toothbrush from the one you use to brush your teeth. A quick to solve a bad hair day issue.
Alternatively, use a toothbrush to provide texture
Do you like boho, unkempt braids? (After all, who doesn't?) A toothbrush's small bristles are ideal for adding just enough texture to braids and updos. To get some purposeful fuzzies, gently move the toothbrush in little circles.
Make Yourself Shiny (Not Greasy)
Always massage a bit into your hands first, then push into the ends of your hair, and finally push the product up towards your roots when using any kind of shine product. Do you have a lot of merchandise on your hands? Use it to tame your brows or smooth it into your cuticles. Multitasking at its finest and a bad hair day at the lowest.
Give some wave
Sleep with two braids in your hair. Wrap face-framing strands and a few other random parts around a curling wand (try the Sultra Bombshell) as soon as you wake up, suggests NYC hairstylist Patrick Kyle. Voila! Ariel would be envious of your easy, breezy mermaid hair.
Fuzzy Your Bun
A little topknot is charming, but a big untidy bun makes a big impression. Pull your hair into a high pony, add a clip-on ponytail extension (like the RPZL Pony) that matches your hair, and wrap it around the base of your pony, pinning as you go to create a bigger impression in seconds.
Also Read: 5 Best Hacks to Use Rice Water for Hair
Short Hair or Pixie Cut? Tips for your bad hair day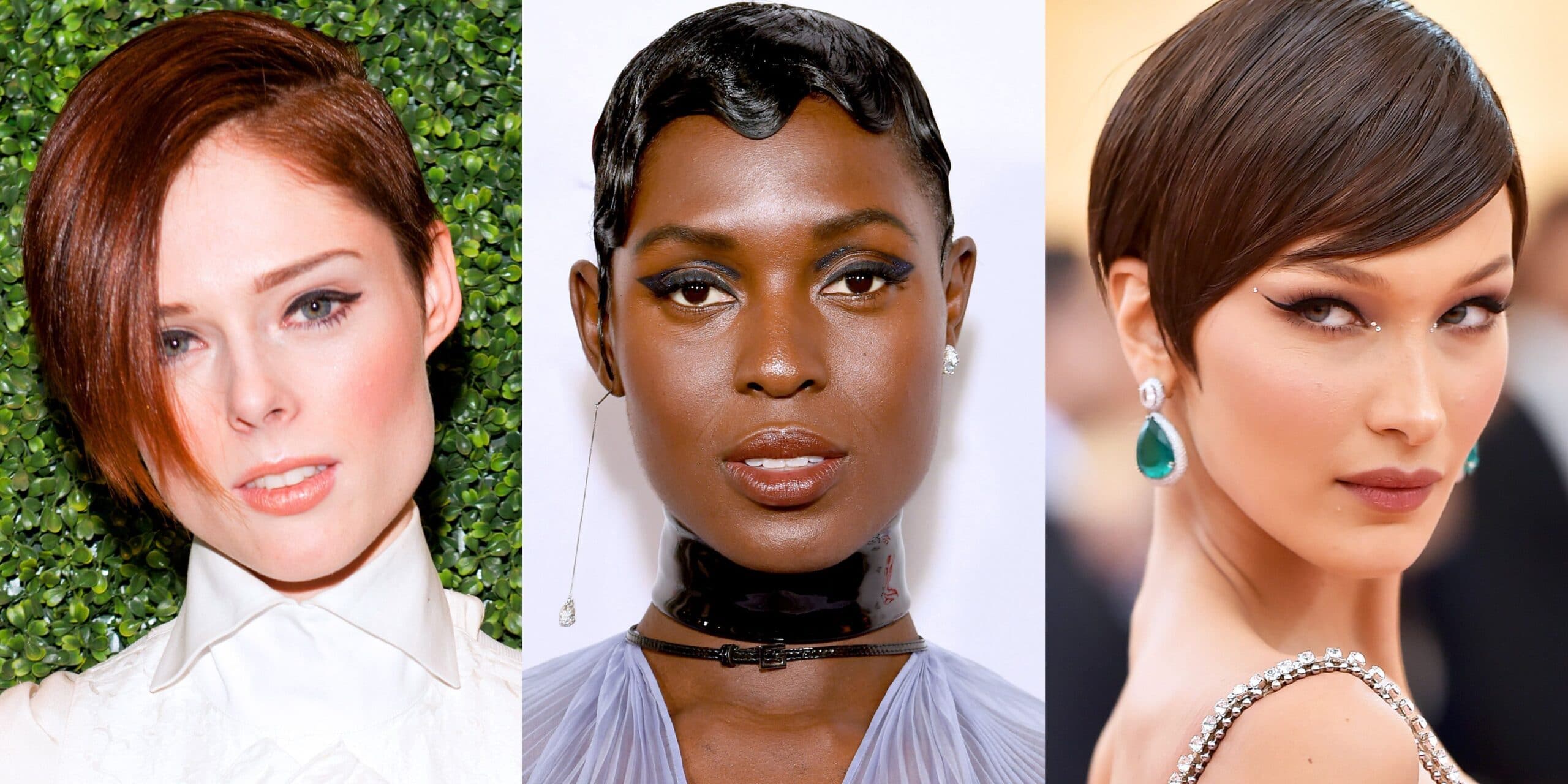 Growing out a pixie cut may be a significant hair struggle, with fresh wisps, bangs, cowlicks, and an ever-changing length. We spoke with professional hairstylists to learn how to style a pixie cut. Continue reading for ten pieces of advice on how to maintain your hair looking fantastic throughout the growing process.
Control and prevention
Reduce your chances of having a bad hair day, to begin with. All it needs is a few products and some planning. " To add some shine, use a moisturizing oil, then comb your hair in the direction you want it to go and let it air dry without touching it. Don't give it too much thought. If you like a more textured look, twisting your hair into random pieces to dry gives it volume and structure. Allow it to air dry and shake it out when it's almost done.
Hair Oil Fights Frizz and Adds Texture
Hair that doesn't seem quite right and looks like a bad hair day after air drying is frequently due to rough cuticles and flyaways. To control your growing strands and add shine, use hydrating oil. Comb your hair in the direction you want it to go after applying the oil, and then leave it to dry naturally without touching it. Don't give it too much thought."
If you like a more textured look, use a volumizing mousse-like, which adds fullness and structure to your hair before twisting it into random parts to dry. Allow it to air dry and shake it out when it's almost done.
Your savior is water
In the morning, taking a second shower — and giving your hair another chance to dry properly — is probably not an option. Furthermore, over-washing your hair can be harmful. Simply re-wet it instead. Fill a spritzer bottle halfway with water and evenly spray hair to get it damp but not soaked. Spray a sufficient amount of sea salt spray into damp hair and air dry for a loose, textured look – no heat or re-washing required, this quick trick will keep you away from a bad hair day!
Invest in a weather-proofing cream
Prepping your growing hair before heading outside, come sleet or rain in all its frizzy splendor, is crucial to keeping a good hair day from turning a bad hair day. A two-pronged approach, such as Oribe Impermeable Anti-Humidity Spray and a weather-proofing cream Smoothing Light Weight Weather Proof Cream, is your best bet.
First, while your hair is still moist, rub a dime-sized amount of weather-proofer through it. Mist the anti-humidity spray all over your hair after it has dried to keep the style in place and prevent flyaway. Taking both of these techniques will keep your hair frizz-free and bad hair day-free for up to 72 hours, regardless of the weather.
Layers should be included
If you're growing your hair out, you don't want to take off the bottom, but layers can help with the transition and bad hair day. Talk to your stylist about layering to give your hair more natural movement and energy. Layers allow for natural movement and flow, making them more forgiving and styleable even as they grow out.
The Use of Bobby Pins Can Make a Huge Difference
A stylish up-do would take someone with long hair hours to achieve, but you can make it in minutes. To create an overall style, twist your hair into little parts and fasten them with bobby pins and tiny clips. To add volume and dimension to your hair, tease it gently when you pin it, this is a quick tip if you feel your hair might turn a bad hair day for you.
Headbands and Scarves for Rock
Wearing a headband or scarf is an apparent, yet brilliant, answer to a tough bad hair day. You'll have a polished appearance with your bangs out of your face.
To add volume, use dry shampoo.
It's sometimes more difficult to style freshly shampooed hair than it is to tame slightly oily hair and a bad hair day. Dry shampoo is a great alternative to regular shampoo. Apply a couple of good sprays to your hair, then gently tousle it with your fingertips.
Your hair will have more volume and will stay in place once you've brushed it in the appropriate direction. For bouffant and faux hawk styles, dry shampoo is also a fantastic beginning point.
Return the slickness
Slicked-back short hair can look great in a way that lengthy hair can't. Make the most of your length! Start by spritzing your hair with water, then comb through the hair gel. The look will last throughout the day.
Ways to Manage a Bad Hair Day!
Do you have a horrible bad hair day? For the love of God! Not today, right? Your lush curls look not-so-luscious, to say the least, as they stare right back at you. You know you don't have time to shampoo and blow-dry your hair from head to toe.
Now you're thinking this is going to be the worst day ever and you've already prepared an excuse: my hair has a mind of its own yes a mind of a bad hair day!
If you've ever had a bad hair day, welcome to the 'We all have Bad Hair Days Club.'
How do you deal with a terrible hair day?
Here are some suggestions that don't require you to hide from your coworkers and friends. They're so wonderful that they might just shift the entire tune to good hair days.
Hairstyles for Bohemians
Hey, if your hair is becoming out of control, just take it to the next level and make it all Beach hair! Add a braid or three and see where it takes your bad hair day.
Wet Hair
Begin with almost dry hair. Apply wet hair gel in sections as shown in the photos. Along the way, use pins to keep your hair in place. For extra volume, keep the top a little less firmly slicked back.
Put on a Retro turban
You might simply choose to conceal it. You can use these photographs to wear a turban on top of your terrible hair to add some flair.
Two Bobby Pins Will Make Your Ponytail Pop
When you use two bobby pins to prop up your ponytail, it will stand out from other limp ponytails that a bad hair day droops down the back.
Flyaways Must Be Tamed
Use hairspray and a fine-toothed toothbrush to tame flyaway hairs. In this manner, instead of doing the full thing, you can try to obtain just a brief spot treatment.
The shampoo is your Secret
If you don't already own this product, you should do so immediately since it is a lifesaver. It's precisely what the name implies: it's a shampoo that you may dry-spray over your hair instead of rinsing.
When raising your hair, spray lightly on the roots and let sit for a minute or two before brushing it out. It absorbs excess oils from your scalp and instantly adds volume to your hair and thus preventing a bad hair day. Your hair will look great, and you won't be hesitant to run it over to tame flyaways.
Pony-tail!
Ponytails are one of the most popular hairstyles. They're cute and only take a few minutes to make plus a good-to-go solution to a bad hair day. If you're having trouble with bumps, use heat or wet it out.
If you're short on time, you can also employ the double ponytail technique. Make a ponytail using the back section and fix it with elastic, then do the same with the front piece. This approach will deflect attention away from your unattractive hair.
Braid. Braid. Braid!
Accept it, braids looked amazing on Katniss Everdeen, and you know they'll look even better on you. Braids look and hold better on bad hair days, and you may experiment with a variety of styles. Finish with a glossy spray and tight braids.
Also, if you want to be a little more trendy, try a side braid – it's a red carpet hairstyle that's extremely simple to do!
Allure Associate Editor Lexi Novak suggested braiding your unruly tresses into a bun on top of your head "to make it look more luxurious," and then lightly spraying it with hair spray to give the illusion of shine. It transforms your look from sloppy to put-together in seconds.
Half-Braid
For bad hair days and unwashed hair, a half-done braid is ideal. It gives it a tidy appearance while still allowing it to roam freely.
Bunny Cotton Candy
Spraying portions of a ponytail, hair spraying them, then teasing them into a whirlwind creates the cotton candy look. To keep the cotton candy under control, simply grab the ends and wrap it all up. Secure with bobby pins and the last spray for good measure, and you're ready to go!
Your Friend Is Tight Braids
You may wrap your hair in a tight braid, especially if it's getting oily, and then spray it with a glossy hairspray to make that entire shine jump out like you CHOSE to be shiny that day 😉
Accessorize
There are a plethora of techniques to divert attention away from your bad hair day! The best option is to just hide it — use a cap, hat, bandana, or scarf (if possible) to conceal your hair woes. If you can't for some reason, use fancy pins, clips, hairbands, or elastic bands as alternatives. Use a couple of bobby pins to twist the hair into a cross and tuck it under your chin.
This approach is especially useful if you're trying to grow out your bangs and they're stuck in that awkward in-between stage. Alle Connell, the Senior Editor at xoVain, has an adorable YouTube video on how to wear headbands and tame that wild fringe.
Conditioner that stays on the skin
The leave-in conditioner is another fantastic product. Hair that hasn't been washed in a day or two will only get too bad hair day – oilier and frizzier – as the day goes on. This is a frequent problem in the winter; to control bad hair, apply a leave-in conditioner to keep your hair soft and manageable throughout the day. Putting the product in it before it dries is the greatest way to avoid frizz.
Serum
Get a nice serum in case you have a terrible hair day. Serum can readily combat dryness and frizz. A simple remedy for frizzy and dull hair is Pilgrim Argan Oil Hair Serum. It will disentangle your toughest knots while also giving your hair a lift and conditioning.
Knowing your hair type is the greatest approach to avoid terrible hair days. If you have oily hair, you should use oil-controlling products, and if you have dry hair, you should use dry-controlling products. A doctor should be seen if you are experiencing hair loss, itching, or a dry scalp. To find out what's causing your trich, see a trichologist. To diagnose your condition, he will check your hair and scalp.
Alter your parting
If you don't want to bother yourself with any of the above-mentioned activities, use this simple approach to fix your terrible bad hair day. If you generally part your hair on one side, you can easily shift your parting. To strengthen your hair, the other side will have more volume or a better shape. You can also try an upside-down hair flip for a more youthful appearance.
Using a pin on the side of your head opposite the part, secure your hair back with a deep side part. She claims that side parts are not only attractive but that separating your hair on the side you don't ordinarily separate gives it instant body and lift.
5 Ways to Fix a Bad Hair Day at Work
You know how when you arrive to work and you despise your hair, and the worst part is that you'll have to wear it for the rest of the day? Here's how to make all of your terrible hair days go away.
Scenario #1: You're having a bad hair day. You have textured hair that was in good shape when you left your apartment, but it has frizzed up now that you're at work.
Expert Tip: The trouble with curly hair is that you can't repair it while it's dry, so you have to get it to restyle it. A conditioning spray, which dampens the hair and restores the curl without making it look frizzy, should be kept on hand at work.
Using a product like Living Proof No Frizz Restyling Spray Spray over hair, then recreate the curl with your pointer finger to tame any flyaways and return it to its solid curl pattern. "Repeat as needed and air dry," he advises.
Scenario #2
You have fine hair that began out voluminous in your bathroom but turned into a bad hair day out an hour or so before your important meeting.
Expert Tip: Keeping a travel-size dry texturizing spray, in your bag at all times. "Flip your hair over and spray it over, but especially on your roots, to give yourself a burst of body.
It will not only absorb any oil on your scalp that is causing your hair to fall flat, but it will also provide instant volume to your hair."
Scenario #3
You have a wonderfully polished, straight, sleek-looking style at home, but by the time you go to work, your hair has a kink in it from being tucked behind your ear or into your coat collar. Yes, bad hair day alert!
Expert Tip: There isn't a magic trick for getting your hair straight back after it's had a bend in it," Edmunds explains. "However, you should have a little flat iron in your desk drawer to smooth out any kinks in your hair before a big meeting." The Amika Mighty Mini Ceramic Styler is a good option.
Scenario #4
The scenario of a Bad Hair Day – your hair has a slight curl to it, but you want to make sure your ringlets linger as long as possible.
Expert Tip: "To keep your curls curled longer, arrange them in a curl pattern as they cool," Edmunds advises. Curl your entire head, then spritz your hair with a light hairspray to keep your look in place.
As if you were going to make pigtails, separate your hair along the middle from your hairline to the nape of your neck. Then, using a few bobby pins, twist each side away from your face and secure it in a bun behind your ears.
Allow your hair to hang down and shake it out when you get to work. This will help you prevent having a horrible hair day right away. Revert to the bun trick if your hair starts to lose its curl in the middle of the day, and then spritz your hair with aerosol hairspray to set the appearance."
Scenario #5:
You've driven to work, arrived at the office, and discovered that you had a lot of static and you don't want a bad hair day.
Expert Tip: If you have a static charge, neutralize it as soon as possible. To do so, Edmunds recommends rubbing a pea-sized amount of serum — such as Aveda Light Elements Smoothing Fluid — in your palms and applying it from the center to the ends of your hair. Alternatively, he recommends spraying the inside of your hat and scarf with Static Guard. "This is especially crucial with bangs," he explains, "since you don't want them sticking straight up." Use a serum sparingly if you have oily, static-prone hair. Instead, use hairspray with a light hold, such as Aveda Air Control. Remember that combing static-affected hair is the worst thing you can do, so avoid it at all costs when it happens.
Scenario #6:
After playing with your hair all day, your hair becomes oily at 4 p.m.
Expert Tip: "Spray a dry shampoo over your roots and brush it through," Edmunds recommends, "so that it coats your hair at the roots and soaks up the oil on your scalp." If your hair is too oily, pull it up, apply dry shampoo, and then twist it into a finished French twist. Then spritz it with hairspray, which includes alcohol that will help absorb any oil on the rest of your strands while also providing grip. PSSSST! Instant Spray Shampoo is a great option.
Scenario #7:
You have wavy hair that flattens out in the middle of the day.
Expert Tip: "Keep a salt spray in your bag to resuscitate your waves at 2 p.m.," Edmunds advises, whether your hair is naturally wavy or if you've recently undergone a body wave (aka perm)." "Apply it all over your hair, wrap it into a bun, and set it aside to dry – this will revive your wave. You may also use the same product to scrunch up your hair from ends to roots using your hands, holding it for a few seconds as you reach closer to your roots. The heat from your palm will encourage the salt spray to activate, allowing it to restyle your waves." Beach Wave Spray by L'Oréal Paris Ever EverStyle Texture Series
And with that, bad hair day bye-gone!
Home Remedies if you are frequently having a Bad Hair Day
Get a haircut
If your hair is extremely dry, it may need to be restyled with a new haircut. Split ends can make hair difficult to manage and contribute to it feeling dry or coarse, even if it isn't particularly long.
Pay a visit to your hairdresser and have any hair that is unhealthy or weighing down new hair growth trimmed off. While you're there, inquire if the stylist has any recommendations for your hair type and length. They might suggest a new styling practice to prevent damage to your hair.
Supplement with vitamins
You already know that certain vitamins are necessary to sustain your body, but some vitamins also have a direct impact on the health of your hair and nails. Vitamin A, vitamin C, biotin, and the mineral iron all aid in the appearance of healthier hair and thus avoiding frequent bad hair days.
Some people take prenatal vitamins only for the way they affect their hair because they include all of the above vitamins. It's also trendy right now to use biotin-only tablets to improve your hair's appearance. A recent study, however, contradicts the notion that biotin makes a significant effect. You may also want to consider taking marine protein supplements, which have been proved to improve hair health.
Include omega-3 fatty acids and antioxidants in your diet
Marine proteins can help your hair look shinier and prevent it from thinning out. Increase the number of marine proteins in your diet to achieve similar outcomes without taking a supplement. Salmon oysters are included in this category.
salmon

oysters

mackerel

tuna

sardines
All of these are high in peptides and omega-3 fatty acids, which can help your hair shine.
To prevent oxidative stress, which causes hair to age, you should eat more antioxidants. Antioxidant-rich foods include the following:
walnuts

beans with kidneys

blueberries

broccoli

tomatoes
Healthy fats, such as those found in canola oil, are recommended by the Mayo Clinic for optimal hair health.
Instead of air-drying your hair, wrap it
If your hair is brittle and difficult to style after washing, it may have lost too much moisture during drying. Instead of letting your hair air dry, cover it in a cloth or towel after you've washed it.
If you sleep with damp hair, use a silk pillowcase to prevent the moisture from your hair from absorbing into your pillows. One study found that leaving your hair damp for long periods causes damage similar to blow-drying.
Reduce the use of heat styling
Heat styling your hair to curl, straighten, or add volume has probably been a part of your daily routine for a long time. It could also be the cause of your hair's dryness.
The hair shaft was examined before and after blow-drying, and the results revealed considerable damage to the participants' hair. To get the greatest results when blow-drying your hair, keep the drier at least 6 inches away from your hair shaft.
Make use of essential oils
Argan oil from Morocco is a popular home treatment for damaged hair. We don't know much about how or if this treatment is effective, but it is simple to attempt. Applying a few drops of argan oil to your hair's ends will help it look more polished and silky.
Other essential oils, such as peppermint and lavender, may aid in the prevention of hair loss and breakage.
Making a quick spritz hair perfume using argan oil, peppermint oil, lavender oil, and a carrier oil like coconut oil may help your hair feel less dry over time.