They say that having perfect flawless skin is a myth. Well, not anymore. Imagine yourself getting that spotless mirror glass skin you have been dreaming of for years. Don't you worry though, because here we have some ancient Chinese secrets to attain shiny, flawless, and exuberant skin. Here are five of the ancient Chinese secrets you can follow to attain the perfect skin. Gear up!
5 Ancient Chinese secrets for flawless skin
1. Jade Rollers
This requires no special introduction. We all know that, recently, all our Instagram feeds have been flooded with Jade roller advertisements. Well, the truth is that it is damn effective and many find it helpful.
If you think that these jade rollers are newly sprouted beauty techniques, you are absolutely mistaken. Jade roller holds great history and it is older than you can imagine. Jade rollers originated in ancient China around the 7th century. This convenient handheld beauty tool was first used only by the superiors of China. They made it using jade stones to give the skin a pacifying massage.
Nowadays, there are various options on the platter, when it comes to face rollers. You can not only use jade rollers but also rose quartz, amethyst stone, citrine stones, metal ones, etc. Each has its own benefits.
The jade rollers drain your lymphatic system, by draining the excess fluid, thus reducing puffiness in the face and eyes. It also helps in skin rejuvenation and increases blood flow. You can give yourself a jade roll massage every three to four times a week, right after you wake up, to see desired results.
How to properly use face rollers?
Step 1: Make sure your face is clean before you start the process. Use a cleanser to cleanse your skin and wash your face with running cold water.
Step 2: Apply any moisturizer or face serums of your choice as jade rollers can help them penetrate deep into the skin, making it more effective. You can use facial oils as well.
Step 3: As you know, there are two sides to a jade roller. The small end is designed in a way to massage your eye and nose area and the larger side for your jaw area, cheeks, and forehead. Gently roll the stones over your face. Always start rolling from the center point of your face and make sure it goes in an outwards direction.
Step 4: After the mid area of your face, you can concentrate on the jawline area. Make sure to be gentle while doing this. Roll the stone gently along with your natural jawline. This drains excess lymphatic fluid, thus increasing the blood circulation. You can also prefer a gua sha stone to massage your jawline area.
Step 5: If you have a rice sheet mask, then it is wonderful. Rice sheets are one of the ancient Chinese secrets, which have anti-aging properties and prevent wrinkles.
2. Tea
As they say "Where there's tea, there's hope", tea has super beneficial properties, which fortunately comprises the properties to attain healthy skin. We know that tea was found by the Chinese and so there is no doubt why tea is considered as one of the ancient Chinese secrets for skin rejuvenation.
Tea, especially herbal tea, has anti-aging properties, which prevents fine wrinkles. Adding herbal tea to your daily diet regimen, makes your skin look fresh and flawless. Not only is it good for your skin, but herbal tea also removes toxins from your system.
How to prepare?
Empty your herbal tea pack into boiling water and let the herbs infuse in the water. Add any sweetener of your choice. It is advisable to avoid cane sugar as it does no good to the skin. You can choose rock sugar, stevia, coconut sugar, or honey. If you don't have a ready-made tea mix, don't worry as it is easy to make a herbal tea mix all by yourself.
All you need is the sun-dried chrysanthemum, longan, thyme, rosemary, rock sugar ( or honey if you wish).
Pro tip: During the preparation, it is good if you keep your face near to the steam as it opens your pores and lets the toxins out. You can also opt for other ancient Chinese drinks like Liquorice root tea, Mulberry tea, Goji berry tea, Luo Han Guo tea, etc.
3. Red dates ( Ziziphus jujuba)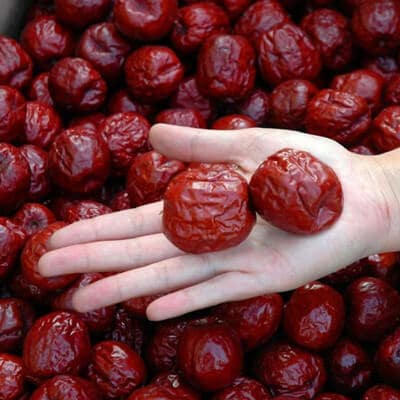 Red dates, also known as Jujubes, is one of the ancient Chinese secrets for skin wellness. Consuming jujubes or red dates in the form of tea, candies, salad, or just eating raw, can prevent fine lines and wrinkles, making your skin look young and fresh.
It increases collagen production and preserves your skin structure. It is a reservoir of vitamin C and so can be consumed to get healthy glowing skin.
How to prepare Red date tea?
Step 1: Soak the red dates in water overnight and then cut them into pieces.
Step 2: Convert the red dates along with the water into a pot and bring it to a boil. Adding longans along with this is appreciable.
Step 3: Sweeten the tea to your desired level. It is advisable to use brown sugar as it is healthy. You either strain the tea into a cup or just pour it in without straining so that you can enjoy a munchy drink.
4. Pearl powder
Next on the list is the pearl powder. This might be the first time for many of you to hear this. It is an ancient Chinese secret for skin rejuvenation. It is made from oyster shells. It helps in skin whitening, skin rejuvenation, cellular repairs, and reduces inflammation. Pearl powder can be used to make face packs. It is mostly available in the form of capsules.
Pearl powder face pack ideas:
Add egg yolk and honey to one capsule of pearl powder and mix it well until it becomes a thick paste. Apply all over your face and let it sit for 15 minutes before washing it off.

Make a paste of pearl powder, orange peel powder, honey, and rose water for skin brightening.

Make a paste of pearl powder, lemon juice, honey, and lukewarm water for skin whitening.

You can also use hung curd along with all these mixtures for better consistency.
5. Mung beans
Last but not the least, mung beans are one of the ancient Chinese secrets for skin rejuvenation and brightening. Mung beans can be used in the form of face packs or can be used to prepare tasty dishes. Mung beans can be added to noodles, soups, rice, curries, etc, for getting healthy skin. You can also prepare salads if you prefer an even more healthier option.
For a face pack, you need to take mung bean powder. Add it in turmeric powder, raw milk rose water, and warm water to make a paste. Apply the paste all over your face, arms and legs and let it sit for 15 to 20 minutes. Rinse it off and pat dry your skin using a clean towel to see the results. If you have dry skin issues, it is advisable to add hung curd to make the paste, to prevent excessive dryness and flaky skin.
Cessation | Ancient Chinese secrets
Skincare does not just depend on what you apply externally. It mainly depends upon your intake. Make sure to eat healthy regularly, by adding a surplus amount of fruits, vegetables, pulses, and probiotics to your diet.
Also, work out at least two to three times a week, as exercise makes you sweat, thus flushing out all the toxins out of your system, making the skin healthy and glowing. Hope you enjoyed this article about ancient Chinese secrets for skin wellness. Feel free to share the skincare tips you followed and worked on, in the comment section below.