There are dozens of self-improvement YouTube channels and a few of them are really effective in boosting the development of your personality. These channels can take your game of life to the next level.
In this blog, I will share the list of best English youtube channels but before entering the lists, I want to convey why it is important to consume self-improvement videos.
What you consume online, has a huge impact on your daily life. Nowadays, many people especially teenagers spend the most time on the internet, mostly they excessively consume memes or comedy videos and that is seriously bad. While doing this, they are not improving and developing their mind but damaging it.
When you consume content from meaningful youtube channels then you can grow your mind and you can get ideas closer to your goals. So, now without wasting any time let's get started with the list of some of the best self-improvement YouTube channels.
Best English Self Improvement YouTube channels
1. Gary Vaynerchuk
Gary is an American Entrepreneur, a very strong and impactful speaker, and best selling author four times. He is also an Internet personality who gets admired by millions of people on an international level. His channel is a perfect fit to claim one of the best self-improvement youtube channels in today's world.
It is one of the most effective and most real youtube channels. If you are in the field of business and entrepreneurship then Gary's content is must watch for you.
2. Brian Tracy
Brian Tracy is a Canadian-born American who is an author in the area of self-development and he is also a Motivational Speaker. He has been the author of Eat that Frog!, the psychology of Achievement, and Earn What Really You Worth. His extraordinary seminars on sales, leadership, managerial effectiveness are packed with powerful ideas and strategies that can be applied by anyone to get greater consequences in almost every domain.
If you want to consume some top-notch quality videos, go for this channel without hesitating.
3. Lewis Howes
Lewis Howes is a former Arena League football player, entrepreneur, and American Author. He distributes a podcast named The Greatness Of School. By listening to his podcast you can learn a lot of things from the stories of many successful people, get inspired and educated on the next level.
It is one of the most authentic self-improvement YouTube channels. You should definitely check him out at least once.
4. Jack Canfield
He is an entrepreneur, cooperate trainer, seminar leader, author, and motivational speaker. He is the chairman of the Canfield training group which trains educators, leaders of cooperates, and entrepreneurs on how to boost the achievement of personal goals. He is also known as the co-author of the Chicken Soup for the Soul series.
5. Robin Sharma
Robin is a Canadian leadership speaker and a fantabulous writer. He has written such amazing books as The Monk Who Sold His Ferrari and The 5 AM Club. He is the founder of Sharma Leadership International which focuses on helping corporations evolve employees lead without a title.
Robin's channel is proved as one of the best self-improvement YouTube channels.
6. School Of life
School of life, how interesting name is this, right? Its content is also very interesting and useful. In this channel, you will learn about relationships, social philosophy, personal development, and many more things that are important in life. For most the people School Of Life is one of the best self-improvement youtube channels that is providing high-quality content.
7. Thomas Frank
A few times ago, this channel was running with the name of CollegeInfoGeek. Now, it is renamed, Thomas Frank still has the same spirit for making quality content and improving people's life.
He also gives study tips and hacks, productivity tips. So, you should definitely start consuming content from this channel.
7. Improvement Pill
Improvement pill is a channel that provides fantabulous content in animation style. Its content can help in all sorts of life. It will teach you how to face your fears, getting yourself disciplined, and breaking addiction. These videos will convey their message only in 10 minutes, it will be very easy to consume even you have a busy schedule.
This channel is one of the most respectable self-improvement YouTube channels in all over the world.
8. Fight Mediocrity
Fight Mediocrity is a perfect channel for all the busy people out there. When you stay busy every day you barely get time to read books but this channel will solve this problem very effectively. You will get to see well-defined book summaries on this channel.
These book summaries could be a perfect fit for almost everyone from students to job workers. It is the channel that people define as one of the best self-improvement YouTube channels for book summaries.
9. Actualized.org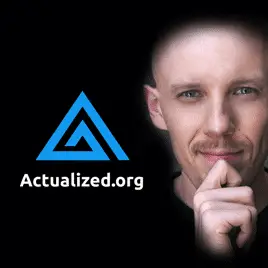 This channel has videos almost hours long. But investing time in them would be a great investment, you can watch them by slipping into a few parts or as you prefer.
This channel helps you in mastering your psychology and bringing improvement to your life. It covers almost every concept of personal development. This channel also falls in the category of one of the best and finest self-improvement YouTube channels.
10. Big Think
Big think is one of the most recommended self-improvement youtube channels all over the world. This channel is focused on spreading interesting ideas from big thinkers. In this channel, you will listen to specialists like Bill nye, Neil deGrasse Tyson, and Michael Puett gives insight into the perspectives that grow your mind and makes you capable to solve your problems with critical thinking.
Conclusion
So these were some of the best self-improvement YouTube channels that you should check out ASAP. Now I hope this article has helped you in any way. If you want to recommend any YouTube channel, please do that in the comment section, I would love to know that.