Top Stair Carpet Runner Ideas to Deck up your Staircases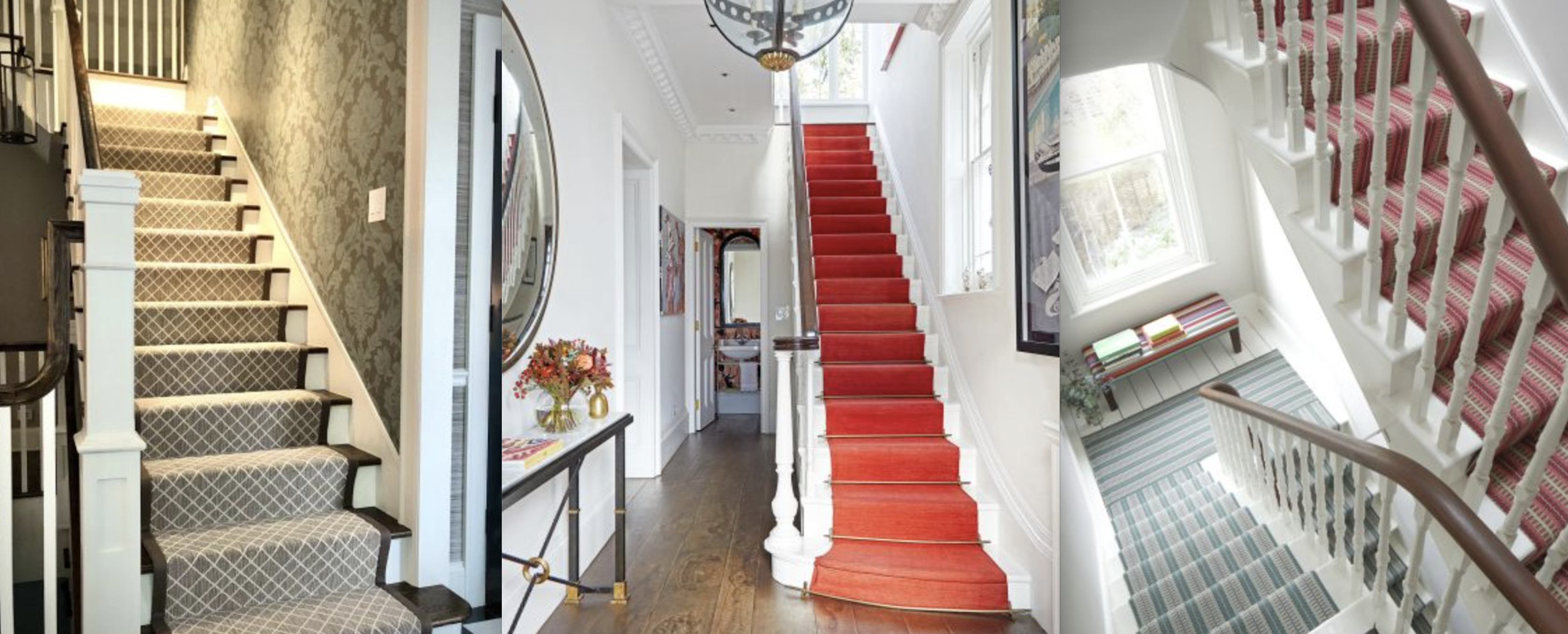 A stylish stair carpet runner covering the staircases improves the room's aesthetics at any time. Whether a sophisticated bungalow or a country home, a stair carpet runner is available in different versions for all types of homes.
But, choosing a design for it is not an easy task. You can ensure a good look for the space if you have an interior designer. Things are difficult when you cannot hire an interior designer.
In that case, you must find diverse stair carpet runner ideas and use them to make the stairs look graceful. I will share some ideas you can use at home to ease your tasks.
Before that, let's have some more knowledge about the carpet on the stairs.
Do we need carpet runners on stairs?
Yes. You need it. Adding carpet runners on stairs is one of the most useful interior decor ideas. It decorates the area and makes the space easy to use. Some of the major benefits of stair carpet runner are-
Adds noise insulation
Makes it easy to use for seniors
Makes it safe
It also improves your home's value if you have to sell your home shortly. Last but not the least, it mesmerizes your guests and gives your house a pleasant vibe.
Now, without further ado, let's talk about the stair carpet runner ideas in my mind.
Stair Carpet Runner Ideas: 21 Ideas to Try
So, here I will share some of the excellent stair carpet runner ideas in my mind. Let's have a look and choose what suits your interior the best.
By the way, adding a stair carpet runner means that it should be matched with the adjacent areas. Otherwise, it won't look good.
1. Jute Runner with bright border:
Usually, stair carpet runners are made of wool, cotton, or polyester. Here is something different. I suggest using stair carpet runners made of jute. It adds a natural vibe to the room.
Many modern-day homeowners do not prefer jute runners as they consider them old-fashioned. If you too think the same, I have something for you.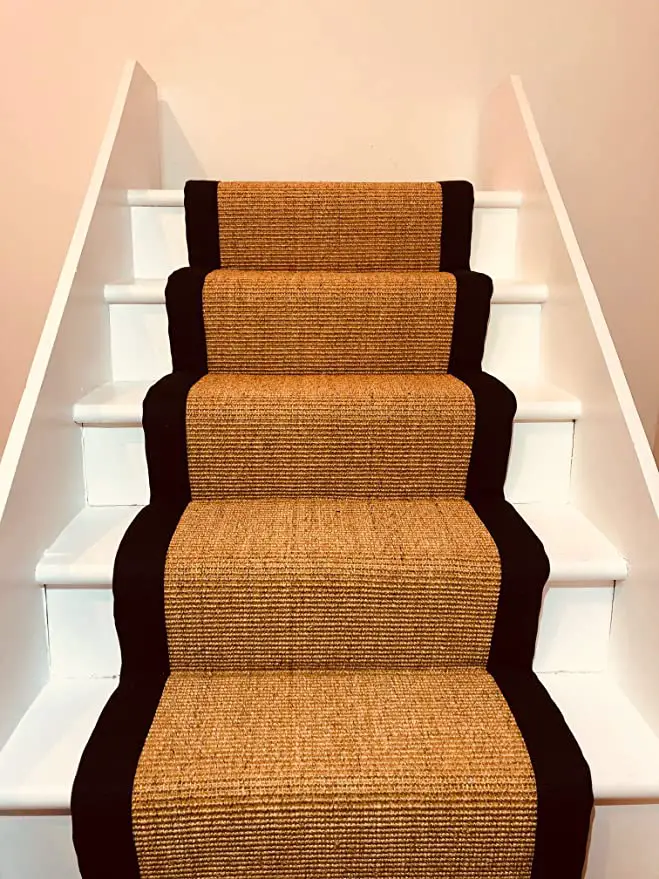 You can add a unique essence to this traditional jute runner when you buy such a runner with a bright border. The color should contrast with the stair color.
2. Runner with Vibrant Stripes:
If you want to mesmerize your guests at the very first meet, try to place carpet runners with stripes. And make sure that the colors of the stripes are vibrant and that the overall look goes well with the stairs' design and color.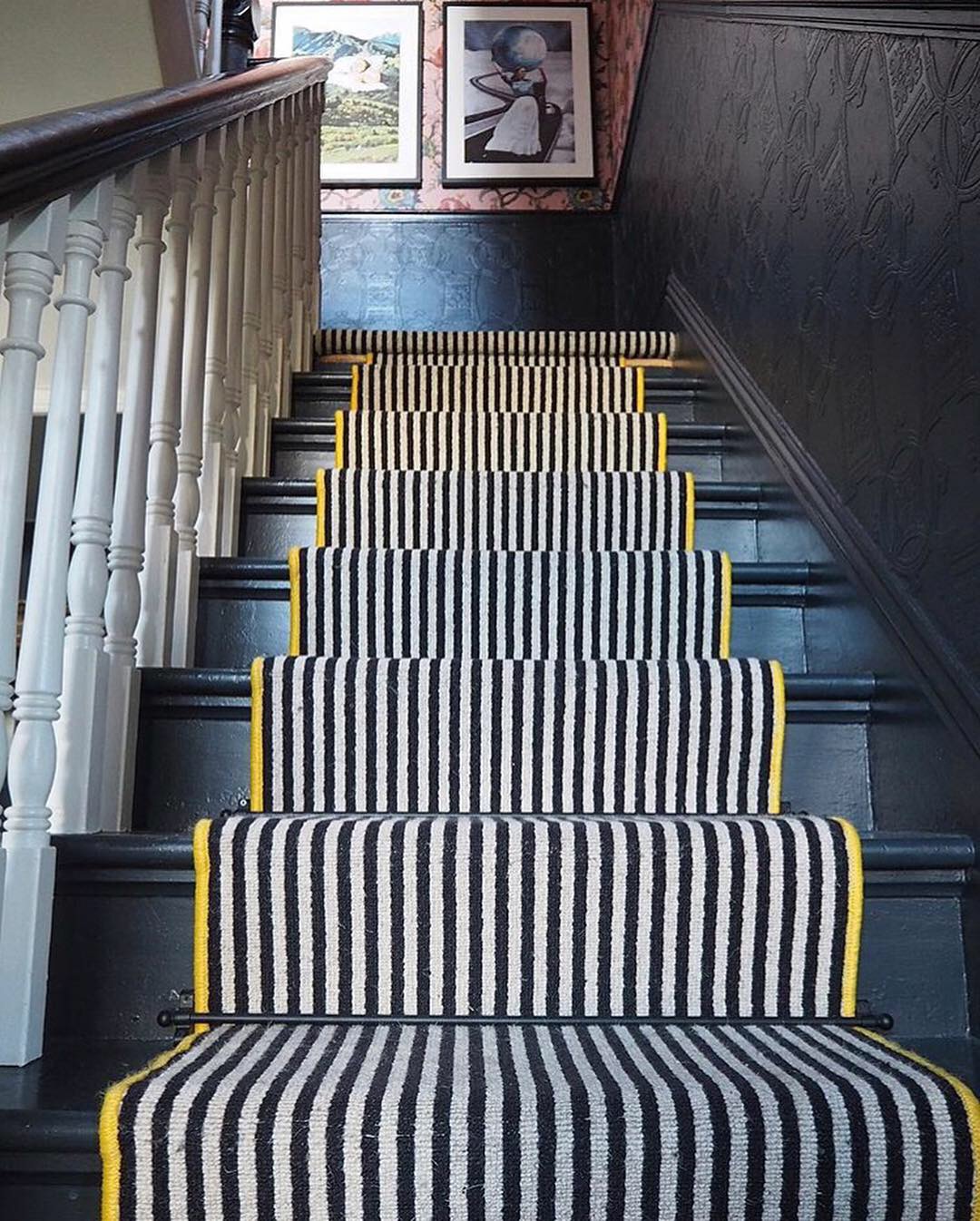 Both small and large patterns are available for it. If the stairs are wide, it is ideal to use large-scale patterns. And if they are narrow, use small patterns.
3. Monochrome Runner Ideas:
All-white hallway or one-color interior may look dull if there is no warmer tone. Let the stair carpet runner do this job. Add a gentle warm color that contrasts with the one-colored staircase and interior.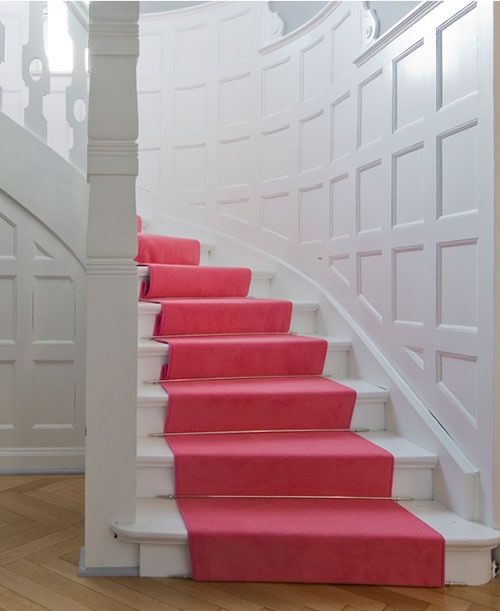 If you ask my personal choice for monochrome stair carpet runner ideas, I would say a red runner on milky-white staircases. Or, a pink one on off-white or milky-white staircases.
4. Matching Runner with Floor Carpet:
As you can contrast the runners with the staircase, you can also match it with the floor carpet. What about incorporating the same design for both spaces- the runners and the floor carpet?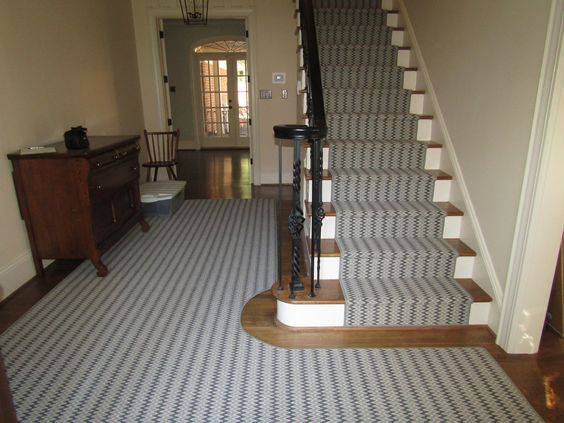 It adds a rhythmic flow that you may fall in love with. On the one hand, you can use the royal-style carpet in this case. On the other hand, any other modern rug or carpet can be used to make it interesting.
5. Different Shades of One Color:
You may have seen bi-color runners. Your interior designers may have provided one-color stair carpet runner ideas. But have you ever thought of a runner with different shades of one color? Interesting, isn't it?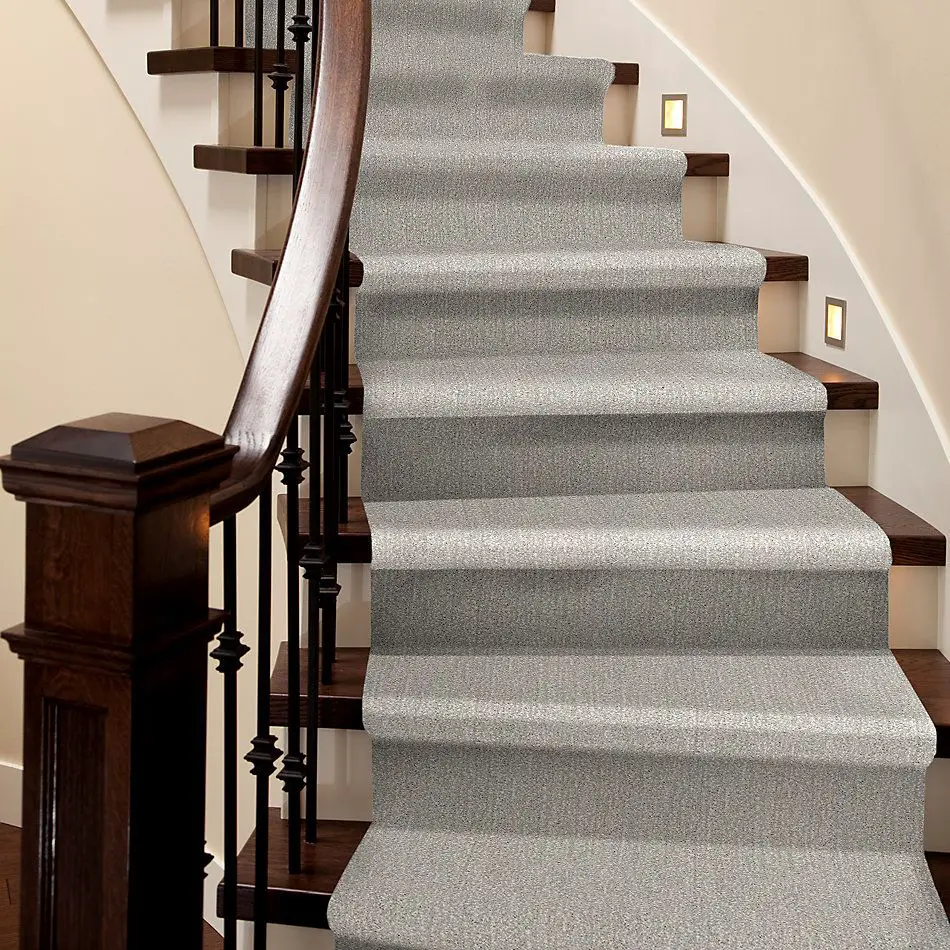 You can try multiple shades of red, blue, green, and violet as per your choice. Needless to say, you should also match it with the home's interior. Try it and ensure a superb look for your interior.
6. Matching Runner with the Walls:
I have shared an idea on how to use a stair carpet runner matched with the floor carpet. Another similar yet amazing idea is here! Match the stair carpet runner with the walls.
If you choose floral wallpaper for your walls, use a soft color runner with contrasting colored stairs. Or, if the walls are of bright blue color, you can use a contrasting color on your stair carpet runner.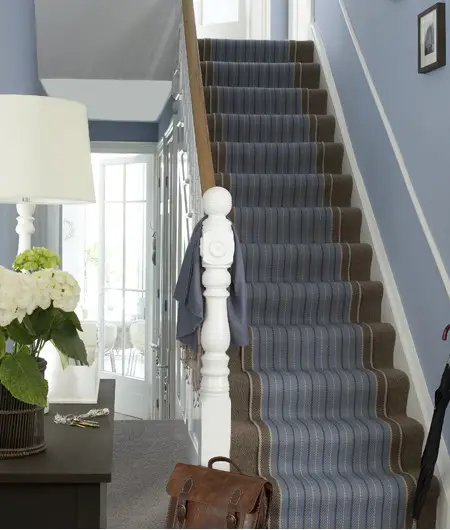 At the end of the day, the stair carpet runner ideas you apply should align with the walls.
7. Maximalist Print Runner:
While homeowners are jumping for the trend of minimalist designs, a maximalist print on the staircase runners can make your interior stand out from the crowd. A plethora of designs is available for it.
On the one hand, you can try interesting leopard print runners. On the other hand, you can go for classic vintage designs.
Whatever you choose, try to keep the staircase color neutral. Use dark-colored rails and geometric designs on walls for an abrupt look at the overall interior area.
8. Rainbow-colored Stair Runners:
It is for you if you are fond of colors or have an artist at home. It is one of the most creative stair carpet runner ideas.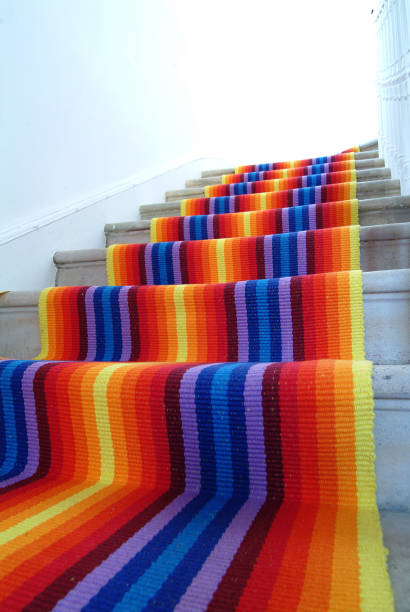 It includes diverse colors, including bright ones like orange, red, and so on, and cool colors like blue, green, purple, etc.
Rainbow stair runners look good, but you need to take care of the material it is made of. You can use simple cloth-based runners. Warm woolen runners also look good with a rainbow hue.
Also, make sure that the color used there is durable. After all, a faded rainbow-colored stair runner does not look good.
9. One Color for One Floor:
This is for you if you are looking for unique staircase carpet runner ideas. For example, you can use a red-based print for the first-floor stairs. And use a blue-based print for the second-floor stairs.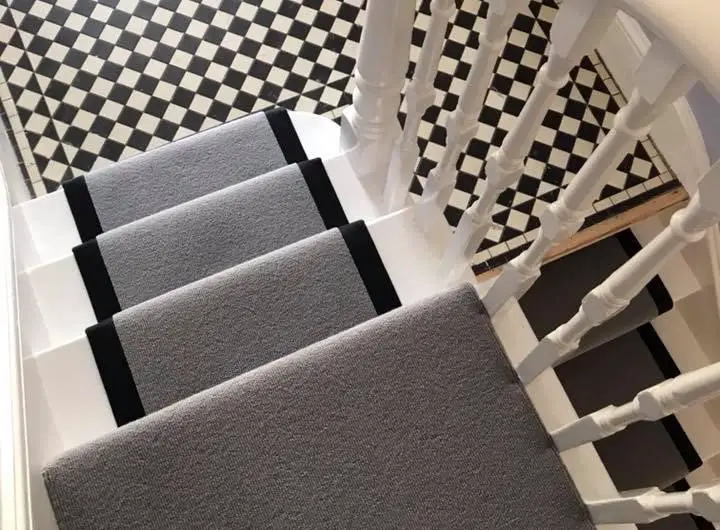 To maintain the rhythm, you can use the same pattern for all stairs on the different floors. Do not forget to match the floor carpet's mood with the stair runners. Thus, a beautiful look is ensured.
10. Military-print Stair Runner with Concrete-style walls:
If you are looking for a smart and elegant look for your stairs, place a military-print stair carpet runner. The camouflage design is interesting enough to make your interior look intriguing.
The military designs come in different shades of black and green. Make sure that the color matches the staircases. It is ideal to use wooden texture on the stairs.
According to many interior designers, walls with concrete effects go well with military-style stair carpet runners. It adds a rustic look when the military print is blended with the concrete walls.
11.  White Runner with a Refreshing Vibe:
Use white carpet runner on your stairs, green walls, and a series of potted plants. It looks exceptionally gorgeous. The overall look creates a natural vibe that refreshes any individual's mood.
Whether you welcome your guests or bring a prospective buyer to your home, the refreshing vibe can instantly impress them. Anyways, make sure to maintain them regularly. Otherwise, the freshness will go away.
Stair Carpet Runner Ideas: How to Maintain the Runners
Only adding the carpets is not enough until you maintain them well. Also, you need to learn how to settle the carpet runners properly. Here are a few details to keep in mind.
Use rods:
Keeping the runners stable is important and ensuring none stumbles across it. Straight metal rods help to do that. Install them between the stairs and run the stair carpet runners below them.
Protective treatment should be there:
When installing the stair carpet runners, ensure that you use protective treatment on them. It helps to prevent wear and tear on them. After all, any damage to any part of it makes it unattractive.
Vacuum regularly:
If you want your stair carpet runner clean and clear, vacuum the carpet surface regularly. It helps to keep the dirt and dust away, always giving your carpet a hygienic appearance.
Avoid walking with rubber shoes:
Although rubber shoes tend to get less dirty, it is not recommended to use rubber shoes on stair carpet runners. The rubber souls grip the carpet's fibers and make it wear out soon.
Do not swing off:
Simply put, you should walk gently on the stair carpet. Do not go in a rush. Take time and go slowly. It is better not to use shoes while walking on the stair carpet runners.
So, these are the points you need to remember when implementing the exceptional stair carpet runner ideas. You may have several questions in your mind yet. Let me answer them here. A few commonly-asked questions are mentioned here.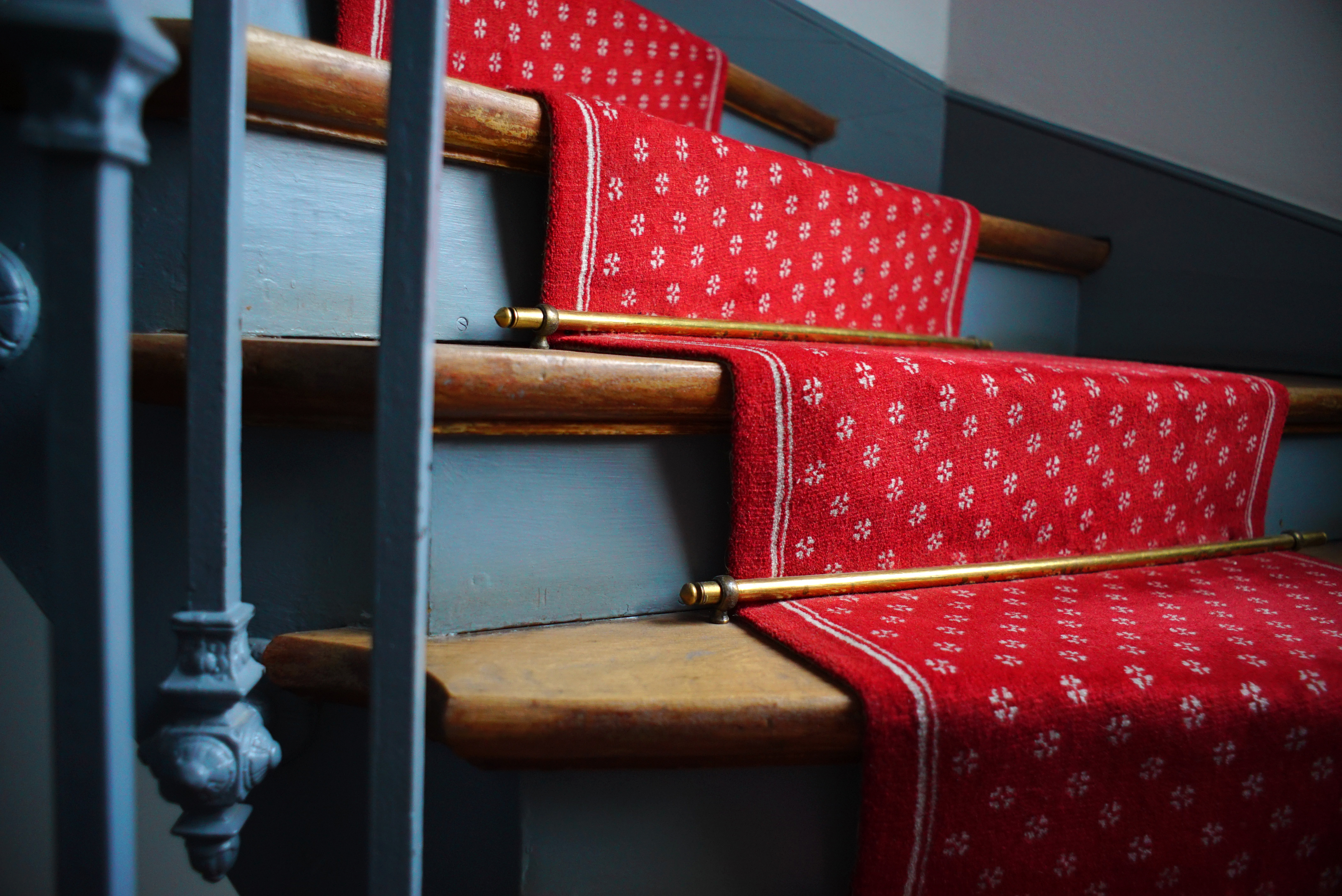 Commonly-asked Questions on Stair Carpet Runners:
What kind of carpet do you use for stair runners? 
A low-pile carpet resistant to heavy traffic and stable is ideal for stair runners. Interior designers recommend using a synthetic plush style for it. For materials, use an eco-friendly option. Also, consider your choices as well.
Are stair runners a standard size? 
The width of a stair runner goes between 20″ to 48″. Mostly, a 27″ is a common size for stair runners. The stair carpet runner ideas I have shared come in standard sizes.
How much does it cost to carpet 15 stairs? 
The price varies as per the size of the carpet, the material, and so on. Go to professional interior designers and try these stair carpet runner ideas at a reasonable rate.
Does the stair carpet need to be one piece? 
It is supposed to be one piece. But, nowadays, separate pieces of carpet are available for more convenience. It is ideal t cover the stairs with one single piece. It maintains the rhythm and makes it look attractive.
What color carpet is the best for stairs? 
While dark ones can block the natural lights and make the spaces look narrow, and the light shades are susceptible to stains, people prefer a middle option. Grey, faded blue, and taupe shades are the best for stairs.
Before you Go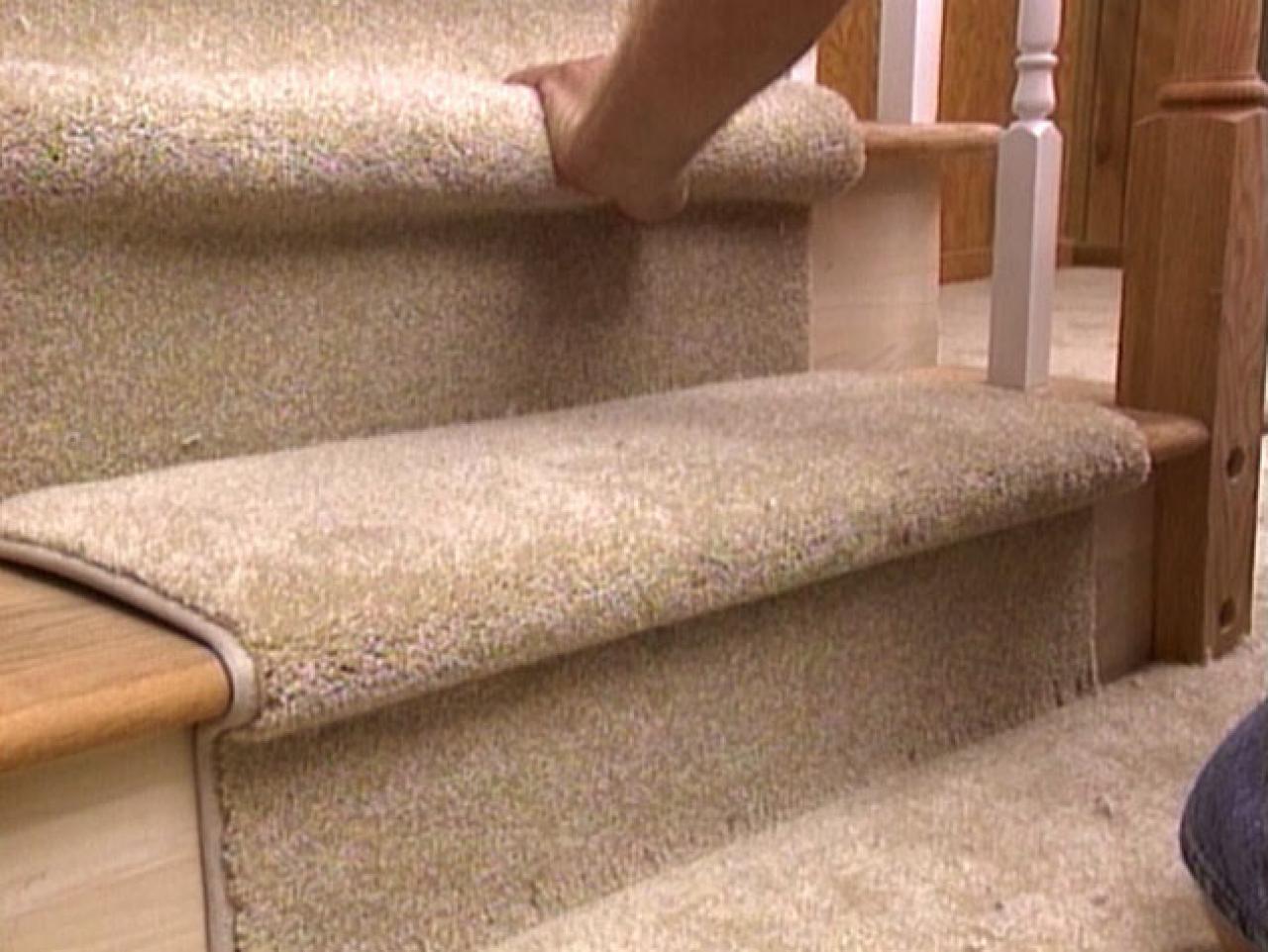 Your home is where you relax. It must look beautiful from every aspect. Get in touch with a reliable interior designer and apply these above-mentioned stair carpet runner ideas. See your house look more appealing than ever!
Would you like to learn about DIY dresser ideas? Click here.