20 Creative Aesthetic Bedroom Decor Ideas You Will Absolutely Love And Are In Trend In 2021
A good aesthetic bedroom is something we all desire. Never getting enough of new trends in bedroom decors and makeovers, we are also out there searching for something unique and trendy for our bedroom decoration.
Regardless of whether you are going for a good makeover for your teen's bedroom, parents' bedroom, or your own happy place makeover, a great aesthetic bedroom decor makes it look alluring and classic. Be it boho makeover or aesthetic bedroom makeover, styling regularly gives life and huge calmness to our bedroom and soul.
Don't worry about the space. There is absolutely no need to skimp on the style. There are a lot of factors where you can show how creative and magnificent your decorating skills are. These changes in your room you can always put your best to change are the color scheme, photo galleries, graphic arts, accessories that are eye-popping. To save a lot of your time, we have shortlisted some cool, trendy, and tempting decor ideas.
Presenting you certain amazing aetheric bedroom decor ideas which you can always consider while decorating your room or for a bedroom makeover. I am pretty sure you will end up drooling over these ideas and use one for your room. Keep scrolling.
Posters galore Aesthetic Bedroom Makeover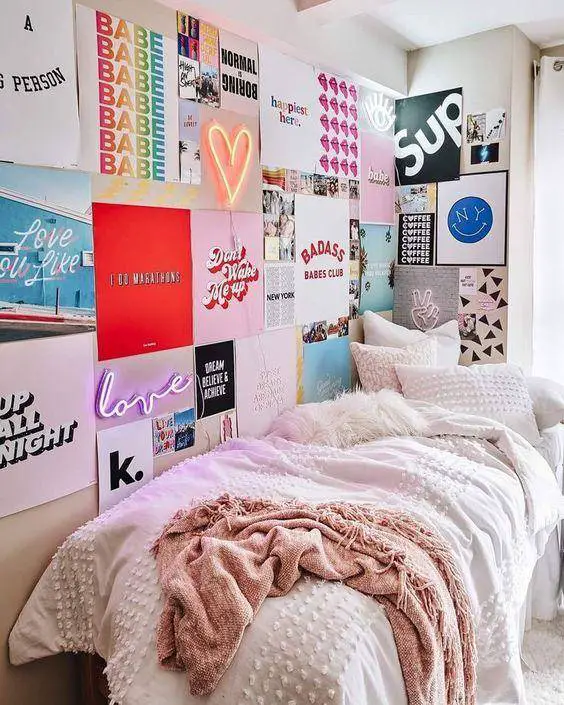 Isn't it breathtaking? If you are someone who loves collecting different posters and have a huge collection of them, why not use them for decoration purposes? I am a stan of TVD and I would love to relive every memory of my favorite characters by creating a huge number of poster collections and using one wall for garnishment.
White sheets are meant to give you those pretty aesthetic bedroom vibes. If you want to add a boho touch, why not grab pillows of different designs and colors and use them along with white sheets to enhance the look.
Cozy Reading Space In Aesthetic Bedroom
We all love reading or collecting fascinating or inspiring novels and other inspirational books. Mostly our bedroom doesn't have a specific area for reading and we tend to sit anywhere and binge-read the whole content. Are you one of those? Yes, or No! doesn't matter. You definitely to incorporate a reading reck along with a piece of furniture in the corner of your bedroom to make the room look more aesthetic and authentic.
Encourage your kids to read too. having a cozy corner in your aesthetic bedroom only for reading definitely makes our mind more prone to reading. Who would not want to sit on a beautiful piece of furniture that is decorated aesthetically? You can always look for planters and colorful pillows to get the vibes you are longing for.
Layering Tapestries In Aesthetic Bedroom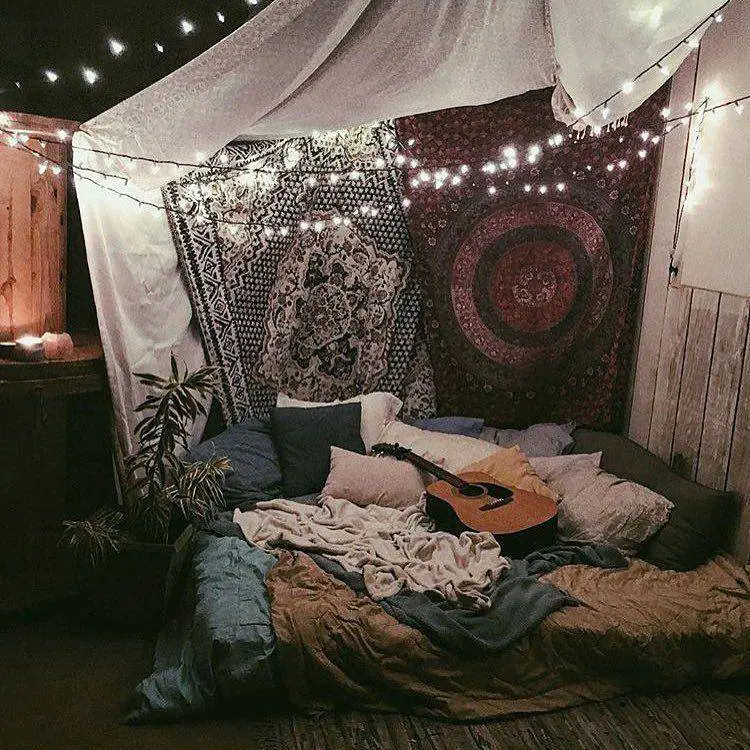 Not a huge fan of posters and a collection of photos? Don't be sad, there is something super trendy for you. Collect some cool tapestries with your authentic favor and style them on the walls because no one wants tasteless white walls having nothing over them like a blank canvas waiting to get printed.
A graphic touch to your bedroom does no harm anyone. Why not grab some cool graphic tapestries and place them on all the walls having different themes and decors. Absolutely an amazing idea.
LEDs All Over Look In Aesthetic Bedroom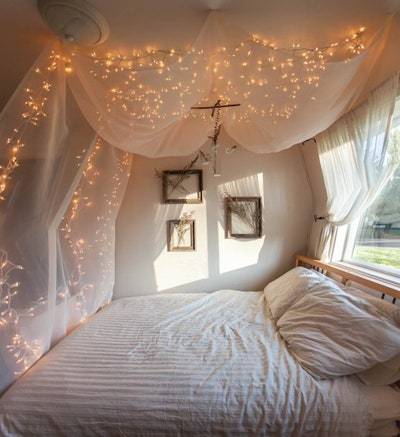 Talking about personal favorites? Placing LED lights to outline mirrors, bed recks, flowers, pictures, etc is a go-to idea for us. Hanging these LED lights at various decors of your room adds a playful touch to your room. You will be amazed to see how trendy and Pinterest it looks. This entire look of the aesthetic bedroom has turned out to be the most beautiful one.
Go for fairy lights as well. Yellow and white lights combined together appears to be an art piece that vibes pretty well with every type of decor themes.
A Daybed For Your Aesthetic Bedroom Makeover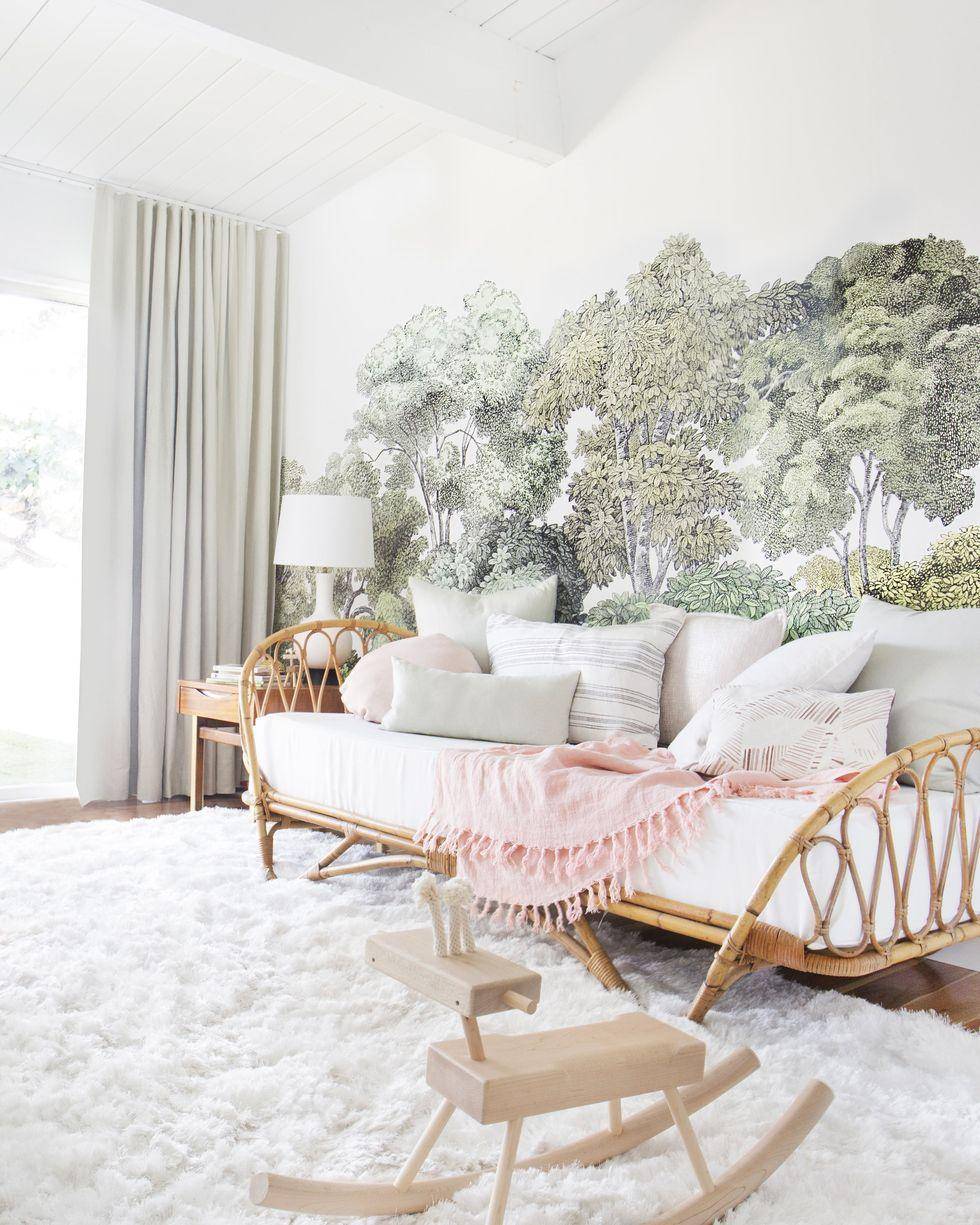 Tired of old beds having nothing unique? Well, this one is a great piece for you. Get yourself a daybed, it looks so aesthetic and soothing. It's the best place to sit and have your coffee while having light conversations with your pretty or handsome housemates.
You can take a nap anytime and feel the warmth and coziness of this aesthetic bedroom daybed. Try having one in your room to give it aesthetic and luxurious bedroom vibes.
Ceiling Paints For Aesthetic Bedroom
Ever thought of painting your ceiling with stars maybe? Cliche' right, but having a great ceiling decor automatically enhances the whole look of your bedroom. It is also said that dark-themed paints improve sleep during the night.
Try to extend the paint from your favorite colored walls to the ceiling making it ultra cozy and romantic. A blue-hue paired with yellow and white bedding definitely proves that attraction is always between the opposites. Just have a look and play with your favorite colors to add glam to the room.
Why Not Mix Neutrals For Aesthetic Bedroom makeover?
If you are already done with extra hue colors and bright textures of your bedroom, this is a must-try. Sometimes it's better to be neutral, right? Plan elements you can add to the snow-white room for example the one given in the picture. The pillows having different colors, a white rug, Bohemian hanging, etc together makes the bedroom super aesthetic and calm.
Bring in texture and add personality to your favorite place of the entire house. Work with different materials like leather, wood, sheepskin, and wool to escalate the boring look to super soothing and alluring.
Let's Fake A headboard To Create Aesthetic Bedroom Look
There are innumerable tips and tricks available on youtube for creating fake boards using colors for your bed. If you are one of those who do not want to invest more in a makeover this one is pretty good considering its budget-friendly nature.
You can make a very basic bed frame above the bed using your favorite tone of color that seems aesthetic, usually, light-colored shades look perfect but you can proceed according to your taste. Use any tape and draw a rectangle or circle to apply the paint and you are good to go. Have an amazing sleep with satisfaction. The best part about this makeover? You can always change colors with furniture and changing taste without investing much, which is obviously great!
A Gallary Wall For Aesthetic Bedroom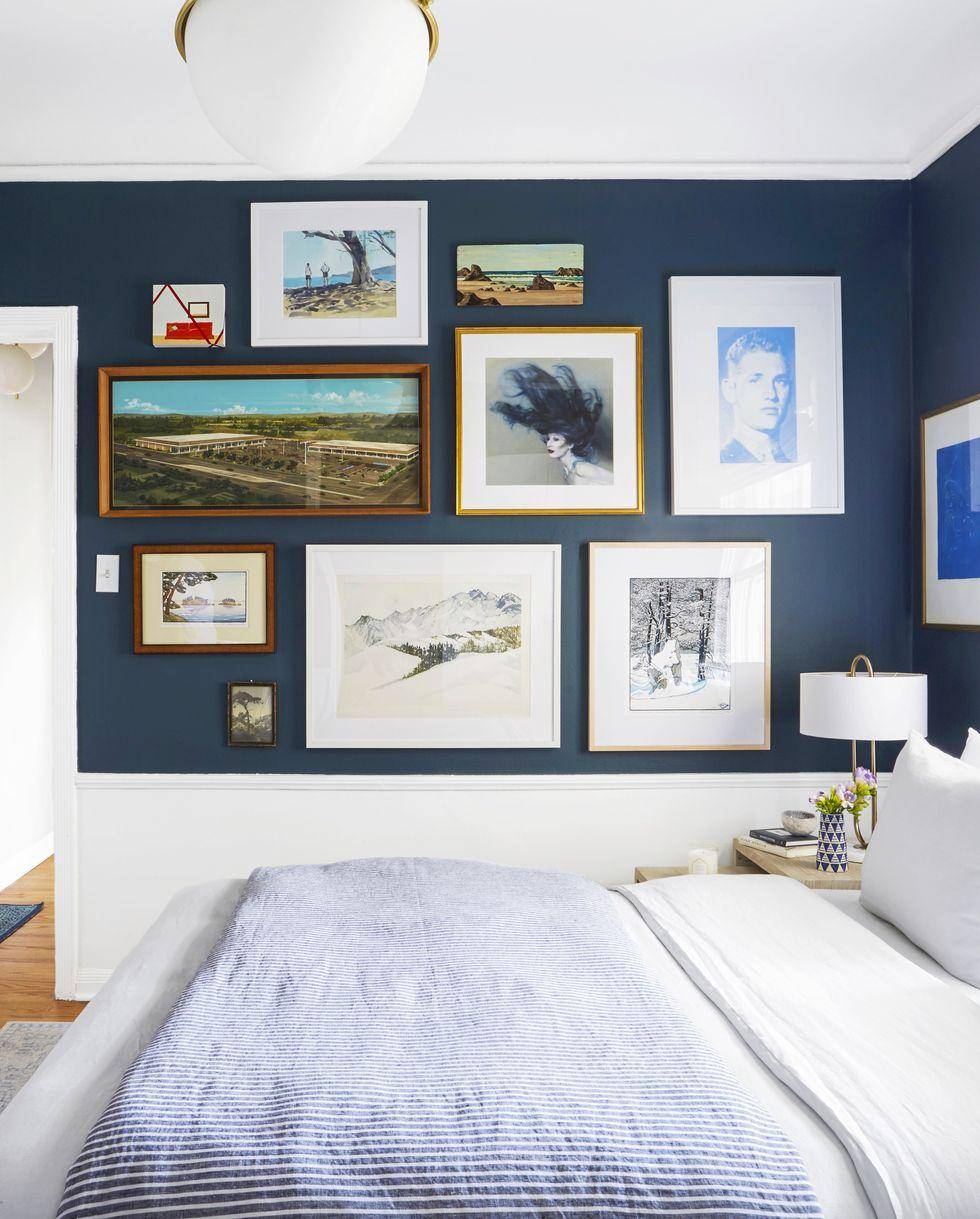 Have a huge collection of family photos and figuring out where to place them? You have come to the right place buddy! A gallery wall is always in trend and loos absolutely amazing in your bedroom, living room, or gallery in your house.
Here is a basic tip on how to find a perfect position for all the frames. Always try to place them on an empty floor. Try all the combinations you feel like having and choose the best one. Go for the wall that is slightly big and spacious. Place all the pictures and you will end up loving how it turns out.
Install Sconces For A Perfect Aesthetic Bedroom Makeover
It doesn't matter for which theme you are going, sconces near your bed never fail to enhance the entire look without doing it too much or going too little. Once the sun goes down these sconces will illuminate your room like a dream. The cozy vibes with Netflix chilling or talking late at night will enhance your mood and make you happy instantly.
You can add a rustic carpet or rug along with it to add a bit more charm to the entire look. Another aesthetic bedroom idea I am totally in love with.
Get Rustic With Aesthetic Bedroom Vibes
Long cabin vibes are again in trend. An all-time favorite of the 90s kid here is another favorite aesthetic bedroom decor idea. A floating shelf never disappoints others. You can choose antique accessories placed all over your house or stored previously to add to your bedroom. Lamps, artwork, adorable nightstands look stunningly well when placed together to create this bedroom makeover.
Beachy Colors For Aesthetic Bedroom Makeover
If your dreams often include oceans and beaches, why not add some reality to calm your soul? An aesthetic bedroom is not complete without some beachy vibes to it. You should allow seasonal changes in your bedroom as it gives freshness and charm to the bedroom and you get to experiment with styling. The bedroom is a part of our house we spend most of the time in, so it's definitely important to keep making changes that look astonishingly soothing to the eyes.
You can swap pillows with different tones and get in new throws.
Install Wallpapers For Aesthetic Bedroom
If you are bored with white looks and white furniture all over your room, the best idea that will not take much time and investment is adding PVC wallpapers that are easily available in online stores. These wallpapers are removable (read the label) and extremely good-looking.
They make your bedroom look so classy and trendy that you will not feel like stepping out of your room. Happy Sleeping!
A Piece Of Art As Headboard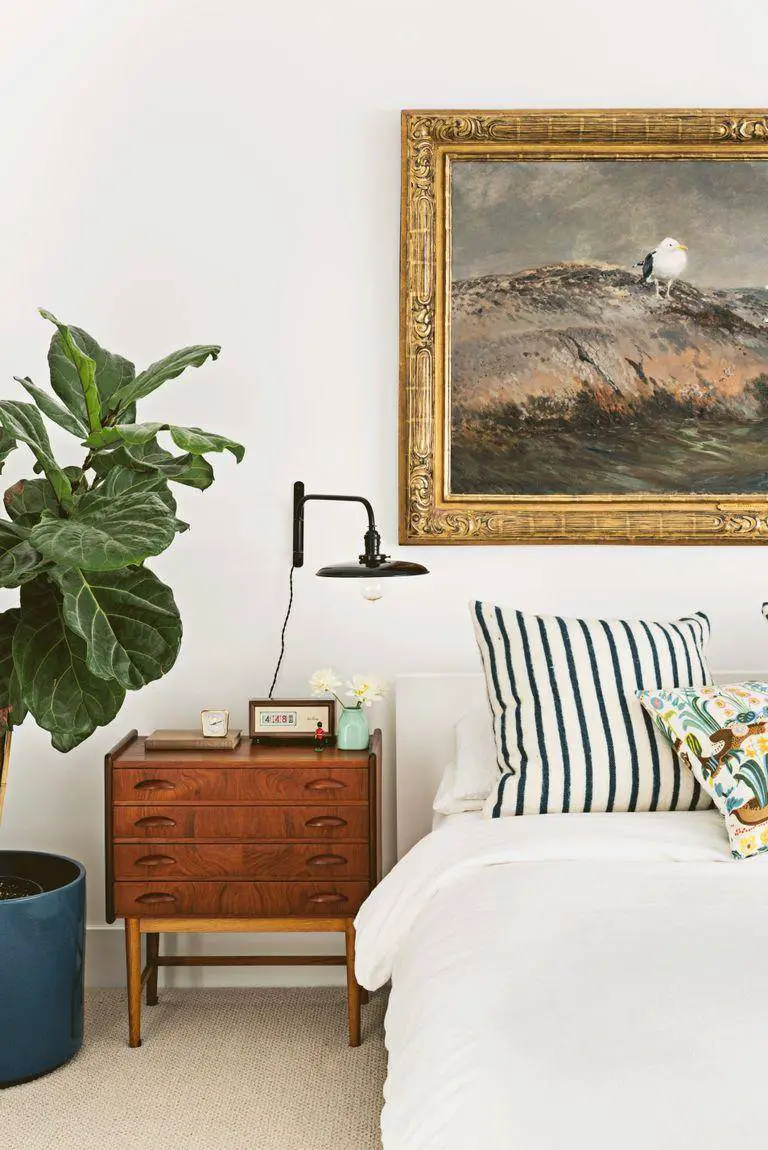 Do not rush to the markets to create an aesthetic look and vibes for your bedroom when you already have a huge-sized piece of art. These antique art pieces are brilliant and always in trend. Add a classy look to your cozy space using a huge art piece as the headboard.
Neutral walls, bedding, and carpeting are the things that are most noticeable in one's bedroom. Try changing one and see the magic makeover.
Statement Lighting As Aesthetic Bedroom Makeover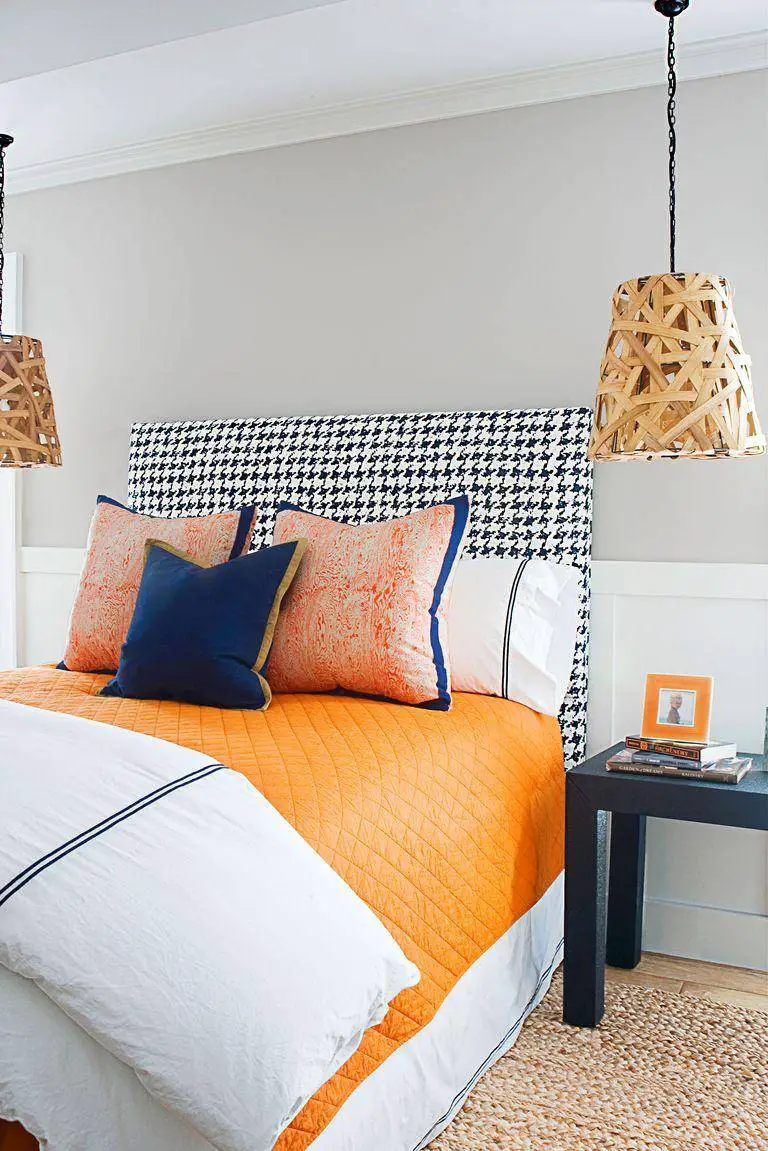 Most of us are done with regular bedside lamps and in the urge to bring something that adds a statement and can be used for the long term. These dramatic lights of pendant aura hang so well and the look they give is not comparable. Get rid of extra storage gathered by bedside lamps and elevate your bedroom decor with tangy orange sheets paired with these statement lights and white combo.
These were some brilliant decor ideas to get that aesthetic look for your bedroom you have been longing for. You can also add different aesthetic planters to your bedroom that are scientifically proven to escalate the quality of your sleep and add to the decor beautifully. Have a happy sleep.