Interesting DIY Dresser Ideas that You Can Try at Home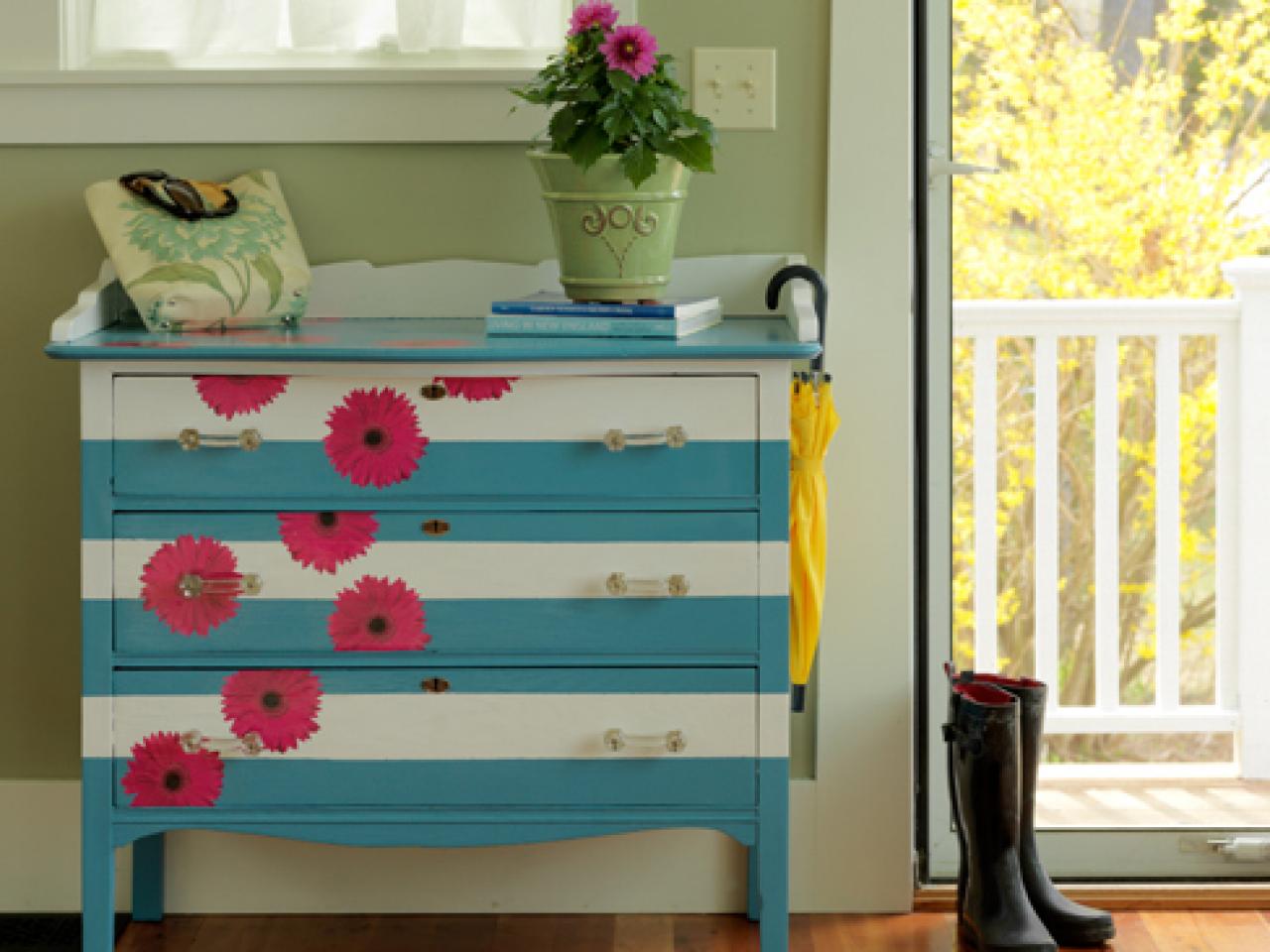 The home, especially your personal room, is supposed to give you a sweet, comfortable vibe whenever you look around it. And this pleasant vibe comes from every piece that you add to that room.
Ranging from the floor and walls to the other parts of the interior- everything contributes to making the room exceptionally good-looking. Also, furniture in no way contributes less than them.
Among the furniture pieces that you have in your room, the most essential one is a bed, indeed. But, what's the second-most important thing there? It is the dresser. Yeah! You may call it by another name- "closet."
A dresser is a covered storage space in a room that is mostly used for storing clothes. Well, it is your home. Your personal space! You are not compelled to follow the traditional rule of keeping clothes only into the dressers.
You can use the dresser to keep other household items like utensils, toys, artwork, miniatures, and so on.
Anyways, so, it means that a closet or a dresser is an important factor within the interior of a room. And you must have an exclusive dresser in your room.
You probably want to make it by yourself. That is why you are here. High-five! You are just like me. I, too, prefer to make dressers on my own. And to help you, now, I will share some DIY dresser ideas.
Should I go for DIY Dresser Ideas?
Everything comes with pros and cons. DIY dresser ideas are also no different. Let's first have a look at what are the possible cons. When you opt for doing it yourself, it may go wrong as most of us do not have a professional knowledge in making furniture.
Also, one may get hurt as people mostly do not know how to use the tools safely. Another problem that may occur is choosing the wrong material and style.
A professional interior designer or a carpenter, or any other professionals related to this field have a good idea about which material suits where. And common homeowners barely have any clue about this.
Considering these issues, DIY dresser ideas do not seem right for many people. But, if you look at this concept closely, there are plenty of good reasons to go for it.
First of all, you can incorporate your creative ideas there. Also, you can choose your preferred material on your own. You can try different styles as well. From simple to magnificent, modern to vintage- a plethora of designs are available for you online.
Another reason for which many opt for DIY dresser ideas is affordability. Many a time, homeowners cannot afford to hire an interior designer or a dresser expert. In such cases, doing it by yourself is cost-effective.
Last but not the least, making your furniture pieces on your own gives your mind space for imagination. And eventually, you can enjoy a peaceful serenity in your mind giving your inner creative soul a flight.
Things to Keep in Mind before Making Dressers:
Before you head towards designing the dresser on your own with the DIY dresser ideas, a few factors must be considered.
Gather the tools first. You usually need a hammer, nails, plywood (if you want a wooden dresser), drawer slides, and so on.
Take care of the material. Whatever material you choose- wood or metal or anything, just make sure that it is of good quality.
Learn the procedure well before you begin.
Take advice from a renowned expert in this field.
Do not hurry. Take time to look into the details.
Top 35 DIY Dresser Ideas You Must not Miss:
Indeed, you love to have a customized dresser that aligns with your present-day need and current interior trends. So, no more the traditional closets! I am right here to suggest some awesome DIY dresser ideas. Try them and make a one-of-its-kind dresser for your personal space. Also, if possible, you can think about a complete makeover of your existing dresser using these ideas.
Not just for your own room! You can plan to gift it to your parents, siblings, or beloved partner with whom you are in a long-distance relationship!
Without much ado, let's dig into the details of some exceptional DIY dresser ideas.
1. Simple Dresser:
It is said that true elegance lies in simplicity. Anika's DIY Life offers an easy and interesting DIY dresser plan to create a simple dresser. The 3-drawer dresser is perfect for any room, whether a kid's room or an adult's room.
It not only leaves ample space in the room but also fills the space with an aesthetic ambiance. With a few tools and following some steps, you can make this dresser easily at home. Check out the details in this tutorial.
2. Wooden Dresser with Wheels:
A dresser is supposed to be built considering the convenience inside the room. Now, what if you are not sure about your upcoming home renovation plans? Or, what if your home is already under renovation and you need storage space?
For these moments, elegant wooden dressers with rolling wheels are the best options. You can move them anywhere you want. If your home is not ready, you can assume an average length and width to be fitted in your room. And create the closet accordingly.
Once done, you can roll it inside room. Also, you can move it away from your room effortlessly during clean-up, pest control, and so on. Whitney from Shanty 2 Chic built such an amazing dresser with wheels with the help of plans provided by Miss Ana White.
Find the detailed tutorial here.
3. Mid-century Style Dresser:
If you are fond of vintage classic or mid-century modern styles, you may love to have a mid-century dresser at home. It adds exceptional ambiance to the room. Reflecting a rustic vibe, it offers a modern essence.
The Weathered Door has created a beautiful piece of mid-century style dresser. The original structure was bought, and a new reverse-dipped look was incorporated.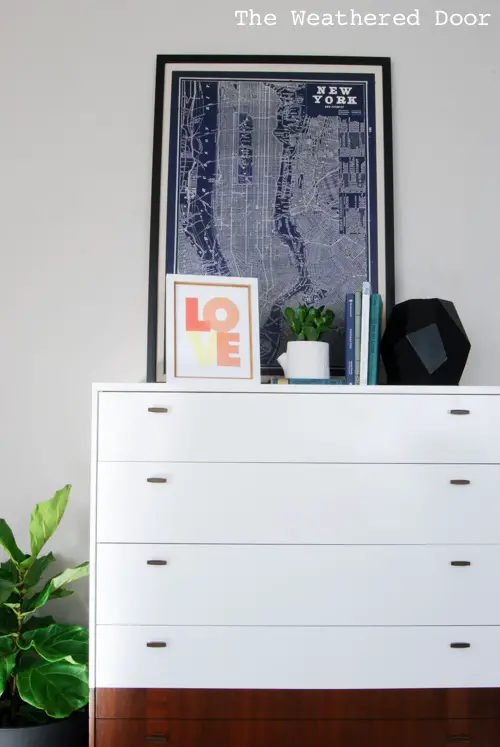 The details of how it was built are explained here.
4. Two-tone Dresser:
A two-tone furniture is a popular option among homeowners. A two-tone furniture includes two finishes. For two-tone dressers, you can find one exquisite color on the body and another on the top.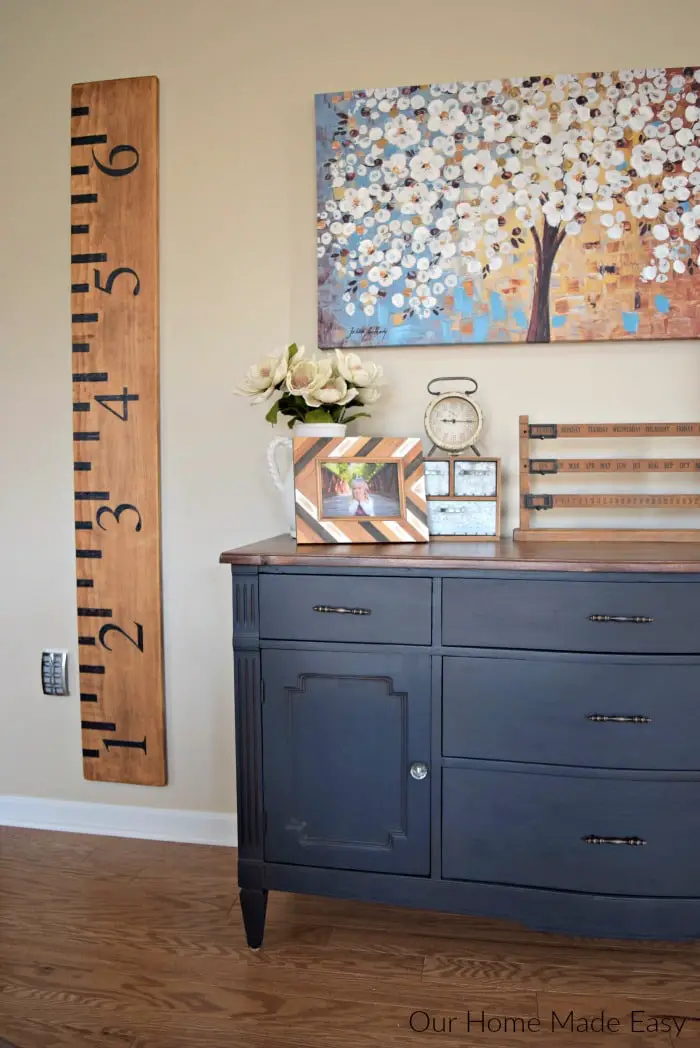 Brittany from Our Home Made Easy shares a wonderful plan to paint a two-tone dresser that incorporates a deep blue tone on the body and a wooden texture at the top. Check out the tutorial for a complete description of the process.
5. Chalkboard Dresser:
Your kid will love it. If you plan for a kid's room renovation, try this design. This type of dresser allows the children to brush up on their creative thoughts. Indeed, it takes care of the aesthetics of the room as well.
Chalkboard paint is an interesting style that is used to decorate some portions of the dresser. And the rest of the dresser is painted with another bright color that goes well with the chalkboard paint.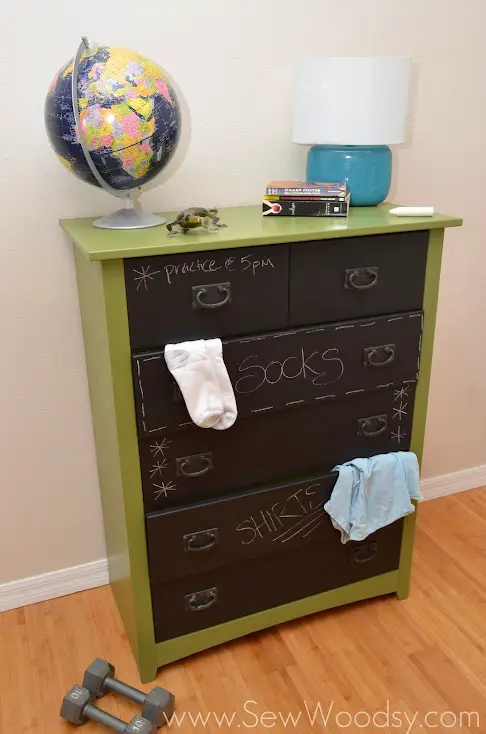 Katie and John, in their lifestyle blog named Sew Woodsy, share one of the best DIY dresser ideas with chalkboard paint. Have a look at how they create it.
6. 16-drawer Simple Dresser:
If you want a make a multipurpose furniture, DIY dresser ideas for 16-drawer dressers are ideal. While regular closets are for keeping clothes and a few household items, such dressers can be used in different ways.
On the one hand, it allows you to keep your children's clothes. On the other hand, you can use the other drawers to keep your cosmetic belongings, bows, belts, and so on.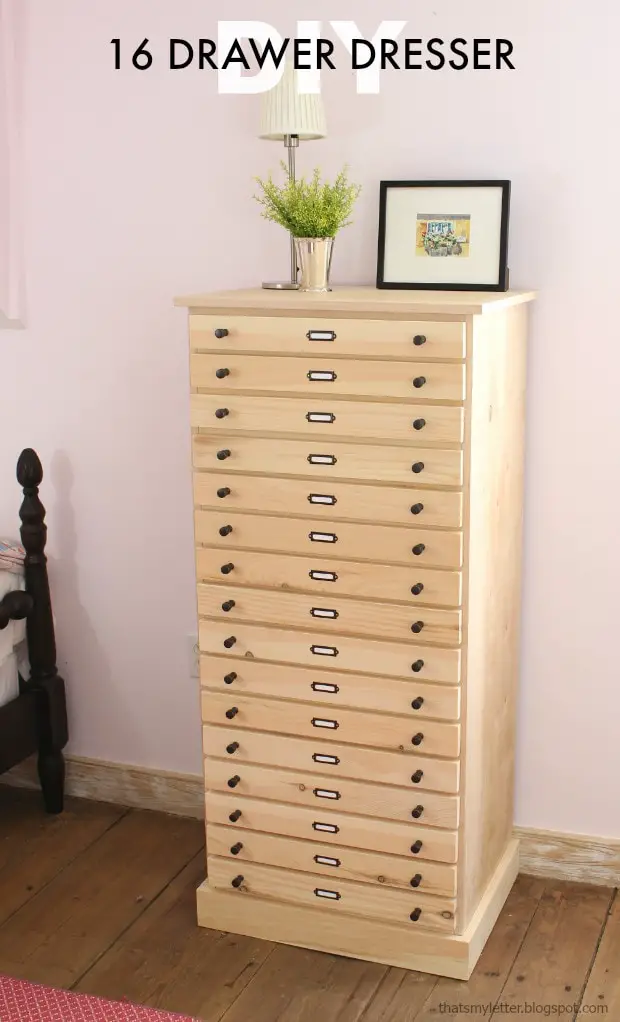 Also, the craft papers, colored pencils, paint brushes, etc., can be kept there. Your husband's shaving kits and facial appliances can find a place there too. Complete storage space for all! Jaime Costiglio offers a plan to create such a dresser with 16 drawers.
7. Vintage-style Dresser:
Many of us love to add a vintage ambiance to our house. Isn't it? The old, classic look always seems to be exceptional. Anyways, it is not always easy to create such a look at home in this digital, modern era.
But, you can give it a try if you have DIY dresser ideas for vintage-style dressers. Roi Baron shares a plan on how to make a vintage-style dresser on his YouTube channel. Once built, you can decorate the furniture with crackle-style paint with a rustic hue.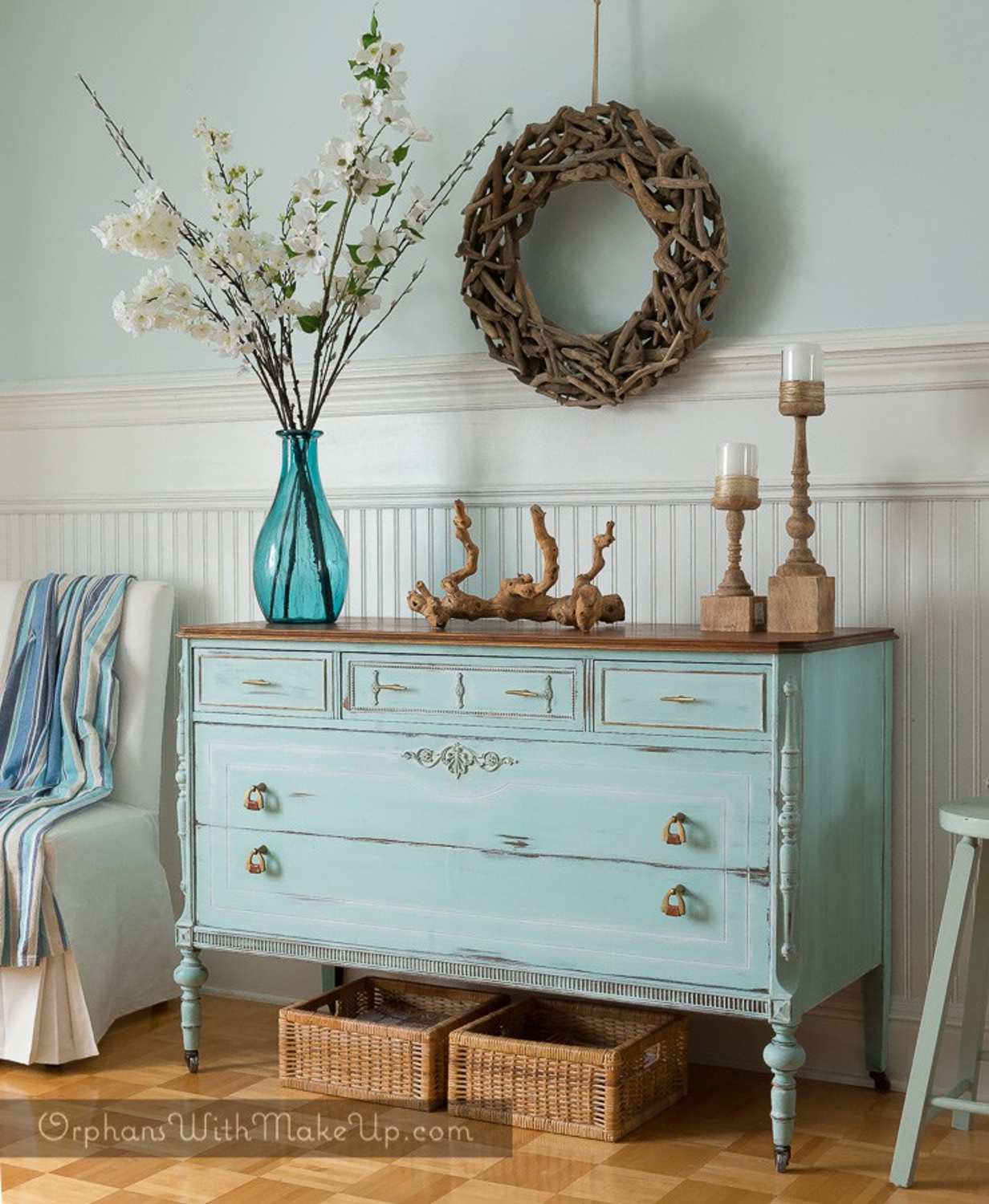 8. Dresser with Wide Cabinets:
When the dresser takes a larger form and turns into a cupboard, it is called an armoire in French.  Although it looks like a dresser, it is larger than the usual dressers. Incorporating spacious cabinets, it comes as an ideal furniture piece for bedrooms.
It comes in different sizes and styles. Often, a freestanding closet cabinet is added to it. If you do not want clutter with an extra wardrobe or almirah in your room, try this dresser.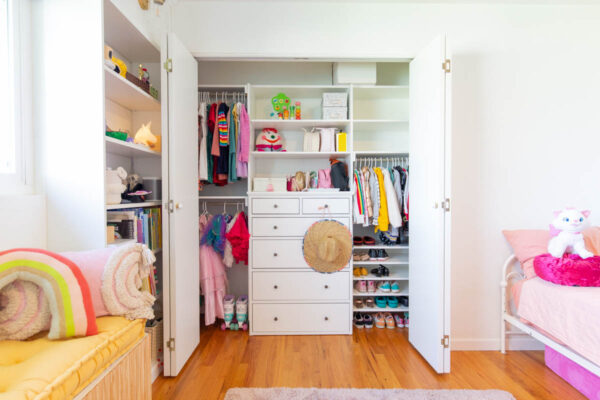 Chelsea Foy shared a DIY idea for such a dresser on her Instagram account. She has explained the steps for building the dresser-wardrobe on her website.
9. Dresser with a Bench:
Call it a bench with storage or a dresser with a bench! Whatever name you give it, the utility and elegance will never go down. It usually includes a bench on top of storage space. The upper shelves of a dresser are sometimes removed to create the bench area.
You can decorate your drawing room or deck area with such a furniture piece. Indeed, it is functional and beautiful at once.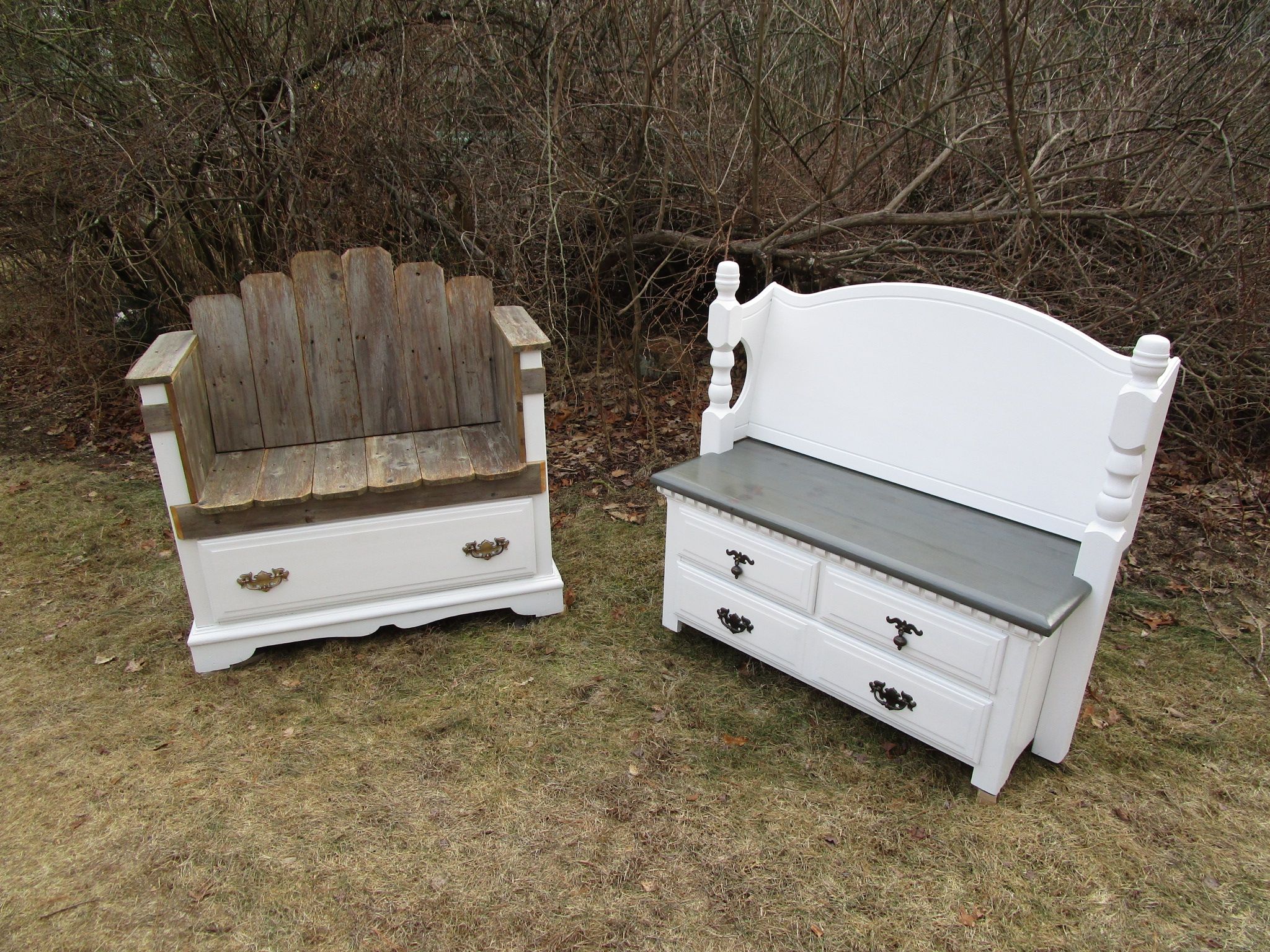 New Splash explains in detail how to build such a dresser with a bench. Watch the video tutorial here.
10. Elegant Lace Dresser:
If you want to add sophisticated elegance to your room, a lace dresser is perfect for you. Build a simple dresser or buy one. Then lay the fabric lace with your preferred designs. A matte-finish spray can cover the whole furniture piece well.
Cannot decide which lace to be used or how to do the whole task? Have a look at the blog published by Uniquely Chic Furniture.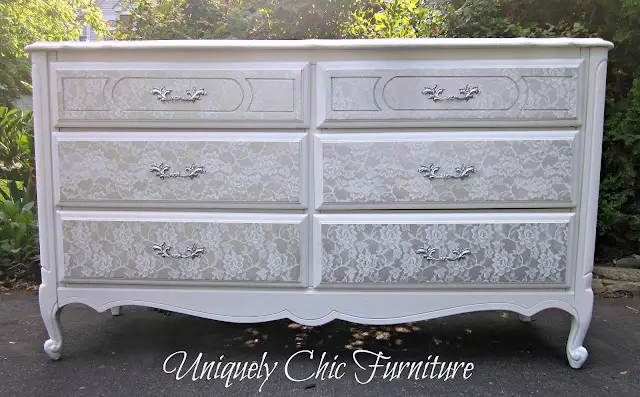 11. Mirrored Dresser:
I am talking about a mirrored dresser, not a dresser with a mirror. There are tons of DIY dresser ideas when it comes to a dresser with a mirror. But, a mirrored dresser is different. The dresser comes with a mirrored look where you can see your reflections.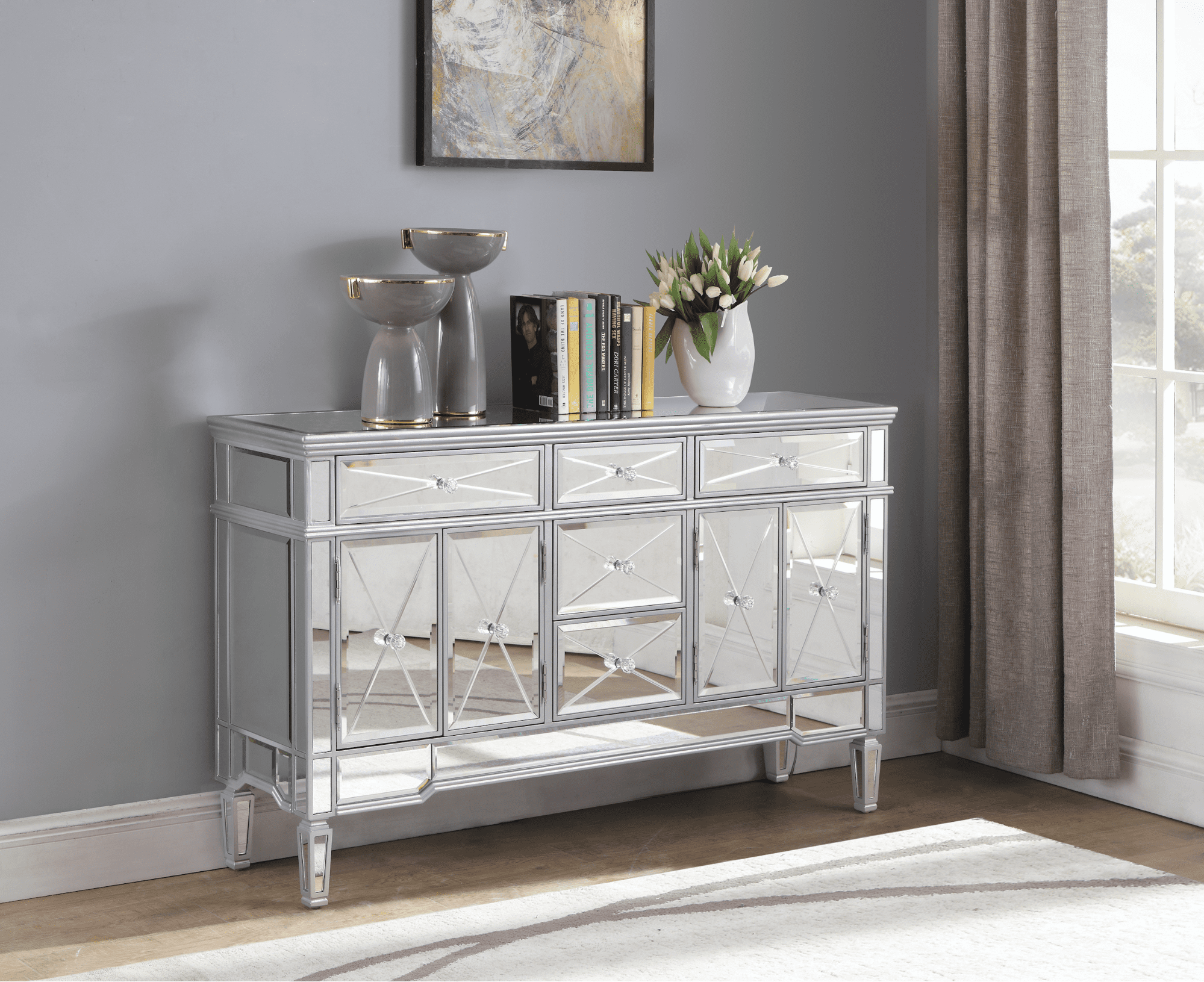 The overall look of such furniture is unique so is the DIY plan for it. Are you interested to build one for your room? Do not worry. Find a simple yet effective DIY idea to build a mirrored dresser here at Instructables.com.
12. Geometric-print Dresser:
Whether a dress or a furniture, geometric print always looks unique. Among all of the modern designs, it is one of the most popular ones. Especially when you have a minimalistic interior, a mid-sized dresser with geometric print looks awesome.
You can find several DIY dresser ideas for it. For most of the ideas, you have to draw the designs first and then paint on them.
Also, you can use geometric print wallpapers to save your time. Want some specific ideas? Stars for Streetlight has something for you.
13. Dresser with Dowel Legs:
Dowel leg is an attractive addition to any furniture piece, especially the dressers. When you look for DIY dresser ideas, you must think about building a dresser with dowel legs. It makes the furniture look attractive.
Also, you can incorporate a never-seen-before curve into it. But, creating a dowel-leg dresser may not be an easy task. Check out the tutorial from Pneumatic Addict to get a detailed idea about how to build a dresser with dowel legs.
14. Extra-wide Simple Dresser:
When you love simple, minimalistic design yet a large storage space, nothing can be better than an extra-wide, simple dresser. It is easy to build a simple dresser. To make it different, all you have to do is measure wider pieces of plywood than the usual ones.
You need to cut and place the pieces properly to ensure the simple yet elegant look of the furniture.
Although the steps are simple, you need to pay keen attention for a perfect result. Check out this blog for more details about the DIY procedure.
15. Dresser with Open Shelves:
While a dresser has always been an indispensable part of our lives, the modern dresser with open shelves is on trend. The covered space can be used to keep clothes and other essential items. And you can use the open shelves to keep regular items like newspaper, pens, notebooks, and so on.
Such a dresser can be used as a computer table or TV table as well. Well, the top is supposed to be spacious enough to hold the structure of a TV or a computer. You can use the open space to keep the electronic accessories related to TV or computer.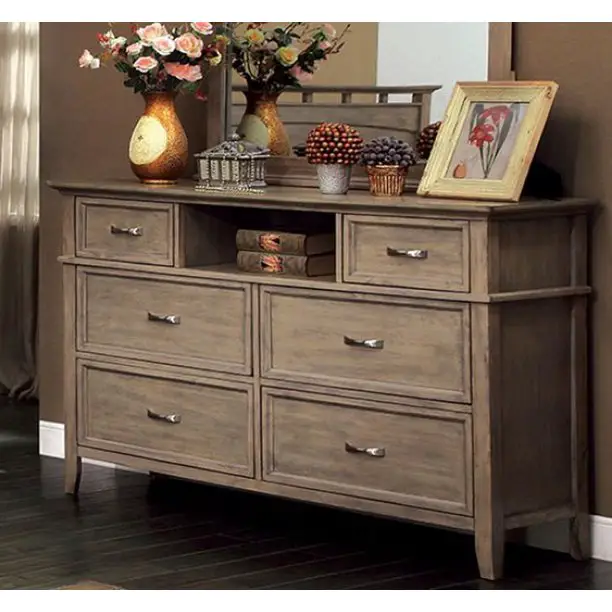 Learn how to build such a dresser in this video by Sharah Woodshop Diaries.
16. Ombre Dresser:
The different shades of Ombre painting looks magnificent on a dresser. Whether you have an old closet or have just built a new one, think about the Ombre design for it. DIY dresser ideas that offer an Ombre appearance are often suggested by today's interior experts.
To ensure the best gradience of color and durability of it, you should do it carefully. Make sure to use the right amount of color and to apply the right stroke when you do the blending on the dresser. DIY Passion provides a clear, step-by-step tutorial for it.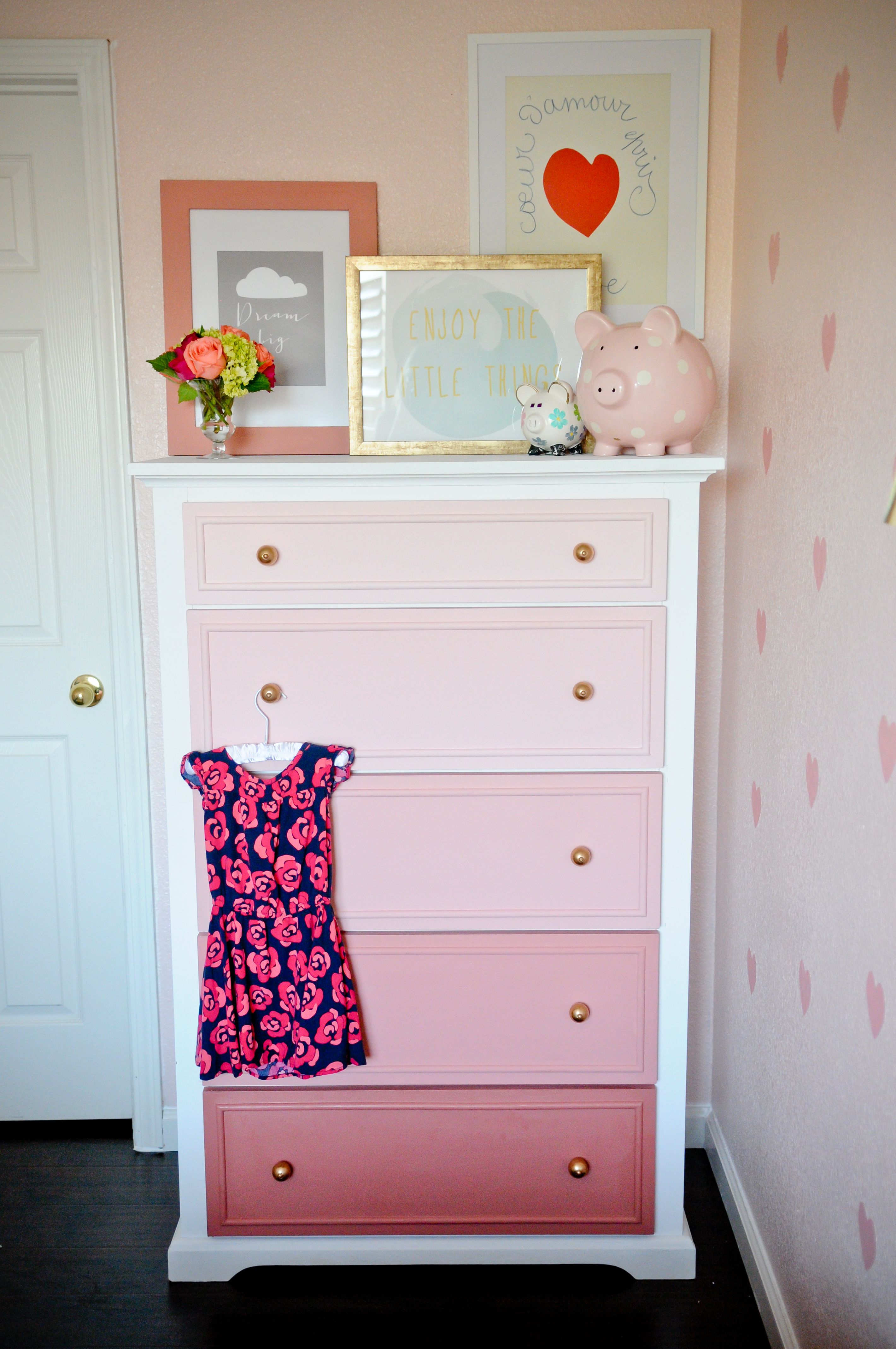 In the article, pink color is used. You can apply any color in this same process.
17. Suitcase Dresser:
Give your creative wings a flight and create this exceptional furniture piece. Building this dresser is simple. No extra effort is needed. The main art lies in painting the piece. And a few modifications in the hardware are needed.
For example, you need to replace the regular dresser handles with luggage handles.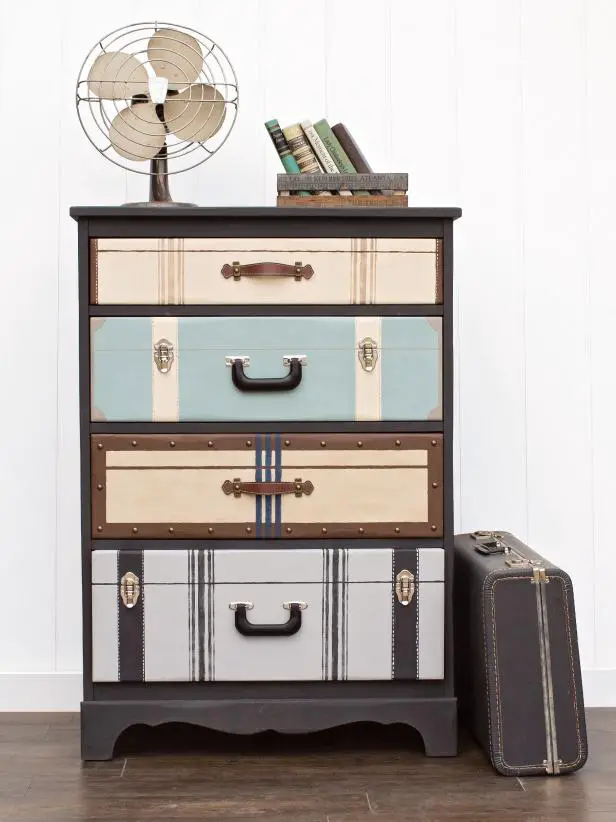 Along with the suitable paint, it adds a perfect suitcase-like appearance. This HGTV article tells you in detail how to do it.
18. Campaign-style Dresser:
If you are likely to travel from one place to another, such a dresser helps to move easily. A campaign dresser can be folded or broken down whenever you require. It originated to be carried in the processions and marches.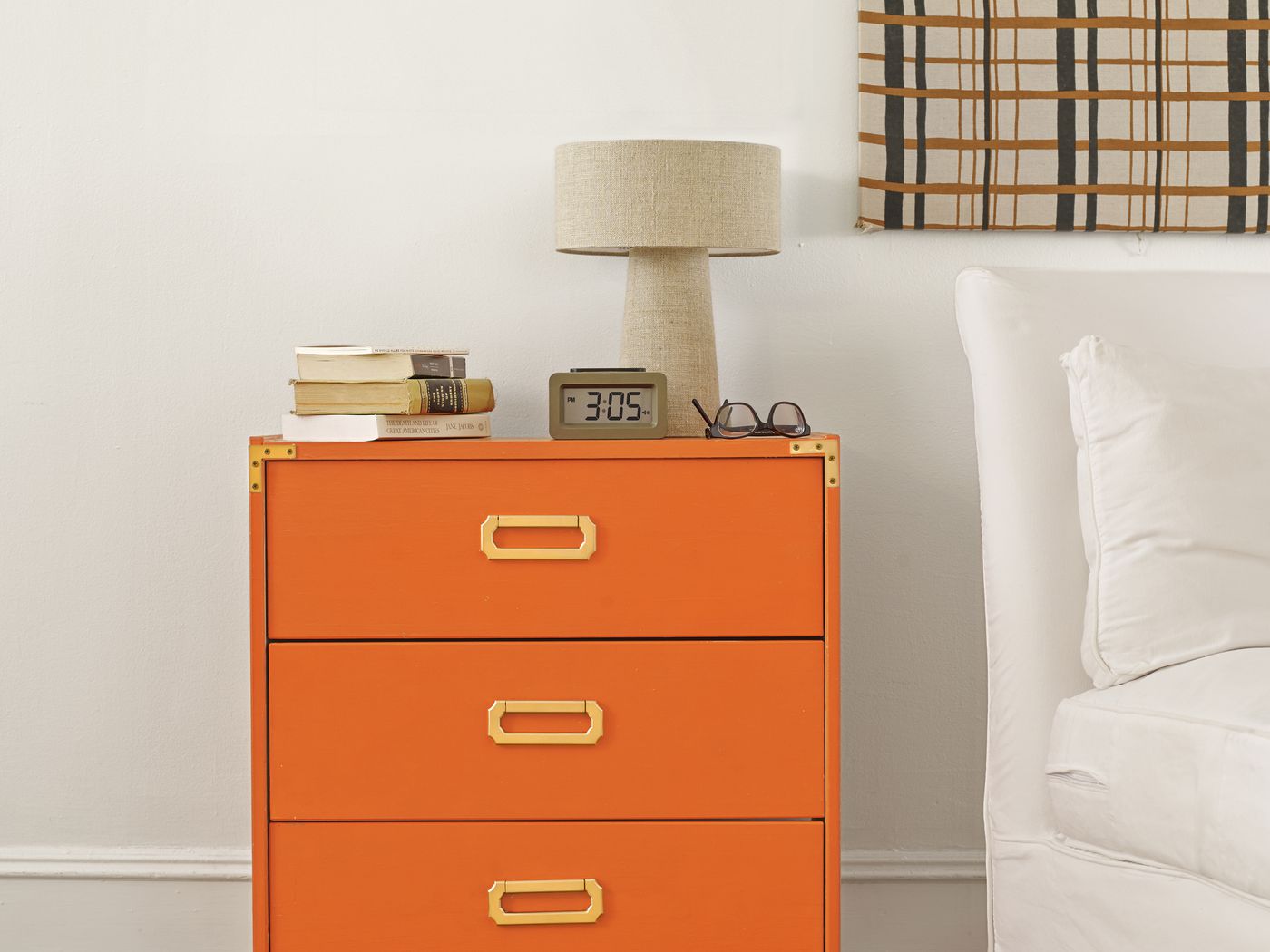 Even if you are not traveling with it, it can enhance the beauty of a room. Designing such a dresser is not a big deal as long as you know how to do it. This Old House has published a useful tutorial on it. Check it out here.
19. Dresser with a Faux-granite Top:
Granite always makes an interior or a furniture piece look superior to any other option. How does it look like when we use it for dressers? We have usually tried DIY dresser ideas for wooden dressers and so on. It's time to go different.
The faux granite top on a dresser takes the beauty of the piece to the next level. But, installing a granite top may not be easy. Instructables.com writes about how to build a DIY faux marble table. You can have a look at it and try to build the dresser with a faux granite top.
It is best to call a professional instead of doing it yourself.
20. Artwork on Dresser:
It is one of the easiest DIY dresser ideas to design a unique dresser for your room. All you have to do is build a simple dresser. Once it is built, you have to paint it in a different artistic style. The style can be floral, folk, or anything.
In this type of dresser, all you need to keep in mind is the aesthetics of the piece. You can have a look at this article by DIY & Crafts.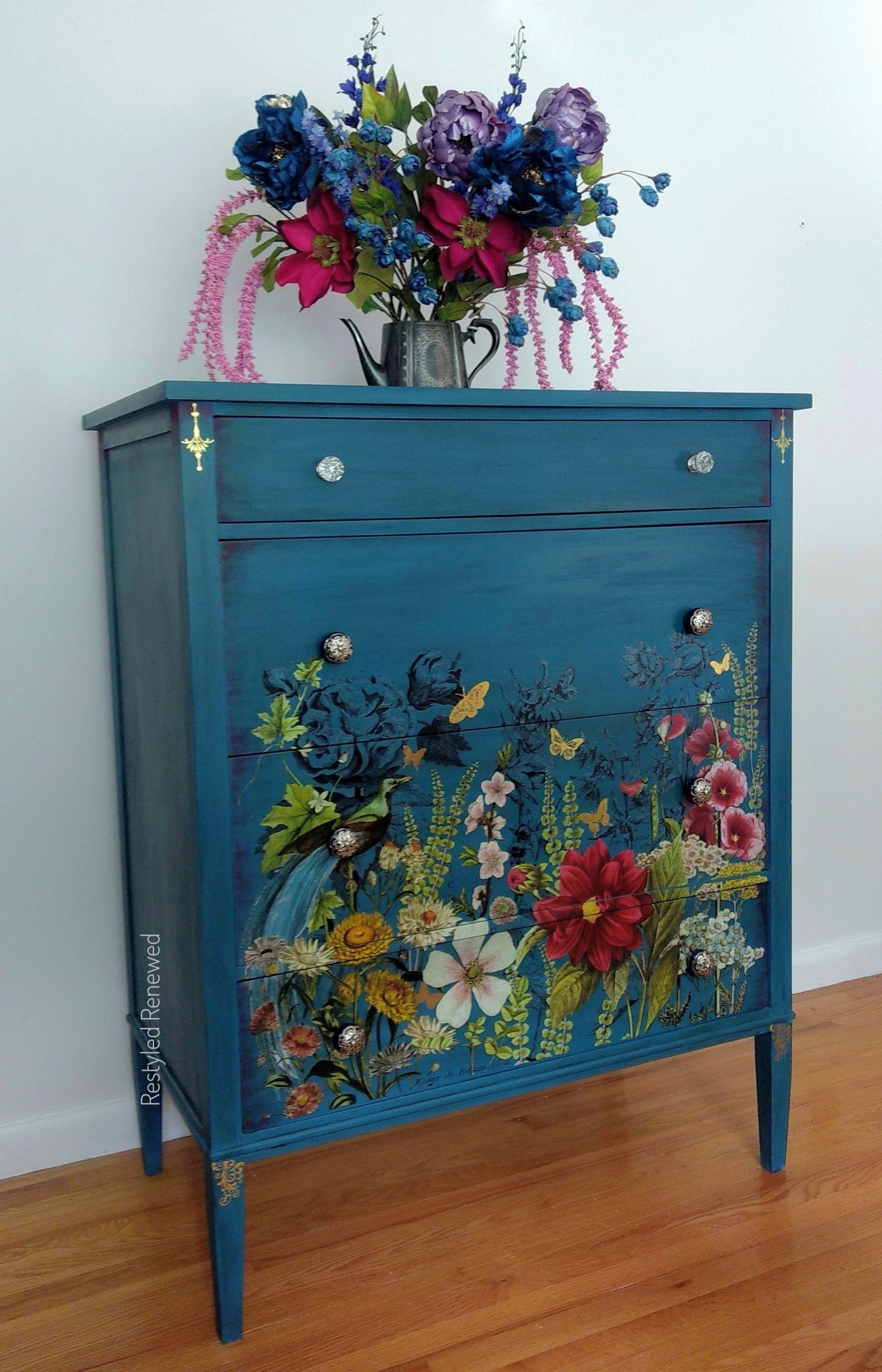 A plethora of painting ideas for dressers are available here.
21. Stenciled Dresser:
Got bored of the regular painted dressers and dressers with wallpapers? I am here with a unique suggestion to decorate the dresser at your room. Try stenciling your dresser. Whether you want to keep it for yourself or want to sell your home with it, it always adds value to your life.
To build a stenciled dresser, you need to pay a little more attention than you usually do to simple DIY dresser ideas. If you are interested to know how to incorporate raised stencils on dressers, watch this video on Jami Ray Vintage YouTube channel.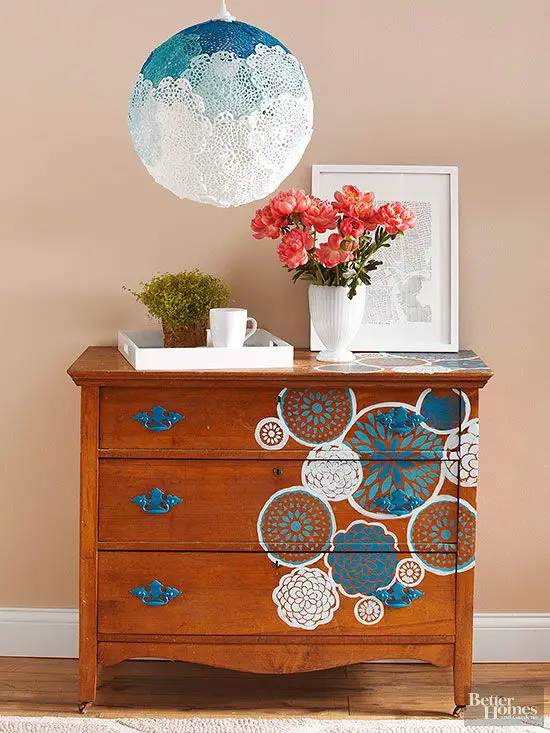 22. Dresser with Sheet Music Design:
Do you like the sheet music design? You can use it to decorate your dresser, you know? Surprised? Here, I am going to tell you how. While looking for different DIY dresser ideas, I found this exceptional idea to design a dresser in a unique way.
You can use an antique dresser for it the way Marian used it in this tutorial. You need some yellowish vintage-looking music sheets to create this interesting design. If you are good at stencil, you can try this design in stencil as well.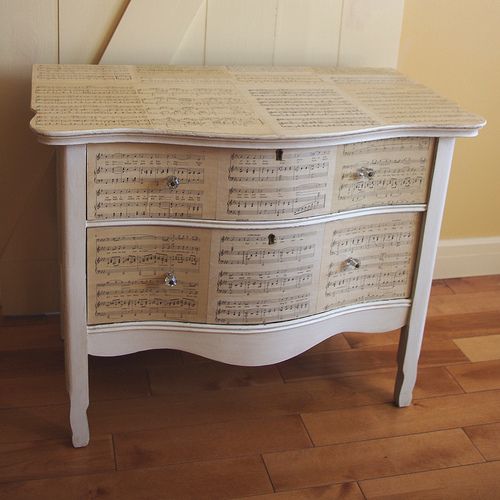 No matter which method you use, if you do it efficiently, the result will be mesmerizing, trust me.
23. Modern Dresser with Patchwork:
Patchwork dresser may sound unusual. But, once you opt for it, you will pat your own back praising yourself. Also, you can thank me if you like! 😉 Jokes apart! It is indeed an exceptional option among all of the DIY dresser ideas I have shared.
Patchwork is all about creating a rhythm and accumulating the odds. Ana White shows how you can do it quickly and efficiently.
For a detailed description of the procedure, check out the article.
24. Modern French Dresser:
Do you have an old, worn-out dresser? Or, you have just built a traditional dresser and want to modernize it? Try DIY dresser ideas for a modern French makeover. Nowadays, when everything is going modern, your dresser should also wear near style. Isn't it?
To give your dresser a modern French look, you have to gather all of the essential tools and paint it according to the requirements. You can ask for suggestions from an expert interior designer. Or, you can read this article by Sustain My Craft Habit.
25. Dresser with No-handle Drawers:
It is a sleek and modern design that many homeowners look for. The usual handles of the drawers are replaced with a trim to pull the drawers. The whole appearance from the front includes a trimmed look.
Pulling the drawers by the trims may seem odd as we are used to pulling them by handles.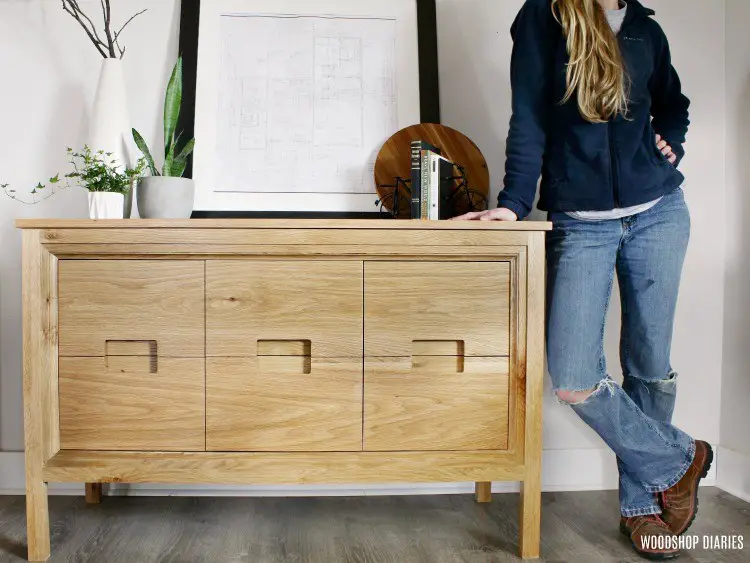 But, when you add this design, the overall style of the dresser looks completely different. It looks beautiful. Shara from Woodshop Diaries shares a useful yet easy plan to do the task skillfully.
26. Chevron Dresser:
Chevron is an inverted v-shaped pattern. It was previously used in potteries. Nowadays, people love to use the pattern on furniture pieces, clothes, and so on.
With a few regular tools and in-depth knowledge of the process, you can build a high-end chevron dresser for your room. Well, if you go for DIY dresser ideas to create a chevron dresser, you should know how to create a chevron pattern beforehand.
Take your pen and paper and practice the designs well. Decide which chevron design you prefer for your dresser.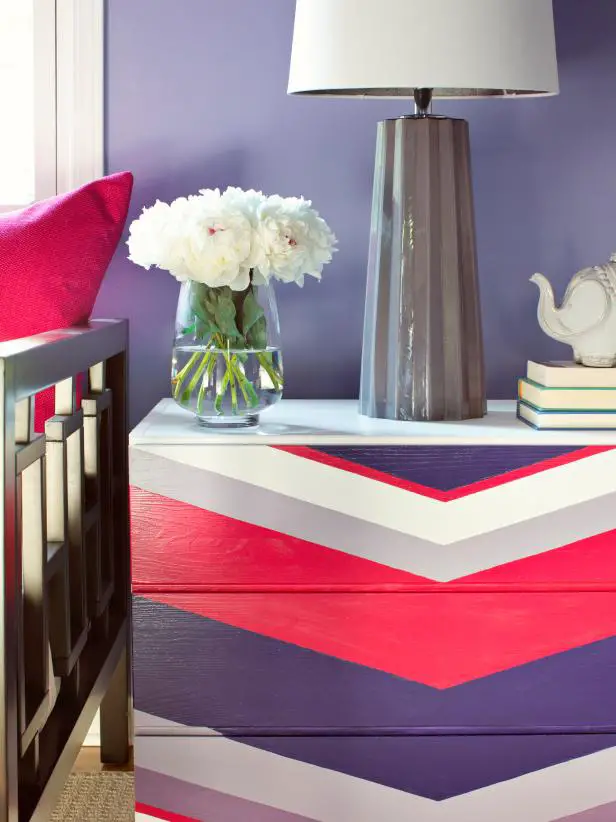 Apply it with a gentle stroke. The step-by-step guide by HGTV shows how to do it properly.
27. Land of Nod Blake Dresser:
This design includes not only the drawers but also the shelves. The DIY dresser ideas for such dressers are popular among the bachelor homeowners. The main reason behind it is that it is multipurpose.
On one side, the closed drawers add storage. And on the other hand, the open shelves add more space to keep essential belonging.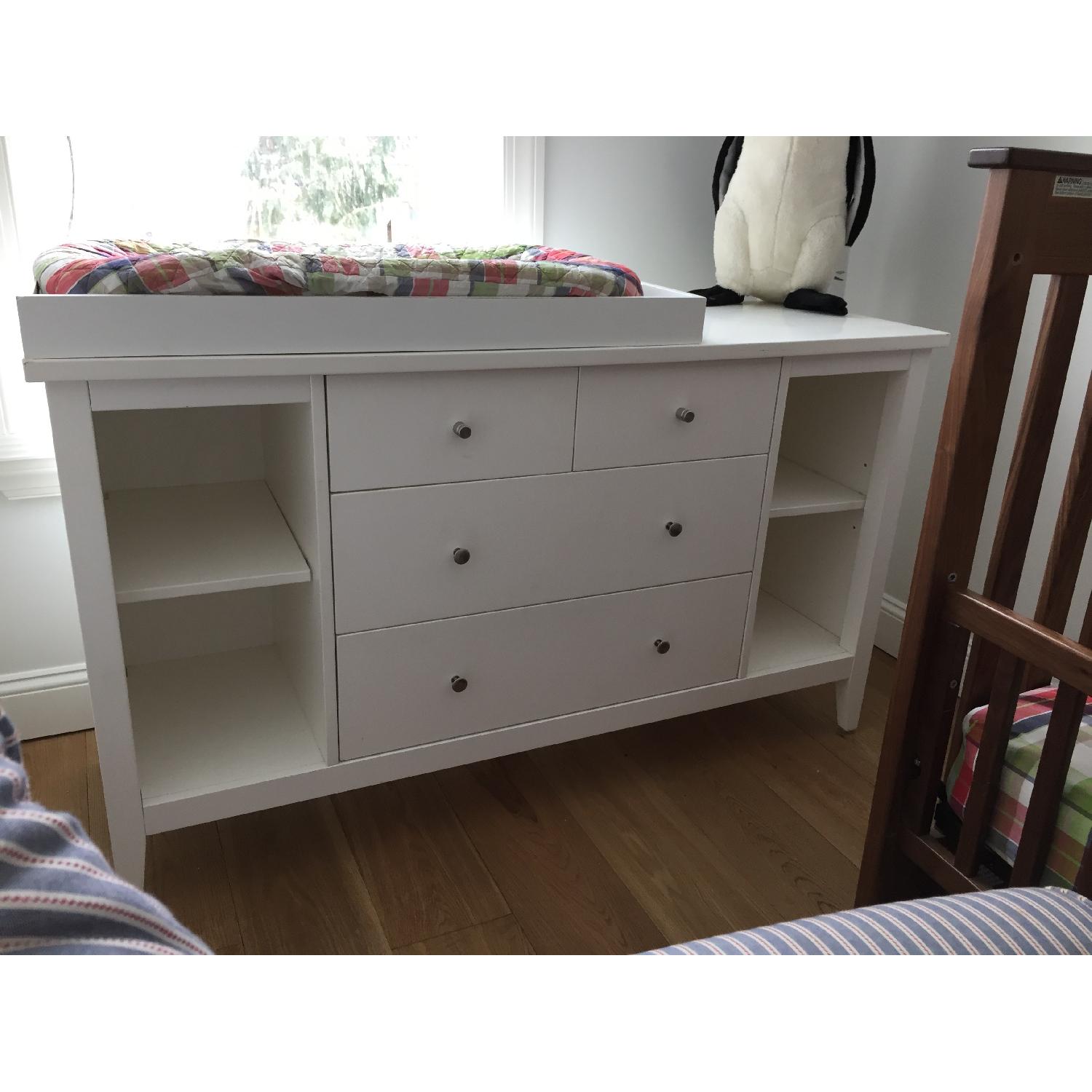 Check out the guide offered by The Design Confidential for more detail about such DIY dresser ideas.
Opt for DIY Dresser Ideas TODAY!
If you ask my opinion about DIY dresser ideas, we all should try implementing the ideas at least once in a lifetime. I personally love to check out different DIY dresser ideas and implement them whenever I get time.
Often, people become skeptical about it and ask questions like- how do you make a fancy dresser with DIY dresser ideas?" "how hard it is to make a chest of drawers using DIY dresser ideas? ", "how to decorate a modern dresser by implementing DIY dresser ideas?" and so on.
To answer all of the questions, I should say that DIY dresser ideas are useful, cost-effective, and fun. But it is no use if you do not learn the process well or gather the right tools and ingredients.
Keep it in mind! Want more interesting DIY dresser ideas? Let me know.
Once you are done reading the DIY dresser ideas, do not forget to check out the guide to clean furniture.