How To Clean Irons- Best Tips To Follow!
Do you know How to clean irons using the correct methods? Most of you might not be familiar with the different home equipment we can use. A messy iron can do more damage than good, from hooking fabrics to leaving blots and marks on the clothes.
You can typically get by with cleaning the iron once or twice a year, as long as you observe the manufacturer's suggestions. Bear in mind that a quick tidying up of the surface is not always sufficient to clean an iron. When the iron no longer drifts smoothly over the clothes, or you see a light residue on its soleplate, you will need to remember how to clean an iron bottom, too.
Synthetic materials, sizing, and starch may adhere to the soleplate, and the excess heat bakes them to form a residue that can be challenging to remove. If the iron is not steaming like it must or gathering rusty stains onto the clothes, its steam holes might have been clogged. That suggests learning how to clean irons is a must for you at the moment.
Before you leap into the guide on how to clean an iron, try reading your iron's instruction manual for users. The best guidance you can read for maintaining, troubleshooting, and cleaning the appliance comes from its producers. Should you spray distilled water? Does the iron descale on its own? You can discover all the answers within the manual. Do not have a manual? There's a fair chance you will find one online based on the company, so give it a quick.
No matter what kind of cleaning approaches you are using for the iron, do not utilize sharp objects and strong abrasives harshly without practice. You certainly do not want to cause harm! If you have got the manual and are ready to clean, keep scrolling. You'll learn how to clean irons like a professional so you can get back to lining up creases and glossing out wrinkles.
Here are 13 ways and tips on How to clean irons.
How To Clean Irons
1. Dissolve Tylenol In a Hot Iron Soleplate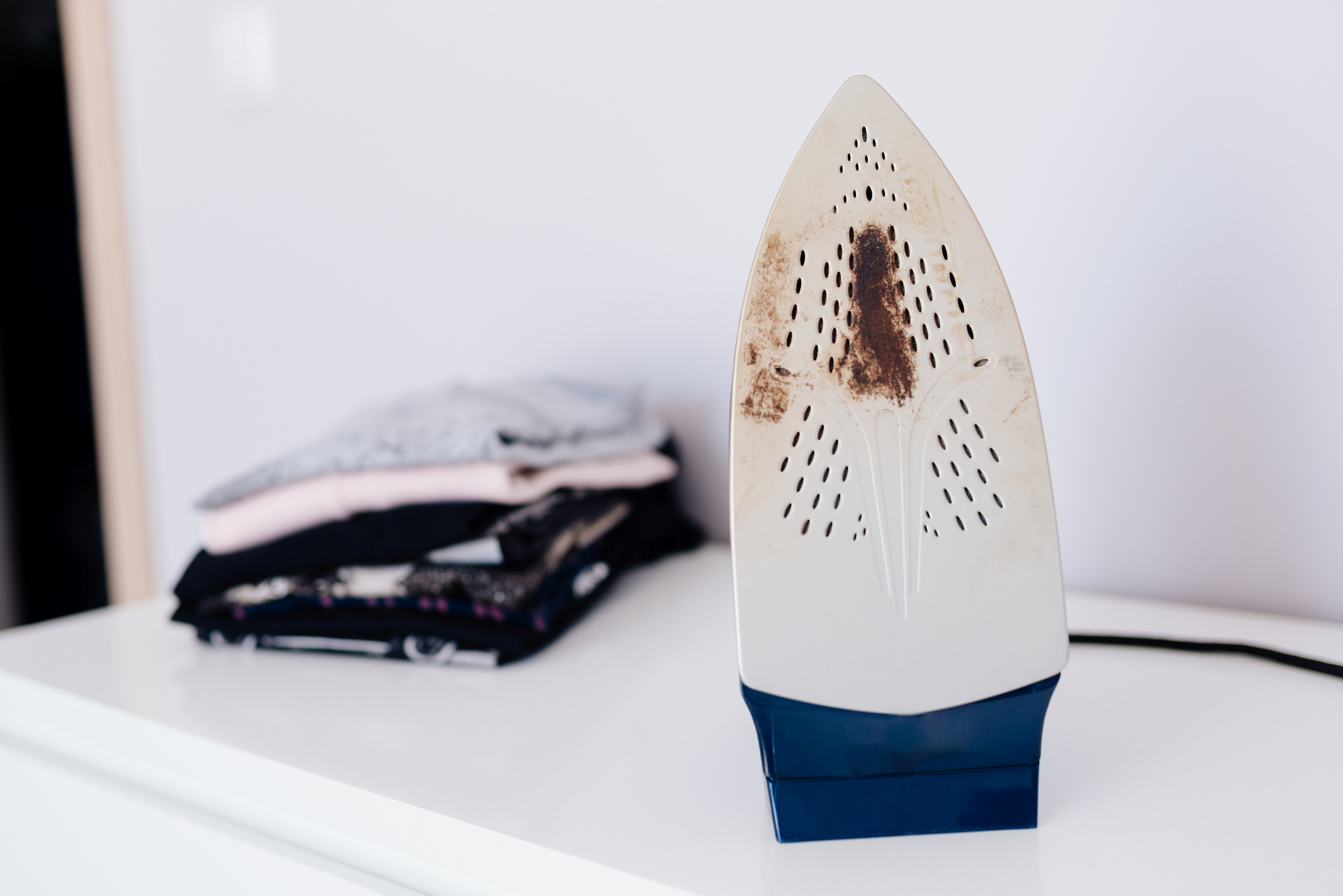 One of the most suitable hacks for cleaning the iron having burnt residue is somewhat surprising: Tylenol. It does not have to be a brand of a specific type—any acetaminophen tablet will be OK. Switch the iron onto its highest setting. After it's hot, push the pill instantly onto the burnt portion. The pill will dissolve and shift into a gel that melts the burnt mark. Utilize a paper towel or damp cloth to clean its soleplate, and follow the same process as needed till the char is thoroughly removed.
It's necessary to shield your fingers, of course, so try putting on an oven mitt or any heat-protecting gloves when you follow this method. Do not, nonetheless, try to hold the pill using tweezers or pliers—a single slip, and you'll end up rubbing the iron, and there is no repairing that. Simply wear something to cover your hands, and you must be good to proceed.
2. Create an Iron Cleaning Paste With Baking Soda
Baking soda is a godsend worker who helps clean all the materials from cookers to dishwashers. It can likewise clean the iron. Form a stain-fighting paste using just one tablespoon of water and two tablespoons of baking soda. Rub it around carefully over the iron plate, but attempt not to obtain baking soda within the steam holes. If you get the paste within the steam holes by mistake, make certain to sweep them out. This brings us to the following iron-cleaning advice.
3. Use a Cotton Swab to Clean the Steam Holes
Cotton swabs are the ideal tool to get within the steam holes for cleaning them out. Submerge them in distilled white vinegar prior to putting them inside the stem holes to level up their dirt-fighting power.
4. Soak a Towel in Vinegar
One more way to apply vinegar to clean the iron plate is to saturate a towel in vinegar solution and then position the iron onto that towel such that the iron plate is facing down. Allow it to sit for 30 minutes and clean it down. It will be as good as new! This approach is particularly advantageous if your iron displays corrosion.
5. Combine Vinegar to the Water Reservoir
If you own a steam iron, one more way to clean the iron steam ducts is to load the water reservoir with a blend of half water and half distilled white vinegar. Then grasp an old fabric or towel, iron, and steam it. While you steam, remnants will come out of the ducts or vents along with the added vinegar.
6. Make Magic Using a Magic Eraser
A magic eraser can perform wonders while cleaning an iron, mainly if your iron is stained with hard water. Get the magic eraser watery, and then massage the cool iron along with the sponge till the blots come off. Wet the sponge again as required.
7. Iron Over a Newspaper and Salt
Consider it or not, newspapers and salt can also help you get the job accomplished. Flip the iron to its hottest setting and set up a newspaper on the ironing board. Spray some salt onto the newspaper, and use the iron over the salty newspaper in circles until it is clean. If you do not hold a newspaper handy, you can further use a brown paper bag—it performs just as well.
8. Use Plastic Knife and Ice Cubes to Remove Melted Plastic
If the iron comes with contact with another plastic material, you will have a bit of a spectacle to deal with—but it is pretty simple to get off. As soon as the iron reaches into contact with something plastic, switch the plug off it and allow it to cool.
Load a metallic bowl or pan having ice cubes and position the iron plate on ice to solidify the plastic speedily (you can ignore this step if that plastic is hardened already on the cool iron). Now hold a plastic knife to scour away the plastic, then wipe the surface down using the vinegar spray or a moist rag. It is essential to get off the plastic before utilizing the iron for clothes again—or else, the plastic will melt into the clothes you iron.
9. Turn your Iron to Low Heat and Clean With Dryer Sheets
This is as straightforward as it seems: Massage the soleplate using dryer sheets, keeping the iron on its lowest possible setting. As soon as the dryer sheet becomes too hot, toss it and run for another. Repeat till your iron is clean.
10. Break out a brillo pad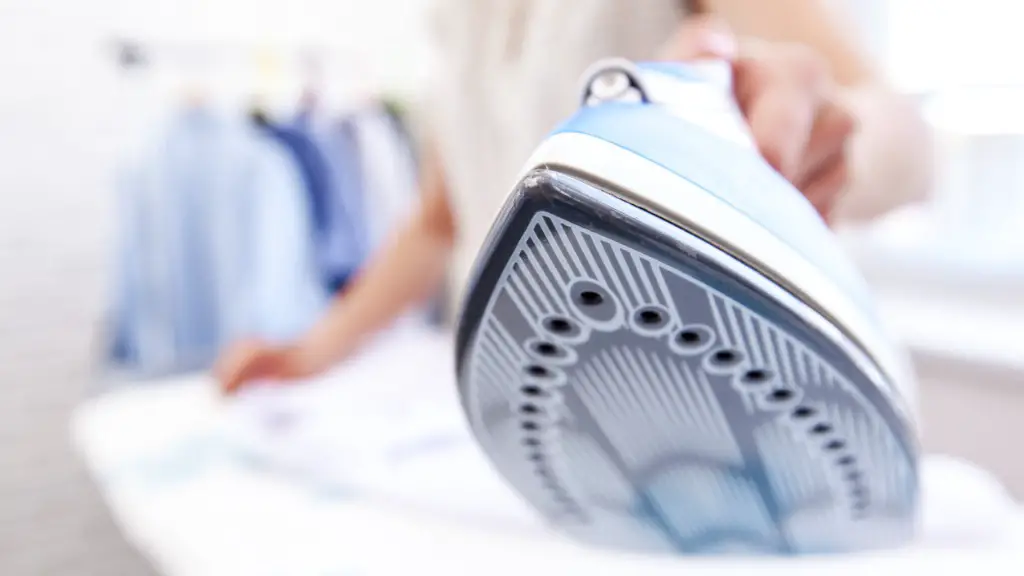 If the iron has clung-on glue from any craftwork project like sticking to a patch, a Brillo pad can be sufficient at getting rid of all the leftovers without scratching the iron plate.
11. How to clean irons using nail polish remover to disintegrate residue
Another tip on- How to clean an iron: Try applying nail polish remover! Hold a cotton ball and submerge it into acetone or nail polish remover. Utilizing a heat-protecting glove or oven-mitt, swipe a cotton ball along with the externals of the hot iron. It will dissolve the remains in no time. If you are going to use this iron-cleaning strategy, you must perform it outdoors so that you (or the relatives or pets) do not breathe in any chemical fumes.
12. How to clean irons using toothpaste
Forget scrubbing your teeth using toothpaste, and toothpaste is an all-in-one spectacle cleaner for your home. When it arrives at using it on the iron, all you require to do is:
Spread a small amount of toothpaste on the affected areas of the iron soleplate.
Set it for one minute, and then using a clean cloth, wipe that toothpaste away from the soleplate.
To complete things off, fill up the iron's water tank, pop the iron on any old towel or similar, put it to steam, allowing it for a few minutes to process through.
13. How to clean irons with paracetamol
Is the dirty iron soleplate providing you with a headache? Then why not go for paracetamol, the most preferred medicine that many of us have taken at some point. But instead of downing a tablet with water, you can even smooth over the iron to gain back that all-important polish. This widespread cleaning hack remains to take the internet by storm and is relatively easy to accomplish.
Set the iron soleplate onto the maximum heat settings and massage a paracetamol tablet over it with tweezers.
You can re-do this process using another tablet if any black marks confirm stubbornness before dabbing away with a neat cloth.
Then turn the iron off. Maintain extra care to make sure you don't get scorched with heat.
Additional Tips On Maintaining Your Iron
Remove the melted-on plastic from the iron beforehand- Cool the iron by establishing its base plate on an external surface of ice water. This will harden up the plastic and help you with easy removal. Scrape the plastic away using a dull plastic knife, credit card edge (an old one), or plastic spatula.
Try dryer sheets to maintain your iron sparkling and smelling lovely- Drive a hot iron over any dryer sheet and then over a small hand towel. Back and forth between these two, alternatively. This will enhance the luster of the iron by getting rid of oils and small particles of scorched dust or cloth.
Fill the iron reservoir using the right kind of water- Based upon the hardness of the local tap water in your house, the lasting of certain interior parts of the iron, and the frequency of usage, the iron might call for precise types of water. Springwater is permanently appropriate; regardless, an equitable and less pricey possibility is filtered tap water.
Check the iron's power cord constantly- Note down any damage, kinks, or fraying in the iron's cord. Harm to this region may be a potential fire danger. If damaged, terminate use till the cord is rebuilt.
Store the iron correctly- Never exert unnecessary stress on your iron by storing it on its back or side. Iron must be stored sitting vertically in an area that is sturdy and will not tumble. This is also safety protection and guarantees that if the iron were used or heated, the base plate would not be brushing a cloth surface that may be sabotaged as it heats.
And Ultimately, things to recall:
When you search about how to clean irons, you might feel drawn to use paper clips or different hard items, but try not to! You may create undesirable scratches on the iron's soleplates and steam holes by doing so. Further, your interest in how to clean an iron may turn into seeing ways to get rid of the scratches you have made (and believe it, it will not be a delightful duty)!
Thanks for studying this guide on how to clean an iron! Happy cleaning!