Dresser is one of the most desirable pieces of furniture in the house. It's amazing how fresh paint can transform an old piece of furniture into a beauty. If you want to reinvent your dresser by adding colors to it, then you can easily transform your dresser into a fresh one!
Are you looking for some ways to paint and style your dresser? If yes, then you are in the right place because we have provided you with multiple ideas to transform your dresser, no matter whether your design is tall or slim.
13 Best Painted Dresser Ideas.
1- Under the sea Dresser.
Painting your dresser blue is one of the easiest painted dresser ideas you can opt for. To paint your dresser a blue color, you can try using various shades of blue, and it will look adorable. You can even try mixing up various shades of blue in different patterns.
If you want to get an aquatic feel, then the under-the-sea idea will allow you to add some attractive patterns and styles to your dresser. Your whole look would look great. Moreover, the under-the-sea makeover would impress the guests visiting your home.
2- Gray Guestroom Dresser 
The guestroom is the most visited area of the house because all the guests arrive directly in the guestroom. Even though we don't spend much time there, we need some good painted dresser ideas for the guest room.
What about the gray color? Of course, everything goes well with the gray color. Gray color would look great on your dresser, and it would be much better if you add a small amount of white and wooden furniture. You can also add a few knobs to make your dresser look more beautiful.
3- Black painted dresser.
Black color has become popular in the last few years and has become a trend that will not fade so far! The black color would be great for people thinking of repainting their dressers in the garage. So, you must go for black as one of the painted dresser ideas for your garage.
Though, it's quite complicated to work with black, so don't be in a hurry. Make sure that all the parts of the dresser are painted properly. Make use of a good brush while painting various thin coats so that you don't miss any area.
4- Gold Painted Dresser.
Some combinations never get old. This is true for a combination of gold and black that looks so classic in every piece of furniture. If you are thinking about giving your vintage a new look, I highly recommend you try this classic combination as it's one of the best-painted dresser ideas you will come across.
The gold color for your dresser would look best in your room, especially when you place it near colors like silver, dark brown, or white.
5- Two- Tone Painted Dresser.
Doing two-tone paint jobs is always fun and is one of the creative painted dresser ideas. Two-tone paint jobs are especially for the people who are quite creative and come up with brilliant color combos that look great together.
In case you are a beginner to two-tone paint jobs, then it's better to start with a light color at the top, and then you can keep on darkening the bottom area. If you are unsatisfied with the color combination, wait for the color to dry and simply paint again.
6- Painted French Dresser.
If you are thinking of some painted dresser ideas with a modern look, then you must go for a French paint job. A combination of white and blue would be cool!
Light blue color, when combined with white, is just enough to make things appear soothing. It would not look too attractive, but you can give it a try for a modern look. While painting, make sure to highlight all the details properly.
7- Painted Antique Dresser.
Antique dressers look adorable, and if you are looking for painted dresser ideas, this would be a fun job for all. Many times, antique dressers do not fit some places due to their color and details. But you can transform your old dresser by painting it according to your choice.
You can paint the dresser with dark gray color, and it would fit your modern room perfectly. If you want to make your dresser look more attractive, you can simply add colorful knobs to it.
8- Stenciled Painted Dresser.
While doing the painting job, adding stencils would be a great option to provide unique detailing to your dresser. Stencil makes furniture pieces appear as if the designs are created by a factory rather than manually. So, you must go for stencils for painted dresser ideas.
Firstly, you need to begin with a dark color for a base and then add white paint in certain areas of the dresser with the help of a brush for a final makeover.
9- Cottage Style Painted Dresser.
It's not mandatory that whenever you paint a dresser, it should look modern. You can prefer choosing a cottage paint job as your painted dresser idea to get an old-world feeling into your bedroom.
People preferring traditional ways of dresser makeovers can go with this option. The positive point about the cottage-style paint job is that you can put it in any bedroom, no matter its style or glance.
10-  Paint Stripes Dresser.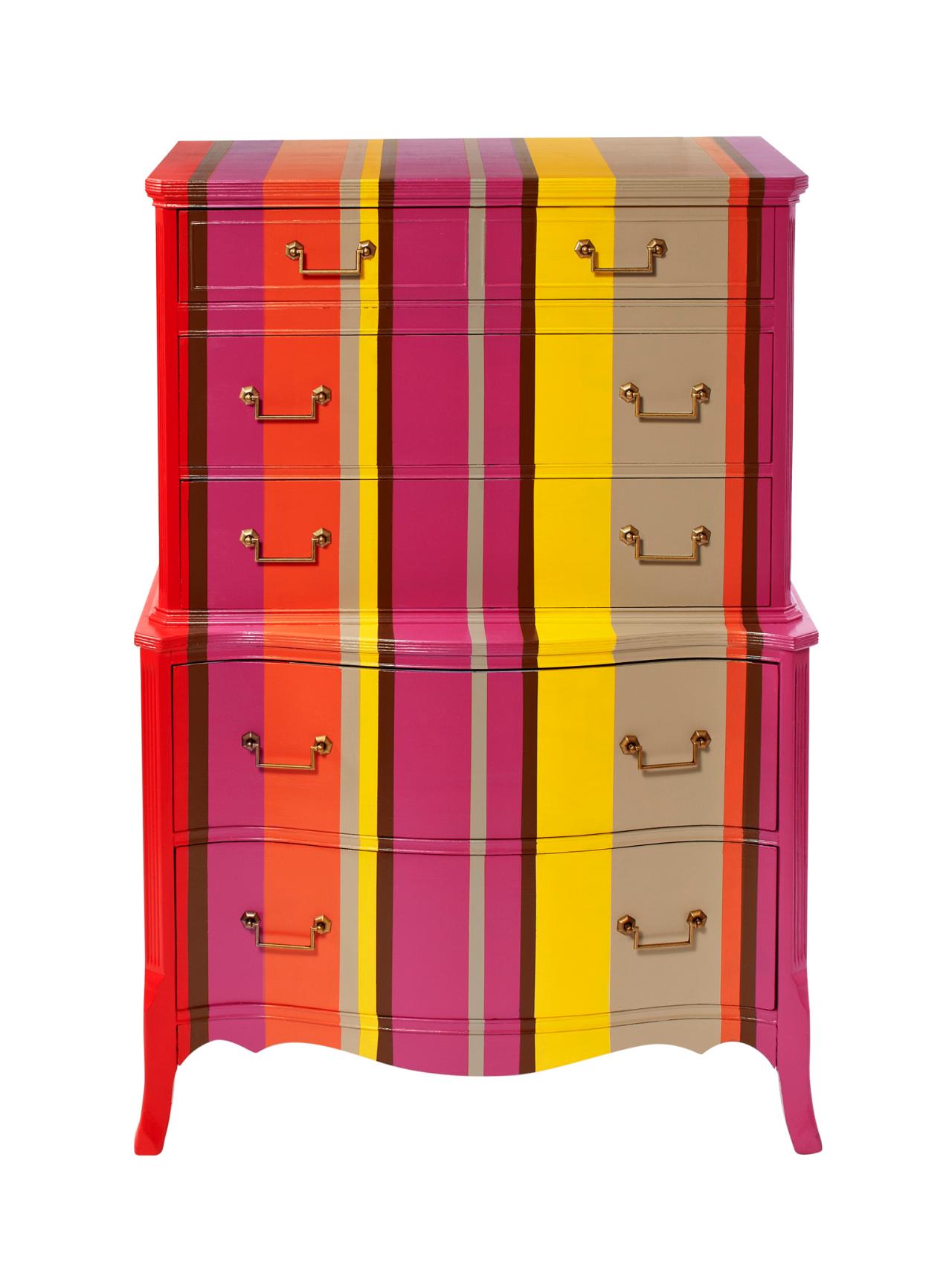 You can add a unique detail to your dresser by painting stripes. This painted dresser idea works easily on any kind of furniture and adds a fun element too!
In this makeover, you can use three different colors or make it more tricky by making patterns with the help of a paintbrush.
11- Landscape Painted Dresser.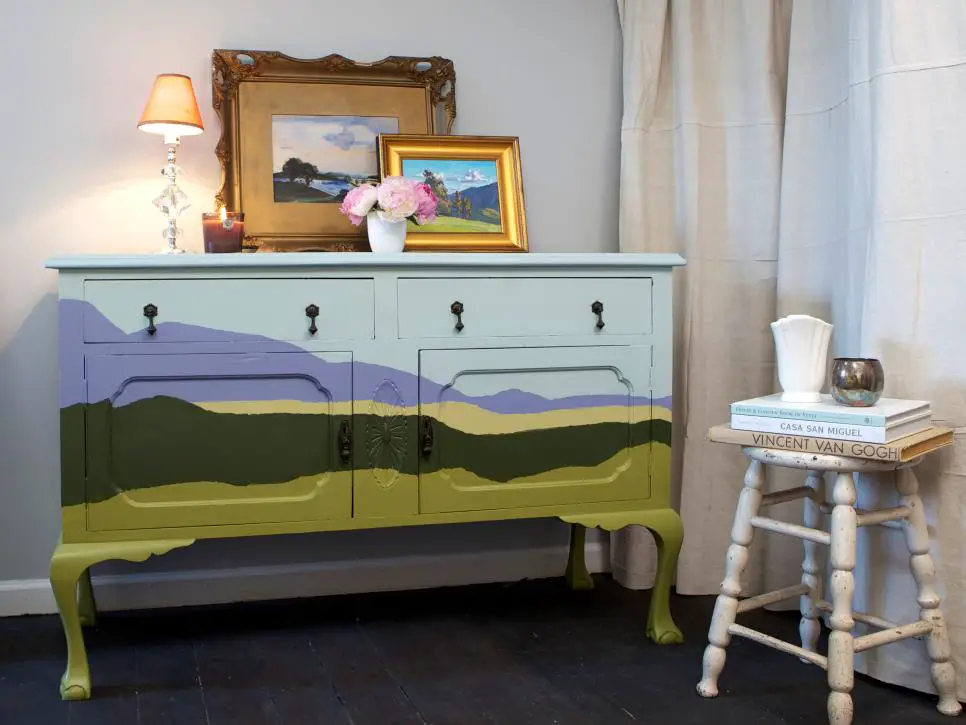 When painting a dresser, everyone thinks it means painting with different colors. But it is not mandatory that you need to paint your dresser with solid colors. 
You should give your dresser a different look by painting landscape designs on it by using freezer paper to create the image on the dresser much more easily. This painted dresser idea is unique. So, you must give it a try.
12- Peacock Blue Painted Dresser.
You can prefer painting your dresser using a white base along with a peacock blue color and then leaving the paint on the edge for a long time. Peacock blue painted dresser ideas are one of the perfect painted dresser ideas, especially for people who love and adore nature.
You must use various shades of blue paint color and then make some strips of light blue color to get this beautiful design on the dresser.
13- Pink Champagne Painted Dresser.
If you are searching for painted dresser ideas that are less intense, then this option is perfect for you. This makeover idea uses soft and smooth colors like pink and white, giving it a feminine look.
To get this look, you must paint the base with champagne and then complete your look with the link color for a gentle look.
CONCLUSION
You can transform your dresser by giving it a new look by simply following the painted dresser ideas provided above. You can use different colors and ways to make your dresser look perfect. You can impress anyone who visits your house with your decor styles and newly painted dresser. 
Just keep in mind that you color match your dressers with the room it is placed in because if it does not go with the room, it would just look out of place and would bring the whole image down. So, just go and reinvent yours! Finally, I hope that this article proves useful to you.