You cannot neglect your linen; otherwise, it will look like an untidy store one day. When guests arrive at your place, you may find it difficult to search for blankets, towels, or soft pillows.
As we know, the linen closet contains our day-to-day routine and common items, so it is important to expand its space to make your work easy.
So, you can get rid of this mess by following some simple yet elegant Linen Closet Ideas to organize your linen closet well. These ideas will help you save time, and you can have a beautiful closet at your place. So, Let's Start with the best Linen Closet Ideas.
8 Best Linen Closet Ideas.
1- Cute Linen Closet Labels.
You can label your everyday items when in doubt. This will help you to know where your items belong. You can use chalkboard labels as it's fun and one of the best  Linen Closet ideas. You can label the name of your item, and whenever you want to change it, clean it off with an old piece of cloth and label it again.
You can add the name of the article you need to label. For instance, towels, socks, or extra pillows! You can also use a label maker if you want. Since there are many ways to label your articles, you can use any as per your choice. 
2-  Use Towel Rods.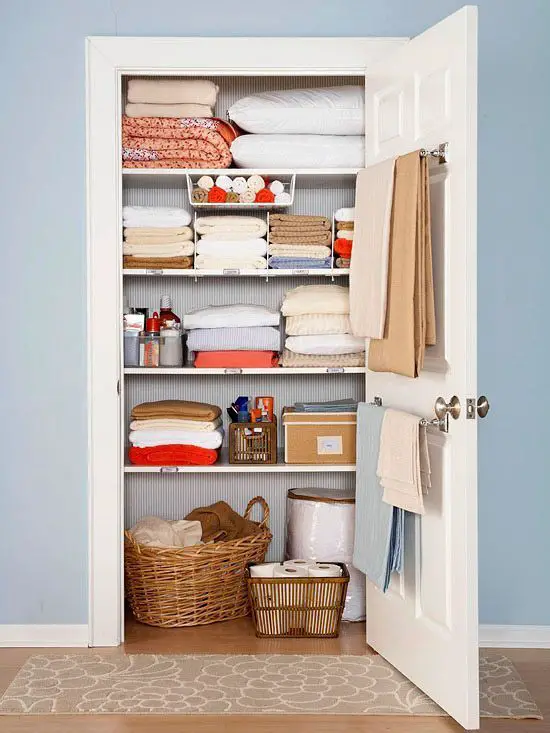 You can prefer using towel rods to save your space. Instead of folding your towels, you can roll them to save crucial space in your closet. From linen closet ideas, this is mostly preferred in small closets.
Place towel rods on your closet door to store your linens properly. Whenever you are looking for towels, you can take them out, and hanging your towels would surely work great. Lastly, ensure the closet door closes well once the rod is fixed.
3- Remove unnecessary items.
The best way to organize your linen closet is to remove excess linens which are stored in your closet. If you are confused regarding the number of sheets and towels you should keep, then you can keep two sets of towels for a single person and two sets of sheets for every bed in your place.
For other items, too, use your judgment properly. Get rid of all sorts of mess so you can get plenty of space for important linen storage.
4- Baskets and Bins.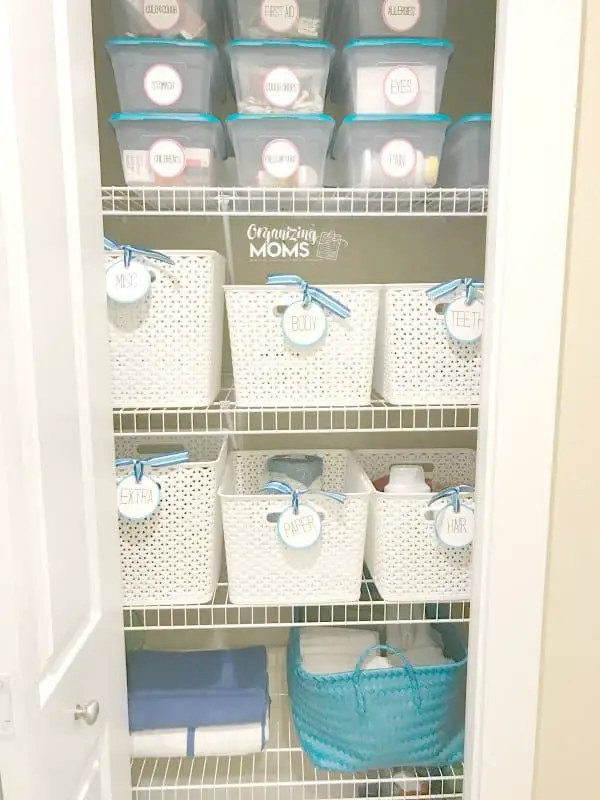 Baskets and Bins are great for towels, pillowcases, and many other items. Make sure to store similar items in the same basket, like an extra pillowcase. If your shelves are deep, you can add a small basket near your tall basket.
This will help you to expand your linen space, and at the same time, you can see the articles in both bins. You can also use wire storage bins to avoid moisture and keep your linens fresh. So, go for this smart and one of the best linen closet ideas.
5- Do not buy more linen closet items.
If you are using the same towels or any other item from the past few years, it's time to upgrade the item, as it must have worn out.
Instead of buying the same towels, washing clothes, and other items of the same quantity you are trying to remove, please focus on the items you use in your daily routine and then buy them accordingly. This will help you to get rid of excess items. Also, you will get more space for your linens while having enough towels to fulfill your needs.
6- Keep similar items together.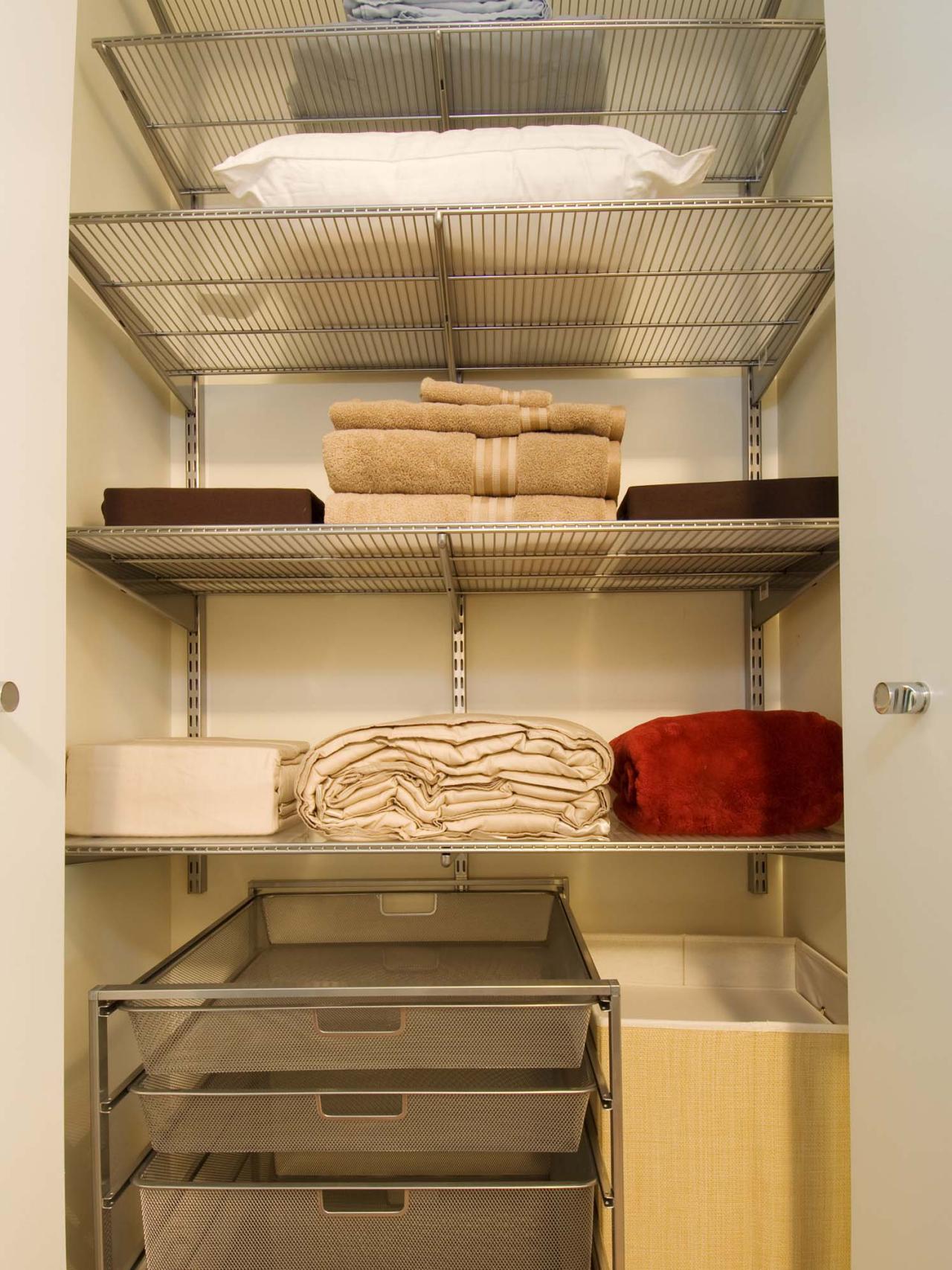 Another Best Pick from the Linen Closet Ideas. Once you know what to place in your linen closet, try to place all your items by category, i.e., keep similar items together.
For instance, you can keep all your bath towels together on the middle or lower shelf and your outing towels or the ones you use less on the higher shelves. Similarly, keep all your sheets together. If you have more space left in your closet, you can keep your toiletry items together on your shelf.
7- Paint the back of your closet.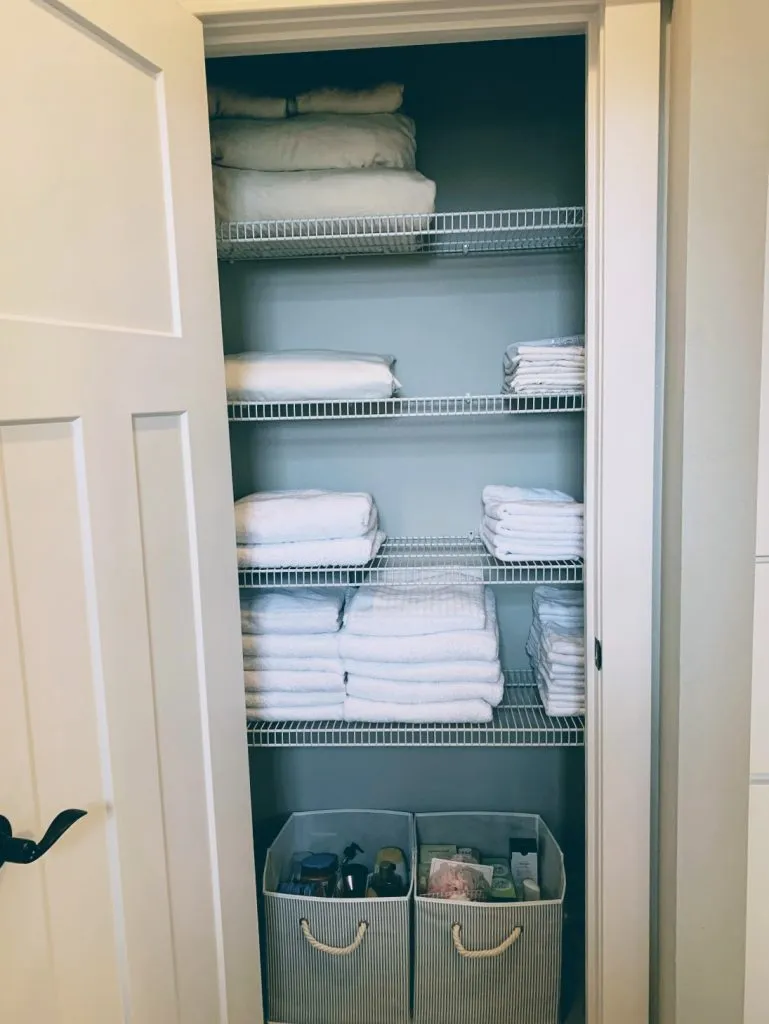 From linen closet ideas, this method or idea is not mandatory; if you opt for this idea, you will be amazed at how your closet space appears. At the same time, you will feel inspired to organize your linen closet and clean it.
You can paint the back of your linen closet. Aqua color is my favorite, and I feel so happy whenever I open my closet door. You can choose yours as per your taste. Moreover, you can also use wallpapers to enhance the style of your linen closet.
8- Containers for separate toiletries.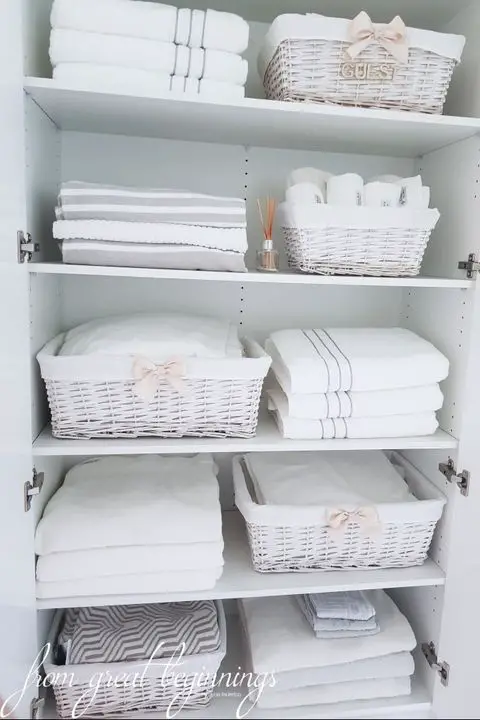 You can store your toiletries like toothbrushes, hand soap, and other items in a wire container, as they are one of the perfect linen closet ideas for this purpose.
With the help of wire or acrylic containers, you can easily look over your items and get what you need. A linen closet can store all the household items, including the body soaps, shampoos, and toothpaste you need for traveling.
Frequently Asked Questions | Linen Closet Ideas
Is it compulsory to have linen closets?
It depends on how many items or linens you have, including the number of family members.
While some people manage to get space in a bedroom closet, if you have a linen closet, they can help you store all your major linens without any issue.
Where should a linen closet be located?
Mostly, linen closets are located in the bathroom, but they can also be placed in bedrooms or living rooms. A linen closet can easily fit any area of your house. It depends on you where you find your closet suitable.
What is the alternative option for a linen closet?
You can use a linen cabinet as an alternative to a linen closet because, like a linen closet, it is also a furniture piece with the same function. The positive point of linen cabinets is that it's more flexible, and you can easily move them in your place.
Cessation | Linen Closet Ideas 
I am sure that the most untidy area of your place would be a linen closet. That's why we have provided you with the best linen closet ideas to make your linen closet look clean and tidy. You must create proper space inside your linen closet to organize your everyday items much more easily. This article provides you with the best tips to convert your messy space into a beautiful and organized space.