What is Gua Sha Facial tool?
Gua Sha Facial tool is anti-ageing and skin massaging tool with face-scraping technique. And also, it is a scene-stealer and gives completeness to your beauty regime.
Gua Sha Facial tool is generally a jade stone or semi-precious stone piece shaped like knuckles and has various range of shapes for being effective in different parts of the face.
Gua Sha has been recorded back to 700 years in the Ming Dynasty. The knuckles like projections are used in different parts of faces to reduce puffiness, increase the tightness of the skin and relaxes the muscles.
As beauty tools are being more and more popular and proving to be excellent to smoothen out skin and massaging, beauty professionals also use Gua Sha Facial tool in upwards motion all over face and neck to increase the elasticity of the skin because of its application with perfect pressure.
If you are looking for a massage tool and are confused about which one to use here is a little guidance. As for beginners and for use at home you can use either gua sha or gua sha and jade roller together. Then you can move on to experimenting with other tools.
Benefits of using Gua Sha:
Natural Facelift:
Gua Sha facial massage on long-term use makes the skin tighter, smoothen outs the wrinkles. It spreads the lymphatic fluids all around the face making the skin lifted all around the face.
Dead Skin & oil Removal:
As using Gua Sha facial tool has a scraping effect on skin it is great for physical exfoliation. It removes dead skin, oil, sebum and clears the skin from acne and make it glow.
Detoxification:
Though we are talking about gua sha facial tool the tool is used all over the body and improves fluid circulation. If you have joint pain or sagging skin using Gua Sha massage will improve the circular and clear the blockage.
Relaxation of muscles:
Gua Sha massage is an excellent tension remover. The tension in muscles and joints relieved and the facial muscles relax which promotes better sleep and lightheadedness.
Depuffing:
Using Gua Sha facial tool in the morning helps you to depuff. You can also put in the fridge overnight for the cooling effect. Gua Sha is also helpful for puffiness in the undereye.
How to use Gua Sha facial tool?
Gua sha facial tool not necessarily is just a facial tool. Rather it is also used to massage, depuff with the right amount of pressure. Gua Sha facial tool is designed to increase lymphatic drainage in your entire face. Gua sha is used all over the body traditionally from legs to the scalp, but the facial tools are now being used for facial massage.
What should you use before massaging with gua sha?
Gua sha tool can be used after you cleanse and moisturize your face. You can use any serum, toner, moisturizing oil or at best hydrating mist on your face to make sure your face is not dry or easy to irritate. Gua sha facial tool can be a little bruising if the skin is not slippery.
Step-by-step guide for the motion of Gua sha Facial Tool:
https://www.youtube.com/watch?v=Bc12OTFzua0
First, hydrate your skin to a point that it is slippery with hydrating mist and oil.
Hold the gua sha facial tool in the correct angle with the curved side caressing your finger curves and the flat part on the skin. Don't use the sharp edge instead of the flat part.
[media-credit name="Cosmopolitan" link="https://www.cosmopolitan.com/" align="center" width="768″]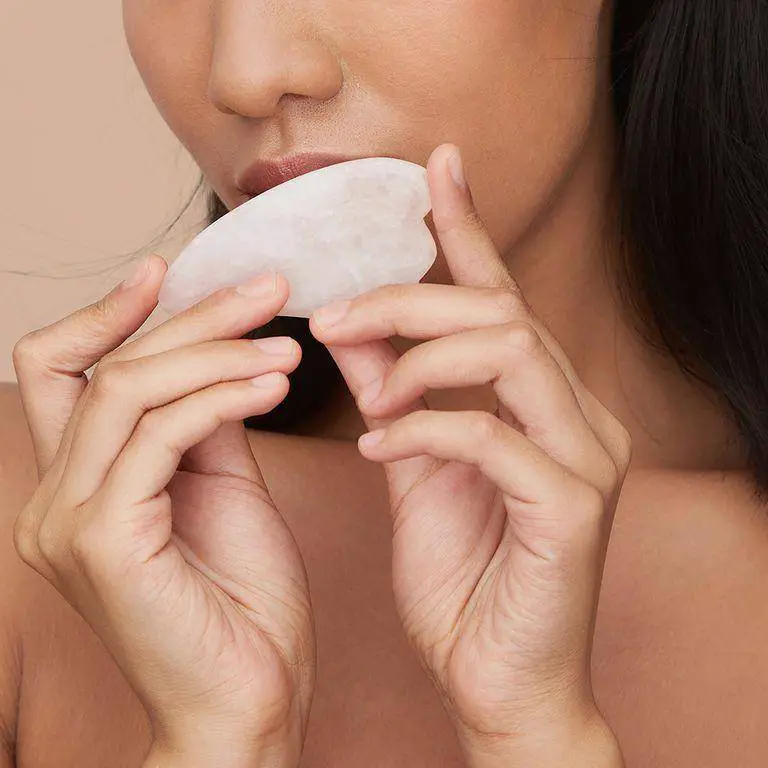 [/media-credit]
3.Hold the wider side and start working with an upward motion from the bottom of your neck. Repeat this motion starting from the side of your neck to the middle.
4. Next, use the small divot on the side with keeping the gua sha facial tool flat, to the king of making an upward motion from chin through the jawline.
5. Next on the line is your cheeks. For massaging your cheeks. Hold the wider side and scrape from your nose to ear a few time on both cheeks.
6. Lastly, on the menu, is the eye area and the forehead. For the undereye are put the small divot or a corner, still maintaining an angle and massage from the under-eye to temple. This help to decrease puffiness in the morning.
For your forehead start with the flat side of the largest curve in the middle of the brows and pull upwards. You can also massage the upper brow with the curved portion from inner to the outer area before scraping the forehead.
[media-credit name="https://www.pinterest.com/pin/483222235016684137/" link="https://www.pinterest.com/pin/483222235016684137/" align="aligncenter" width="600″]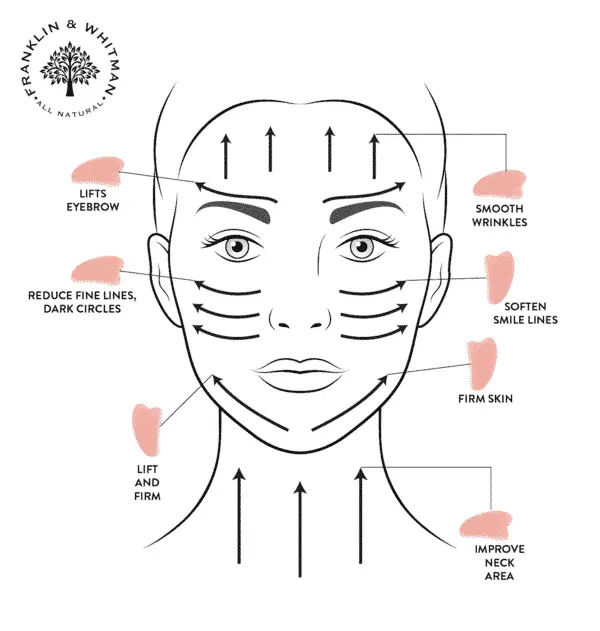 [/media-credit]
You can use the gua sha facial tool from 2-3 time per week to daily as you have time. You can also use it massage the back of the neck to release tension and stiffness.
How to find the right gua sha facial tool shape?
You will find Gua Sha facial tool in lots of shapes and materials. Different shapes and materials are useful for different area and purposes. Here is your guide what to use for what and the curated list is best-suited as a gua sha facial tool.
Wing-shaped (Available in semi-precious stone, bullock horn; used for facial and forearm massage)
[media-credit name="https://meridiancarecentre.com/products/gua-sha-tool-jade" link="https://meridiancarecentre.com/products/gua-sha-tool-jade" align="aligncenter" width="300″]
[/media-credit]
Dolphin shaped Gua Sha( Available in the natural materials; small ones are best for facial massage and large ones for deep tissue massage of thighs and knees )
[media-credit name="House of Beauty India" link="https://houseofbeautyindia.com/products/hob-rose-quartz-guasha?variant=32041001418863&currency=INR&utm_medium=product_sync&utm_source=google&utm_content=sag_organic&utm_campaign=sag_organic&gclid=CjwKCAiA57D_BRAZEiwAZcfCxWwdALM0MKh252UsXA-bsoSUfSxHTXZJRdsCPPxOaMFQAN0RhRxsJhoCUMMQAvD_BwE" align="aligncenter" width="1024″]
[/media-credit]
Cresent-shaped ( not traditional but used professionally; best for small and deep tissue massage)
Other than these you can commonly find s-shaped, rectangular buffalo horn, spoon-shaped Gua Sha as well. Each of them is best for other body parts and for facial massage dolphin-shaped and wing-shaped ones are best suited because of clenches.
In conclusion, using gua sha is very relaxing, helpful to promote anti-ageing and relaxation of muscles. It is a centuries-old tool for massaging and the modern beauty industry has given the Gua Sha facial tool a new spotlight.