How To Distress Jeans- Learn Quickly With Steps And Methods
We absolutely love distressed jeans, don't we? How to distress jeans is something you should know. Distressed denim, distressed jeans, or ripped jeans, there are plenty of names assigned to these cool pieces of clothes that look trendy and chic.
Distressed jeans are all over the place right now. If you ask me whether the trend of ripped jeans is going to stay or not? The answer is a huge YES! I mean just look at them. Are you getting over the cool and spunky look you get just by wearing a piece of denim? No, right.
The idea at the beginning of this decade seemed quite silly and no one really thought of wearing them on the streets. The idea seemed perfect only for celebrities to rock these jeans for the ramp, but who knew they were going to be so in trend for the years to come.
These jeans are definitely here to stay for many years to come but the price seems pretty fat, isn't it? I mean we get normal jeans for a low price as compared to distressed or ripped jeans. So, why not learn how to distress jeans by yourself at home using simple tricks and methods.
Creating your own perfect jeans is not that tough, why pay more for a distressed product ( although it looks stunning). By the end of this piece of article, you will easily learn how to distress jeans amazingly and make them look like they're brought from some cool online store. To avoid making a hole in your pocket by spending dollars for a product you can easily make using old pair of types of denim.
Let's learn some important things before proceeding with how to distress jeans at home.
What Is A Ripped or Distressed Jeans?
Whether you hear the name ripped, torn, or distressed anywhere, the meaning remains the same. It means the jeans are torn from different spots to give them a cool and funky appearance. You can even take any regular piece of denim you have that you do not wear anymore and make it into a ripped one.
It is hard to point out who was the one to create this trendy style, but it was at the beginning of the grunge fashion movement. Now they have just taken over everywhere. Whether it is jeans, shorts, or denim jackets, they all can be tagged as ripped.
You can easily make one by using a darker shade of pieces of denim and bleach them or use sandpaper to fade the denim to make it appear like it is distressed or worn out. Our generation never looks back without bringing one or two pairs of jeans of such type home, all you have to do is save that money and take this DIY distressed jeans project right now.
All you need is an old pair of jeans and scissors to get started. Let's begin.
How To Distress Jeans- Step By Step
Are you still wondering how to distress jeans or where to start? Making distressed jeans for yourself is no rocket science. It is something you can start right now with just any pair of denim you own. Just a bit of patience, practice, and planning, and we are good to go.
Let's see step by step how to distress jeans.
Step One
The first step involves selecting your jeans or any shorts that you wish to distress, or choosing any pair of denim that you do not wear too often for trial purposes and see how it turns out. Practice is the key.
Even before you are starting the process of how to distress jeans, just thin of those jeans you can easily use for this process. For beginners, it is advised that you take any old shorts that you do not use or you don't mind if anything goes wrong with them, just in case. It is always best to take precautions, right?
Step Two
The second step involves gathering all the supplies you need for making the perfect distressed denim. Depending on the type of distressed jeans you want, there are few common items you will require for making jeans. You are suggested to gather all the necessary ingredients so you do not have to run in between to get them and get distracted from the process.
Here's a list of ingredients you will need.
Utility cutter knife or fabric scissors for creating shreds and holes. Bring any one of them, it will work.
Tweezers for removing the threads one by one
Scissors or razors for frays and scrapes
Sandpaper or pumice for making it appear distressed and cool.
A pen, chalk, or maybe a marker for marking purposes so that nothing goes wrong.
Step Three
In the third step of how to distress jeans, you need to mark the regions of distress for giving it that look.
This is probably the most important step in our procedure, also it is the point or step where the beginners end up screwing the process, many people cry after this one (not cry actually). You have to decide what you have to with the jeans and where to distress them (you might have seen someone on Instagram or any other site that may be wearing your favorite design or something that has attracted your attention).
This is the most efficient way of doing this. If you are not sure where to start, try to go for knees and start by doing selective portions at first. Just look at the steps given below, you will get a detailed closure on where to begin.
Step Four
Here comes the main step, start ripping or distressing your jeans. At this stage, you should already know how to distress the jeans after marking the positions. Just start ripping or distressing the jeans.
It will be so cool to wear once you are done. You cannot believe what a normal pair of denim can turn out to be.
Step Five
Here comes the last step, which includes finishing up or adding the final touch to the entire look.
You are almost done, you just have to make sure that it is not sloppy, and it looks neatly done after finishing as if you have just bought it fresh and new.
These were the 5 steps involved in distressing jeans, let's see how to distress jeans on the position you have marked in detail and discuss the different methods you can opt for easily.
How To Distress Jeans From The Marked Position
Here are 5 simple methods you can try to distress your jeans to make them stylish and chic.
1. How To Distress Jeans By Removing The Threads
The denim jeans or shorts you own are made up of many cross-sections of horizontal and vertical threads all along. In order to get the perfect distressed look, you have to pull these threads. Just start tweezing out the line present vertically in blue color by marking the region prior to this.
Removing the threads in beginning or first few threads can be hard but later on, it becomes easy as the threads will loosen up. This is a great way. You can just mark the regions you need to distress and start. You can also rip your jeans in two portions, one near your thighs and another one near your knees. It looks absolutely perfect and stylish.
2. How To Distress Jeans By Fraying The Edges
In this step, you need to fray the edges as it looks equally stylish and elegant.
Fraying the edges of your jeans makes another cool way to get the appearance of distressed or ripped jeans. You might have seen some pair of jeans distressed or frayed from the bottom, these look very stylish but you might have to spend dollars purchasing them. Use this simple method and learn how to distress jeans to get a frayed appearance.
Also, if you have not experimented much on distressing jeans, this one is a good way to start with. Just cut the end of pair of jeans you need to shorten or distress. Using a tweezer remove the threads from the bottom to give it a rough and distressed appearance. For shaping the edges in case they do not turn out too good, you can also use sandpaper or a razor. This will help you get the perfect look.
3. How To Distress Jeans By Fraying The Pockets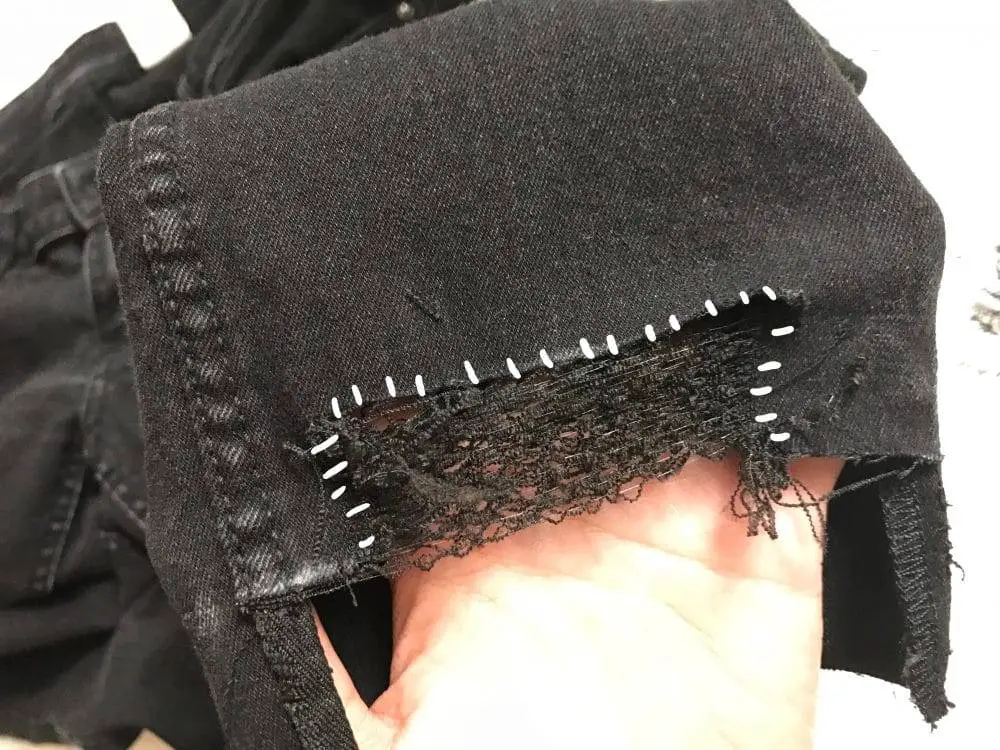 This a subtle yet interesting way to distress your jeans amazingly. If you do not wish to go over the top with your designs, this one is the best method for you. For this method to work successfully for your first attempt, just take the top layer of those pockets from your denim and Scrape the surfaces and edges using sandpaper or a razor such that few threads are removed. Remember not to go very deep while tweezing.
This method when used properly adds extra spunk to the jeans and makes them appear cooler than ever.
4. How To Distress Jeans By Making Holes
So, another method that can be used for distressing your perfect denim is by making holes. By the way, making holes in your pants is a style that is extremely vogue right now, you might have witnessed many influencers on Instagram having those perfect pair of jeans distressed from the knee. Are you willing to create the same look? Keep scrolling.
You can either have bigger holes or smaller ones according to your style. Cut off the portion you require to make the hole and fray the edges using sandpaper or a razor. You can also just remove few threads using a tweezer, that you'd be great too. Just work on the detailing and finishing to acquire the perfect trendy distressed denim.
5. How To Distress Jeans By Bleaching Off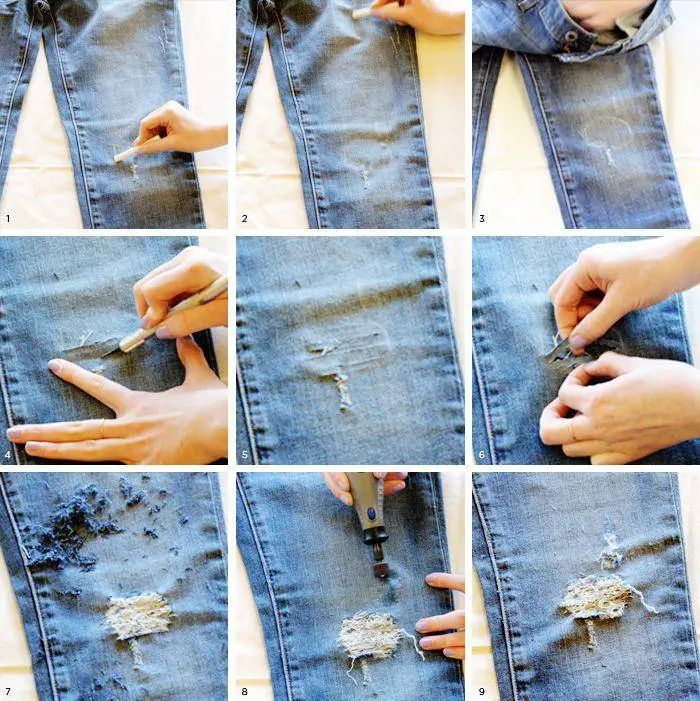 If you have boyfriend denim or straight-fit jeans or mom jeans, try this one out. This one is mostly used to add the finishing touch to your denim and nothing else. You may add subtle touches to the denim with combinations of methods that are given above. You can also add bleach to get the perfect faded loo which is so in trend right now.
Just take a pumice stone or sandpaper to scrape off different parts of the denim on which you wish to get the faded look. Another tool to use is a ball of steel wool, anyone is perfectly fine.
These were 5 brilliant ways that you can easily use to distress your denim and jump on to the trends directly without spending dollars, isn't it worth learning?
Once you have learned how to distress jeans and you have your own pair of jeans that you have just ripped off, you need to learn some tricks on how to manage your denim. Let's not talk too much and jump onto them.
How To Manage Distress Jeans
After learning all the things on how to distress jeans and different methods to be used, let's see some things important to keep in mind. You should understand how to keep a perfect balance between ripping your jeans apart completely and making them look like rags. There are a lot of things you can pair your jeans with. You should not make it look like rags or you have got it from the dump, right? Proceed carefully.
Unless you have preferred to go all out with your jeans, overdoing the ripped or distressed look can even lead to a bad aftertaste. Well, according to the fashion police, give or take rule or two and a half rule must be applied. What does this mean? It simply means you can start with two shreds, two holes, and a scrape. For amateurs this makes a good reference, just feel free to tweak.
These shreds look completely astonishing when they are removed in the thigh region and done over a couple of inches.
For making holes, keep in mind to start them on the knee in the beginning and then going up two inches. Do not get into it too much and make the size of these holes as large as your legs are because this will end up showing much more skin than you intend to and it looks pretty bad. Also, making horizontal ones always gives a better result.
Scrapes above the thighs or near them look trendy.
I am hoping that you are going to start with your denim right now. It is really cool and fun DIY to do, do not think twice, just grab your jeans and start the process. The best thing is the feeling of accomplishment. Once you are done with your distressed denim looks, just show them off to your friends and ask them to try this out too. Have fun.