Are mom jeans still fashionable?
According to the fashion folks, mom jeans are becoming one of the best selling and trending jeans. It will be an understatement to just say that they are only returning in the trend but also becoming highlighted as a fashion statement. Also, the mom jeans carry 90s semi-loose baggy style with a neat high-waist line. Therefore, it accentuates the carefree look with chic elegance.
Though any baggy jeans like boyfriend jeans or literally your mom jeans are pairable with loose crop-tops or sweaters or shirts and going retro, there are a lot more to add to the fashion. And, the mom jeans in 2021 are resurfacing with chic styles from grunge to Tumblr style paired with statement accessories like leather or printed bags, gold jewellei=ries, sunglasses.
Here are 10 cool ways to pair the baggy mom-jeans you have at home or if you bought semi-loose baggy mom jeans. Its time to go fab and flowy.
11ways to style mom jeans
Bomber jacket and washed jeans with boots and a belt:
Keeping it old school yet make it cool definitely requires the bomber coat. Adding layer and showing the waistline of the jeans with low length and waistband is surely retro yet trendy. You can pair up ripped mom jeans and pair it up with sunglasses if your jacket has some kind design embroidered r attached to make it real funky. Throw in some sneakers or boots and your retro classic look is ready. Always wear a statement belt if you are tucking it in.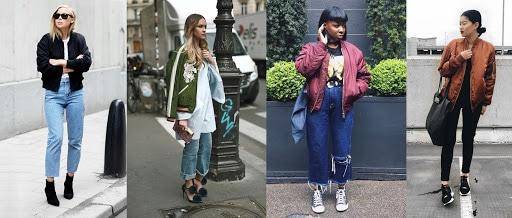 2. Oversized blazer with folded straight jeans:
Wearing an oversized blazer is one of the hottest trends in 2021. Pair up some colourful blazers of pastel colours like white, mint, sky blue, pink to really pop up in summer. Layer it up with same colour t-shirts or white shirt. Fold the bottoms of the jeans to make it really visible and add a collar or scarf if you want.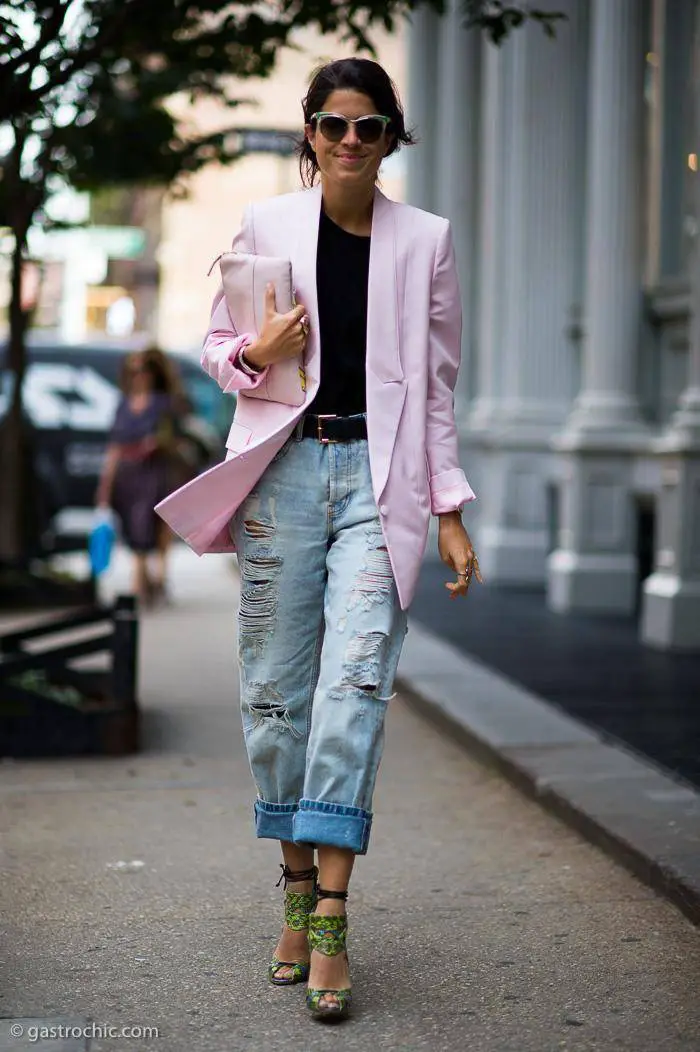 If you want to go black or beige on the coat the high-waist, straight and flowy mom jeans will add colour and chic style to the look. Add loafers or kitten heels with the look. Accessorize it with some kind of statement bag.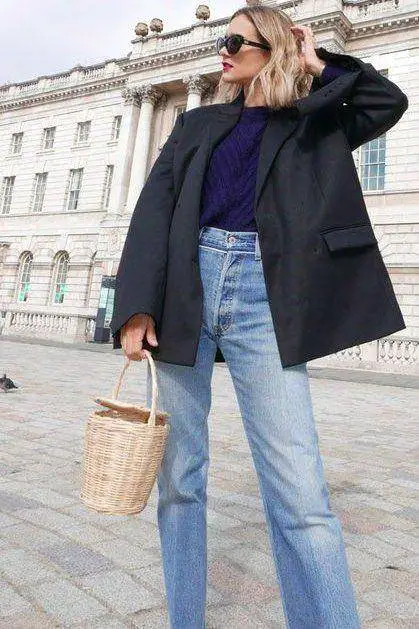 3.Textured coat with ankle boots:
Textured wool coats are statement fashion and beautiful addition in the layer of winter wear. You can keep it simple with a turtleneck or any other type of t-shirt and complete the flair of the mom jeans with ankle boots or cool high leather boots.
4.T-shirt tucked in with baggy jeans:
A fitting t-shirt with or without button adds different fittings to the look with flowy mom jeans. You can go for big earrings and natural or little metallic makeup with the look. You can pair it up with a beanie, high heel funky boot or loafers. Add a statement belt to make it visibly rocking.
5. Cropped tank top with ripped mom jeans:
A good old tank to can be a go-to with your mom-jeans. They are sexy, befitting and best suited with as the most effortless look. Here, less is ore. Add white or light monocoloured sneakers to rock the look.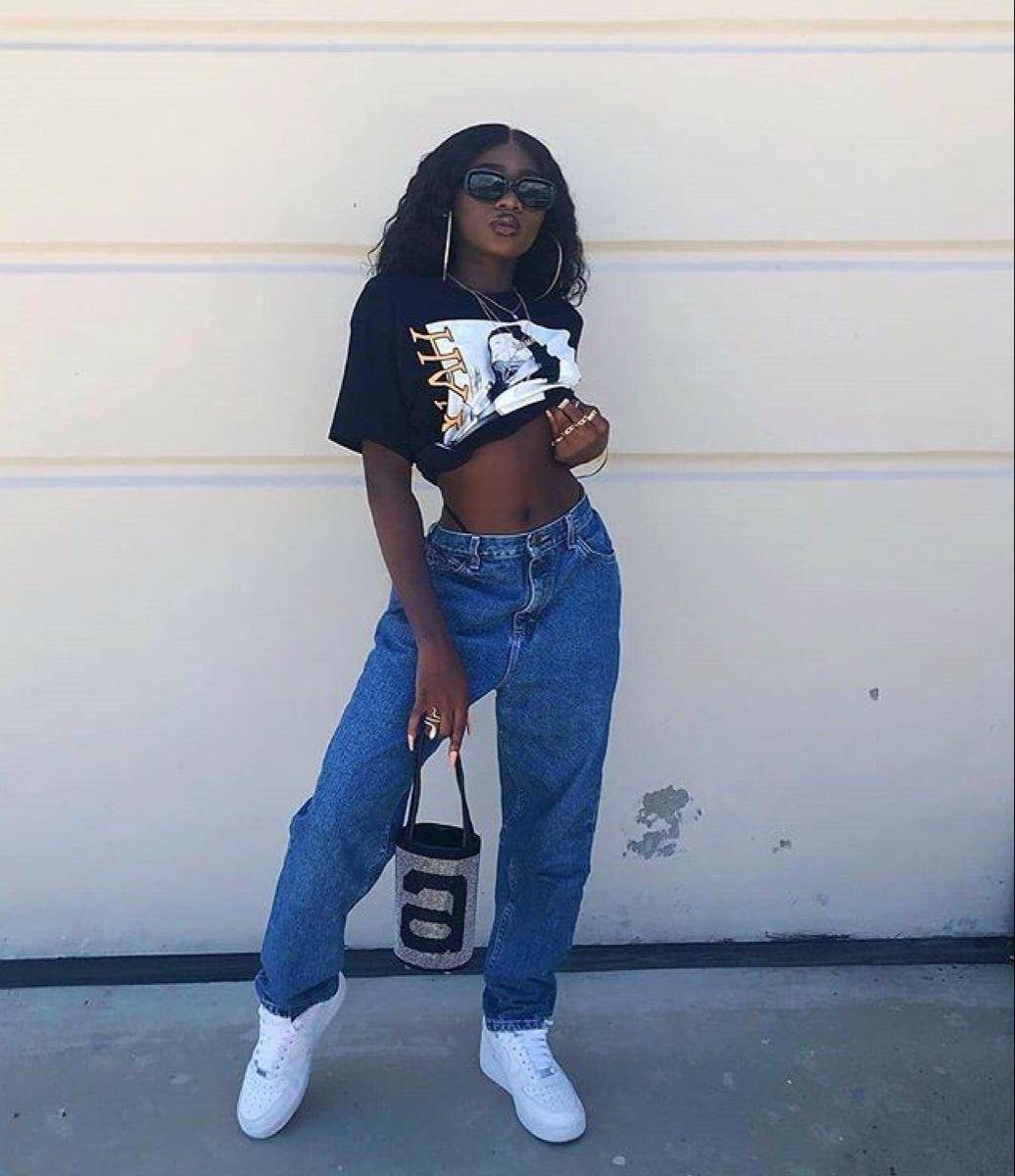 You don't have to think much for the makeup and it looks fabulous even without accessories. Remember Monica's tank top and mom jeans looks and it looked anything but maternal.
6. Sports bra with sneakers:
Designer sports bras look amazing with some rugged mom jeans and sneakers. It looks cool and chic with an athletic vibe to it. You can obviously go with sneakers here and effortless hairstyle with a hat. You can layer it up with some denim jacket, otherwise, it is beautiful as it is also.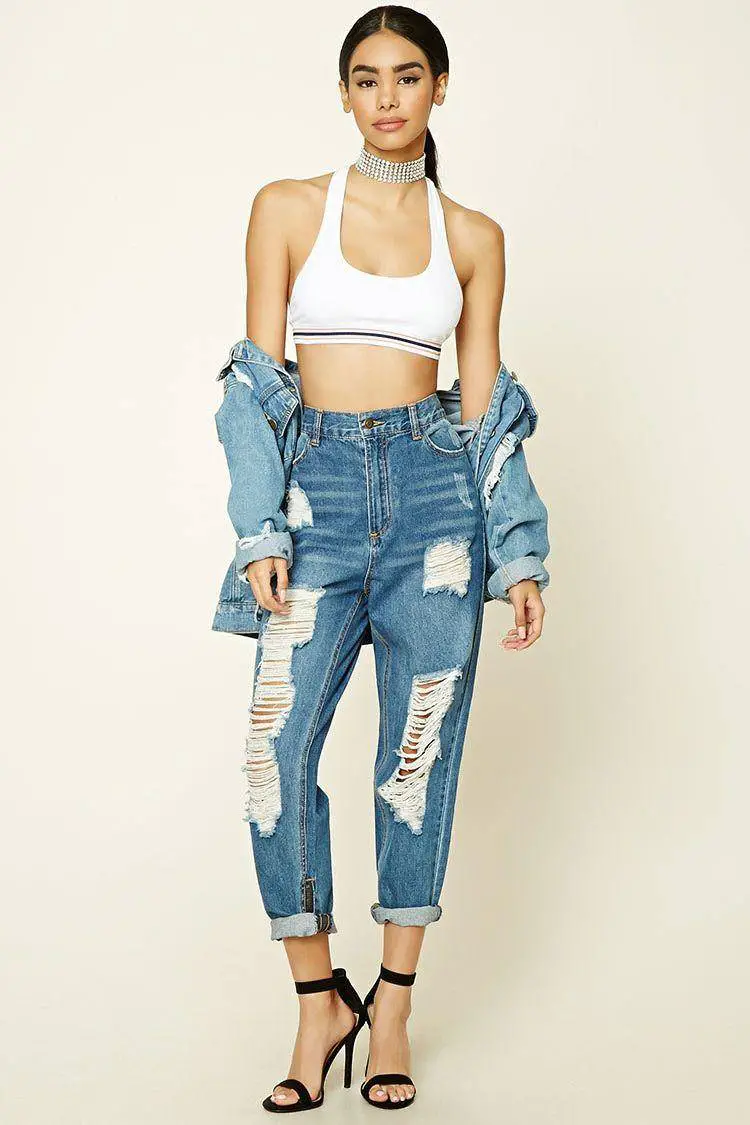 Look at the Bella Hadids look from levis relaunch of the mom jeans. Technically, though it is a cropped top it has a vibe of athleticness to it and looks how retro yet stunning it looks. Sports be and short-cropped tees will be your favourite way to style the mom-jeans.
7. Sweatshirt or cropped sweater with light washed jeans:
This is also a carefree easy look with cool vibes. It is a very comfy cute yet confident with mom jeans. Just wear a cropped or oversized sweater to be comfier. And, wear a cropped sweatshirt with messy or neat hairstyle to make it look effortless. If you are going for cropped or tucked sweater, o a neat hairstyle with added heels or stilettos
8. Shirtdress and loafers with straight jeans:
Wearing a long flowy silk or chiffon shirtdress does not only enhances the style but is an amazingly comfortable way to pair up your jeans. You can go for an asymmetric shirtdress or a slit dress with a silky soft fibre. Add leather or a classic bag for carrying. You can wear it with loafers or heels as you like.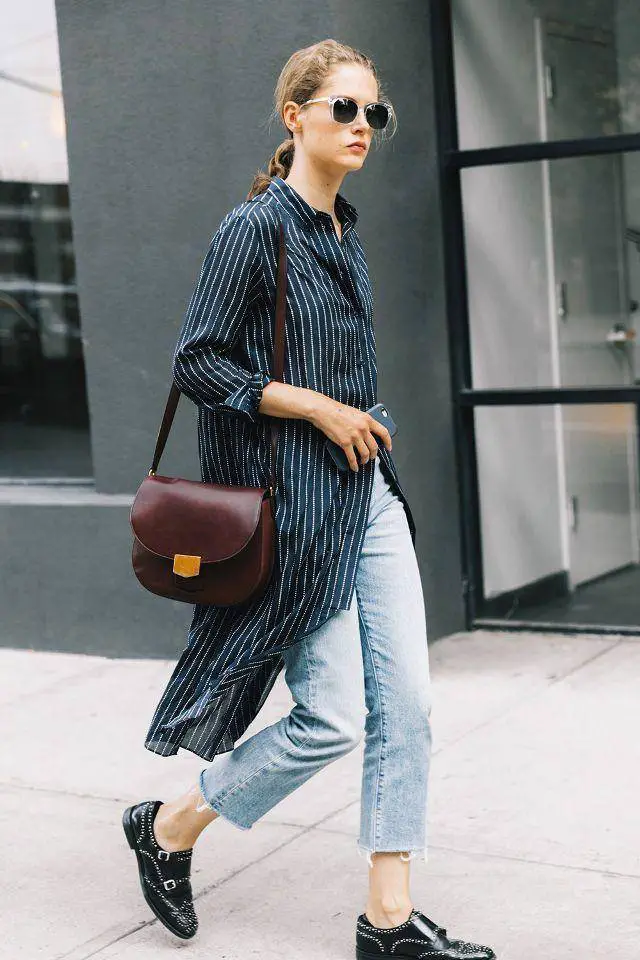 9. Oversize button-down with a
sweater with medium wash jeans :
Layer it up is always the mantra to look fashionable. For this winter look choose a vibrant coloured oversize shirt and wear it button-down and add a layer of the sweater. Lastly, roll up the sleeves of the shirt on the sweater and pin the bottom of the jeans. Accessorize it with a bag and pieces of jewellery.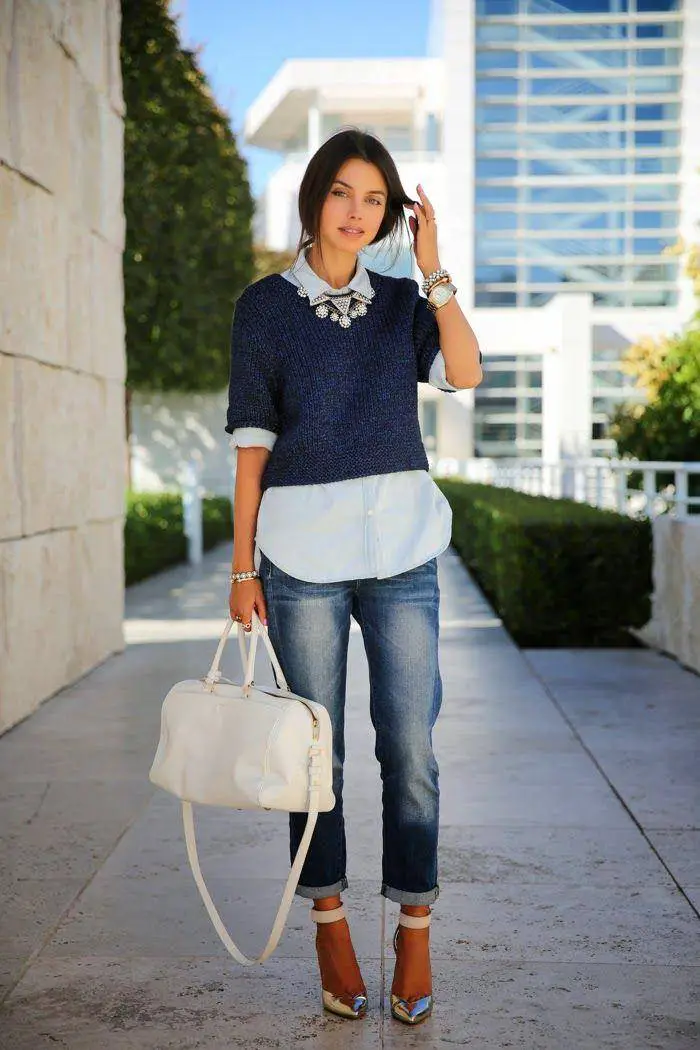 10. Jeans on jeans:
Denim on denim is a look we always dig. Want to go real effortless? Just wear a checked or striped shirt or tee of light colours like yellow, black, white, pink or a cropped tank or tube top and add a jeans jacket and roll up the jacket sleeves and wear the mom jeans to have a mind-blowing outfit. Pin the legs of the jeans if you want and put on boots or sneakers.
11. Ruffled shirt with pinned striped jeans:
If you want to look dressy yet not overwhelming wear a beautiful white black or mono-colour ruffled shirt. And, to enhance the beauty of the look wear it with striped mom jeans and boots or black heels.
These were 11 cool looks that you can try out to rock the baggy jeans. All outfits have a purpose and now you know what to pair it with to make you stunning.