Wondering how to clean walls with less effort? Walls form the bare interior of our home, but they are mostly overlooked. You look for the floor's cleanliness, bathroom, kitchen, etc. but have you ever thought of wall cleaning. We often neglect the appearance of our home wall in the process of cleaning. But they need equal care, and attention as the appearance of walls enhances the beauty of our home. How to clean walls is a serious problem to deal with.
You might be thinking about how to clean walls with children and kids present at home. Children and pets are the leading cause of stains on the walls. While playing and eating, kids pour something on the walls, making them sticky and dirty. Kids often make patterns or scribble with crayons on the walls. These stains look horrible and give a wrong impression on your home. Wall hangings, decorative items on the walls, paintings, photo frames, sofas, etc., leave lines or dirt marks. Cleaning must be done to remove these marks, or else they would make it look bad.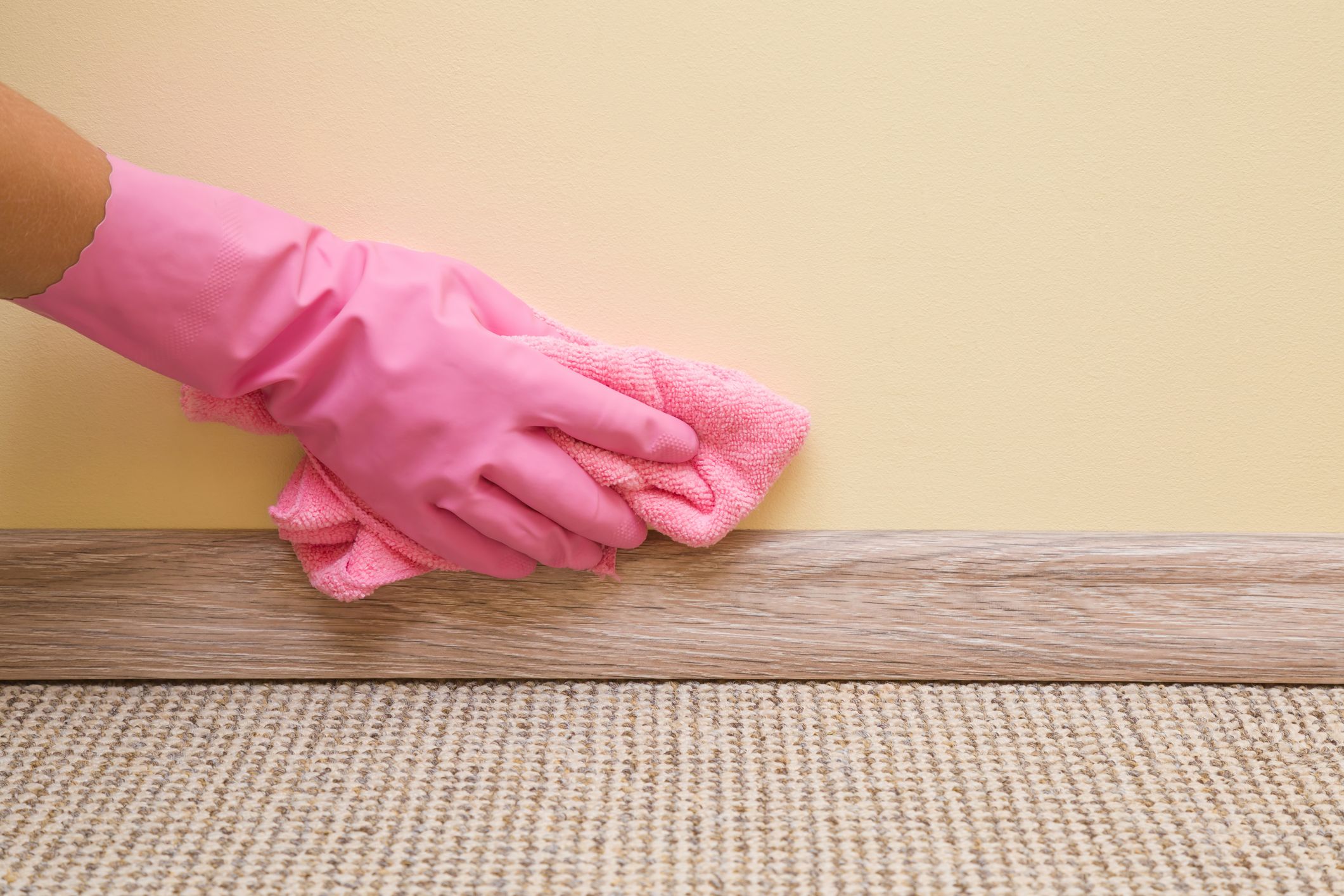 Have you ever thought of cleaning the walls of your home? Are you aware of the products you need to clean walls? How to clean walls is what you are searching online? Have you tried any DIY at home to clean walls? Ohh! No need to worry. You can start cleaning your wall from today onwards. And if you are looking for tricks and tips on how to clean walls, peep into this article further to know more. Below we will discuss step by step the process material to use to clean the dusty, dirty, stained walls of your home. Read below to know how to clean walls most safely and quickly.
How to clean walls? – 9 Important Tools Required
Now gather the things you need while cleaning the walls.
Vinegar or liquid soap
Sugar soap
Cloth for dust cleaning
Cleaning spray
Broom
Sponge
Towels that absorb water
Bucket
White magic eraser
How to clean walls? If you haven't made the necessary changes. Before starting the cleaning process, make sure to remove wall hangings, furniture, wall accessories from the wall to be cleaned. This way, you would get the total area of the wall and can easily clean without getting disturbed by the above things. You must also remove any dirt or dust accumulated on the floor, or else this dirt would stick to the walls making them untidy and dirty again. Use a wet cloth or towel to clean the floor and do it properly.
3 Classic Steps on How to clean walls?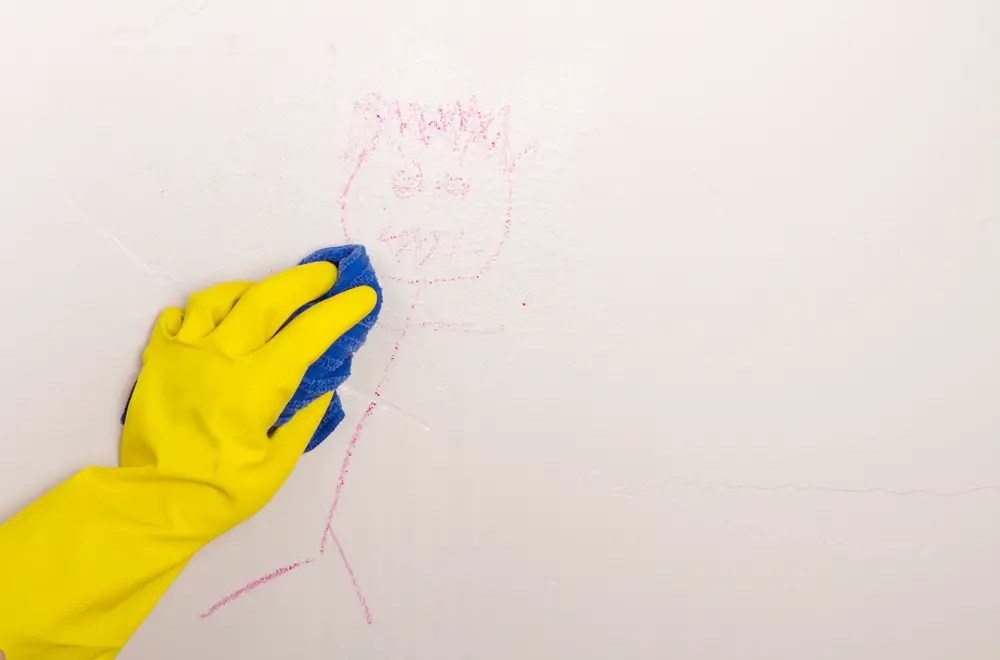 To start cleaning, first prepare a solution for cleaning the walls. For that, you may use cleaning stuff available in the market like pink stuff spray, cleaning paste, etc. These products also help in cleaning the walls. They can sometimes be not available or can cause an extra amount. So you can use DIY solutions that can be prepared and used with just a tiny amount and have a good effect on the walls. You can easily use any of these solutions. Choose the most appropriate solution.
Step 1 
The first solution is vinegar and water. Mix 4- 5 teaspoons of vinegar with water and then use the prepared mixture to clean the walls. But before applying to an entire wall, make sure to check at a small portion as it may cause paint to pull off or may react with some material and cause discoloration. After checking the solution, you may use it by dipping a sponge and then rubbing the dust from the wall.
Step 2
Dish soap solution is prepared by mixing dish soap with water. Mix 4-5 drops of soap to half of the water bucket. Dip a cloth or sponge into the solution and gently wipe the dirt from the wall.
Step 3 
You may even use a sugar soap solution to clean dust from the wall. Mix half sugar soap and half water, then clean the wall with a towel or cloth. You may even clean with an old sock of yours. Just wear it in your hand, dip it in any of the solutions and gently move your hands on the dust area of the wall. It closely cleans the dust off the wall.
Also, learn how to clean a shag rug with this article on Sleck.
How to clean walls with different stains?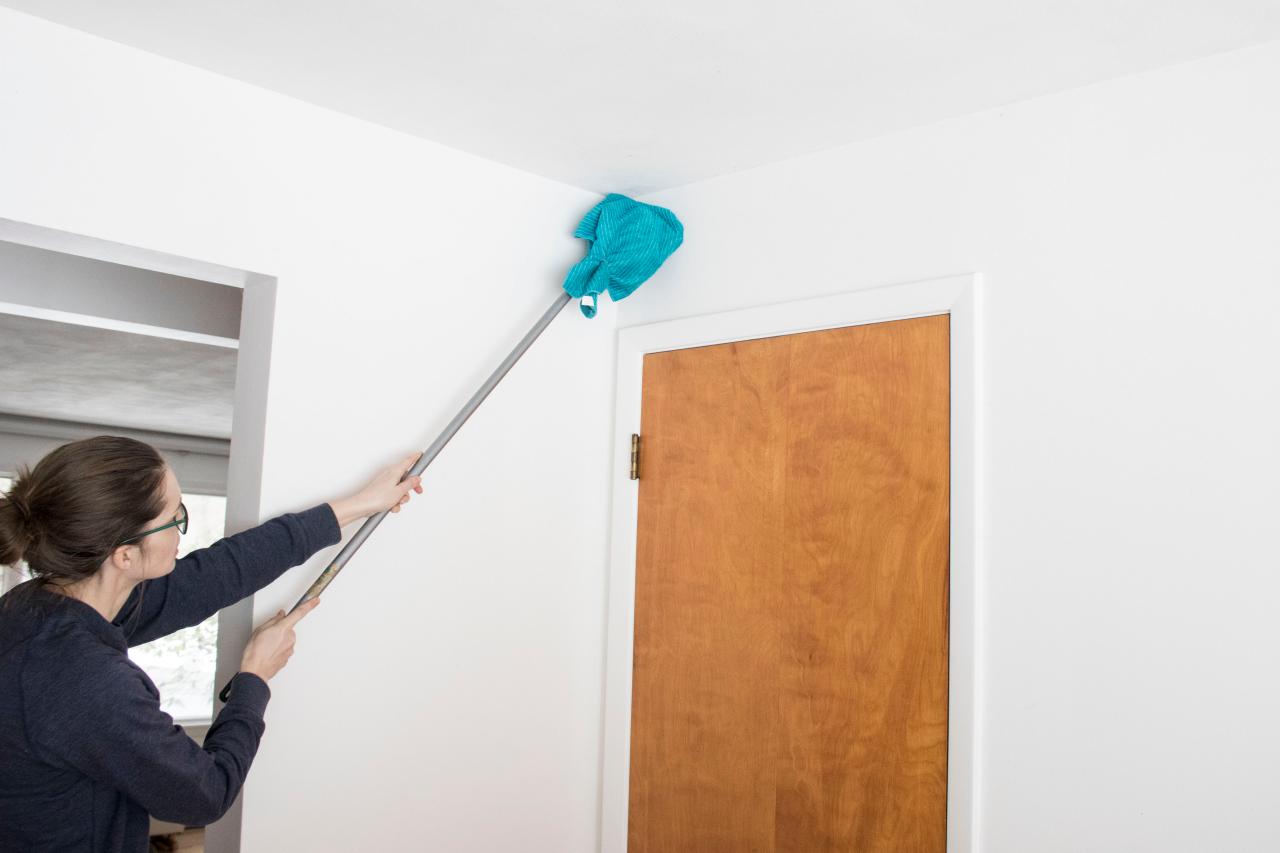 Stains need time to time care with proper cleaning techniques. Your walls are always excellent access to kids and pets who largely contribute to stains on the walls. Never mind, we have the cleaning technique for you to follow. You can use any of the solutions mentioned above to clean stains from the walls.
Deep a towel or a soft cloth in the solution and then rub it gently in a circular motion to clean stains from your well. But keep in mind you must not rub hard as it may damage non-stain areas. The cloth should be wrong thoroughly to avoid any water droplets. Different types of paints need different treatments. If the stain is broad, you can use other strong products that come specially to remove dirty stains.
To remove marks on shoes, ink, pen, and crayons, you may use pink stuff cleaning paste that is readily available and effective for removing these strong marks. If you want a home remedy, baking soda paste can also be used. Just mix half baking soda with one teaspoon of water to make a paste. Apply and scrub it on the dirt area with a cloth and leave for a few minutes. You may then wash it with cleaning spray. This way, you would get rid of stains and stubborn marks.
Sometimes some sticky marks or sticky things stick to the walls. You might think about how to clean walls with sticky marks. To remove sticky stains, you need proper cleaning material. Eucalyptus oil is essential for sticky marks. Just take this oil in a textured cloth and rub the affected area. The rough material of cloth picks up the sticky mark and hence cleans it from the wall.
Sometimes kids make hand marks on the wall. Suppose you have pets; they often make their footmarks on the walls. These marks can be easily wiped out with the help of a white magic eraser. This is very much in trend to remove stubborn stain marks from the walls. Just apply it to the wall and then wash it with water.
How to clean walls from grease marks?
To remove grease from the walls, you may use a home recipe to treat it. Just mix some lemon juice with any wall cleaning solutions and gently rub it. The acidic nature of lime would remove grease from the walls. Just a simple home remedy, and you are sorted.
How to clean walls with water?
When you have treated all stain marks, cleaning the wall with water is the time. But you must know how to clean the wall with water.
At last, comes cleaning the wall with water. It doesn't mean to wash the wall holding a water pipe in your hand. It just means to wash it with a wet cloth or sponge. Make sure to drain off excess water from the cloth properly. Then gently move the sponge or cloth from one direction to another. First, from top to bottom, make sure you cover every corner and do not leave any water droplets to attract further dirt.
After washing with water, then comes the drying of the wall. As the water was frequently used on the wall, moisture could form. So to ensure and remove moisture from the wall, you need to set on fans and open windows of the room or hall. This way, the excess moisture would dry out, and the wall wouldn't damage because of it. You may leave fans on overnight for water to dry out.
7 Tips on How to clean walls?
At first, you must understand the type of treatment that is good for your wall.
Don't rub or scrub too hard on your wall. It may damage the paint.
Always use a clean cloth or sponge to clean the wall.
Don't use liquid soap on the entire wall at a time. Clean in small portions to avoid any stain formation by soap dryness
Apply soap and then immediately wash the particular area with water. Please don't leave it for more time.
First, clean the dust with a clean and dry cloth, then apply any solution to get better results.
For effective results, use suitable quality materials for cleaning.
Frequently Asked Questions (FAQs) 
Is it possible to make a dirty wall clean for the first time?
It can't be said. It depends upon the nature and dirt of the wall. If the wall paint is new and dirt marks are few, you can achieve total cleanliness first. But with the old paint and stubborn marks, you need frequent cleaning to get rid of dust.
Can cleaning damage the paint of the wall?
If you use excellent and mild products to clean the wall, you may not damage the paint. You must use little pressure, good soap, and a clean cloth to avoid damage. You understand your wall paint. So you must take proper measures while you use any product on the wall.
Will vinegar cause discoloration?
Yes, if you use vinegar in large quantities, it may damage your wall paint. You must use very little vinegar mixed with water. Simple walls may not get damaged, but walls with oil paints can have discoloration.
How often should walls be cleaned?
You must clean your walls every month. Make a routine to clean any dirt immediately as it appears. Frequently cleaning walls saves your energy and effort when you clean them for once. It's better to clean them every month or two, depending upon your usage and dirt accumulation. If you live in a dusty area, you need to clean every fifteen days, or the paint is not visible.
Conclusion
A wall, be it a bedroom, kitchen, bathroom, garage, or any place, needs time to time cleaning. A wall has to bear many things on it. Kids fun marks, pet stains, furniture marks, painting, wall hangings, dirty hands, oily heads, etc. Spending money and time doesn't make a wall look beautiful, but you also need to maintain them. You need to take proper steps to clean them. From the above article, it wouldn't be challenging to think about how to clean walls.
Make sure you frequently clean your walls. Make it a habit to instantly clean any stain or other mark that may make your wall dirty. Nowadays, many companies provide wall cleaning services if you don't have time to manage or don't have the patience to clean the walls.
You can easily give them the charge to clean your walls systematically. They have professional experience in cleaning walls. Their skilled workers and advanced solutions can help you get rid of dirt, stains, etc. If you can afford their services, you can contact the nearby companies offering wall cleaning services. But if you can't, follow the above-mentioned simple tricks and tips to easily clean and maintain a long and good life of your walls.