The Coronavirus pandemic has greatly affected the movie and theatre industry. With almost no theatre release, OTT platforms became our savior in these desperate times. Clea DuVall and Mary Holland have co-written "Happiest Season" .This is a HULU original that has been winning hearts. Even though it is a simple tale, the story highlights some serious issues of our society and the strenuous and complex relationship between parent and child. The movie also brings forward some of the major issues that our society has been dealing with.
THE PLOT OF "HAPPIEST SEASON"
Abby ( Kristen Stewart) and Harper (Mackenzie Davis) are a happy couple. With the Christmas spirit around the year and everybody visiting their loved ones, drunken Harper invites Abby to meet her family on the weekend. Abby, who lost her parents when she was a child, never had a family Christmas in 10 years, decides that it might be good for her to have a normal Christmas finally. Moreover, this would be the perfect opportunity for her to propose to her girlfriend in front of her family.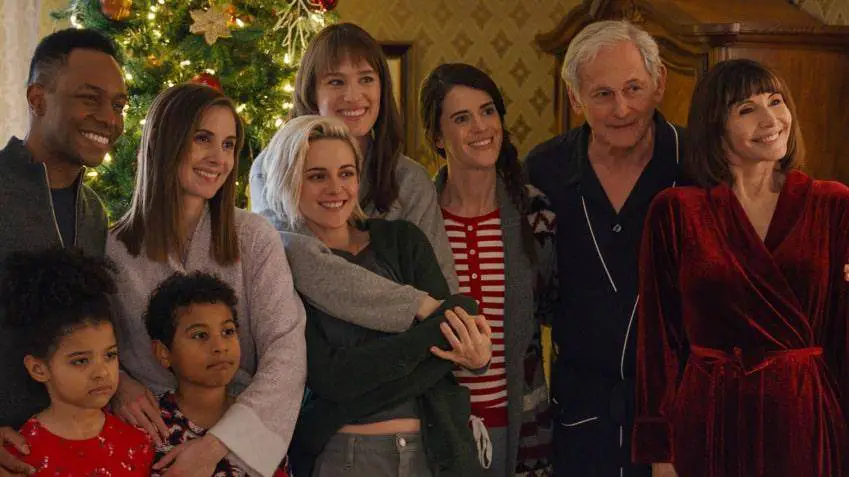 While driving out to her parents' place, Harper confesses that she never told her parents about her sexuality, so Abby has to pretend to be just her roommate in front of her family. Even though Abby was hurt, she agreed to go. She understood that her beloved girlfriend wasn't ready to come out publicly and be her own version.
The Caldwell's abode was nothing like Abby had imagined. Harper's father, Ted ( Victor Garber), is extremely conscious of the family's image. He is running for the mayor's position, so his family has to have an ideal image in front of society. Tipper, Harper's mother ( Mary Steenburgen), is a control freak. She has recently opened an Instagram account to share fun-filled moments of her family with the world. Harper and her sisters, Sloane ( Alison Brie) and Jane ( Mary Holland) rarely get along. Sloane and Harper are always fighting with each other to prove their worth in front of their parents.
The entire family is a huge mess. They look down upon RileyJohnson (Aubrey Plaza) as she 'allegedly' stalked Harper in School and later came out as homosexual. Abby is all isolated and her only confidante is John ( Daniel Levy), her best friend.
THE INTRICACIES OF HUMAN RELATIONSHIPS
Happiest Season isn't a complex tale with hidden meanings. The plot is a very simple one yet the idea behind it is so deep and meaningful it is bound to leave you appeased. The movie shows how Harper has to pretend to be heterosexual and always perfect to make her parents happy. Sloane is a failure in her parents' eyes because she left her high paid job to start a business. She is only visible in front of her parents because of her twins. Tipper and Ted have reduced Sloane to just a mother and completely neglected her ambitions and goals. To them, Harper is the ideal daughter because she does something that her parents approve of.
Mary is entirely different. Her interest in arts and crafts means nothing to her parents. They're too busy living up to society's expectations that they forget to take care of their child's mental well-being. Riley was truly in love with Harper. But Harper's ignorance and denial to accept her sexuality turned her bitter. She got tired of waiting for someone who lived under layers of pretention.
Abby would have been lost without John. Even though John is mostly pessimistic towards life, he has his own way of looking out for Abby. He reaches out to his best friend when he picks up even the slightest note of uneasiness in her tone. He becomes her shoulder to lean on.
Abby, who has never been ashamed of her sexual preference, realises that her girlfriend doesn't feel the same. To her, society and family's image matter the most, even at the cost of her own happiness.
Happiest Season is the perfect movie for you after a dreary workload. The movie has the potential to tap into all the emotions of joy and sadness at the same time. It'll make you laugh till you roll on the floor and cry at the same time. The movie is filled with soul-stirring moments mingled with a humorous touch. The movie has its own set of flaws, but it is definitely a roller-coaster ride of complex emotions. In the end, you'll be left with a moving feeling. Happiest Season will leave you happy indeed.
THE CAST
Happiest Season has an extremely impressive ensemble. With Daniel Levy's charm and witty remarks, you'll be swept away. Victor and Mary play the perfect role of possessive parents. Aubrey Plaza brings out the complexities of being homosexual in an inclusive society. Alison Brie and Mary Holland are brilliant in their respective roles. They highlight the problems of having parents who favour one child over the other. Kristen Stewart and Mackenzie Davis shows how a relationship can be difficult when you're being constantly monitored by the expectations of the society. Overall, Happiest Season deserves a thumbs up. It has been lauded rightly by the critics.
If you're on the lookout for something hilarious and entertaining at the same time, check out our take on The Babysitter: Killer Queen – https://sleck.net/the-babysitter-killer-queen-a-meek-attempt-to-recreate-a-gruesome-story/