Cream Cheese Nutrition- Is It Worth Including In Your Diets!
Cream cheese nutrition is highly talked about amongst fitness enthusiasts who love trying different things to compete for the daily intake of nutrition. Cream cheese is a soft cheese with having smooth consistency.
It has a slightly mild taste but it is a highly popular spread for bagels, crackers, and bread. In this piece of article, we will review cream cheese nutrition facts with their health benefits and downsides.
Just read the article to figure out how you can benefit from cream cheese nutrition ad you should consume it or not.
Cream cheese processing
To know more about the cream cheese nutrition profile, you must go through processing and see how it is prepared. Cream cheese and all other related types of soft cheeses are simply made at home. They only need a cheesecloth, simple utensils, and small labor to be prepared.
Usually, dairy producers in the countryside use all the leftover milk to obtain some kind of cheese typically cream cheese. However, a few commercial corporations use either cream or "milk and cream" to make cream cheese.
Usage of clean and disinfected pieces of accessories is compulsory to achieve great quality cream cheese. Additional pre-requisites are unusual and fresh commercial sterilized milk or sweet cream with some natural additives like mesophilic culture, containing essential bacteria that convert lactose in milk to create lactic acid, along with vegetable rennet, which thickens or coagulates the acidic milk. Cultured buttermilk also serves as a great mesophilic culture option.
First, you have to warm the milk to 70 – 80° Fahrenheit in any stainless steel container. Then add 50 ml of refined buttermilk or one small sachet of commercial mesophilic starter-culture to a gallon of milk. Stir them well, close the bowl and let the starter-inoculated blend sit uninterrupted and settled for an hour or so at room temperature.
In the following step, add to the vegetable rennet half a cup of cold water to dilute it and again stir well. Add this mix to the inoculated milk and stir well to make sure the rennet is equally distributed inside the milk. Close the container using a lid and let it sit undisturbed for nearly 24 hours till the whey (a thin and yellowish liquid) separates from it and the formation of curd takes place.
When this product becomes sour and completely coagulates, stir it lightly to break the curd up. Heat it again to 110°Fahreheti temperature to divide the whey formed from the curd and to race up the following pressing and draining. Once the whey prepared has separated, it is drained into a cheesecloth to flow. Press it until the curd has achieved a fine and paste-like consistency.
Transport the cream cheese into a container and add some salt at the rate of 1 teaspoon to every pound. Mix fully, and stock it in the refrigerator.
Another type of cheese produced or formed is Neufchâtel cheese which is a lighter version of your cream cheese. It comprises between 20% and 23% of total fats and is not higher than 65% in precipitation or moisture. It usually contains about 18% of protein.
Now that you know how cream cheese is prepared or processed, you can carry out the procedures in your home too, and look for cream cheese nutrition.
Cream Cheese Nutrition
Many different varieties of cream cheese are obtainable for purchase, which includes regular, whipped, flavored, and, double-cream cheese.
Therefore, the nutritional profile of cream cheese depends on the specific brand and product that you obtain from the market.
In general, if you look at cream cheese nutrition from popular companies, the cream cheese nutrition profile is as follows:
In general, 28 grams or 1 ounce of cream cheese comprises this much nutrition:
Calories: 99
Protein: 2 grams
Fiber: 0 grams
Vitamin A: 10% of the Daily Value.
Fat: 10 grams
Carbs: 2 grams
Riboflavin (vitamin B2): 5% of the daily value.
Cream cheese nutrition comes from fat at it is high in fat content and has a small number of carbs and protein in it. It is a good choice for those following ketogenic diets. It is also a great source of vitamin A and has some vitamin B2 or riboflavin too.
Whipped cream cheese has fewer calories and lesser fat per serving.
With such an amazing nutritional profile of cream cheese nutrition, you might be thinking how many benefits it may possess, the answer is- Many benefits. let's see what are they:
Cream cheese nutrition benefits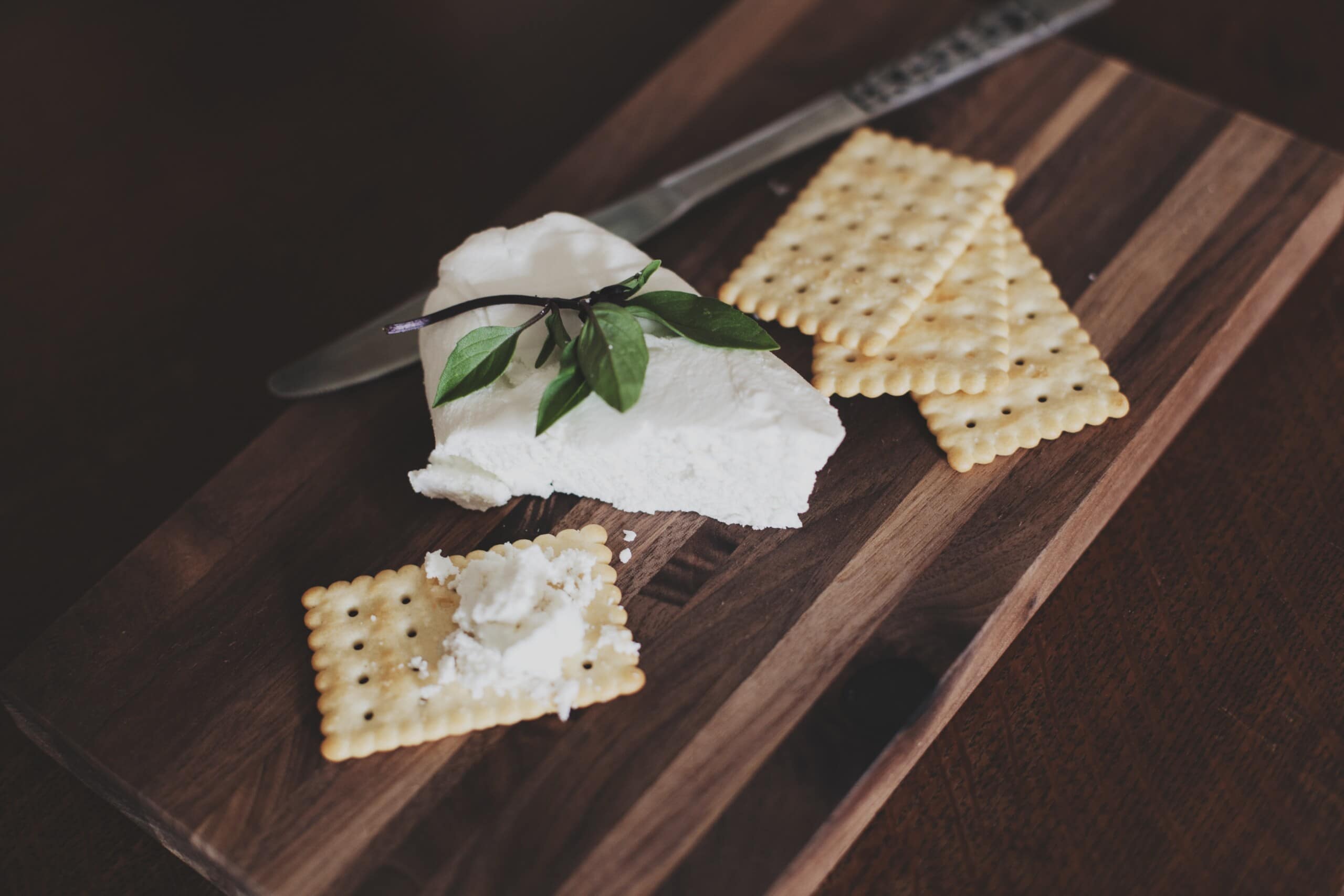 Besides being a delicious spread, cream cheese also has some amazing health benefits. These include:
1. It is a great source of Vitamin A
Cream cheese carries a notable amount of vitamin A.
Just 1 ounce or 28 grams of cream cheese has 87 mg of vitamin A, which is about 10% of the Daily Value needed. This vitamin is soluble in fat and is especially crucial for good vision.
It also boosts your immune system and assists in protecting the integrity of many tissues, like your skin, intestines, and lungs.
2. Low In Lactose
Lactose is a variety of sugar located in many dairy products like milk, yogurt, and cheese.
Yet, some individuals may not be able to digest this variety of sugar. This condition is known as lactose intolerance, you may have heard of it a lot of time. It can induce symptoms like diarrhea, bloating, and gas diarrhea.
People having this health status or condition should restrict or avoid dairy products. However, research reveals that most individuals with lactose intolerance may tolerate tiny amounts of lactose which is up to 12 grams per meal.
As cream cheese comprises less than 2 grams of lactose every or 28 grams, people having lactose intolerance might not have any problem with it.
3. It might have probiotic effects
Cream cheese is produced or manufactured using a starter culture from the lactic acid bacterias.
Some of these bacterial strains are probiotics, which are beneficial bacterias for our gut that gives many health benefits.
For example, one such bacteria is the Lactobacillus species that supports the immune system as it functions to reduce the inflammatory response, while some other species incite the immune system when it is opened to infection.
In one study conducted for 8-week, mice were used. Mice that consumed Lactococcus Chungangensis prepared cream cheese exhibited increased levels of helpful short-chain fatty acids inside them and also showed an enhanced bacterial profile in the stools.
Short-chain fatty acids are the principal energy sources for your colon cells. They also help decrease swelling or inflammation in the body, which may help people with some inflammatory disorders
These results generated through studies seem promising, but still, human studies are required to confirm the same on humans.
Since warming or heating vigorously kills probiotics, view for cream cheese having a label that reads "live and active cultures", which indicates that the product claims living probiotics presence in it.
4. It Supplies antioxidants
Cream cheese is a great source of various antioxidants that protect your body and helps to face unsteady molecules termed free radicals. When levels of these free radicals become too high in the body, it may start causing cellular damage.
Cream cheese comprises small quantities of carotenoid antioxidants, like lutein and zeaxanthin, which are particularly essential for eye health.
Possible downsides of using cream cheese nutrition
Notwithstanding its great health benefits, cream cheese might also have some downsides.
It Is Low in protein
Cream cheese nutrition profile is given above, you can see that it carries a small amount of protein, with a regular 28-gram portion giving less than just 2 grams protein. This is comparatively less than other forms of light or soft cheese, including goat and brie cheese.
Protein is crucial to maintain muscle mass and strength in the body. It also assists in feeling full after your meals.
Thus, you must consume plenty of other healthy sources of protein, like meat, eggs, fish, lentils, beans, and some other dairy products.
Short shelf life
Cream cheese has a comparatively short shelf-life. Factors like the packaging and processing of cream cheese along with its storage influence how long the cheese stays fresh.
Although the pasteurization process helps kills hazardous microorganisms, its large water content nevertheless poses a danger of microbial infection or contamination.
In common, cream cheese must be consumed within 2 weeks of tearing the packet and kept safely in the fridge for all those days.
To decrease microbial growth, expand it with a neat knife and always seal the packaging again after eating. Cream cheese must be completed by the date of expiration and rejected into the bins if you notice an odd smell or mold.
Buying Cream Cheese
Fresh cream cheese variants such as full-fat cheese, reduced-fat cheese, lite, and other foods added are easily obtainable year-round in market stores and dairy shops.
While buying cream cheese, you have to look for smooth and uniform white to light-colored cream cheese that is unfettered from any sort of blocks, lumps, or grittiness. Reduced-fat cream cheese might be somewhat pasty. When you add other food, it shall be evenly divided and reveal the desirable specific color to the finalized product. This cheese should be free from obvious mold and any other surface blemishes.
Dodge those with an extreme quantity of whey that is spreading from the margins. The cheese should be medium-firm and cold and should be spreadable when kept at room temperature.
Food uses of cream cheese
Cream cheese is served fresh and should be consumed quickly. Cream cheese is really handy and versatile dairy stuff that cooks love to prepare in various mouth-watering dessert dishes and savory recipes. It complements fully with fruits and various vegetables.
In cuisine, cream cheese can be highly helpful in savory dishes such as chicken/vegetable stuffings, sauces, dips, and soups. However, it is particularly used as topping spread in different desserts such as cakes, cookies, muffins, bread, bagels, donuts, etc. Use may also use cream cheese as a replacement in dishes that ask for greek yogurt, mayonnaise, butter, cream, etc.
Enjoy this ingredient as a base component in delightful cheesecakes and Philadelphia cherry pie.
A mixture of fruit yogurt with cream cheese is mouth-watering.
Blend cream cheese with butter fully until it becomes creamy to make frosting cream cheese which can be used as beautiful toppings in stores and bakeries.
Being such soft cheese, it can be replaced for Neufchatel cheese, cottage cheese, etc to cook pasta sauce.
Storing cream cheese
Being such a tender dairy product, cream cheese is extremely perishable. If you make it at home itself, make small groups periodically and store them well in the refrigerator for nearly a week.
This was everything about the cream cheese nutrition profile, its benefits, and downsides you needed to know.