Brow Lamination- Know Everything About the Procedure
Brow lamination is a relatively new process made for creating smooth and shiny brows. It is also referred to as an "eyebrow Perm". If you are experiencing unruly eyebrows or thinning eyebrows, brow lamination can be useful for you. Unlike the process of micro-blading for eyebrows, colorings and needles are not involved within this process.
It is a semi-permanent procedure. It is a good fit for those who want to keep their brows styles a certain way and are tired of using gel for eyebrows daily. You will have to repeat this process in future so that results remain as it is. Know that it involves risks too.
This technique was originally introduced in Russia and is quickly making its way all across the world. You might have seen pictures of slicked-up eyebrows with an incredible shining finish over your social media handles. well, that is what brow lamination does.
Here is all you need to know about this trend.
Process of Brow Lamination
Brow lamination includes perming of the eyebrows to give you a fuller and more even look. It also helps to keep the eyebrows in place after washing off the cosmetics you are wearing.
Here's how the procedure takes place:
The first step includes the provider applying a cream on your brows the main of the cream is to lift your hair.
The next step involves crushing your brow hair upwards to pull them in the uniform vertical direction.
Then a neutralizer is applied by the provider to seal the eyebrows into place.
The last step involves nourishing oil to prevent any sort of dryness and skin irritation that might be caused due to the chemicals used during the procedure of perm.
In total, all the steps involved in brow lamination take nearly an hour or even less to complete. Some optional add-ons to the procedure might include:
Tweezing excess hairs.
Tinting to enhance color or change the color.
Waxing to form the desired arch.
You will also need nourishing cream or oil every night to keep your eyebrows in a good state and prevent them from drying out.
Benefits of brow lamination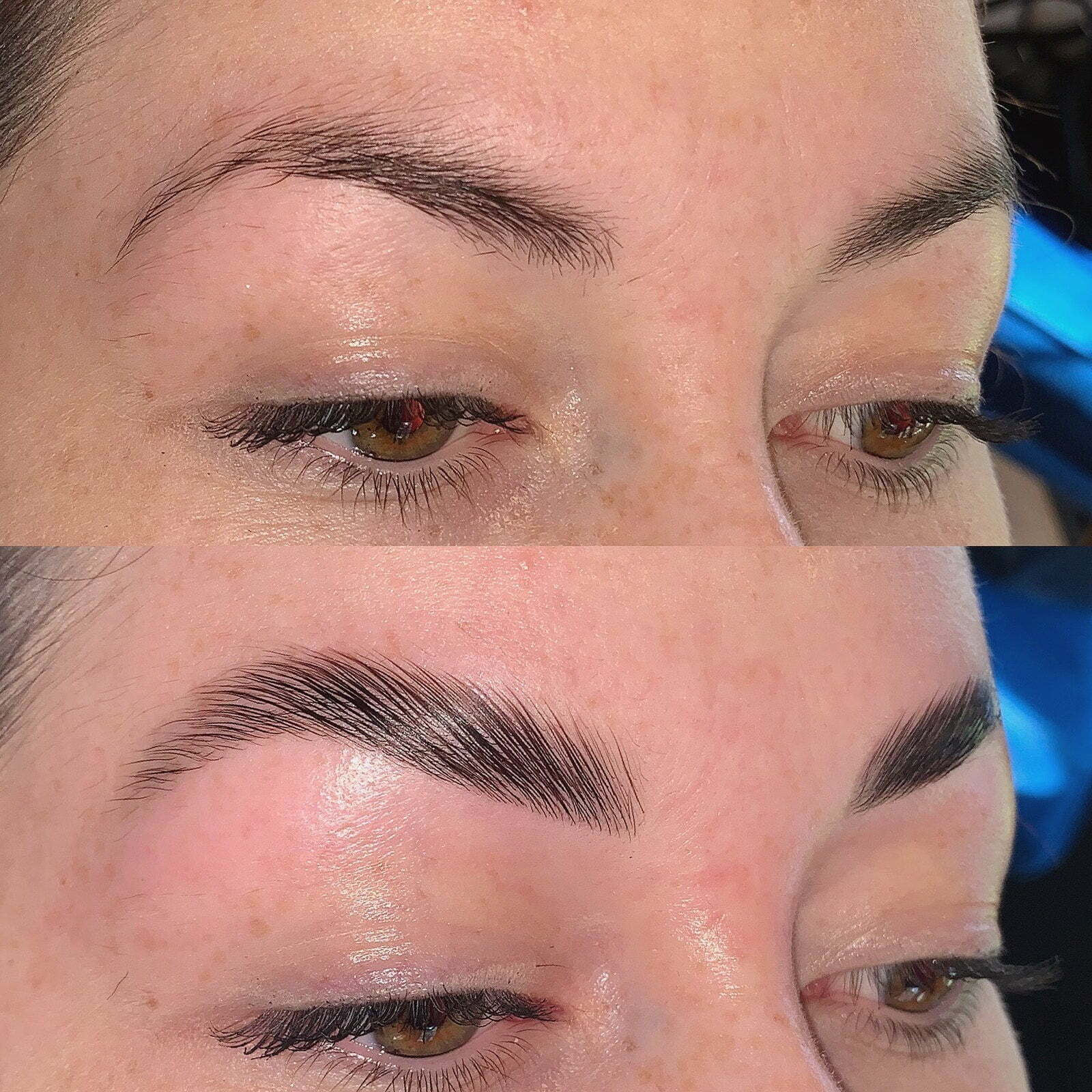 Now that you know how the procedure takes place. Take a look at the benefits.
Brow lamination might help you address a lot of concerns you might be having with your brows, such as:
Thinning of brow hair that might be due to aging or other reasons.
It can fix gaps in your brows that occurred from overplucking and overwaxing in past.
Unruly hair that always goes in a different direction even after brushing them several times.
Unevenness or a lack of shape in the brows.
Overall, brow lamination is carried out to make your brows appear fuller and thicker. Pulling your hair vertically might also make it look like you are having new hair growth. Also, this process is non-invasive which makes it quite better than invasive processes.
Potential side effects and risks of brow lamination
While brow lamination is a type of non-invasive process compared to surgeries, tattooing, and other procedures, there still may be side effects to learn before booking the appointment, All the risk factors are mostly associated with chemicals that irritate your skin. Some of the potential side effects include:
Swelling.
redness
Peeling
Bumps
Itching
The side effects here may occur either above the eyebrows or beneath the brows but they might be sometimes extended to your eyelids. The procedure is not recommended to people who have the following:
A history of contact dermatitis.
Rosacea
Sensitive skin.
Just as perming your hair may lead to damage and excessive dryness, even brow lamination could damage your brows potentially in a similar way. The chances of damage are greater if you are going too often for this procedure. The chances of damage are more when you get it done as frequently as 6 weeks.
Another serious risk of brow lamination with eye damage is that it might cause severe damage to the eyes if the chemicals by chance run inside your eyes when the procedure is being carried out.
There are some cases of brow lamination where the treatment leaves brows hairs lying flat against the heads giving a glowing and shiny appearance that looks very unnatural.
How long does the procedure last
Perhaps the greatest side effects or downside to brow lamination is that it only lasts a few times and that the effects are shorter or temporary. If you wish to maintain the new brows, you will have to repeat the procedure every couple of months.
The provider you visit must apply a moisturizing cream or oil to your brows immediately after brow lamination treatment. You might want to consider applying the same product at your home too so that your eyebrows remain damage-free and healthy.
Cost Of Brow Lamination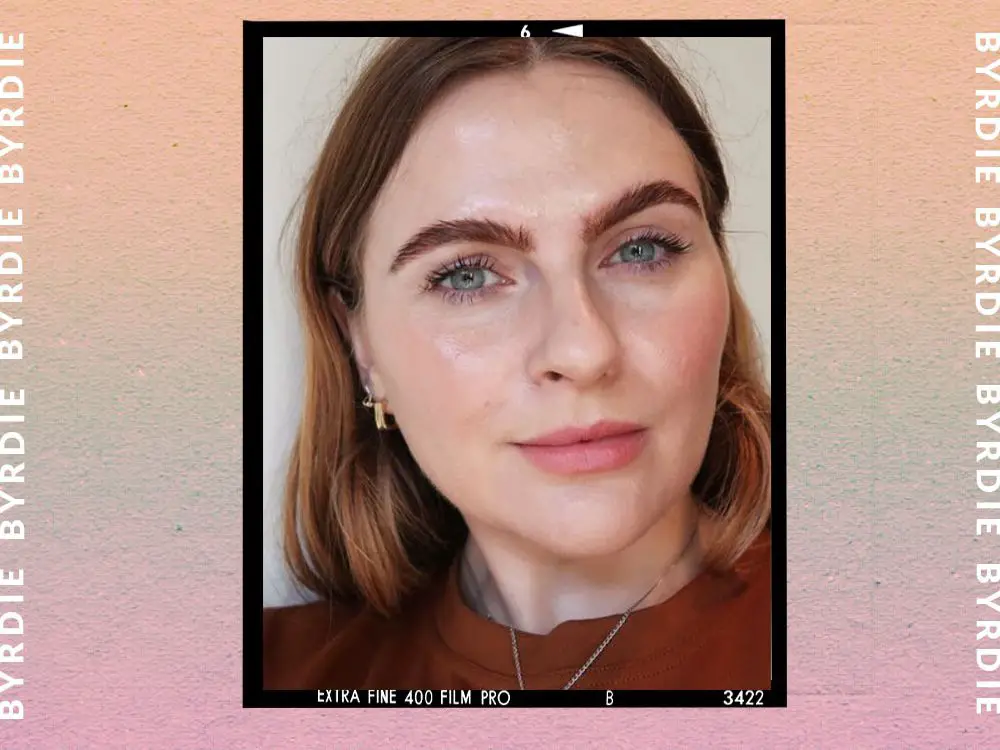 Based on the average search, you will have to spend anywhere between 50 dollars to 100 dollars per session for your brow lamination. Compared to all other procedures, it is considered extremely affordable. It requires only little materials and time comparatively.
Still, it is important to know that the cost of lamination will vary based on the place you live and the provider you visit. Before the procedure starts, you should seek all the information on the process of brow lamination from the provider itself.
How to find a provider
For the process of brow lamination, consider reaching out to a professional makeup artist or an esthetician. Also, you can ask the providers if they have prior experience in the procedure. You can also search for brow artists and brow studious in the region. These facilities work primarily with brow treatments.
No matter which provider you are choosing, make sure you inquire them about their experience, license, credentials, portfolio, costs, and advice for possible side effects and follow-ups.
Tips for getting the best results from brow lamination
Here are few tips you should consider for getting the best results from your brow lamination procedure.
Choose the provider carefully and make sure they have been trained properly beforehand. Make sure they are using a credible and certified system and solutions for this procedure.
Ideally, leave a week before and after the procedure of brow, lamination is done.
If you have to tint on the same day, ask for the tint to be applied and removed immediately.
Do not lighten the brows if you have brow lamination because the bleach and perming are going to increase the risk of breakage.
avoid putting any glue during this process.
Use a brow conditioner or a growth serum daily after you get the procedure done.
Do not get your freshly laminated eyebrows wet for the last 48 hours or 2 days after the treatment is done to hold your brows in place. Protect them from water for the time being.
Try not to repeat this procedure more frequently than 6 to 10 weeks for allowing the new untreated hairs to grow.
Use the brow fix during this in-between stage for keeping your brows brushed.
If you just want to use a brow fix, simply add a drop to the spoolie brush you have and brush the eyebrows into your desired position instead of going for brow lamination. This product usually dries toa soft texture and can be sued to hold your eyebrow makeup in its place. Also, the waterproof formula will remain until you are trying to remove it.
Here are some alternatives you can consider Instead of brow lamination
There are numerous different treatments for brow areas. These treatments can help create a fuller appearance for your brows. Many of the procedures involve coloring the hair permanently and are not approved by FDA for usage on eye areas. Below is the preview of all such alternative procedures for your brow lamination.
1. Microblading
It is a professional eyebrow procedure that aims to form a fuller appearance. It involves the use of small cuts using needles beneath the eyebrows. It is quite similar to using tattoos and then pigments are inserted in these areas to create an overall fuller look. The results of this treatment last for 12 to 18 months after which the colors start to fade.
2. Microshading
It is similar to micro-blading in terms of principle used but it uses insertions of pigments via small dots throughout the eyebrows. The results of this procedure are semi-permanent and they last only a few months before which you are required to repeat the procedure.
3. Permanent tattooing
If you can create ain and want permanent color results compared to micro shading and micro-blading, you can consider going for permanent makeup tattooing. After several years, the color might slightly start to fade and the risk of side effects are also great in this procedure due to the penetration of tattoo needles deep inside the skin.
4. Tinting
It is a far less invasive procedure to achieve voluminous brow colors. This involves the professional application of tinted color. The results of this process all last for several weeks after that you will have to repeat the procedure.
5. Penciling
This is another way to simply fill in your brows and add more volume to them. You just have to use powder or pencil. For the best result, go for a shade that matches the natural color of your eyebrows. Use light strokes and you will get your desired result.
6. Brow gel
If you are looking for ways to address unruly hairs instead of filling them in, consider waterproof eyebrow gel. It is kind of similar to a mascara brush and is designed especially to be applied to your brows directly in an upward and outward fashion. Similar to penciling, it only lasts until you take it off or wash it off using water or makeup removers.
Is brow lamination a good procedure for me?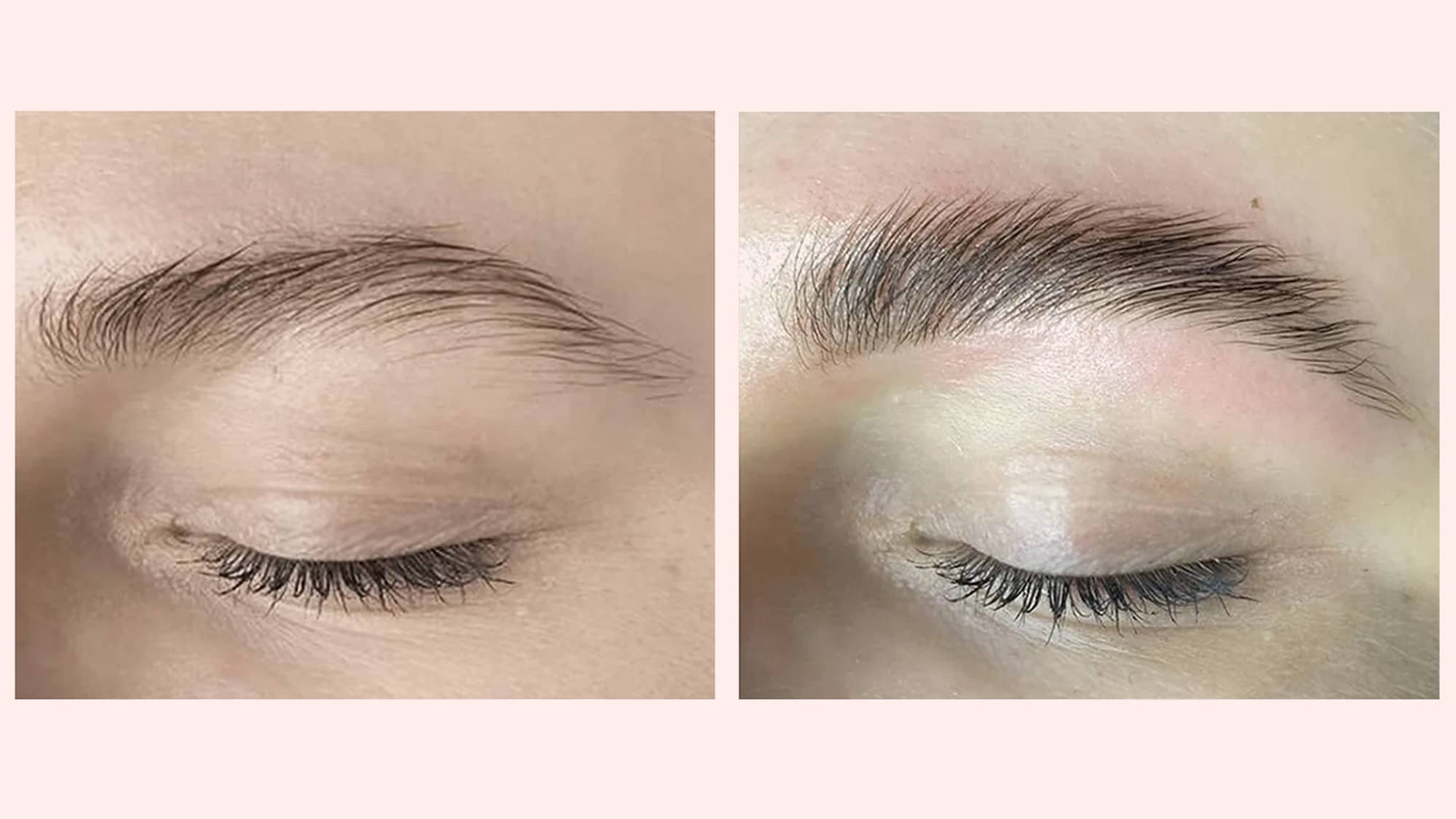 Brow Lamination can be a great choice for people having eyebrow hairs that usually grow in an undesirable fashion. This treatment is highly popular in people whose eyebrows grow in a downward direction gaming them appear fat. Using brow lamination, you can turn the direction of your brows upwards and outwards.
Brow lamination can also be useful for people having thin brows and their hair lays flat. By just brushing your brows upwards and setting them in place, they will appear much wider and fuller.
However, you must know that the results of brow lamination can vary and it seems that this procedure is not made for everyone. Some people do not suit the look and their hair does not respond really well to the procedure. Some people also suffer from breakage of hair.
The hair types it to suit the best on are still not very well known, so you may want to talk to your provider and seek to advise from them if they have worked wth client having similar hair types and whether the procedure has worked on them or not.
Takeaway
If you want a longer-lasting result to keep the brow hairs in place, you should consider going for a brow lamination process. The perming method used for brow lamination treatment may also make your eyebrows appear thicker and fuller. These characteristics are becoming highly popular these days.
Brow lamination is also great for those who have semi-permanent brow tattooing and micro-blading. Resetting the brow hair over the tattooing makes them appear more uniform, natural, and textured. Overall this gives a great trendy look.
As for the brow lamination procedure, it is important to work with an experienced and licensed provider who has prior exercise with brow lamination. If you have any chronic condition of ski disorders that may flare up after usage of chemicals, avoid going for brow lamination as this process uses certain chemicals.
This was everything about the brow lamination process. Now you can easily decide if you want to get it done or use an alternate method for your eyebrows.