Dermaplaning- Everything You Need To Know!
Dermaplaning is a type of skin resurfacing procedure that gives a smoother appearance to the skin. It uses a blade for removing the top layer of your skin giving it a smooth appearance.
Dermaplaning is also known as blading or micro planing. The aim of performing dermaplaning is to have smooth, radiant, and youthful skin. The treatment not only has all these benefits but also claims to remove uneven pockmarks and deep scarring as a result of acne on the skin. It is also sometimes used to remove the short and soft hair on your face called peach fuzz.
Anyone can use dermaplaning whatever their skin type is if they have the following conditions or skin issues:
Dry skin.
Acne scars
Sun-damaged skin.
Dull skin.
Fine wrinkles.
1. Dermaplaning- Overview
Dermaplaning is a skin treatment in which a specialized blade is used similar to a dermatome or surgical scalpel. It is used to remove hair and dead skin. This procedure aims to give smooth skin overall.
The basic concept of this procedure is the same as shaving your face, but instead of a razor, a blade is used to remove hairs, dead skin cells, and debris that might be present on one face.
Continuous exposure of the top layer on the face to irritants, environmental toxins, and UV rays makes it dull and dry. Dermapaming aims at removing the top-most layer of the skin to reveal a new skin layer having new cells that make the skin appear glowing and smoother.
Reports present on the effectiveness of dermaplaning are anecdotal mostly and the results of treatment also vary from one person to another.
Let's see the procedure of dermaplaning to know more about how it works.
2. Dermaplaning Procedure
A plastic surgeon, esthetician, or dermatologist can easily perform skin resurfacing procedures like dermaplaning. You should always go to a dermatologist or professional that has performed dermaplaning already and has a license.
When you get it done by a professional, the procedure is safe and requires only a little bit of preparation. Before this procedure, a gentle cleanser is used by professionals having alpha and beta hydroxy acids that help loosen the dead cells in the skin. Before the procedure starts, the face must be completely dry.
When the procedure is carried out, a sterilized 10-gauge scalpel is used by the professionals that will be held at a 45-degree angle to the skin. The skin is then pulled tight and the blade is used to make short motions against the hair on the skin.
Following this procedure, a moisturizer is applied often to the skin before instructing them about the post-procedure care tips and guide. A person also needs little downtime after the dermaplaning procedure or treatment gets over. This does not mean you will have to take some time off work.
You can get a dermaplaning procedure done on your face as frequently as every 2 weeks.
3. Cost Of dermaplaning
Know that dermaplaning is not a type of medical procedure so no medical insurance covers it. Cost may vary based on your location and the charge taken by providers as per their experiences and studies. The provider will give you all the information regarding the cost as well before starting with the procedure.
The cost per session will vary depending upon the area as already mentioned. Get the cost estimated before the appointment is booked. The cost may be up to 250 dollars per session of your dermaplaning procedure.
The provider might also advise you to add chemical peel along with the dermaplaning procedure. Right after the treatment gets over, the skin easily absorbs the chemical peel deeply into the skin which otherwise is not very effective when done on normal days. The chemical peel may cost an additional amount of 150 to 300 dollars based on the provider.
After the dermaplaning treatment completes, there is little to no downtime needed. You do not have to take time off from your work, it might be able to fit in between your lunch breaks as well.
Once you know the procedure quite a bit, let's see are benefits of dermaplaning so that you can decide if it's worth giving a shot or not.
4. Benefits Of Dermaplaning
Dermaplaning provides several cosmetic benefits. Medical reasons are not present to get your dermpaing treatment done. People who go for dermaplaning procedures often get it done to achieve a youthful look by getting the dead skin cells removed along with small hairs and minor imperfections in the skin complexion. Here are some potential benefits of dermaplaning you can read to decide:
Dermaplanign helps reduce the appearance of wrinkles and fine lines. It also helps reduce sun-damaged skin, acne scars, and small hairs on the face.
It restores your skin's youthful glow.
It helps remove small hairs that may hold debris and oil on the face damaging it and causing acne.
The effectiveness of this treatment largely depends on the experience of the provider and the person's reason to get it done. You must always check the reviews of all the previous customers t decide if you wish to book the appointment with that provider or look for another.
5. Disadvantages of dermaplaning
The results achieved by dermaplaning may vary from person to person. An individual can find sometimes that this procedure did not work for them and changed nothing about their appearance when they see the money spent on it.
Choosing the right professional for this treatment plays an important role and could make a great difference in the procedure. Improper technique can lead to disappointment in the results and also has a risk of mild injuries.
6. Risk and side effects of dermaplaning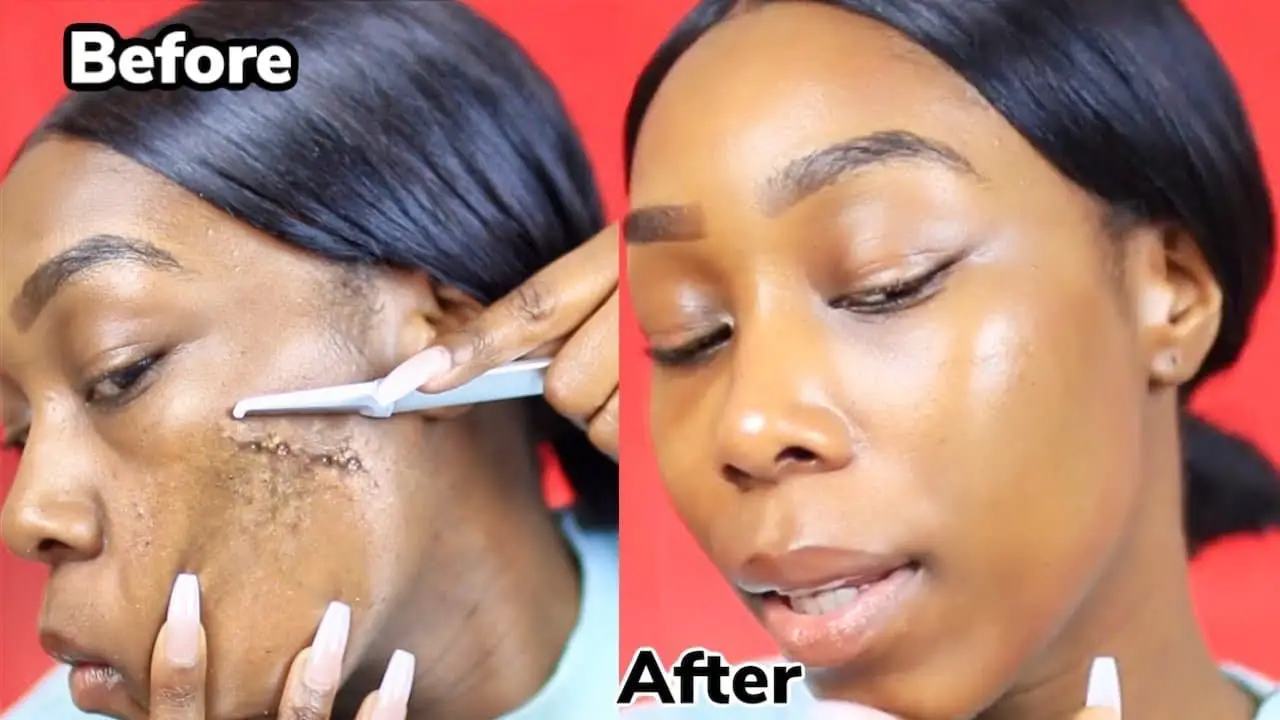 Deemaplaning is usually a procedure that has low risk. Side effects of the procedure may involve redness on the face after the treatment is done. Some people may even notice whiteheads on the face after one or two days of the treatment.
Infection and scarring are usually rare after this procedure but they might occur in some cases. If you see any scar after dermaplaning, you should go to the doctor once to treat the scar tissue using a steroid injection. These injections will soften the scar tissue reducing whiteheads.
Another possible risk or side effect is patchy skin pigment in the regions of dermaplaning. These usually disappear or decrease with time. Remember that you should get the procedure done only by a well-trained or certified professional. The procedure is considered to be safer when it is performed by an esthetician. Some possible risks after the dermaplaning procedure are listed below:
Small cuts or nicks by the scalpel used.
Redness on the region of derma planing
The appearance of whiteheads after the procedure
Scarring and infections (these are less common).
7. What To Expect
A person should expect only professionals to perform the procedure and the environment should be clean. All the equipment sued must be sterilized to avoid infection. If your skin or treatment area does not look clean, you shouldn't go for the procedure.
It is highly important to make sure that the professional or provider you are using has prior experience and is well trained beforehand. People can easily go through the local laws and make sure the professional is operating with all the valid licenses and certificates.
Dermaplaning procedure is relatively short and takes less than an hour only to complete. A professional might also recommend the person to go for chemical peel after the treatment procedure as this procedure can help prepare your skin for complete absorption and benefits from peels. Know that it will have an additional cost.
You will notice that the skin appears a bit tender and red for a few days after the dermaplaning treatment. You must avoid UV light completely for a few days and take utmost precautions like not going out n the skin and wearing sunscreen having SPF or sun protection factor.
If you wish to book another appointment, you can do it after few weeks of this treatment as the results of this procedure do not last long. The new layer of the skin also gets damaged after a certain time due to the environment and UV rays from the sun.
8. Is dermaplaning the same as shaving your face?
There are major differences between shaving your face and dermaplaning. Dermaplaning is more skin-safe and though the version of skin treatment whereas shaving is at-home and cheaper.
Shaving can be done easily at home without expert guidance using a razor but derma planning should be strictly performed by an expert if you are expecting great results out of the procedure.
However, for those of you who are looking for a procedure just to remove peach fuzz, you should go for shaving rather than spending hundreds of dollars at dermaplaning.
9. Preparation for dermaplning
A person does not need to prepare generally for their appointment other than going to the professional with a makeup-free and clean face. In advance of the treatment, the professionals will inform you about the instructions and tips that you must note beforehand.
If you develop sunburn before the appointment takes place, you should consider waiting for few days or rescheduling your appointment because it may irritate your skin or tear the skin surface. Also, if you have certain medical conditions that you think might affect dermaplaning like active acne or any other issue, you must visit your dermatologist first and seeks advice about derma planning.
You will also have to avoid sun exposure a week before the treatment to avoid sun damage because it may end up making the procedure painful.
10. Can home kits be used for dermaplaning
Many people often does the mistake to perform dermaplaning at home to avoid spending dollars but are not advised to the derma-planing kit at home. Know that only a certified and experienced professional should carry out the procedure in an appropriate environment. There are risks and the results might also be poor when home treatment is carried out.
Anecdotally, the chances of infections, pain, and complications are also higher when you perform dermaplaning treatment at home. If you still wish to performed remaining at home, you can use an exfoliating tool also called a razor, beauty wand, exfoliator, or an exfoliation system at home.
There are other processes also that are considered quite similar to derma-planing like microdermabrasion. Let's see what that is and how it is different from derma-planing for you to decide which one to go for to yield effective results.
11. Dermaplaning vs Microdermabrasion
Both these are categorized under exfoliating skin treatments that are used to soothe the skin. While derma-planing uses the edge of a knife to remove the dead skin cells, microdermabrasion "sands down" the skin with an abrasion surface.
Both these procedures or treatments are similar when it comes to their safety, results, cost, complications, and side effects.
Microdermabrasion involves several rounds of treatment and the results also last for several months. If you wish to go for either of these treatments, you must speak to your dermatologist and take advice from them. They will help you decide which treatment to of for based on the results you are expecting.
12. Can you wear makeup after derma-planing?
Dermapning removes all the facial hair, your makeup will glide on your skin super smooth after the treatment. Although it is tempting to witness the results and you feel like applying the makeup, you must wait for some days instead of slapping your face with a lot of makeup immediately after the treatment.
Once your skin has settled down after one or two days and you did not notice any side effects of dermaplaning, you can apply makeup. Doctors often recommend using a moisturizer and a rich hyaluronic acid mask to help the skin repair and keep it hydrated.
The Bottom Line
As long as your skin is not sensitive and there are no breakouts, the derma planning procedure can be used as it has fairly low risk and works amazingly well to remove facial hair and exfoliate the skin.
Know that derma planning is not something you can DIY so you will require to visit a professional for treatment and guidance. If you want dermaplaning only to remove peach fuzz, you can directly go for shaving at home instead of visiting a professional for dermaplaning.
This was all you needed to know on dermaplaning. Now you can easily decide if you want to get the treatment done or not.
You can also use home remedies like rice water for your skin and soften it. Here is how to make rice water at home and enjoy its benefits.