It's very easy to wear dark colors during winter, and most women prefer wearing attractive colors like black or navy. Since the weather is cold and feels dry during the evening when the sun sets, wearing white winter outfits makes you look fresh and acts as your closet booster.
White is also a color of snow and fur, and you can style this color as per your choice to look stylish during winter.
So, if you are looking for some cool winter white outfits, then you are in the right place. In this article, we have provided you with the best winter white outfits to look just perfect during winter.
9 Best winter white outfit ideas for Women.
1- Cozy Knitwear Outfits.
This is one of the best winter white outfits, which is ideal for everyday use. You can wear a white Knitwear sweater which is quite soft to the touch. Its oversized shape and high ribbed neck look versatile and add to your casual look.
You can prefer wearing the cozy white Knitwear sweater with white trousers. You can go for high waist trousers along with side pockets to add character to your trousers. Lastly, add white leather sneakers to complete your look, and you will be ready.
2- Transitional winter white outfits.
It's very important to pick the right clothing pieces when the weather starts to change. You can opt for Transitional trenches as they are one of the simplest outfits to wear when the temperature begins to change.
Add white boots along with a mini leather bag, as it just looks cool on girls. You can either carry the bag from its top handle or use the adjustable strap feature to look all chic.
3- Essential layering outfits.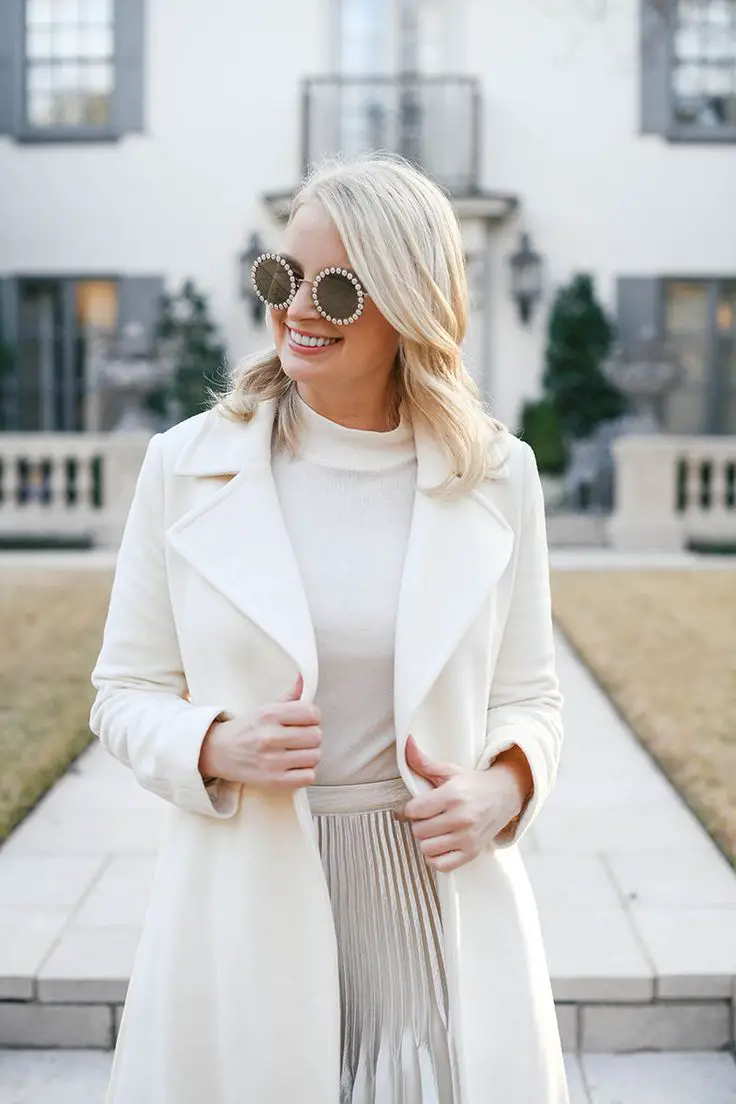 You can prefer wearing a wool and cashmere blend sweater during colder months while maintaining a level of smoothness at the same time. This sweater is a must to add to your wardrobe as it provides you with great comfort. This sweater is a versatile winter white outfit that can be draped over the shoulders.
Add a midi skirt with your white cashmere sweater, as this combination is just awesome, giving you an adorable look. Moreover, you can add one accessory, i.e., a Pouch leather clutch of big size, as it adds style to your complete white outfit.
4- Casual winter white outfits.
Sometimes, keeping your outfit casual during winter looks cool. You can prefer wearing a blanket coat as it's a great outerwear winter white outfit. You can wear this coat with all your winter outfits or dresses. 
You can even wear pleated cotton white tapered pants with this, and it would make all your casual winter white outfits much more attractive. You can complete your look with a round neck t-shirt which can be worn with a blazer, trousers, or midi as per your choice.
5- Winter leather pants.
It's obvious that every woman must have black leather pants in their closet, but what about white ones? Let me tell you that white winter pants are attractive and you must definitely have them in your wardrobe.
You can prefer wearing black boots for daily use with your white outfits or wearing a pretty top with heels for a party. So, you must try this cool winter white outfit.
6- Loungewear outfit.
Loungewear is a very simple winter white outfit that women above 40 years can also wear. You might prefer wearing wide-leg lounge pants along with a Cami top and a cool cardigan.
You will surely feel so comfortable and soft that you can easily sleep in this outfit too. You can even wear a golden necklace to enhance your style, and you will be all ready to hang out and enjoy yourself.
7- Winter white outfits with jeans and blazer.
This is another simple winter white outfit for your daily chores. You can prefer wearing white loose-fit jeans if you don't like baggy jeans much. Then add your favorite white tee under your classic white leather blazer.
Complete your outfit by wearing super cool and comfortable sneakers. You can also go for a gold necklace and a white leather bag, and you will look amazing in this all-white look.
8- Wrap dress.
You can prefer a versatile wrap dress as your winter white outfit, especially during dinner occasions. Try to buy the dress with ruffled sleeves. Rest the fabric would be really soft.
You can style your wrap dress wedge booties in an off-white color, or you can go with heels as well. You can also wear a camel coat to get some warmth during the cold winter days.
9- Tulle skirt.
This white winter outfit is basically for a party or dinner. You could try this neutral look by wearing a beautiful tulle mini skirt. Its length and fabric are just awesome, and its ivory cream color adds magic to the entire outfit. 
Add the boots of the same color, giving you a feminine look. Since we need to maintain that winter look, you can prefer wearing a normal white sweater. Whether you want to wear it on or off the shoulder, it's up to you, but keep it half tucked for a sexy look. Rest, you can wear earrings, rings, and necklaces to complete your outfit.
What are the tips for creating a great winter white outfit?
You must try a few things to get desirable results while styling your winter white outfit.
1- Don't wear a stark white color as it looks summery. Instead, you must go for off-white or creamy colors for your outfit.
2- Select fabrics like denim or wool as they are thicker fabrics instead of cotton or linen during winters.
3- You can use different shades of white and mix them with neutral colors like gray, brown, or black for a winter look.
Cessation |Winter White Outfits
Many people don't prefer wearing white outfits because they are scared that their outfits may become dirty. But styling all-white outfits for holidays or parties with new ideas will add warmth and style to your outfits.
Don't just make a perception before trying a white outfit. Just give it a try, and I am sure you will love it no matter when you wear white during winter. So, get ready to add confidence with whites!