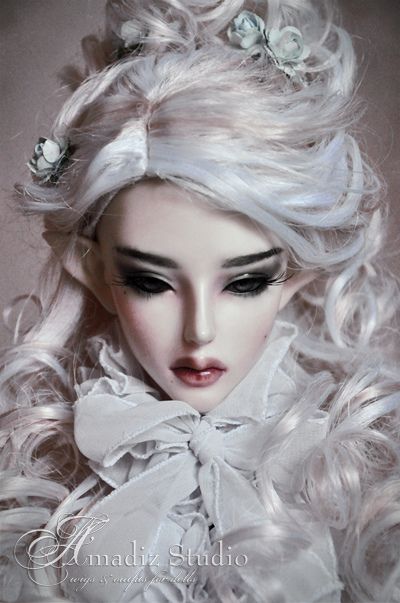 White blonde hair looks good on women of all ages. This might come as a surprise, but there are umpteen ways to style the platinum, ash, white blonde for various hair lengths. Give the white blonde hair a mellow treat choosing from haircuts and styling that trim the essence of goth that comes with platinum and white ash hair color.
Get a complete makeover and march in the shock element, transforming your hair's natural color to white blonde. Add natural colors like brown, beige, slate in Ombre, or balayage if you have dark-colored skin.
Any outfit suits this hair color if styled right with the correct patterns and trims that suit your body type and skin contour. The rule of the thumb is to choose a haircut that compliments your jawline. As long as you follow this rule, you can rock in the white blonde hair color with a vast choice of haircuts.
How To Get White Blonde Hair
Whenever you want to choose a hair color that is a total contrast to your natural hair, the first step is to bleach your hair choosing the right proportion and volume of hair. Do not choose a higher volume as it can damage your hair. Refer to this post to choose the right proportion of bleach for your hair.
It's a good idea to go to a salon to get this shade, as a DIY at home might not always get the desired results. Also, do you have a three-way mirror? It becomes easy that way to check the color transformation. It's time-consuming, and getting it right needs patience.
Also, do you have an idea about the texture of your hair? That is what a pro would know and tell you if you will get the white blonde hair like it should or not. But, if you have to, you can do it in these simple steps. Going blonde is high maintenance and expensive. If you have time, money, and patience, you can do this, else drop the idea if you are running the day on a hamster's wheel.
Get the right haircut before you start bleaching your hair.
Bleach your hair using volume 40-50 till you get a lighter tone if you have dark hair. Choose a lower volume, like 30, if you have light hair.
Use a toner of volume 30-40 to remove the yellow tinge.
Apply icy or platinum blonde hair color and leave it on for 30-40 minutes
Rinse and apply purple shampoo to get an even tone of white blonde color
you can also use the purple shampoo to maintain the tonality and color of blonde hair color.
White Blonde Hair For Skin Tones
White blond hair color is suitable for lighter skin tones. Choose balayage, Ombre, and other hair coloring techniques if you have dark skin. The best thing to do is blend the hair color with shades of the natural color of your hair, a few tones darker or lighter. Either use a purple hair toner or a shampoo to remove the yellow tint and brassiness from bleached or blonde hair before applying white blonde hair color.
Choose hair wax from various brands instead of hair color if you need a temporary color. It is hassle-free, easy to apply, and is removed in a single hair wash. You can get creative with hair wax colors and choose platinum, silver, icy, or white with any color of your choice.
White Blonde Hairstyles
White blonde hairstyles are humongous to choose from. For long-length hair, use any hair coloring techniques instead of a complete icy white, unless you want to look like the Snow Princess from fairytales.
Men
Men don't look like fairytale characters or older than their age, but it gives them an edgy look. Those who love to experiment with the unconventional, celebrating non-conformity as freedom of expression and choice enunciating the very idea to do what pleases others. Icy white or white blonde looks good on any hair length and haircut.
A new arena to explore hair colors when offbeat and Colombie seemed overdone, and there came the icy white making its pristine presence felt in haircuts of your choice, tell you, how wonderful you look in those tresses of white blonde.
But did you check your skin tone and contour first? Now, that's a must to get an elegant look with asymmetrical cuts, messy hair, waves, side shave, and whatnot. I think men should experiment with hair colors as much as women do.
Women
Grace the rocker and punk chic with icy white with a dash of rose gold, lavender, if you will. There is no outfit incompatible with a hairdo in white blonde, aren't you lucky? You never had a bad hair day. Get the salt and pepper, add some spice, and make it all nice. But, Bella, did you know? Long hair length must be styled with caution when choosing this hair color.
Hair accessories add to the elegance. Oh, yes, the icy white might seem too cold, but you can surrender to the unique allure it brings to your persona. So, tame this look with caution, keeping in mind the skin tone, else you can go dead wrong!
Short
Pixies are never going to retire from being in vogue. Their job stands tall on the runways, sheen magazines, and everything else in high heels and la-di-da! Maybe a few points low on the la-di-la because a short haircut comes with layers, feathers, fringes, and stylized texturing you can think of.
So, it's a few notches higher than la-di-da, passing over the trophy to the maverick in you! Not squeamish anymore? Are you? to take a shot in the short icy white blonde? Is that a mellow vixen who plays hot and cold?
Medium
This is not a color for the long run. It's chic when used short-term because you wanted to try the platinum and icy range of white. You could have a straight bob with a few layers on the end or a complete asymmetrical cut. Textured hair cuts look much better with this hair color.
Long
Long hair, white blonde, and barrette hair clips, much better? It's a good idea to accessorize your hair if you have long hair in white blonde. An updo, braids, long bands, and any styling you can think of. Just don't attempt the minimalistic look. It can make you look sad. Add some spunk to the icy white with hair clips, headbands, and headgear.
Layered
You could develop an innovative idea for the icy white layered palette. Maybe the way you layer it can make all the difference to save you from looking like you were yesterday.
Wavy
Wavy hair in white blonde looks good in short, medium, and long hair length. Use a light hair coloring technique and avoid using dark colors. This haircut looks good on oval, round, and diamond face shapes. Use various styling techniques with this haircut.
Artistic
A dash of copper, a bit of blonde, and hairstyles from the celebrated art deco era are enough to give your persona a unique style. Get the motifs of your choice using hair wax colors. It could be a long process with standard colors and might not always give desired results. Paint your hair in the motifs, textures, and design of your choice.
Avant-Garde
Will you carry this with panache as your everyday look? Why not? Run-of-the-mill is stereotypical and expected. So, do the unexpected and create a shock value. The attention you get is awe, and yes, some secretly get inspired by you but aren't telling you. They wish they could do the avant-garde, blend it with other art genres and create a hair art movement.
Come to think about it, there have been art movements post the 19th century, and then there's nothing. What happens when the hoi polloi start taking art seriously? There will be fewer reasons for unhappiness. That is the magic of art. It creates the magic when you delve it in into an everyday routine.
Grunge And Rock Chic
Trash punk is long gone and obsolete. If you want to do grunge, you could do it with a blend of elegance and feminine elements. The outcome is a pioneered style that blends with wearables and formals. This genre in art and fashion gets better when merged with artistic genres.
Add rivets and spikes in mermaid braids. Wouldn't that be an awe-inspiring portmanteau? That is just one idea. You can come up with umpteen ideas to rock the look of white blonde hair styled in this genre.
Bohemian
Bohemian is about The Beatles, rock and roll, motifs that express freedom and spirituality. A hairdo without braids and headgear styled in an updo with a dash of asymmetrical style. Add fun accessories, if you will. Use offbeat hair accessories to don this style for the straight, bob, or asymmetrical haircuts.
Fantasy
Mermaid braids are what you would think of when it comes to styling in this genre. But there is more to braids and updos to styling in the fantasy genre. Get creative, blending this style with your persona. Do you want to do a maverick princess or a mellow maleficent?
Fantasy is so Disney, but you could go beyond the stereotypical fantasy style and create awe-inspiring styling with white blonde hair because snow white has evolved into a mellow vixen who doesn't need to be rescued because, now, she is the rescue!
Braids
Braids can never get old. A classic and chic style that has tales to tell. Blend it with updos, asymmetrical cuts, or weaves. Now, that is just the start. Weaved braids, waterfall braids, and the options are humongous and breathtaking. Braids are not minimalistic, simpletons anymore! With the white blonde hair with a tinge of opal colors thrown in, the mermaids just broke the glass ceiling, and how!
Art Deco
The Great Gatsby created a style you cannot emulate unless you are dressed for a theme party. But what the white blonde does to this kitschy style is it creates a balance of art and style marching in the long-lost era.
Art deco is no longer what you decorate your homes or clothes with unless for a special occasion or theme. Not your everyday style, but add a dash of curls with the right texture and hair accessories if you will, and you have done it right!
Unisex
Short and medium-length hairstyles in pastel colors or chocolate brown and beige do well in the androgynous chic. The unisex is not démodé anymore. A blend of asymmetrical layers to the straight bobs and viola! Now, that's just a start. When men can rock in curls and women in the side shaved head styles, the unisex has danced in happiness and glory. We are not about gender bias anymore. Isn't that universal love already!
Hair Colors That Suit White Blonde Hair
Colombre is a strict no, and why would you choose the rainbow on pristine white? It would help if you had the nerve and the right haircut to do that. Pastels, opal, slate, ash, lavender, rose, and lighter shades of brown, blue, pink, etc., look good with white blonde hair.
Choose from different hair coloring styles with the blend of these colors, and you create an offbeat style for everyday fashion. That is how you rock in white blonde, not leaving it alone on the clean white palette and adding the right colors to make it shine and glow.
Conclusion
Well, now you know it's not a daunting task to style the white blonde hair in color and haircuts of your choice. It fits like a fiddle on numerous face shapes and skin contours for men or women. You must only know to choose what suits you best and shine on your crazy diamond! This essential guide should be good enough to know which haircut and hair color to choose if you are using the white blonde hair color as a base.