How To Pull Off Wedge Sneakers To Rock The Outfit
You might be having all time of sneakers ranging from ultimate white chunky sneakers to wedge sneakers and other footwear, owning them is easy but styling them is not everyone's cup of tea, right?
There are a huge lot of varieties when it comes to comfortable sneakers, the latest being these amazing sneakers wedges. We know what wedges are and whenever you hear this term, the first thing that strikes our mind is heels ofcourse!
Wedge sneakers are entirely new in trend and have been exciting to make your look tougher and chic. The most fascinating way to create your ideal chich looks is to include comfort in whatever you are designing. The best part of wedge sneakers is that they are not only super sporty and stylish, but they are also immensely comfortable.
This fashionable footwear is fabulous to incorporate in all your OOTDs. Don't go for your classic heels and stilettos every time, let style step in with ravishing pair of wedge sneakers. No worries, we are about to help you in every aspect, have closer look at each look you can create.
Who Should Wear Wedge Sneakers?
Anyone! there is no limit set in this fashionable world, doesn't matter who you are, where you live, what you do! These charming pair of sneakers are must-haves in your closet. Got the confidence and charm? Go for it.
How To Wear Wedge Sneakers?
There are infinite ways to style your wedge sneakers. Be it your romantic, cozy dinner date or your outfit of the day look, nothing beats these sneakers in any way. You will absolutely how the end look turns out, you have a variety of colors and clothes to style them with. It's not always necessary that only Nicki Minaj or Rihanna can style these sneakers like boss ladies (They looked stunning) but even you can repeat the looks and outshines of every party or gathering you attend, because, why not?
We have gathered few amazing looks to help you out with the styling, got similar clothing pairs and shoes, go for it.
1. The Funky Look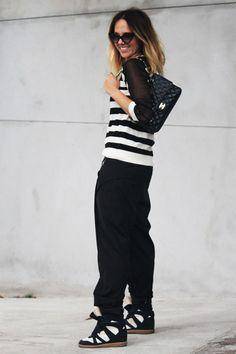 When it comes to comfort, nothing leaves behind the power and beauty of wedge sneakers. Don't believe me? Look at this amazing outfit. Grab a pair of loose pants of your choice and a striped tee-shirt, that's it, you are good to go.
The best thing or practice you should start engulfing in is using accessories that can enhance the entire look making a statement. You can get yourself a pair of black sling bag because it goes with everything and looks super stylish to carry.
If you want to create a more funky look, chose bold colors that you are satisfied with.
2. Pink Jacket With Wedges? Yes Please!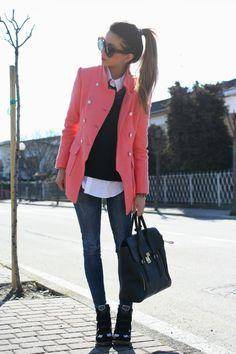 This chic look from wedge sneakers is absolutely perfect for airport looks, isn't it? The Winter season doesn't give us many options to experiment with because all we wear eventually gets covered with baggy sweaters and hoodies.
A white shirt overran with a black sweater sounds perfect. What makes it, even more, better is the pink jacket. You can use different colors that are already present in your closet to create this amazing look or buy new ones if you feel the need.
Again, similar black wedge sneakers paired with the dress along with the tote bag looks snazzy and dashing.
3. Skirt With Wedge sneakers? Have A Peek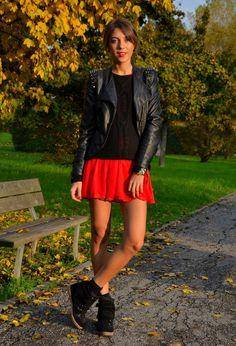 Another great chic style from sneaker wedges. Leather pants and jackets look dapper with anything you style. Look how cool wedge sneakers look paired with the black leather jacket.
Get yourself a black plain tee-shirt or any graphic tee-shirt would also work equally amazing. Style them with leather jackets or denim jackets to rock the looks. Feel free to accessorize your look using necklace, pendants, or hoop earrings that appear magnificent.
You may also use watches to create a statement look.
4. All White? Noo!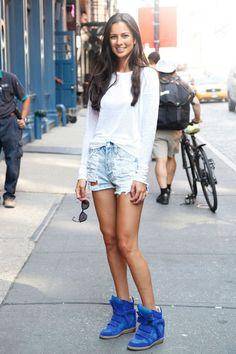 If you simply are a stan of white colors and loves wearing white very often, it is highly important to add something that can enhance the look from basic to chic. In that case, what is better than wearing bold-colored wedge sneakers? Absolutely nothing!
Grab your favorite shades and a pair of blue sneakers along with a basic white tee-shirt and shorts and you are all set to rock this basic rock. These looks turn out really well and you will definitely receive compliments.
5. Prints And Wedges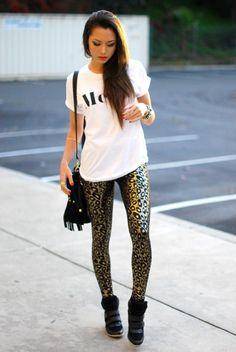 My favorite from wedge sneakers outfits. Animal prints are always in trend and you look really bold and dapper once you get ideas on how to style them. One such outfit ideas are to incorporate them in your closet for pairing with animal-printed looks.
A graphic white tee-shirt looks modish paired with this leopard print skinny jeggings or pants. Black wedges like the outfits given earlier complement all the dresses you wear.
Do not forget to carry any duffel bag or sling bag to add a chic touch to this look, you may also grab your favorite pair of shades to rock the streets and parties.
6. Denim With Wedges? Let's See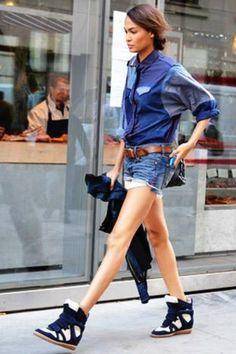 Denim on denim look is a trend we are never getting over. It is as stylish as it was in previous times as it is now. Supermodels Gigi Hadid, Kendall Jenner, and many celebrities have given us major goals with denim on denim looks.
An oversized denim shirt paired with similar colored denim shorts appears as stunning as a model. Wear your wedge sneakers along with this look for a carefree, comfortable, and chic look. You can use leather belts to add statements to the outfits you create.
It is also on the good side to keep your shades and accessories together.
7. Pink Flowy Vibes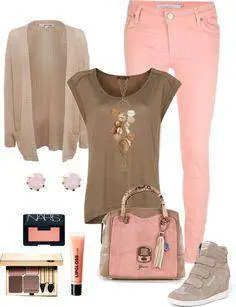 To all my girls who like Caroline Forbes from TVD, doesn't this look give all those vibes? It looks so cool and chic just placed together, imagine how these looks will enhance your style for the day, definitely a go-to for street style and visiting friends.
This combo contains a nearly neutral and dashing pair of wedge sneakers. Paired with a brown tee-shirt and pink skinny pants, it will look so well designed. You may also go for a neutral cardigan to enhance the overall look.
Dewy and minimal makeup fits perfectly well with such outfits. You can also accessorize it using your favorite chich accessories.
8. A Bold Skirt With Wedge Sneakers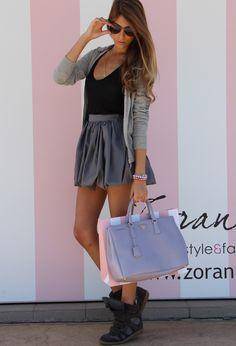 Another favorite from wedge sneakers is this bold skirt look. Mini skirts are the most comfortable when it comes to styling anything. You can always go for a pair of the mini skirt with basic tee shirts of any color. It makes you delicately beautiful and sophisticated.
A jacket or cardigan looks quite well complemented with such dresses, you can easily tell that looking at this outfit idea in the picture above.
If you love this look, you can grab a skirt out of your closets along with a basic tee-shirt and jacket to pair with amazing black sneaker wedges, as usual, to create a stunning outfit without fail.
A tote bag or a bowling bag is all you need to look more graceful than ever!
9. Casual With Wedge Sneakers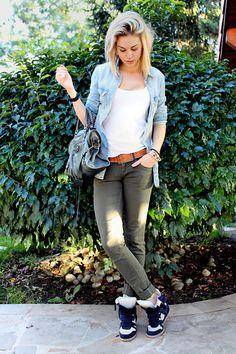 Every day you cannot expect parties and birthdays to enjoy, some days are all about meeting your girlfriends and enjoying the moments of life. Such days require casual and comfortable outfits that do not look over the top, but also they shouldn't look too boring, right? Of course!
You can pair a basic white tee-shirt with a pair of skinny jeans of your favorite color and fir to complement wedge sneakers. Get a satchel bag or backpack to carry the essentials wherever you are heading. You can wear hoop earrings or neckpieces to make the look a bit chicer.
10. Chic And Sophisticated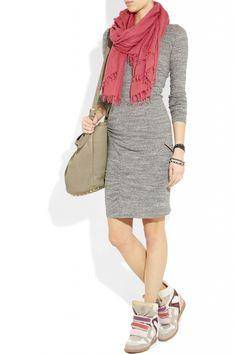 Don't want over the top layerings and pants with every outfit you want to style? Don't worry, we feel you. There are so many dresses to go for to pair your wedge sneakers with.
You can pair bodycon dresses with having a ruched pattern with your wedge sneakers as they will prettify the entire look even more. Carry a scarf or so to give that minimal look.
A bucket bag or a lady bag will go well with these kinds of looks. The wedge sneakers used in this outfit are quite different from others in color and design both. These can be paired with multiple outfits.
11. Go Floral With Wedge Sneakers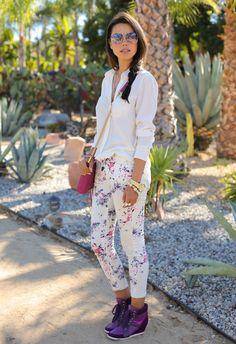 This look is so casual and comfortable that we would love to have it in our closet. The spring season vibes are always among our favorite outfits to wear.
Get yourself a basic white shirt, nearly oversized to look more sporty. You can pair this shirt with a pair of floral printed pants something like the picture of outfit idea given below. It undoubtedly looks amazing.
Purple sneaker wedges prettify this outfit quite well in my opinion. As always, do not forget to carry a sling bag. You may also add accessories like earrings, neckpieces, and wrist watches to make it little bit enliven and interesting.
12. Pink Again? Why Not!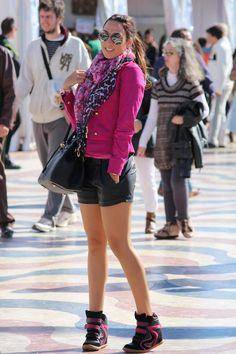 Each and every outfit from wedge sneaker looks is becoming our favorite, don't you feel the same?
Use any old tee shirt or top present in your closet and wear a pink poffy jacket over it. It appears dazzling. You can go with either black leather shorts or pants in black to complement the jacket. White will also go with amazing color combination.
Printed scarfs elevate the outfit like cherry on cake. The matching wedge sneakers definitely stole the show here. Look how pretty and elegant they look.
Carry your lady bag or doctor bag along with this outfit and you are all set to rock this super amazing and ultra chic outfit idea.
13. The Crop Top Look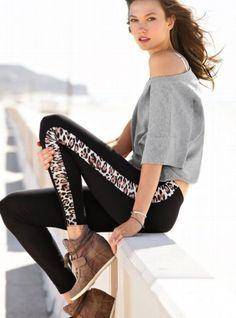 Crop tops are so amazing when you just want to go simple with no drama. They are extremely simple yet beautiful to wear giving us delicately chic outlooks.
You all might be having crop tops in your closet. You can chose any crop top of gray, black, or other colors and pair them with black pants. This look given on the picture is created by pairing striped animal print skinny pants with crop top.
It's easy breezy casual look. You can pair brown or black wedge sneakers with such outfits and you are ready to step out.
14. All Black With Wedge Sneakers

Some of the best outfit ideas are known for having this dark black color because it is so stylish and goes with every outfit style you want to wear.
Want to go all black? Just grab a pair of black tee shirt from your wardrobe, it may be lain or printed. Pull off a black puffy jacket becauseit's the most stylish type and in trend. Complement this with a skinny black denim and your black white sneakers. This is all you need to look dapper.
Want something more to enhance the look? You may use your favorite shades and a tote or bowling bag, this is all you need.
15. Short And Sweet Look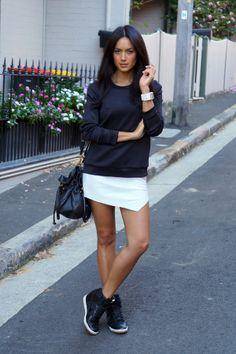 Yet another modish outfit and look styled using these trendy wedge sneakers. As i always say, comfort over everything.
Just wear a sweatshirt preferably of black color because it goes with every accessory and color you want to pair it with. You can wear a white skort, side slit short skirt, or a pair of white shorts. All these will go perfectly with this sweatshirt.
To finish the look, add your favorite black sneakers and take your purse bag. To accessorize the outfit, you may use any watch of your choice or hoop earrings preferably in golden color.
These were some pretty, classy, and trendsetter outfit ideas you can use to create the best fashion, be it street fashion or for parties.