Stair Riser Ideas: A Beautiful Addition to your Interior at Home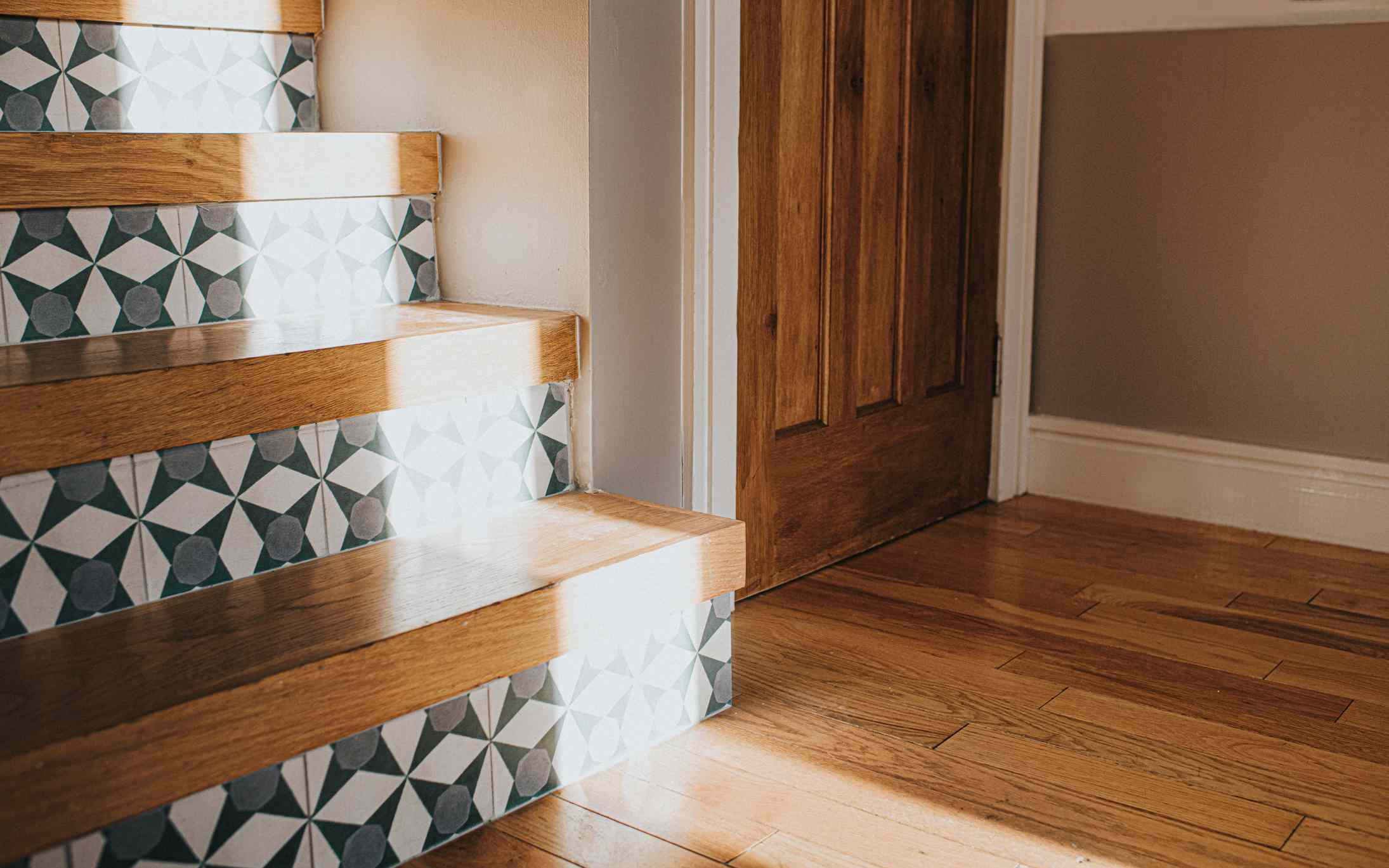 "..you shall nose him as you go up the stairs into the lobby."
– Hamlet said it metaphorically. Even if you are not a great dramatist like Shakespeare, stairs are something you can never ignore. Good-looking stairs may seize your eyes anytime, whether it is your own home or your neighbor's deck.
By the way, have you ever looked at your stairs closely and contemplated it? Some of you have, and some of you do not. I understand. We barely look at things until it is necessary.
If you look at the stairs closely, you see two different parts. One is the tread where you place your feet while going upstairs or downstairs. And another one is the neat vertical space that fills the gap between two stairs.
The second one is called stair risers. If you want to enjoy a unique ambiance at home, interesting stair riser ideas can help.
Probably, you, too, have thought about decorating the stair risers. But, you may not have any good stair riser ideas in your mind yet. No worries! When I am here, you can say goodbye to your fear.
I will suggest some stair riser ideas that you can try and make your stairs look eye-catching. Well, I always suggest hiring an interior designer to do the job. But, if you can't afford it or do not have any designer available, you can do it yourself.
Get 15 Mind-blowing Stair Riser Ideas:
You can implement wonderful stair riser ideas at your home with just two ingredients. Tiles and paint! Yes, these two are enough to rejuvenate the staircases. Or, if you want a temporary look, you can use easy-to-remove decals.
Here, I will share some interesting stair riser ideas you can try at home. Some are for permanent designs, and some can be applied using temporary decals.
1. Hide your drawer:
Do you prefer to take off your shoes before entering your room? Many of us like that. It promotes a hygienic atmosphere inside the room, giving you a healthy vibe. But, leaving your shoes outside the room looks messy.
And, God forbid, if there is a party inside the room, the series of shoes only makes the outlook of the interior worse than ever.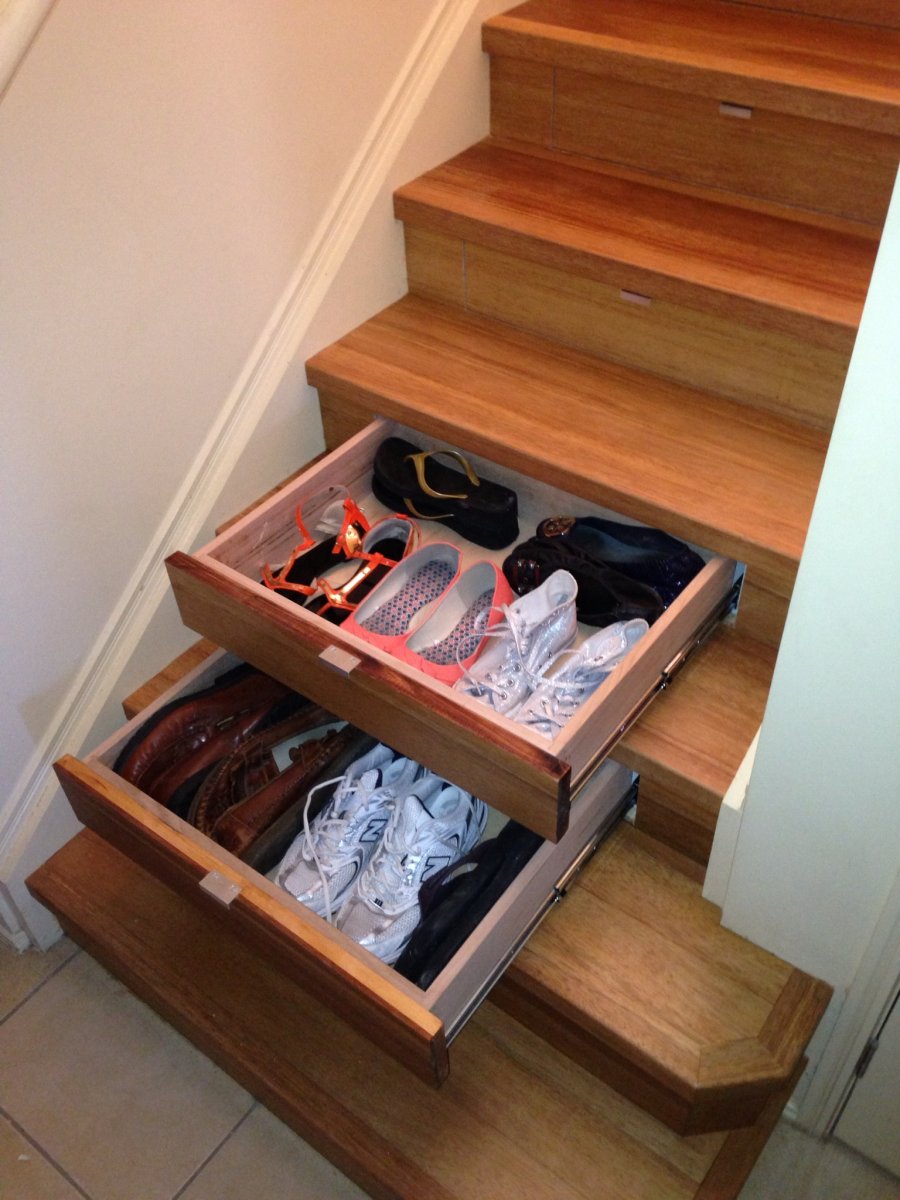 An exceptional stair riser idea can solve this issue. Matthew Maixner used this idea for the stair risers at his home. It is decorative and functional at once. Indeed, it adds a unique level of witty beauty to the staircase.
2. Go floral:
Real and artificial flowers have a special place in our interior at home. While some love vases with traditional roses, some prefer wallpapers of dried orchids.
If you, too, are a floral person or have such a person in your family, why not add some stair riser ideas with flower designs?
There are two ways you can do it. One is installing tiles with flower designs. A plethora of options is available in the market for it.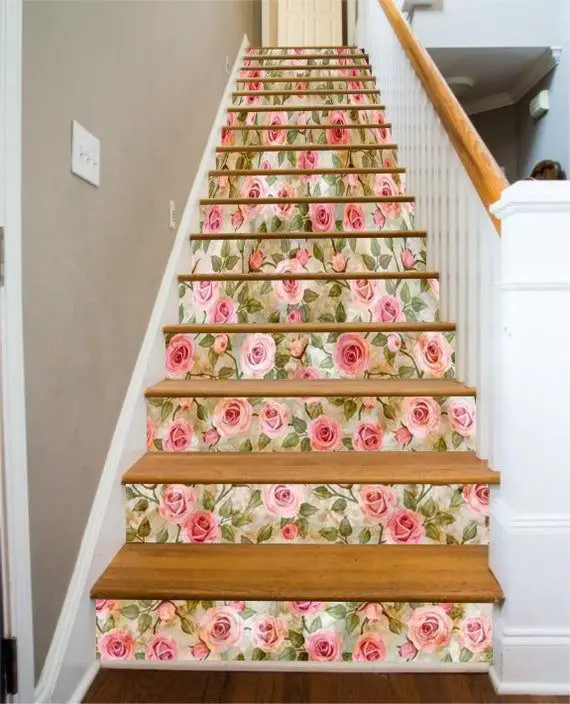 Another way is to select a decal, wallpaper, or peel and stick vinyl cover with a floral design. Both look awesome in their ways.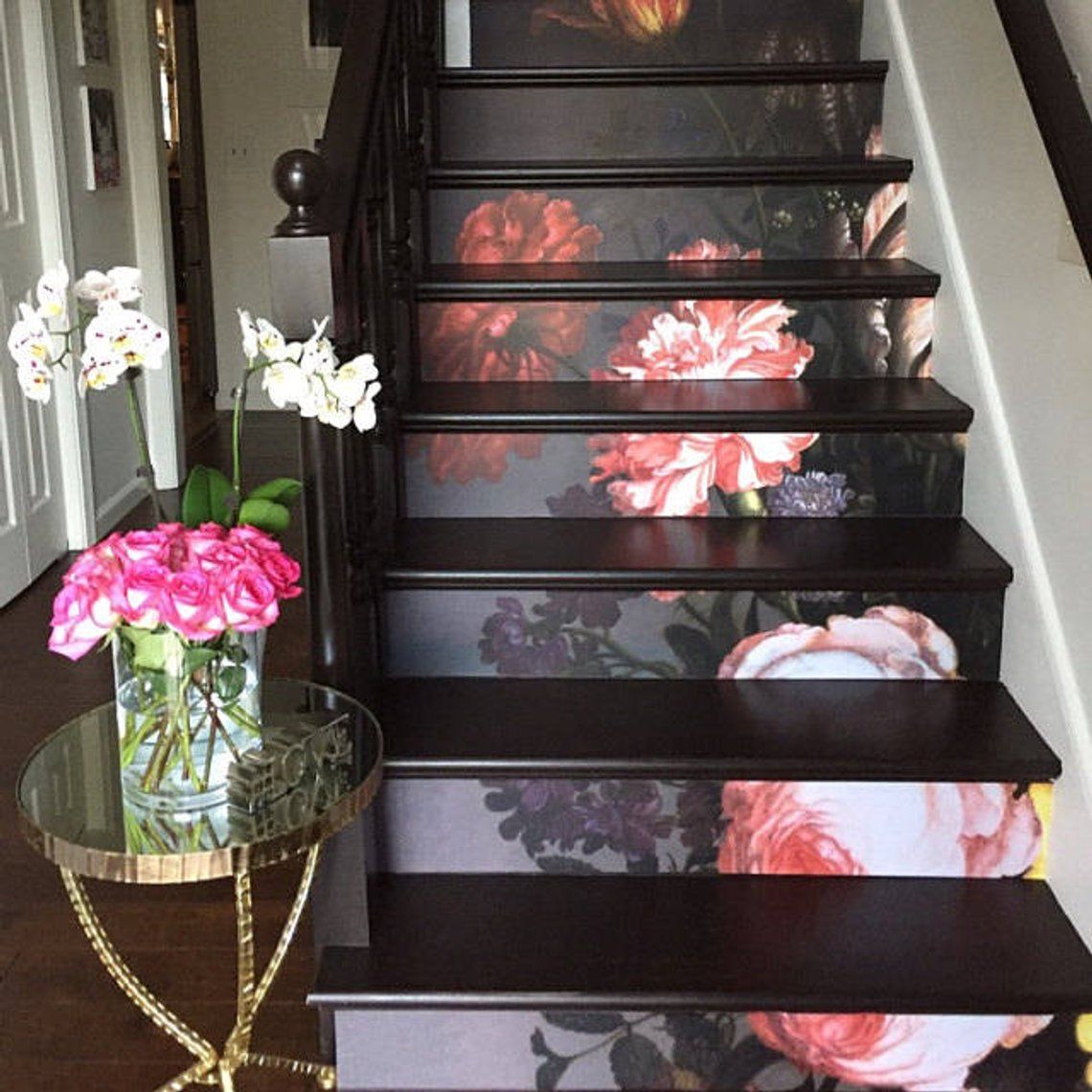 Also, you can paint the stair risers with some floral designs in your mind. That can be more customized and colorful.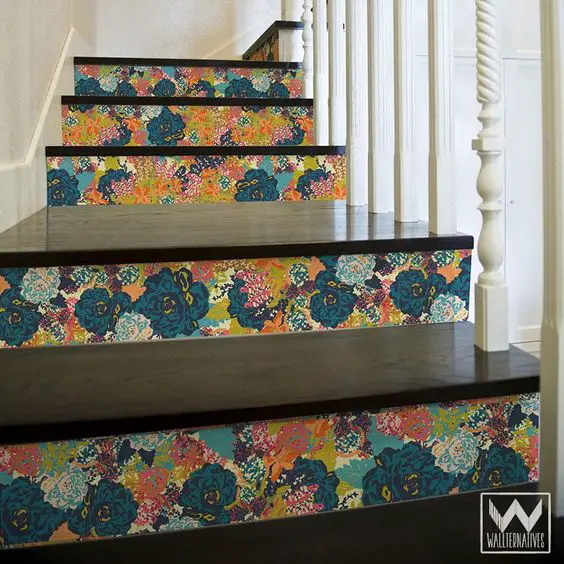 3. Chess board style:
The style is a popular one for floors and walls. You can incorporate it in stair risers as well. Along with the traditional black and white design, you can opt for a different color duo. Tiles, wallpaper, and paint- you can use any method to bring this look.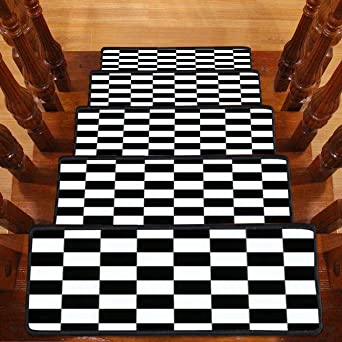 Some interior designers suggest interesting stair riser ideas with chess board-style carpets. In that case, the risers will be carpeted.
4. Stained wood design:
Another interesting option is here. You can either cover both the tread and riser with stained wood. Or, you can use stained wood in the riser only. You may have to use pure wooden structures instead of wooden-print tiles.
If you use the stained wood design on the risers, you should use a contrasting color on the tread. For example, if you use a brown-colored stained wood design on the stair risers, the tread is supposed to be milky-white or off-white.
5. Stair riser with quotes:
A motivational quote or a line from our favorite poet makes our day. Isn't it? So, why not add it to our staircase? Among many stair riser ideas, this one blows people's minds as it is elegant, creative, and can be customized in any way you like.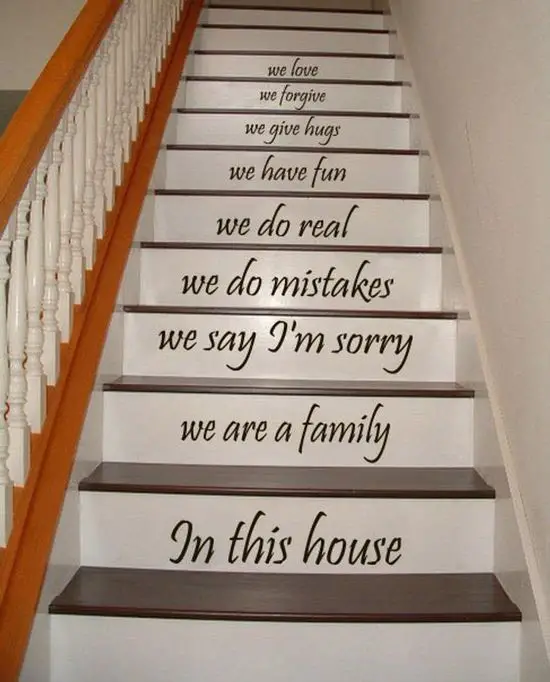 If there are no special quotes, you can write down words to rejuvenate your family and strengthen the bond. You can implement stair riser ideas with painting or wallpapers per your preferences.
6. Chevron style:
Chevron style or the inverted V-shape interior design is always exceptional if you apply it properly. Whether the ceiling or stair risers, it adds classic beauty to the interior. Multiple variations are available for it. You can try any of them as per your preference.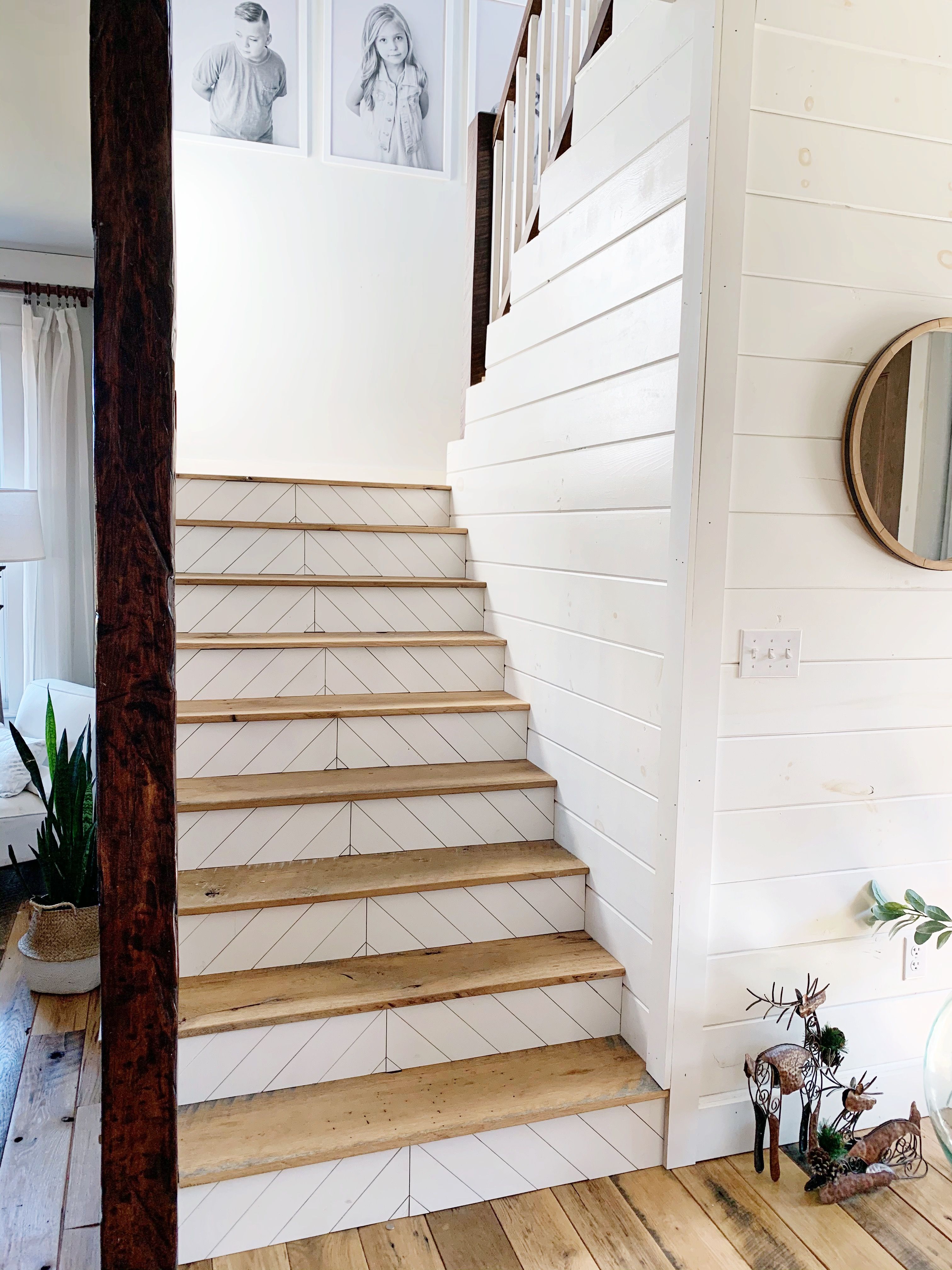 You can use chevron-printed tiles, wallpaper, or chevron paint on the risers as per your budget and convenience. Complete tile installation may cost high than using wallpapers. Consult with a reliable interior designer before going for it.
7. Carpet-print décor:
Layering the floor or staircase with a carpet is not a rare instance. But it adds a new hassle to maintaining the carpet. So, another alternative is to paint the stair riser with a carpet design. A wide range of designs is available.
From elegant leopard print to rustic vintage- diverse styles are available. Hire an interior and opt for any of the designs you prefer.
8. 3D mosaic stair risers:
It is the best option for you if you want some magical ambiance across the staircase. The three-dimensional look attracts guests and prospective buyers to your home like nothing else. You can use either tile with such patterns or a vinyl decal.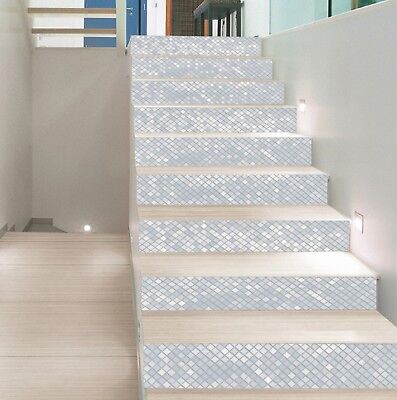 From seascapes to many other patterns are available for it. Also, when you go for the previously-mentioned floral or carpet-print décor, you can think about the 3D mosaic style.
9. Number script:
Some of the awesome stair riser ideas include numbers. For example, if you have a kid at home or the building is going to be used as kids coaching center, you can plan to write numerical tables on the stairs.
It will make the kids remember the tables without putting much pressure on their brains.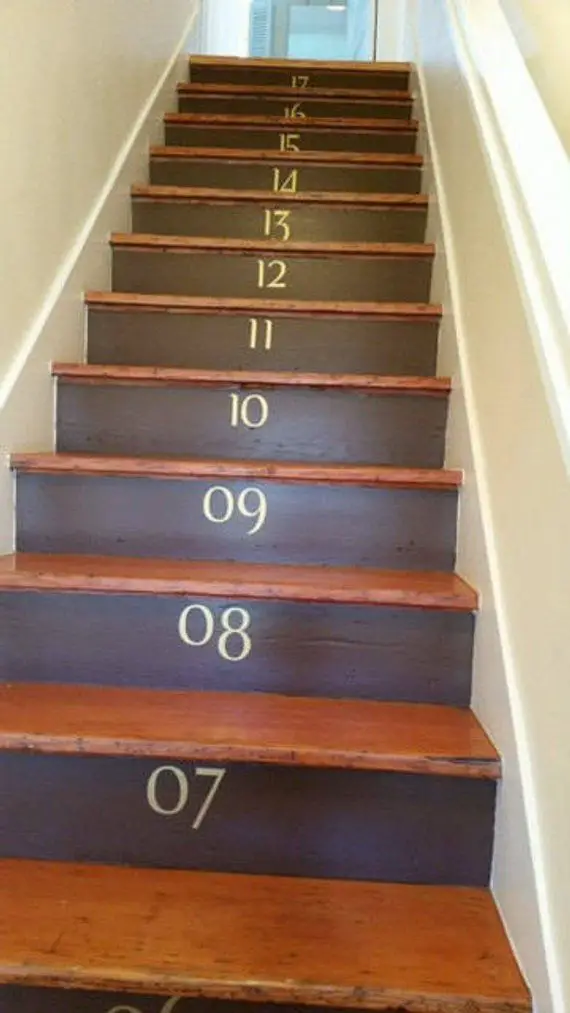 Also, you can create a classic look by using single numbers on each stair riser. Use a suitable color for the risers. You can paint the numbers or use a stencil to scribble them.
10. Rainbow paint:
You can apply rainbow-style paint on the stairs if you are fond of colors and want a colorful vibe across your home interior. Diverse colors make the stairs look unique and attractive. The gleaming beauty will make the people awestruck instantly.
Multiple variations are found for it. Anyways, you can customize them by choosing your preferred color. Make sure that there remains a rhythm in the design. Ombre style or gradient color are two of the most popular designs among the rainbow stair riser ideas.
11. Book cover style:
You love your classic novels! Right? So, what if we suggest some captivating stair riser ideas that incorporate the cover designs of your favorite books? Yes, you can opt for such a design.
From Shakespeare's dramas to Jane's "Pride and Prejudice," you can design the covers of any book you like.
But, you need a professional interior designer who can apply this style efficiently. You probably cannot do it yourself until you become a professional painter or designer. It is better to use contrasting colors for the stair risers.
12. Grand marble risers:
An elegant yet attractive look is ensured with marble stair riser ideas! You can use simple white marble with a tint of black. Also, you can use decorative marbles depicting scenery or a facial portrait.
Also you can incorporate wooden treads into the marble risers. In that case, you can use spiral railings to make the overall staircase look sophisticated and outstanding.
13. Regal risers with polished wood:
Also known as quickstep stair stringers, regal stair risers can be an interesting addition to your interior. The best option is to make the risers with polished wood.
Once the regal stringers or stair risers are installed in place of regular stairs, you can enjoy an exceptional outlook of the stairs.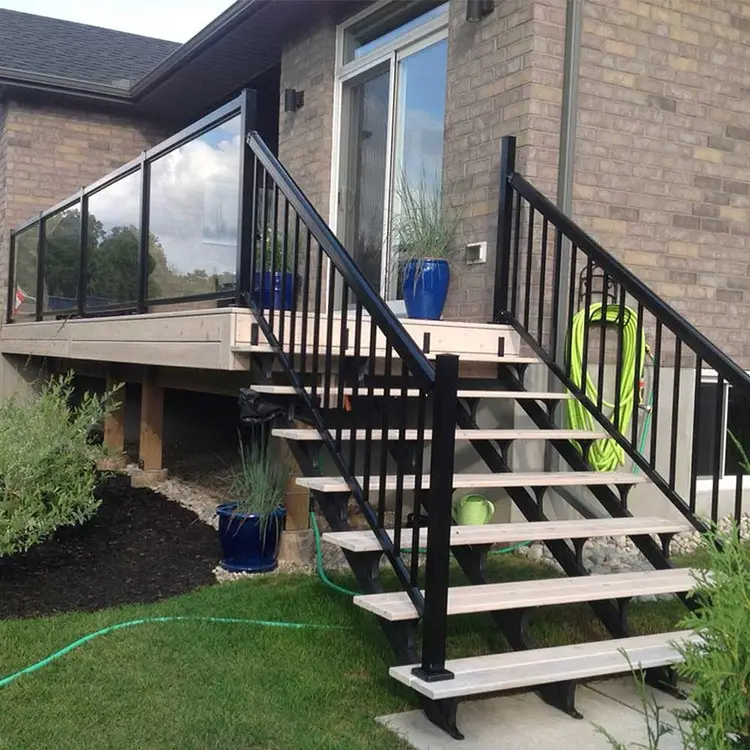 Do you have your house on a higher platform than the ground? You can use this design on the exterior as well.
14. Metallic riser in the middle:
If you are tired of wooden or tile risers, this is a refreshment for your mind. Metal stair riser ideas help to elevate the staircase design to a new level. Mostly, it is used for straight stairs. Anyways, that is also possible if you want it for spiral stairs.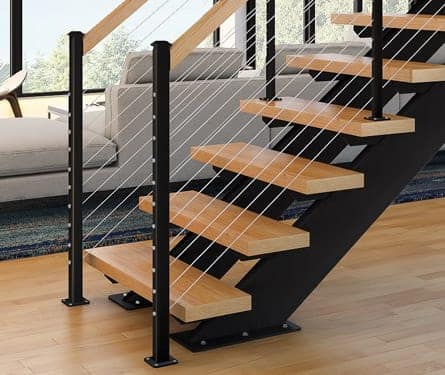 You need to demonstrate your desired stair riser ideas to the interior designer you hire. Instead of using regular railings, you can use rope-like stringent to bring out a unique look.
15. Stained-glass decoration:
You can also apply stained glass on the stair risers if you like. Different types of glasses are available in the market. From floral design to mandala art, various options are there.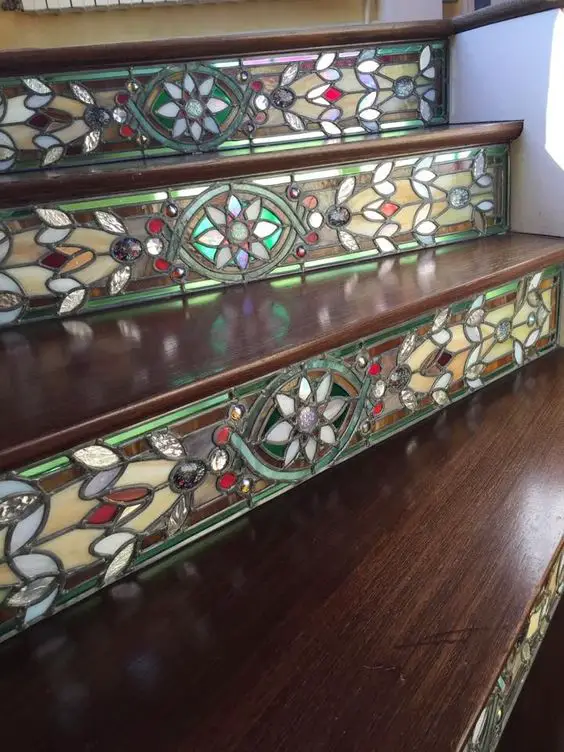 But, remember to be careful when you opt for this decoration. The glasses can be vulnerable. Anyways, stained glasses add warmth to the staircase design. Such creative ideas improve the aesthetic value of the home you live in.
Wrapping it up
So, it was all about different stair riser ideas you can try at home. Always remember not to apply these ideas yourself if you are not confident about your design skills. Hire a reliable professional and let them do their job.
Being a homeowner, you may get tired of the dirt on your furniture. Click here to get a definitive guide to cleaning furniture efficiently.