Screen Porch Ideas On A Budget
Searching for screen porch ideas on a budget? We have got you covered. If you want to spend money on outdoor living space, a cozy screened-in porch can be one of the best decisions you'll make.
With a screened-in porch, you may enjoy the beauty of nature without leaving your home.
So, you can fill the space with things you'd find in a living room, like comfortable places to sit, entertainment tools, fire features, and other things.
With a screened porch, you don't have to worry about bugs or other things that can make spending time outside less enjoyable.
Because of this, every house owner needs to know how to build a screen porch on a budget. This article gives you screen porch ideas on a budget.
Screen Porch ideas on a Budget (Tips to build)
A screened porch costs an average of $2,000 to build. Still, depending on the design, size, and extra features, you may need to spend $10,000 or more.
If you don't have much money or just want to build a screened porch on a budget, keep reading for tips on making this usable outdoor space without going broke.
Build in the winter or fall
Even if the weather isn't ideal for building something outside, you may save money on labor and materials.
Generally, the building is slower in the fall and winter than in the summer and spring. Because of this, you can get a more flexible schedule and pay less.
Also, you should know that working on a tight deadline can mean paying more for labor or higher delivery fees.
Also, it may have less to offer regarding materials that are easier on the wallet.
Make the most of an existing porch or patio
.
Instead of building a screened porch from scratch, you could put a screen around a patio or terrace you already have, if you have one.
A new porch with screens costs between $25 and $120 per square foot.
You can save more money on the foundation and floor if you build it on top of an existing building.
Keep it simple and downscale
.
It is exciting to put many cool things on your new screened porch. But you should make it easy for you to stick to the budget.
You can make your screen porch on a budget even better by adding solar or retractable screens, temperature controls, or walkways.
But remember that all of these extras will raise the price.
Instead of these extras, you could put a comfortable full-size couch and a useful car cart on the screened porch.
They will be a great place to hang out and have people over.
To personalize your screened porch cheaply, you should buy used furniture and decorations.
Opt for affordable materials
Plan your project to choose the materials that cost the least. If you plan, you might save money on lumber prices, which also go up and down.
A new screened-in porch made of fiberglass or aluminum with a concrete floor shouldn't cost more than $3,000.
But the cost of materials will be higher if you choose stained tiles, asphalt roofs, or hardwood floors.
Choose to DIY your project
.
Since labor costs start at $2 per square foot, building a screened-in porch yourself is a sure way to save money.
So, just remember that you shouldn't try to build your own screen porch ideas on a budget unless you are sure of your woodworking and building skills.
The project will be wasted if the screen isn't set up right or the floors are noisy. So, you may have to pay even more to have a professional fix the problem in the future.
So, if you can, do it yourself. If not, have someone build you a porch with screens.
65 DIY Screen Porch Ideas on a budget
You already know how to save money when building a porch with screens. Now is a good time to look at some plans and ideas you might want to copy.
Also, to help you get started, here is a list of projects that can give you ideas and answer your question about how to build a screen porch on a budget
Best Screen Porch Ideas on a Budget
1. Open Style screen porch ideas on a budget
A big, open porch adds to the luxury of any house. But the porch's many green plants can draw in many bugs, and other pests can easily come to your porch and make you feel bad.
Adding a screen porch to a house can raise its value and make it more comfortable. Also, nothing beats spending time with your family or even relaxing on your own when you don't have to deal with annoying beings like bugs.
2 Ideas for the ceiling 
Screening outside your home is best to make it private, comfortable, and safe. It involves carefully placing a design for a screen porch from your ceiling. The black netting pattern can go on the screen porch's ceiling and down to the floor.
To break up the all-black look, you could put something decorative on the ceiling, like a light. The extra lighting above the ceiling makes it feel more like home when sitting on the front porch.
3 Small screen porch ideas on a budget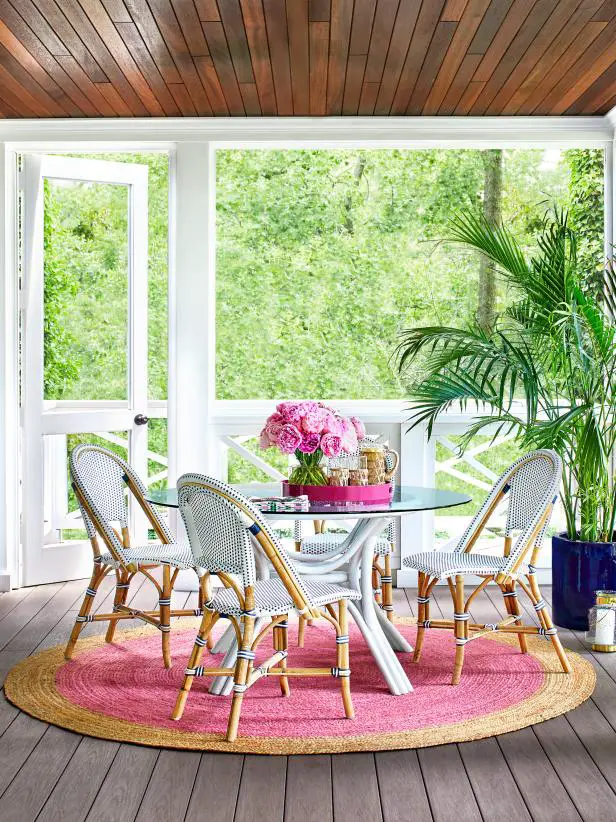 Even if your home is small, you can still make a small porch a cozy place to hang out all year. Most small screened-in porches are either decks that have been raised or elevated porches that have been enclosed.
For example, you can cover a raised deck with vinyl trims and high-visibility fiberglass. It feels like an open space, lets in a lot of natural light, and is great for breakfasts and small dinners. The Trex flooring and bright carpet make it feel cozier.
You can also hang floor-to-ceiling curtains on your small screened-in porch to make it look bigger. 
It is great for blocking the sun and making a completely private space for neighbors who like to look over your shoulder. The room also has a modern feel because of the well-chosen furniture.
4 Back screen porch ideas on a budget
Nothing is more calming than relaxing on your back porch and taking in the best view you have at home. It is the best place to relax, especially if there are water features or a beautiful garden.
It is an excellent place to hang out with adults while keeping an eye on the kids in the pool.
The porch feels brighter because the floor is wood, and the walls are fiberglass. It's the perfect place to think and relax with a book or music.
If you want a lot of seats on your screened-in back porch, you could use long couches and side tables. Fiberglass is the best screen, with drapes and curtains to block the light when it gets too distracting.
If you prefer a chic bohemian look, just add those colorful pillows, fabrics with different patterns, and different types of wood and metal seating.
It has trimmed fiberglass, and an old chandelier stands out against the dark walls. It's so pretty and stylish at the same time.
5 Screened in front porch ideas on a budget
A well-designed screened-in front porch is among the most interesting parts of a house. So, if you want a curb that stands out and adds both aesthetic and real estate value to your home, you should set up a beautiful screen-in front porch.
You can invest in a durable deck. It is made of wood fiber composite flooring. The stone walls are warm and rustic, which goes well with the wood floor, and the lattice enclosure makes the room look chic and up-to-date. What a way to greet friends and family, right?
To make it look fancier, this is a good use for smart screens that you can set to automatically open and close if you want to let in more breeze or light, or if you want to keep them out when it's windy rainy, or cold.
You can also open it up completely to add more seats. Generally, it's a good way to hang out with family and friends and do nothing.
Solar screen fabric can be used to make a bright screened porch. It will give your front porch a homey, low-key look. With the wood frame and trim, simple wood furniture, and metal fixtures in a modern style, you can quickly fill a porch that is usually empty. It is easygoing and relaxing. This one is about keeping things simple and beautiful.
6 Screen porch furniture ideas on a budget
The furniture you add to your screened-in porch influences the feeling you want to have during your chill moments. When the proper furniture is in place, practically anything is possible. 
With the wicker chairs, the wood lattice trims, the modernism of the fiberglass screen, and the oriental rug in the middle, you can create a Victorian-style porch here. The color combinations are fantastic.
Many people believe that lighting should not be an issue on porches; rather, it should be a feature to add to the warm and cozy vibe.
It has standing lighting, rattan chairs, crisp patterns on cushions and throws, and a perfectly linked kitchen. The key to this back porch design is the color harmonizing and effective use of space.
7 Screen porch ideas with deck on a budget
It's time to shine a light on elevated porches. Because of the elevation, you may have some reservations about what should be done to a covered screened porch, but the alternatives are almost unlimited.
You can, for example, use wood roofing and concrete flooring to give your decked screen porch a modern rustic cabin feel.
The high-visibility fiberglass provides an overall vision and a smooth transition to the deck itself. You'd never want to leave this porch with the string lights and simple wood furniture.
It will be a wider decked porch with stone walls and porch partitions that follows the same modern rustic atmosphere and feel as the previous one. Everything emanates warmth while maintaining a clean, uniform, and professional appearance.
8 Modern screen porch ideas on a budget
The thing about current designs is that you may have several design schemes and still have a unified look. Modern screened-in porches are the easiest to design, ranging from rustic to industrial to postmodern chic with complete fiberglass and filled spaces with furniture.
An all-fiberglass screen, white colonial woodwork trims, geometric style, complete carpeting, and low-key wicker and wood furnishings create a cozy design with beige and brown accents. It is certainly, the ideal year-round porch for a sunny setting.
The high visibility fiberglass screen filters natural light, and the minimal furniture and a few potted plants make it work.
If you wish to have an artsy feeling or a writer's getaway area, here is a compact screened-in porch to consider. It is furnished with wicker chairs, a bright carpet in the center, white walls, and rich potted plants. It appears to be both serene and modernly elegant.
9 Screen porch floor ideas on a budget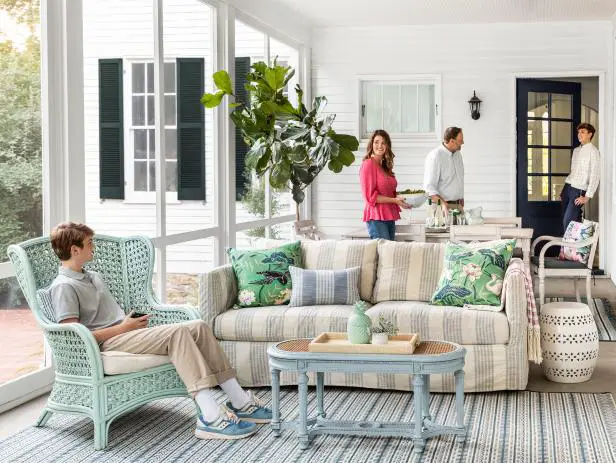 At best, the porch flooring should match the home's, but there should be no limit to how you might convert your screened-in porch floor. Here are some porch flooring designs for you to explore.
Brick flooring is a low-maintenance option with a rustic appearance. It is commonly featured on southern-style porches and never fails to wow. This one works well with the partial grill enclosure on this screened-in porch.
Vinyl wood flooring is another low-maintenance option. It comes in various shades, so there should be no restrictions on what you can choose here. This narrow vinyl wood flooring fills the space and adds a stylish touch to a modern design porch like this one.
Sure, flagstones and concrete pavers are fantastic for the pavement and driveway, but if you want a rustic appearance on a four-season style screened-in porch, natural stones are a great alternative for flooring.
9 Screen porch with hot tub ideas
If you reside in an area where the winters are long and the autumns are too cold to bear, installing a hot tub is a great option. However, having that hot tub on an enclosed porch with intimate seats gives you all the feels.
You can have a stone-lined Victorian porch with a sunken hot tub. Consider Roman baths, but add some individual is sitting and maybe a fireplace as a focal point, made of high visibility fiberglass or frosted glass.
And if you're thinking of installing a modest, low-key hot tub and spa in the corner of your screened-in porch, know that you can make it seem nice; it's ideal for some summer relaxation.
The hot tub does not take up the entire space, and the natural light from the fiberglass screen allows you to enjoy the sun without getting burned.
This raised, a screened-in porch is one for the books regarding a zen appeal. It has a sliding, slatted cage that allows air and natural light to enter. Its focus point would be this modest hot tub, which makes it appear full and tranquil at the same time.
10 Screen porch stain ideas on a budget
We commonly refer to stained porches as those having stamped or stained porch flooring or those employing stained, treated wood. When it comes to the stained screen porches, here are some ideas to consider.
Use stained concrete slabs for peaceful, low-ground, screened-in porch flooring. It contrasts well with treated wood ceilings and provides brightness. This one is finished off with a sleek, central fireplace.
On the other hand, a Craftsman-style porch stands out with a rustic and pleasant view. It has a mesh screen cloth, a track-style door, hardwood trimmings, and wood rails on all sides. It is elevated since it is installed on a deck.
The stained wood adds to the rustic charm of this screened-in patio. It's ideal for lake cottages and cabins.
11 Screened-in porch ideas with fireplace
Installing a fireplace in your screened-in porch is always a fantastic idea to create a focal point and give the space a warmer, edgier look. It is also useful for converting the porch into a seating area during the winter or simply chilling out during the spring.
For example, you can make the fireplace the focal point of the seating arrangement. To make it a special place, use a solar screen cloth and trim treatments like bespoke fabric.
If you have an enclosed screen porch with stone walls, the ideal solution for a four-season porch is a floor-to-ceiling fiberglass screen with a metal railing and a fireplace centerpiece. With the appropriate warm lighting and minimalist furniture, you may create the finest winter sport for years to come.
12 Cottage screen porch ideas on a budget
Nothing rivals the uniqueness and charm of English countryside designs. The warmth of cottage-style homes and porches, in general, is timeless. Here are some ideas for cottages with screened-in porches.
A screened-in sleeping porch in a southern cottage style is tiny, with a cushioned swing for seating instead of the traditional couch. Reading here with your favorite book and a cup of coffee or tea is enough to keep you entertained during the summer heat.
If you want a more ornate and classy-looking cottage-style screened porch, all you need are white colonial columns, decorative cushions, an oriental rug, and elegant seating to set off the all-white walls and mesh screen fabric.
13 Farmhouse screen porch ideas on a budget
Old, worn-out styles, barn or farmhouse styles never fail to impress. They are ideal for holiday houses near a lake, forest, or woodland. All screen fabrics should work well with the addition of old-style gambrel or cupolas.
For starters, a compact barn house has a covered, screened-in porch that can be used as an extra eating place for friends and family. It has a clean, farmhouse appearance, a half-railing enclosure, and fiberglass screens. This salvaged wood table complements the farmhouse style of this theme.
To achieve a more coastal farmhouse look, utilize more teal or blue colors rather than the conventional white or wood colors.
14 Country screen porch ideas on a budget
Ranch homes, rustic furnishings, bricks, and warm wood tones come to mind when we think of the country. If you like this design style for your screened-in porch, here are some options to consider.
Add fiberglass with vinyl trims and enclose it in concrete stones/bricks for an attractive ranch design with an existing stone wall for the patio. Cobblestone slabs are used for the flooring. This porch is the ultimate hangout space with a TV and a fireplace.
A modern country-style porch has seamless transition rooms. Because you already have a porch with a spacious lounging area, a dining room, and a kitchen, it has three elbow rooms.
If you want a pleasant location for intimate family gatherings during the warmer months, you can get ideas from one of the country porch designs available online.
15 Ideas for winterizing a screened-in porch
If you want a winterized screened-in porch, go for thicker fiberglass screens and stone flooring to prevent over-moisture and slippage. Here are some great ideas for you to consider.
The ceiling features white vinyl columns and narrow vinyl wood slats. White as the screen porch's main color helps maximize natural light, especially in the winter. Choosing a herringbone pattern flooring can also help to create friction and prevent slipping.
Adding window and door treatments may create the ideal winterized screen on the porch. When the snowy breeze passes through the fiberglass, they tend to filter the cooler air. Stained wood is also a fantastic option for warming the atmosphere, especially during the winter.
16 Wood screen porch ideas on a budget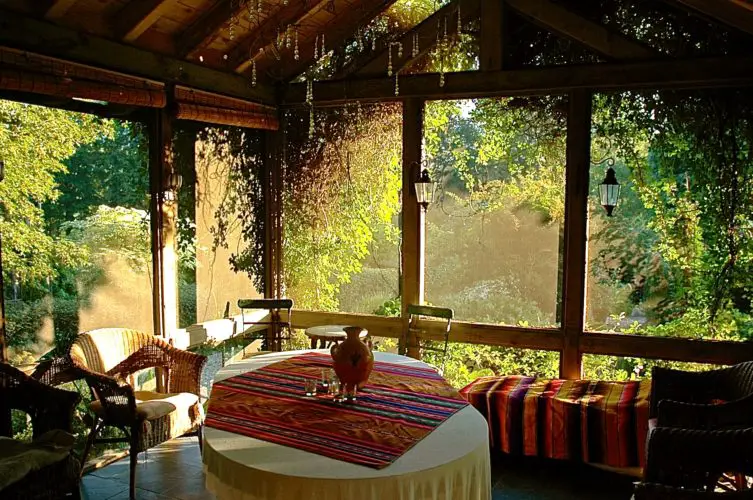 The following ideas can help you make a great four-season screened-in porch with wooden trim and fiberglass.
A low-ground, decked, screened-in porch with wood trims, a wooden porch frame, dark-colored mesh screen fabric, half-screen metal railings, and a three-step chair looks like a typical southern deck or porch.
If you want a different porch design that goes through the deck, all you need is a screened-in porch in the style of an apothecary or greenhouse. Again, it is made of hardwood trims & fiberglass that have been tinted to make it feel more private. It also works as well as a front porch and back porch simultaneously.
17 Cedar screen porch ideas on a budget
Cedar is a popular building material because it is strong and resistant to bugs and other pests and because its natural warm tone is all you need to get the stained look that we all love in wood buildings.
A screened-in front porch no longer needs stained vinyl woods to give it a lake house or cabin feel. It looks like a house because it is made of tinted fiberglass and has a circular step and landing.
18 Free-standing screened-in porch ideas
You can now have a free-standing screened-in porch if you desire one that is completely separate from the main house. It acts more like a pergola or gazebo in the middle of the land or the backyard.
You can install a free-standing screened-in porch with stone and vinyl decor near your garage. The design and style of this screened-in porch are consistent with the house, making it appear to be a miniature extension of the main house. It stands out on its own for its convenience and minimalist seating arrangement.
This one is worth considering if you want a smaller, screened-in porch with the refinement of fiberglass. With the vivid tones of wood and black, it appears comical.
Inside, with its warm glow of lighting elements and cozy seats, it may be mistaken for a woods coffee cafe or an artist's retreat. It appears to be extremely different from the main house, yet the overall appearance does not disappoint.
19 Screen porch ideas on a budget using Floor Pillows
Floor pillows are inexpensive, and you should have no issue manufacturing your own if you want to save even more money. They serve as ornamentation as well as additional seating for any guests.
20. Try Bamboo Shades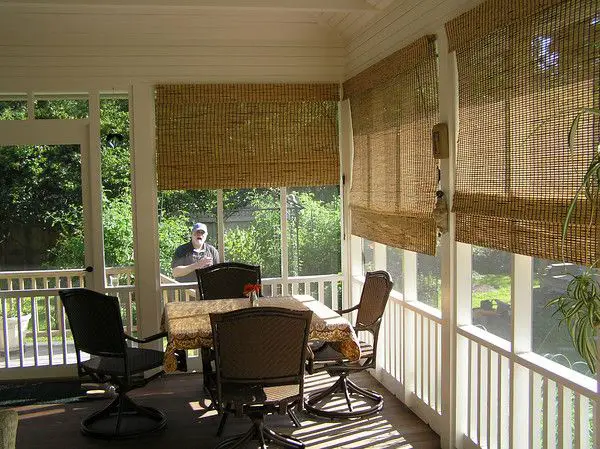 Bamboo is a low-cost, long-lasting material. Instead of using a screen, you may use horizontal bamboo slats. If you desire more sunshine, you can also place flippable shades on top of a screen.
21 Use Technology You Already Have
Some innovative screen porches use electronics to manage lighting and other amenities. Add an Amazon Alexa or television to your screened area if you don't need them.
22. Reinvent Old Decor
If you have old decor lying around, repurpose it to complement the design of your new area. To match the mood, change the structure or paint the decor with a different color.
23. Hang Up Lights
Mood lighting is crucial. There are several inexpensive string light options on the market, whether you want colorful lights or glass bulbs for evening illumination.
24 Find An Affordable Rug
Rugs are pricey, but they can completely change a screen porch. Look for a basic, low-cost solution at stores like Target or Walmart. The rug can then be dyed or painted to your liking.
25 Transform The Shape Of Old Furniture
If you have old wooden pieces, use your screen porch vision to change them. You can repurpose furniture or add functionality to goods such as little tables for drinks.
26 Hang A Swing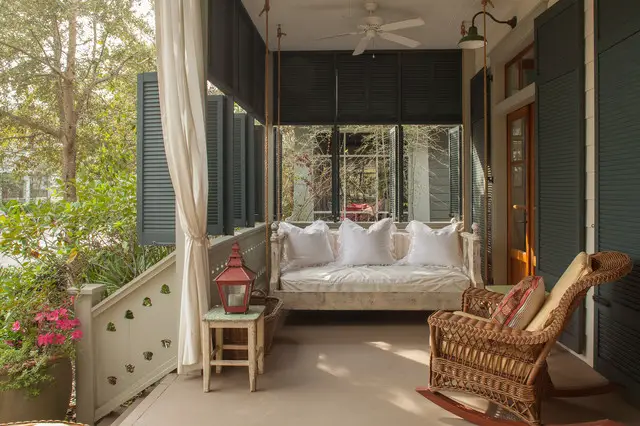 A swing made of inexpensive wood is simple to build. Make the swing, paint it the color you want, and use a rope to hang it from the ceiling. Before you use it, make sure it's safe.
27 Reinvent The Ceiling Fan
When people enter a room, they first see the ceiling fan. If your screen porch has a fan attached to the roof, paint it the same color as the rest of the space. You might also update the bulbs and fittings to improve the appearance.
28 Put New Color On Furniture
Like on the walls, a fresh coat of paint on furniture can make all the difference. If you have old wooden pieces, paint them and treat them with a sealer. You may need to sand the wood down to help it stick.
29 Attach A Fresh Coat Of Paint
A fresh coat of paint can improve a room. Choose a color you want and apply it to any exposed surfaces, such as wood and metal. Choose something that will complement the sun.
30 Screen porch ideas on a budget using High-Quality Items
Buy high-quality things if you wish to save money. It may sound counterintuitive, but buying more expensive products will help you spend less money in the long run.
31 Fasten Shutters
Add shutters to any windows inside the screen porch for a mini-home effect. Paint them the same color as the rest of the room.
32 Address Your Green Thumb
Plants are an excellent way to bring life into space. Paint and decorate pots to match your screen porch, fill them with soil, and put plants. Place them in the sun for nourishment.
33 Build New Pieces
Find cheap wood and build pieces if you enjoy building. You can build a table, bench, and chairs for the space. Then, for the finishing touch, look for low-cost decor.
34 Make Decorations Into Storage
What better way to adorn a room than with pieces that also serve as storage? Carved wood can be used to transform wicker baskets into small tables.
35 Screen porch ideas on a budget by adding Vintage Touches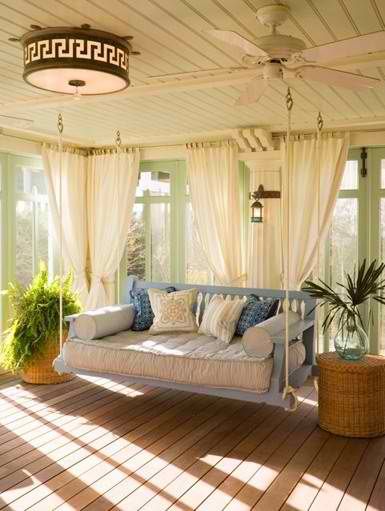 Vintage stores are excellent places to find inexpensive decorations. There are antique clocks, lamps, and other goods available. You can then customize them to fit your preferences.
36 Pick A Color Scheme
Choose and stick to a color scheme. When you've decided on the colors you want, it'll be easy to cut down your options and spend less money.
37 Form Homemade Signs
A screen porch can be made lovely with homemade signs. Paint an old piece of wood a pleasing color, then add the wording of your choice.
38 Scour Yard Sales
Yard sales are a great place to get affordable homemade decorations. You never know what you'll find, and there's always the possibility of transforming older stuff.
39 Make A Small Fountain
A small fountain may transform any room into a meditation center. You can build a miniature fountain out of stone and filling and attach a water pump to the back. It can be placed in a screen porch corner.
40 Screen porch ideas on a budget Build With Recycled Items
We've all seen something with potential in a recycled item. For example, metal containers and milk bottles can be transformed into flower pots and containers.
41 Stretch A Sheet Screen
Stretch a white sheet across a wall to create a movie screen—project on white at night for a pleasant viewing party.
42 Screen porch ideas on a budget by Planting A Vertical Garden
A vertical garden will provide a lot of green without taking up much space – just stack tiny boxes against the wall and plant.
43 Invest In A Tiny Pool
A small pool can be enjoyable, especially if you have children. If your screen porch is large enough, acquire a small plastic or metal tub and paint the space around it to look like a pool.
44 Make Plastic Your Friend
Plastic is more durable and less expensive than glass or metal. Decorate the space with plastic bowls, silverware, and vases. You can customize it by painting it.
45 Screen porch ideas on a budget using gorgeous tablecloths
Tablecloths may transform an unappealing table into something beautiful. You can find unusual covers at secondhand stores or buy cheap white tablecloths and color them.
46 Screen porch ideas on a budget by Making a fireplace
Any screen porch would benefit from the installation of a fireplace. You may simply build one out of bricks or stone. To avoid hazards, make sure there is adequate ventilation.
47 Add A Bed
Do you require additional sleeping space? Add a sofa that may be converted into a bed for guests. You can make the item yourself or buy a frame from a secondhand store.
48 Bring On The Blankets
Blankets can make any space feel warm and inviting. Toss these over as many seats and sofas as possible to make it more inviting, whether you bring them from your house or make your own.
49 Screen porch ideas on a budget using Family Decor
Have you got a big family? Decorate the space with paint handprints and footsteps. No matter how old you get, it will serve as a memento of this special event.
50 Make Your Drink Station
Your guests will love a drink station in the corner of your screened porch. You can put the cooler in a wood box and decorate it how you want.
51 Hang Windchimes
Wind chimes are a great way to make your screen porch a peaceful place to hang out. Make your own with string and metal pieces.
52 Screen porch ideas on a budget using Candles
Although candles are a fire risk, they make fantastic screen porch decorations. You can buy cheap ones or make your own. It is never necessary to light them.
53 Purchase Off-Screen Accessories
The off-season is the finest time to buy anything. Invest in products for a spring look over the winter.
54 Screen porch ideas on a budget using walled gardens
A walled garden grows on the wall. You can build hanging planters to produce healthy plants and serve as screen porch decorations.
55 Invest In Wicker Pieces
Wicker furniture is economical and simple to change. To help them fit in, paint them and place comfortable pillows on top.
56 Paint The Ceiling
Do you want a screen porch that stands out? Decorate the Ceiling! Choose bright hues if you want to make a statement. Try neutrals for a more peaceful atmosphere.
57 Screen porch ideas on a budget using lanterns 
You may make DIY lanterns out of wood and fill them with candles. Find low-cost wood and build stands for the lights.
58 Fasten Window Boxes
If your screen porch has windows, you can create wooden window boxes and fasten them underneath. Plant beautiful flowers or herbs inside them to show off your green thumb.
59 Transform Crates
Crates are useful objects. It's simple to obtain free ones from places like grocery stores. This item can be transformed into various items, including chairs, tables, and even plant holders.
60 Paint A Floor Design
You can get extra creative by painting a design on the floor. Choose your favorite paint colors and a sealant. You may paint checkers, polka dots, and other patterns.
61 Layer Astroturf screen porch ideas on a budget
It's easy to make artificial grass look tacky, but it might fit some styles. If you want to look like you're having a garden party, put this on the ground. Astroturf can also be used to make a screen porch safe for pets.
62 Install Hooks
You can put hooks on the ceiling of your porch screen so you can hang things from it in the future. Paint them to match the colors of your screen porch and put them in a safe place.
63 Try Scaled-Down Furniture
Smaller furniture takes up less room and makes it possible to add more decorations to a screen porch. You can cut down pieces that are already there or make your own smaller versions out of cheap wood.
64 Add Pops Of Color
Adding splashes of color is not hard. Put some paint here or make a beautiful table there. Choose colors like yellow and pink to make something that stands out. Pops of color are easy to make and don't cost much.
Apart from these screen porch ideas on a budget, there are other important things you need to know before you choose one. So, here are a few things you need to know about screened porches.
How much does it cost to build a screen porch on a budget?
On average, to screen in a 200-square-foot porch would cost $450. This includes the screen panels, screws, fabric for the screen, and the paint finish. If you want to hire a pro to do this, the materials and installation will cost an extra $300–$600. Building a screened-in porch will cost you more if you start from scratch.
Is adding a screened-in porch worth the cost?
Yes. Both contractors and real estate agents say that a screened-in porch adds 15–25% to a home's total value when sold. Aside from that, it keeps your dog safe from insects in the summer and spring, keeps pets in, and gives you a cool, shady place to relax and have guests, so yes, it is worth the price.
What is the best floor for a screened-in porch?
The following are considered the best for the flooring for screened porches.
Carpet: 

The good thing about indoor/outdoor rugs is that they soak up noise and are soft on your feet. Choose carpets that can stand up to UV light and hold more water.

Porcelain tile: 

It is an excellent choice for 

screened-in porch

 flooring since it is long-lasting, customizable, and affordable. It can absorb moisture and would be difficult to break even in extreme weather conditions.

Wooden deck tiles:

 These wood slats are frequently held together by a plastic track underneath. This track aids with water drainage, reducing the risk of mold and rotting that normal wood flooring is prone to.
What is the ideal screen to use for a screened-in porch?
There are five various types of screens used for a screened-in porch, each with its advantages and disadvantages. Rather than settling for the best, examine what each may provide on your porch and select the ideal one for you.
Fiberglass screen fabric: It's made of fiberglass so that it won't rust or corrode. It's smooth and easy to work with but tends to shred.
High visibility screen fabric: It's a finer weave of fiberglass, can't be seen inside the porch and is not as strong.
Aluminum screen fabric: Strong rains and winds don't damage it, but rust and corrosion can. The coating can be scraped off.
Pet-resistant screen fabric: Made of polyester with a vinyl coating; pets can't scratch it; thicker than other screen fabrics
Solar screen fabric:
Made

 of synthetic fiber.

Made to block the sun and bright light.

Keeps the porch cooler.
What is a good size for a screen porch?
Of course, a screened porch's size depends on the home's floor space. However, when needs such as an enlarged eating room and a lounging area are considered, most screened porches fall within the 1214 to 1416 ft proportions.
Can you build a screened-in porch on the existing deck?
Yes. All you have to do is build an all-around enclosure for the deck out of the material of your choice. After that, select your screen cloth, and you're ready to begin. Of course, it is more complicated than it appears, so you should consult a reputable contractor, particularly for raised decks.
How do you winterize a screened-in porch?
To keep your screened-in porch safe and clean over the winter, follow the steps in winterizing your screened-in porch.
Thorough cleaning: 

To avoid storing dirt and debris throughout the winter, thoroughly clean your porch before the first frost. Sweep and clean the floor, change the sofa and pillow coverings, scrub the screen, and wipe down the walls.

Invest in sheeting: 

You must install screen trims so that snow does not enter the screened porch during the winter. You must first take a precise measurement of the entire porch before purchasing the sheeting materials. Velcro tape, a razor knife, and, of course, vinyl sheets are included.
Can you put a grill on a screened-in porch?
Never. The grill's coals and flames can still be ripped apart on the screened porch. Even using an electric grill, too much heat on the porch might be dangerous. Nonetheless, some homeowners have dared to do so and claimed it is safe.
Final words: Screen porch ideas on a budget
Finally, screened-in porches are another approach to boost a home's visual appeal. On the other hand, it is a practical option to add seating for friends and family. It also improves air circulation in the home and provides a shaded place for you to entertain visitors while keeping insects at bay, especially during the swarming season.
If you want one, you should first learn how they function and what materials are suitable for building one. You would not be short of a design to refer to with the screen porch ideas on a budget we have listed above.