Purple ombre hair is in vogue and comes in stunning tints and shades. This is the hottest hair trend suitable for all hair lengths. You could choose a pastel, neon, electric, or matte color to get this hair color effect. The ombre is also called the dip-dye effect. It comes in numerous blends and combinations looks great on all kinds of haircuts.
The most common ombre effect is the light, caramel, and chocolate are the most common effects chosen by women. Men can choose this effect on long haircuts. This is the universal style that suits women of all age groups. It needs low maintenance and looks elegant on most of the outfits if you choose a lighter shade.
This is one of the stunning and pocket-friendly hair coloring techniques that can also be expensive depending on the ombre style and color you choose. You can choose a natural look, combine it with highlights, and create a unique look.
What Is Ombre?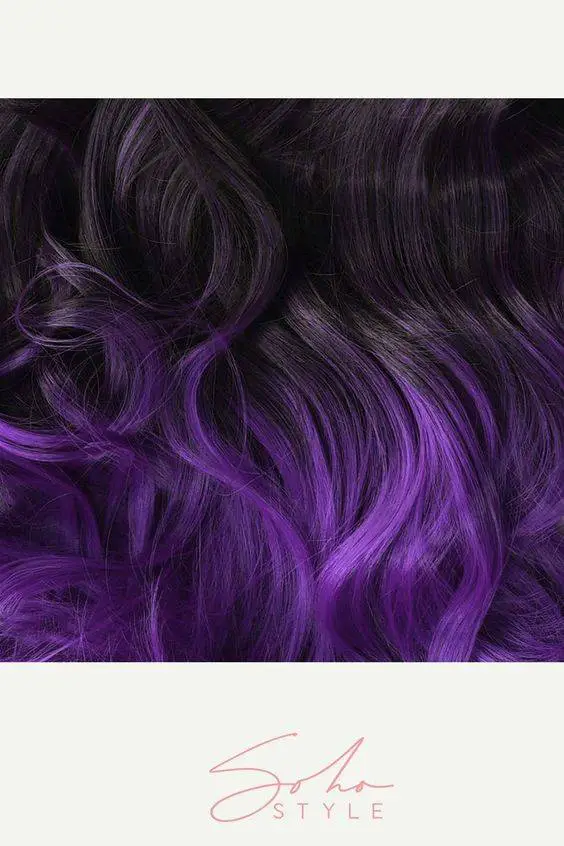 Ombre is a hair coloring technique popularized in the early 2000s and has been a trending hair coloring trend since. It comes with numerous blends and variations that look good on all types of hair. This hair coloring technique has gained popularity because it gives a lovely tint to the natural color of hair. It can also be used to create striking effects on all types of hair.
The shades of the color used to change from top to bottom gradually fading or darkening the color giving it a natural and stunning look. It is also low maintenance and gives a laid-back look to the hair. There are a lot of hair cuts that are suitable for the ombre hair color style.
Ombre is not your DIY gig to do at home like you dye your hair and need a professional hairstylist to do it for you. Ombre looks chicest and hot on men too. It adds a dimension to choppy, short hair and transforms the way you look adding beauty to the haircut.
Tips To Choose The Right Color For Ombre
Choose the color that compliments your hair and skin color. Choose lighter tones instead of funky colors for everyday styling. Choose three different colors that complement each other or three shades of the same color if you want a faded look that blends well and looks natural.
If you have dark hair choose darker shades of red, purple, electric blue, green, and blend these colors. You can choose lighter colors like ash, pink, orange and blend them with blonde or brunette hair color.
Don't choose light colors for dark colored hair unless you blend them with another dark hair color. For instance, if you want to choose a rose gold pink shade, choose dark purple along with pink for a stunning ombre look.
If you have light-colored hair, you have numerous options of blending colors like ash, lilac, lavender, pink, etc. Avoid using vibrant colors like green, yellow, etc as the only shade if you have light-colored hair. Choose complimentary light shades with one dark shade if you want to add a dark color for the ombre hair coloring style.
DIY Ombre Easy Techniques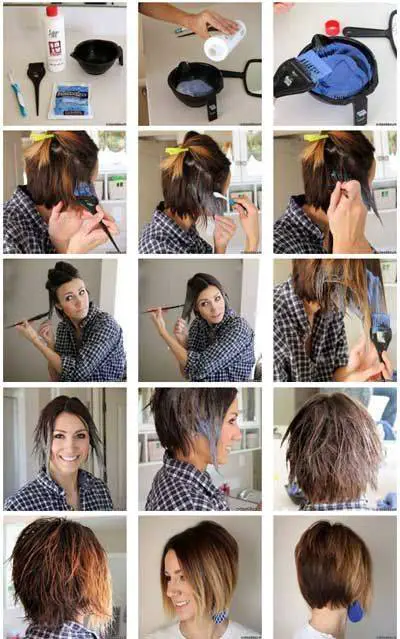 Diy ombre can be done at home with basic techniques. If you want a professional look with combinations, blends, and shades you need a professional at a salon. You can test your skills on hair extensions first to know if you are doing it right before you try it yourself.
You can do a symmetrical and asymmetrical ombre with bleach and colors if you have patience and use the right combination of colors. The basic rule is to divide the hair into sections and color the layers with bleach midway without touching the roots and then using the color of your choice.
Supplies
Disposable hand gloves
Coloring bowl
Comb
Hairbrush
Dye brush
Peroxide developer
Bleach powder
Hair colors one or two of your choice
Foil
Hair clips
Procedure
Wash and dry your hair before you get started. Do not bleach and color if your hair is greasy. Do not use a metal bowl to mix bleach or hair color. Always use an acrylic or plastic bowl for mixing. Use a developer not more than 50 volumes as a high concentration of peroxide can damage hair. Ideally use 30 or 40 volumes for peroxide.
Wear gloves
Mix the bleaching powder and peroxide developer in a bowl to an even paste
Apply on hair strands alternatively leaving a gap of 25mm between natural hair and bleaching hair
Make partitions, and use hair clips to apply them like layers
Use a comb to spread the bleach evenly
Cover the layers with a foil
Leave it on for 20-30 minutes
Rinse with water and shampoo till the water is clear and all the bleach is washed out
Blow-dry
Important: Do not leave the bleach on for more than 30 minutes as it can damage the hair. A peroxide developer of higher volume gives a lighter color.
Refer to the color chart to know which colors compliment your natural hair color
Mix two different colors or a single color in a bowl
Apply color on the bleached hair and let it sit for 30-40 minutes
Wrap it with a foil
Wash with and blow-dry
You can use the same procedure on hair extensions and get the ombre effect as and when you want if you do not want to apply it to your hair directly. Either way ombre can be achieved.
Purple Ombre Hair For All
The perfect ombre color shades look great on all hair lengths as long as you choose the right shades. If you are not doing it at home, the professional at the salon will do the magic for you, and Viola! You can flaunt that style beaming in happiness.
Purple Ombre Hair – Short
For short hair use pastel colors and avoid bright colors unless you want to blend it with a lighter shade of bright color you use. Do not use too many bright colors as it looks awkward. If you want to do purple ombre on short hair choose pink and lavender, or lilac and very few layers of purple. You could mix it with other colors depending on the color of your skin tone. But it is best to avoid dark and vibrant colors for short hair.
Purple Ombre Hair – Medium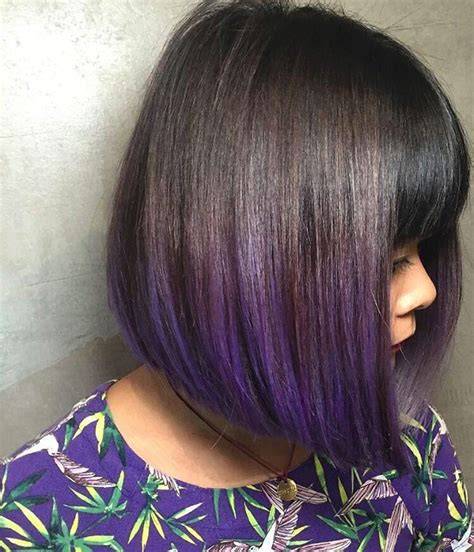 You have a lot to experiment with when it comes to doing a purple ombre for the medium hair length. You can choose dark shades for medium hair length as it looks stunning for that hair length. If you have a bob, feathered, or any variation of the layered hair cut for medium hair length dark or light shades looks great.
You could also experiment with vibrant and neon colors as long as you are blending it with another complementary color that is lighter or darker than the color you want to use. If you have curls choose one light tone and dark tone of the same color and avoid using more than one color for curls in medium hair length.
Purple Ombre Hair – Long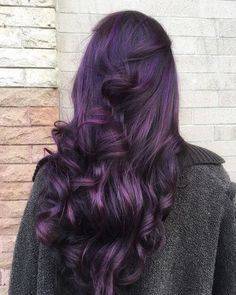 Ombre looks great on layered hair cuts more than bob cuts and straight hair. When choosing colors for dark and light shading, make a choice that suits your haircut. You can experiment with colors better for long hair length if you have a layered haircut regardless of your hair color and skin tone.
If you have straight long hair without layers use bleach, brown with purple to create a beautiful looking ombre. If you have blond hair, lilac, lavender, rose pink, and lighter pastel colors look good with lighter shades of purple.
Purple Ombre Hair – Best Hair Cuts
Layered variations for all hair lengths, pixie cuts, asymmetrical hair cuts, punk and rock hair cuts, feathered cuts are best suited for ombre hair coloring style. You can easily blend the light and dark shades when you have choppy, asymmetrical, or layered hair cut.
The more it fades the better it looks on these hair cuts. You don't have much of a choice if you have straight bobs, waves, or curls. You must avoid dark colors if you do not have any of the layered variations for curls or bobs. That is the best rule to follow to get the best ombre effect that suits your haircut and skin tone.
Purple Ombre Hair – Women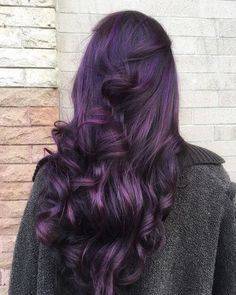 Women can flaunt this coloring style with a lot of grace and happiness as it works best with all hair lengths and hair cuts. You have less to worry about the outcome as long as you understand the basic blends of colors for your hair length and hair cut. Purple is a lovely shade that looks better than electric blue and other funky colors.
If you are a professional and have to experiment with colors, a purple ombre is a safe bet for work as well. It blends well with other shades and looks good on dark hair. Whether braid your hair, or style it in any hirsute, these colors add to the beauty of hairstyling for women. The good news is, an older women can try it without feeling uncertain.
Purple Ombre Hair – Men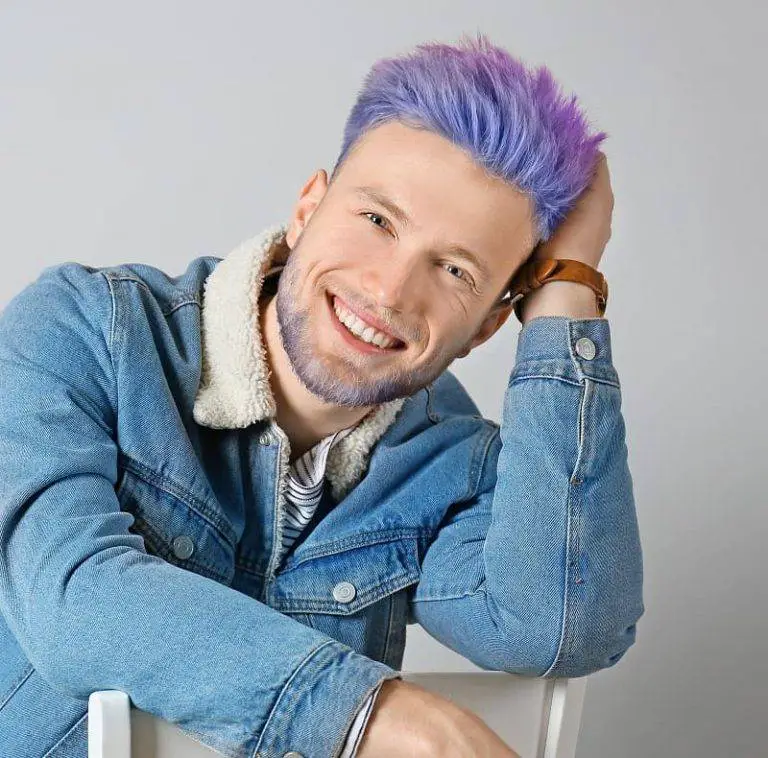 Men with long hair can use the purple ombre with caution and subtly or blend it with copper or silver shades. Do not use it if you have short hair that is well-trimmed. A few strands of purple are delightful if you have medium to long hair length without curls or waves. Men look sweet and pretty, and carry the macho look with pastel pink, and am so right. You can do rock it with stubble or a clean shave!
Purple Ombre Hair – Reverse Style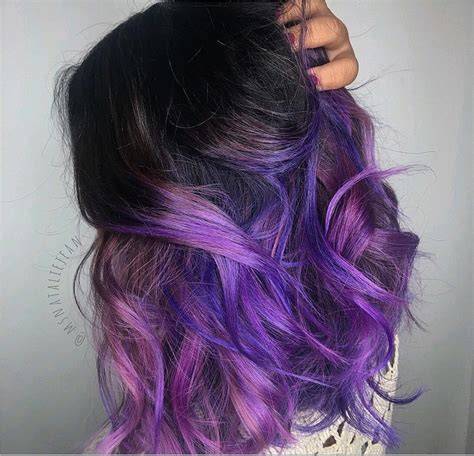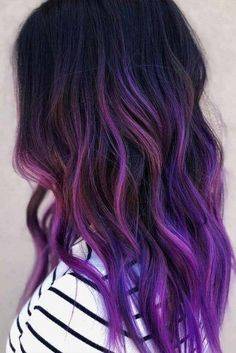 The reverse ombre is three shades with the darkest at the tip of the hair. The best part of the reverse ombre is its low maintenance. You can go about a month or two without a touch-up as the fading blends and gives it a natural hue blending with the color of your hair. You can do the reverse ombre at home if you have a lot of time on hand and the patience to sit through it for a few hours.
Bleach your hair as mentioned above
Use the darkest color for the tip, medium-dark for the mid part, and the lightest for the top part
Use foils after you color the hair
Do not comb the hair as you do not want even color for this effect
Leave it on for a 30-40 minutes
Wash hair until you see clear water
If you want to do reverse ombre at home, it can be time-consuming and you need a lot of patience. You could also use more than one color or three shades of the same color to get this effect.
Purple Ombre Hair – Subtle Fade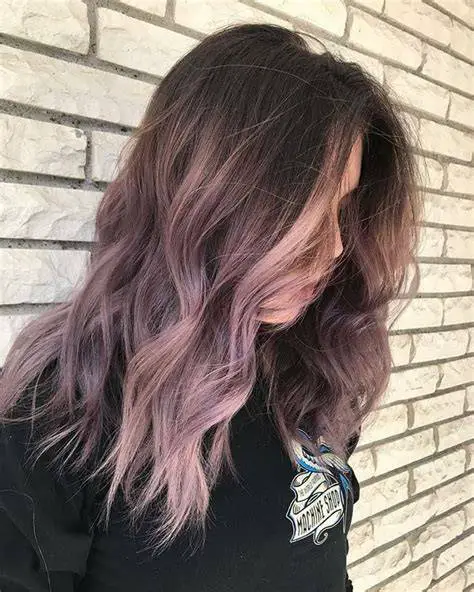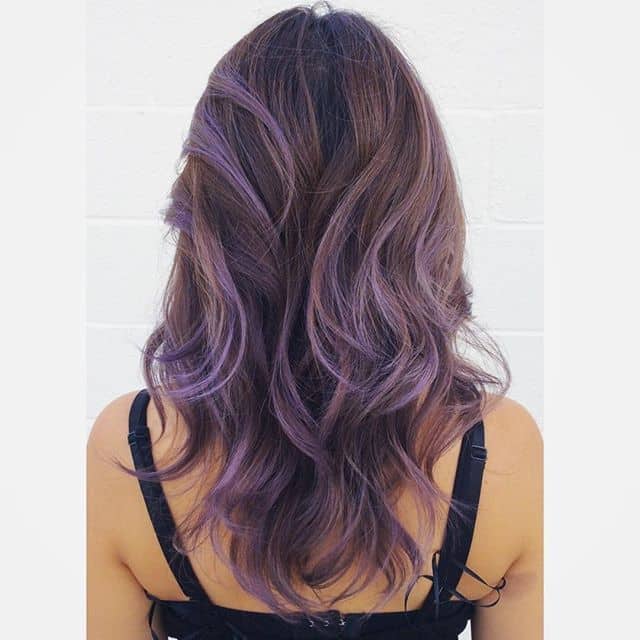 This style of purple ombre could be more acceptable at formal occasions and everyday styles. If you love purple, who does it, it has a sweltering aura and feel. You just feel so good in anything purple, and its shades, it can never let you down.
If you thought purple was too much of bright color, you could do the subtle face ombre. It suits best the straight hair, curls a good if you are not looking to flaunt hair color. The best pick for all hair cuts is the subtle face purple ombre.
Purple Ombre Hair – Highlights
A safe style to try with purple. Use dark and light shades of purple if you have dark hair. Highlights look good when they fade. You don't have much to worry about when it comes to touch-up or giving it another make-over. A good pick for the busy and those who want to add a dash of purple to their natural hair.
Highlights suit men with dark hair. If you have blonde, it's a strict no for men unless you take pride in being heterosexual and can carry it well. For blonde women, the vanilla effect lavender, is just yum! Yes, I mean, delish and sweet. Keep it subtle if you have light-colored hair even with the pastel shades.
Purple Ombre Hair – Light to Dark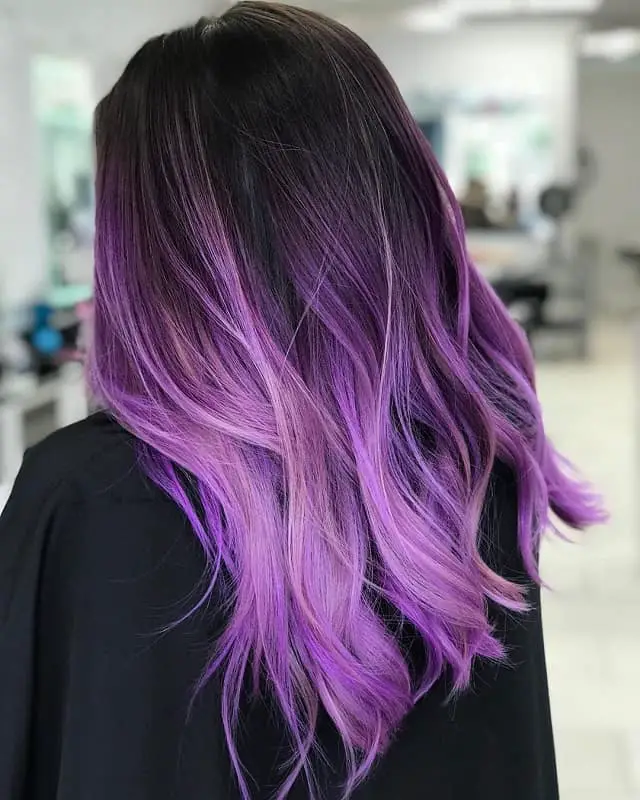 You can choose a bright color like orange or yellow, or green if you want to go light to dark with the purple ombre. It suits best for dark hair. Avoid this style in toto if you have light or blonde hair. You could choose light and dark shades of the same color for this effect if you have light hair, else it is not worth the effort.
Purple Ombre Hair – Colombre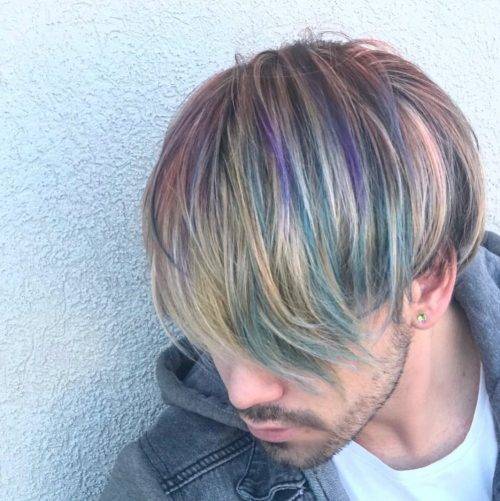 Colors make me happy, how do they make you feel? Colorful ombre also called colombre is a hot trend. It works great with all hair lengths and hair cuts as long as you can carry it well. If you love to have fun, colombre is what you carry very well. Know how to do your hair with different outfits if you have this style on.
If you are bold and confident enough to carry it with formals, and rock it, diva! you need to be awarded. You could show others a way how to do it right in all outfits, coz you take the trend-forward when you do it without committing a faux paux.
Purple Ombre Hair – Streaks Or Single Strands
One of the early styles of hair coloring was the streaks. Let me tell you, with colors like purple, the oldest, and démodé coloring style sits well. Streaks can look boring and unless done right. Choose narrow layers instead of thick depending on the shape of your face. This is the basic rule to go by.
They look better on older people. But, if you still have to try, ask a professional to do it in a way that suits you. You don't want to look like you woke up in the '80s with futuristic hair color, that would be too bad; so remember the basic rule if you opt for this style.
Purple Ombre Hair – Face Framing
Layers and feather hair cuts are suitable for face-framing purple ombre style. Choose this if you have a round, heart-shaped, or square face shape. It makes your face shape look ideal. Choose the shades and tints of purple depending on the color of your skin.
Purple Ombre Hair – Angled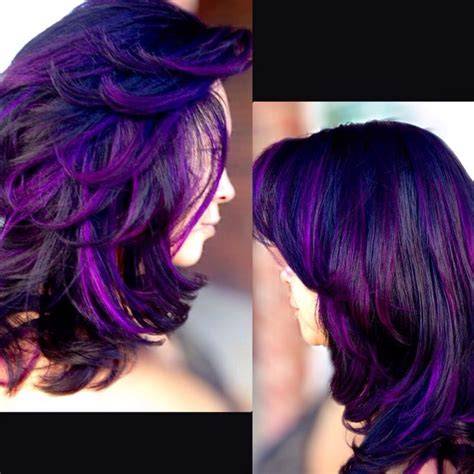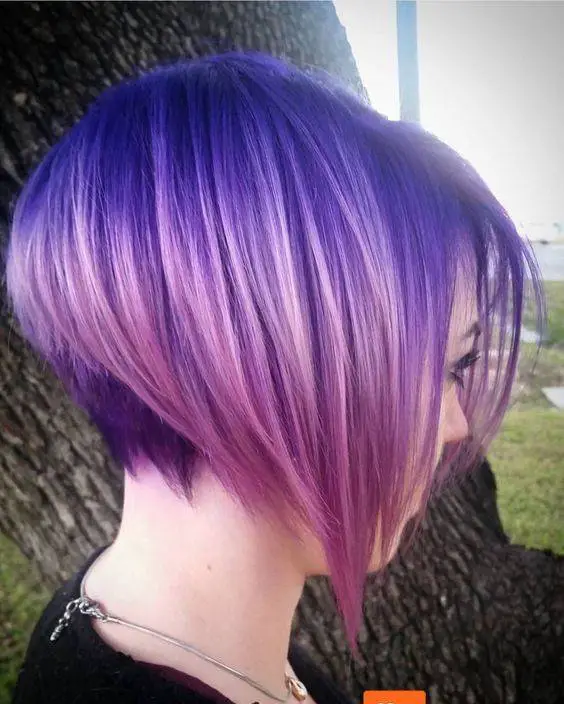 Angled is for asymmetrical cuts or a variation of choppy hair. It looks good when you color the angled edge of the hair with dark purple. If you have blonde or light hair, choose the darkest shade of pastel. Avoid dark colors for the angled ombre if you have light hair because it would look like a mistake gone too wrong. Dark or medium dark-colored hair looks good with any shades of purple for this style.
Purple Ombre Hair – Bangs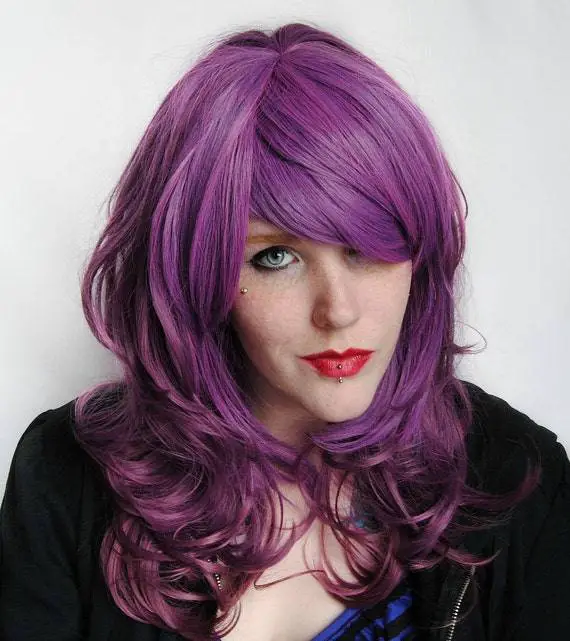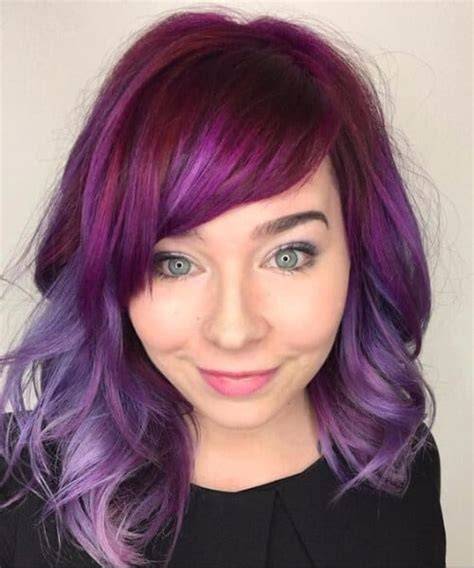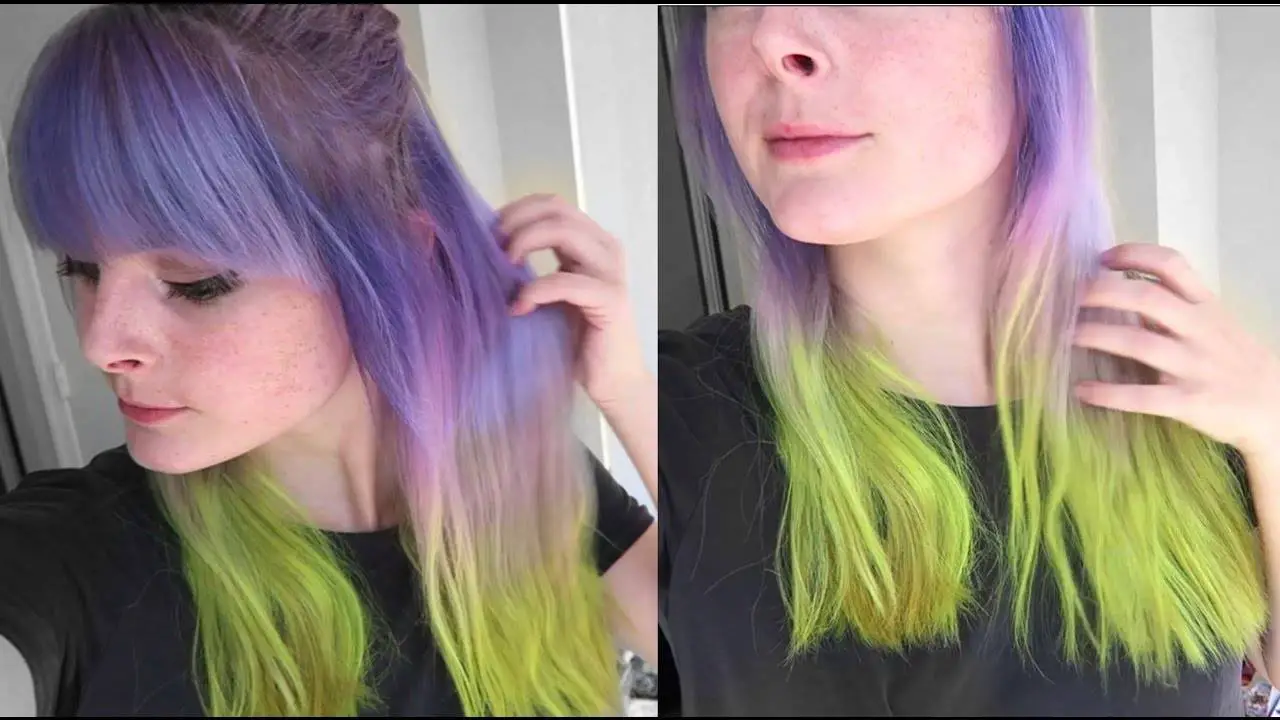 Subtle layers in dark-colored bangs look great. For light-colored hair, choose face-framing ombre and just color a part of your bangs. Dark hair has advantages when it comes to choosing different styles of purple ombre shades. They are long-lasting and never out of style.
Tips To Choose the Right Ombre color
Choose the right shade of colors depending on your lifestyle. If you are a professional who goes to a formal workplace with a strict dress code, you could choose the subtle ombre style. Purple ombre is one of the most versatile, easy to maintain, and cost-effective hairstyle trends. Avoid choosing funky colors unless you are sure they look good on you.
Purple Ombre Hair – Themes
You would want to get one for special occasions or flaunt it daily because you love experimenting with style. Express yourself with the thematic ombre style and wear your individuality. The thing about individuality is, it never gets worn out. Choose colors wisely, or get a complete color make-over, bleaching the natural color of your hair and choosing a theme.
Purple Ombre Hair – Fairytale Fantasy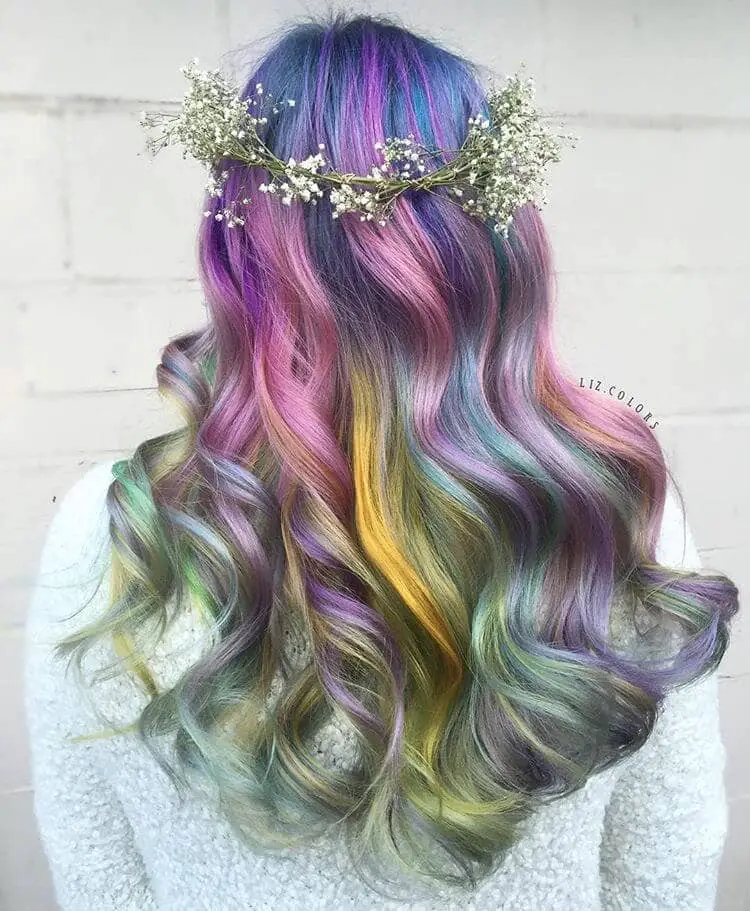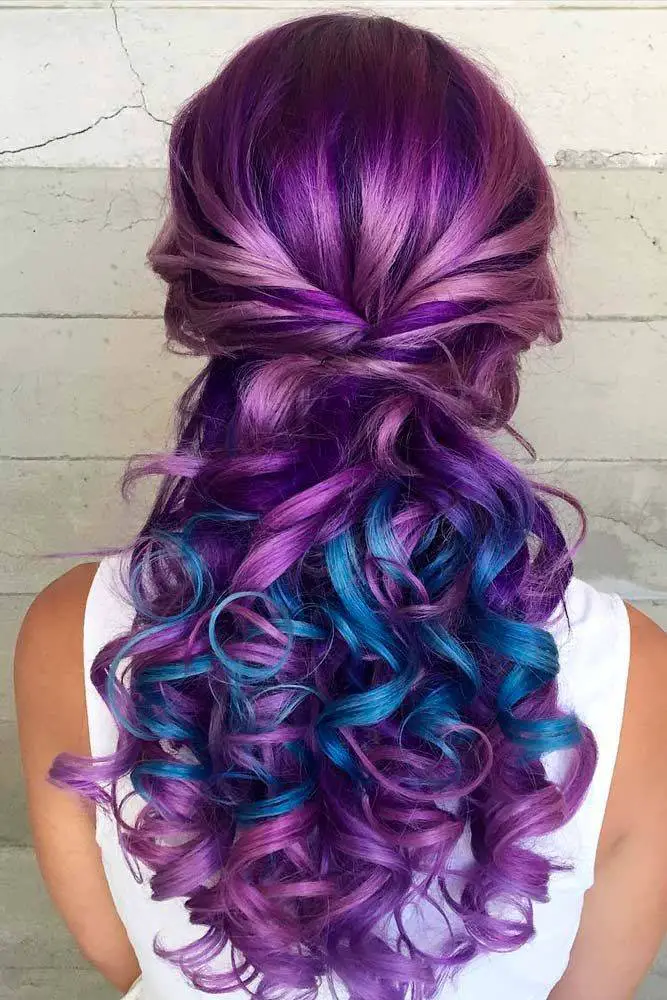 Fairytales can never get old. No matter how old you are, fairytale romance is what most of us secretly wish for. Fairytale themes express the dulcet and pleasant side of life, you could imbue, and why not? Harmony, love, and peace, isn't that good enough to seek? It suits long and medium hair length with braids, hair accessories, and curls. Nope, not a guy thing, unless you love your dandyish side and can carry it with a lot of panache, do not try if it.
Purple Ombre Hair – For Everyday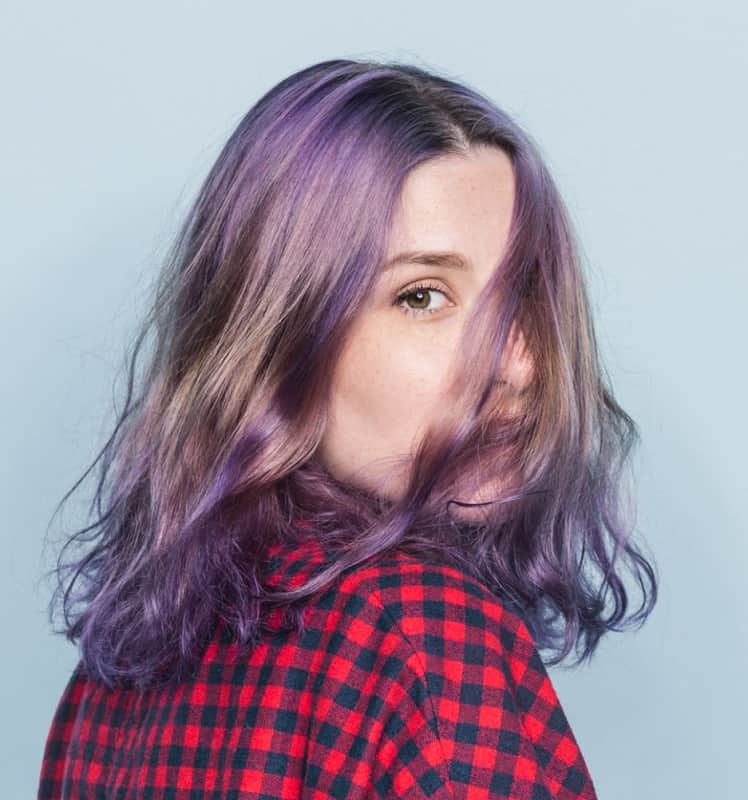 Dark shades of purple, violet, and tinge of pastels such as rose pink, lilacs, and lavender. You can choose from these shades and be happy going about your new style till it completely fades and does not fade your style yet. Like old wine, it gets better when it gets old. The purple shade is the sort of enlightenment you would welcome in your everyday life, and feel good about carrying the luxe color in all in a day's work.
Purple Ombre Hair – Office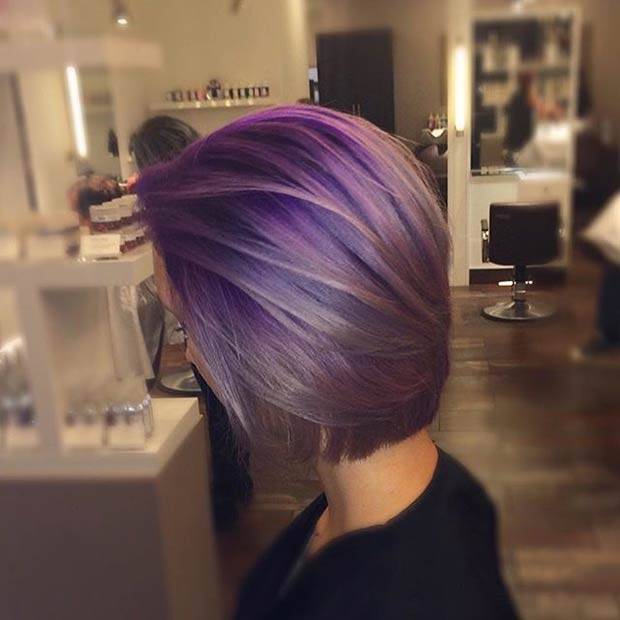 How are the work culture and dress code of your office? Do they allow creative dressing and individuality or formal dress code? Keep this in mind before you choose the purple ombre, because there is one for all. Do you wear formal, ethnic, or casual? Match the ombre style with how you dress every day to work. You know best, right?
Purple Ombre Hair – Wedding
Lavender, lilacs, and purple, talk of regal, and lux wedding with a shower of stardust and blessings from heaven. Purple is heavenly. If you have to choose the shades, pick one depending on the natural color of your hair and tone down with experimenting too much. You want to look beautiful, like a princess, so make your choice cautiously if you want the dark shades or the pastels, or a combination of both.
Purple Ombre Hair – Party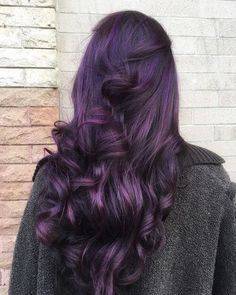 Dark with curls and waves with a dash of other complementary colors is a lot of fun. You could choose temporary colors for this effect for the fun times. Look offbeat once, and make them memorable. When you do it right, get heads turned and look at you in awe, how did you transform yourself like a magical fairy? How did you? Tell them when you walk in style with the enviable ombre effect and have the time of your life.
Purple Ombre Hair – Rock
Angled haircuts with funky colors in combination with purple. A very young and uber-chic ombre style. Are you ready for the magic? If you have settled with what looks formally good, have fun with it once in a while. It only makes people happy to see you try something new and rock that style like a rockstar. If it's what your everyday meets in chic, what could stop you, really?
Retro And Pop
Know the right color combination that goes with purple and everything you set your hair for. These are bright colors, and might as well suit most of the skin tones and hair colors when the right style of ombre and shading is chosen for retro and pop. Brights, light, dark; this is the formula to remember to balance the ratios and intensity between them to get a balanced look in this theme that suits you.
Mermaid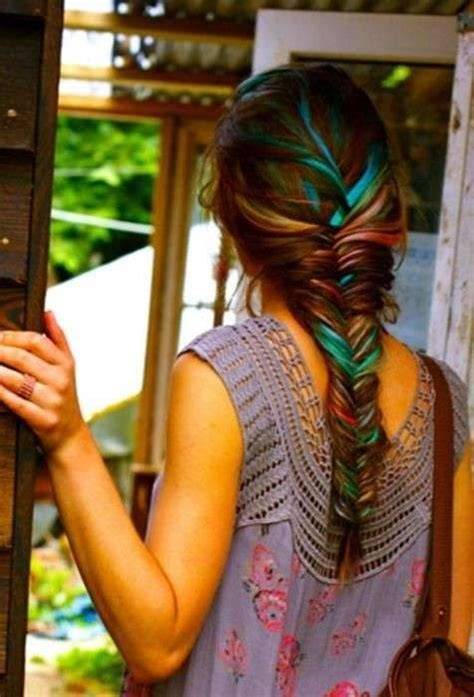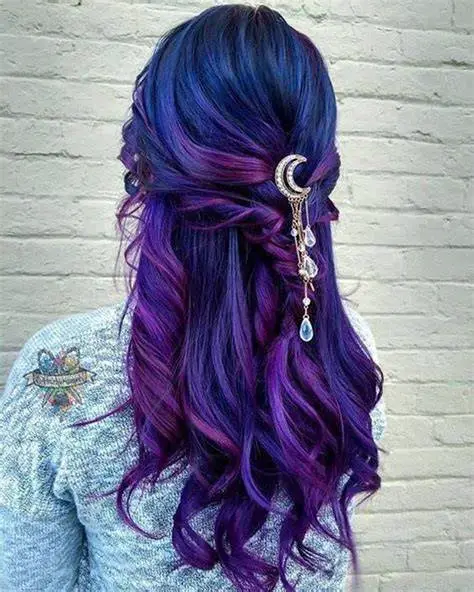 Tell of a woman who doesn't like it? Well, there could be many, but to speak for most of the womankind, the mermaid purple ombre is just adorable and breathtaking. It brings out oodles of feminity in you. You could look gracile, pleasant, and elegant in this style. But, then again, it's suitable for mid to long hair lengths. You need a professional to tell you what looks good on you if you have short hair and want this style.
Avant-Garde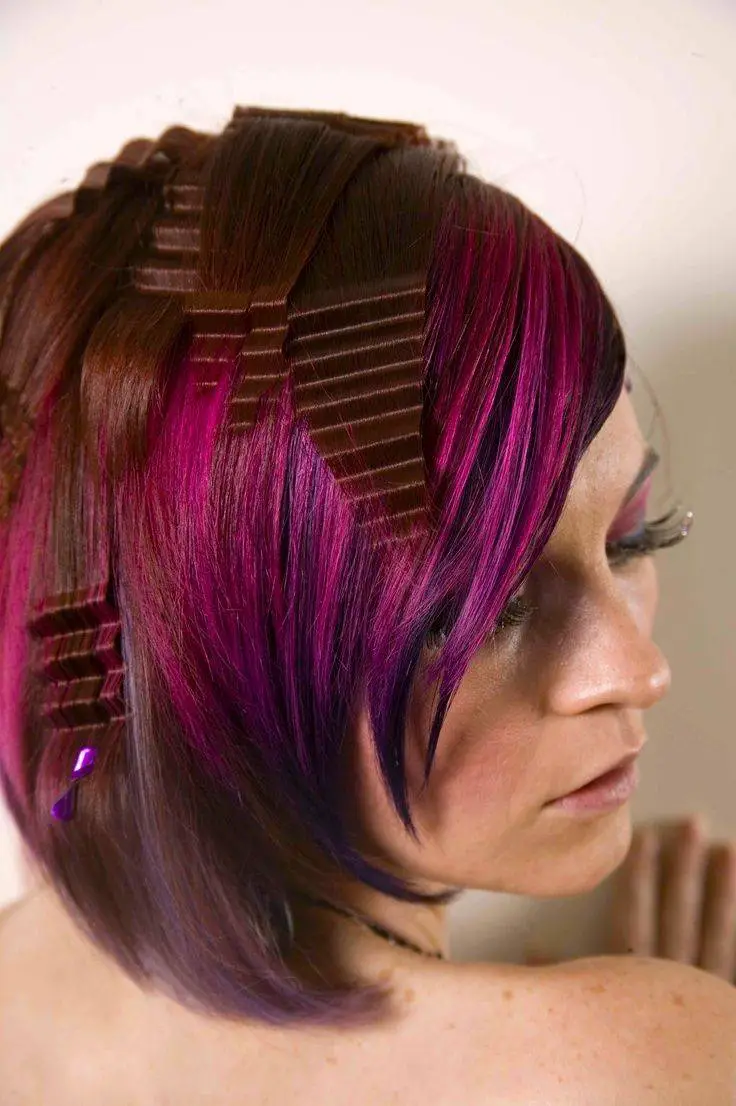 This is a temporary color arrangement and is uber glam. If you are working for a fashion magazine, this is what you would love to try at least once in a while. Express your creative self with a futuristic, avant-garde hairdo in purple ombre. It takes a lot to walk the aisle and do it in style and confidence because it goes beyond fashion photography alone? Do you want to take it to the real world from the magazine covers? Here's your style look book to get started.
Purple Ombre Hair – Color Blends
Purple is a lovely color. You can blend it with dark or light shades of the same color or with violets, blue, red, pastel, and bright colors. Know how to blend them and you will only win applause and admiration.
Blue and Purple
Electric blue, aquamarine, lavender, light shades of purple or dark meets another metallic dark color. What is your pick? Do you want to go on a picnic with these lovely shades and have a great time walking away in your style? There are umpteen shades of blue and purple to try on any hair length. Want to take the road not taken? try aquamarine, lilacs, and lavender, if you must; else stick to the electric blue and purple in curls, waves, choppy hair, or the straight sleek.
Violet Burgandy Purple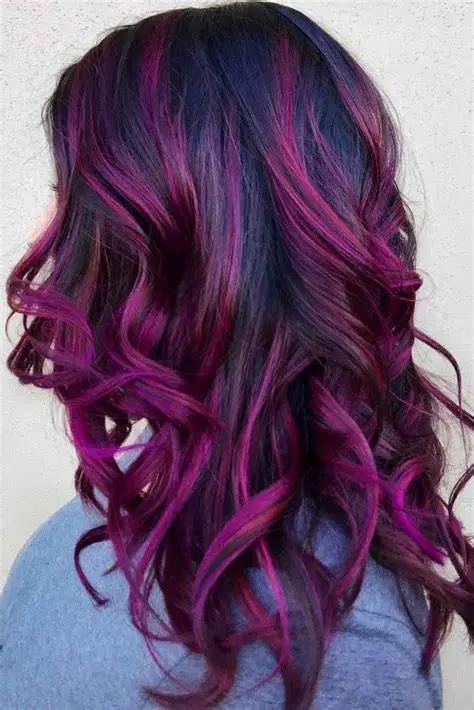 Most recommended for dark hair. When you have blonde hair, use it in the roots and balance it with lighter tones of the same color in a balayage, highlights, or fading styles. You need to think through when you have light hair when choosing dark purple and other shades for ombre.
Dark Purple
Streaks and highlights of dark purple, why not? It looks good any day on men and women. As long as you want to keep it subtle with narrower layers and highlights, there's more likes and less disappointment. Choose the ombre style if you have to use just one shade of purple. It's easy, consumes less time, and fades beautifully.
Black Red Orange Purple
You put red in any style, and it becomes hot! This is a dramatic color combination for the ombre. It looks perfect when the tip is in fiery red, don't do the opposite. If you are to try red, orange, and bright colors with purple, leave it to the tips.
Silver And Purple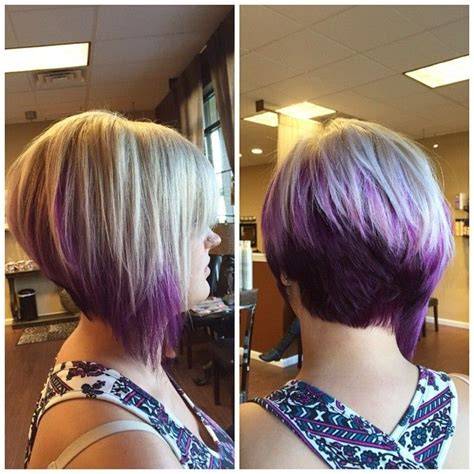 Lavender looks smooth and sleek with silver hair. Choose the lightest lavender with silver and choose any of the ombre styles. If you want to use a darker shade try face-framing effect with side bangs, it looks better than highlights or streaks.
Pink Lilacs Purple
Lilacs, pink, and lavender, or purple look like a fairytale romance happening on your hairdo. It's for the hopeless romantics. If you love the sweetness of life, show it with this perfect, super feminine, the color combination of purple ombre. Use the dark shade sparingly if you are head over heels in love with dark purple, and can't help!
Conclusion
Purple ombre hair is like activating your crown chakra, literally. But, jokes apart, it looks delish, lux, and adds a favorable personality to your everyday hair. Get the right style of purple ombre and stay happy with every day good hair day. What is a bad hair day with a purple ombre anyway!