Looking for some trendy nude outfit ideas for a casual and special occasion? The color Nude can be difficult to style and wear, but there are several ways to style and wear a Nude-colored dress to look stunning for various events and occasions.
You can wear a nude-colored dress casually, with friends, or on a more formal occasion, like a dinner date, depending on how you style it.
You can play around with the nude color in several ways. Here are a few ways to slay the look while wearing a nude dress! Feel free to use these Nude outfit ideas as a guide.
How to Wear the Nude Dress?
There are many ways to wear and style a nude-colored dress, which is why nude outfits are becoming more popular. You might think a nude dress is easy to style, but nude tones can be tricky because they can make you look tired or washed out. But don't worry; here are some tips on how to style nude dresses and what wearables can help you slay the whole look. You'll find all the answers from the right pair of shoes to the right time to wear a certain style.
Tips for Slaying the Nude Dress:
Putting on the right shoes. If you want to stand out, wear a nice pair of heels or boots for a night out or espadrilles with your dress for a casual lunch.

Accessorize, Accessorize, Accessorize!

 Nude can be a boring color to wear, so get out as much jewelry as you can to match your clothes. It gives your dress more color and style. Put on rings and hoops with your dress to finish your outfit.

Belts! You can make your dress look more casual by wearing a belt. Have you kept that belt for so long because you didn't know what to wear it with? Wrap it around your outfit, and look how cute it looks!

If you want to look more daring, wear dark lipstick and a lot of eye makeup. It makes your face stand out and makes you look beautiful.

The right bag! It can stand out if you wear the right bag with your outfit. If you're wearing your nude dress with heels, a clutch will tie everything together and give you that classy look you're going for.
Nude outfit ideas: 30 Ways to Wear Nude Color
1. Cocktail Party Dress up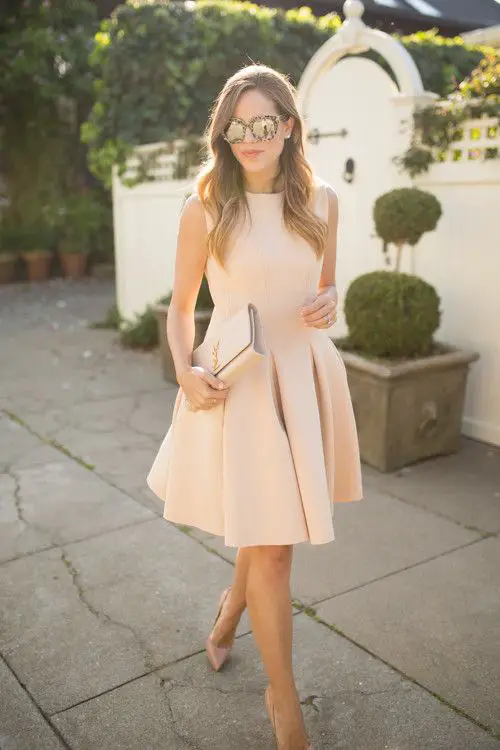 This dress is super cute and trendy right now, so you should get your hands on it as soon as possible! This dress not only looks adorable, but it also has a stunning neckline that is to die for! Wear this dress with heels or wedges to look amazing this summer. This dress is ideal not only for lunch out with friends but also for a date night! 
2. Sexy in Silk!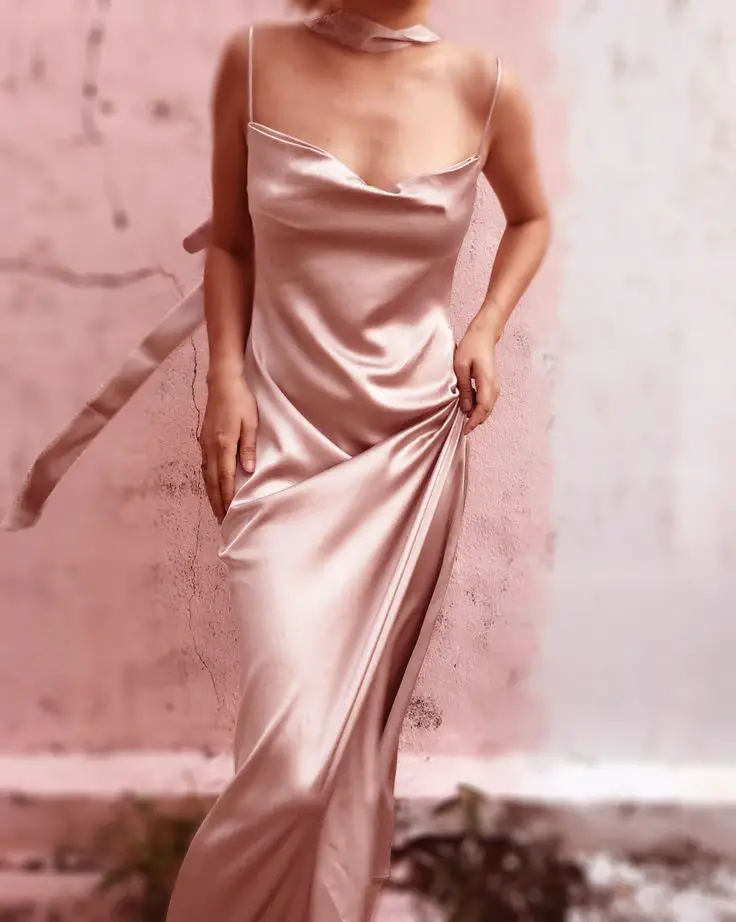 Silk nude outfits are a classic that will always look beautiful. Even better would be a mini-nude-colored one. Are you going on a hot date or to a party and want to get dressed up? You should always wear this short, sexy silk dress. Slay the look by wearing it with a pair of black heels and hoop earrings.
3. Dressing Formal
A beautiful and classy long Nude dress would be perfect for a formal lunch or even an interview. You can dress it up with a white bag and heels. You can also change this dress from a daytime to a nighttime look by switching out the pumps for high heels and putting on some red lipstick.
4. Sweater weather in a nude dress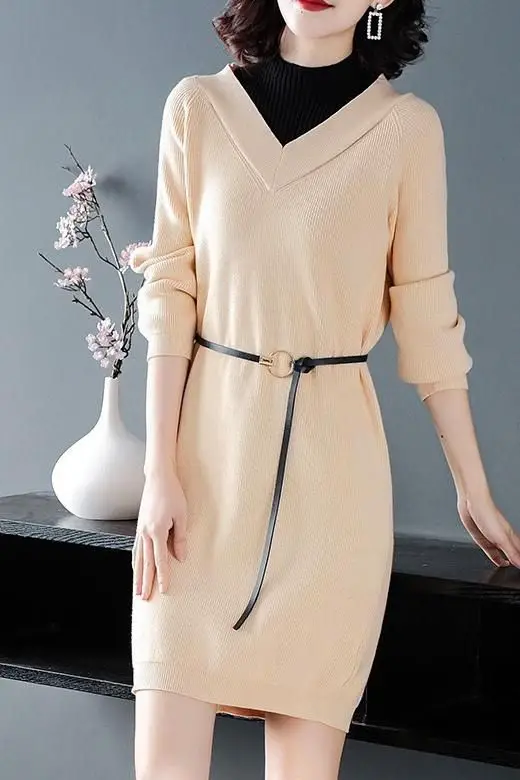 Getting a little windy? Do you want to look cute and be cozy at the same time? If you put on this warm mini-nude dress, you'll be ready to go out. Who said you couldn't rock the color nude during the winter? So put on that cute dress with no colors and enjoy the sweater weather!
5. Night out to the Club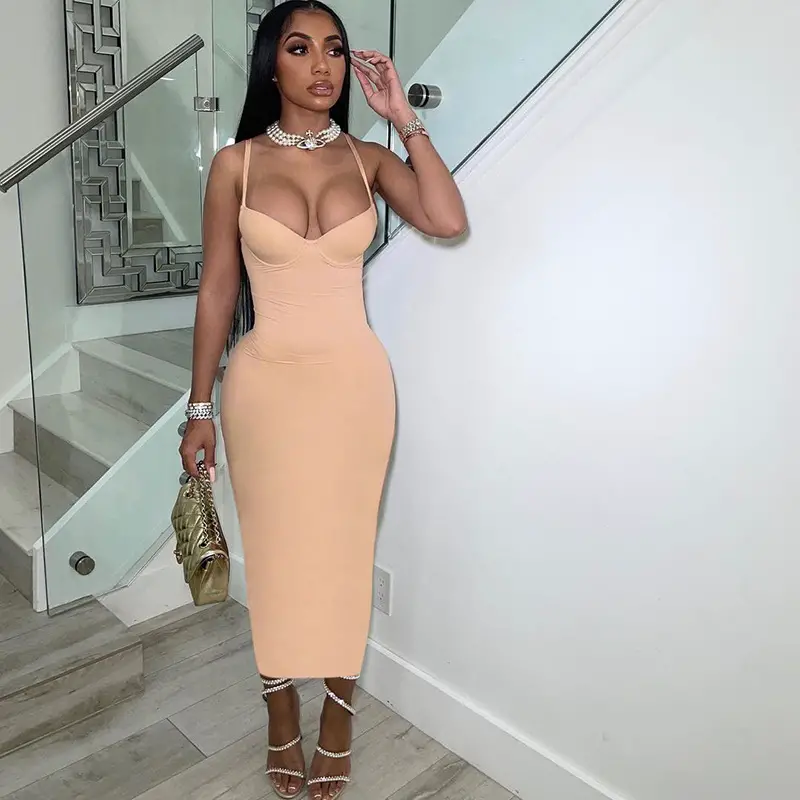 Thigh High Boots!! These boots look best with short dresses, and this mini-Nude dress will look even better. This nude dress is great for a night out with your girls or a night at the club. The best thing about this dress is that it looks gorgeous on everyone. So, girls, put on this dress and some simple jewelry, and you're ready to go out to the club.
6. Something Casual
No one said that a nude dress couldn't be simple. Want to look cute but still go for a casual look? Jump into the sneakers, wear a casual white blazer, and go to lunch or shopping with your friends while slaying the look!
7. Nude outfit ideas for boating
You can wear your Nude dress if you're going out in the sun for fun activities. This short Nude colored dress is ideal for going boating because it will keep you cool while also making you look cute. Add sunglasses or a denim jacket to complete the look! Don't forget to apply sunscreen, girls!
8. Blaze it up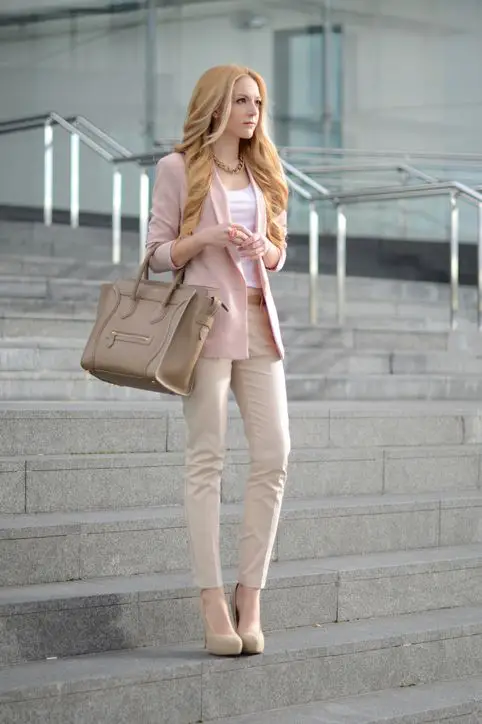 You should wear a Blazer with a Nude dress to look more formal. With a pair of high heels and a white or black blazer, you'll look classy and seductive simultaneously.
9. Trenchcoat Nude Dresses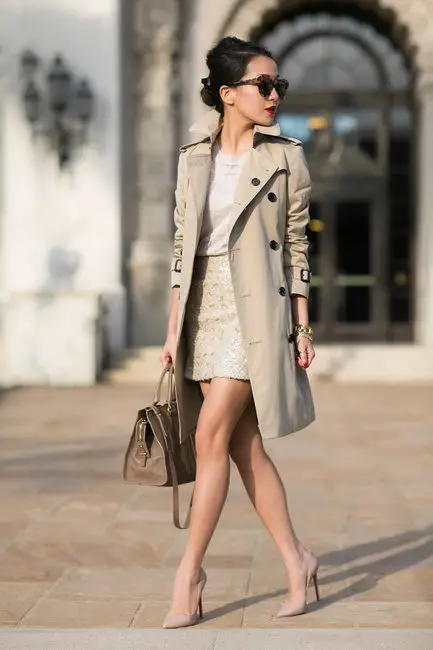 Want to look cute while also being practical? The trenchcoat nude dress is the best option. Put on that dress and enjoy your day out, whether it's to the park or a lovely outdoor lunch.
10. Summer Nude outfit ideas
What looks better than knee-length lace nude dresses in the summer? You can look cute and still feel cool and easy. These flowy dresses are perfect for summer. The dress can be worn for a casual lunch with friends or shopping at the mall. You can add a belt or blazer to the dress to make it look more formal.
11. Family Dinner Nude outfit ideas
Don't have the energy to get ready for a family dinner tonight? We've got your back, girl! Put on this nude dress with a belt and a pair of gold studs, and you're ready to go! If you want to look formal, wear a pair of beige heels. If you want to look more casual, wear sandals.
12. Pair it up with some Coats
Formal look? Pair a nude dress with a camel coat, and white heels also lighten your dress and accessories.
13. Time for some drinks
Going out for drinks tonight? A long nude dress with no straps is a great choice. With that sexy slit, you can show off your leg. Don't forget to wear your favorite heels and a big necklace. Tie your hair in a bun or a high ponytail to finish the look. These black heels with straps are doing the job.
14. Joy in Springtime
If you go out in the Spring wearing a nude dress, all the colorful flowers will make a great background for your photos. Wear a beautiful silk dress with a slit and a unique neckline to a wedding or a tea party during the day to stand out and steal the show. Wear the dress with wedges and a sun hat to finish the look.
15. Date Night Nude outfit ideas
Date night is coming up, and you don't have anything nice to wear?! Bring out that Nude t-shirt dress and put a belt on it. A cute Gucci belt will make your dress look much better. Combine it with a small bag and clear heels so that all eyes are on the belt and you.
16. Out for a surprise picnic
Dresses with no color make you feel like it's summer and Spring, and a long sleeveless dress would be great for a picnic. It will make you feel light and looks great. Pair it with cute sandals and a weave bag to make it feel like summer.
17. Lounge Wear Nude outfit ideas.
A bodycon ribbed mini dress is perfect if you don't want to look too fancy but still want to look cute! A night of games or a movie at home? Wear this to get the look of a nude dress while being comfortable. Add a pair of fuzzy sheepskin slippers to finish the look.
18. On Vacation Nude outfit ideas
If you're going on vacation, pack your nude dresses because they make you feel like you're on vacation. With some flats, this cute long-sleeved dress is great for a casual stroll through the city you're visiting. It looks amazing, feels comfortable, and is easy to carry.
19. Flannel it up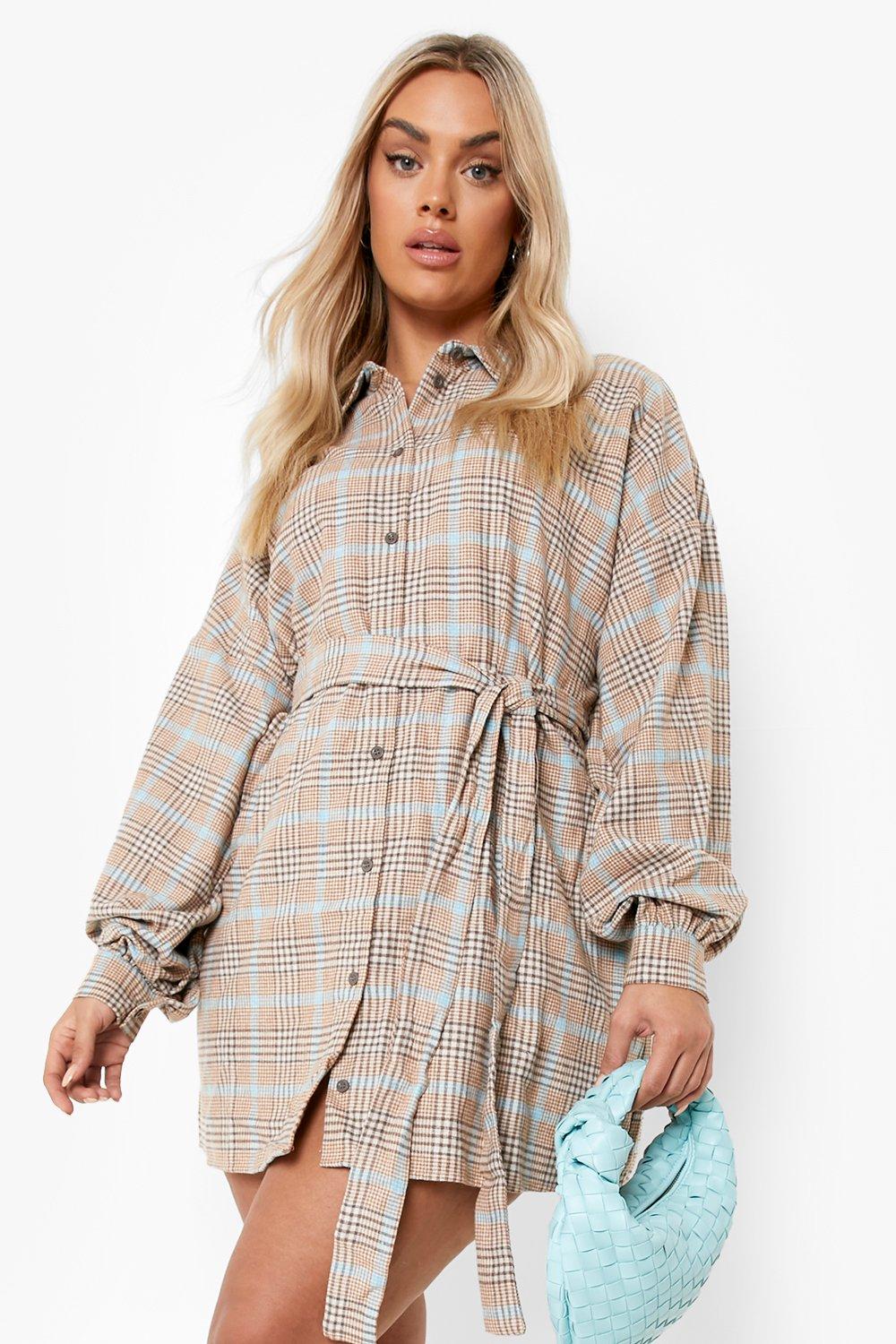 Keeping things simple? Remove that flannel shirt from your closet and pair it with a Nude dress. It'll be perfect for a casual day out with friends! Wear it with white sneakers and sunnies for a day at the movies or a casual hangout at a friend's house.
20. Light and breezy in a long Nude dress
Are you going to the beach? This dress is ideal for dipping your toes in the sand and strolling along the beach. Bring your favorite beach bag and a pair of flats, and you're ready to go! This breezy dress not only breathes well but also looks great!
21. Asymmetric Nude outfit ideas
If you like wearing nude dresses, you must get your hands on asymmetric ones. Pair it with a dark lip and some cute accessories, like gold hoops, to make it look even better.
22. A Chic Office Getup
A classic-colored outfit that starts as contrast is something different and challenging.
23. A Wrap Skirt Style
The coolest and most eye-catching outfit is a stylish nude coat over a chic wrap skirt.
24. A Beautiful Winter Street Style
This stunning outfit with dramatically glorious blue shorts and a timeless sweater is everything.
25. Fashion Blogger Style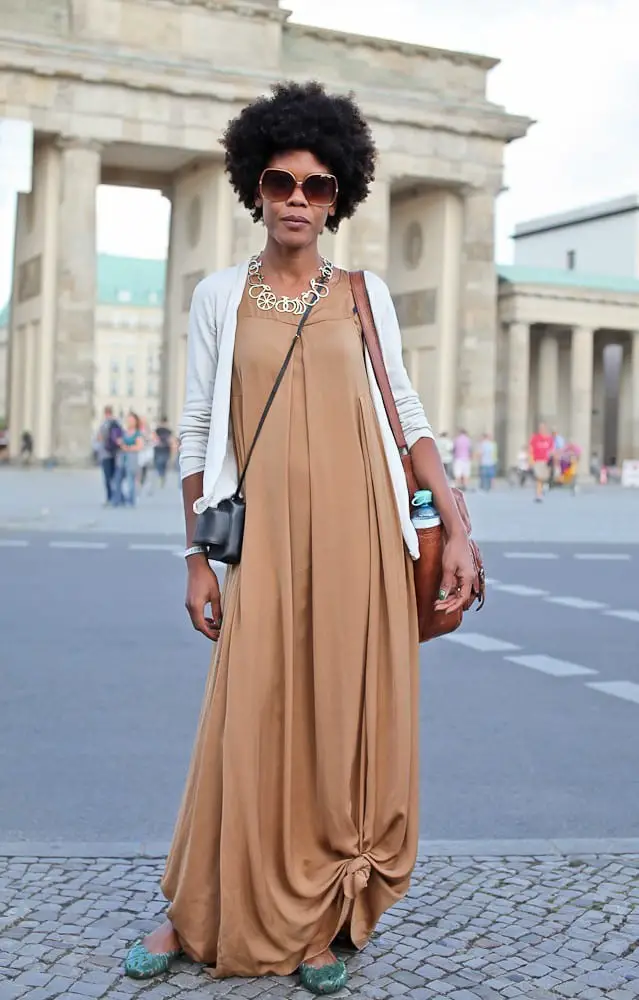 Beautiful nude cigarette pants with a nude lace shirt and mesmerizing pump heels are almost too good to be true.
26. A Matte Short Dress 
Anything matte is the best fashion we know, especially if it's nude matte because nothing looks classier.
27. A Glorious Pencil Skirt Combination
The pink tea details on a beautiful pencil skirt outfit make it a bit too classic for our eyes to settle on.
28. Darker Shaded Long Dress
And nude comes in all shapes and sizes. The darker shades are always more attention-grabbing.
29. A Professional Skirt Outfit

A professional beige skirt outfit has a matchless level of class and beauty.
30. Work Wear Nude outfit ideas.
The polka dot shirt with the bow is undeniably a timeless combination.
Final words: Nude outfit ideas 
Nude outfit ideas: Since the weather is getting much warmer than we thought, you're probably filling your wardrobe with lots of bright, warm colors, which is great. But don't miss out on something as fun as nude-colored outfits this year, when there are hundreds of mesmerizing and stylish nude shades to choose from.
But choosing the perfect nude-colored outfit doesn't mean it has to match your skin exactly; there should always be a bit of contrast. Also, when choosing a nude dress, you can always think about how it feels and how it is adorned. You can also choose an all-nude dress, which is underrated but elegant.
FAQs: Nude outfit ideas 
1. What color shoes to wear with a Nude-Colored Dress?
Since the nude can look dull, wear bright-colored shoes like burgundy, black, or red. Have a favorite pair of bright heels you can't wear with anything? If you wear them with a nude dress, they will stand out. Last but not least, even white looks great with nude dresses, so you can wear your dress with white flats or even joggers, depending on the occasion.
2. What accessories to wear with Nude dresses?
Always choose jewelry that stands out, like a chunky belt or a necklace that makes a statement. Don't be afraid to try different prints and textures. Wear your gold bracelets and earrings, but choose your other accessories based on where you're going. Not only can you wear jewelry with a nude dress, but you can also wear glasses and hats.
3. What kind of makeup to wear with Nude or Neutral colored clothes?
If you want a casual "no makeup" look, you should use less makeup and choose glossy or cream-based products instead of matte ones. The casual makeup look should be your go-to when getting ready for a day in the sun. You should use bright colors and smokey eye makeup if you want a formal look. At night, a red lip will make your nude dress stand out.