Board and Batten Wall Ideas: Even the smallest parts of a building can sometimes make a big statement. Board and batten walls have made a big comeback in home decor. They can give a plain wall some new character and make it look more interesting.
Another advantage is that you don't have to spend much money to build board and batten walls in your home. It's a cheap way to decorate your home that works in any modern room.
When picking the right style for a board and batten wall, there are many things to consider. You might only want to do this to one wall in your living room, or you might want to change the whole room.
You can keep things simple and traditional, or you can add some modern patterns or colors. If you want to try the board and batten wall trend in your home, check out these board and batten wall ideas.
1. Triangle Pattern Board and Batten Wall Ideas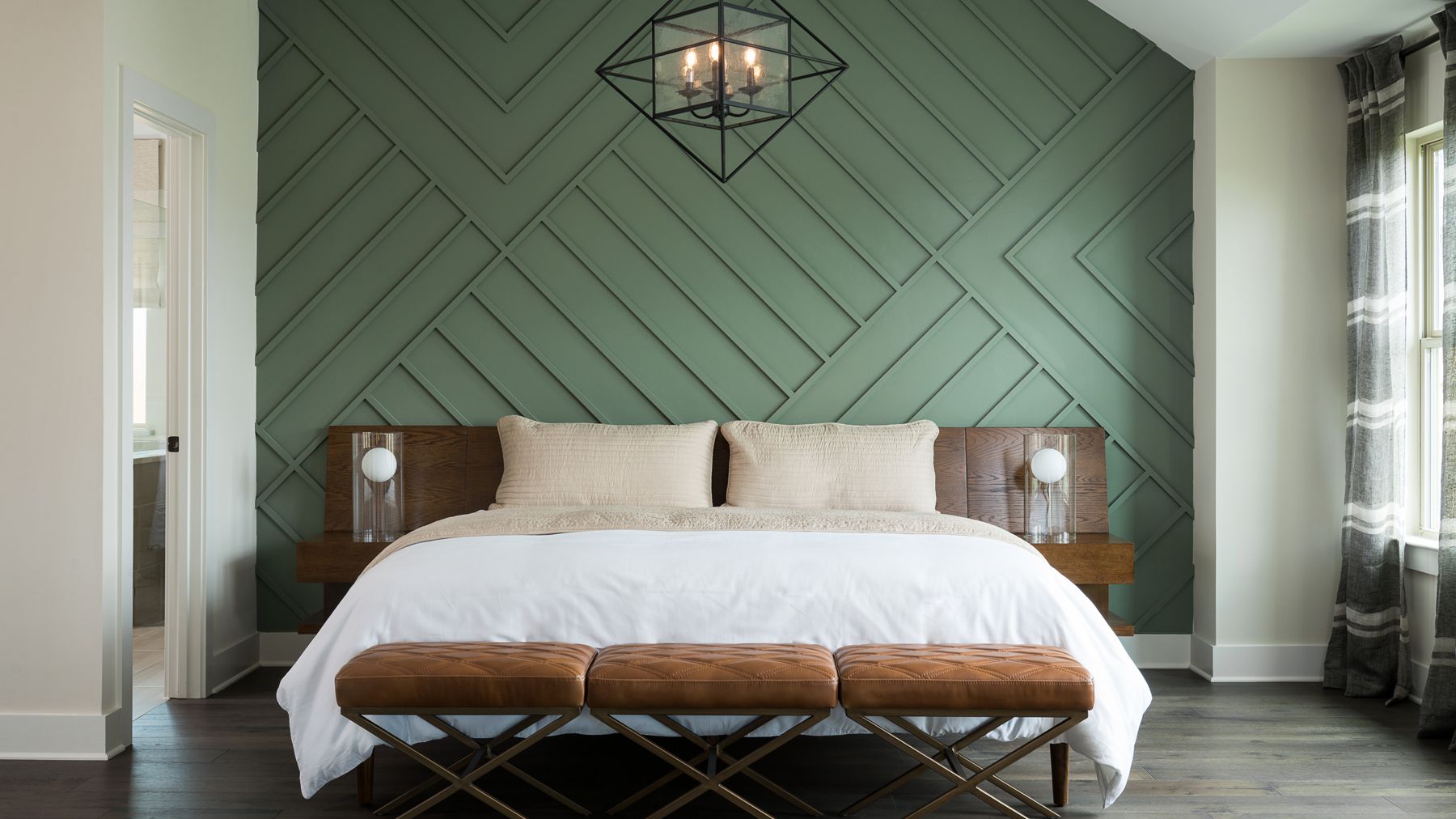 Fun patterns have a lot of potential to give the space a unique personality. It might take some proper planning, but it's worth the time to add patterns to your board and batten wall style. Add a triangular wall treatment that adds a lot to the room without the need for bright colors.
The elegant geometric style and the beautiful texture of the wall should be more than enough to make a creative board and batten project.
2. Shiplap Board and Batten Wall Ideas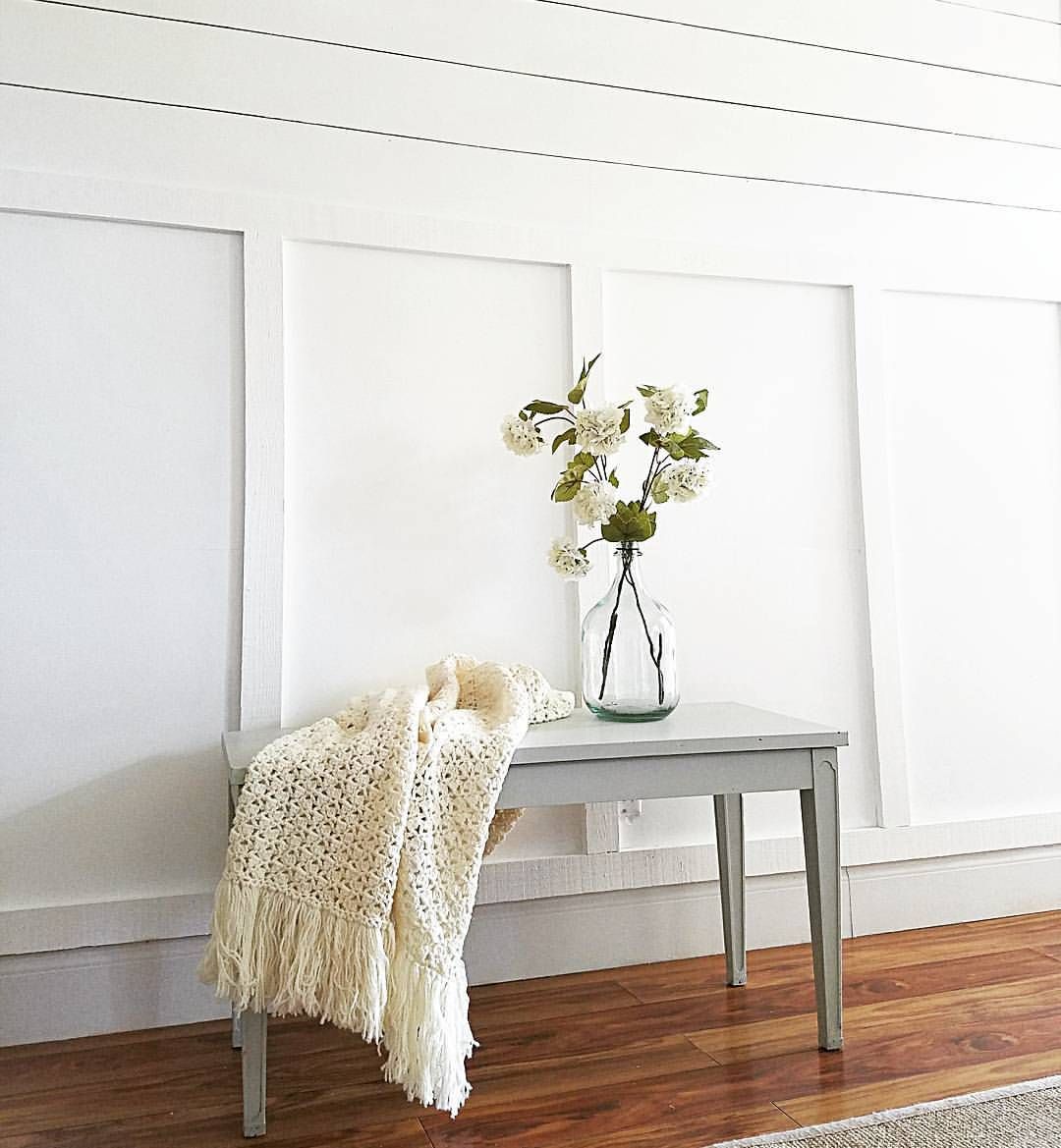 Shiplap board and batten walls have a stylish texture that can make any room look more interesting. Even though the wall will be beautiful, it won't draw too much attention because it fits so well with the rest of the space.
Board and batten walls are a great way to add a subtle touch to a living room with neutral colors. The layered fireplace and the symmetrical artworks go well with them.
3. Cozy Breakfast Nook- Board and batten wall ideas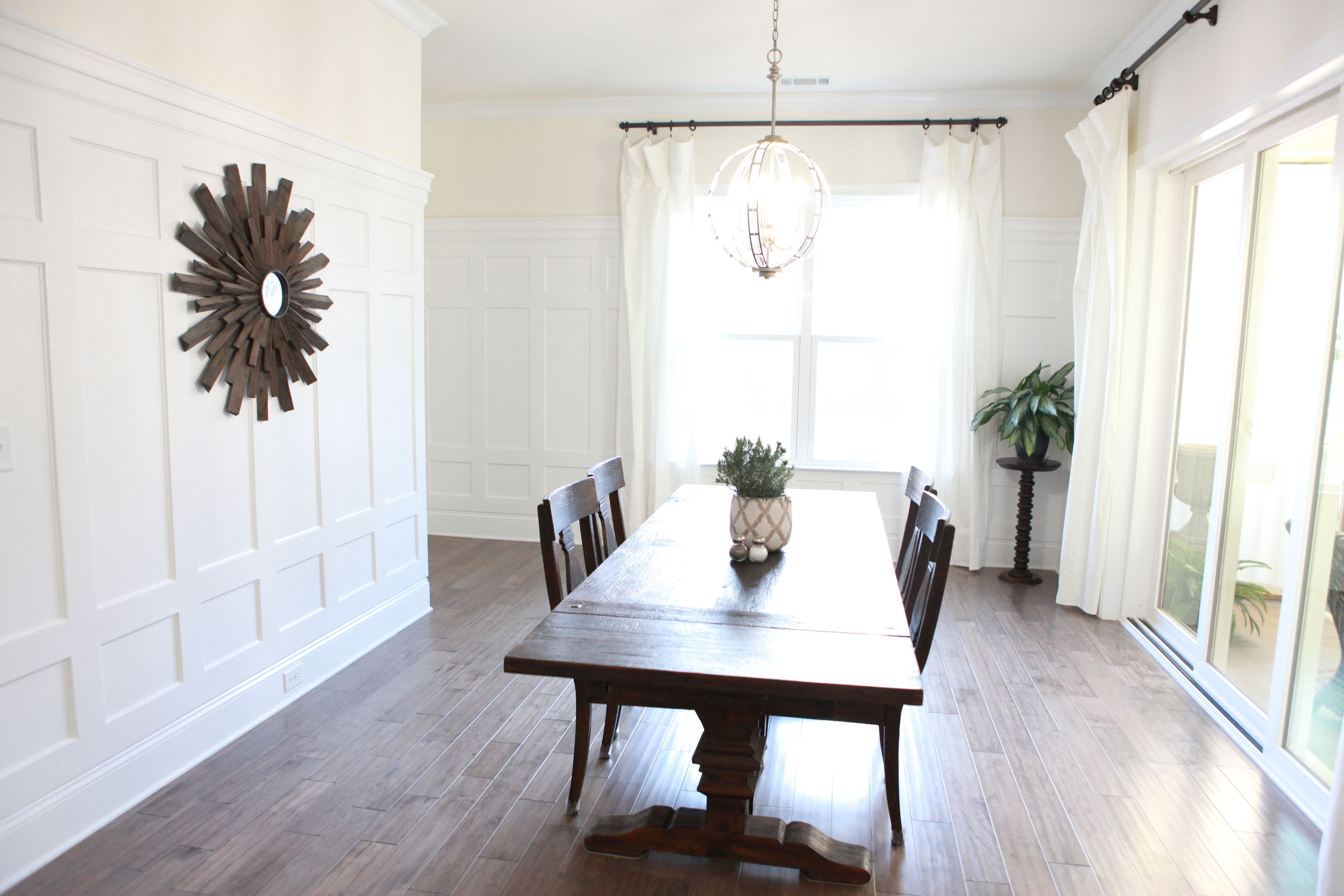 You can use color to divide the room visually, but the effect is more striking when you use a board and a batten wall. The soft blue color and the added depth of the board and batten design make a nice combination. With an open-space layout, the result is a cozy breakfast nook more clearly separated from the rest of the kitchen.
4. 3D Bathroom Wall Effect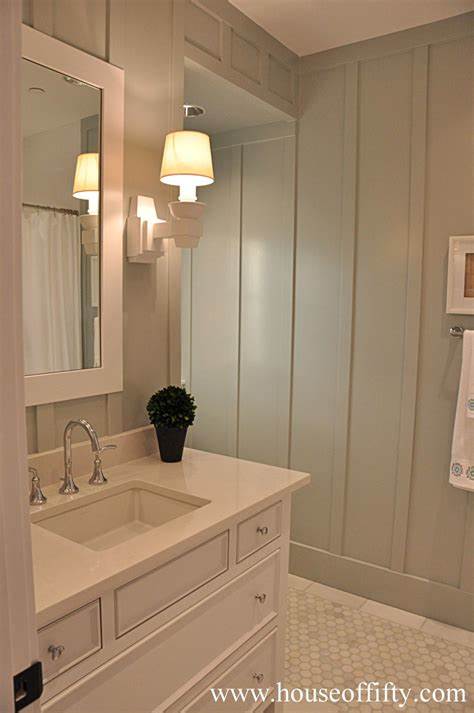 Board and batten walls look great in many rooms of the house, even the bathroom. It's a good style choice for a small bathroom because the plaid boards give the illusion of 3D depth, making the room feel bigger.
Dark green paint is a bold choice for this kind of room, but it seems to go well with the wall's texture, which gives the room a sense of elegance.
5. Stairway Board and Batten Wall Ideas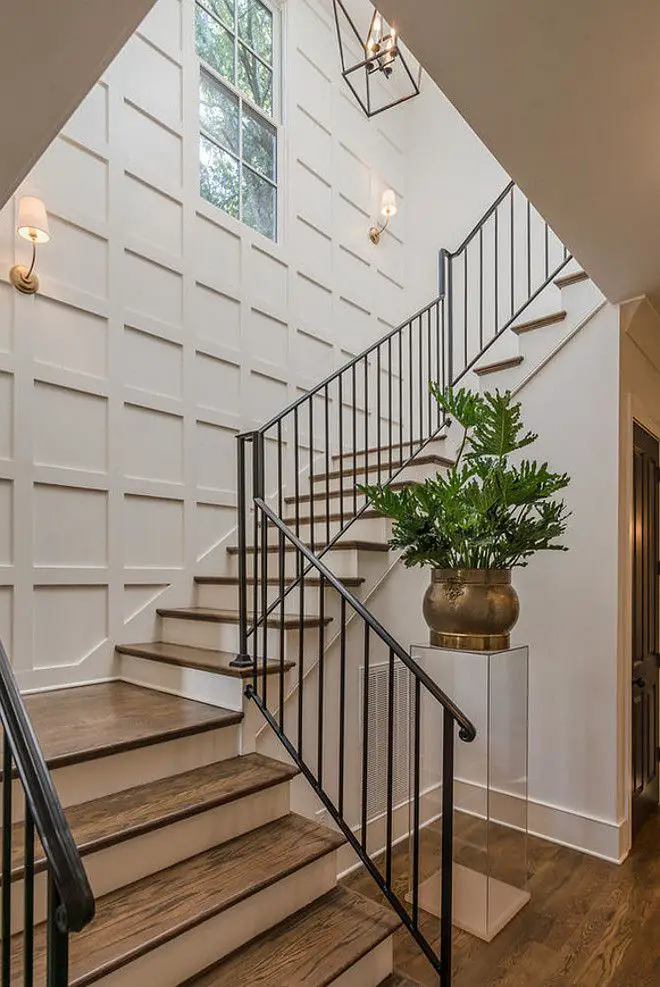 Most of the time, the space under the stairs is hard to work with. You might want to use the board and batten style if the wall looks new. It's not an expensive makeover, but it makes a big difference in how it looks.
The added texture gives the stairs some much-needed depth. If you still don't think the wall looks very stylish, you could add some floating shelves to give you more ways to decorate.
6. Farmhouse Aesthetic Board and Batten Wall Ideas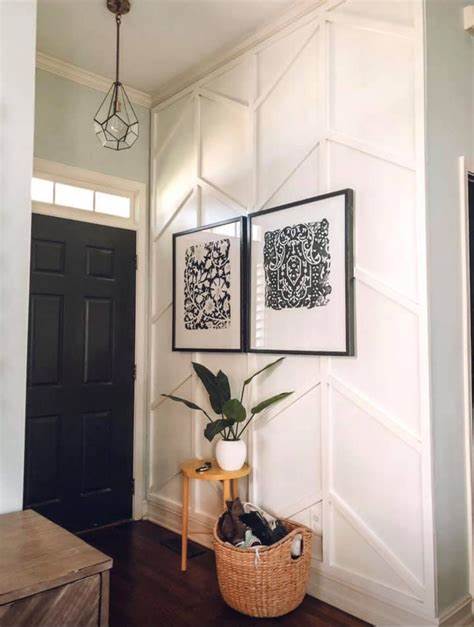 Board and batten walls can be a great choice if you like the look of farmhouse decor. It's about putting together great rustic pieces like a barn door with the walls. This bedroom's mix of traditional farmhouse pieces makes it look very charming.
The vertical patterns on the wall and the door give the room a uniform look pleasing to the eye. The geometric patterns on the bedspread look great with the clean lines.
7. Relaxing Nursery Board and Batten Wall Ideas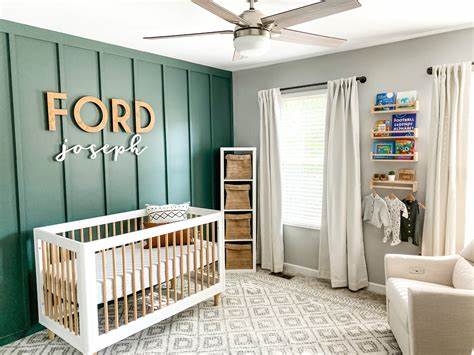 When decorating the nursery, it's best to use neutral colors to create a relaxing atmosphere. There's not much room left for patterns or motifs that stand out. Because of this, board and batten walls can work well here. They go well with a mostly white color scheme, cream, and taupe. The wall in a nursery room stands out because it is made of boards and battens.
8. Victorian Vibes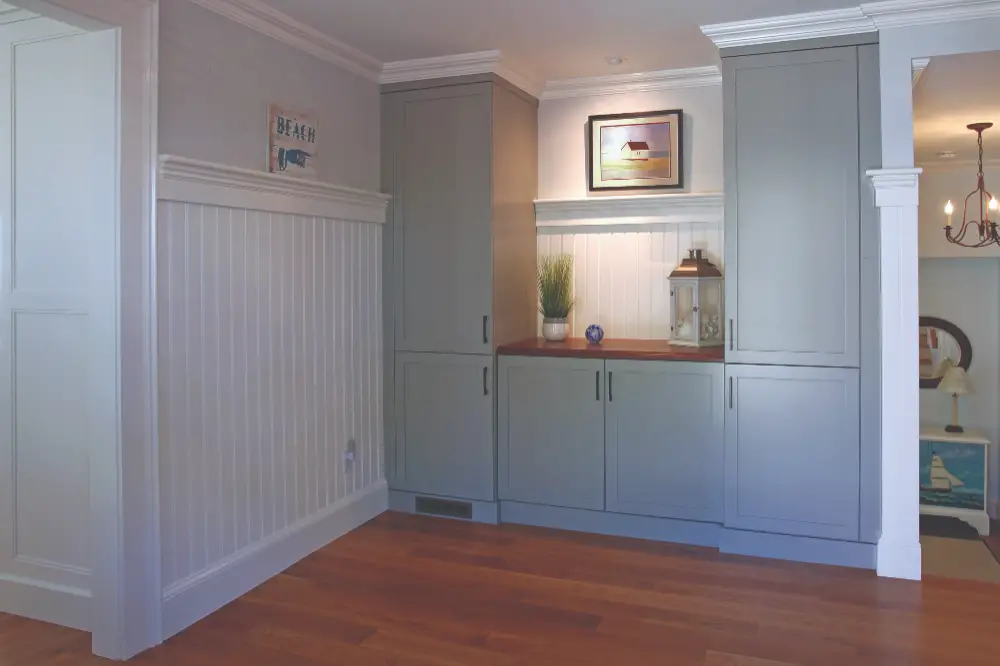 Board and batten walls are a great way to combine Victorian style with modern design in a modern bathroom. How the wall frames and the window makes the room feel warm and inviting. Sitting in this bathtub and looking out the window is a very relaxing thing to do. The combo of pastel blue tones provides a sense of deep calmness.
9. Board and Batten Accent Wall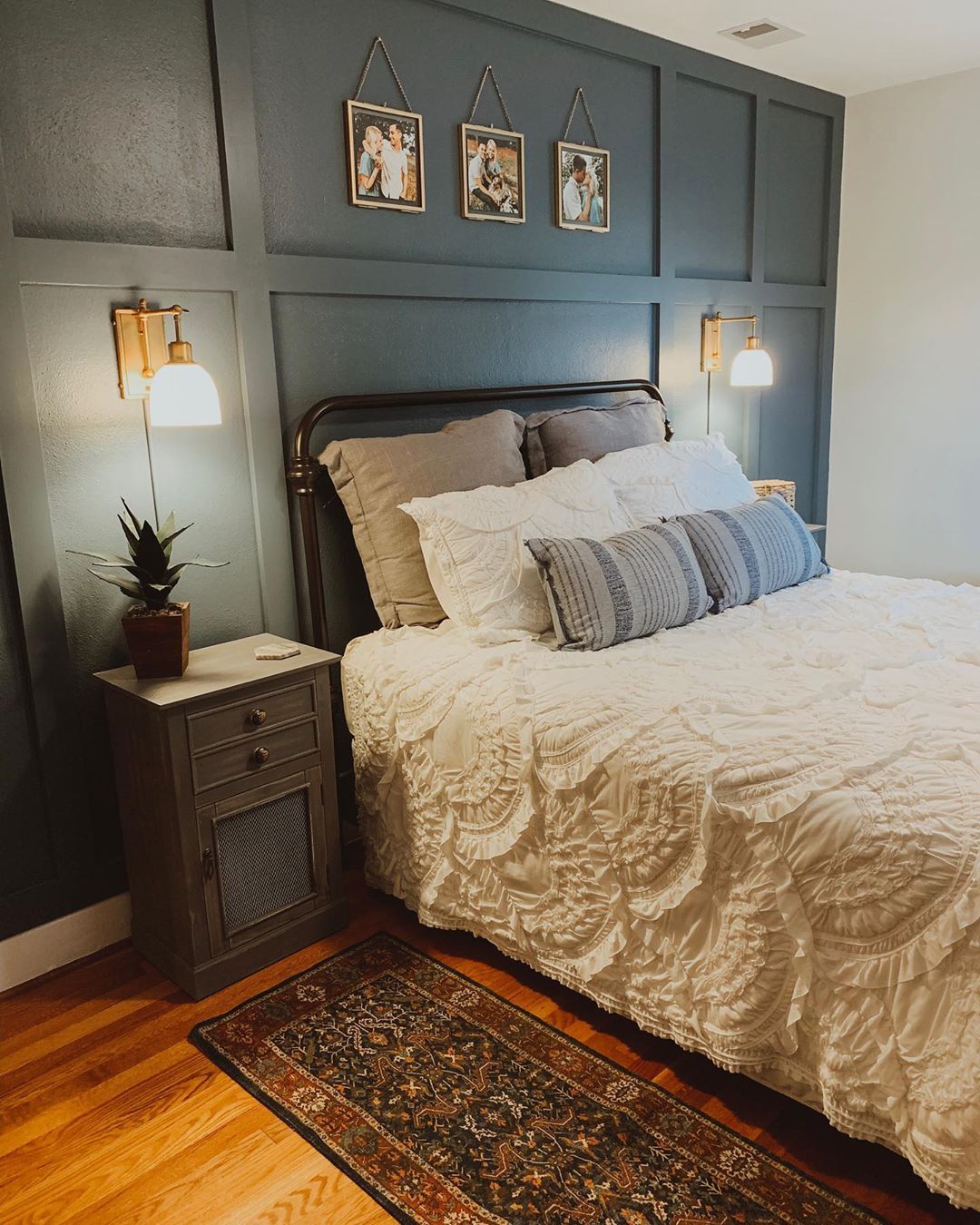 A board and batten accent wall makes it simple to make a bold statement in the bedroom. Choose an elegant navy blue tone contrasting beautifully with a neutral cream color scheme. The visual effect is particularly impressive given the appearance of the bed's headboard against the deep blue wall. The use of matching throw pillows helps ensure that the board and batten wall color are properly coordinated.
10. Breezy Beach Style Board and Batten Wall Ideas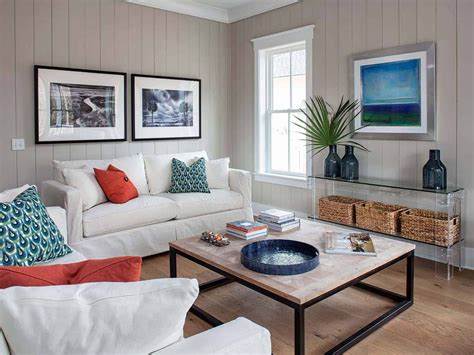 Many beach-inspired rooms look fantastic with a board and batten accent panel. The vertical beams on the wall contrast sharply with the horizontal beams on the high ceiling. There's no need to be worried about selecting a vibrant color for this wall because a warm white shade can serve as the perfect backdrop for some nautical decor or framed artwork.
11. Walnut Wood Elegance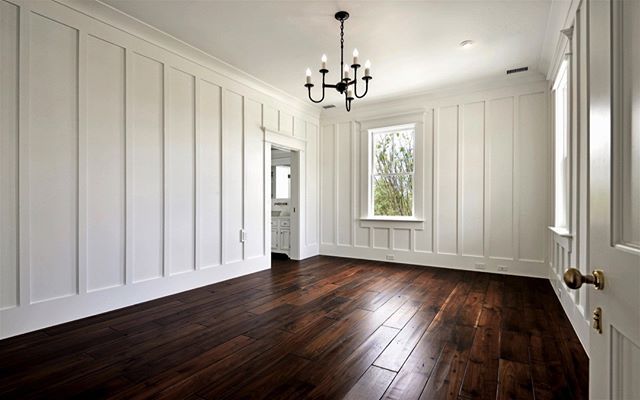 Use the walnut wood board and batten panels to make your living room look more elegant. The walls will look more majestic than ever if you use art panels to draw people's attention. One of the most amazing things about the room is how the different geometric patterns go together. The clean lines of the square coffee table and the rectangular walnut panels on the wall go well together.
12. Feminine Board and Batten Wall Ideas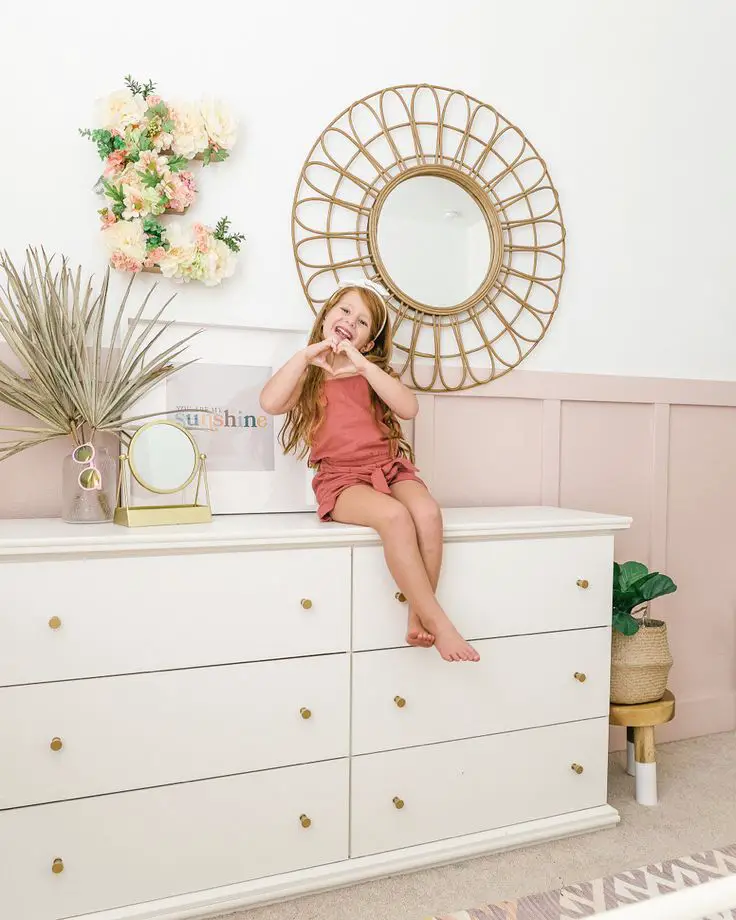 A pink blush board and batten wall design in the entryway can be seen as a strong feminine touch. It goes well with warm neutrals to make your home feel warm and welcoming to guests. A charming foyer makes it easy to move from one part of the house to another. Rustic items, like rattan baskets or a rough runner rug, can be added to the wall panels to add even more texture.
13. Arched Brilliance
Most board and batten wall ideas are based on simple shapes like rectangles. On the other hand, some designs are more daring and use arched panels to create a unique look. When you look at the pastel colors and the way the arched board and batten wall give the room more depth, you can see that the room has a lot of character. Even though it was a simple change to the wall, it greatly changed how it looked.
14. Colonial Home Office Design
To make a traditional colonial-style home office, you might want to consider board and batten walls. This is a great example of how to use this paneling style well. The half-bottom board and batten wall add a new level of elegance to the room. The wall, along with the other things in the room and the brown-and-gray color scheme, gives this home office an air of seriousness.
15. Chic Minimalism Board and Batten Wall Ideas
Even if you love minimalism, having white walls in your bedroom can look boring. A board and batten design might be a good choice if you want the wall to have a little more personality. It gives the room a simple, stylish look that works very well to make it feel bigger. The board and batten wall add visual interest to any minimalist bedroom because of the way it looks from the top down.
16. Colorful Elegance Board and Batten Wall Ideas
To make your living room look more elegant and refined, use vibrant jewel tones like teal blue and emerald green. The board and batten wall's vibrancy brings the entire space to life, while the texture adds depth to the space. Colorful board and batten walls may appear odd, but they are a solid design style to consider for many modern aesthetics.
17. Geometric Accents Board and Batten Wall Ideas
The geometric shapes in this neutral contemporary bedroom add much interest because the room's decor is simple. It includes the metal pendant light against the white ceiling, the zigzag accent rug, the gray board, and the batten wall. Pink throw pillows are placed along the bed to add a pop of color that draws the eye immediately.
18. Filled with Feminine Flair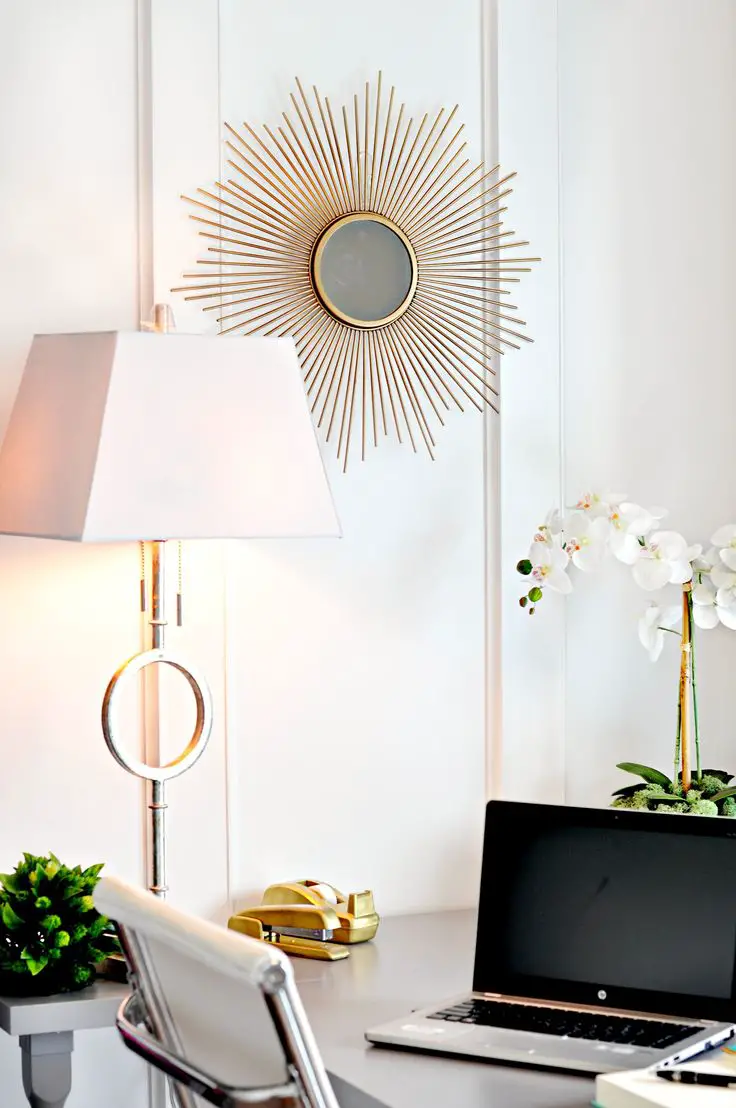 This bedroom is filled with softness and femininity with a pile of throw pillows, ruffled curtains, and a diamond-shaped throw rug. The window wall has floral wallpaper to give it more style and a girly feel. The board and batten behind the bed contrast softly with the flowery pattern and adds depth, texture, and geometric goodness.
19. Pretty in Pink Board and Batten Wall Ideas
This bedroom's soft pink and white color scheme makes it feel clean and fresh. The pink color of the board and batten is echoed in the bedding and throw pillows, which also added to the room's cozy feel. The look is finished with a curved, tufted headboard that stands out against the peachy vertical board and batten wall, drawing the eye up.
20. Antiquated Farmhouse Style
In this farmhouse bedroom, the dark old furniture looks great with the creamy beige half-board and batten wall. The wallpaper adds to the room's vintage feel and helps tie the beige, wood, and white shades together. Lastly, the pink pillows give the design a punch of extra charm and bring out the space's natural femininity.
21. Nature-Inspired Bedroom Board and Batten Wall Ideas
Using earth-inspired colors and patterns, your bedroom can be transformed into a natural retreat. The blue flower wallpaper and many real plants make it feel like an indoor garden. The bed, end tables, and wood chest are all made of wood, which adds to the natural feel. Lastly, the dark board and batten wall add contrast and depth to the room. The dark color looks great with all the natural light from the window next to it, making this bedroom feel bold and airy.
22. Black, White, and Green All Over
Mixing a full board-and-batten wall with a half wall in such a bold color is risky, but it pays off in a modern room! The black-and-white wallpaper layers add some black-and-white patterns that set the color scheme for wall art, striped bedding, and soft rug in the same color scheme. Also, the beautiful starburst pendant hanging in the middle of the ceiling draws attention to the beautiful wallpaper.
23. Rustic Farmhouse Bedroom Board and Batten Wall Ideas
The room feels longer and bigger when board and batten are used on two-thirds of a wall. For a pop of contrast, the top third of the wall is painted a steel gray. The creamy whiteboard and batten make the black bed frame, rustic metal, and wood shelves easy to stand out. The galvanized metal baskets on the bottom shelf look great with the gray accent wall and add to the room's rustic feel. 
How to Install a DIY Board & Batten Wall
A beautiful part of your decor is an accent wall. Board and batten might seem hard to work with, but if you follow some simple steps, you can add this striking look to your bedroom or any room in your house.
YOU WILL NEED:
Measuring tape

Non-Magnetic 180 Aluminum I-Beam Level

Vertical batten trim

Horizontal trim with a thinner piece of decorative molding

Miter saw, and hand saw

Caulk gun

Liquid nails 

Brad nailer 

Painter's caulk

Sandpaper

Primer

Paint
How to DIY: step by step guide:
1. Measure the width of the walls
Measure your walls before going to the hardware store to know how much trim to get for your feature wall. You'll need both board (horizontal trim pieces) and batten (vertical trim pieces).
For your horizontal trim, measure in inches how wide each wall will be that you'll be paneling. Take note of the sizes on your phone, so you can take them to the hardware store.
If you are also going to put trim at the bottom of your board and batten the wall, you will need to buy twice as much trim.
2. Measure the length of the batten
The next measurement you'll need for your DIY wall paneling is for the batten or the vertical trim piece.
First, decide how far up the wall you want the board and batten to go. Make a line there with a level and a pencil.
Then, measure how far that line is from your floor or baseboard. Write this number down or note it down on your phone. This is how long your vertical trim pieces, also called batten, will be. (Tip: If the length is hard to measure, like 42 3/8", round it down or up to an even number to make it easier to cut, and change the height of your horizontal pieces accordingly.)
Once you know how tall your vertical trim will be, you can figure out how many pieces you'll need for the wall. As a general rule, they should be about 18" apart, give or take a few inches, depending on the size of your wall and the look you want. (Experts say anywhere from 12 to 24 inches.)
3. Buy your trim
Go to the local hardware store with your measurements in hand. The trim comes in 8' to 12' lengths, so you'll have to cut it to fit in your car. Sometimes, someone at the hardware store will be able to make all of your cuts for you. 
4. Add top and bottom pieces.
The next step is to put the horizontal trim pieces in place. If you're decorating the walls of a whole room, use a miter saw to cut the ends of the trim pieces at a 45-degree angle, so they fit together well at the corners. If you're just doing a feature wall, you can cut straight.
Then, put a squiggly line of liquid nails on the back of the trim and stick it to the wall. Use a level to make sure the trim is even. Once it's straight, use a brad nailer to attach it to the wall by putting a nail every 3–4" along the edge. Repeat for the other walls and the bottom piece of trim.
5. Add batten pieces
Once the trim is in place at the top and bottom, cut the pieces that go up and down. Find out how far apart the top and bottom trim pieces are or how far your baseboard is from the floor, so you know how long your trim pieces should be.
Start by putting a vertical trim piece at the end of each wall (or corners).
From there, you'll need to mark and measure where each vertical length will go. To make sure that your trim pieces are spaced out evenly:
Measure the distance between the two corner pieces of trim you just put up.

Find out how wide your trim piece is.

Multiply trim width by wall pieces.  

Take this number away from the wall's width.

Then, divide by how many trim pieces you're putting in. The number you get is how far apart your trim pieces should be from edge to edge.
Once you know how far apart the pieces will be, you can cut the rest of the trim to fit. Then, use liquid nails and a brad nailer to place each vertical trim piece.
6. Fill nail holes and gaps between trim & sand. 
Once your trim is in place, fill in any nail holes and gaps between your wood pieces. Seal cracks with painter's caulk and a caulk gun, wiping excess caulk with a paper towel or cloth. Allow the caulk to dry completely before sanding the caulked areas smoothly.
7. Prime and paint
You're finally ready to paint. If you use bare wood, you will need to prime it first. If you are using MDF that has already been primed, you can skip this step and move on to painting. You're done when you paint your wall.
What's the difference between shiplap and board and batten?
"Both shiplap and board and batten are wood wall treatments. Shiplap is made of boards that are all the same width and have grooves that help them fit together tightly. On the other hand, board and batten are made of boards with different widths and are put together with space between them, usually vertically.
How thick should the board and batten be?
If you have a small bedroom in a house with 8-foot ceilings, the trim work should be between 2.5" and 3.5" wide. 
"If you're putting it in a big living room with 10-foot ceilings, you might want to go with a wood width of 4.5" to 5.5". You don't want the trim to look like it's too big for a small room or too small and weak for a big room.
"This choice depends greatly on how you want the room to look, but you should also consider how big the room is."
What wood is used in board and batten?
"If you want to put up board-and-batten siding on the outside of your home, you must use wood that is resistant to both bugs and water." cedarwood, cypress, white oak, and redwood are all popular choices.
Pine is the most common wood for indoor projects because it doesn't have to stand up to the weather. If you want to save money, you can use MDF instead of wood.
Are board and batten walls outdated?
Board and Batten Wall Ideas: Different sizes and styles of board and batten seem to come and go as a trend, but the main idea behind board and batten is timeless and classic. Board and batten walls were very popular for a long time. 
Even though this style is still popular, traditional board and batten are starting to come back. Overall, board and batten is a good way to make a design statement if you like it!
11 Things to Consider Before Making Board and Batten Walls
1. Measure Everything 3 Times! 
"Measure twice, cut once," as the old engineering adage goes. However, when calculating wall measurements, it's easy to get confused about how many widths you need and the estimated lengths of the rails. Take a few minutes to draw a box (your room) and note the width of your walls. Don't forget to double the widths because you'll need top and bottom molding. Then, calculate your estimated height. Decide how many rails you'll need and multiply by the rail length dimension.
Your readings should be the same whether you choose 1×4 or 1×3 boards.
2. Buy 25% More
Do you know what will make your project last longer? Trips to Lowe's or Home Depot out of the blue! If you buy more than you need, you won't have to stop what you're doing and run to the store.
The return policies at big box stores are great, so you can easily return any unsealed items once your project is done. 
3. Spend More to Save Yourself Time
There are so many how-tos on Pinterest about board and batten wall ideas. Many say you can save money by using furring strips or cheaper wood boards.
And that works, but if you don't buy a high-quality board, you'll spend a lot of time filling holes, sanding boards, and making them smooth for the board and batten walls.
I think you should spend an extra $1–$3 per board on select pine. You'll find that they can be painted and hung right away. 
4. Paint Everything Ahead of Time
Paint the walls and board before you start cutting to reduce the time required to finish the project. The dark teal walls needed four coats of bright white paint to cover them. 
Note: Don't paint the extra thing you bought in item #2! You'll still want to return any extras, so those are "as-needed." Once everything is painted, you can hang the boards and see an immediate change. Even though you'll need to do one more coat to cover the nail holes, you won't have to spend too much time on the last step.
5. Use Great Supporting Tools
Sometimes the cheapest tools are the best. If your walls aren't the right length, you'll need to use a miter saw to cut down your rails. You might need to buy a 6-foot, 8-foot, or 12-foot longboard. No matter how long it is, you'll need some help. 
Then, when it's time to hang your rails, use a nail gun to do it quickly! You can hang a board in just a few minutes and put up the whole room in almost no time.
6. Remove as Much Furniture as You Can
It includes everything from doors to toilets! Take any doors off their hinges to make as much space as possible. If you are in a small space, you might want to get creative and remove some furniture.
7. Know That Caulking and Spackling Go a Long Way
If you're unsure what to do when making board-and-batten walls, remember that caulking will do wonders for the finished project.
We recommend that you use a flexible caulk that can be painted and as much of it as possible to finish your project. The putty is great for filling in nail holes and where the horizontal boards meet the rails.
8. But Don't Overdo It
It takes so much time to put spackle, sand, and paint over those nail holes! Don't make too many nail holes; think ahead of time about where you'll put them on your boards. Even though it isn't as fun to only do a few per board, you'll be glad you did it later.
9. Don't Assume Your Walls are Straight
Whether you have a new home built or an old farmhouse, there will be times when the walls and boards are far apart, and you will need to plan for that.
10. Shims are your new BFFs
If #8 above happens, use wood shims! The shims will go between the wall and the rails so that when you lean against the wall, you won't feel the railing buckle under your weight.
11. It's Going to Take Longer Than You Think
I know you don't want to hear this! But let us explain. I think you can finish the project if you work on it all weekend.
But if you have to go to the hardware store more than once or have small children running around, plan on taking a few extra days. It's not hard to do, but there's a lot of waiting and drying time between simple steps that you can't skip.
So, that's all! Board-and-batten walls are easy to make if you have enough time and the right tools. Just plan your project from the start, and you'll find that the time you spend planning will save you a lot more time as the project goes on.
Final words on Board and batten wall ideas
Board and Batten Wall Ideas: Board & batten walls are a popular design feature that adds different textures to your home and makes a strong statement. Interior designers use this feature to give a room a high-end look without breaking the bank. This cost-effective solution is also easy to set up and use in various interior styles.