Bright Red Hair- Stunning Hair Color Ideas!
Red isn't just a color. It's an attitude. Redheads are energetic, fearless, and ready to take on the world! If you want red hair, you've come to the right place.
Red hair can be natural, depending on the woman's melanin levels. The colors can be changed from strawberry to copper to auburn to burgundy. You only need to pick the best red hair color for your skin tone and eye color.
So you want to have Bright red hair? Follow these steps to have healthy red hair in no time.
Step 1: Decide what color of red you want. Do you want blood red? Cherry red and vibrant? Or a bright color like cinnamon? There is a dye for any color you want, but you need to look around shops, read reviews, and ask for help before choosing a dye.
Step 2: Lighten your hair ahead of time. If you have darker hair, you should lighten it first to ensure you get the best color you want. Just get the pre-lightener out and use it as a dye on your hair. The best pre-lighteners will not only make your hair lighter but will also remove any leftover permanent color.
Step 3: Leave it on for at least a week because your hair can only handle so much damage at once. Do a thorough conditioning treatment to help your hair recover and be ready to be dyed again.
Step 4: Always perform a patch test with your color. Most dyes will come with instructions on how to perform a patch test. Make a patch test every time you color your hair. This will tell you whether or not you will have an allergic reaction when applying the color. If you develop a rash or suffer swelling, itching, or burning during the patch test, do not use the dye and seek medical advice before coloring your hair again.
Step 5: Prepare your dyeing area. Place some newspaper on the surfaces, mix your color if necessary, and gather your gloves, towels, comb, hair clips, and so on. Make sure you have everything you'll need to dye your hair.
Step 6: Put your gloves on! Make sure you don't have any knots in your hair.
Step 7: Pour some of the mixtures in your hands (using gloves) and apply all over, starting at the ends. Make sure the ends are completely dyed. Comb the ends to ensure that they are properly dyed.
Step 8: Do the roots now. Separate them with hair clips and color each one separately. Make sure you've dyed each one down to the root, and the dye has reached every part of the hair.
Step 9: Make sure your entire head is dyed!
Step 10: Leave for the specified time and then wash out. Before drying, make sure the color has been removed.
Step 11: Dry and style your hair
Step 12: Have fun with your new red hair.
40 Bright Red Hair Color Ideas
Natural red hair is stunning. It's a one-of-a-kind color that makes short hair look lovely and unique. Although some of us aren't born with naturally red hair, we can still go to a salon and get something similar done. Red hair comes in various colors and shades, making it ideal for pairing with a short haircut.
Here are 40 of our favorite short red hairstyles, perfect for the next time you're looking for a color or cut change.
#1: Bright Ruby Red Hair Color Idea
Go for gold, or in this case, the ruby red hair color! The rose sparkles brightly and looks great with the long, smooth hair. This implies you should dye your hair red.
#2: Glamorous Bright Red Hair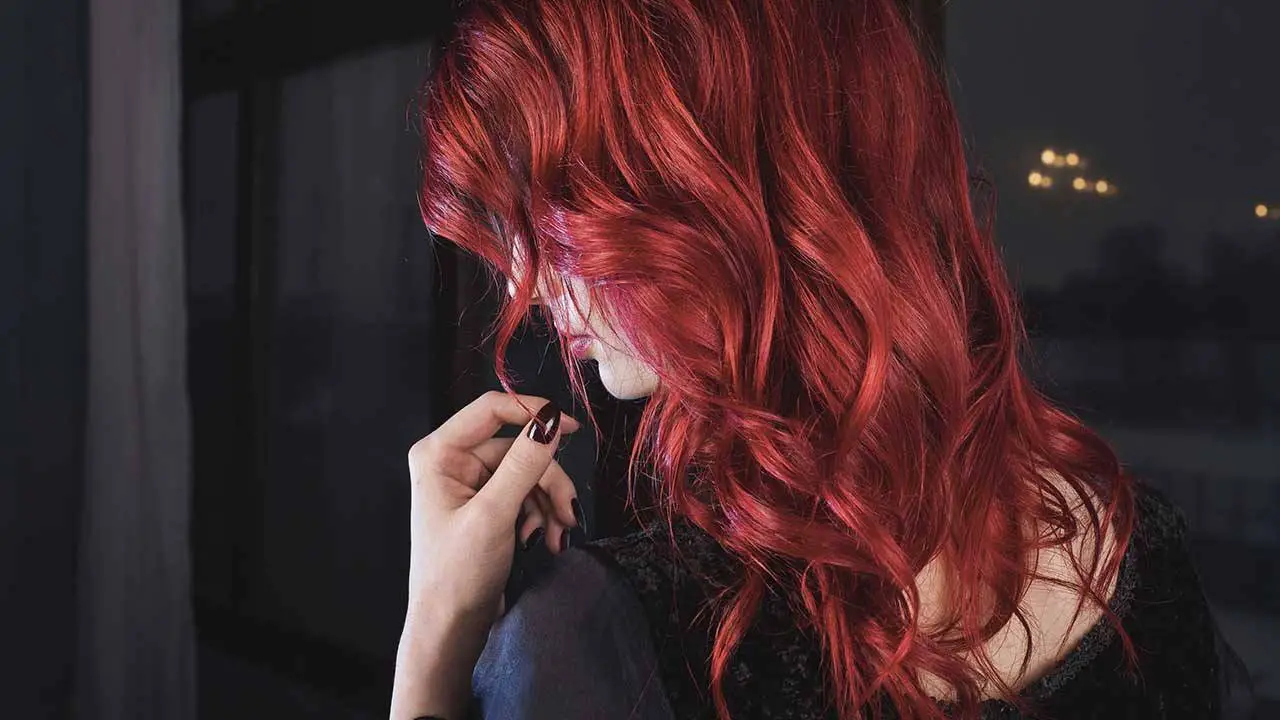 We love it when people have glamorous bright red hair. We're seeing less of the beach wave and more of the glamour curl again. To get this look, you'll need to ask for layering to support the style.
To get the look, you'll have to put in more time styling your hair and use a round brush to add volume. Most importantly, you'll have to change how you curl your hair. Curl the hair away from the face in the same direction with a curling iron, let it cool, and brush it out smoothly. You can also use hot rollers, but let them cool completely before taking them out, so the style lasts for days.
#3: Red with Blonde Highlights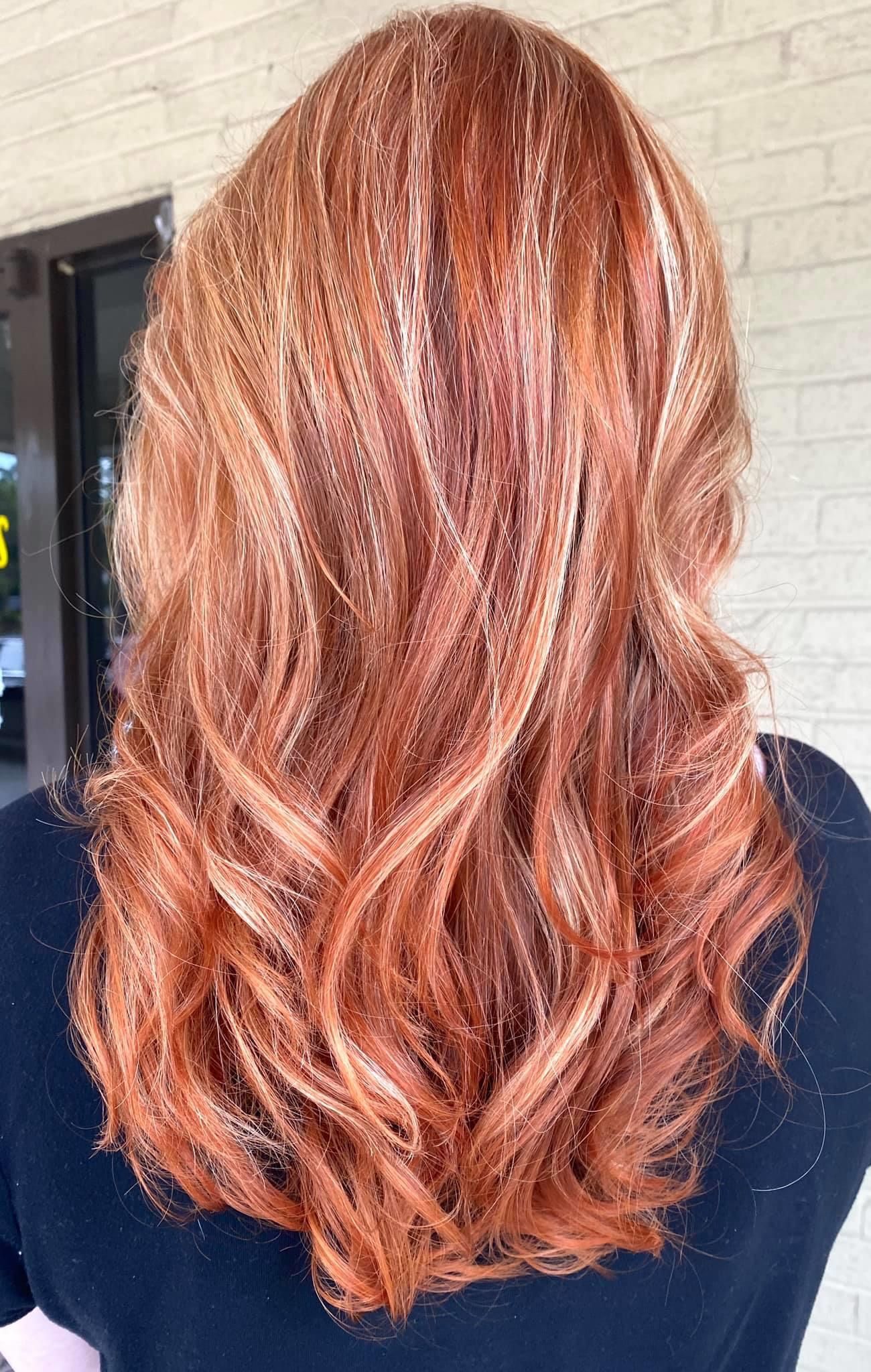 To make the reds stand out more, paint them with a lighter color. Neon orange and fire-engine red with blonde highlights are similar colors that look great together, so you can't go wrong. This red hair color is trendy nowadays.
#4: Light Golden Red Hair with Highlights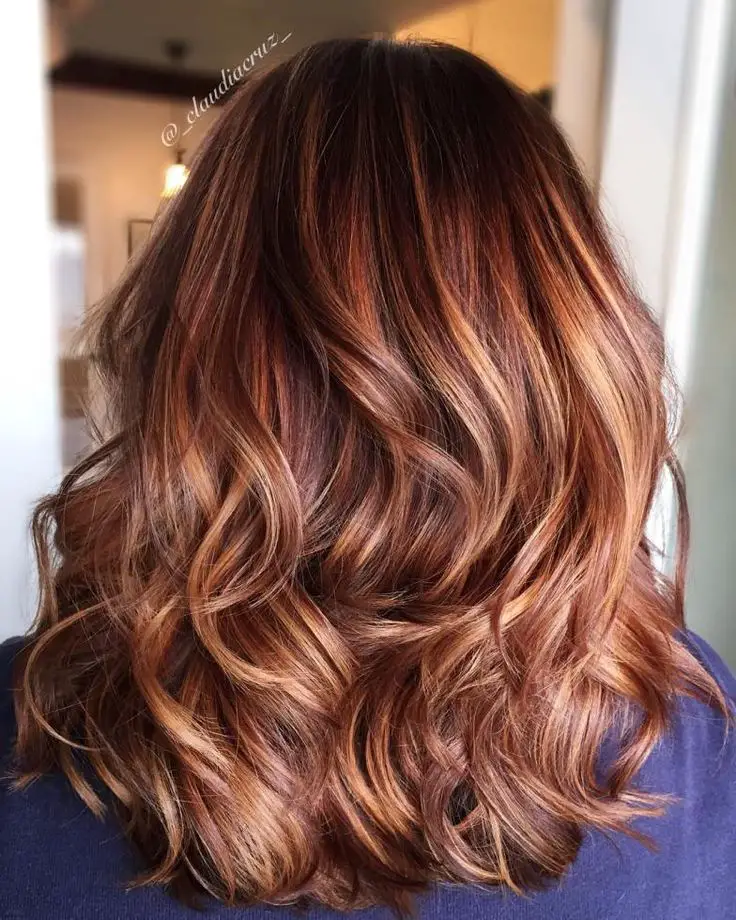 Light golden-red hair with highlights is a fun and fiery hair color. Pops of bright red and golden peekaboos give redheads the depth they need. For an easy style, curl your hair and then straighten the ends. This will give you beach waves.
#5: Bright Strawberry Blonde
Go for strawberry blonde, which looks great on long, wavy hair. Strawberry blonde can look good on lighter skin tones but also look great on darker, more golden skin tones. The colors blonde and red go together so well that you can talk to your hairdresser about how much strawberry blonde you want.
#6: Purple and Red Shades
Purple and red are both beautiful colors, but they make the most killer color combination when they are put together. Color blocking is a flexible way to have one main color with a pop of a second color that you can easily hide if you don't like it. Even though making purple and red shades is hard, the results are beautiful and worth every minute and dollar.
#7: Red Hair with Blonde Highlights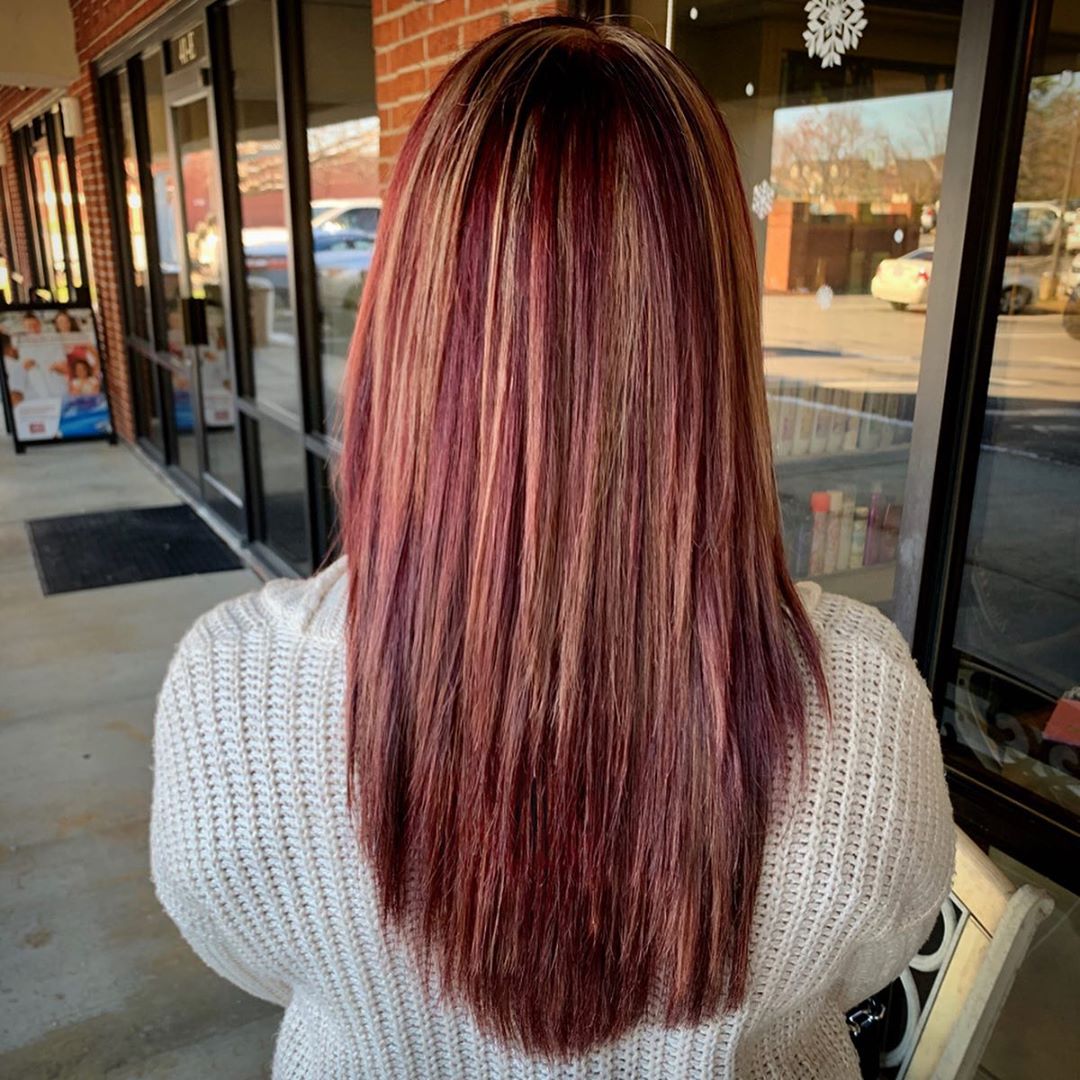 Red hair with blonde highlights is a stunning high contrast hair color that adds depth and brightness to the hair. Request classic big blonde highlights with a red base color from your stylist. Always wash your hair with shampoo to prevent red tones from spreading to the blonde highlights. Use milder water temps and wash your hair less frequently if you have color-treated hair.
#8: Red Streaks on Strawberry Blonde Hair
When you have strawberry blonde hair with red streaks, your hair looks warm and shiny. Deep burgundy red at the roots and all over the hair makes the copper highlights stand out. Bright red hair colors are perfect for women who like warm and deep colors.
#9: Dark Bright Red Hair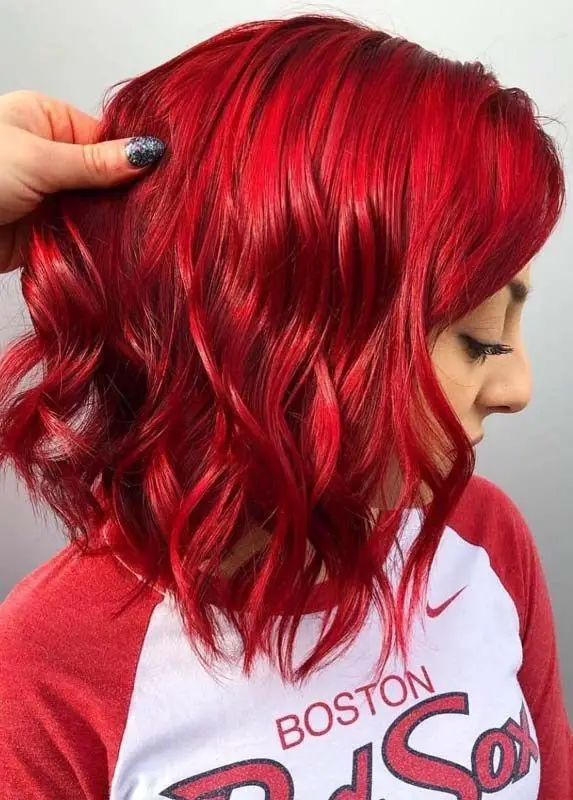 Most people with dark bright red hair have darker roots and a spicy money piece. This gives you more depth and makes you look better all around.
#10: Bright Red Hair Transformation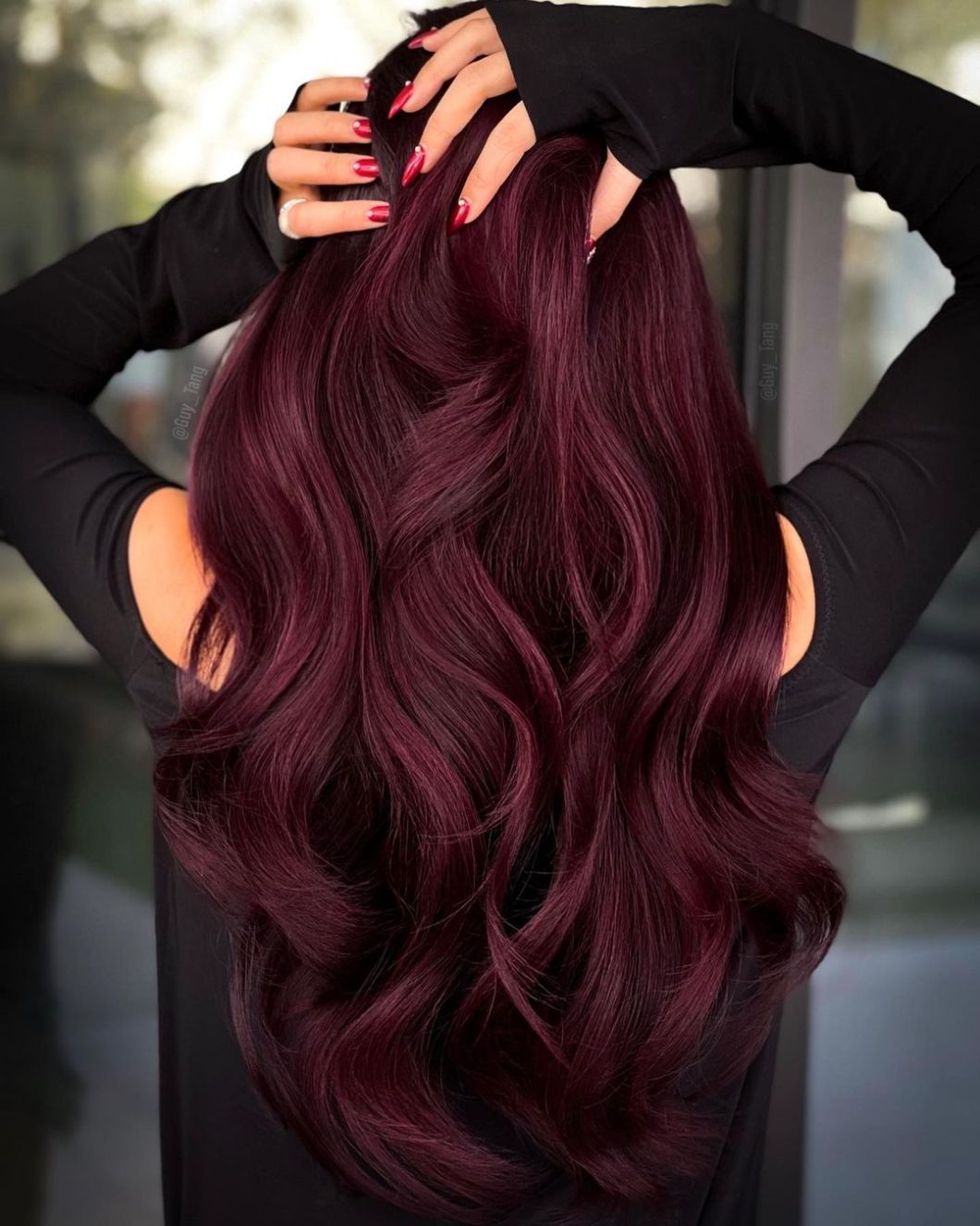 The bright red hair change will make you want to see your stylist immediately! People will stare if you have a dark base and bright red hair!
#11: Faded Rose Red
This faded rose red is good for women who want to make a 180-degree change. People will stop and stare at this hair color. Use purple shampoo to keep your hair color brighter for longer.
#12: Medium Bright Red for Natural Brunettes
A medium bright red is a great choice if you're a natural brunette and want to change your look. You can still have natural-looking brown hair, but you can spice it up by adding red tones. You're going to look fierce!
#13: Cherry Red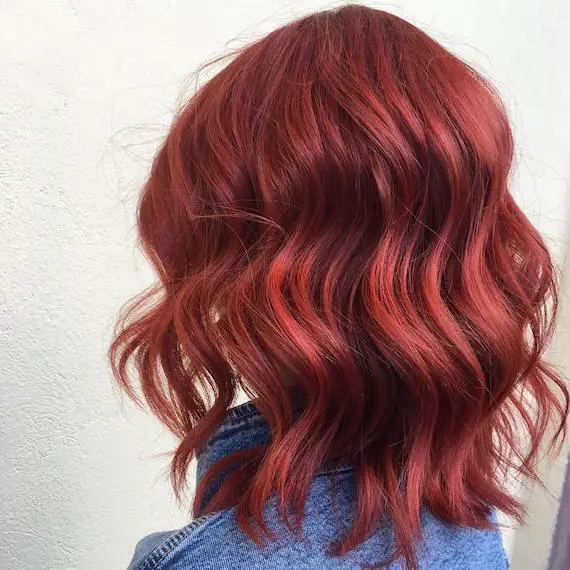 This color can give your hair big, shiny curls with bright cherry red hair! The longer the locks, the more you can play around with them!
Dark bright red hair is cool, but wait until you get to wear the velvet hair color.
#14: Short Bright Red to Dark Ombre with Bangs
The bright red maroon colors turn into a glowing rose towards its ends. Even with short bright red hair with bangs, the colors can be accentuated, along with the face make-up.
#15: Side-Swept Red and Blonde
A feathered ombre with colors that go from platinum blonde to red! Side-swept waves look windblown, making it look even more lively and alive. Bright red velvet on blonde hair makes a contrast sure to get people's attention.
#16: Short Bright Red Hair
Redheads, unite! The short inverted bob creates a fuller back but a sleeker, straighter front that adds form and flattery to the style. This blood-red shade is ideal for bringing out a blushed flush in your cheeks.
#17: Shoulder-Length Bright Auburn Red
Auburn is great for fall and other times of the year. The bright red hair is a sight, especially with the bob cut that gives it a strikingly casual look. It works for women who have tanned skin. You might want to change your natural hair color if you have this deep red hair.
#18: Bright Blood Red Hair
Bright blood red hair has a deep, rich color that needs much care. Expert colorists do it by using both balayage and highlighting.
They used balayage to make the hair lighter in the middle and at the ends. Then they paint the whole thing with a semi-permanent color. So, the color picks up the highlights and lowlights of how light or dark the hair is.
To keep their red tone, women must get touch-ups and toning every 6–8 weeks.
#19: Red Velvet Hair Color
This red velvet hair color will provide new life to your curls! It's an excellent way to showcase your personality and sense of style.
It was made on dry hair with a blend of permanent lift and deposit colors. The old highlights created the variation in tones in the hair.
Reds are renowned for losing their vibrancy quickly. As a result, experts recommend a colored conditioner, such as NAK's Rouge Colour Masque.
#20: Dark Brown Hair with Bright Red Highlights
There is a wonderful combination of strawberry red, ginger, and reddish-brown tones on dark brown hair. When combined with a layered hairstyle, these vivid red highlights offer dimension.
Use Pulp Riots Faction 8 boosters in red (-66), orange (-44), and yellow (-22) for this dyed hair, and take one-inch randomized sectioning and apply color to the middle and ends to saturate. Then, feather up to mix like a typical balayage."
In terms of wearability, anyone can pull off red! Anyone can wear it, whether it's a fire engine red, a chocolate cherry, an all-over hue, or just a couple of pops, so just do it!
#21: Curly Red Hair
Go out and make the town red for a night! Those beautiful, bright red curls look like real red hair, and everyone can see them.
This is about as close to a true copper color as you can get with permanent hair dye, and the cut is a pixie.
This color might require more maintenance than a more natural tone.
#22: Poppy Red to Light Brown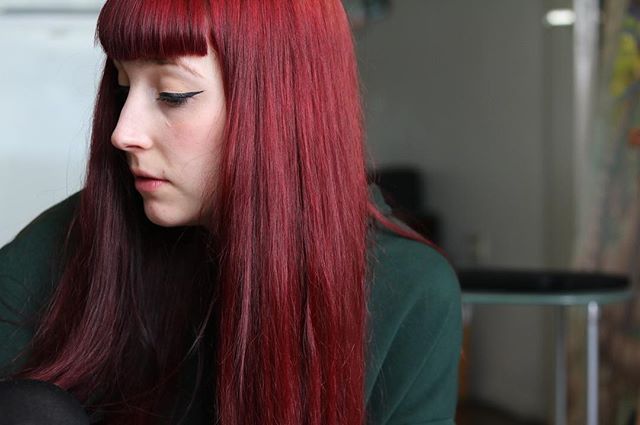 Combination of red cherry and caramel with highlights? Delectable! Wearing them with long, wavy hair? Superb! The color is great for women with brown eyes.
This mixture changed from a bright poppy red all over to a darker base, and the new growth became a beautiful balayage blend.
This could certainly be a strawberries-and-cream formula, and you can see how the colors play off each other.
Experts recommend that women use Color Guard before and after a shower to keep their hair from fading. Also, ensure you use shampoo and conditioner made for color-treated hair and know how important it is to make your shampoo and style that will last longer by being proactive and using the right products.
Red-brown hair color will always need some care, and you should also consider whether you might change your mind and have a different color in the future. If you change the color of your hair a big way, it can be hard on it.
#23: Bright Magenta Hair Dye for black hair
Pretty in pink has just arrived! This bright red balayage on dark hair was done tastefully to keep the roots from getting too much color but not so much that the hair is no longer bright.
This look is fun, cool, and new! This magenta hair dye can be worn straight or by a beautiful soft wave to show off the gorgeous root extension.
If you want a bold, bright color like magenta, be ready to do some work to keep it looking good. We suggest that you change your tone every 4 weeks.
#24: Bright Ginger Red Pixie
Even though orange hair is often seen as bad, this red one proves them all wrong. Copper with bright ginger red hair is a bold statement for anyone who thinks ginger heads are ugly.
Copper pixie hair is beautiful, but it's also high maintenance. A woman with copper pixie hair would need to use a semi-permanent gloss at least once every 4 weeks to keep it looking vibrant.
#25: Pomegranate Bright Red with Black Roots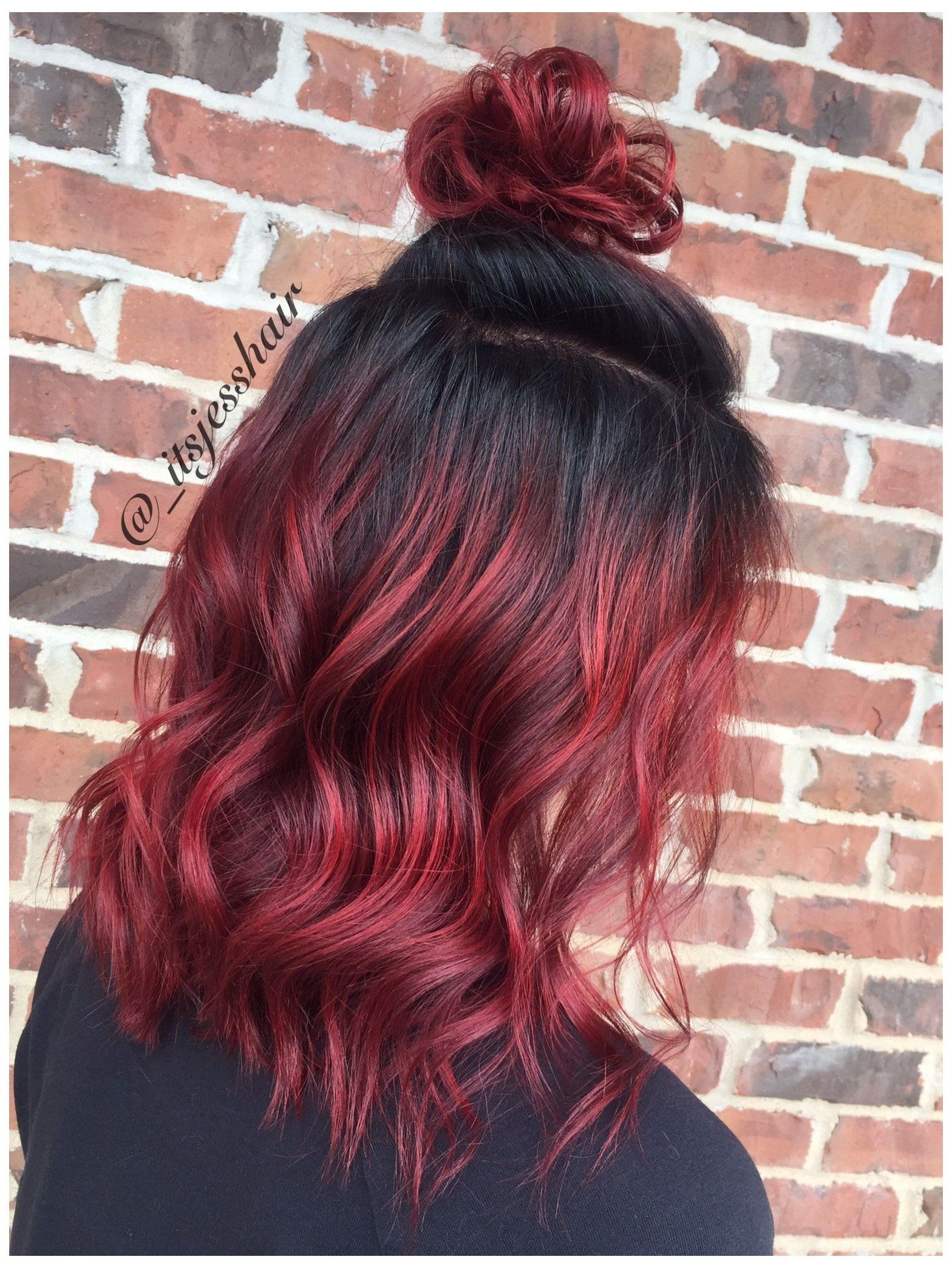 Red pomegranate is both tasty fruit and hair color! Black hair's straight texture and smoothness complement the coloring process even more.
Any red indicates a commitment. Your color will never have a chance unless you use the right take-home products. Red is both difficult to remove and difficult to keep.
Having healthy hair is essential for vibrant hues.
When it comes to red, skin tone is very significant when it comes to faces. Bright red hair against red skin can be a nightmare.
#26: Bright Red Hairstyle
Ask your stylist to start with a dark red base and then balayage the brighter red through your hair, leaving thin pieces of the darker base color at the ends to add depth. The cut is long and layered, and the front and bangs are cut at an angle.
Bright red hair dye is just one of those colors that can quickly fade without proper care. You should use a shampoo made for colored hair, wash in cool water, and not wash your hair every day.
The more time they can go without shampooing, the better. If you spend a lot of time at the beach, lake, or pool, this may not be a good color for you.
#27: Bright Copper Bob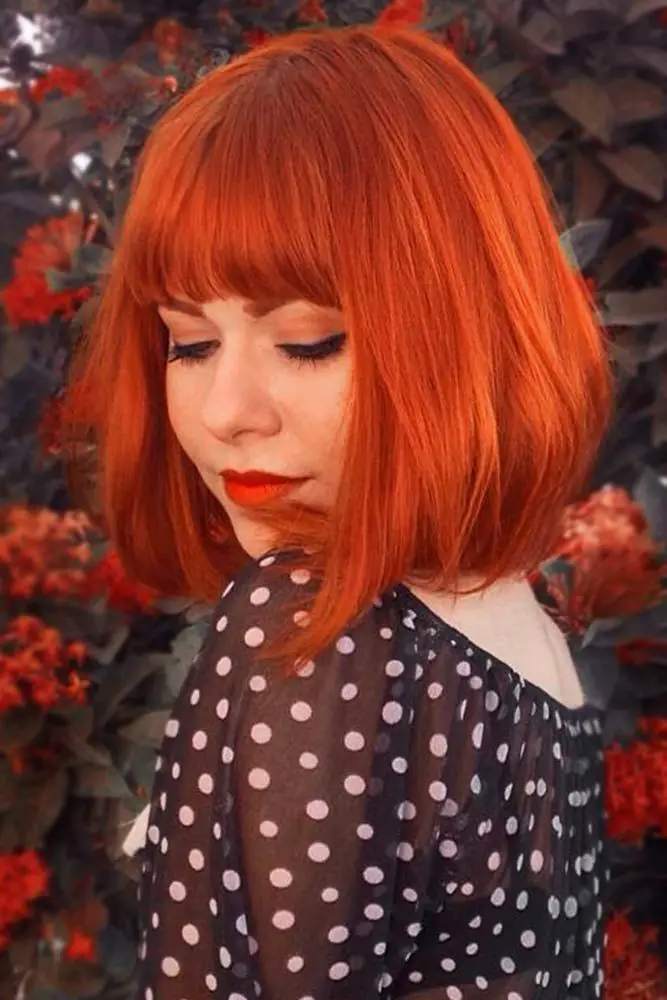 This combination of bright copper hair color and a cute shortcut looks great on women.
Dark copper roots and lighter copper highlights give the hair depth and make it look thicker. Women with light skin also look great in red copper tones.
This short, bright red hairstyle is great for women with thin hair. Sea salt or powder spray can style hair and make it look fuller.
The most important thing to consider for skin tones is finding the right shade of copper for a woman's style and skin tone. Copper tones also make hair look healthier and shinier.
#28: Long Bright Red Hair
We always think of the popular hibiscus flower when we see a beautiful head of red hair. Fashion and bright colors are 100% a passion.
Not everybody should wear this color. The truth about this color is that it requires a lot of care, so before you schedule an appointment for this service, you should always come in for a consultation with your stylist.
#29: Long, Bright red hair with an orange money piece
Bright red long hair plus orange money piece is lively, bold, and works well with warm complexion tones. Those with green eyes will notice that the orange money piece enhances and brightens the color of their eyes while calling attention to them. Bright colors do need extra maintenance, so consider your preferred maintenance regimen when choosing a hair color. As a general rule, the brighter or bright the hue, the more upkeep it will require.
#30: Mohawk on Pink Red Hair
Nothing is edgier than a short shaved-up mohawk unless it's this pink-red shaved-up mohawk! Cut the hair on both sides of the head but leave the center part long for style options. If you add pink and red hair color to the lengthy portion, you'll look like a full-fledged punk.
#31: Crimson Bright Red Hair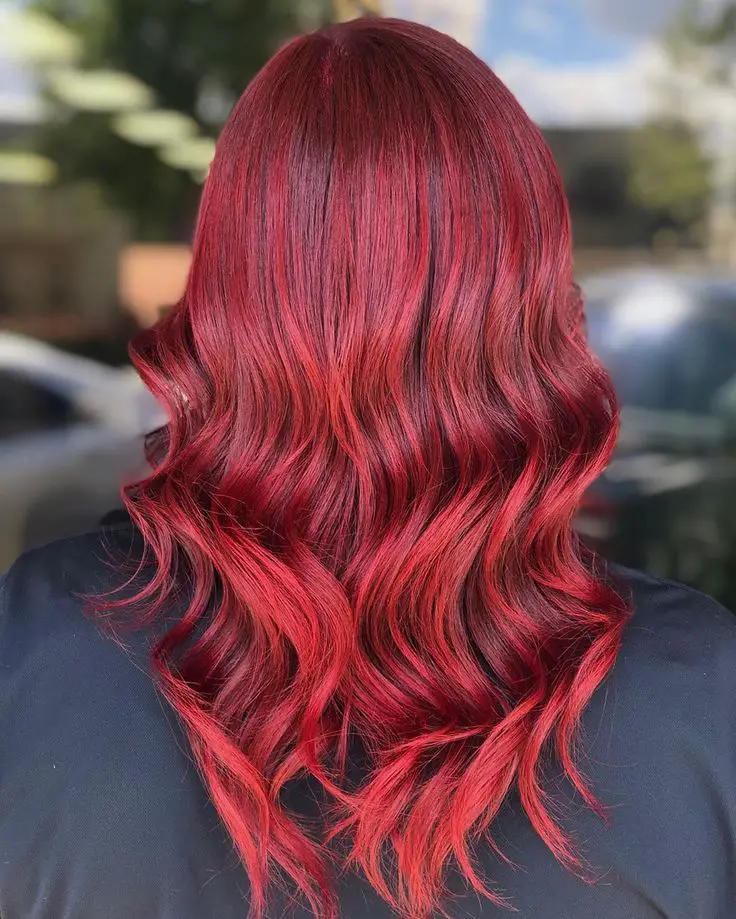 Even the most colorful style, like crimson red hair, can look classy if styled and accessorized well. Try a thick crown of braids with a jeweled headband on top. You will be one fancy lady.
#32: Rainbow Neon Bright Red Hair
Hair that looks like cotton candy may be popular now, but don't overlook bright, rainbow-colored hair! Make a statement with your neon red hair by putting it in a multi-colored painting. This style looks best on women with long hair because there is more "room" for all the colors you want to use. Go nuts!
#33: Punk Dark Bright Red Hair
Your short, layered pixie will look even better if you dye it a dark bright red. If you properly care for it, the color will stay shiny and bright, and people will look at you everywhere.
#34: Red Hair with Shaved Side
If your bright red hair isn't bold enough for you, go the extra mile and shave one side. You'll look completely punk and extreme if you choose a cool, shaved design.
#35: Loose and Lovely Locks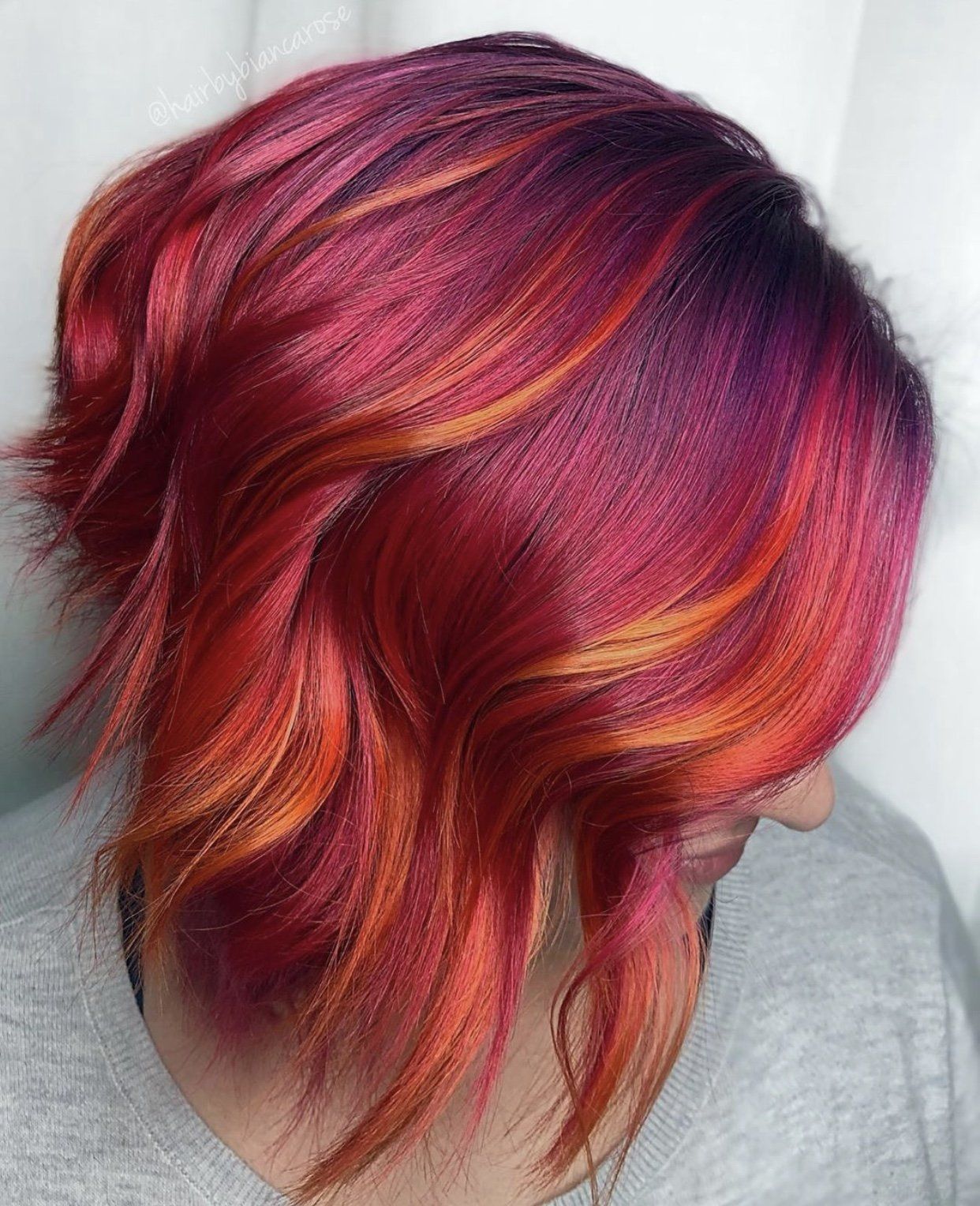 If you want to show people how to get and style bright red hair, you only need a three-toned ombre and some soft, easy curls. The change from red to orange to yellow will look great when you wave it, making you envy everyone around you.
#36: Fiery Fuchsia
Braids have made her bright red hair even more vibrant. You could try a complicated fishtail braid to show off your red hair and any highlights you add.
#37: Curly Bright Red and Purple Hair
Think outside the box to add some color to your red hair. Try a high-powered look with vivid red and purple hair. Here, bright red roots give way to rainbow-colored bits of blue, purple, and yellow.
#38: Double-Trouble Braids
Looking for styles that will make your long, bright red hair stand out? Split the hair in the middle and dye one bright side scarlet and the other side raven black or rich navy blue. The results are, to put it mildly, jaw-dropping, and no one will ever call you shy about your hair again.
#39: Red and Yellow Braided Hair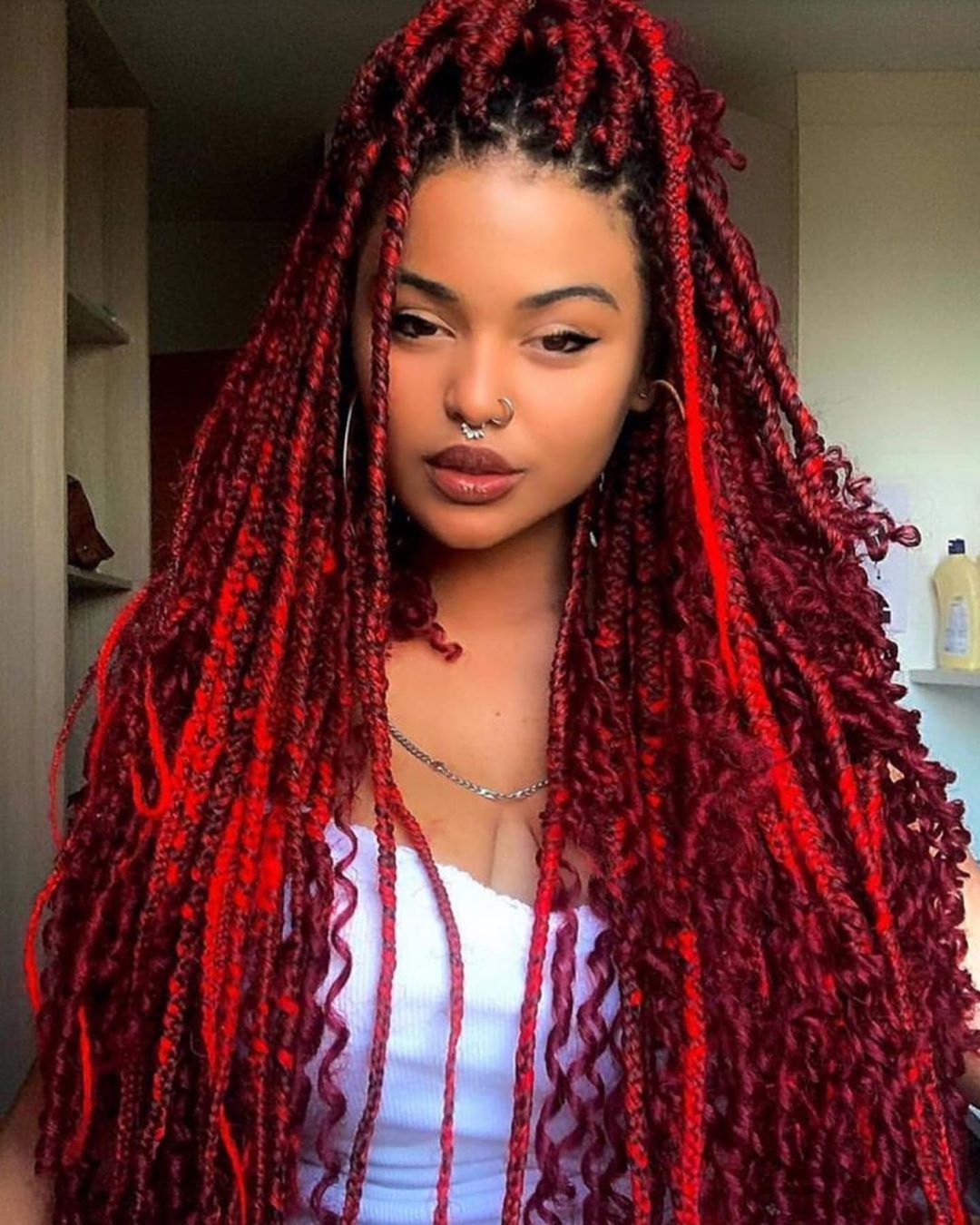 Using the "tortoise-shell" technique, mix that bright red hair dye with other hot colors like orange and yellow. This process puts color in the hair in a way that creates a mosaic effect by putting color in the hair in a random and planned way. Something magical happens when neon red and yellow hair colors are braided together.
#40: Multi-Colored Braided Waves
Braids are the best way to wear more than two brightly colored hairstyles because they weave the colors together like a tapestry. Try putting a thick pancake braid on one side of your head and pulling it to make it look fuller.
Tips to Dye your Hair Bright Red 
Always test a small area!

Some dyes say you should use two boxes if your hair is longer than your chin.

You should get a haircut afterward to keep your hair from getting too long.

After lightening and coloring your hair, use a deep conditioning treatment to fix it and make it soft, shiny, and healthy.

When you color your hair, wear old clothes. Don't let red dye get on your nice clothes!

You should trim your hair often because dyeing it will damage it more and make it more likely to split at the ends.

If it says permanent, ensure you don't get it on your skin.

Don't use heat on your hair because it makes it fade.

Always read the directions with your dye and do what they say.

Wash your new

bright red hair

 with cold water to keep its color bright. If you wash your hair in warm-hot water, the color will come out much faster.

If your hair is damaged after you dye it, do a conditioning treatment once a week, eat food with lots of protein, stop dyeing it for a while, and get regular trims.

Make sure you have a conditioning mask because they are very helpful.

Only the roots should be shampooed. It makes your hair lose its color.
Final words:
Now that you've seen how great bright red hair can look, it's time to try one of these cool hairstyles for yourself. Get out your hair dye and make your hair bright red.
FAQs
1. How long does bright red hair last?
Even in the best salons with the most skilled colorists, red hair dye will start to fade after about four weeks. Even if you try more than once, you might not be able to get the red color to stay on your hair. Even then, red hair tends to fade and turn orange or brassy as it ages.
2. What does bright red hair say about a woman?
Women with very red hair are bold because they want to wear it that way. Red is a sign of both bravery and sensuality. Red is the most beautiful color and is the color of passion and blood. This color is lively, and someone who likes red must be strong-willed.
3. Who looks good with bright red hair?
"Freckles, fair skin, and bright eyes complement strawberry blonde and copper reds best." Darker eyes with cooler skin tones complement deeper genuine reds and violets best.
4. What is the rare shade of red hair?
Natural red is the rarest hair color on the globe, with about 1 to 3 percent of the population owning it.