All You Need to Know about How to Fade Hair
Are you looking to give yourself a stunning outlook with a faded hairstyle? Surely, the boy living next to your house has inspired you. Isn't it? You want that fade outlook to your hair too! Well! You can definitely follow this new trend. Having a cool, smart hairstyle is what most of us want! But, before you embark upon the journey of transforming your hair into smart strands, have a look at the details of how to fade hair. It will help you to get a detailed idea about the process. And thus, you will be able to fade your hair perfectly.
First, let's have an idea about what fade hair is. A fade is the blending of men's hair on the sides and back. Usually, such haircuts start very short at the bottom near the necklines and ears. The more it goes upward, the longer it gets. At the top of the head, the longest strands of hair remain. A wide range of different kinds of fade hairstyles is available. All of the hairstyles look good on men. However, before we start with how to fade hair, let's have a brief idea about the different types of fade hairstyles.
How to Fade Hair: Different Types of Fade Hairstyle:
Fade haircut nowadays is one of the most popular hairstyles that you can try in different ways. From simple to stylish, short to long, low to deep- all sorts of hairstyles are available. You can choose any of them as per your choice. Whether you go to a barbershop or try it yourself, knowledge about different types of fades always helps. It will help you to choose the right kind of hairstyle for yourself. Here, find the types described below.
Low Fade:
It is a trendy fade that starts just above the neckline and ears. It is at once versatile and stylish. Therefore, it goes well with any appearance. Whether it is a party or a business presentation, low fade always suits your personality.
Diverse kinds of low fade are found. First, we can name low taper fade. It is a common hairstyle that makes you look professional and stylish at once. You can keep it messy, comb over it, or side part it. Another popular fade is low skin fade. In this hairstyle, the hair is perfectly blended with the scalp at the sides and back. This stylish, smooth hairstyle is also known as low bald fade. A low drop fade is another way to try low fade in your hair. It adds a clean, curvy look to your hairline over the head.
Medium Fade:
If you ask how to fade hair with medium length, the answer is here. Not so high and not so low! That is what medium fade is all about. The fade starts in the middle of the sides and back. It is a flexible way of styling your hair. You can try it in multiple ways solving multiple purposes. Be it highlighting the top of the hair or adding a simple classic look to it; medium fade is used for many purposes. Some of the common medium fade styles are mid taper fade, mid bald fade, mid drop fade, etc.
Mid taper fade includes short sides and back haircuts providing a clean, sophisticated look—the short strands of hair blend perfectly with the longer hair on top. You can trim your beard accordingly with this hairstyle to add a rug-like appearance to your personality. Another medium fade style is mid bald fade. With many messy and spiked hair on top, this hairstyle is perfect for boys with thick, wavy, or curly hair. Add a well-trimmed beard to it and see the perfect magic of elegant appearance.
Another style is mid-drop fade. It is a classic fade cut. Curving around the sides and downwards the back to the neckline, this medium fade style looks cool on any stylish guy. It is a bold, sexy hairstyle that guys often love to wear.
High Fade
If you are tired of your short hair and want to give it a new look, try a high fade hairstyle. And the best part of this hairstyle is, it requires deficient maintenance. So, if you are a busy person, it is perfect for you. It usually includes a very short haircut at the sides and back. The high fade comprises a perfect combination of short, medium, and long hairstyles. It is a good way to hide the bald areas on your head. Different types of high fade are high taper fade, high drop fade, high skin fade, etc.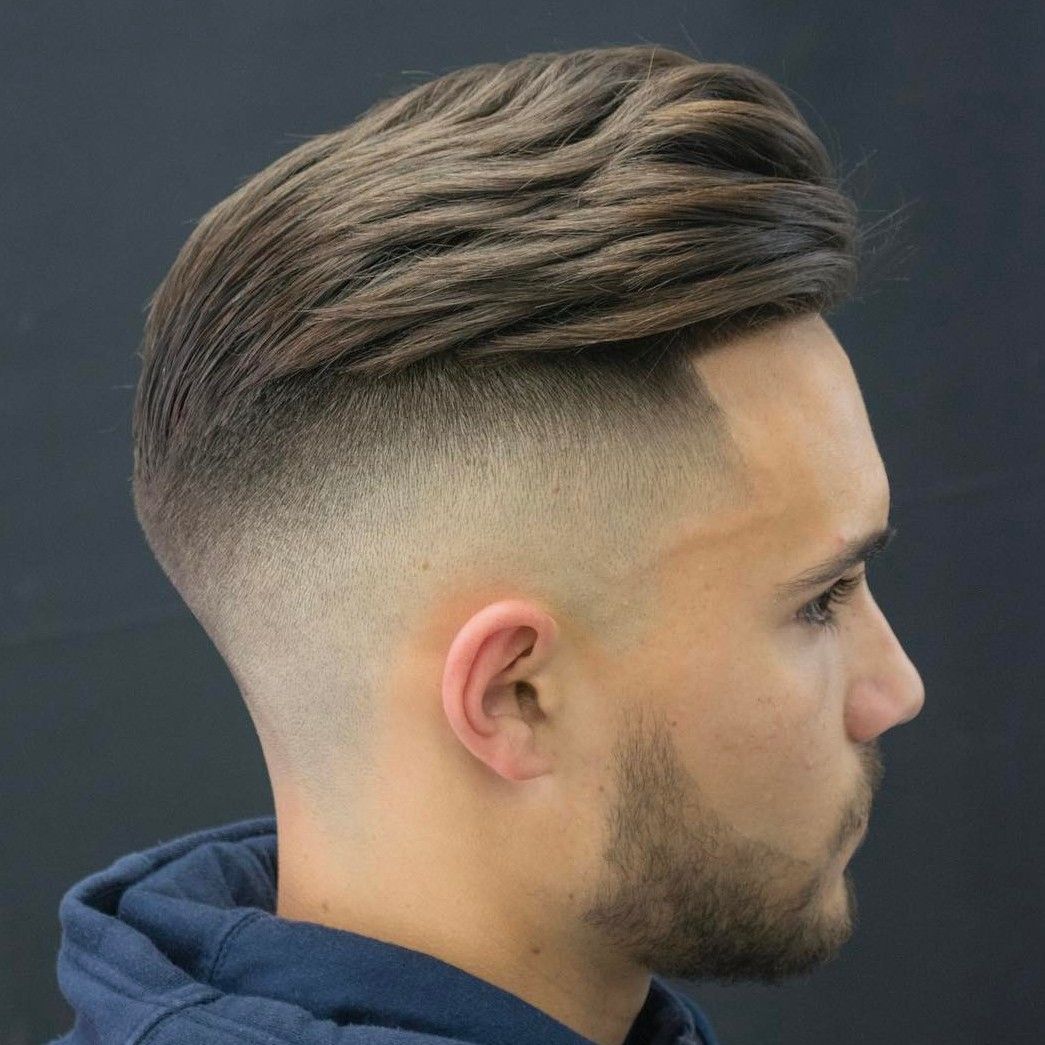 When you go for high taper fade, you will find your hair growing shorter gradually but not exactly fading into the skin. If you want a retro look, this hairstyle is perfect for you. Full facial hair goes well with this hairstyle. High skin fade looks great with short men's haircuts. With a perfect beard fade, it looks classy on men. And if you want a dashing look for yourself, high drop fade is the best choice for you. With a deep bunch of disconnected longer hair at the top, you can easily impress the girls in front of you.
Taper Fade
No! The list is not over yet. You see how versatile the fade hairstyle is. When you ask how to fade hair, you must have a detailed idea about all of its variations. One such amazing variation is taper fade. If you want to look like a stylish, modern, and classic hero, try this hairstyle. It is perfect for older men and business professionals who prefer to stay with a clean-cut finish. Get some variations of taper fade below.
If you want a timeless, charming outlook for yourself, comb over taper fade is the most interesting one for you. With this hairstyle, you can sweep your hair easily on one side, leaving the complete hairstyle loose and neat. Another tape fade hairstyle is mohawk taper fade. It includes a perfect combination of short and long hair on top. You can enjoy a messy hairstyle with it. Blowout Taper Fade is also there. Previously, hard blowouts were in fashion. Now, those heavy hairstyles are gone. You can find clean blowout taper fade with the right amount of volume and flow of hair.
So, these are the major fade styles that go well with men's appearances. There are many other types, including burst fade, bald fade, razor fade, etc. We will discuss it some other day. Now, moving towards how to fade hair. As you can see, there are different variations of fade styles; different ways are found to cut it. However, let's discuss the general way to fade hair.
How to Fade Hair: The Process:
If you plan to add fade style to your hair, you have two options. One is to go to a barber's shop and get the task done. Another one is doing it by yourself. If you are going to a barber's shop, you do not have to worry. The specialist will take care of it. But if you are trying to do it by yourself, follow the steps mentioned below. Please try your hands at somebody else before trying your own. If, in case, you do not find any other person, try the process slowly on your hair. Let's know how to fade hair step by step.
First of all, you will need hair clippers and a few other types of equipment. They include good mirror systems, a comb, scissors, and a trimmer. Many types of clippers are available under the category of professional barber clippers or fade clippers. Choose any of them you prefer. Both cord and cordless options are available. Once you find the right clipper for yourself, let's start with the steps to cut the fade.
First, place the clipper where you want to start the line for fading.
Before moving the clipper, decide which length of fade you want.
Choose the required guard size for the length of the fade.
Move the clippers accordingly at the sides and back.
Trim the hair upwards with short strokes.
Gradually, start fading. Make sure to blend the hair by changing the guards.
Ensure seamless fading to get a natural look.
While going upwards, stop at the time, leaving the hair long there.
Add a final finish of blend with the clippers running across the comb.
Trim the hair around the neckline and hairline.
Bottom the Line
So, this is the answer to your question on how to fade hair. We hope you enjoyed it. Let us know if it helps you to get a stylish outlook. If you have some more spare time, consider reading on how to overtone the hair. Click here to read.