Mainly because it is genetically impossible for humans to have naturally blue hair, we have seen the increasing trend of having blue hair color. And not just the trend, the fashion of blue hair can be traced back to even the 18th century. Before the first world war, the Parisians took up the trend.
The hair colors of the workers who came in frequent contact with blue dye-producing ingredients such as indigo or cobalt were also found to acquire a blue hair color. In this case, though, it was an actual colouration of the hair follicles and not just superficial styling.
However hard the blue color is to pull off, people do not refrain from trying. The basic blue color and the companies that cater to the hair color have also presented us with many choices ranging from the darkest to the lightest of blues.
Are you here because you saw a passerby with really cool blue hair and couldn't stop staring, or are you here because you want yourself to transform into that cool passerby? Either way, we will try to cover everything you need to know about blue hair color.
How to dye your hair blue at home?
If you are dying your hair at the salon or parlour, you need not think much about it. This is because professionals are there to do the color at its best. But in case you are opting to dye it at home, then you need to think about it a bit. Follow the mentioned procedure to get a perfect blue dye at home.
Apply a clarifying shampoo at the beginning
The application of a clarifying shampoo will help you to eradicate the old hair color. It will also help you to build up residue for the hair.
Bleach your hair (only if your hair is dark)
Bleach the part of the hair you want to dye. This bleaching process is only applicable if you have dark hair color. Bleaching helps to eradicate the dark pigment of your hair so that the color holds your hair properly.
Put on gloves and a cap
Make sure that you have put on the gloves and the cap. It will help in preventing stains. You can apply petroleum jelly to your skin to avoid staining.
Mix the dye
Pour the color and the developer in a bowl. Mix all the hair color components with a brush.
Apply the color
After bleaching is done, wash your hair with lukewarm water. Then dry it thoroughly. Now apply the color. Divide your hair into several sections. Make sure to secure the other hairs with clips. Mixing the hair shall create a problem for you. Use your hand to apply the hair in each part of your hair properly. Make sure that you do not apply the color to the roots of your hair.
Let the color sit
Wait for the instructed amount of time to let the color sit on your hair.
Rinse out your hair
Finally, rinse out the hair with lukewarm water.
Blue hair color trends
There is no denying that if you color your hair blue, you are bound to get noticed by people. But that is the point, isn't it? And it takes a lot to pull the blue hair color off. Good for you. The color blue comes in more shades than you can imagine. There is one for every complexion. So here are the hair colors that are trendy right now.
Dark Blue
Are you new to the trend? Then this is the way to go. They may not have been as dramatic as the lighter shades of blue, but they will work as well as any. Going with dark blue will help you express yourself without any risk whatsoever.
Midnight Blue
Maybe the richest among all the shades of blue hair color. This is the color for the people who want to stand their ground and make a solid statement. This will make you appear more confident than vibrant. But while dying this color, it can cause a lot of damage, so you have to keep that in mind.
Indigo Blue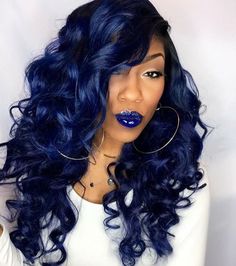 Indigo is one of the deep shades of blue, and it will feel very dramatic. This hair dye almost always comes in a powdered form and is derived directly from the indigo plant. If you want to color your locks, this is the color to go with. If you use an indigo product that is made reliably, it will not cause any damage to the hair and can last for a long time.
Sapphire Blue
Strength and power always come in the same sentence as the color sapphire. No other way to express your emotions better than to change to hair to a striking shade. You can intensify the color as much as you want. This goes well with dark hair as it blends in well. You can dye the tips or just highlight them, but coloring the whole hair will also work.
Light Pastel Blue
One word to explain this color is that it is certain things are to be kept in mind. This color will fade off fast. Also, you will need to bleach your hair to a very light shade if you want to get this hair color right. For those with light hair color, this color is a blessing.
Teal Blue
You can not just look past this color. It is the color of the youngsters. There is nothing better if all you want to look is vibrant. With an ombre approach, though, you can tone it down. You need to remember that this will catch a lot of attention, and you have to make sure that it is okay with you. This will also magnify any fault is there with your hair, like split ends or dryness.
Metallic Blue
This shade is nothing but incredible. The coolness of the shade will greatly complement the lighter hair colors leaving a glossy finish. This is much easier to pull off, just like the dark shades of blue hair color because despite regularly. However, it is worth the part where you will turn almost every head in a crowd while making a sophisticated statement. It will work differently with different lengths and textures, so you can pick your favourite style to go with the color. You can highlight, blend the color or just leave the tips altogether.
Electric Neon Blue
This will make you stand out like no other. It is not for you if you are afraid of the stares. You will just not be able to blend in with this color. But for you who is thinking, isn't that the point? Then obviously this is the one for you. However, you will have to think about every outfit keeping the hair color in mind. You may even have to limit the number of times you wash your hair and alter how you do your makeup.
Smokey Blue
Do you want blue hair, but you don't want to be too dramatic and not turn all the heads? Then smokey blue hair color is the way to go. This has an undertone of gray, making it less intense than the other shades, making it an easier choice. This will look great on most lengths and textures.
Blue hair color hairstyles
We have covered what blue hair color goes well with your sense of style and how you want to present yourself. Your next question is, what color will go well with the hairstyle that you have? We have got you covered there too.
Short hair
You may think the obvious choice for short hair is to cover as much ground as you can, but that may not be the right way to go. Shorter hairs make a statement in themselves, and as such covering, the whole hair will diminish the effect. Instead, you can go for specific portions of your hair or partition it. Streaks are the obvious choice but experimenting a little won't hurt.
Medium hair
When we say medium hair, we mostly don't get a specific vision of the length we are talking about. If you want, you can opt for colouring your whole hair at this point. Although colouring the whole hair will affect what you wear, how you do your makeup, etc. More than streaks, you can go for highlights as a safe choice. If it's on the long side of the middle length, you can even try ombre.
Long hair
The style of ombre was made for long hair. But covering just the tips of really long hair will ruin your look. In that case, for really long hair, you can try mixing up two shades of blue where a darker shade fades into a lighter. If you have light hair color and your natural hair color cannot fade into a dark shade of blue, you can try streaks where you color one partition of the hair, root to tips. Another way to go will be to color the locks or the curtain bangs if you have them.
Also Read: Hair Color Wheel- 6 Easy Steps To Understand The Basics!
How to have the perfect blue hair?
Having blue hair is not the end of it. It is a risky color, and you must know how to pull the color off perfectly at the end of the day. One wrong move and you will go from the eye candy to laughingstock in the blink of an eye. The shade you choose must go well with your skin tone. Only seeing the color in the models can be confusing. So here, let us delve into the depths of what the experts think you should do to have the perfect blue hair color.
Opt for a darker hair color
You can't go wrong with a darker shade of blue. It looks much more natural than the lighter and the brighter shades of blue. Even navy blue hair can look just as fun as electric blue. If you are unsure, you can even go for midnight blue. That will make your hair just looks like a fun shade of bluish-black. We assure you that dark blue goes with almost any skin shade. It will create a head-turning contrast against pale skins, and it will look natural for women with dark skin tones.
Avoid Bleaching
Bleaching your hair will almost choke your hair. It will strip your hair of its good natural ingredients. Recurring bleaching every time you want a new coat of blue hair color will lead to baldness. If you have black or dark brown hair, you will have to bleach it by default. Then there are several ways to minimize the damage. What you can do is gradually lighten the shade allowing the hair to breathe in between. After having to bleach, use fewer heat products to keep the hair as healthy as you can.
Ombré the hair
Why not keep the roots natural? Black and dark brown roots can fade into dark blue, which creates a very enigmatic effect. For lighter hair, choose lighter shades of blue. This way, you will commit much less to the color and cause less damage to your hair. Another plus point, you won't ever have to worry about the color clashing with your skin tone. Thus this gives you more options in every sense.
Best blue hair products
Perhaps the most versatile color in the world is the blue hair color. It is frequently seen to turn as a head-turner because of its vibrancy. You may get confused among the various shades of blue hair color. You should always grab for the one that catches your eye the most. Different products and brands will provide you with different blue colors for your hair.
Arctic Fox Semi-Permanent Hair Dye
Their collection is filled with some of the most vibrant colors. Presently they have two shades of blue hair color.
Features
Only vegan ingredients have been used to make this product.

Also contains high pigmenting properties.

Free from harsh chemicals and, therefore, causes very little damage to your tresses.

Contains conditioning properties to make your hair smooth and hydrated.

Adds shine to your hair along with vibrancy.
Pros
Feels gentle when applied to hair.

Has a great consistency.

It is a long-lasting hair color.

Do not drip.

Delivers a pleasant fragrance.

Dilution is possible that helps in creating custom shades.
Cons
No issues have been caused till today.
Shades
Manic Panic Semi-Permanent Hair Color
Gwen Stefani has sported this color on the red carpet. It is one of the most trusted brands that customers are likely to rely upon. It consists of seven shades of blue color in its collection.
Features
Bright colors are semi-permanent.

Contains a range of cruelty-free vegan colors.

Contains conditioning properties that make your hair smooth and hydrated.

Lighter hues applied on bleached hair give the best results.
Pros
Contains high pigmentation properties.

Provides long-lasting results.

A little product is enough for a larger portion of hair coloration.

Delivers great consistency.

Best for using frequently.

Dilution is possible for getting custom

blue hair color

.
Cons
No issues have arisen till today.
Shades
Shocking Blue

Bad Boy Blue

Blue Moon

Voodoo Blue

After Midnight

Blue Steel

Rockabilly Blue
Schwarzkopf Got2b Metallics Permanent Color
It provides a shimmering tone to your hair. It has a bluish mercury shade. It is available in five shades.
Features
Delivers a gorgeous hair radiance.

Gives you a multi-dimensional look.

Provides an anti-fading effect.

Make your hair shiny with just one application

Best for brown or black hair people of color.
Pros
Offers an anti-fading effect.

Gives a metallic finish to your colored hair.

Helps in covering the greys.

Instructions are provided with the packet of purchase.
Cons
The blue tint is claimed to be strong, but it fails to meet the expectation.
Shades
Dark ruby

Smoky Steel

Metallic Silver

Blue Mercury

Amethyst Chrome
Jerome Russell Punky Color
It is a world-renowned product and has held its market intact for over 30 years. Ultimate professionals and experience create the hair colors here. Produces several lucid shades of blue hair color.
Features
It is an acid-free product.

Contains high-quality ingredients.

Encompasses a unique coloring formula that is based on vegetables.

Easy to go on your hair.

Internationally acclaimed hair product.

Makes your hair vividly soft.

Conditions your hair to make it smooth.
Pros
Do not strain your scalp.

Bleeding does not occur.

Graceful shades appear while fading.

Provides a long-lasting color.

Delivers a pleasant fragrance.

The product is cruelty-free.

Luminescent shine is added.
Cons
The color deposition is not done initially.
Shades
Lagoon Blue

Midnight Blue

Violet

Atlantic Blue

Turquoise
Adore Semi-Permanent Hair Color
It is an extremely promising blue hair color. It has gained huge fame in the dye industry. It is available in three beautiful shades.
Features
Provides a vibrant look to your hair.

Free from alcohol and ammonia.

Adds shine to the hair.

Conditions the hair to make it smooth and hydrated.

Delivers a fleecy texture to the hair.
Pros
Provides a long-lasting color.

The product is under budget.

Do not drip.

Application is easy.

A little product is enough for a large quantity of hair.

Fading away from the color is graceful.
Cons
Requires time to show up the color.
Shades
Sky Blue

Indigo Blue

Baby Blue
Punky Semi-Permanent Conditioning Hair Color
It gives an exaggerated and brand new look. It comes in only one shade.
Features
Provides nourishment to your hair.

Has an intense color.

Serves the hair a vivid look.

After 25 shampoos, the color fades away.

Makes the hair silky and soft.

Contains a Keratin complex that enhances the color.

Provides a long-lasting hair color.
Pros
It can be applied to all hair types.

Completely paraben-free.

GMO-free product.

Complete ammonia-free product.

Cruelty-free product.

Completely PPD-free.

A vegan product.
Cons
Splat Rebellious Semi-Permanent Fantasy Complete Hair Color
It is one of the best blue hair color products that are extremely reliable for customers. It comes with four incredibly good shades.
Features
Contains every kit that is necessary for dyeing.

Contains a wide variety of colors.

Lasts up to 30 washes with shampoo.

Suits the needs of every customer.

Makes your hair healthy.

Provides radiant hair.

Improves the texture of your hair.
Pros
Delivers a vibrant hair color.

Contains high pigmentation.

Provides condition to your hair.

Available with bleach and developer.

Application is easy.

Pocket-friendly product.

A vegan product.

Completely cruelty-free product.
Cons
Shades
Vibrant Blue

Midnight Blue

Blue Envy
Lime Crime Unicorn Hair Semi-Permanent Hair Color
This blue hair color is unique and perky. It is one of the best choices made by the customers.
Features
Extremely eye-catchy.

Does not require a developer.

Washes out gracefully.

Provides healthy hair.

Claims to serve you a vibrant look.

Made of a damage-free formula.
Pros
Delivers a long-lasting hair color.

Completely vegan-free with 100% assurance.

Imparts a beautiful smell.

Provides full coverage.

Provides condition to your hair.

Greatly consistent.

Mixing and diluting to get a customized hair color is possible.
Cons
Not a good choice for dark hair.
Shades
Anime

Blue smoke

Dirty Mermaid
Conclusion
The first and the last thing we will tell you about having blue hair is not to be afraid. Don't let anyone make you think that it is too bold a choice. Although, don't go with a shade that makes you feel uncomfortable. When choosing your blue hair color, think about how exactly you want to express yourself, how much you would like to commit to the color and how many heads in the crowds are too many heads turning. We hope after how much we told you, you will have any difficulty in choosing.