Amazon Music Unlimited is a very unique and popular yet subscription-based music streaming service offered by Amazon. You can get a 30-day free trial period to access its wide range of music lists of about 70 million songs. After the free trial ends, you will automatically have to pay $9.99 per month if the service is not manually cancelled by you, and for doing this process successfully, you have to read about how to cancel Amazon Music Unlimited.
If you do not want to continue with this paid service, please make sure to cancel Amazon Music's subscription before the billing date. At this moment, you'll need the easiest steps to help you in cancelling Amazon Music Unlimited, and for this, we are here to help you.
Let's go through an easy and complete guide on how to cancel Amazon Music Unlimited with only some clicks. In addition to this, we will also explain four important points before cancelling the subscription and what will happen after you make the cancellation.
Before cancelling the subscription, know more about the following points:
How long is the free trial period?
before engaging in how to cancel amazon music unlimited, you need to know that Amazon Music Unlimited offers a free trial for a period of 30 days. If you could not cancel before the end day of that offered free trial, Amazon will automatically deduct the subscription fee after the trial period ends. A "day" here is being measured at the beginning of the time you start your trial period, and the ending happens just 24 hours later. So, always make sure to make the cancelation before the charging date.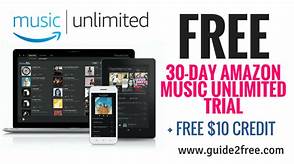 How can you re-register?
If you have already cancelled Amazon Music Unlimited, you can also re-register at any time if you want. However, if you come back to get this service, you will no longer have a 30-day free trial period.
After completing the process of re-registering and if you hadn't by then deleted the Amazon Music app from your device, you could easily stream those playlists you created before conducting the cancelation. You can also listen to those songs which you had downloaded last time.
What happens after the cancellation process?
If you cancel the subscription of Amazon Music Unlimited right after signing up for the 30-day free trial, you can still use it for that full trial period without any charges.
After the end date, you won't be able to access the service any longer. The Amazon Music Unlimited titles added to Library will be automatically greyed out, and the playback options will be removed. Also, all of your downloaded songs won't be available.
How can you listen to Amazon Music songs even after making the cancelation of the subscription?
You cannot enjoy your downloads from Amazon Music Unlimited after your free trial has ended unless you download and convert those songs to an open-source format before the end date of your subscription. Here, you can use a professional Amazon Music Converter.
Now we will discuss the steps of how to cancel Amazon Music Unlimited without any complications.
The step-by-step process of how to cancel Amazon Music Unlimited:
There are more than one way for how to cancel amazon music unlimited, and it all depends on how you had subscribed to it in the first place. Let's take a look at those.
Method 1: Cancel Amazon Music Unlimited on your Amazon Website
If you had started the Amazon Music Unlimited subscription using the website of Amazon, then you can easily cancel your subscription in the same way. Though it has lots of steps, it's really easy.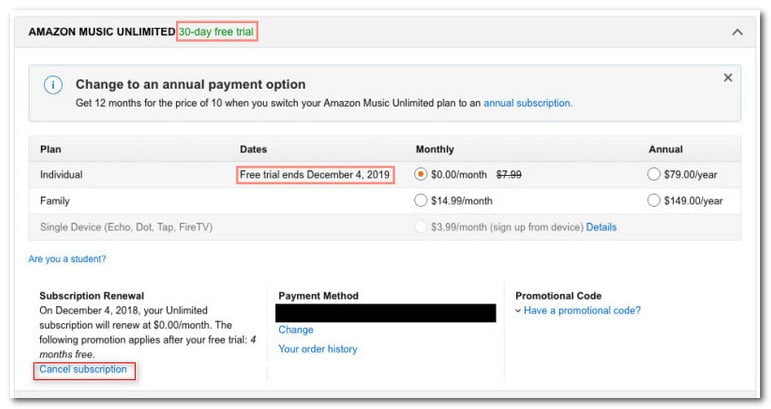 Go to the website. You can also perform this task on your computer or any other type of device as well.
Next, just Tap or click on the menu showing options. It's the three lines situated in the top left corner.
After that, just click or tap on the Account. Also, make sure you're using the exact same account, which you used to subscribe to your Amazon Music Unlimited.
Then, Scroll down and select the Amazon Music Settings.
Next, tap or click on the link showing music.amazon.com/settings.
After that, Select the option Cancel Subscription under the option showing Subscription Renewal.
Then, you have to select the reason why you're trying to cancel your Amazon Music Unlimited. If you don't have any specific reason, you can also select any reason available there.
After that, click or tap on the option Submit and Continue to Cancel.
Now, in this step, Amazon will show you a suggestion on the basis of the reason you chose to cancel the service. Just Scroll down and then hit Continue to Cancel.
Now, you have to select the option Continue to Cancel one more time.
Finally, select Confirm Cancelation, and you will have finished the process of how to cancel amazon music unlimited.
Method 2: Cancel Amazon Music Unlimited on your iPhone
If you had subscribed to Amazon Music Unlimited using your iPhone, then you'll only be able to successfully cancel your subscription by using your Apple ID on the Settings app of your iPhone.
Here are the steps which you need to follow to perform the task:
First of all, On your iPhone, just open the Settings app.
Then just click or tap on your Apple ID. That is your name at the top area of the Settings app.
Now, just click or tap on Subscriptions.
After that, Tap on the option of Amazon Music: Songs & Podcasts.
Next, just Tap or click on the option showing Cancel Subscription. It may also show as Cancel Free Trial.
Finally, you need to tap on Confirm.
In this way, you can easily solve the problem of how to cancel amazon music unlimited on your iPhone. Just keep in mind always that you need to make sure that you're using the same Apple ID you used previously to subscribe to your Amazon Music Unlimited.
Hence, the following steps can easily help you to successfully perform the task of how to cancel Amazon Music Unlimited if you don't want to continue with the service anymore.
It is obvious that when you subscribe to a specific service, you will have some expectations. When expectations are not fulfilled, you will automatically want to discontinue with the service. Keeping this basic thing in mind, the blog on How to Cancel Amazon Music – A Thorough Panacea is suggested.