Every day we receive and send many text messages with our iPhones. So, when you need a specific message, it becomes really very difficult to find out that message within that huge number of messages. Thus, to rescue the users from this problem iPhone has already provided several methods regarding how to search text on iPhone. With the help of those methods of how to search text on iPhone, you can easily find out the message which you need at any time and anywhere.
Here we will discuss not only some common solutions regarding how to search text on iPhone, but also the method of how you can recover the deleted messages on your iPhone. So, let's have a close look.
Method 1: How to search text on iPhone with the help of Spotlight
When you think that if there is any method of how to search text on iPhone, without the help of additional software, then this method is for you. Spotlight is a really powerful built-in feature of iOS that can help the users search for any document, application and file or even anything anywhere from the device.
You will have an option to edit what may appear on the Spotlight Search just by going to the steps like Settings> General> Spotlight Search> Tap slider control (it is a 3-lined key on the right) by either just moving the order or unchecking the labels so they won't be included in the Spotlight search.
To do the process of how to search text on iPhone using spotlight, you need to follow these steps mentioned below:
First just tap and swipe by going right to bring up the Spotlight Search from the Home screen of your iPhone.
Next, on the search bar, just enter the information, that you are searching for by typing any relevant or related keywords.
After that, swipe down and scroll through the given list when you will see the search results and then locate the message section just by tapping on the contents of the message.
However, in this process of how to search text on iPhone, you need to remember that while searching using Spotlight, the results that match with your query will appear from all types of messages like emails, text messages, instant messages, and other types of contents present on the iPhone.
Method 2: How to search text on iPhone: Use simple search in Message app
Another method of how to search text on iPhone is using the in-built feature of search box. This search box option is the special messaging application that will help you to find the text by just typing any relevant keyword. To search through iMessage with the help of your messaging app, follow these steps:
First, open Messages.
Then, while going through the inbox lists, just swipe down to let the search box appear.
After that, you need to type any relevant keyword in the search box and the results will appear automatically as you type. Once you have found the message containing the text messages you were searching for, just tap on the message to open.
Method 3: How to search text on iPhone: With the help of Siri
To do the process of how to search text on iPhone successfully, you can also use Siri to search those important text messages on your iOS devices. You just need to call out Siri, and then ask it for the specific text message, that you are looking for, and it will help you immediately to find the text message successfully.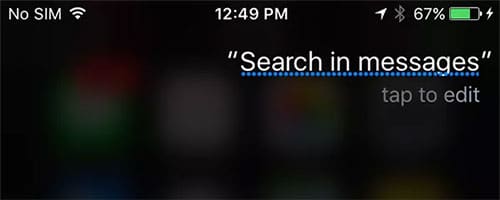 To complete this process successfully, you need to follow the steps mentioned below:
First of all, you need to Launch Siri on your iPhone.
Next, just ask Siri for "Check new messages" and then it will automatically check if you have received any new messages or not.
You may just ask Siri for "Search in messages" and it automatically will do what you say.
You may also change the style of your query sentences until you find the specific message that you want.
Method 4: How to search text on iPhone from iOS 14
During an Over the Air or OTA for iOS 14, there were several issues about being unable to use search text messages/iMessages on iPhone and even properly doing Spotlight search that shows no results while used.
This is usually caused by the software itself which still is ongoing. There are some forums and tutorials to resolve this problem but this sometimes may cause some more risks on your favorite iPhone device. Here are the examples of the top most common issue where iOS communities have tried to fix:
When iOS 14 Spotlight doesn't show any results:
Step 1: Just Tap on Settings > General > Spotlight Search
Step 2: After that, Shut down all Spotlight stitches.
Step 3: Next, you need to Restart your iPhone just by pressing Home and Slide buttons altogether.
Step 4: Then, Toggle on the text messages in the spotlight, you can enable other searches if needed as well.
When the Spotlight Search of iOS 14 is not working, you can do the following steps mentioned below:
Step 1: Firstly, Open Settings > General > Language & Region
Step 2: Then you need to Tap on iPhone Language.
Step 3: After that, Choose the preferred Language.
Step 4: Lastly, Tap Change to apply selections.
Some users have some other suggestions such as sending an email to your own iPhone to help the Spotlight search to work again. It may sound a little funny but there is no problem in trying it. These methods are just several suggestions from different iPhone users and so, it may or may not work for everybody.
Apple has not been able to resolve this kind of issue yet, that affected the maximum number of the iOS 14 versions. However, shortly, iPhone will release another OTA to successfully resolve these issues. As of now, you can use third-party software to successfully complete the process of searching text on iPhone, and how to recover your deleted messages as well.
Therefore, when you receive and send a large number of messages every day on your iPhone device, you are actually concerned about how can you find out the important message without any delay. Fortunately, the above-mentioned solutions regarding how to search text on iPhone can help you immensely in your search for the messages you want. So, you can easily trust these methods and enjoy using your iPhone device at anywhere and anytime.
iPhone is a complicated gadget to handle. Most first-time users find it hard to perform the simplest of the tasks. It is truly difficult to use the more complicated features without proper guidance. Here we take care of your worries regarding iPhone use. The blog on How To Delete Albums On iPhone – 3 Easy Methods For You will surely be helpful.