Modifying a fireplace will leave a great impact on your place. Updating your fireplace can make your living space look wow-worthy. But you must ensure that your space is warm enough, especially during winters, as your living space is where you spend quality time with your family members.
Though there are many fireplace remodeling ideas to make your work easy, we have provided you with the best ones you will love. So, continue reading this article to learn about your house's eye-catching fireplace remodeling ideas.
10 Best Fireplace Remodel Ideas.
1- Painting your fireplace.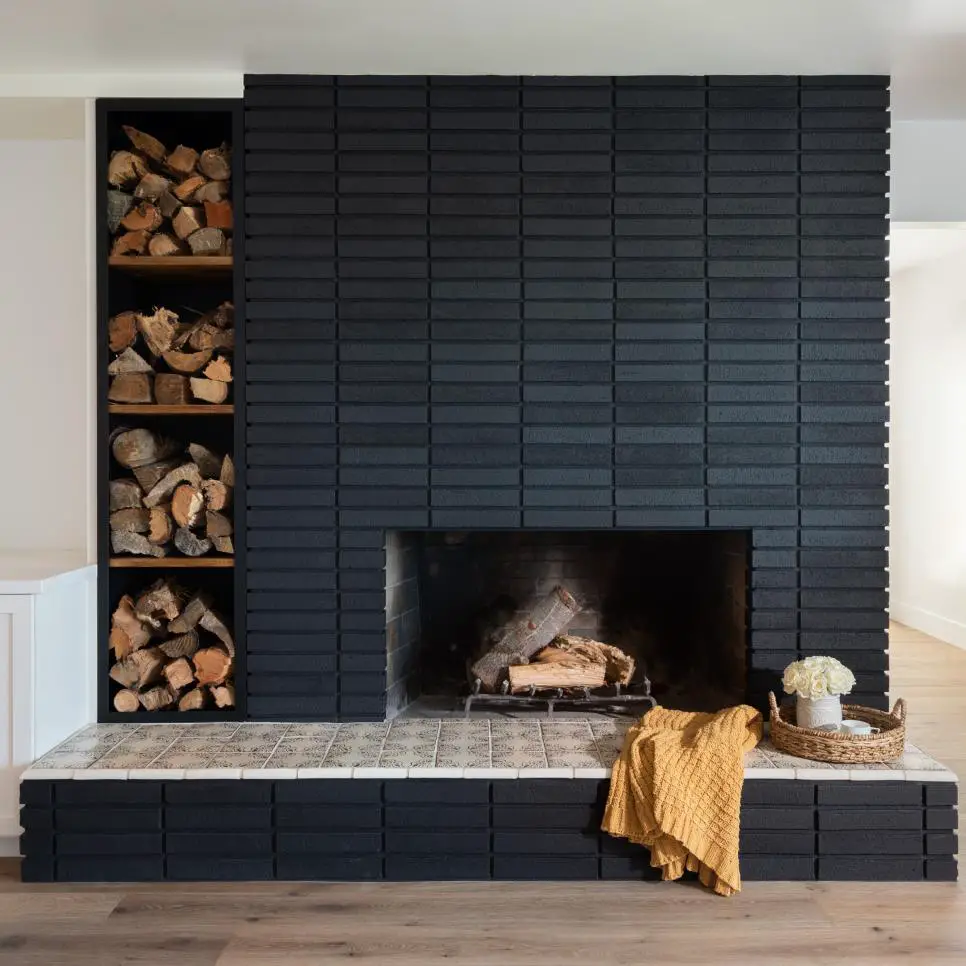 Let's begin with the easiest Fireplace Remodel Ideas, including applying fresh paint. You can paint your fireplace with a color that matches the walls of your place, or you can pick any color of your choice.
Painting your fireplace will make it appear great. Make sure to paint it from inside as well as outside and paint your mantel as well.
2- Mantel Makeover.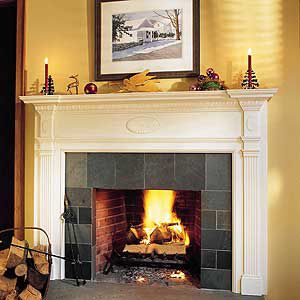 Mantel provides volume to your fireplace. Mantels are mostly wooden, and you can paint them according to your choice with the perfect finishing. Mantel fireplace remodel ideas are also very easy to implement!
Once the mantel makeover is complete, you can use large vases full of flowers to set them on the top of your mantel. Also, add mirrors or photo frames on the top as a mantel provides space to set your items very well. Moreover, you can also add a few books if you are fond of reading books. All the items placed on the top of the mantel will showcase your personality as well.
3-  Add accessories.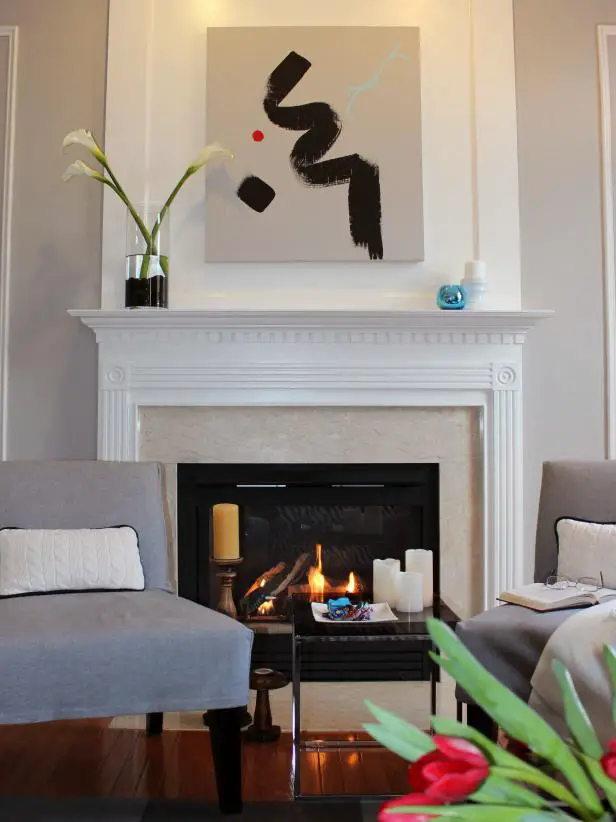 Using modern accessories, you can transform your old fireplace by giving it a new look. Firstly, you must choose a modern fireplace screen in different shapes and designs. Screens are not just for display, but they also play an important role in protecting your fireplace from dust and smoke particles.
Don't forget to measure your fireplace before buying a fireplace screen. Make sure that the opening of the fireplace is covered. You can easily try these fireplace remodel ideas that will give a modern look to them.
4- Go for slate.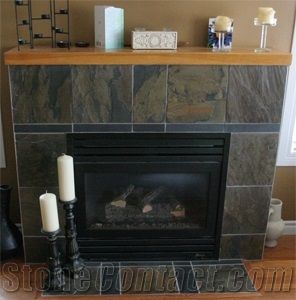 Slate is a fine accessory that gives a beautiful look to your fireplace. You may choose the color based on composition, but the neutral gray shade is mostly preferred. But you can also go for brown, blue, or green shades of fine slate. Slate is becoming very popular for home decor ideas.
Using a neutral shade of gray is a perfect fireplace remodel idea which maintains a complete balance. But before going for a slate fireplace, just take a test, and once everything goes perfect, you can continue. 
5-  Add a slate hearth.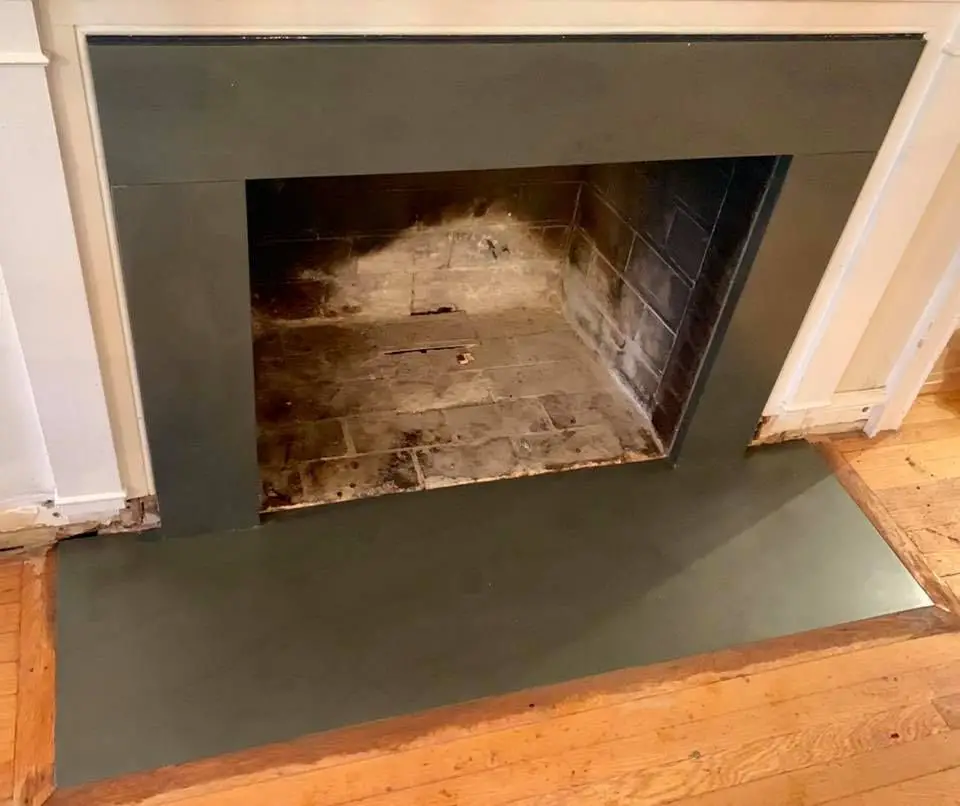 After installing a new slate fireplace in your house, if you still want some makeover, you can go for a decent slate hearth at your place. 
The hearth is the floor of the fireplace made of stone. A slate hearth will give you a cool slate look at your living space. The slate hearth will add more volume to your fireplace, so you can go for this decent fireplace remodel idea.
6- Moulding.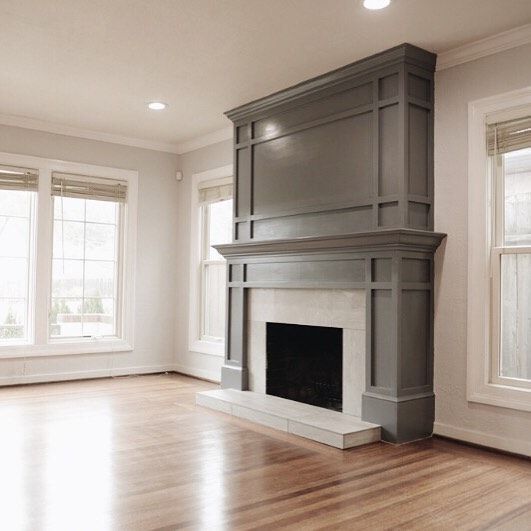 You can expand your fireplace up to the ceiling by using white paint or molding, as it is a great fireplace remodel idea that gives it a dignified look. Molding with precise details under the mantel and near the tiles can transform your fireplace into a new one!
You can use a trim molding method so that everything goes in coordination. You can also go for the fluted trim to treat the sides of the Fireplace. Lastly, dental molding can also be used as well.
7- Use of Attractive Tiles.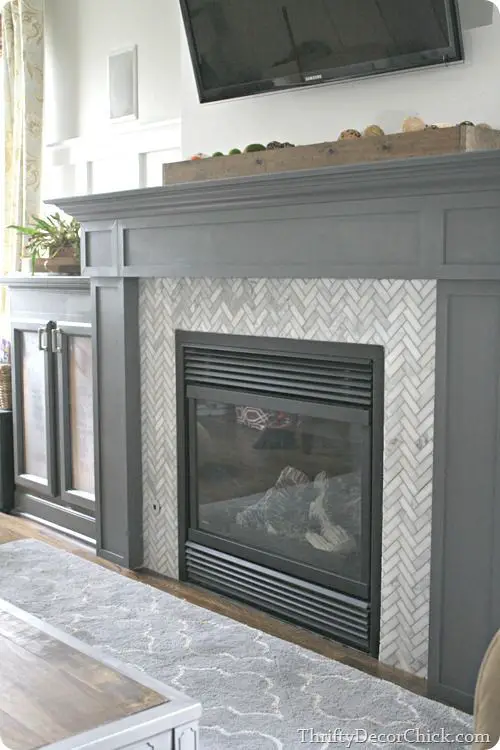 Decorative tiles can make your fireplace elegant. You can convert your boring fireplace into an elegant looking one. You can use a lot of eye- captivating tiles for your fireplace as it's a great fireplace remodel idea to give a stylish look to your place.
You can prefer using subway tiles which are a combination of classic and modern. These tiles suit almost every style of the house. For a perfect modern look, you can use metallic porcelain or nexos to give an alluring look to your fireplace and its surroundings.
8- Go for a German Smear Look.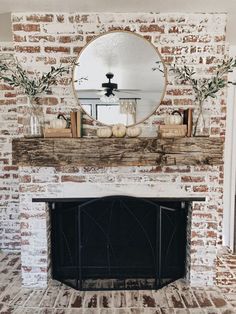 This fireplace remodel idea is a DIY option. Instead of spending a large amount of money to paint your fireplace again, you can go for using a German Smear look which is quite affordable 
The German Smear look has been used to give a look like old European homes and provides a decent look to your fireplace.
9- Add a gas fireplace.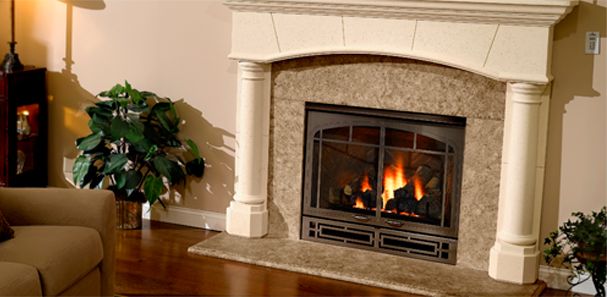 There are many advantages of a gas fireplace. For example, it requires less maintenance, and you don't need to clean it regularly. Also, the rest of the house will not feel cold due to the gas fireplace. You can go for many options regarding a gas fireplace in your house.
If you are thinking of adding a gas fireplace, you may find it costly, but first you will need to get suggestions from a professional to know if a ventless gas fireplace is perfect for your place or not. Rest, if you have had a gas fireplace in your house, you can replace it, and it will not be troublesome for you. So, you can try this fireplace remodel idea at your place.
10- Beauty of Marble.
If you want a more beautiful fireplace remodel idea, you must prefer using marbles because it is a great option. Marble has great beauty, and one feels cozy in the living space.
Marble is durable, and you can choose from the different styles of marble available as per your choice. For instance, you can choose between French, Greek and Roman marbles, whichever suits you and your house best.
Cessation | Fireplace Remodel Idea
The fireplace provides warmth to your place and creates a cozy atmosphere during winter. When you have a fireplace, it adds an extra touch to your home. So, if you are thinking of investing your money in a fireplace, then it will be worth the effort, I can guarantee that. In this article, we have provided you with some stylish and modern ways to remodel your fireplace. So, go and get yours done!