Middle east and Lamb Kofta Recipe
To begin with, middle eastern cuisine is not solely about fajitas, falafels, hummus, and so on. It certainly is more than that. The faultless blend of local spices and herbs makes the middle eastern dishes more palatable. Speaking of palatable, Kofta is one of the finest dishes that shares its history with the Indians, Balkans, Spanish, Arabs, and of course, the Middle Eastern.
Kofta, often referred to as Middle Eastern meatballs, taste like ground beef balls but are more flavourful. The difference between a kofta and a meatball is just the consistency of the meat with which it is cooked. Kofta is usually prepared with lamb, beef, and fish, all minced and sometimes using just cottage cheese and veggies too. You can serve it with almost anything. You can serve koftas with bread like pita, and you can serve it with sauces, dips, and many more.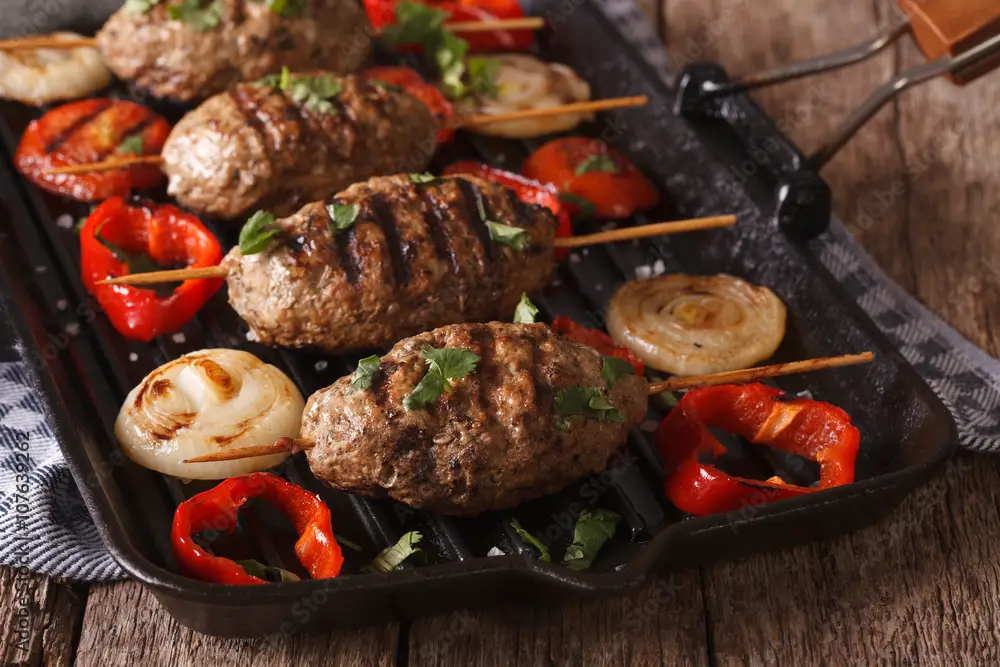 Koftas, specifically meat koftas, have this beautiful blend of flavors that leaves an enduring aftertaste on our palate. You can enjoy your koftas in whatever form you want, log-shaped, ball-shaped, in the form of patties, etc. 
If you are to make a perfect Sunday lunch out of meat, then lamb kofta is undoubtedly one of the ways to go. We have you covered if you are looking for an easy lamb kofta recipe. You can check out the recipe to prepare this wholesome dish down below.
Ingredients needed For the Perfect Lamb Kofta Recipe
Minced or Ground Lamb –  1 kilogram
Garlic –  4 cloves 
Brown onions –  1 ( finely chopped or sparsely grated)
Parsley  –  12 grams 
Ground Black pepper –  1 tablespoon
Cumin powder –  1 tablespoon 
Olive oil –  1 tablespoon 
Cinnamon powder –  1 teaspoon
Mint leaves 
Salt 
Some people find adding chili flakes and pistachios interesting to make the flavor bolder. However, the authentic lamb kofta recipe doesn't involve any of these. The main source of pungency is obtained through the black pepper powder.  
The Simple Lamb Kofta Recipe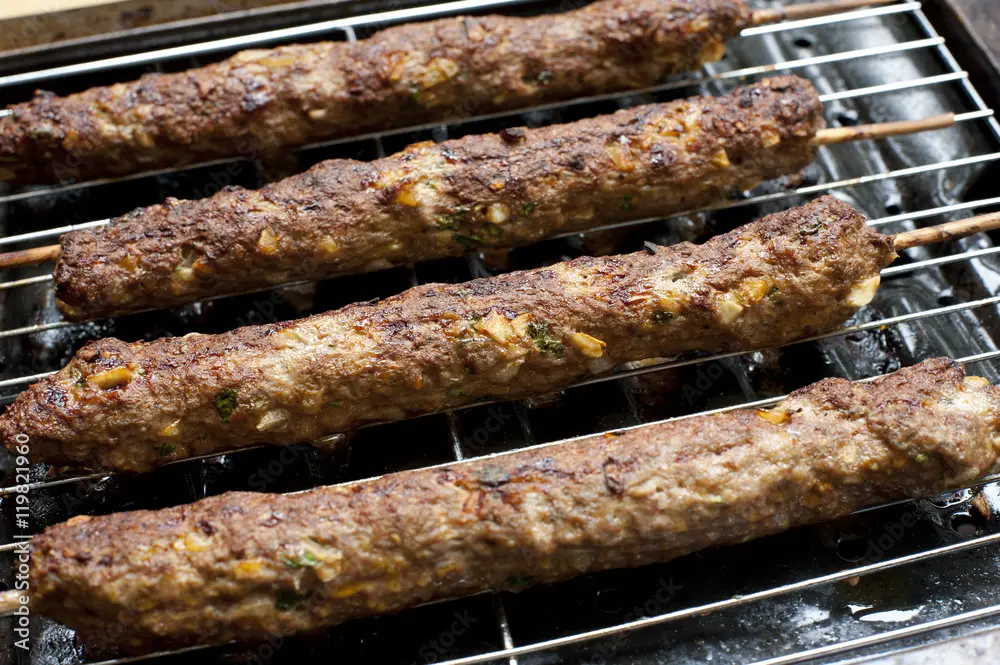 Step 1:  Take a medium-sized saucepan. The first and foremost step is to slightly caramelize the onions. This tinge of sweetness in the koftas makes the taste more interesting. Add olive oil to the pan and add in the onions. 
Step 2:  Make sure you don't caramelize the onions too much. Just wait until they turn golden brown. Now take a clean bowl, add the lamb, garlic, parsley, mint leaves, salt, pepper, and cumin powder, and give them a good mix. 
Step 3:  Now, it's time for us to shape them. Always damp your hand before shaping them as it eases up the entire process. You can shape them into sausages, balls, or whatever you like.
Step 4: Whether to grill, fry, or just barbecue them. Usually, the grilled ones taste better. You can use the pan grill to prepare the lamb koftas. Grill them until they turn brown on all sides.
Step 5:  After grilling them, you can serve them with any bread of your choice; pita bread is the most commonly preferred. You can serve them with the sauce and dressings too. If you are wondering how to prepare a simple dressing with this lamb kofta recipe, here are the steps to make a yogurt dressing to serve with your dish.
Yogurt-garlic dressing for Lamb Kofta recipes 
Lamb Kofta can be served with multiple side dishes in different parts of the world. But Yogurt Garlic is the most loved dressing for Lamb Kofta. Yogurt Garlic is best known for being served with Lamb Kofta. Following are the ingredients to prepare Yogurt garlic dressing. 
Ingredients 
Greek Yoghurt of your choice –  ¾ cup 
Lime juice –  1 tablespoon
Garlic –  1 tablespoon (freshly chopped)
Grated cucumbers –  half a cup
Kosher salt
Black pepper (optional)
Mint leaves –  finely chopped 

How to Prepare? 
Step 1:  Take a clean bowl and add greek yogurt to it. Later, add in the lime juice and whisk them both together. 
Step 2:  Now, add the finely chopped garlic, mint leaves, salt, and pepper and give them a nice mix until a smooth dressing is obtained. Adjust the salt according to your taste.
You can refrigerate this dressing for a whole week and use it in your regular salad to make it less boring. 
Cessation |  Lamb kofta Recipe
Nothing is as soul-soothing as a fine weekend lunch with your family members. This particular lamb kofta recipe is easy to make and less time-consuming. Also, you can serve this for dinner and brunch as well. 
Hope you found this lamb kofta recipe easy to prepare. What is your favorite way to eat lamb kofta? Feel free to share it and tell us how this dish came out. 
Frequently Asked Questions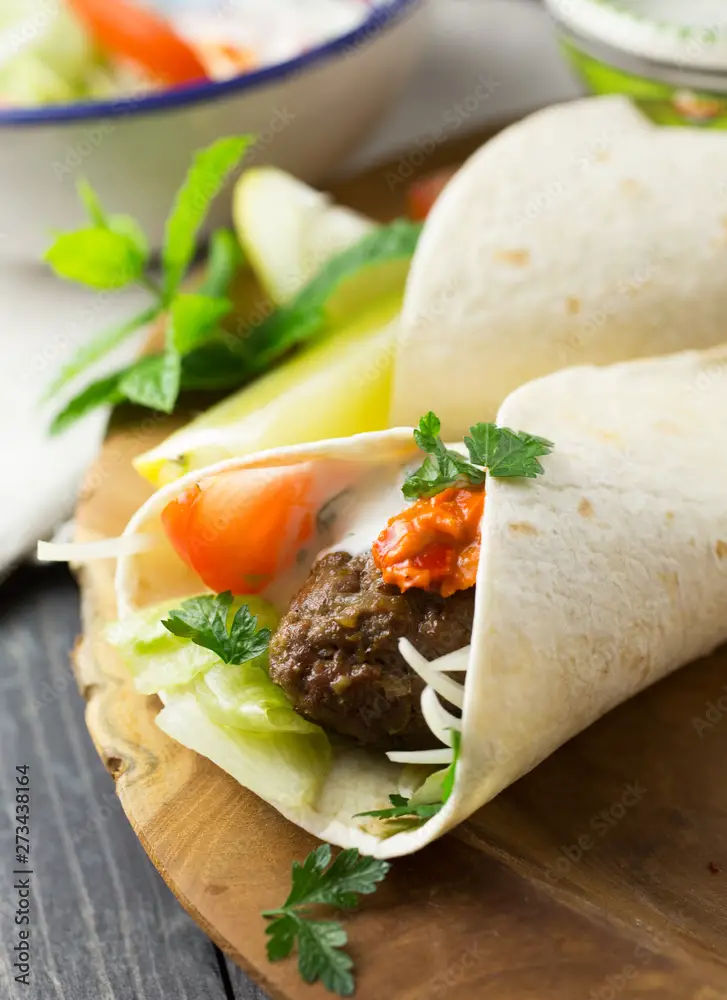 1. How To Serve?
When it comes to sides, there are many options available to serve with lamb kofta. You can serve it with pita bread, hummus, cauliflower couscous, tahini, quinoa salad, and so on. Alongside the plate, you can also serve oaked red wine or white. Usually, Rose Bordeaux goes well with lamb koftas.
2.
What are some vegetarian versions of lamb or beef kofta?
Even though the lamb kofta recipe is simple to make and tasty enough, some people prefer the vegetarian version. Cottage cheese kofta with potatoes, Malai Kofta, Soybean kofta, and mixed veggies kofta are some of the vegetarian versions of meat koftas.
3.
Does this lamb kofta recipe affect your weight loss journey? Is it healthy?
Well, this lamb kofta recipe doesn't help you lose weight, but having it once in a while does not harm you and your weight loss journey. However, the grilled version, instead of the fried one, can be included in your diet as it involves less oil, which means less cholesterol.
4.  Is Kofta an Indian dish?
As mentioned earlier, kofta is native to many regions of the world. It shares its history with Indian, Arabic, Middle Eastern, Turkish and African cuisines. It is believed the Persians were the first to make koftas, and they slowly passed their legacy to the Arabs.