Bathroom Tile Painting Ideas- Which Ones To Pick?
Bathroom tile painting ideas are trendier than you could imagine. If you want to renovate or rejuvenate your bathroom but don't want to spend all your money and time on retiling, consider painting your bathroom tiles. You may be wondering if it is possible. And how so? Keep reading to learn about Bathroom tile painting ideas, including how much it will cost and what kind of paint to use.
Can you paint the bathroom tiles? The answer is yes! It is possible to paint your bathroom tiles. Painting your tiles rather than retiling your entire bathroom will also save you money. Painting can cost as little as $100, whereas retiling can cost up to $1,000! Painting is another option if you like to redecorate frequently because it is easy to re-paint and re-style. 
There are a few things to acknowledge before you start painting your tiles. Certain tiles will react better to paint than others. Furthermore, some paints will be more suitable for use than others. It is also important to understand that painting your bathroom tiles will take at least a weekend, making that bathroom mostly unavailable. 
The time taken to paint your bathroom is determined by the size and the dry time of the sealants and paints you use. Continue reading to find out bathroom tile painting ideas and answers to all the related questions!
10 Bathroom Tile Painting Ideas & Guides
Here is a list of 10 Wonderful Bathroom Tile Painting Ideas & Guides:
1. Stenciled Tiles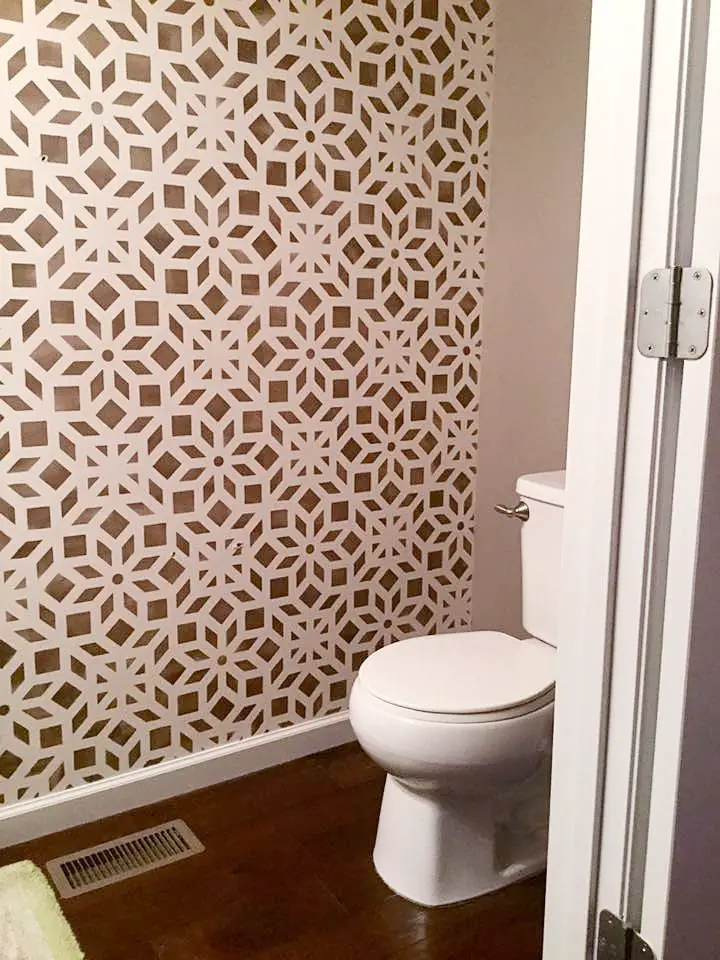 Bathroom tile painting ideas: Can't afford to replace the floor tiles in your bathroom but don't like the ones you have? There's a simple solution. Draw them! Follow simple tips and instructions to get the look of your favorite tile without buying new ones.
With this fun and easy solution, you can make your bathroom fit your style. Using stencils and paint, you can change your large tile squares.
Use tile primer to prepare the floor.

Stick to the stencil instructions, such as using painter's tape to secure it.

Use tile-specific paint and a stencil brush or foam roller to stencil.

Apply the paint to your design by dabbing or rolling it on. For each pattern application, ensure that the stencil is properly aligned.
Make use of more than one color or shade. Choose the light, medium, and dark values of a blue hue for a stunning combination!
2. Contrast Color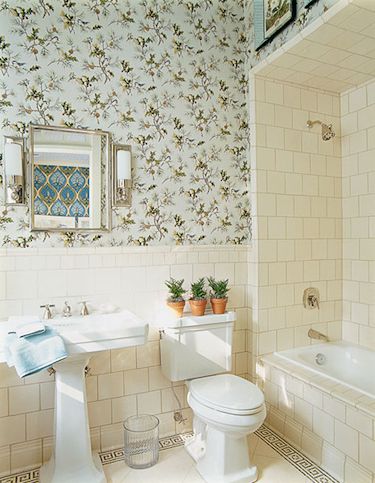 Bathroom tile painting ideas using contrasting colors look amazing. You can highlight one color on a tile by painting the background a different color. It will give your bathroom design more depth and add pattern to an otherwise plain space.
To draw attention to off-white tiles, use a light gray stencil color. You could also use two contrasting colors, such as a light brown tile with a navy blue stencil design or an eye-catching yellow and blue combination.
Use one of the main or new colors in your bathroom decor.

You might want to buy more than one stencil for a small pattern to speed up the process.

Set up the stencils and tape them down as directed, then roll the paint on as directed.3.
3. Be Bold and Frame It!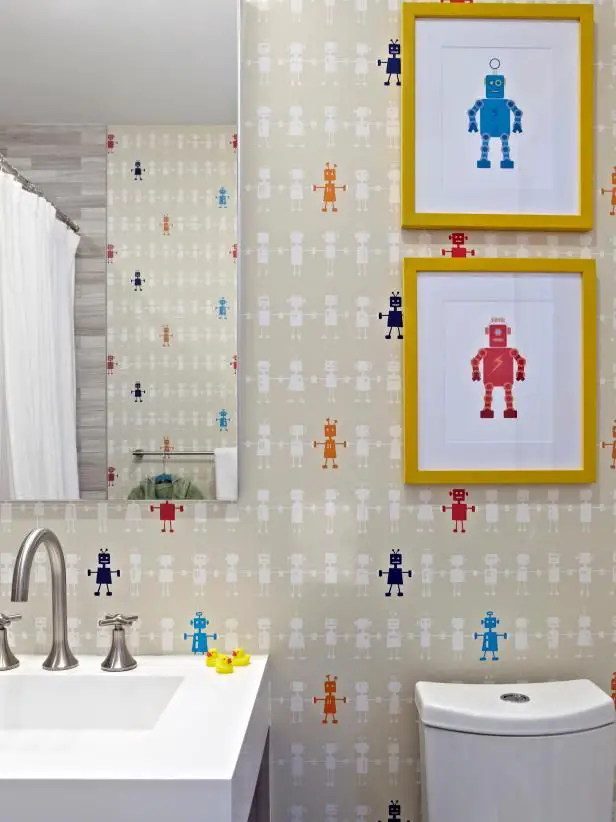 Bathroom tile painting ideas using bold frames can stun everyone. Give your painted tile floor a one-of-a-kind and eye-catching look. Make a border by reversing the colors.
Mark the inside edges of your pattern border with painter's tape.

Use a roller and dark paint to cover the larger space inside the border frame, then let it dry.

Tape a large stencil along the edge of the border, and then use white paint to start stenciling.

Take off the stencil and make the next one. Work in rows from one side of the bathroom to the other.

Let the floor dry. To keep the larger stencil from overlapping, remove the border tape and put new tape along the inside edge.

Paint the edge white, and then let it dry.

Use dark paint and stencils to make a border pattern. Follow the manufacturer's instructions on how to seal.
By reversing colors and using a smaller pattern, this artistic technique gives your bathroom an instant designer look.
4. Hand-Painted Tiles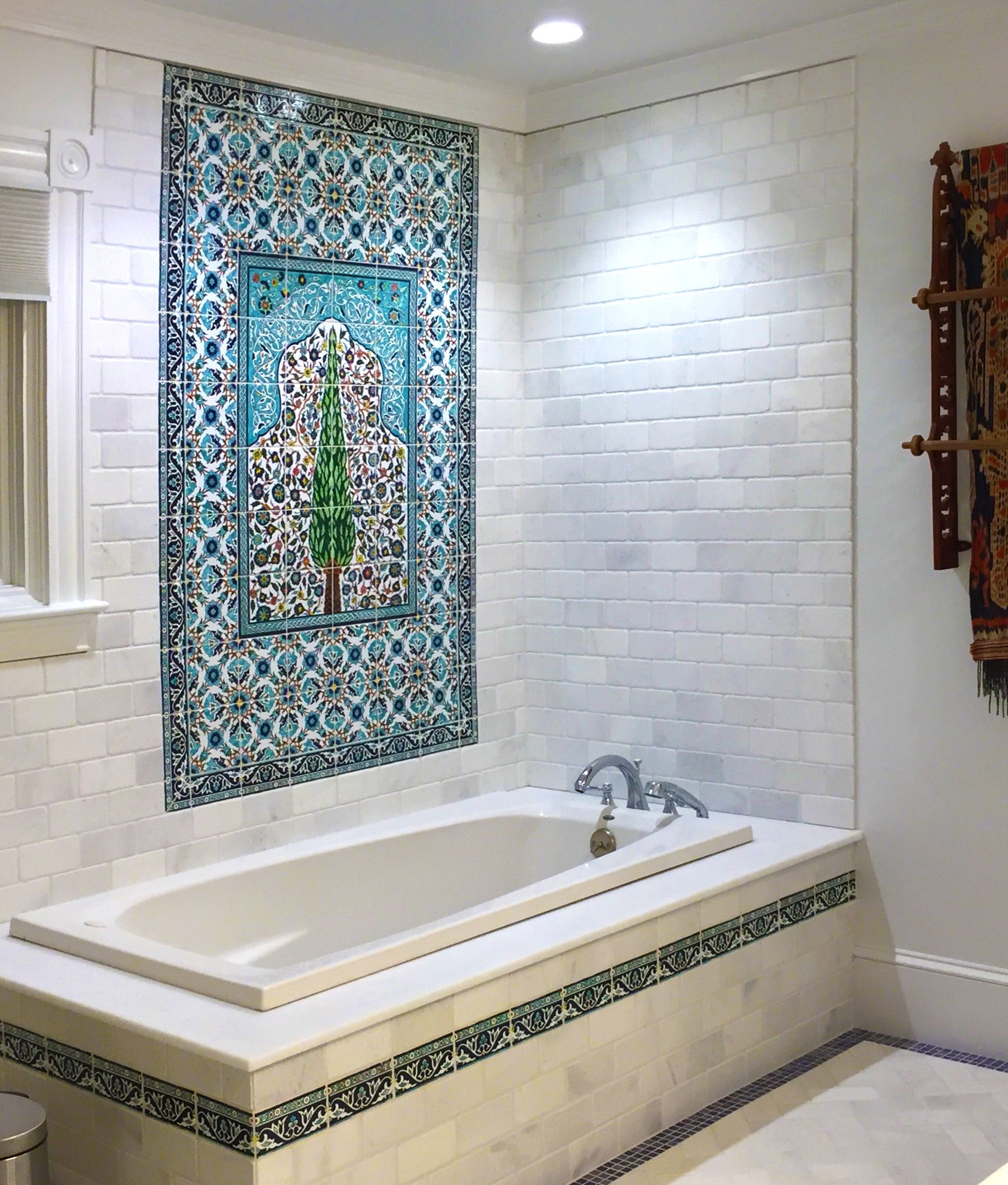 Bathroom tile painting ideas: Another way to make unique, one-of-a-kind bathroom floor tiles are to paint them by hand.
Sketch the design on a piece of paper.

Use graphite paper under the design sheet layout to transfer the design to the tile.

Use a paintbrush to paint over the design and fill it in.
This method can get boring, so you might want to use a pattern on every other tile or just pick a few tiles to make a border or a cluster of tiles that serve as a centerpiece and are surrounded by solid-colored tiles.
5. Marry Two Design Elements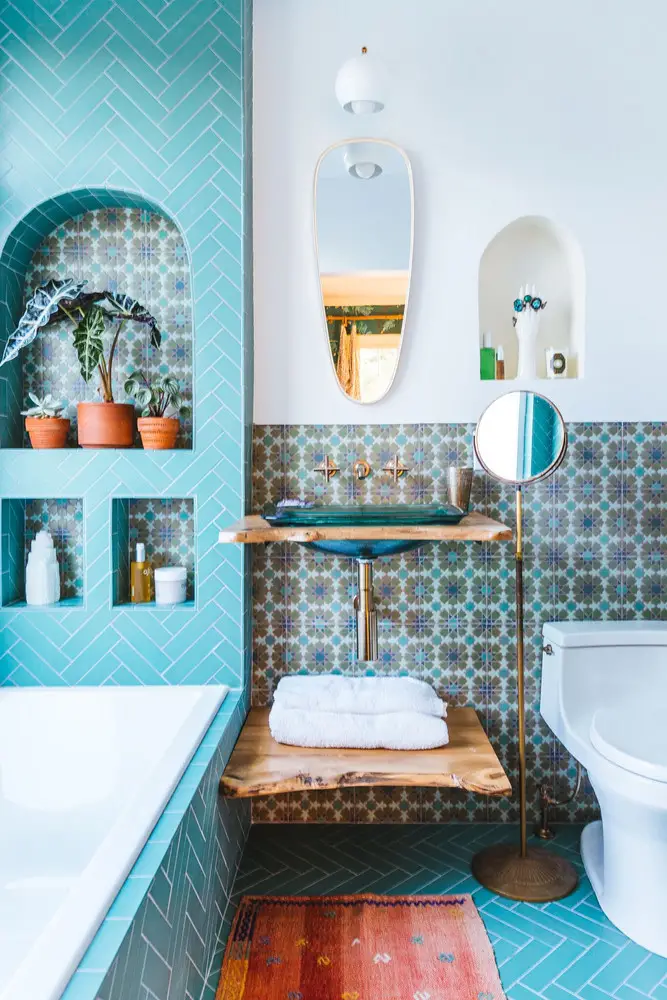 When marrying two different period style elements in any bathroom, choosing the right floor tile design to paint your existing tile is critical.
To recreate, follow these two basic but important tips:
Use a foam roller to stencil in the pattern. You might want to buy more than one stencil to speed things up.

Use a brush to ensure that the bold, dark line that ties the whole pattern together looks great.
6. Delft Blue Tilework
The famous Delft Blue color of Dutch pottery is known worldwide, and you can make your bathroom floor tiles look like it. Choose a style that is classic or that you think fits your ideal.
For a Delft Blue design to work, you must use at least two shades of blue: one light and one medium or dark. Use three shades: light blue, medium blue, and dark blue. This will give your design more depth.
Choose a different shade of blue for each section of the pattern.

Dab the light blue into the design with a stenciling brush.

Stencil in medium blue with a new brush.

Apply the darker blue with a third brush.

Rep with each stencil pattern.
7. Create Checkerboard Tile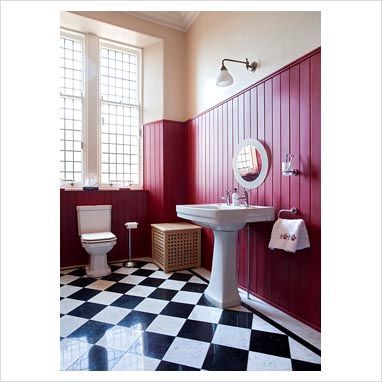 Bathroom tile painting ideas: If your bathroom tile is white, you can paint every other tile black to make a black-and-white checkerboard. Black and white tile paint can also change any color of the tile.
This can be a great pattern for a period style, modern, or contemporary bathroom, no matter how big or small the tiles are.
Use painter's tape to keep the grout lines clean and each tile's shape clear.

For better results, use a foam roller.

Work with one color, then let it dry before moving on to the next.
You are not limited to only black and white paint colors. Make a statement with unique color combinations for checkerboard tiles.
8. Tile Pattern as Design Element
Bathroom tile painting ideas: A stenciled floor can add a much-needed design element to a plain contemporary bathroom. Consider the appearance you want to achieve with your floor design. A quatrefoil design is an excellent addition to your bathroom tile.
Choose colors that will make your design stand out while blending in with the overall design style.

Select a stencil pattern that is neither too small nor too large for the available space.

Use a stencil brush or a foam roller to apply the paint.
A brightly colored rug over the tiles will make the room stand out!
9. Recreate a Floral Pattern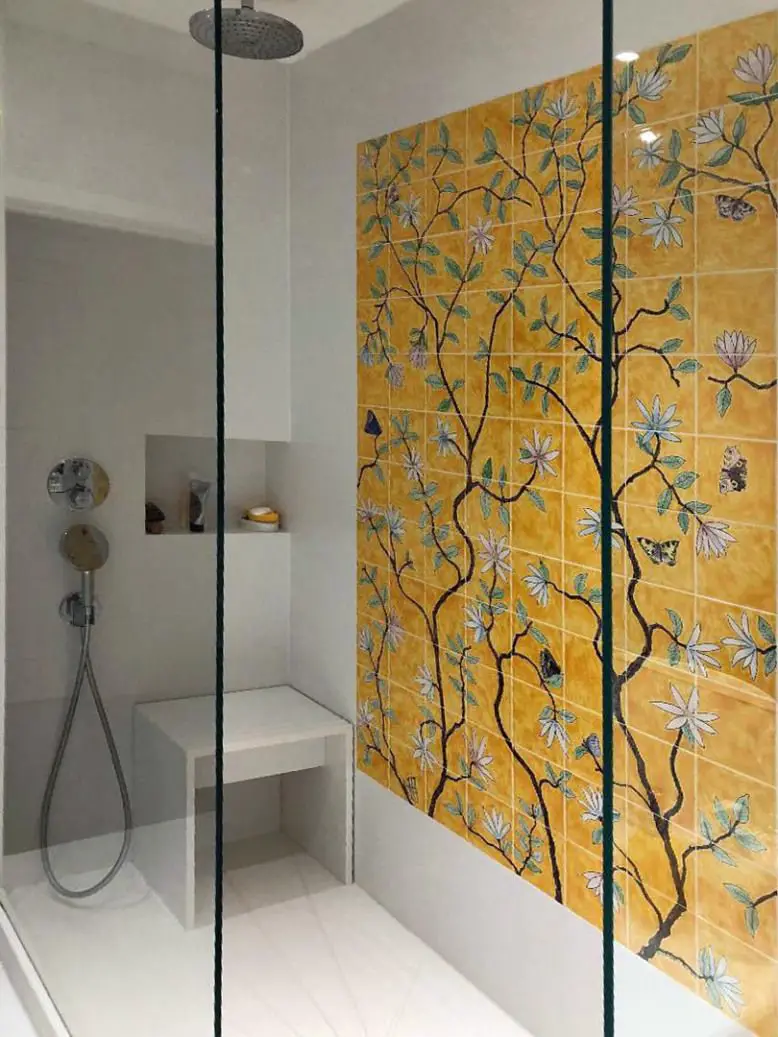 Bathroom tile painting ideas: Find a tile pattern you like and paint it onto an existing tile to make it your own. To reinvent your bathroom tile, make your stencil or find a similar one.
Draw or print a design to make your stencil.

Using an X-Acto knife, cut out the part you want to use as a stencil.

Use as you would any other stencil, and paint with a foam roller or stencil brush.
The two flower designs add depth to your floor tile pattern, making it highly decorative and appealing.
10. Tinted Textured Tiles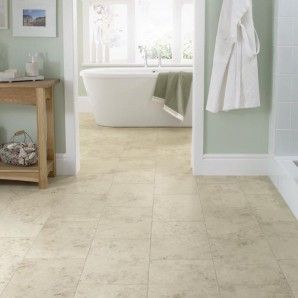 Bathroom tile painting ideas: Not only can you paint tile, but you can also use texture additives to give the floor a textured appearance. These textures look like sandstone, stucco, granite, and other stone surfaces.
 Follow the manufacturer's instructions for a light, medium, or coarse texture.
To make a stippling effect with paint, do the following:
Paint a base color on the tile and let it dry.

Paint a topcoat glaze.

Use a brush to dab the glaze while it is still wet to give it a textured look.

Work in 2-inch sections, overlapping each to make it look like it's all one piece.
Once you've decided on the ideal bathroom design, choose the tile pattern and style to complete the look you want and get to work painting!
How to Paint Bathroom Tiles
Bathroom tile painting ideas: Bathroom tiles protect our walls from water damage and add an elegant decorative touch. They are available in almost unlimited colors and patterns that can be used to set the mood and tone of your bathroom. If your tiles have lost their luster over time, painting them is a cost-effective solution.
But, before you break out the paintbrush to decorate your interior, remember that painting floor tiles and walls has a few drawbacks. The following are the pros and cons of painting bathroom tiles:
Bathroom tile painting – Pros
A less expensive alternative to remodeling your bathroom

Easily transforms your outdated interior into something more modern.

Customize the appearance of your bathroom by selecting paint colors that complement other interior elements, such as fixtures and your bathroom tub.
Bathroom tile painting – Cons
Excess moisture can cause the paint on your wall tiles to peel over time. 

It can be a messy, time-consuming process that may not look perfect when you're finished.

Cleaning and other preparation are required.
Now that you know the pros and cons of Bathroom tile painting. Let's discuss how to do it. The steps below show you how to paint your bathroom tiles like a pro.
Bathroom Tiles Painting – Step By Step
1. Clean Your Bathroom Tiles 
Dirty tiles won't let paint stick to the surface, so the finish will be patchy and uneven, with paint flaking off – mix sugar, soap & water in a bucket. Then, use a scrubber to clean the tiles very well. Before painting bathroom floor or wall tiles, you must ensure they are clean.
To finish:
Use a toothbrush, a stiff-bristled brush, and soapy water to clean the grout lines.

If the stains don't come out, spray the grout lines with vinegar and warm water.

Wait 15 minutes, and then brush it again. If there are a lot of molds, you should buy a cleaner that kills mold to get rid of it.
2. Remove Loose Paint
If you've painted your bathroom tiles, you'll need to use a razor blade to eliminate as much loose paint as possible. Use short strokes and a gentle 45-degree angle to remove flakes. Wipe away dirt and dust as you go to save time when you're done.
If your tiles have holes, cracks, or chips, you should fix them before you paint. Fill in any holes with a light putty and let it dry completely.
3. Sand Bathroom Tiles
Sanding is necessary for worn-out tiles for primer and paints to adhere to the surface. For a glossy shine, use an orbital sander and 220-grit sandpaper in small sections. Wear a dust mask at all times to protect yourself from debris.
4. Repeat the Process
Before you paint, you should clean the grout lines and sand your tiles again for the best results. It will make sure that the new paint has a smooth, even finish that looks clean and professional up close.
5. Use Painter's Tape
Use painter's tape to keep paint from sticking to fixtures, window sills, and door handles. If you don't have painter's tape, you can use masking tape instead.
6. Apply Primer before Brushing and Rolling your Tile paint
Primers are made in a way that keeps your next coats of paint from peeling or bubbling up after they dry. Use an epoxy or urethane primer for ceramic tiles and a masonry primer for natural stone. Once you're done, wait for your primer paint to dry completely (check the instructions for your product to be sure).
Before you buy a primer, you should always know what your tiles are made of. If you're not sure, it's better to be safe and use a general primer that a professional has suggested. Before you use a product, be sure to read the instructions and recommendations.
7. Apply Your Top Coat of Bathroom Tile Paint
Now you can put on your topcoat. Start using a clean, well-kept paintbrush to paint around tiles, corners, and other hard-to-reach places that a roller can't reach. Use a roller to finish painting your tiles and ensure they are covered.
Once you're done, wait eight hours and paint a second coat.
8. Make Tile Patterns (Optional)
If plain colored tiles aren't your thing, add a fun touch with a stencil. You can find a variety of stencils online or make your own to add a personal touch to your bathroom. Stick your stencil to the surface and paint over it with a hand-held roller.
9. Seal Your Bathroom Tiles
Once your paint is completely dry, use a paintbrush to put a sealer on your bathroom tiles. Give the sealer five minutes to dry, then wipe them down. A sealer helps your tiles last longer by protecting them from water, dirt, and scratches.
It's easy to paint bathroom tiles with the right tools and time. Take your time and let each layer dry before moving on to the next one. You'll be left with beautiful, shiny, new tiles.
Things to know before you pick a paint color
There was a time when the only way to update dingy, old, or boring bathroom tiles was to rip them out and put in new ones. Today, commercial paints made for tile make it easy to change the look of your tile floors, walls, and other bathroom surfaces or give them a whole new look with just a can. 
No matter how simple it sounds, you shouldn't start painting bathroom tiles until you've thought about the project's key goals and limitations. Here are 6 things you should know before picking a paint color.
1. Bathroom tile painting is much cheaper than retiling
You've heard that paint is a cheap material before. So, it shouldn't be surprising that it's the cheapest way to update bathroom tile that isn't broken, crumbling, or otherwise structurally weak.
 People who like to save money can paint 100 square feet for as little as $100. Depending on the type of tile, retiling a typical bathroom floor of 35 to 100 square feet can cost anywhere from $100 to $1,500 if you do it yourself. Also, tiling between 9 and 13 square feet around a tub or on the walls of a shower stall? CostHelper.com, an online tool for making plans, says it would cost another $400 to $1,300. 
Solid-colored tiles made of cheap materials like ceramic are on the low end of these price ranges, while patterned tiles made of expensive materials like marble are on the high end, costing up to 15 times as much. On the other hand, painting patterns on tile floors would only cost you twice or three times as much in materials and time, depending on how many colors you use.
2. It affords endless looks.
Ceramic, porcelain (ceramic tile), natural stone (marble, travertine, slate, granite, or limestone), and quarry tiles are all popular bathroom tiles. They come in a variety of solid colors and patterns. 
Still, these ready-made styles might not match the style of your bathroom, go out of style after you install them, or be too expensive to install. With paint, you can lighten, darken, or add a pattern to your tile to make it fit any bathroom style, from a retro checkerboard pattern to a cool and modern geometric design. And if your style changes in three years, it's simple to paint again.
Remember that brighter paint colors are better for bathrooms with limited space. Darker paint colors soak up light and make a small bathroom look smaller.
3. It's not practical to paint tile on all bathroom surfaces
You can paint most types of tile, except for glazed quarry tile, which doesn't stick well to paint. It includes ceramic, porcelain, natural stone, and even unglazed quarry tile. 
However, your paint job will last the longest on tiled bathroom surfaces that do not receive excessive or little moisture. It includes bathroom floors, walls, and backsplashes that aren't right next to the tub. Even though tiled countertops, tub surrounds, and shower surfaces can be painted, they aren't as good for this treatment in the long run because water is more likely to cause the paint to fade, peel, or bubble before it should. 
But if you don't mind doing touch-ups or re-applications often until you have enough money for a full bathroom remodel, this fix might be just what you need.
4. It's crucial to pick the right paint for the tile material and bathroom surface.
Ceramic, porcelain, and unglazed quarry tiles can be painted with one-part (pre-mixed) or two-part (ready-to-mix) interior latex or epoxy paint. Latex paint costs between $10 and $30 per gallon and is usually less smelly and dangerous.
Unless you buy a more expensive type that doesn't cause mildew, it easily breaks down when exposed to a lot of water and should only be used on bathroom floors or walls. 
Epoxy paint, which costs $20 to $35 per gallon, works well for "splash zones" like backsplashes, countertops, tub surrounds, and shower surfaces. This type of paint dries into a harder, more durable coat that is more resistant to moisture, heat, and normal wear and tear than latex paint.
You could look for a well-reviewed two-part epoxy made for tubs and tiles, like Rust-Oleum refinishing kit that has been reviewed nearly 2,000 times and is available on Amazon and elsewhere.
Natural stone tiles need a $20–$35 per gallon acrylic latex paint made for masonry or stucco. All these paints come in a wide range of finishes, from flat to very shiny. The painted tile will be more slippery if it has a glossy finish. The most grip is offered by flat and matte sheens, while semi-gloss and high-gloss sheens offer the least. This is a problem on surfaces that are already slippery, like shower floors.
5. It can put your bathroom out of commission for a weekend or longer
Bathroom tile painting can be done in five steps: Surface preparation, priming, painting, putting on the pattern and sealing. 
The total time needed for the project will depend on how long it takes for the primers, paints, and sealers you use to dry, how complicated the pattern is, and how big the project is, whether it's just a few tiles on the backsplash or the whole wall. Here's what you can expect:
Surface preparation 

involves sanding, vacuuming, and scrubbing the tile and grout lines to remove dirt and grime.

Priming the tile

 is important if you want the tile to take paint better. Use epoxy or urethane primer for ceramic or porcelain tile (you can see an example on Amazon). For natural stone or unglazed quarry tile, use masonry primer. Read and follow the primer's drying time instructions. You don't want to paint over something that is still sticky.

To

 paint the bathroom tile,

 you can either roll the color onto large sections at once or "cut in" around the edges of each tile before painting the rest. The second method would require an angled brush and a steady, careful hand to avoid getting grout lines or nearby tiles dirty, making the job take longer. Plan if you want to do more than a few accent tiles this way. Then, you shouldn't touch or walk on the paint for the next two or more days while it dries.

Typically,

 applying a pattern

 to fully-cured tiles entails taping a store-bought or homemade stencil to the tiles to be patterned, then rolling over the stencil with a roller cover saturated in the same paint you used the tile. Wait the full dry time once more.

Lastly, 

sealing

 the painted bathroom tile will keep dirt, scuffs, and scratches from ruining your work. Your sealer for ceramic or masonry sealer for natural stone or quarry tile) also needs time to dry, which you'll need to plan for. You shouldn't go to the bathroom until you've waited the whole time.

Overall, the project could take anywhere from two to several days and make the bathroom inaccessible. If you want to paint the floors, you can't even go to the bathroom to get the facewash you forgot, so make sure you take everything you need before you start.
6. Bathroom tile paint needs minimal maintenance.
Regular sweeping, vacuuming, and mopping with a store-bought or homemade tile cleaner tailored to your tile are all required to keep the color and abrasive dirt at bay. 
However, placing mats in high-traffic areas and floor pads beneath furniture on the tile can help keep scuff marks and impressions from marring the paint job. 
If there are any blemishes in the paint job, simply use an artist's paintbrush and your remaining paint to make touch-ups, then let it dry completely before re-sealing that section.
Final words: Bathroom tile painting ideas
Bathroom tile painting ideas: Since you don't spend that much time in the bathroom (unless you're taking one of those wonderful long bubble baths! ), it's a great place to try out some new and interesting designs. Bathroom tile painting ideas are easy and often very cheap to change things up and make a stylish space that follows the latest trends.
Bathroom tile painting ideas can be simple but effective, giving you the chance to get creative with accent colors, patterns, and textures. Plain, solid-colored tiles on the floor or the bathroom walls will look chic and modern, while patterned tiles will add character and interest.
FAQs: Bathroom tile painting ideas
Can Shower Tiles Be Painted?
Yes, you can paint shower tiles. But it's important to remember that your paint is most likely to get damaged where it gets wet. Walls, floors, and backsplashes are where your paint job will last the longest. 
The bathtub, countertops, and area around the tub are all places that get a lot of moisture and are more likely to fade, peel, or blister. Make sure to seal your paint job with an epoxy sealant as the last step. This will help keep damage from happening.
Consider adding accent tiles to your shower to personalize the look. Purchase a paint color that complements or contrasts with your chosen color, and hand-paint individual tiles to add pops of color. Similarly, you could buy stencils to improve the appearance of your shower.
How Much It Costs To Paint Bathroom Tiles?
Bathroom tile painting ideas: How much it costs to paint your bathroom tiles depends on your bathroom size and what kind of paint you use. The price difference between painting your bathroom tiles and replacing them is big. If you paint your bathroom tiles yourself instead of replacing them or hiring a professional, you will save a lot of money.
The price will vary, but a bathroom that is 124 square feet will cost between $69 and $200. (depending on the materials purchased). This price includes primer and sealant, but it is based on the assumption that you will do the work yourself. If you want to hire a professional, the labor cost will add much to the total cost. If you want to hire a professional, the price will go up to between $500 and $1,100.
How Long Does Tile Paint Last?
Bathroom tile painting ideas: Several things will affect how long a paint job on bathroom tiles will last. Most importantly, the paint and sealant used and how often a bathroom is used. On average, bathroom tile that has been painted will last between 10 and 20 months.
You can make your paint job last longer if you clean it carefully. Don't use harsh cleaners like steel wool or scouring pads; don't use chemicals that will burn through layers of paint or change the color. 
When you clean, use neutral solvents. A solution you make at home with warm water and baking soda will do wonders and won't hurt the paint on your tiles. Be careful when scrubbing and cleaning, so you don't damage the paint.
How Do You Grout Tile After Painting?
A grout pen is the easiest way to fill the spaces between tiles after painting. Just drag it along the grout lines to make them whiter and look brand new. Make sure the areas you trace are dry before you use them.
You can also buy grout paint to make the space between your tiles look better. Painting directly on the grout lines is time-consuming and requires special epoxy paint. However, the result will make your bathroom appear clean and brand-new.
What Kind of Paint Do You Use On Ceramic Tiles?
You can use epoxy or latex paint on ceramic, porcelain, or unglazed quarry tiles. Latex paint costs as little as $10 per gallon and smells less strong. Even though it is cheaper and less toxic, it will be more likely to be damaged by water. For tile surfaces that won't get a lot of water, you might want to use latex paint. 
When it comes to water damage, epoxy paint will last longer. Use epoxy paint in places like the tub or countertops that will get a lot of water. A gallon of epoxy paint can cost as little as $20. It will be stronger, last longer, and keep moisture out better.
Make sure you don't forget to seal your paint, which is a very important step! You can buy an epoxy sealer to help your paint job last longer and keep moisture out.
Is painting tiles a good idea?
Painting the bathroom tiles is good if you want to change their color, keep them from getting damaged, or give your bathroom a new look. This project is pretty simple and shouldn't need help from a professional. We say go for it as long as you have the right tools and follow our tips.
Bathroom tile painting ideas: Other Cost-Effective Ways 
We've already said that painting your bathroom tiles is an easy and cheap way to transform the look of your bathroom. You can change the feel of your bathroom by doing more than just painting the tiles. You can also add or change accent colors. Think about picking a color that makes you feel calm or shows who you are.
Choosing a theme is another way to change the look of your bathroom. Choosing a theme for your bathroom will help tie everything together and make the whole room look chic and put together. Think about picking a theme that reflects who you are.