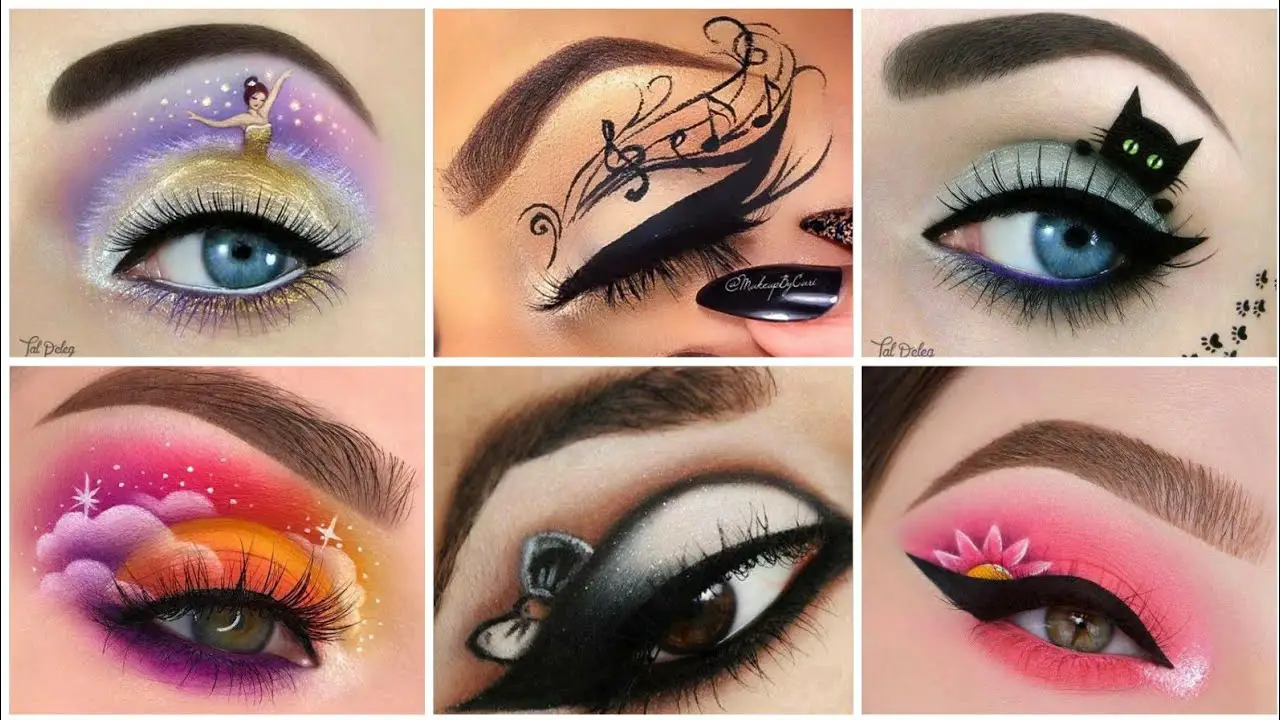 Almond eyes are the most beautiful shape of eyes and they brighten any face shape and contour. Eyeliner and eyeshadow techniques can be used to create various looks that suit the outfit and occasion. For small and large eyes that have almond shapes, various eye makeup techniques can enhance the look of your eyes.
With almond eyes, you can experiment with colors, get creative with textures and eyeliner styles, and create umpteen looks that suit any outfit. This is the most common eye shape and is considered to be an ideal one. Cats' eyes, Smokey eyes, halo eyes, and many other looks can be created for almond eye shape effortlessly without the use of eyeliner tapes or any other accessory.
Almond Eyes – Makeup Basics
As a rule of thumb, first, use a primer for your eyes and choose a matte eyeshadow of your choice that suits your skin tone and skin texture. You could also do the sheen look using the glossy eye shadow moderately. Use a highlighter in the corner area of the eyes as well as just below the eyebrow line. You can use a powder, cream, liquid, baked, or crayon based eyeshadow depending on the weather and outfit
For daily use baked eyeshadows are best as they blend well with all skin types. Liquid, cream, and crayon-based eyeshadows are long-lasting and can be used for party-like occasions in weather that are not too hot. Choose the right type of eyeshadow before you get started with the eye makeup.
After the basics use an eyeliner shape of your choice
Choose a dark or light eyeliner color depending on the color of your eyes and outfit
Thick or tightly lined is your choice
Use an eyelash curler and coat them with a thick mascara
You can get creative with colors and choose colors in eyeliners that are neon or other than black and brown.
Almond Eyes – Cats Eyeliner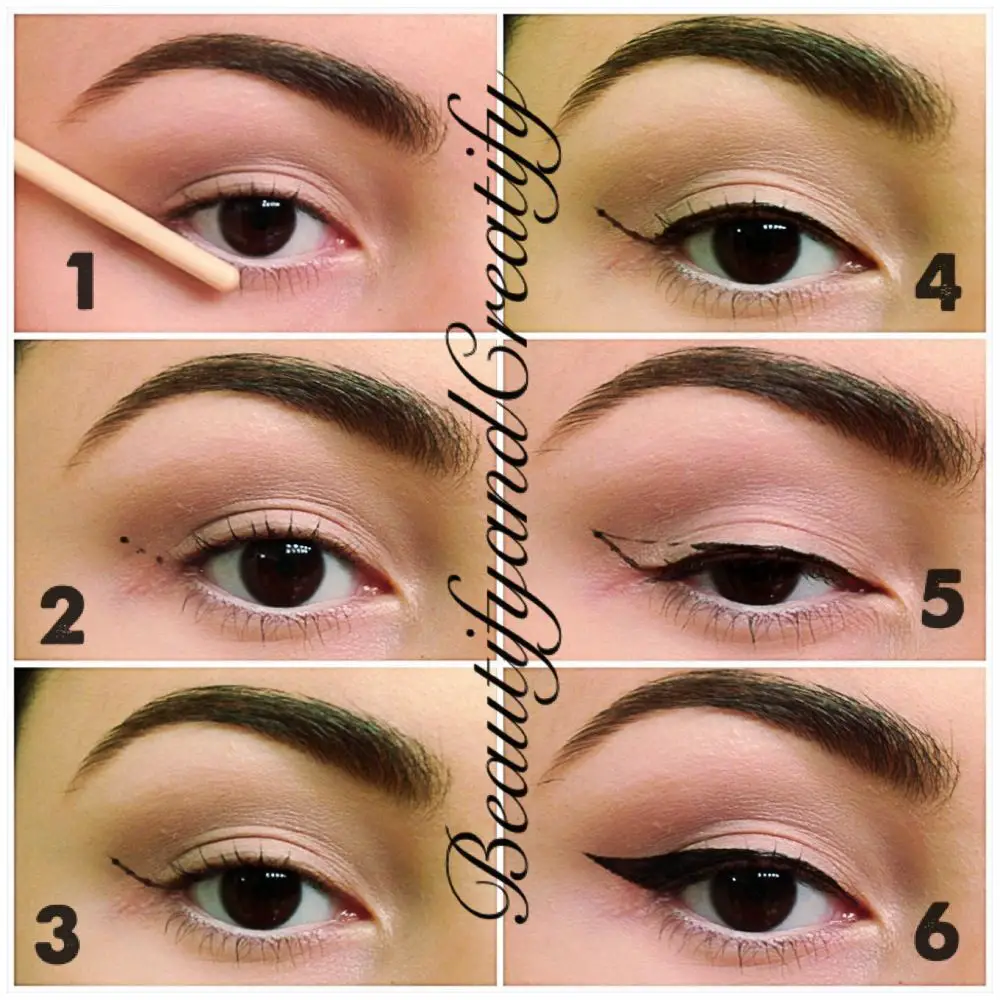 Follow the basic rules of priming up the eye area
Apply eyeshadow or leave it natural
Start with drawing a thin liner with liquid eyeliner
Start from the tip of eyelashes
Start thickening the eyeliner from the mid-portion of the eye towards the outer area
Create a small winged effect like a triangle on the edge of the eyes.
Using a highlighter is your choice. Avoid using it if you haven't applied the eyeshadow
Use a thin liner for lower lids and prep it up with a lighter shade of eyeshadow and blend
Ensure that it does not look darker than the upper eyelid
For older women, liquid matte and powder or baked eyeshadow are suitable. Avoid using cream-based eyeshadow if you are an older woman.
Almond Eyes – Smokey Eyes
Follow the basics
Choose a color for eyeliner, eyeshadow, mascara, and highlighter
Choose the type of Smokey eye you want – black, blue, or any color of your choice
Get a liner of that color and apply a thick coat to the eyelid
Dust it with a power-based eyeshadow of the same color
Apply a thick coat of eyeliner in the shape of your choice
Avoid using a highlighter for Smokey eye makeup
Line the lower lid with a think line of the eyeshadow used
Apply a thin layer of eyeliner on the lower eyelids
Use mascara and false eyelashes if you have to, to give it a dramatic look
You can also use a touch up of metallic based eye shadow in copper if you want a dramatic look
You can create a simple Smokey eye look without the use of thick coat of eyeliner application on the eyelid and keep it subtle with eyeshadow
Almond Eyes – Colorful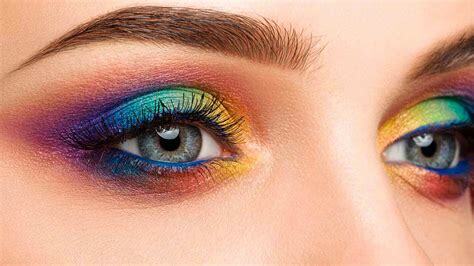 If you love to get creative with eyeshadows and have some fun, you could try these looks. Use a good quality eye shadow so it does not wear off easily or cause eye irritation. You can either get subtle or brighter adding vivid colors from the eyeshadow palette.
Prime your eyes, apply foundation, concealer that suits your skin color and contour
Blend in and choose the type of eyeshadow to use
Cream-based and satin would be best to achieve this kind of look
To achieve this look do not use more than three colors
Choose colors that complement or contrast each other
Have one contrast color and the other two complementary colors to create a balanced look
Start with primer, concealer, foundation
Use a cream or satin eyeshadow color that fills most of the area
Fill the last portion of the eyelid with this color and blend it with darker shades below the eyebrow area that complement this color
Choose a contrast color on the smaller portion of the eyelid and blend
Apply a thin coat of eyeliner touching the eyelids
Use a different eyeliner color for the lower lid which is the same as the eyeshadow color used to cover the major portion of the upper eyelid area
You can use a darker shade of eyeshadow to create a crease that extends to the outer portion of the eye as well as covers the lower eyelid
Use a lighter shade of copper highlighter on the corner area of the eyes
Use false eyelashes if you have to and apply mascara on the upper as well as lower eyelashes
Apply a lighter shade of highlighter just below the eyebrow line
Use brow power on the eyebrows to give it a natural look
You can experiment with colors using this technique to create a vibrant look of your choice.
Use metallic colors, sheen palette, or embellishments of your choice but know to use the right technique of blending
Almond Eyes – Creative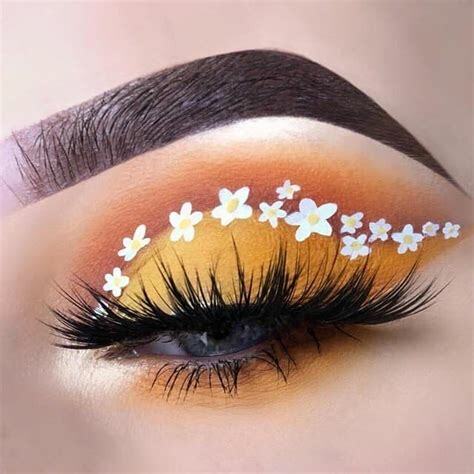 For creative almond eye makeup choose the right eyeshadow type, eyeliner, and colors to create textures, blends, motifs, and use your imagination. Your eyelid is your canvas to paint your creativity with eyeshadows and eyeliners in different colors. With the basic steps and a handful of motifs and colors in eye makeup products, you can achieve this look.
Almond Eyes – Vintage Motifs
The typical vintage look without the use of motifs or drama is achieved when you create a brighter base by using a foundation and concealer slightly lighter than your skin color. Use the same steps to create a base.
Avoid using eyeshadow to achieve this classic vintage look. Use a darker shade of eyebrow tint on your eyebrows and a thick jet black eyeliner either winged or not to achieve this look. Use a nude eyeshadow color if you have to in powder or baked types and avoid the cream base unless you are looking for a long stay look.
Almond Eyes – Avant-Garde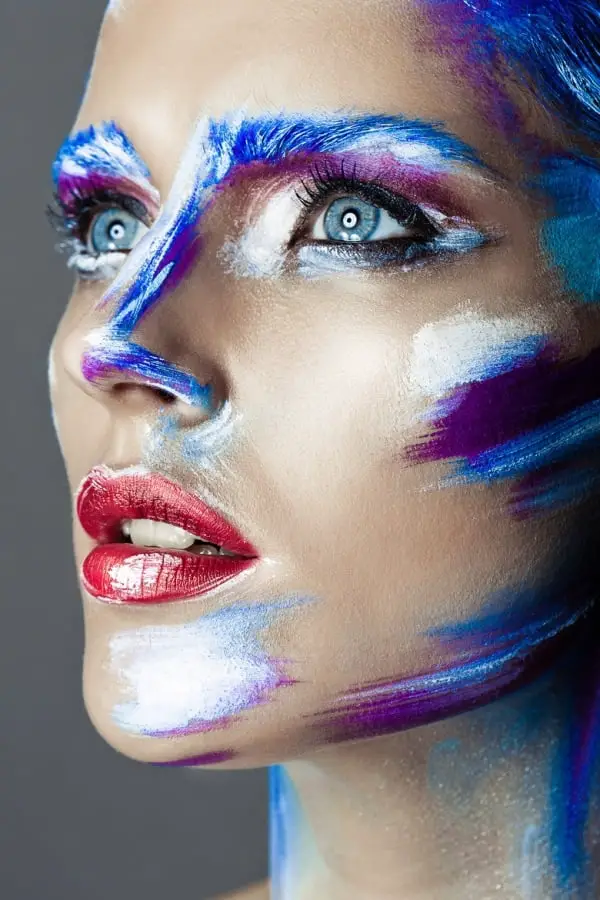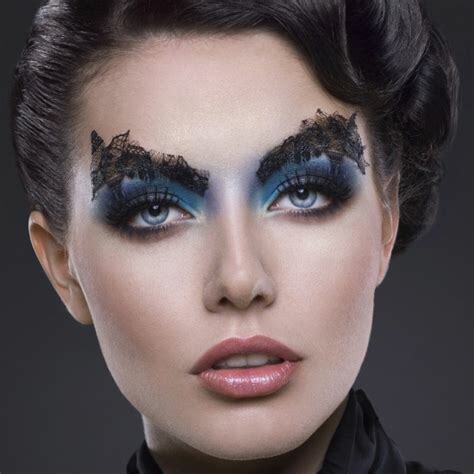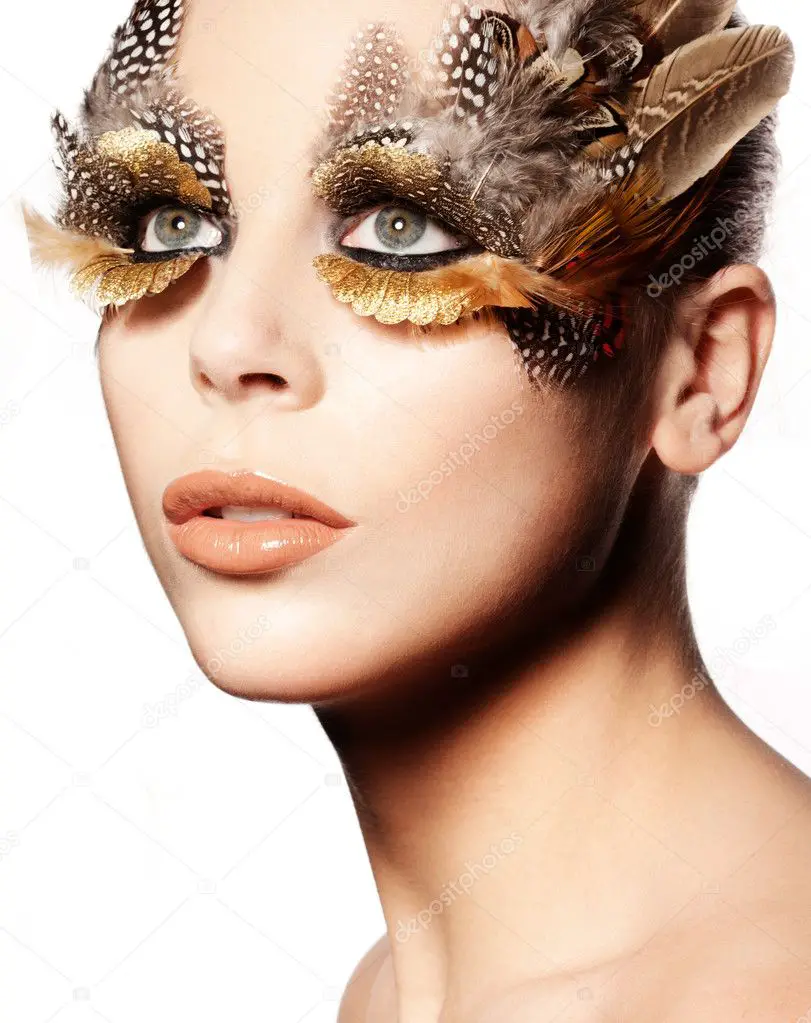 Think of motifs, artistic strokes, themes, embellishments that are out-of-the-box and defy the conventional art motifs. Choose any theme and give it a twist of non-sequitur to create a motif. Use your face as a canvas starting from your eyes, extending it to the forehead, temples, or cheekbones.
Almond Eyes – Motifs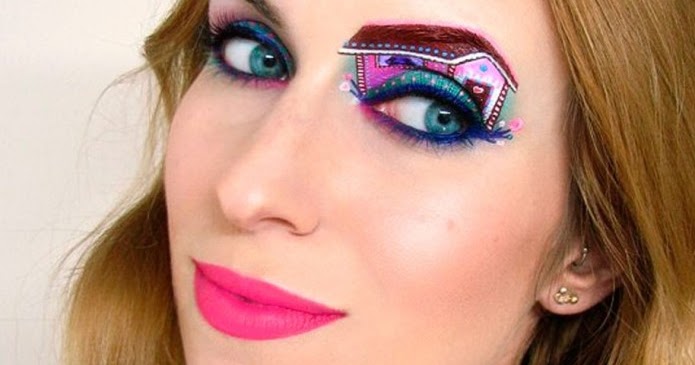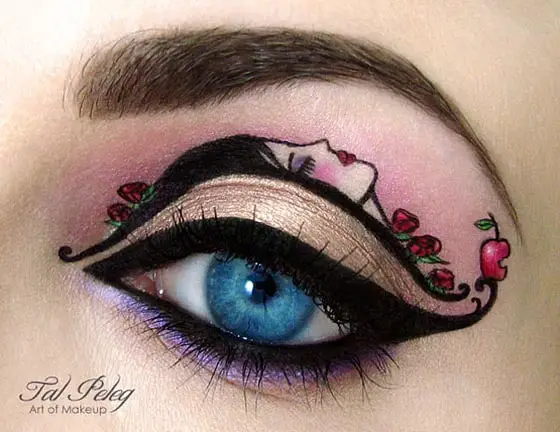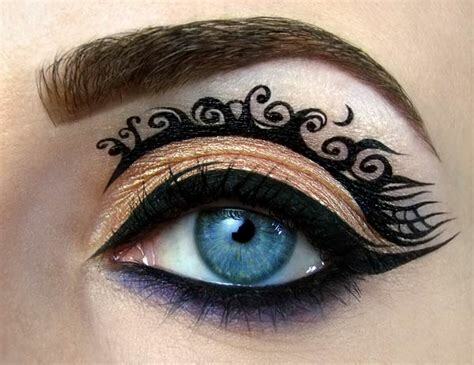 Flowers, butterflies, fantasy, cartoons, or anything you like. As long as you can fit it in that area of your eyelids, you are good to go. Choose colors that compliment your skin color and tone. Do a base blend, and avoid overuse of eyeshadows. Do not use more than two colors for eyeshadows if you have to.
Almond Eyes – Landscapes
Use your artistic abilities to create landscape art on eyelids with the use of blends, eyeshadow colors, eyeliner colors, eye pencils, and embellishments. Pick a theme and first create a base using the color eyeliners and work on motifs using a liquid, waterproof eyeliner colors. Avoid using makeup for lower eyelids and waterline when you have fun trying this look. You could use dramatic false eyelashes if you have large almond-shaped eyes. Else, keep it simple.
Almond Eyes – Halloween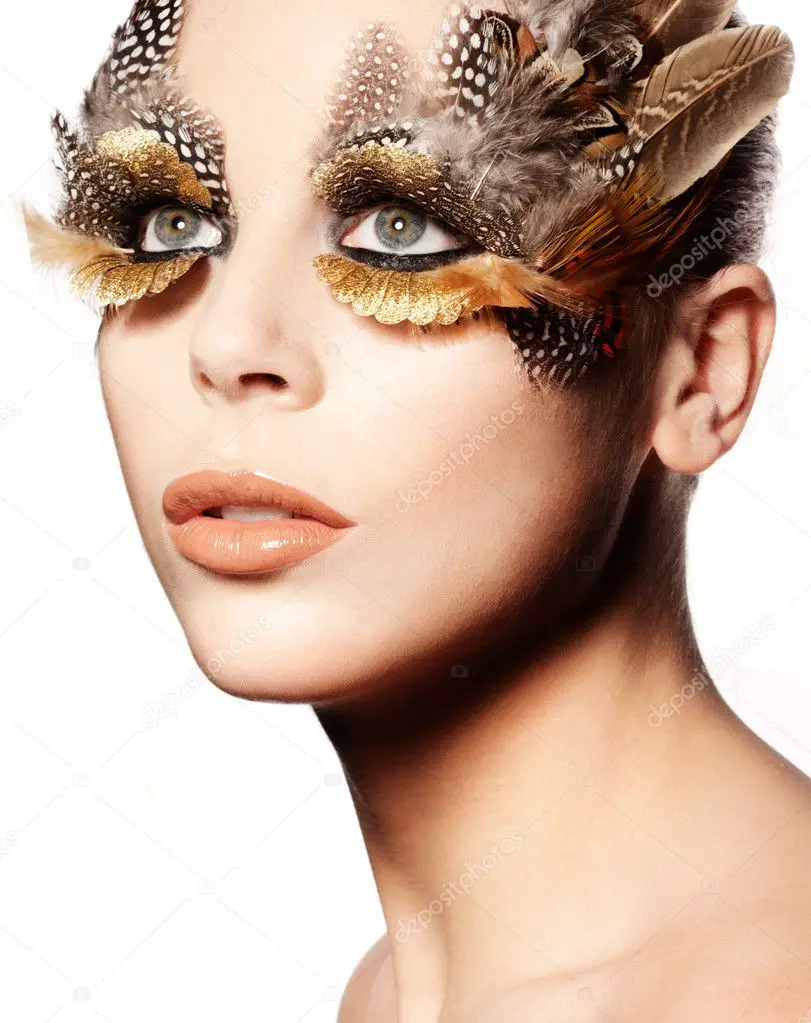 This is galore of options with the use of pop and dark colors in combination. Not your everyday look. But, occasions are meant to have fun with a costume drama and looks beyond the ordinary. Do not go the David Bowie, or Marylin Manson, it's too standoffish and grotesque. Who said Halloween eye makeup has to be grotesque? You can use some art elements to create neat and an elegant makeup using Halloween colors and motifs.
Almond Eyes – Offbeat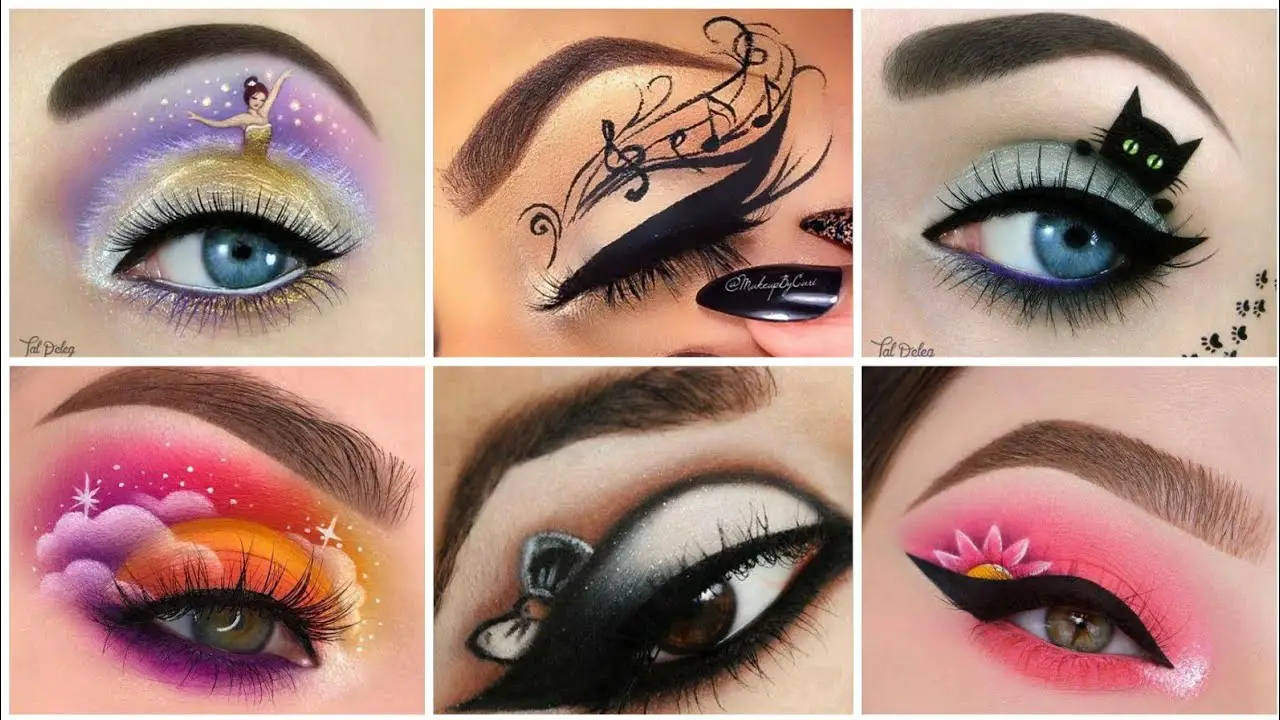 What can be offbeat to your senses? There is no standard rule for this. Choose textures, motifs, or color blends with quirky embellishments you wouldn't use otherwise. Create a shock-value with a pleasant surprise of motifs and textures. Think of motif blends and portmanteaus nobody could think of creating a Salvador Dali or folk art meets geometric or abstract patterns. There is a huge galore of artistic devices, the genre you can blend to create an offbeat motif for eye makeup.
Almond Eyes – Punk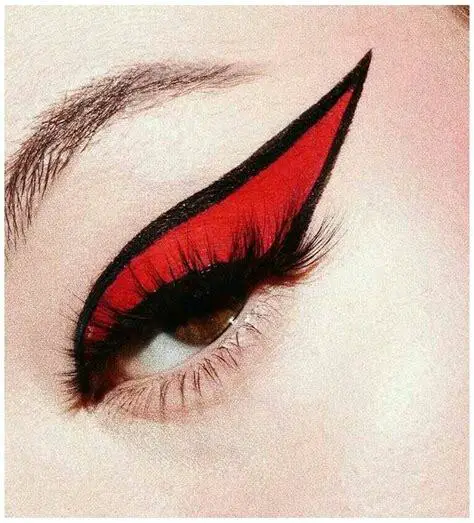 Smokey eye is so worn out it has entered the realm of standard and regular like you could wear it to the office if you do it with subtlety. No kidding, the look is no more a rock genre element. But, it definitely has offshoots with color combinations and eyeliner styling that has evolved the punk element away from garish and anti-establishment art.
We, so don't need that anymore, it's an extinct style element fossiled in the history of music and art genre of punk, Oi, no more traditional Punk, garden variety, thanks! Rebel is no more associated with the underground meaning of how Punk originated. This is more about individualism and expressing yourself freely without bias and it shows in the look. Avoid shimmer and glitter if you want to achieve this look. Keep it matte and use metallic in minuscule quantity.
Almond Eyes – Rock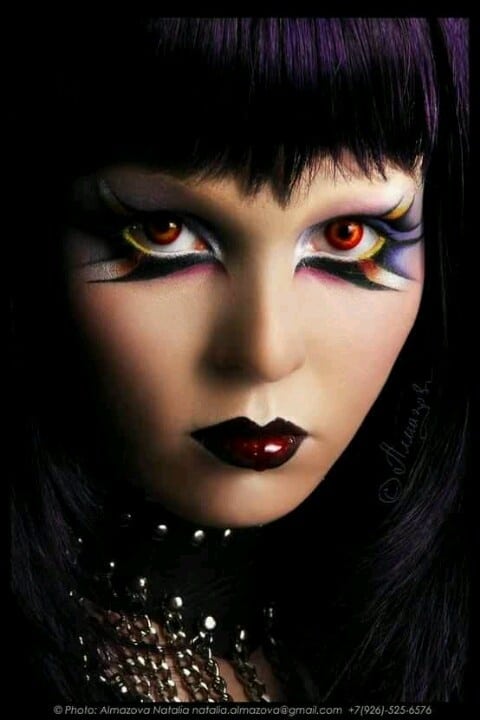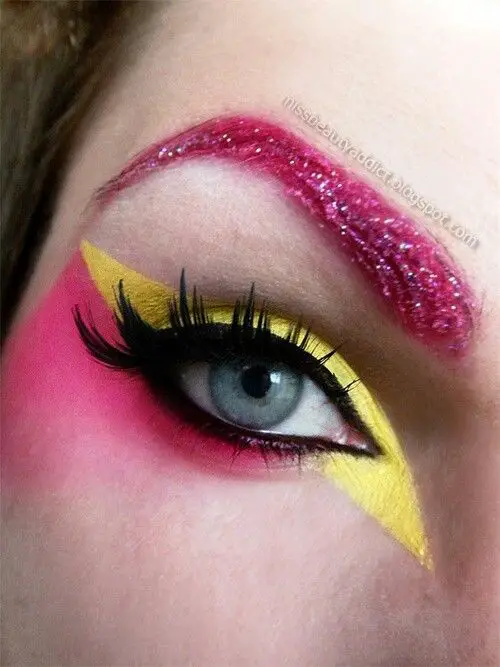 Rock has evolved and the best part is you could go the traditional way with Smokey eyes and some glitter in a single color. Create a monochromatic look using elaborate eyeliner style. Use any color eyeliner, the red looks better. Lavender is pop rock and tells the world you are still dallying with the idea of being assertive though you so want to be.
For the rebellious look, the kind that rebels for the right cause, try these looks. They are fun, wearable, and do not sway to any other genre other than rock and its subcultures.
Men and women could try this look. Greenday inspired, the metrosexual male with the right, dramatic makeup expressing his artistic side, why not!
Almond Eyes – Gothic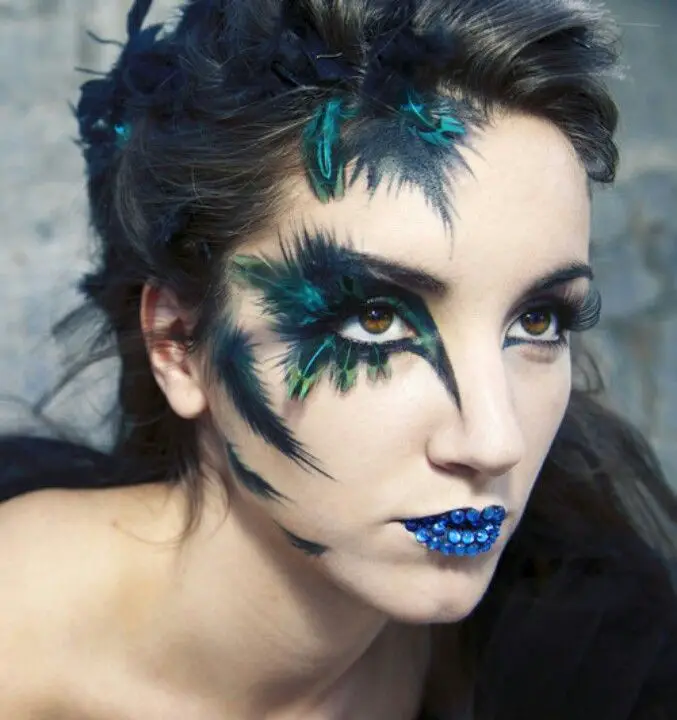 The Gothic look is different from Halloween. In this, you have to think of dark emotions, and use emo motifs and the dormant color is black. If you have small eyes, use subtle motifs and blend them artfully with a white or silver highlighter and eyeliner.
Almond Eyes – Makeup Art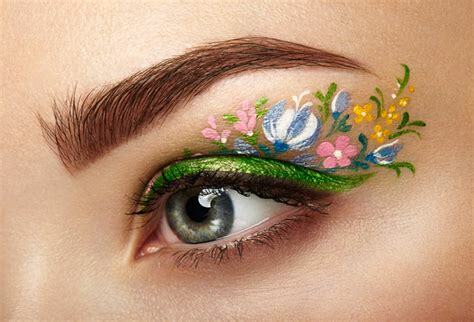 This needs a lot of patience is not your everyday gig. One a fine holiday, when your mind is set for fun elements to try come up with motifs, other than the regular, and get started using the above tips. Create a stencil if you have to that sits well on the shape of your eyelids so you do not run out of space painting them on your eyelids. Go easy on eyelashes and lower liner. Apply if needed, you are best to decide that.
Almond Eyes – Papercut Eyeliners
They are easy, fun, and no-mess. Use them on eyebrows or eyelids and add in a dash of eye shadow colors and eyeliner. They got vintage swirls. I love swirls and bubbles. They look great on most of the pret outfits as well as costumes. Where's the masquerade? You could do a ball without them as long as you got the paper eyeliner motifs right!
Conclusion
Almond eyes in any size are great to experiment with eye makeup. You can create a look that suits any outfit, costume, and tryst with art. Express yourself with eye makeup as long as you got the blending technique right. Create your masterpiece. Who said these pass- times can't be fun?
Love a look of celebrity and you got almond eyes, wouldn't you be happy trying that look with the use of the right technique of eye makeup. Men and women can try these looks and keep it subtle or dramatic as they wish. Create your version of beautiful and bring joy with each stroke of makeup brush.