Passion Twist Hair
Protective hair enthusiasts and naturalists are huge stans of passion twist hair. You will really be surprised to see how this new hairstyle is making a huge place in people's routines. We are talking about bold passion twist hair, this comfy and carefree hairstyle is a blend of Senegalese twists and goddess locks.
Still not sure what it looks like? Scroll through the entire piece of the article or peek into the nearest salon to get your braiding done into passion twists. There is no way we are going to let you miss this crazy and cool style that is into trend and does not seem to go anywhere soon.
What Are Passion Twist Hair?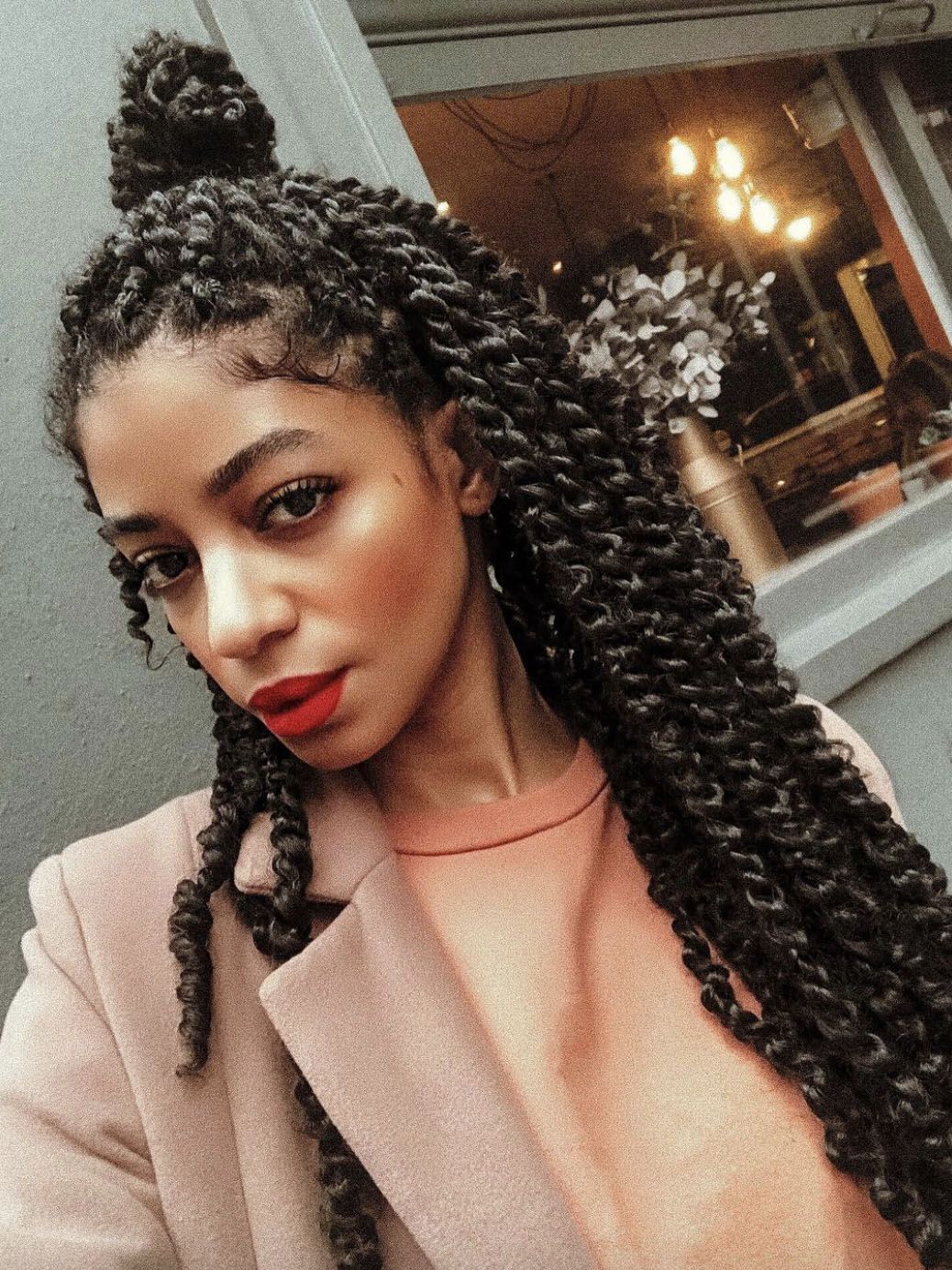 This amazing hairstyle was created by Kailyn Rogers who is a super talented Miami-based hairstylist. If you want to search her online, just use The Boho Babe title and you directly get entry to her cool pages. This name is so appropriate for a talented stylist like her who is able to create an offbeat and artsy look. She invited this style for her clients that wished to have a hair-do that's easy to maintain and natural while still managing to radiate high glam.
Roger's said in an interview that she was thinking and meditating on how to develop a unique style like this particular one and one day god just brought this style to her and she got up immediately and reached her hair store to try this one out. She just tried without thinking twice if it will look good or work for her, and guess what? we already know it did amazingly well for her in the first attempt itself. Isn't that crazy? Artists are so inspiring to look upon.
By January in 2018, her passion twists hair made their debut on our all-time place Instagram where people went crazy for the hair-do. The popularity soared quickly for obvious reasons of course. The demand was literally so high that people overflooded her Instagram DMs. She had to create a tutorial to post on her Youtube that has a quick rundown on how one can achieve this cool hairstyle. What do you think might have happened next? You guessed it right I guess, her video went viral and sparked a life.
Try searching the tag passion twists, you are going to get a crazy lot of results soon.
But how is this hairstyle different from locs and spring twists, although they look quite similar except for their finishing? Let's dive into the explanation.
It is quite common for people like me who are not so much into finishing when it comes to hairstyles to think that all the hairstyles are similar, but it's not. Hair enthusiasts will totally notice the difference in one go. If at first glance you are not able to figure out that passion twist hair is different from locs and spring twists, you need to watch the tutorials carefully. This style is loved by all because it's protective and different from others. If you are tired of the same old hairs, you need to try this one out for once.
Do you know what is the secret sauce to passion twists hair? Let's not get into suspense, it is the resemblance of passion twists in the tie-in water wave braiding. You will notice that the bundles you create offer a silky feel with those curly textures. Once you get this done, your hair twists will almost have an unraveled appearance that you cannot expect in other styles like Marley twists or Senegalese. These are often too neat and tight.
How Do You Install Passion Twist Hair?
You can install passion twist hair in the same way in which you install the other two-strand twists. But for those people who haven't got any two-stand hairstyle done, you can begin this with your washed, stretched, and moisturized hair. You can always attempt this one on the natural hair, though you might have some difficulties depending upon how kinky or curly your hair is. The choice is all yours, ultimately you are going to get this done and look fabulous.
Next, you have to divide your hair into smaller sections to create your desired look. You can either make your passion twists chunky or thin, you can also create a mix of different sizes if you want to look unique in all possible ways. For each segment, you have divided your hair, create something unique by having an x-shaped partition and prepare to braid your hair.
The actual segments of hair need to be separated in half before you start or proceed further. When you are done, apply a dab of any edge control gel on your fingertips and wrap your braids where your hair meets the scalp. Remember that the braiding you had arranged previously in a cross should be twisted in half of your natural hair as this will help you provide tension that you need to lock the braids at roots and avoid any slipping.
Rogers has mentioned that it requires more pulling and twisting to create this hairstyle, especially for the first-timers. Once the faux hair is in place securely, follow up by sectioning your hair again into two strands and then twisting them again by applying enough force for the hair strands to entangle while also maintaining the partial curly form they have.
The end result you will receive is S-shaped twists. also, you got to find out how loose or how tight you want your passion twist hair to be. Remember, the focal point is natural hair that looks comfortable. You need to follow the same steps for all the sections you have partitioned your hair into. According to the one who created this hair-do, you can have 7 packs of braiding hair as they are enough to get average density to the hair. For doing 5 twists or more in number, you can use nearly 10 bundles.
When this is installed completely throughout all the sections you have divided your hair into, you will receive a head full of gorgeous bohemian passion twists hair. You will be shocked and surprised to witness your hair at the end, get ready to receive compliments.
How Long Will My Passion Twists Hair Last?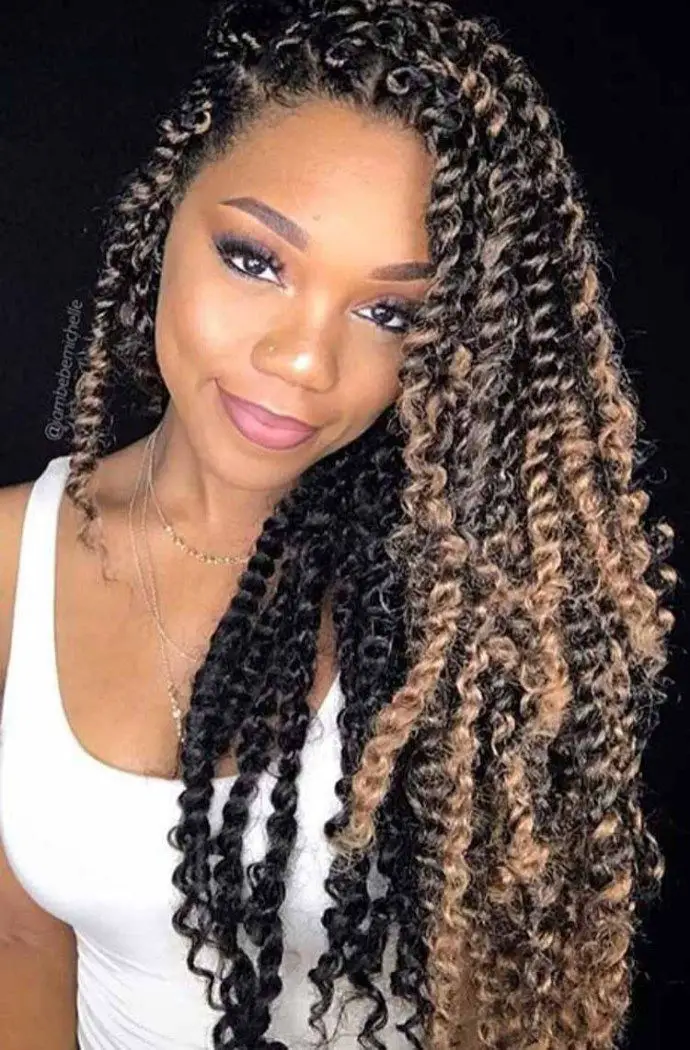 Once your passion twists are completed, you can easily ensure their longevity using a holding mousse, Rogers uses Bronner Brothers foam moisturizing wrapping lotion. This lotion is amazing to add finish into the passion twists hair along with moisture, shine, bounce, and body.
Rogers is the creator of passion twist hair and she claims that this style can last nearly 2 months or so. Though you do require touch-ups in order to increase the time span. Like all other twisted styles, smaller twists usually last for long and provide volume hugely. They add fullness to your hair making them look stunning. But, for good hair of your health, you need to maintain them for a short period because having passion twists hair for long can damage your hair.
When it comes to liquids, passion twists hair is water-friendly. You do not have to think much before going swimming or getting caught in the rain or washing your hair. Since you do not want your hair to unravel, make sure you use something to cover your hair while wetting them for too long.
What is The Upkeep?
Regardless of whether it is winter or summer, passion twists hair can be used for giving extra protection to your hair. If you do not want to damage your hair using excessive hair products or heat tools, you need to go for passion twist hair. Since your hair is tucked into faux tresses, there is not much need for their upkeep. You will easily be able to retain additional growth and strength with the duration of this hairstyle.
You can always use a condition to spray on your hair for locking the moisture. Try to use a lightweight option that can nourish dry hair. Try to look for ingredients like argan, rosehip, and coconut oils. Besides hydrating your hair for minimising breakage of hair, you must know that a clean scalp is imperative to protect the style according to bloggers who work for natural hair.
You can always use a scalp lotion having useful ingredients like avocado oil, menthol, aloe vera, eucalyptus, etc in order to reduce itch and buildup.
Last but not the least, make sure you have a good sleep regimen that suits your passion twist hair. Like most protective hairstyles, you can always toss your passion twists in a high ponytail called a pineapple ponytail and throw a scarf or satin bonnet. Also, if you are a wild sleeper, you can always go for silk pillowcases to avoid damage or unraveling of your passion twists.
Cost Of Getting Passion Twist Hair
Compared to other intricated braids passion twist hair are much affordable and easier to get. The price is certainly different in all places, it does vary from one state to another state, typically you can expect them to cost anywhere between 150 dollars to 200 dollars.
If you are all into protective hairstyles, this one might be the best one for you. The price is also not as high as other costly braiding styles. You can easily get this done in the nearest salon or follow the tutorial given above to do it on your own. If you are a pro at braiding your own hair, it would not be a headache for you but for first-time braiders, it is suggested to visit a professional stylist.
This is everything you needed to know about passion twists hair and how you can easily get them done in your hair and avoid unraveling later on.
Wish to learn more about healthy hair tricks? You can follow this melanin hair care guide to improve the texture and shine of your hair.