Homemade Essential Oil Air Freshener Recipe – The fragrance is more than smells. Scents inspire fresh re-visiting of memories, trigger good moods, give you a feeling of warmth and the comfy feels of home. Be it children or the adults of the home, and everyone loves to have some refreshing fragrances in their homes and rooms.
But these days air fresheners are not anymore fresh. They are mixed up with various chemicals, which can cause various respiratory or lifestyle diseases. The concept of air fresheners was supposed to be well-intentioned and homely, but that concept has taken a severe toxic turn.
Both children and adults have become obsessed with plug-in deodorizers or pungent smelling scented candles. These are nothing but complete mixtures of toxic chemicals.
Toxic Chemicals in Air Fresheners
1,4-dichlorobenzene (1,4-DCB) – Various researches and studies show that inhaling 1,4-DCB can cause damage to your vital organs such as the liver and kidney. This chemical is also a carcinogen of low hazard.

PEG-40 – PEG-40 is considered to have caused lots of respiratory-related diseases in the past. Various studies have also proved that it can also cause DNA and reproductive-related damages, allergies, and, worst cases, cancer.
Phthalates – It is a type of agent found in many products that we use in our day-to-day life, such as household cleaners, fragrances, cosmetics, personal care/ hygiene products. It has been linked to various diseases such as ADHD, low IQ level, asthma, and many other such damages to vital organs of the body.
But these chemicals should not be the reason for you shunning off the air fresheners and not making good memories or triggering good moods. Wondering why? Well, we have just the perfect, affordable, and safe alternative for you.
Now, you must be wondering what the alternative could be? Well, it's a homemade essential oil air freshener. Yes, you read it right; you can now make air fresheners at home while creating all the more beautiful and good memories with your family, friends, and loved ones.
Essential oils are natural oils made of plant extracts and are commonly used in aromatherapy. Some of the important features of these oils are that they are very rich in quality and have many health benefits due to their natural composition. Essential oils are not meant to be consumed orally. They can be either applied to the skin or can be inhaled.
Some benefits of essential oils are:
It has grounding effects on anxiety and stress and encourages relaxation.

Applying essential oils reduces the intensity of headaches or migraine headaches.

It soothes your brains and muscles, which helps to get a sound sleep.
Different Types of Essential Oils
#1 Antibacterial Essential Oils– These essential oils come in a lot of variety and are abundantly available in the market. It includes –
Lemon

Lime

Sandalwood

Wild Orange

Peppermint

Roman Chamomile

Rosemary

Sage

Cypress

Bergamot

Marjoram

Patchouli

Melaleuca
#2 Antiviral Essential Oils – These types of essential oils come in comparatively less variety than those of the antibacterial, but these are highly effective and easily available in the market. It includes –
Cinnamon

Clove

Lavender

Lemon

Eucalyptus

Thyme

Sandalwood

Oregano
#3 Antifungal Essential Oils – These include many antibacterial and antiviral essential oils such as –
Eucalyptus

Lavender

Lemon

Melaleuca

Patchouli

Sage

Sandalwood

Thyme
These are a variety of essential oils that, along with the sweet and fresh fragrance, give you protection from all kinds of infection too.
Basic Supplies Required before Making Air Fresheners
Spray Bottle (The capacity of the bottle depends on how much air freshener you are making)

2-4 tablespoons Vodka or 1-2 tablespoon Baking soda

6-8 tablespoons filter water
Homemade Air Freshener Recipes
The steps to make the air freshener would remain the same for all the types. Hence, we are mentioning the instructions before the ingredients required for various types of air fresheners to avoid any confusion.
Preparation Time: 5-7 minutes
Steps to Prepare Air Freshener: (With Vodka)
Pour the vodka in a small bowl with the recommended number of drops of essential oils that you want to add.

Let the oil settle for about 5-7 mins, and then stir the mixture.

After stirring the mixture, add distilled water to the mixture and stir again.

Transfer the mixture to a spray bottle, shake it, and your fresh-homemade air freshener is ready to use.
(You can even make the Air Freshener directly in the spray bottle)
Steps to Prepare Air Freshener: (With Baking Soda)
In a bowl, add baking soda and the recommended drop of the essential oil you desire.

Stir the mixture together, and then add distilled water.

Transfer the mixture to the spray bottle and shake it well so that the baking powder mixes well.

You Air freshener is ready to use.
(For this method- directly making the Air Freshener in the spray bottle is not recommended)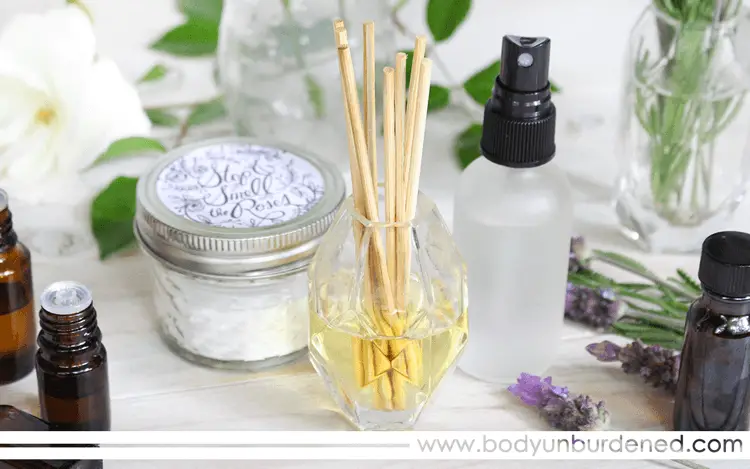 You can make the scent strong or light according to your preference by altering the number of essential oils you add to the mixture.
Various Type of Air Freshener with Various types of essential oils:
#1 For Bedroom:
After the end of a tiring hectic day, we all come to our bedrooms for relaxation and peace. There is something about all bedrooms that calms our minds like no place else.
Various studies show that Lavender Essential Oil has benefits such as – anxiety calmer and sleeping aids.
For your bedroom relaxation mood, you can use
20-25 drops Lavender Essential Oil

10-12 drops Vanilla Essential Oil

5-7 drops Vetiver Essential Oil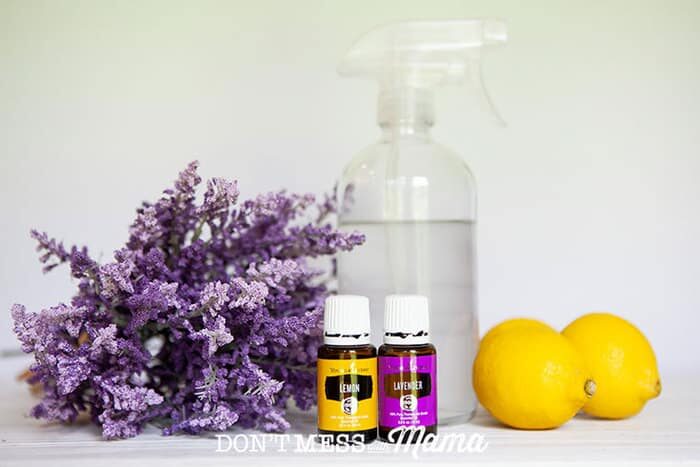 Using the above-recommended quantity, you will get anywhere between moderate- strong fragrances.
#2 For Kitchen:
A kitchen is a place where you will find all kinds of smells. The smell of the ingredients or the food you cooked and various other such smells. And imagine a day when your kitchen has not been cleaned yet; that combination of smells can bring your spirit down and make you feel like leaving the kitchen as it is.
But we all know, running away isn't the option. So, we require some spirit-lifting fragrance.
Fragrances like orange, grapefruit, or lemon can uplift your mood and make you feel energized as well.
10-15 drops Orange Essential Oil

10-15 drops Grapefruit Essential Oil

10-15 drops Lemon Essential oil
You can make the air freshener either using the essential oils mentioned above individually or by combining two essential oils. You can even mix the three of them together, but the smell may or may not be as fresh or nice as you would have expected it to be.
#3 For both hygiene and fragrance:
Cinnamon, clove, and tea-tree essential oil not only have antibacterial properties but also some great fragrant properties too.
You can use the following quantities of the essential oils for moderate-strong smells-
15 drops of Cinnamon Essential Oil

7 drops of Clove Essential Oil

12 drops of Tea-tree essential oil
You can use it individually as well as by combining the essential oils too according to your preference.
#4 For Mood-Boost:
Nothing can uplift your mood like a clean, refreshing spritz of lemon. Wild orange can make you feel freshened up and uplift your mood. Lemon combined with eucalyptus and mint can revitalize you on some gloomy days.
20-25 drops Orange Essential Oil

10-12 drops Lemon Essential Oil

10-15 drops Eucalyptus Essential Oil

7-10 drops of Mint Essential Oil
#5 For Immunity Boosting:
It has been proved that cinnamon and thyme have been an important source in boosting one's immune system.
7-10 drops Cinnamon Essential Oil

12-15 drops Thyme Essential Oil
#6 For Sound Sleep:
For a sound and peaceful sleep, you require a blend of soothing essential oils. Chamomile, valerian, and clary sage essential oils are the best essential oils to be considered for this category
10-12 drops of Clary Sage Essential Oil

12-15 drops of Chamomile Essential Oil

7-10 drops of Valerian Essential Oil
#7 For Anxiety:
Essential oils such as sandalwood, ylang-ylang, and vetiver are well known for the grounding effects and bringing about relaxation in one's mind.
7-10 drops of Sandalwood Essential Oil

10-12 drops of Ylan Ylang Essential Oil

12-15 drops of Vetriever Essential Oil
#8 For a Romantic Mood:
Rose and lavender are the symbols of romance. Their fragrance has a sweet earthy smell which makes it more romantic. The blend made using the rose and lavender essential oils can also be worn as a perfume. Patchouli Essential Oil can also be used in this blend.
15-20 drops of Rose Essential Oil

12-15 drops of Lavender Essential Oil

7-10 drops of Patchouli Essential Oil
Also, learn how to grow yarrow.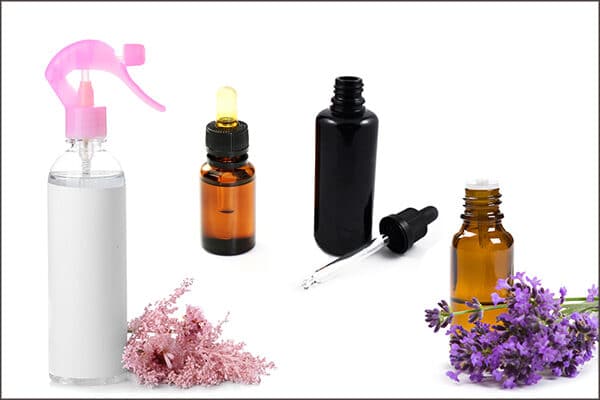 Frequently Asked Questions (FAQs)
Q1 How long does the fragrance of the essential oil air freshener last?
The scent would last anywhere between 10-14 days. Since this blend contains water make sure the freshener is refrigerated.
Q2 Can gin be used instead of vodka?
Gin is not recommended to make the homemade air freshener blend because gin already has a slight scent. However, you can use witch hazel as an alternative to alcohol.
Q3 Can tap water be used instead of distilled water?
Yes, you can. But since the tap water contains chlorine, the smell of freshener can be affected due to that.
Q4 Can real vanilla extract be used instead of the vanilla essential oil?
Yes, definitely. However, the color of the air freshener might become slightly brownish and it won't be a good idea to spray it over white furniture/ home decor.
Q5 What are the most popularly used essential oil for homemade air fresheners?
The essential oils that are most widely used are – Lemon, Orange, Mint, Cinnamon, and Cedarwood
Q6 Do essential oils help purify the air?
Yes, of course. For purifying the air some of the best options of essential oils would be – Lemon, Orange, Peppermint, and Eucalyptus.
Conclusion
These homemade Air-Fresheners can be used for various purposes such as a disinfectant clear or as a vacuum refresher too. Making homemade air fresheners not only ensures the safety of you and your loved ones but also gives you a more homely feeling. These Air-fresheners are easy to make and are also very affordable.