This article is specially written for the dog parents who are planning to give their beloved canine kids the groom-up session they deserve. Grooming up your dog doesn't just involve a regular soapy bath and brushing of teeth. It's definitely more than that. It involves other steps too, like cleaning their eyes, ears, trimming their coat, etc. it also involves pedicures or let's say pawdicure.
Yes, you're right. It's a disappointing fact that only a few among the masses are aware of pawdicures. Pawdicure is almost completely similar to that of our pedicures, except we have to remember that paws are meant to be handled in an even more delicate way.
If you are an expert at handling your dog's paws, then you can opt to do the entire pawdicure ritual all by yourself. If you are quite dubious about it then it is better you take your canine friend to a good dog salon and spa.
Here are eight of the many cool and astonishing ideas you can look into to give your dog a delightful pawdicure. Come on, let's go!
8 Coolest Dog nail polish ideas you can try today
It's never too late or never too early when it comes to pawdicure. There are tons of options of dog nail polishes in the platter, to be very precise, dog nail art too. Here are a few of the options:
1. Sparkly Rainbow
Well, let's be honest here. Who doesn't love rainbows? Almost every one of us here loves them. Imagine your dog's paws getting all colored in a multitude of colors with the dog nail polish and to top that you add sparkles to it. Now, how cute is that?
If you are having a hard time in selecting a particular hue then this is the one for your canine buddy's pooch.
2. Polka-dotted dog nails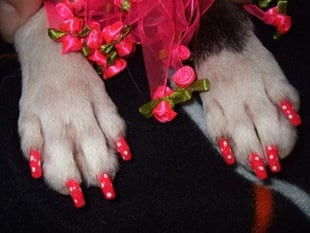 We are quite familiar with polka dots finding their way of recognition among the masses through satin ribbons and skirts, pocket squares, etc. Are you familiar with polka-dotted dog nails? If not then now is the time to know about it.
Take any of your favorite dog nail polish and paint them all over their nails. Create polka dot impressions using Q tips on the painted nails after a few minutes of letting the original paint dry. You can even give it an overall glossy look using canine nail enamels.
Also, remember that if the base is of darker shade then the polka dots should be in a lighter shade and vice versa. Also, make sure you don't overdo it, as you know, the paws are super tiny and slim.
3. Classic red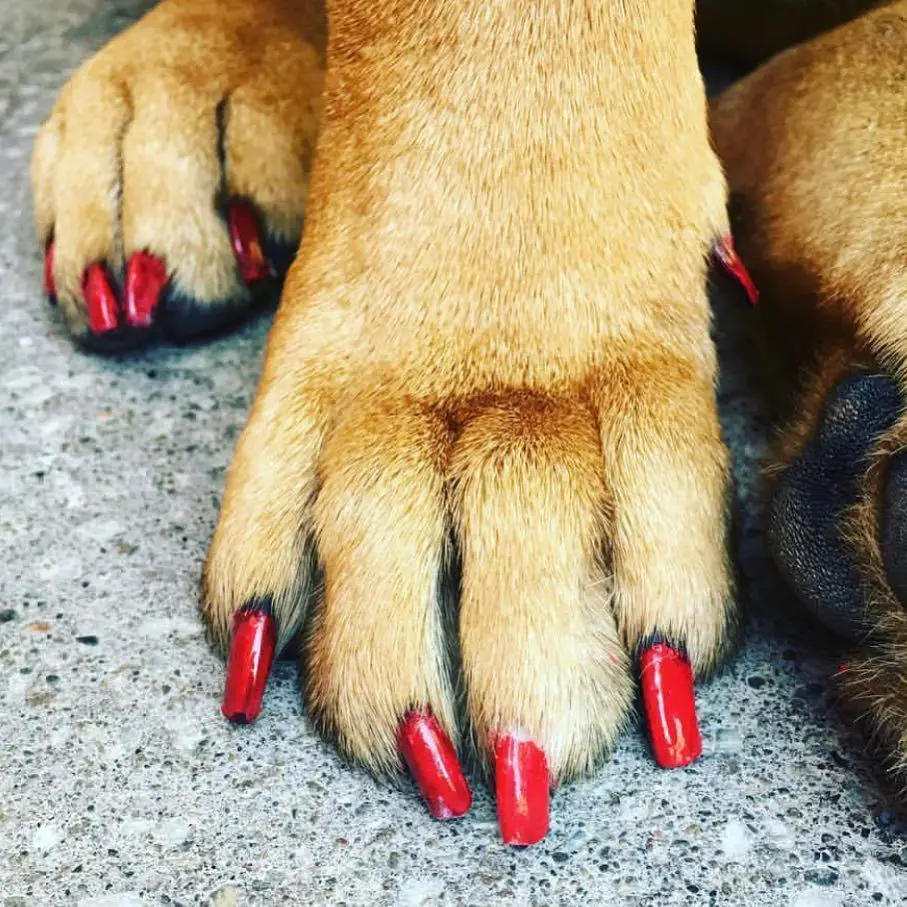 Well, as we all know, Christmas is right around the corner and it's now officially the time to give not only your house but also your dog a Christmas makeover. There isn't anything as elegant yet cool as a classic red. Grab any of those classic red dog nail polish and paint your canine buddy's paw with it.
You can even opt for colors like cinnamon brown, pine green, silver, etc for your canine buddy's Christmas makeover.
4. Pepsi Blue
No dog nail polish color is as refreshing and cool to look at as blue, specifically Pepsi blue. Paint your dog's freshly manicured pooch with cobalt blue dog nail polish and then just let your pet bask in the attention they are gonna get while on a walk.
You can even do nail art along with this using a combination of it with white or yellow or you can keep it simple and basic by using just a shiny enamel coat.
5. Minion inspired nail art
If you want to show off your creative side, then this is one of the ways to do it. All you will have to do is get a banana yellow, ocean blue-white, and black dog nail polishes. You can use a reference image for great results.
If you are bad at it or don't like to spend much time doing nail arts, don't worry because there are nail art stickers available, which will take less than 5 minutes to accomplish your task.
6. Hot pink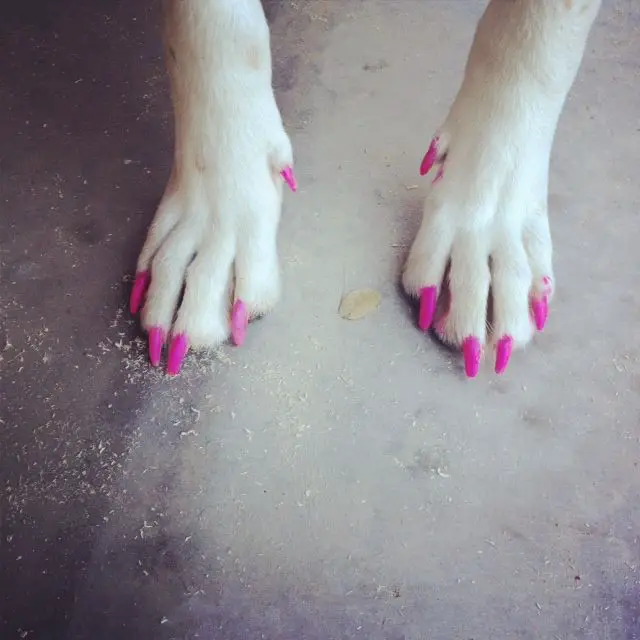 Well, every one of us here has come across this color at least once this year. Let's say that this color has been dominating the fashion industry throughout the year. The truth is that the fuss is all real and it is now the time we take advantage of it and imply it for a different cause – The pawdicures!
7. Ladybug inspired nail art
We already are familiar with insect-inspired nail arts but not on dog paws right? Well, it is possible to make your dog's paw look cute and adorable with lady bird-inspired nail art. It is not only pocket-friendly but easy to do as well. All you need is red and black dog nail polishes and at times white.
You can even consider taking inspiration from other insects like moths, butterflies, dragonflies, caterpillars, silver fishes, etc.
8. Watermelon nail art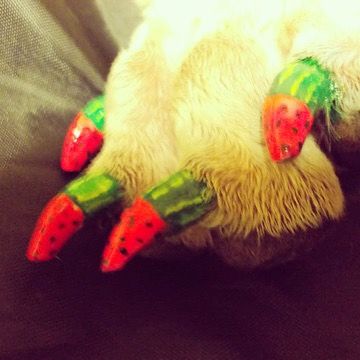 If insects, striped and dotted animals can be taken as inspirations, then why not fruits and vegetables? When it comes to fruits, watermelon nail art is a must. All you need is pink-red for the flesh, bud green for the rind, and black or grey for the seeds. You can even create watermelon stripes by using bud green and dark green dog nail polishes.
Other fruits or vegetable-inspired nail arts include strawberry, aubergine, graffiti eggplant, onions, etc.
Frequently Asked Questions
1. How often should we take our dogs to pawdicure?
Ans. It totally depends upon your dog's paws. Some require frequent pampering while some don't. Anyways, it is always better to visit a dog salon to do the pawdicure.
2. Do the dog nail polishes last long?
Ans. Usually, dog nail polishes last for 3 weeks and sometimes even a whole month.
3. Which is better, dog nail polish or pawdicure polish pens?
Ans. It is always better and comfortable to use dog nail polish pens as it is easy to handle and dry faster.
4. Is it okay to use human nail polishes on our dogs?
Ans. A strict no. Never use the nail colors meant for use on the paws of your dogs as it is highly toxic for them, especially if they lick and consume them.
5. Is it safe to use acrylic colors on paws?
Ans. It's a half yes and a half no. If it is children-friendly, then yes as it is free of toxins. If it is not, then it's a no.