What does 80s neon fashion ignite in you? When you think of fashion in the 1980s, the words "big and bright" come to mind. It was a time of big hair, shoulder pads, acid wash jeans, and clothes with colors and patterns that were hard on the eyes. In the 80s neon fashion was all about being rich and showing off your money. You had to spend more money on designer labels and sports gear with a brand logo to look good.
Teenagers played a role, but they weren't the only ones in charge of fashion for the first time. Baby boomers like Tommy Hilfiger were becoming mature and wealthier, taking a firm place among the most influential people in high-end fashion.
More style idols were born in the 1980s than in any other decade. It's hard to believe, but there were no cell phones or the internet in the 1980s. Only a few channels were on TV, and watching a movie was a treat. After TV, magazines and advertising were the main ways, most people learned about fashion.
Some celebrities, music bands, and 80s neon fashion brands greatly impacted 80s fashion trends because they were more well-known.
What shoes were worn in the 80s neon fashion?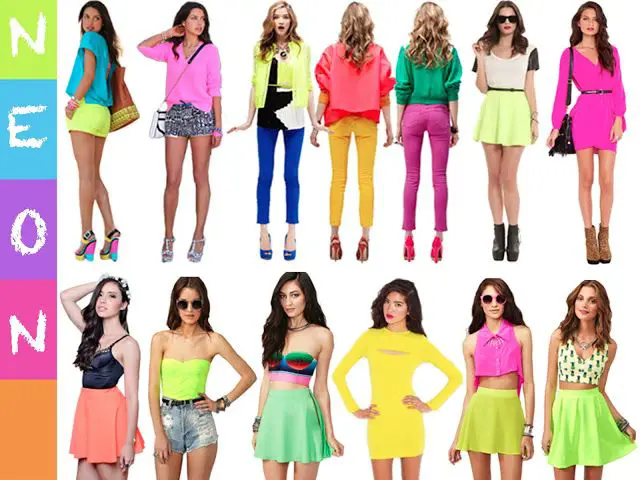 The 80s neon fashion included trendiest shoes like Jordans, color-block sneakers, Doc Martens (chunky boots), Vans Classic slip-on, Adidas Campus, medium-heeled pumps, Mary-Janes, Jellies, and Moccasins.
What clothes did people wear in the 1980s?
Oxford shirts, polo shorts and turtlenecks, khaki pants, suspenders, striped linen suits, and corduroy were among the most popular clothes in the 1980s. High-waisted jeans (mom jeans), leg warmers, torn denim, spandex and Lycra, acid wash jeans, statement shoulder business suits (typically skirts), punk leather items, and leotards were among the popular fashions for women.
What accessories were popular in the 80s?
Accessories were very popular in 80s neon fashion. Scrunchies, leg warmers, fingerless gloves, plastic bangles, giant wacky earrings in neon colors, mesh accents, fanny packs, and pearl necklaces were among the most popular things.
80s Neon Fashion Trend
Fashion trends from the 80s are coming back in a big way, and for all the right reasons. No wonder 80s neon fashion was brave, bold, and loud. It also had all the things that fashion always needs to have. People are doing that now, so you don't want to miss out on the fun 80s vibe and the chance to make a statement wherever you go. We're here to help, so don't worry. In this article, we'll give you some cool ideas that you should try. All you have to do is scroll down until you find one that looks interesting. So, without waiting any longer, go ahead and read this piece.
45 most iconic 80s Neon fashion trends:
1. 80s Rock Fashion
The easiest way to make yourself look like you're from the 80s neon fashion is to get your hair permed. Wear some bright colors and leg warmers or knee socks over your pants. It may sound crazy, but men used to wear their underwear over their pants. But we'll pretend that isn't the case.
2. 80s Style LBD
We know that the little black dress has been around for a long time. But do you know how to make it sound like the 80s neon fashion? By putting on a jacket, blazer, or coat with shoulder pads. It was a big part of fashion in the 1980s and a huge trend. So, it's not surprising that it's now becoming popular again. Wear pants in many colors if you want to keep with the theme. You can also wear slim jeans if you don't want to be too "out there."
3. Florals And Neon Colors
Today, you and I would think ten times before wearing something with floral and neon colors. However, nothing was considered 'incorrect' in fashion back then. There were norms, to be sure, but people accepted change and quirkiness much more readily than we do today. So, if you're going to an 80s-themed fashion party or a show, this is a great option. 
4. 80s Workout Fashion
Even their fitness attire was never subtle, was it? Back then, oversized flamboyant T-shirts and running shorts were pretty common. Try this if you want to be outrageous and are looking for ideas.
5. Pleated Trousers
Trousers, not only jeans, were popular in the 80s fashion. They were, however, generally high-waisted. They look fantastic when paired with a crop top.
6. Printed Blouse
Women wore structured clothes, patterned blouses, and shoulder-padded jackets. If you look closely, you'll notice that much of it concerns their love of large apparel.
7. High Waisted Denim
High-waisted denim seems to be the 80s fashion mantra, thanks to Tina Turner, who popularized it. Tucking your shirt was also a common practice.
8. 80s Fashion Accessories
Women have been on top of their game regarding accessories for a long time. The famous big hoops were also popular in the 80s, just as they are now. Women could make their outfits stand out with fanny packs, bandanas, chunky jewelry, crystal watches, and socks.
9. Blazer With Shoulder Pads
When looking for an 80s formal look, you should look for a floral blazer with shoulder pads or both.
10. Striped Pants And Ankle Boots
In the 80s, women liked to wear tights, big printed pants, and stretched and cropped pants. Boots were also a big deal, so we guess that's where it all began.
11. Members Only Jacket And Bandana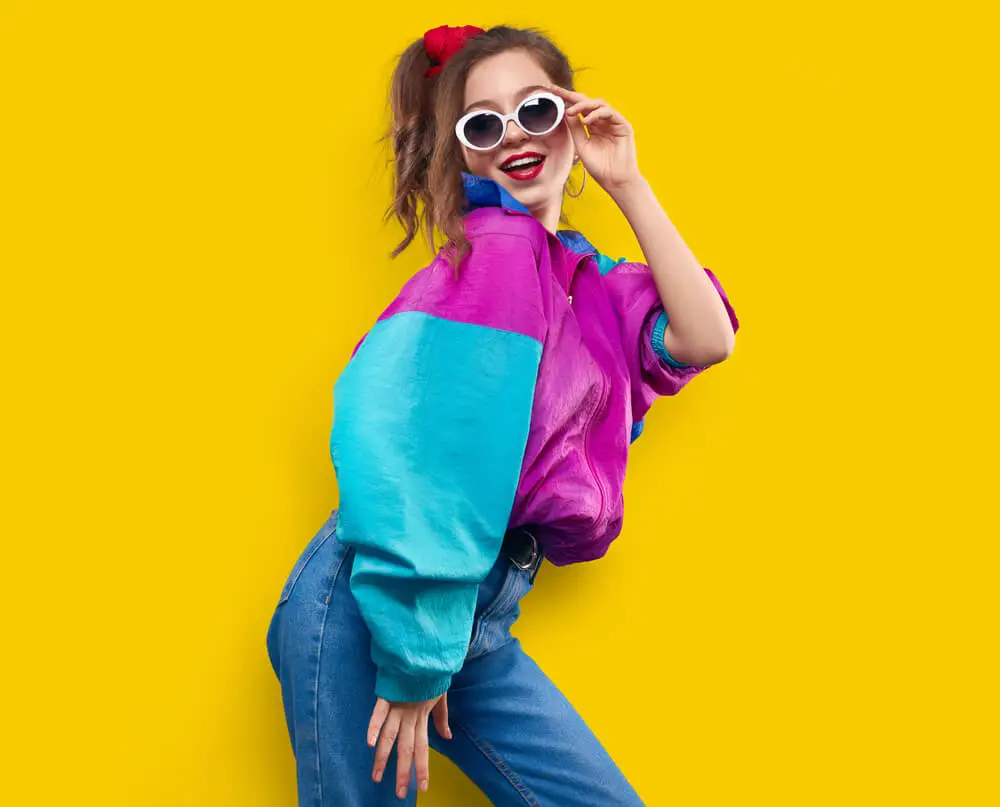 Jackets that said "Members Only" looked like bomber jackets were expensive back then. Wear one of these with high-waisted denim shorts or a bandana tied around your hair. Finish off the look with oversized sunglasses.
12. Polka Dots Dress And Waist Belt
Polka dot dresses scream retro. If that isn't enough, add a wide belt that tightens at the higher waist and a chunky piece of jewelry.
13. Denim Jacket
Here's proof that denim jackets have always been a wardrobe staple. The denim jacket has gone through a few iterations to stay current, but it will always be a timeless classic.
14. Vintage Long Skirt
Women in the 80s fashion had no qualms about being vivid and didn't care as much about being minimalistic as we do. Party attire consisted of a denim skirt paired with a colorful structured top or a vintage skirt paired with similarly showy footwear.
15. Sequined Jumpsuit For Parties
Bodysuits, jumpsuits, and overalls were all popular party outfits in the 80s fashion. If you look closely, you'll see that Beyonce, Rihanna, and Gigi Hadid all wear identical dresses that have an 80s vibe to them. So, if you're going to an 80s-themed party, you know what to wear.
16 Knee High Socks
If you want to include a throwback or 80s motif in your wardrobe, don't be afraid to wear knee-high socks. We talk about bold dressing nowadays, but we assume they were badasses who knew how to do it way better than us.
17 Leopard Print Fashion
Most people find animal designs difficult to dress, yet they are ageless. Designers experimented extensively with these designs on purses, shoes, outfits, and scarves. Leopard and snake prints are particularly 80s.
18 Overalls
Overalls were one of the easiest ways to turn an outfit into a retro costume because they were famous back then and still are today. You can wear them with a top that doesn't cover your shoulders or a bold T-shirt with a high neck if you want to make a statement.
19 High-Waisted Skirts And Ruffle Top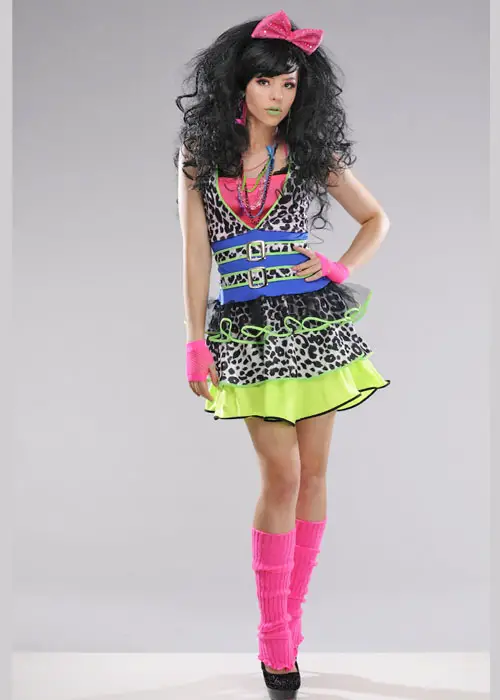 Ruffled crop tops were the 1980s equivalent of off-the-shoulder tops. Another excellent choice was to wear it with a high-waisted skirt.
20 Oversized T-Shirts And Denim
We pretty much live in these, don't we? But they are not new ideas and are not just for millennials. Back in the day, a big part of the punk rock style was to wear oversized T-shirts and tuck them into jeans.
21 Hip-hop 80s fashion
In the 1980s, people loved fashion, hip-hop music, and culture. Because of this, hip-hop style became popular, especially in cities. Hip-hop style for women was similar to that for men. Famous people like Queen Latifah and the legendary Salt-N-Pepa trio were sources of inspiration. 
The style was loose cuts, sporty details, bright colors, and bold patterns. Shoes and snapback hats were the two most popular pieces of clothing.
22. Punk 80s fashion
Before grunge, there was punk music from the 1980s. This rebellious style came about in the 1980s, a big change from the decade's glitzy beginning. The punk look was tough and edgy with heavy-duty boots, band t-shirts, ripped jeans, and studded leather jackets. The hairstyles of this subculture were also strange and shocking. Punk clothes are becoming more popular again. But the look is a little more laid-back and understated.
23. Black 80s Fashion
In the 1980s, Tina Turner, Janet Jackson, Naomi Campbell, and Iman were just some of the black fashion icons. Even though they all had their styles, they all wore looks with attitude and did so with grace and confidence. People who wanted to look like these fashion icons had to wear over-the-knee boots, shoulder pads, body cons, and leather. Whether they were worn alone or together, pieces with these kinds of bold designs looked elegant and eye-catching.
24. Madonna '80s fashion
The 1980s were all about Madonna's music and style. Her style in the 1980s made her one of the most influential musicians of the time. She has changed a lot over the years, but the 1980s are especially notable for several reasons. At the start of her career, the star often wore leggings or Capri pants with a loose-fitting t-shirt or a sleeveless top.
Low-heeled shoes like ballet flats and ankle booties were famous during this decade, and Madonna's 80s style made them a mainstay of her collection. To look like the Queen of Pop, wear a lot of jewelry, particularly cross-shaped necklaces, bracelets, and hoops.
25. Teens 80s Fashion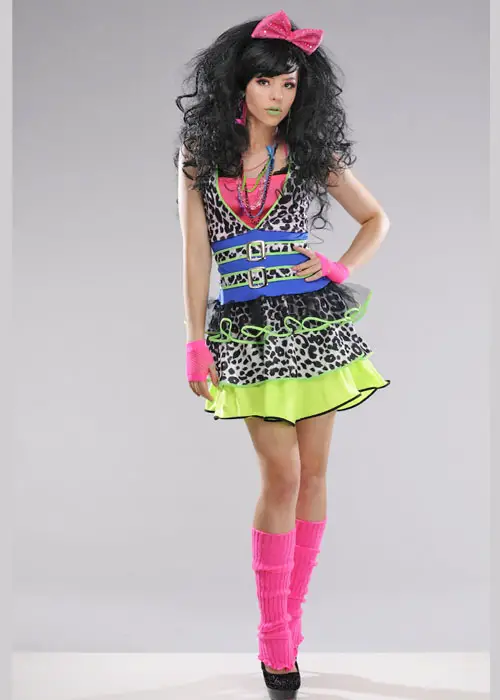 Some of the most well-known fashions of the 80s were seen in teen movies, which often gave fashion fans great ideas. Molly Ringwald's everyday school clothes in Pretty in Pink, like her floral-printed vests, big blazers, lace trims, and small pearls and pins, have become a symbol of the time.
Movies like Heathers influenced the Preppy style, but Veronica's patchwork blazers and black tunics gave it a modern twist. Straight-leg jeans and shorts that were tucked in were popular on TV sitcoms like "Saved by the Bell." Wear them with ankle boots, sneakers, or flats for a more casual look.
26. 80s fashion kids
Kid's fashion in the 80s was full of bright colors, vivid patterns, and a sense of fun. During this time, loose-fitting jeans, layers of bright colors, bold headwear, and comfortable shoes were popular for leisure activities, just like in the Stranger Things world.
To get this 80s fashion look, choose a few key color combinations, like yellow and pink, and pair them with denim or black to make the colors stand out. Adding ruffled skirts, ankle-high socks, and an off-the-shoulder top are great ways to spice up a vintage outfit.
27. Neon 80s fashion men 
When someone thinks of a traditional '80s staple, the neon trend may come to mind. Even though it was only famous for a short time throughout the decade, it has become a standard. Bright hues like as green and pink were fashionable, and they were often combined with black or white to make them stand out even more.
Wear slim-fitting jeans or a skirt with a yellow sweater or blazer to recreate this look. The easiest way to pull off this look, similar to the 1980s, is to keep the other tones modest and let the vibrant hues center stage.
28. Goth 80s fashion women
The punk movement, which had begun a decade before, was at the heart of the 1980s goth fashion trend. Stars like Siouxie Sioux and Robert Smith impacted 80s fashion and makeup; the bigger the hair, the better.
While various gothic aesthetic subgenres are widespread, Trad Goth was primarily about layering a lot of black, leather, and diverse textures during this period. This decade also saw crossovers between genres, with chunky boots, piercings, and remnants of punk-style clothing, such as plaid, becoming popular.
29. Preppy 80s fashion women
Preppy clothing has been a key trend since the 80s and is still a popular alternative. Although fashion has evolved to reflect era-specific trends, the 1980s were all about keeping a neat appearance. Pastel and neutral hues were prominent in the middle of the 1980s, while darker colors such as burgundy, black, brown, and navy were increasingly popular later in the decade.
Pair a turtleneck with an open shirt and a cardigan that can be worn loosely or draped around your waist or shoulders to recreate this 80s fashion look. Boat shoes or sneakers and light-colored slacks complete the appearance.
30. Beachy 80s summer fashion women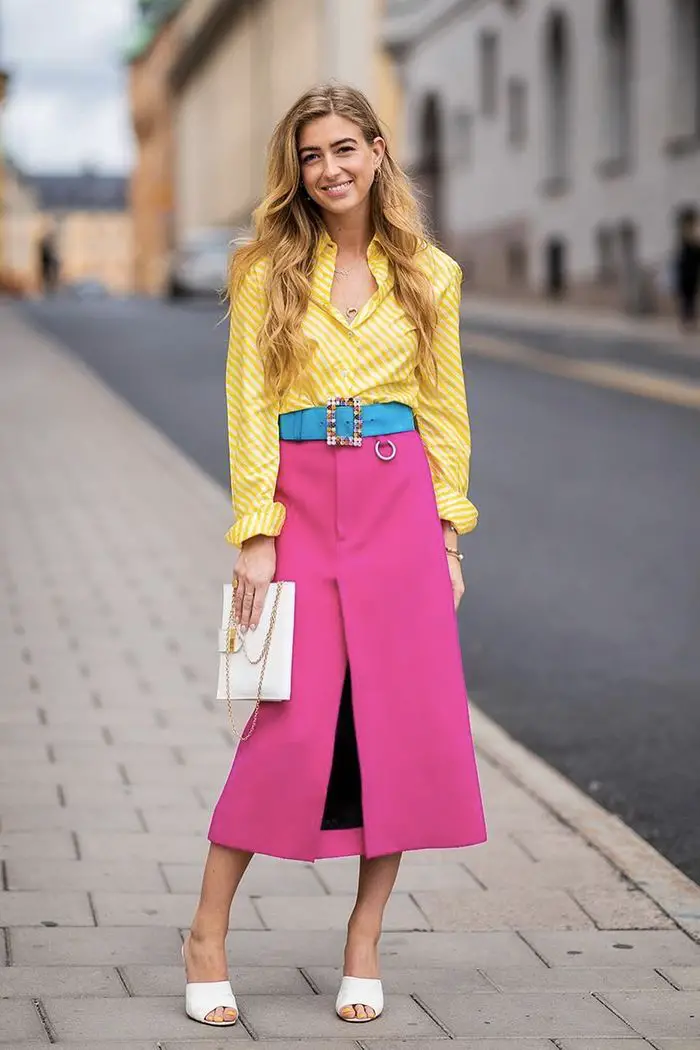 Swimwear from the 80s is known for its high-cut bikinis and vibrant colors. This period was about experimenting with different silhouettes and styles to stretch the limbs and highlight the hips. Going to the beach during the 80s meant showing off your assets, including bandeau bikini tops, cut-out one-pieces, and bottoms with super-high cuts and colorful designs.
California's surf culture, like the decade's fitness and aerobic fads, contributed to the explosion of beachwear. The most popular choices were bright colors with animal patterns and minimal coverage.
31. Skater 80s summer fashion
Skateboarding grew at the start and end of the 1980s. Some clothes from the late 1970s were still worn in the early 1980s, like cut-off denim shorts, striped shirts, and plain white sneakers. By the end of the 80s, the grunge subculture was ready to take off. It meant backward caps, denim vests, colorful pants, and skate sneakers were all in style. 
32. Workout 80s fashion
When you think of the 80s neon fashion, you can't help but see a picture of Jane Fonda in leg warmers and a leotard. After all, her aerobics movies started a new exercise trend in the 2000s and were very popular.
In this workout 80s style, women wore flashy clothes that fit the decade's theme of excess. In the 1980s, neon-colored leggings, cycle shorts, high-rise bodysuits, and headbands were all part of the fitness trend.
33. Dad 80s fashion men 
In the 1980s, big, bulky sweaters, big suits, and "business chic" were the most popular styles for men, especially in the business world. Dad fashion was all about the office during this time, especially in pop culture. During the 1940s, when there was a suiting power renaissance, people often wore simple, subtle styles with a modern twist.
It was common to stick to a simple color scheme, like cream and neutrals, or a duo-chrome outfit, like black and blue. To get this look, wear a pair of skinny jeans, a roomy blazer, and a shirt tucked in and held in place with a thin belt. The bigger the shirt, the better. The idea was to look casual but still professional.
34. Mom 80s fashion women
Mothers from the 80s significantly impacted denim during the last two decades. The secret to dressing for parenthood at this age was layering sweaters, cardigans, shirts, and blazers for a sophisticated and fashionable style. Layer an oversized jacket over a shirt, belt the waist, and wear high-waisted pants or a pencil skirt to achieve this look. You could even opt for the classic Mom jeans. Add 80s dress shoes or ankle boots to complete the look.
35. 80s fashion men in business look
If you want to look like Tess McGill or the Mugler woman from Working Girl, go for a strong business look. Power dressing peaked in the 1980s when suits had strong, angular shapes. Shoulder pads were popular during this time, and they are a great way to make your waist look small and give you an hourglass shape.
The rise of business clothes during the decade was a nod to the suits from the 1940s, which stood for feminism and women's rights. Thierry Mugler was one of the most influential people of the 1980s. He changed the idea of what a strong woman should wear to the office with his big lapels, slim pencil skirts, and lace accents. He also combined hyper-masculine and feminine styles into a look that is easy to recognize.
36. Bally Shoes
Bally shoes were extremely popular in the 80s, thanks largely to rappers. Bally shoes were a shoe for anyone in the hip-hop or rap genre, whether they were rocking them for a night out on the town, rapping about them in a song, or sporting them on an album cover.
37. Fishnets
Believe it or not, fishnets aren't just for Broadway! They first became popular among the general public in the 1980s. It was intended for the punk rock crowd and stylized in various ways. Women loved to wear this look under ripped jeans or in tights.
38. Bucket Hats
Bucket hats have made a great comeback recently, but they first gained popularity in the 80s. They were simple to put on and were intended for more casual social situations. Bucket hats are most likely seen at the beach, pool, or a friend's house!
39. Swatch Watches
Swatch watches became extremely popular in the 1980s and are still in use today! Swatch has built a name for itself, despite not being as popular as it was in the 1980s. Everyone was obsessed with the watch brand in the 1980s. People are still selling collector's items, which was perhaps the most well-known craze of the 1980s.
40. Statement Jewelry
At least in the 1980s, the chunkier the jewelry, the better. We're all about delicate items nowadays, but the 1980s were the polar opposite. If you were seen wearing a large statement piece, you were part of the trend. Gold chains were undoubtedly at the top of everyone's wish list.
41. Perms
If you say you've never wanted a perm, you're lying. But you know how everyone constantly wants what they can't have? You want curly hair if you have straight hair and vice versa. Because huge hair was "big" in the 80s, getting a perm was the only way to keep up with the fashion if you had straight and flat hair.
42. Vinyl Outerwear
No, we don't mean vinyl records when we say "vinyl was popular." Vinyl is not like anything else when it comes to fashion. It has become more popular this decade but was already around in the 80s fashion. This look was definitely for the punk rock crowd.
43. Big Sunnies
Most of the time in the 1980s, it was safe to say that bigger was better. Sunglasses back then were the same way. Sunglasses with big frames were all the rage. Your eyebrows weren't big enough if you could see them. So, if you were on top of fashion and a trendsetter, you probably had a lot of big sunglasses.
44. Mullets
The unofficial motto of the mullet hairstyle is "Business in the front, Party in the back." In the 80s fashion, this hairstyle became popular and quickly spread. Men liked the style the most, but a few brave women wore it. This old trend has come back into style but with a new twist.
45. Side Ponytail
Last but not least, another popular '80s hairstyle was the side ponytail. In the 1980s, girls and women used this haircut, which is now reserved for small children. If you were truly fashionable, you'd wear your side pony with a scrunchie.
Final words On 80s Neon Fashion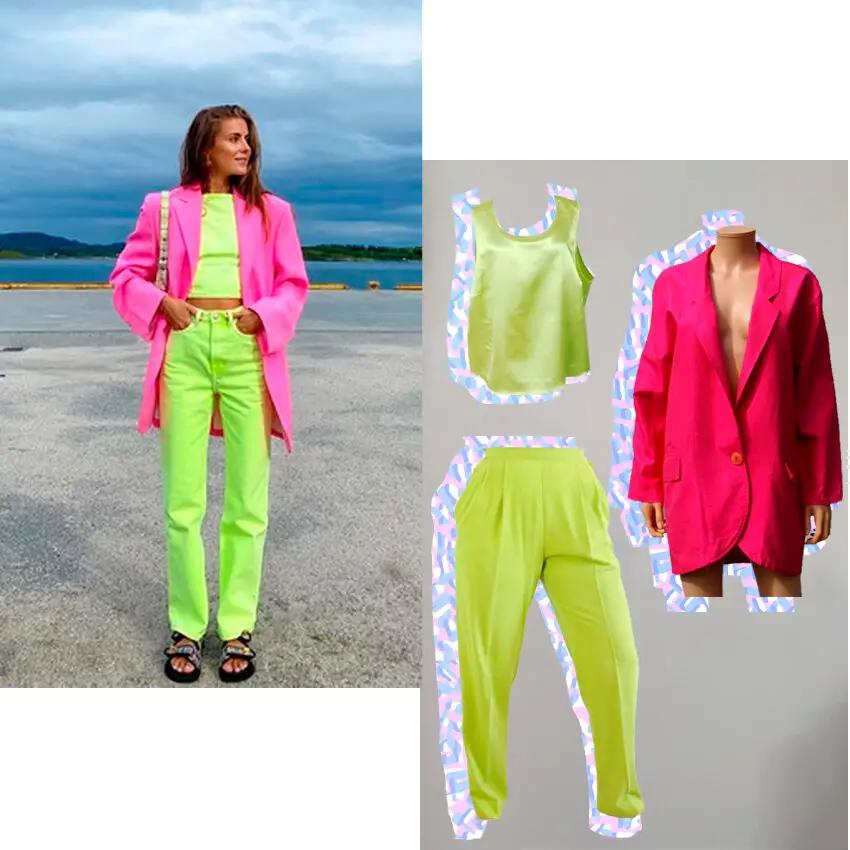 People often think that retro fashion is the newest thing. With the above 80s fashion trends, you would not only stand out from the crowd but also have an idea of mixing and matching items in your closet to make them look different.
Whether you're wearing a little black dress, pleated pants, a pop of neon color, or high-waisted denim, you can finish the look with a pair of retro sunglasses, a waist belt, or a bandana. Whether you're going to a party with an 80s neon fashion theme or it's just a regular day, Choose an outfit that fits your style and makes you feel good.
Frequently Asked Questions About 80s Neon Fashion
80s Best Fashion Brands?
In the 1980s, popular fashion brands included Izod sweaters, Nike jerseys, Calvin Klein, Gloria Vanderbilt, The Limited, Forenza, and Espirit.
Are Polka Dot's 80s Fashion Trends?
Polka dots don't have much to do with the 1980s. They were first seen in Europe in the early 1800s and worn by well-known actresses. When American actresses and supermodels started wearing them, and Walt Disney later used them in his movies, they became very popular. People generally started to like them in the 1980s, but celebrities liked them much earlier. This style will never go out and will always be around.
What Is 80's fashion neon?
Accessories were very popular in 80s fashion. Scrunchies, leg warmers, fingerless gloves, plastic bangles, giant wacky earrings in neon colors, mesh embellishments, fanny packs, and pearl necklaces were among the most popular things.
What was unique about 80s neon fashion?
The 80s were a decade of fashion that was "big," "bright," and "loud." There were loud colors and patterns, power suits, shoulder pads, big earrings, and acid wash jeans.
How was fashion in the 1980s?
The 1980s were a glorious era of over-the-top styles, teased perms, and saturated hues, and they were possibly the most daring decade in modern fashion history. It was the era of puffed shoulders, power suits, bright skirts, spandex tights, velour, and leg wars.
What inspired 80s neon fashion?
Movies, TV shows, and celebrities were a big part of how people dressed in the 1980s. Michael Jackson, Princess Diana, and Madonna were just some of the people who set the trends for this generation.
Where did the 80s neon fashion come from?
The 1980s saw the continuation of a post-punk gothic style prevalent in Europe and America with the 'LA Scene' from the 1970s. The look featured black garments composed of exotic materials such as leather, fishnet, and lace.
Why was 80s neon fashion so popular?
Neon. People wore many bright colors in the 1980s, and nothing was brighter than neon. Back then, the most popular colors were bright yellow, orange, green, and pink, like highlighters. People with style would wear neon-colored tracksuits or tops and bottoms that went together.