If you want to enjoy indoors and the outdoors on your porch, a screened-in porch is a home improvement trend to consider. Having a space for a cool breeze in the hot seasons and a spot to linger and witness the rain or snow in a shielded area while drinking tea or coffee as the cold sweeps in.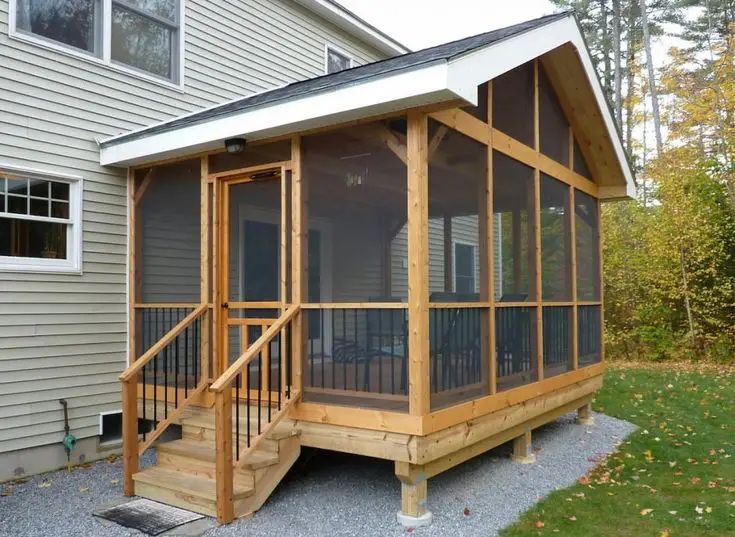 As a continuing trend, you may wonder what simple screened-in porch ideas you could pursue. If you're considering counting one to your home, here are some simple screened-in porch ideas to get you started.
Simple screened in porch ideas
Moving right into what you're here for, let's look at your options for simple screened-in porch ideas. With so many diverse designs to choose from, you should have no trouble finding the best one for you, so here we go.
Simple screened-in porch ideas – Small screened-in porch ideas.
Even if your area is limited, you can turn a small porch into a cozy retreat all year. Most small screened-in porches are elevated or decks converted into porches with enclosures. For example, like this one, you can enclose your raised deck with vinyl trims and high-visibility fiberglass. It has an open feel and lots of natural light and is ideal for breakfasts and intimate dinners. Its Trex flooring and bright carpet make it feel cozier.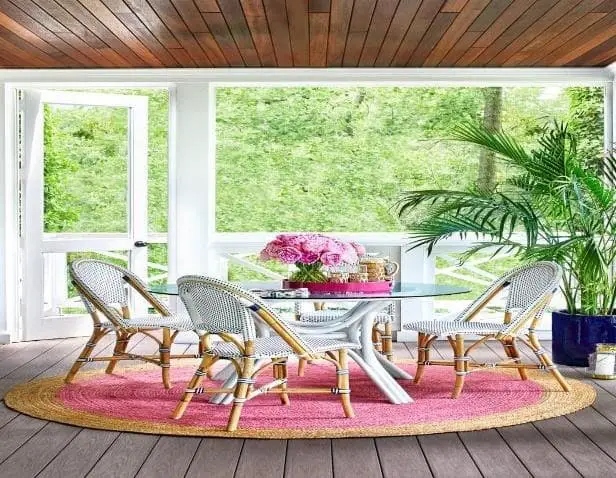 You can also choose floor-to-ceiling drapery panels for your small screened-in porch to create the illusion of space. This one is made of high-quality fiberglass and has thick drapery. It is useful for blocking sunlight and creating a private space for nosy neighbors. The well-curated furniture also contributes to the room's modern feel.
Simple screened-in porch ideas – Screened-in back porch ideas
Nothing beats having a back porch where you can gaze at the best neighborhood views. It is the greatest relaxing spot, especially if you have beautiful water features or a beautiful garden. This one is ideal for entertaining adult guests while keeping an eye on the kids swimming in the pool.
The wood flooring and fiberglass enclosure also brighten up the porch. It's the ideal place to reflect and unwind with music or a book. 
Long couches and side tables could work well for a wide seating arrangement on your screened back porch. Again, fiberglass is the best screen, with draperies and curtains blocking distracting light. This design's openness is one for the record books. If you want a chic bohemian look, just add some colorful pillows, multi-patterned fabric, and different wood and metal seating.
You can have trimmed fiberglass with a vintage chandelier against dark walls. It's delicate and chic at the same time.
Simple screened-in porch ideas – Screened-in front porch ideas
A well-designed screened-in front porch is one of the property's focal points. So, if you want a stunning screened-in front porch that will add aesthetic and real broker's value to your home, you should plan one. 
For starters, you can invest in a long-lasting deck. This one is made of wood fiber composite flooring. 

The stone walls provide a warm and rustic contrast to the flooring, while the lattice enclosure adds a chic and modern touch. What a wonderful gesture to greet family and guests, right?
To make it posher, here is a good use for smart screens that can automatically open and close if you want more breeze, more natural light, or to be protected from them during strong winds, rains, and frost.

You can also completely open it up to add more seating. 
Overall, it's a pleasant way to spend time with family and friends. A bright screened porch made of solar screen fabric can add a homey, low-key appeal to your front porch. With the wood frame and trims, simple wood furniture, and modern metal fixtures, you can quickly fill a typically empty porch. It's calming and down-to-earth.
Simple screened-in porch ideas – Screened-in porch furniture ideas
The furniture you add to your screened-in porch determines the vibe you want during your chill moments. When the proper furniture is in place, almost anything is possible. The designs below demonstrate this.
With that wicker furnishings, the wood lattice trims, the modernity of the fiberglass screen, and the oriental rug in the middle, you can have a Victorian-style porch with a periodic vibe. The color combinations are also fantastic.
Many people believe that lighting should not be an issue on porches, but it must be a fixture to count to the warm and comfortable vibe.
This one has standing lights, rattan seating, clean patterns on the cushion and throws pillows, and a seamlessly connected kitchen. The key to this back porch design is the color blending and good use of space.
Screened in porch ideas with deck.
It's time to shine a light on raised porches. Because of the elevation, you may have some reservations about what should be done to a decked screened porch, but the options are truly limitless. You can, for example, use wood roofing and concrete flooring to give your decked screen porch a modern rustic cabin feel. The high-visibility fiberglass provides an all-around view and a smooth transition to the deck itself. 
You'd never want to leave this porch with the string lights and minimalistic wood furniture. This is a larger decked porch with stone walls and porch partitions that follows the same modern rustic vibe and feel as the previous one. Everything exudes warmth while maintaining a clean, uniform, and polished appearance. 
Here's a screened-in porch in a suburban colonial style for you. It has the entire cabin look, with the appropriate contrast for the frame, trims, and walls. The soft glow of this ornate chandelier adds a touch of sophistication, and the rattan seating on a tan jute rug keeps it simple yet stunning.
Simple screened in porch ideas – Modern screened-in porch ideas
The forte of modern designs is that you can have different design schemes, and they all seem to work together. Modern screened-in porches are the easiest to design, ranging from pastoral to industrial to postmodern chic with full fiberglass and filled areas with furniture.
This screened-in porch in California screams modern. An all-fiberglass screen, white colonial wooden trims, full carpeting, geometric style, and low-key wicker and wood furniture create a warm design with beige and brown accents. It is, indeed, the ideal year-round porch for a sunny location.
This one is upscale and modern. It has concrete slabs for the flooring, which you don't see very often in porches. It also features a linear, open floor plan with thick wood columns set against an all-black wood ceiling.
The high visibility fiberglass screen filters natural light, and the minimal furnishings (just a paramount seating structure) and a few potted plants make it work.
If you want an artsy vibe or a writer's retreat nook, here is a compact screened-in porch to consider. It is furnished with wicker furniture, a bright carpet in the center, white walls, and lush potted plants. It appears to be both serene and modern.
Simple screened in porch ideas – Screened-in porch floor ideas
At best, the porch flooring should match the home's flooring, but there should be no limit to how you can transform your screened-in porch floor. Here are some porch flooring ideas for you to consider.
Brick flooring is a low-maintenance option with a rustic appeal. This is commonly found on southern-style porches and never fails to impress. This one works well with the half grill enclosure on this screened-in porch.
Vinyl wood flooring is another low-maintenance option. It comes in various colors, so there should be no restrictions on what you can choose here. This narrow vinyl wood flooring fills the space and adds a cool touch to a modern-style porch like this one.
Sure, flagstones and concrete pavers are great for the pavement and driveway, but if you want a rustic appeal on a four-season style screened-in porch, natural stones are an excellent choice for flooring. Look at how it looks on this high-ceiling screened porch.
Also, Read The Definitive Guide to Clean Furniture: 15 Interesting Facts You Should NOT Miss!
Simple screened in porch ideas – Screened-in porch with hot tub ideas
If you live in a location where the winters are long and the autumns are too cold to bear, installing a hot tub is a great idea. However, having that hot tub in an enclosed porch with intimate seating gives you all the feels.
This one is a Victorian-style stone-lined porch with a sunken hot tub in the center. Consider Roman baths, but add some individual seating and even a fireplace as the focal point, made of high visibility fiberglass or frosted glass, and you've got this.
And if you're considering installing a small, low-key hot tub and spa in the corner of your screened-in porch, know that you can make it look nice, like this idea here. It's ideal for some summer relaxation.
The hot tub does not take up the entire space, and the natural light from the fiberglass screen allows you to enjoy the sun without getting burned.
This raised, a screened-in porch is one for the books regarding the zen appeal. It has a sliding, slatted enclosure that allows air and natural light to enter. Its focal juncture would be this small hot tub, making it appear full yet peaceful.
Simple screened in porch ideas – Screened-in porch stain ideas
We usually refer to stained porches as those with stamped or stained porch flooring or that use stained, treated wood. When it comes to the stained screen in porches, here are some ideas to consider.
This one used stained concrete slabs for its flooring on a relaxing, low-ground, screened-in porch. It contrasts well with treated wood ceilings and adds brightness. This one is finished off with a modern, central fireplace.
On the other hand, this Craftsman-style porch stands out with a rustic and warm view. It has a mesh screen fabric, a track-style door, hardwood trims, and wood rails on all sides. It is elevated because it is installed on a deck.
The stained wood adds to the rustic charm of this screened-in patio. It's ideal for lake houses and cabins.
In the spirit of stained wood, here's another low-key, screened-in front porch to consider. You only need reclaimed wood furniture and fabric screens to get started.
Simple screened-in porch ideas – Screened-in porch ideas with fireplace
Installing a fireplace on your screened-in porch is always a good idea to create a focal point and give the space a warmer, more edgy look. It is also useful for converting the porch into a seating area during the winter or simply chilling out during the spring.
For example, you can make the fireplace the focal point of the seating arrangement. To make it a standout space, use a solar screen fabric like this one, the coziest couch set you can find, and trim treatments like customized fabric.
If you have an overly enclosed porch with stone walls, the best choice for a four-season porch is a floor-to-ceiling fiberglass screen with metal railing and a fireplace centerpiece. With the right warm lighting and minimalist furniture, you can create the best winter spot for years to come.
Simple screened in porch ideas – Cottage screened-in porch ideas
Nothing beats the uniqueness and style of English countryside designs. The warmth of cottage-style homes and porches, in general, is timeless. Consider the following cottages with screened-in porches.
This one is in the southern cottage style, with a screened-in sleeping porch. It is small and has a cushioned swing for seating instead of a couch. Reading here with your favorite book and a cup of coffee or tea is enough to keep you entertained during the summer heat.
If you want a more ornate and classy-looking cottage-style screened porch, this one with white colonial columns, decorative cushions, an oriental rug, and sophisticated seating in contrast to all white walls and mesh screen fabric is everything you need.
Simple screened in porch ideas – Farmhouse screened-in porch ideas
Old, worn-out styles, barn or farmhouse styles never fail to impress. They are ideal for vacation homes near a lake, forest, or woodland. All screen fabrics should work well with the addition of old-school gambrel or cupolas.
This small barn house has a decked, screened-in porch that can be used as an extra dining space for friends and family. It has a clean, farmhouse appearance, a half-railing enclosure, and fiberglass screens. This reclaimed wood table complements the farmhouse style of this idea.
To achieve a more coastal farmhouse look, use teal or blue colors rather than the traditional white or wood colors.
Simple screened in porch ideas – Country screened-in porch ideas
Ranch houses, rustic embellishments, bricks, and warm wood tones come to mind when we think of the country. If you like this design style for your screened-in porch, here are some options to consider.
You can add fiberglass with vinyl trims and surround it with bricks or concrete stones for an upscale ranch structure with an existing stone wall for the patio. Cobblestone slabs are used for the flooring. This porch is the ultimate hangout spot with a TV and a fireplace.
This screened-in porch in Louisiana is a modern country-style porch with seamless transition rooms. Because you already have a porch with a large seating area, a dining room, and a bar, it has three elbow rooms.
This country porch design can inspire you if you want a cozy space for intimate family events during the warmer seasons.
Simple screened in porch ideas – Ideas for winterizing a screened-in porch
If you want a winterized screened-in porch, look for thicker fiberglass screens and stone flooring to prevent over-moisture and slipping. Here are some recommendations for you.
The ceiling comprised narrow vinyl wood slats and white vinyl columns. Using white as the porch's main color helps maximize natural light, especially in the winter. 

Choosing a herringbone pattern flooring can also help to add friction and prevent slipping.

You can create the ideal winterized screen on the porch by adding window and door treatments. 

When the snowy breeze passes through the fiberglass, they tend to filter the cooler air. Stained wood is also a good option for warming the atmosphere, especially during the winter.
Simple screened in porch ideas – Wood screened-in porch
The following ideas for wooden trims and fiberglass creating a notable four-season screened-in porch can be found here.
This is a low-level, decked, screened-in porch with wood trims, a wooden porch frame, and dark-colored mesh screen fabric. It also has half-screen metal railings and a three-step chair, reminiscent of the traditional southern deck and porch styles.
This is a version of an apothecary or greenhouse-style screened-in porch design if you want the idea of a separate porch design that extends through the deck. Again, hardwood frames, trims, and tinted fiberglass are constructed to provide privacy. It also works well as a back porch and a front porch.
Simple screened in porch ideas – Cedar screened-in porch
Cedar is a popular building material because of its durability and resistance to insects and other pests. Its natural warm tone is all you need to achieve the stained style we all love in wood constructions.
Articulating the warmth and natural tones, this screened-in front porch no longer requires stained vinyl woods because you can have a lake house or cabin vibe right in front of your house. It is built in a house style, with tinted fiberglass and a circular step and landing space for added appeal.
On the other hand, this one is made of cedar wood and timber on a concrete foundation. If you want a more suburban, modern look from your cedarwood, this idea is a simple way to make an ordinary wood screened-in porch look extraordinary.
Simple screened in porch ideas – Free-standing screened in porch ideas
You can now choose a free-standing screened-in porch if you want one completely separate from the main house. It operates more like a pergola or gazebo in the middle of the property or the backyard.
This free-standing screened-in porch with a stone and vinyl design is installed near the garage. The look and style of this screened-in porch are consistent with the house, making it appear to be a miniature extension of the main house. It stands out on its own for its amenities and minimalist seating arrangement.
This one is worth considering if you want a smaller, screened-in porch with the sophistication of fiberglass. With the fierce tones of wood and black, it appears whimsical.
Inside, with its warm glow of lighting features and intimate seating, it could easily be mistaken for an artist's studio or a woodland coffee bistro. It appears quite different from the main house, but its overall appearance does not disappoint.
What is the best screened-in porch flooring?
When it comes to screened porch flooring, the following options are widely regarded as the best.
Carpet:

The benefit of having an indoor/outdoor carpet is that it absorbs noise and is soft on the feet. Select carpets that can withstand UV rays and hold more moisture.
Porcelain tile:

For a reasonably priced, long-lasting, customized look, porcelain tile is a good flooring option for a screened-in porch. It can absorb moisture and would be difficult to break even in extreme weather conditions.

Wooden deck tiles:

These wood slats are frequently held together by a plastic track beneath. This track aids in water drainage, reducing the likelihood of mold and rotting that occurs with regular wood.
How should a screened-in porch be winterized?
To keep your screened-in porch safe and clean during the winter, follow the steps in winterizing your screened-in porch.
Thorough cleaning: To avoid trapping dirt and debris throughout the winter, clean your porch thoroughly before the first frost. Sweep and mop the floor, change the sofa and pillow covers, scrub the screen, and wipe down the walls.
Invest in sheeting: You must install screen trims so that snow does not enter the screened porch during the winter. Before purchasing the sheeting materials, you must first take a detailed measurement of the entire porch. Velcro tape, a razor knife, and, of course, vinyl sheets are included.
Simple screened in porch ideas – What is the best type of screen for a screened-in porch?
Five screens are used for a screened-in porch, each with advantages and disadvantages. Consequently, rather than paying for the best, consider what each could offer your porch and select the best one for you.
Screen fabric made of fiberglass

– Fiberglass construction; rust and corrosion resistance; smooth and easy to work with; prone to shredding.

Screen fabric with high visibility

– Made of a finer weave of fiberglass; virtually invisible inside the porch; structurally weaker.

Fabric made of aluminum

– Withstands heavy rains and winds; rust and corrosion are possible; coating can be scraped.

Pet-proof screen fabric

– Made of vinyl-coated polyester; resistant to pet scratches; thicker than other screen fabrics.

Fabric for solar screens

– Made of synthetic fiber; designed to block sunlight and bright light; helps to keep the porch cool.
To conclude
Finally, screened in porches are another way to increase a home's aesthetic value. On the other hand, it is a practical way to add seating for friends and family. It also improves air circulation in the home and provides a shaded area for you to entertain guests while keeping insects at bay, especially during the swarming season.
If you want one, you should first understand how they work and what materials are best for building one. You would not be short of a design to refer to with the ideas we have listed here. Hope our simple screened-in porch ideas will help you get one!
Frequently asked questions on simple screened in porch ideas
Is it worthwhile to invest in a screened-in porch?
Yes. According to contractors and real estate brokers, a screened-in porch adds 15-25 percent to a home's total value when sold. Aside from that, it protects your porch from swarming insects during the summer and spring, fences in pets, and provides a shady, cool space where you can relax and entertain guests, so it is well worth the money.
How big should a screened porch be?
Of course, the size of a screened porch varies depending on the home's floor area. However, when essentials such as an extended dining and sitting area are considered, most screened porches fall within the 1214 to 1416 ft dimensions.
Is it possible to add a screened-in porch to the existing deck?
Yes. All you have to do is build an all-around enclosure for the deck out of the material of your choice. After that, select your screen fabric, and you're ready. Of course, it is more complicated than it appears, so you should consult a reputable contractor, especially for raised decks.
Can a grill be installed on a screened-in porch?
Never. The grill's coals and embers can still be ripped apart on the screened porch. Even using an electric grill, too much heat on the porch can be dangerous. Nonetheless, some homeowners have dared to do so and have reported that it is safe.
What is the cost of constructing a screened-in porch?
It is estimated that a 200sq.ft porch would cost $450 to screen in. Screen panels, screws, fabric, and paint finish are all included. If you employ a professional, expect to pay an additional $300-600 for materials and installation. However, if you have to build the screened-in porch from scratch, expect to pay more.