Tea tree shampoo is an elixir for hair and skin. You can mix tea tree oil in your regular shampoo or make a DIY tea tree shampoo at home. A shampoo base is used to lather and create a creamy texture. Choose an organic shampoo base when creating a blend of tea tree shampoo for keeping hair and scalp clean.
The shampoo base you choose should be fully certified and organic. You can choose an unscented base to get started with this interesting DIY project to get rid of itchy scalp, dandruff, have healthy and shiny hair. They are easily available online for an affordable price.
One of the advantages of making a DIY tea tree shampoo is that it is sulfate-free and has all the essential organic ingredients to give you healthy hair and scalp. If you spend a lot of time outside letting your hair and scalp make a home for dust and grim, this is the best option for you to go with.
It is easy to make, handy, and chemical-free. Pamper your hair and scalp with these ideas strengthening the hair roots, flushing away bacteria before it starts residing inside your hair. Tea tree oil has proven to be highly beneficial in treating hair and scalp problems.
Benefits of Tea Tree Shampoo And Oil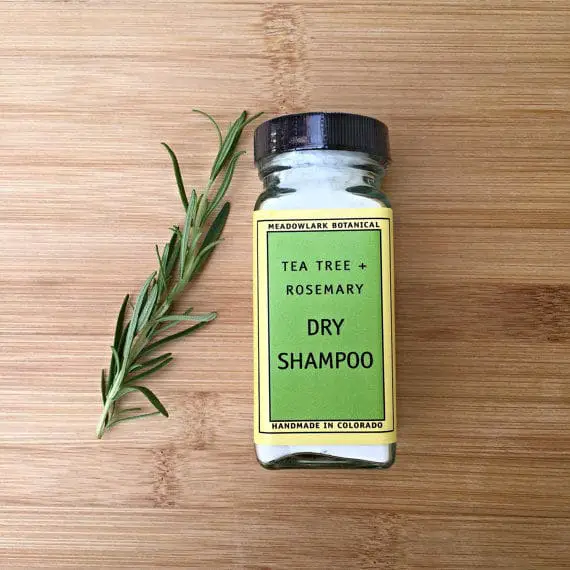 Tea tree oil unclogs pores on the scalp and fights bacterial infections on the scalp. It is usually used in the diluted form and stimulates the cells increasing the blood flow. It has antiseptic properties and can be used for massage to cleanse hair and scalp.
It removes dead cells and oil build-up on the scalp and hair. It moisturizes hair giving back its sheen. It promotes hair growth and protects the scalp from various infections and bacteria. The nutrients in the tea tree oil provide oxygen to the scalp and prevent ingrown hair. Dandruff and dry scalp conditions can be effectively treated with this condition.
Caution: Do a patch test before you use it for hair treatment or making a shampoo as it could cause hair loss if you are allergic to it. If you suffer from pattern hair loss, tea tree oil is not beneficial for you.
If you have colored hair, the astringent in the tea tree oil can fade the color of your dyed hair. You can buy online products available and safe for colored hair if you want to use a tea tree-based shampoo for your colored hair.
As a rule of thumb, shake the DIY Tea Tree shampoo well before each use as the essential oil and the shampoo base gets separated.
DIY Tea Tree Shampoo For Dry Hair
10 drops Tea Tree and Lavender oil each in a bowl
Add 15 drops of Rosemary and 2 tbsp of Sweet Almond Oil
1 tbsp Vitamin E oil
1 cup shampoo base
Mix all ingredients and store in a bottle and shake well. It is ideal to choose a dark bottle and store it in a cool place.
Tea Tree Shampoo And Peppermint For Itchy Scalp
You can make this tea tree shampoo to treat dry scalp, dandruff, and itchy scalp problems. Peppermint naturally cleanses the scalp and treats these issues as it has antimicrobial properties. Tea tree oil promotes hair growth and helps in treating these problems. This combination is a powerful treatment, especially, for dandruff.
Castile soap or organic shampoo base
organic coconut milk
20 drops Peppermint essential oil
15 drops Tea Tree essential oil
1/2 tsp Olive or Sweet Almond Oil
Mix all ingredients and pour in a dark bottle. Shake well and store in a cool place. When using essential oils, it is recommended to use a dark bottle. You can use DIY Tea Tree shampoo up for a month. This homemade shampoo might not create a lather like most commercial shampoos. Use rice water or apple cider vinegar rinse for shine and smoothness.
Tea Tree Shampoo And Jojoba Oil
This is an effective recipe in treating scalp problems. You can use this homemade shampoo for 3-4 months.
1/4 cup liquid Castile soap or 1 cup shampoo base
1/2 cup distilled water
2 tsp Jojoba Oil
1 tsp Vegetable Glycerine
10 drops Tea Tree essential oil
Dark bottle to store shampoo
First, pour distilled water in the bottle, then liquid Castille soap or shampoo base, and add the rest of the ingredients and mix well. Close the bottle with the cap and shake well. You can replace your usual shampoo with this homemade shampoo for effective scalp treatment.
Tea Tree Shampoo And Honey
The best thing about making homemade shampoos is that they are easy to make within 10 minutes and give you healthy hair and a clean scalp. It eliminates bacteria or any infections on the scalp and gives shine to hair strengthening its roots.
1 tbsp raw honey and coconut oil
2 tbsp Apple Cider Vinegar
1 tsp Castille Soap liquid or 1 cup shampoo base
3-4 ounces of Aloe Vera gel
3 tbsp distilled or purified water
10 drops Rosemary and Tea Tree essential oil each
Dark bottle for storage
Melt honey if it is firm and mix it with apple cider vinegar. Blend it with coconut oil or Aloe Vera in a bowl. Add shampoo base or Castille soap, mix well and add essential oils. Store it in a dark bottle and shake well before every use.
Tea Tree Shampoo And Rosemary Oil
This homemade shampoo is suitable for all types of hair. It smells great and can be used regularly to keep your hair healthy and smelling good.
1/4 cup distilled water and liquid Castille soap each
1 cup shampoo base as an alternative
1/2 tsp Jojoba and grapeseed oil each
3 tbsp Rosemary oil
1 tbsp Vanilla essential oil
2 tsp Tea Tree oil
Dark bottles for storage
Mix distilled water, rosemary oil, and lemongrass and boil for 20-30 minutes till you get the fragrance. Strain leaves with a tea strainer and mixture cool. Mix all ingredients and stir well. Store in a dark bottle. Shake well before every use.
Tea Tree Shampoo And Apricot Kernel Oil
This homemade shampoo is effective for treating dandruff. Natural ingredients and chemical-free homemade Tea Tree shampoo treats hair and scalp problems and give healthy and shiny hair.
1/4 cup liquid Castille soap or 1 cup shampoo base
10 drops Tea Tree essential oil
1/2 tsp Apricot Kernel oil
Dark bottle to store shampoo
Mix all ingredients in a bowl and pour it into a bottle. Shake well and store in a cool place. Use this shampoo regularly to treat dandruff and hair problems.
Conclusion
Enjoy making Tea Tree shampoo at home and keep your hair healthy. Chemical-free shampoo recipes made with natural ingredients are safe to use for all types of hair. The only caution is to ensure it does not enter your eyes or skin around your eyes as it can irritate because essential oils are used.