Short Acrylic Nails- Choose Your Favorite!
Short acrylic nails can never go out of style, right? We all love perfect manicures for our everyday styles. But long nails are not the first choice of many women out there, we do require short acrylic nails to create a minimal look for our day-to-day chic looks.
nail enhancements formed by combining powdered acrylic products with liquid acrylic products hold great power in manicure lines. They are definitely hard to beat. If you are interested in acrylic nails, know that there is no end to the designs, you may discover how much ever you want. From neutral short acrylic nails to dark short acrylic nails, it is definitely safe to say that they are quite an underrated option and gives you a great variety to explore. You might enjoy coffin short acrylic nails or sweet shirt link acrylic nails, you never what suits best until you give it a try.
Acrylic manicures are known for their rock-solid durability and length creating an eye-catching new style. If you love short acrylic nails, here is an amazing variety to go for. Let's look for some great inspirations to decide cute yet funky short acrylic nails for you.
Is acrylic nails on short nails a good idea?
If you have very short nails naturally, you might be thinking if it is possible to wear acrylic nails or not. You will be very pleased to know that there are some very short acrylic nails for every length. However, if your nails are slightly damaged, you can get appointments and help them before going for short acrylic nails.
Short acrylic nails
1. Red French Tips
If you love french manicures but will admire a pop of color, this manicure might be the perfect choice to go this time. You can either use the same color on all your nails or go for a different color on each nail if you are feeling a bit fancy.
2. Neat and nude
Here comes our personal favorite. There is nothing as simple yet gorgeous as a perfect nude mani. Unfortunately, neutral polishes end up chipping very easily due to which the natural effect does not last fr long. Whereas, nude acrylics are perfect and last longer.
3. Short acrylic nails with crystals
This extremely artist's yet elegant manid design is the one many people dream of for a while. Know that short acrylic nails can shine as perfect as long acrylic nails, this design has proven it again. Nothing shines more on your fingers than the stunning Swarovski crystals.
4. Short acrylic nails with heart
Little things make a big impact and mean a lot, right? Not only does this design have a lovely length but the mini heart designs it boasts are super chic on your fingers. This is an adorable alternative for people who already have a fair share of manicures in french style.
5. Short pink acrylic nails
Remember when we used to fight over pink color every time in school? Good old days! This barbie pink is perfect absolutely amazing for anyone who loves pink color to their cores. You can also go for certain variations to form your perfect manicure.
6. Faded acrylic ombre
If you cannot pick one color at a time you can go for faded acrylic ombre. It will help you show off some of your favorite hues in a way that you love for the next few weeks until you decide to change it again.
7. Rounded Nudes
Nude manicure is loved by every woman. If you too fancy a nude manicure but are tired of super squared tips, just ask your manicurist to slightly change and round your acrylics. There are many shapes out there that can certainly be perfect for you like oval, round, almond, and squoval shapes.
8. Art Deco short acrylic nails
Tired of nudes or want to go a little funky this time? You can add a pop of color to your nails using these art deco-inspired nails deas, With bold color choices, a splatter of black, modern lines, and easy to rock short lengths, you are definitely receiving a lot of compliments for this one.
9. Floral details
Floral details in summer are to die for. This is another way to escalate a classic nude mani. Floral details undoubtedly make a great choice this summer. You can just DIY this design without going to professional manicurists.
10. Simple white or black lines
If you are a stan of minimalism, this one might be a good choice for you. Single white lines on your nails are minimalism at their finest. If you want an extremely simple look with no color pops,s reach no further. You can easily layer these lines on top of nude nails. If you wish to go simple yet slightly bold, go for lime green or red line.
11. Glitter tips
Shortt acrylic nails are great to show off when your bare nails have contrasting colors. This design always appears extremely appealing especially when you pair it with eye-catching glitters. This is probably the best way to make the glitters stay for a long-lasting acrylic finish.
12. Pastel mismatch
You might have noticed so many rainbow designs this year on your Instagram or Pinterest, this trend is showing no signs of slowing down. If you are searching for some new ways to test the bold beauty statements, try to go slightly lighter with the shades selection. Pastel colors make a stunning choice.
13. Rainbow bright
Undoubtedly, pastels are pretty when paired with white accents, together forming a gorgeously minimalist design. For the coming days if you are planning to go all out, do not look any further than these gorgeous nails. The cold and hot color variations males it a beautiful mani that you would want to pair up again and again.
14. Black lacquer
Wish to go all bold and black this time? These almond-shaped short acrylic nails are high-shine and extremely glossy. Added glitter to one of the nails makes it a perfect pair for night-outs.
15. Short coffin acrylic nails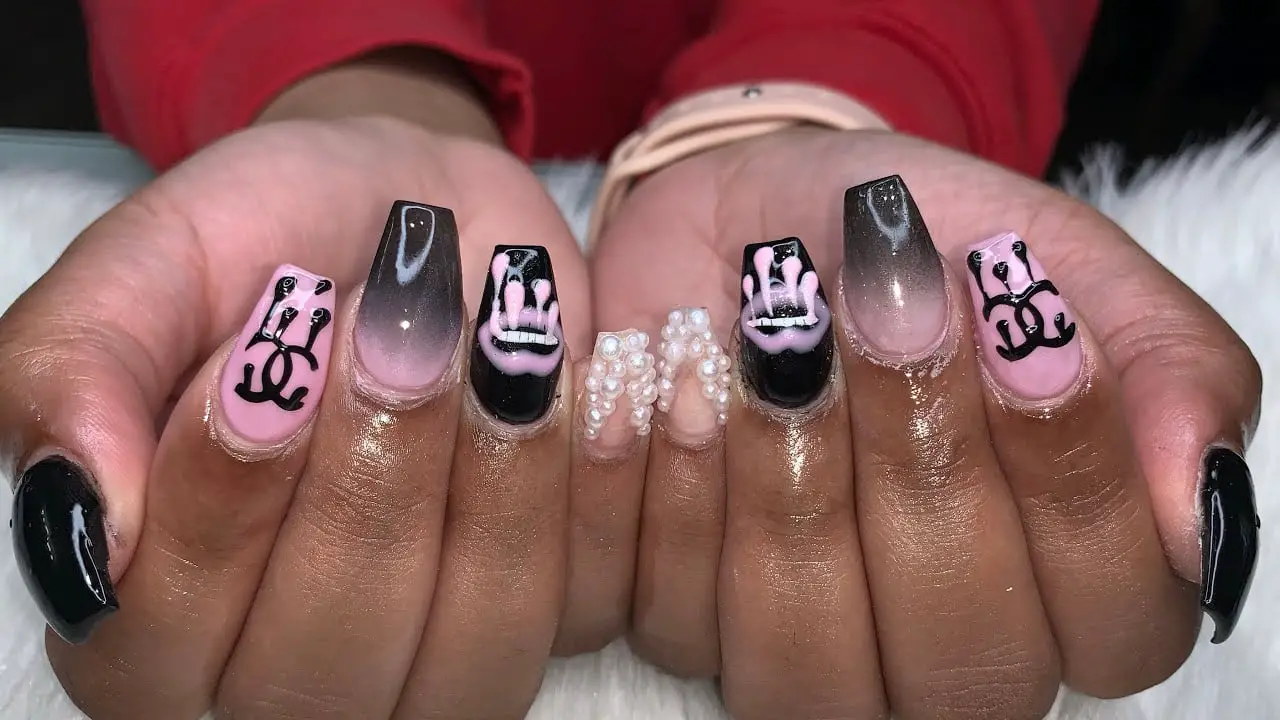 If you think coffin nails are only good for people who have long nails, you are totally mistaken on this one. This breathtaking black and pink marble design make a fabulous design that most of us did not know would look that awesome.
16. Very short acrylic nails
Who does not require a bit extra glitter on their nails tie to time? These glamorous short acrylic nails make a great impact and are a perfect design for your short nails.
17. Leopard short acrylic nails
What else do you desire when you have short acrylic nails with leopard patterns? You might already know leopard print is again in the game to nail terrific manicures. For many of you, it might be another chick design but the shades used in this art have created a gorgeous pattern indeed. Look at the other nails with pearls and pastel colors paired with leopard designs. By using soft colors and pearls, you can give the leopard print a classy look. You can do it at home too using online tutorials.
18. Short acrylic nails with marble prints
Marble is also a chic trend to follow and here is one of the most gorgeous ways you may add marble patterns to your very short nails. Some nails are only in one color that is gray and nude. Two accent designs are included which are marble nails and silver glitter. You can recreate the manicure at home or experiment to create a slightly different marble manicure as per your amazing taste.
19. Elegant black matte finish
Matte black is undoubtedly a chic and elegant look to rock. Have a look at this particular design as see for yourself how astonishing it looks. This look features one accent nail with other matte black elegant nails. The accent nail is a gorgeous soft pink hue with floral prints. This look is hands down stunning. From your regular office to nights, this one definitely catches attention. You can always try to create a version of your own and see how that turns out.
20. Floral accent nails
This nail idea is chic and pretty with not-so-bold colors used. These are slightly short coffin nails with added floral accent nails on your every hand. Look at the flower art used in these nails, so elegant and delicate, right? To create the same look at your house, you may purchase some stickers available online and offline for your nails. Flower designs are pretty common and readily available.
21. Vibrant pink nails
If you wish to add a pop of color to your nails, this vibrant pink might be the one you are searching for! We absolutely love this bright, light, and super fun color. It is perfect for all of you who wish to try out a bold manicure by going different. Not only vibrant pink color, but you can also use other bold colors or add some patterns in between to create your own version of party-perfect bold short acrylic nails.
22. Light pink and white
What about a pretty minimalistic idea like light pinks and white? Sounds like a fairytale to me. Some of the shades used in this particular design are light pink hues while others are elevated with sparkly stripe designs. The white nails here are finished using crystals making them look so elegant and pretty. Using tape as a guide to create stripes would be an amazing way to recreate the look at home. Just check out tutorials of this look at get going.
23. Shiny soft pink nails
This is another easy way to wear pink colors. If you wish to go minimalistic and elegant, this manicure with soft and light pink hues is all you require. Color of this sort is easy to pull off and can be worn anywhere with any outfit. It would be perfect for date night as light pink is a romantic shade. If you wish to attend weddings, you can wear this color.
24. Beautiful matte blue short acrylic nails
Dark blue is bold, elegant, and chic to wear especially when it is in matte finish. This particular design can be created using two accent nails in between with a super dark matte finish. A mixture of gems including black and blue crystals looks astounding. A bit of patience and some color gems can help you recreate the look.
25. Short acrylic nails with gold
Gold is another amazing way to jazz up the nails. You can simply glam up super simple and nude colors for this manicure. Light shades go pretty well with dazzling golden hues. Gold can be used to give any manicure a trendy finish.
26. Rhinestones and glitters on short acrylic nails
This nail idea is pink, pretty, and elegant to its core. Light pink with sparkly diamond designs is always in trend. Two nails have glittery stripes and pearls while some nails have beautiful crystals all over. You can try the complete look or just use glitters, either way, it looks gorgeous.
These were 20 amazing short acrylic nails for everyday wear and occasions. Choose which one attracts you the most and recreate the look.