High Waisted Bikini Styles To Pay For This Summers
High-waisted bikini styles are as trendy and cool as other high-waisted clothes we love to wear. High-waisted jeans have been immensely popular this year, from cropped tops to bralettes, we loved to rock every style, isn't it? Why not try high-waisted bikini styles too, not only when we sunbathe on beautiful beaches, but even at home.
From amazing strappy details these bikinis have to layered cut-outs, you will feel extremely confident and super comfortable wearing these amazing bikinis. It does not matter if you have an outstanding backyard pool or just need a cute and comfy bikini set for sunbathing, you definitely need to own high-waisted bikinis this summer.
Being in quarantine for almost a year now has opened our creativity levels to another height, we definitely wore date night outfits at the house for watching a movie, I am sure you might be one of them like us. Also, we figured out that we do not need vast beaches to show off a trendy and cute bikini suit, right? Just wear these high-waisted bikini styles to get a bit of tanning in the sun or just lay out in your superbly comfortable bed, no one will judge.
The weather has been very hot lately, feel free to show off your curves and your natural beauty with these bikini sets. Just distract yourself and pamper your needs by wearing these amazing high-waisted bikini suits.
So here are some amazing high-waisted bikini suit sts we have shortlisted that are cute, trendy, and extremely comfortable for you to try on. Why not try out a few of these ideas and feel amazing? let's get started.
High-Waisted Bikini Styles
1. Wraparound High-Waisted Bikini
If you are a huge fan of wraparound clothing, you should definitely try this one out. The tan lines you get may not be very good when you have this type of bikini suit, just keep in mind to apply an SPF 30 sunscreen before stepping out in sun without fail. This amazing bikini in blue color having a haltered neckline along with hot cross-over bottoms looks absolutely splendid. The straps on the waistline are perfect to flaunt your hour-glass body, for curvy women, it suits best. Even you are not curvy, just go for it, the color combination along with its pattern is superb in our opinion. Truly Gorgeous, isn't it?
2. Add Some Black Drama With Bikini
This high-waisted bikini suit from famous last woods is gorgeous, especially for black lovers. Also, if you like to add some drama to your swimsuits this year and make it more interesting, having a pair of black bikini that too in high waist is a must. You can either tie its waist using the knots given on this classic bikini or you can just let them remain loose to give a pretty draped kind of effect. The choice is yours, whatever suits you best. If you still do not own a black bikini, we suggest you grab one now.
3. Mixed prints High-waisted Bikini
Remember the immensely popular video on youtube starring the Handsome Zayn malik and his baby's Momma Gigi Hadid? You have guessed it right, it was their iconic music video Pillowtalk. Gigi wore a similar high-waisted bikini suit having mixed prints. I am sure even you were not able to take your eyes off her, she absolutely nailed that look.
This bikini is just WOW! The red and white prints are specially made for the summer feels we have been waiting for for so long. If you are a stan of mixed prints and cannot decide among single prints of red or white, just go for this high-waisted bikini. This cute bikini has both checks and stripes in it for amazing effect and style. So in trend.
4. V-Cut Bottoms In Bikini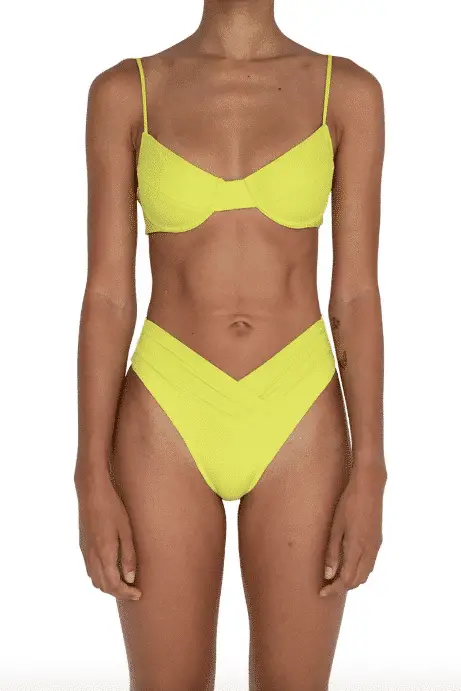 If you are a huge fan of v-cut bikini bottoms or anything having this cute yet sexy v-cut cut-out, you should definitely think of trying this one out. This gorgeous yellow piece is great to look at. Also, you cannot expect all the high-waist bikinis to cover your belly, sometimes going off the tack with your styles is much more trendy. It will not necessarily cover your belly button, but it will definitely hide extra fat present at your love handles if you haven't worked out much during quarantine or ate a lot of processed food.
This dress has a trendy v-cut that is meant for all the ladies that love yellow and this specific design, if you do not wish to go with yellow, get yourself your favorite color and include this pattern in it.
5. A Fan Of Bows? This One Is For you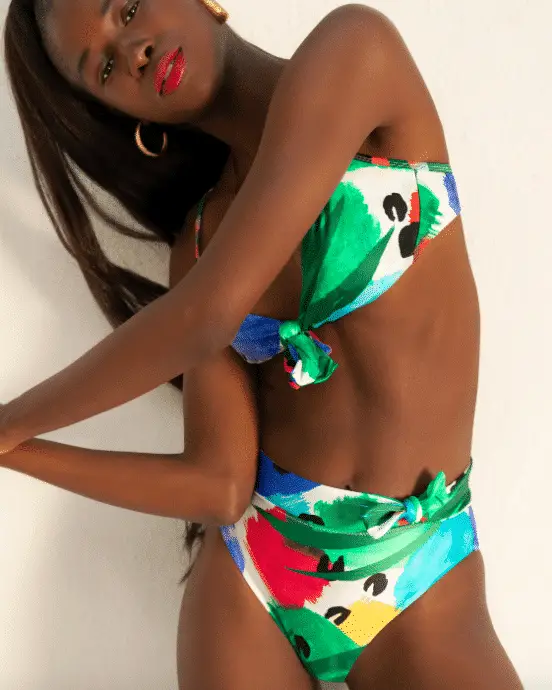 There are many of us who are in love with bow designs, and why not? they are gorgeous and add an amazing trendiness to our attires. This Judy underside printed high-waisted bikini suit is something we wish to wear every day. If you are highly active on social media sites like Instagram you might have seen many beautiful women flauting their shapes using these bikinis.
Having a cute bow on the top and at the waist, this multicolored bikini set looks extremely cute and modish. Plus the colors are so in and beautiful that you can definitely use this top to wear on skirts and high-waisted pair of types of denim. It will gather all the attention on you. You can use it for multipurpose, what else do you need to buy this cute high-waisted bikini set.
6. Stretchy High-Waisted Bikini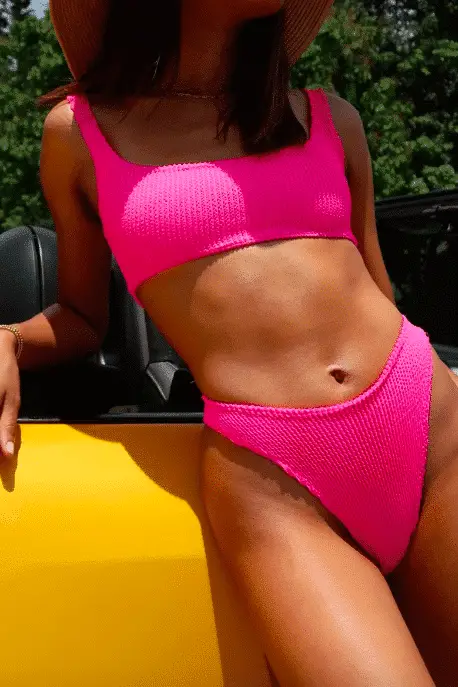 If you like stretchy fabrics then this one is especially for you. There are a lot of ideas and designs to buy a high-waisted bikini suit, but your comfort matters the most in each idea you want to choose. If we just talk about comfort, stretchy fabrics are extremely breathable and comfy. You can purchase any size. If you are in plus size, you should definitely try this one out, it is trendy, stunning to wear, and highly comfortable.
It usually has a soft material and design that fits so well and hugs your body. It will look cute as hell in a red or pink hue. If you try a bikini with stretchy fabric, I am sure there is no turning back, the women in this section who already has it might agree with me. Also, our favorite young and beautiful millionaire who rocks all the outfits she wears, Kylie Jenner has posted many pictures on her Instagram handle where she paired stretchy bikinis as her swimsuits.
7. Minimally Aesthetic High-Waisted Bikini
A 90's fan? Here is the best choice for you. Back in the '90s, these high-waisted bikinis having minimally aesthetic appearance were highly popular, I wouldn't be wrong if I say they are still as trendy and beautiful, you can make that out looking at the picture.
Jade's swim's Silhouettes are minimal and usually have solid colors with stunning straps. If you are highly into simplicity or bored with too much drama, you can get yourself a pair of these high-waisted bikinis in the color of your choice. These are actually high-waist bikinis, just look at the descent fit they give to your belly button.
8. Graphic Printed Bikini Suit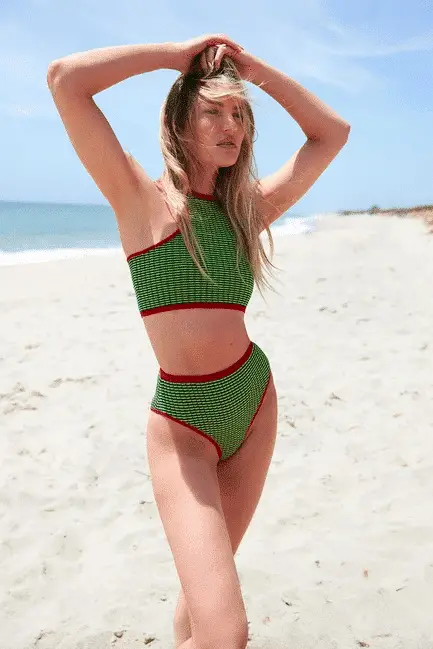 Graphic prints are all in trend and they are going nowhere anytime soon. This bikini suit has a mesmerizing pattern. The bralette design is to die for. Another bikini suit that you can definitely be wearing is a top in high-waisted jeans or shorts of your choice.
The red and green style with contrasting outlines looks superb to wear. Just go a little bit different in these summers with these bikini styles. It has a contrasting trim and a beautiful pattern. This looks like a high-waisted bikini worn by models of Victoria's Secret angel, doesn't it give you those feels?
9. Gingham Bikini Suit
If you love high-waisted bikinis or midi dresses in gingham fabric or pattern, we have brought the best idea for coming summers. This Paula tie-up bottom of the bikini is so refreshing and gives us major summer vibes.
Blue has no match on beaches, right? Just soak in the last bits of this summer wearing these vivid blue gingham prints. Another bikini set that you can use for multiple purposes. Feel free to pair up with your favorite black pants or shorts or skirts, there is no possible pair of bottoms that won't go with this bikini top. Wondering how to use it outside water? well, just try pairing it with any high-waisted and belted bottoms, you cannot imagine how cute this looks. Definitely a graceful high-waisted bikini suit.
10. A Hint Of Bling With High-waisted Bikini Suit
This killer sexy high-waisted bikini suit has my heart. It might look like a simple pair of the high-waisted bikini in a pink hue, but it has so much more to it. Let me tell you how. By looking at them from the front side, the bottoms might appear extremely simple like the one given in the minimally aesthetic pattern, but when you turn around a little bit, you will find this stunning golden ring detail attached to it.
This golden detailing or silver detailing adds glam to your bikini suit making it appear much sexier. Again a bikini suit that gives us major victoria's secret angel vibes. This styler appears chic and killer with the matching triangle tops it comes with.
11. Space Dye Patterns
Many of us are huge fans of space dye prints and tend to be partial to all our clothing that has space dye prints, isn't it? We have a high-waisted bikini set idea that includes your favorite space dye prints. This "V" design looks extremely appealing and beauteous.
This bikini features subline aqua, blue, and purple patterns having radiant hues. This pattern will definitely stand out while you are lying down or lounging poolside. This "V" design definitely heats up things.
The top looks like a crop top everywhen can try out. If you wish you can try pretty and minimal earrings and neckpieces that look ravishing in pictures if you wish to take some.
12. All White High-Waisted Bikini
This Macbottom having rainbow stripes is ravishing to try out this summer. White cloth is known to absorb very little sunlight which makes it amazing to try out in summers unline black color that attracts heat. If you wish to use only a single splash of color, this one is for you.
These flattering bikini suits are mostly available in tons of patterns and colors, but white appears the most aesthetic out of all. Although, you can find any color that looks pleasing to your eyes and catches your attention like light pink hue or light blue that complements all your beach looks. This rainbow accented high-waisted bikini suit looks way cuter than fancy suits you already have. Not to forget, it can save a lot of money.
13. Strapless High-Waisted Bikini Suit
This felicity bottom in yellow hue having strapless design going on looks heavenly. We love trying different colors and patterns that have various strapless patterns or off-shoulder patterns. You can try your love for such clothes on bikinis too. If you wish to show off that beautiful neckline and amazing shoulder lines, this one is especially for you to try out in the coming summers.
These sunshine yellow bottoms having a hint of pastel hues along with textured fabrics are excellent if you prefer a cheeky kind of cut ad hue. You can pair these with other a yellow similar colored bra or strapless tops too. This gives you a beachy look and appears so chic at the same time.
Not to forget, try using this top on other high-waisted pants too, you will love how your end look turns out with matching heels or neutral heels.
14. Full Coverage High-waisted Bikini Suit
If you wish to go for a full coverage bikini suit then you may try this one out for once. This classic high rise appears magnificent, decent, yet super stylish. Nothing beats bright striped suits on hot summer days. correct me if I am wrong!
The most special thing about this suit is that it goes amazing with hot temp. of summers and provides you the right amount of coverage. if you wish to protect yourself a bit more from the sunlight, you can use this one. This bikini set already has extra SPF protection, we can make that out having looked at it.
15. Frankie's Bikini Suit
Want something that perfectly fits and suits your Instagram profile picture? We have all kinds of bikini ideas you are definitely going to love and pick up something new out of these.
The amazing graphic pattern it has when combined with subtle sexy cutouts is basically made for enhancing your IG handle. Not to forget, these were the most trending high-waisted bikini suits of last year, I am sure you might have not gotten over them and some of your might not have even brought one due to some of the other excuses. Do not make the same mistake again.
Pamper yourself with a pair of this cut-out high-waisted bikini that fits like magic.
16. Bold Bikini Suits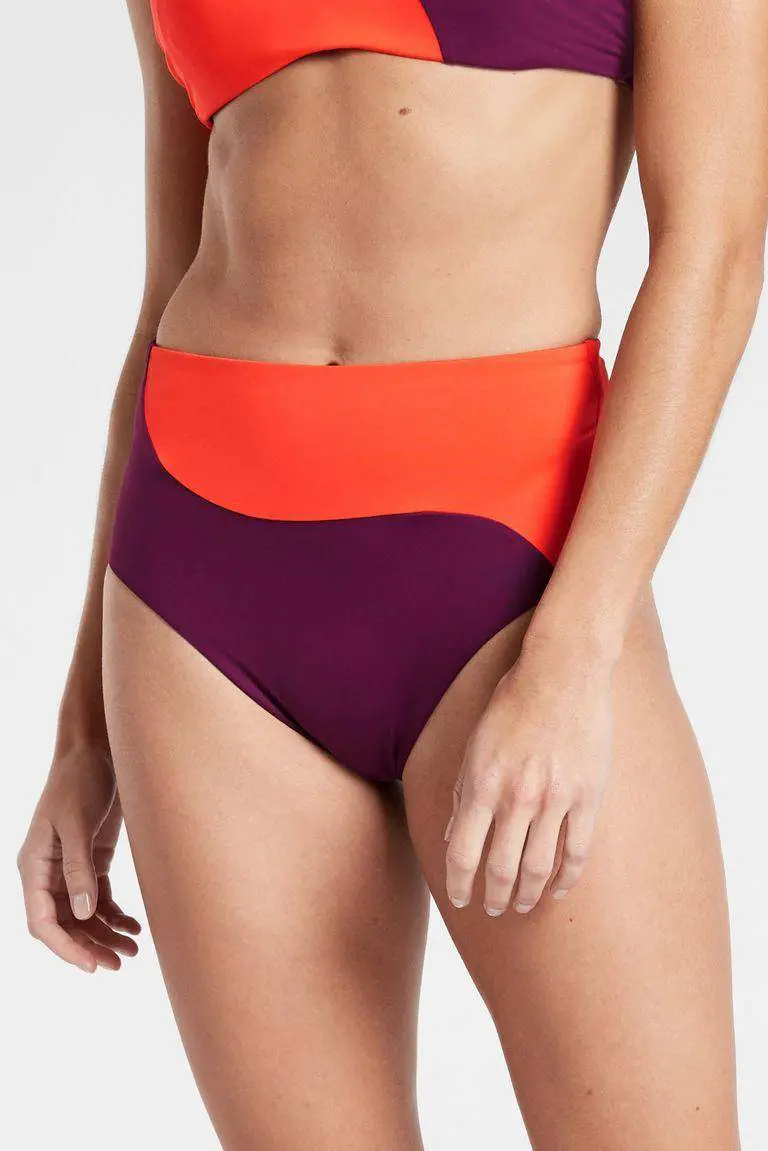 If you are looking for high-waisted bikini suits that stand out from the ordinary to come out as the best ones, we have one for you. This beautiful set having red, orange, and deep purple hue scheme looks bold and magnificent. It will definitely look amazing irrespective of the color.
It definitely one downright gorgeous bikini set to borrow. The bottoms are worth buying, they hug your hips in all the accurate places which makes this bikini suit a perfect match to carry this summer.
If you love bold colors and wish to buy a bikini in the same colors, we highly insist you find something similar to this. You might have seen many people over the past years using one color scheme in bikinis, that looks perfect aesthetic but going bold this year is mandatory.
17. Johnnie High-waisted Bikini Style
If you are a huge stan of trying colorful patterns and searching for something multicolored in your bikini suit this year, this is the one you will absolutely adore, isn't it?
If you are all about standout bikini styles, you know this one is definitely going to fulfill all your requirements. Just go for florals against teal backgrounds having various stripes to enhance the beauticians' touch it has.
Not only the colors and stripes are standing factors of this one, but you will also find adjustable straps in bikini styles having these patterns which are indeed great. Having a bikini that accurately fits your curves and has a great length is the cherry on the cake with its pretty styles.
18. Textured Bikini Suit
If you like some textured material swimsuits, you can try wearing this type of bikini suit. It is not necessary to go bold with colors or go for simply minimal styles, sometimes you need to try out things that are beyond your taste to go trendy.
This bikini suit is just perfect for your IG handle posting. Not only you can wear this on the beaches, but you can also easily pair the top with other high-waisted clothes you have. That would be amazing and fabulous to start your summers.
Summers are more about cute pastel colors, this one is one such color to try out. Perfect for your vacations, just try this out once. Textured fabrics usually come with SPF, isn't that a bonus? Do not think twice, just get it before it's worn by many and inspire others with your brilliant fashion sense.
19. A Bit Black- High-Waisted Bikini Suit
If you simply like black bikinis having some sort of elements to them. you have many options here. What about these ruched bikini styles?
You are never going wrong with a pretty little black bikini. This bikini comes with a ruched top design that is all in trend from last year and never getting out of trend. The tying design in front looks pretty ravishing and you should try this one out once.
This high-waisted bikini is not matt black in color which makes it amazing to be used in summers this year. You can pair the top with a high-waisted pair of white pants, it is going to look more than amazing.
20. Ribbed High-Waisted Bikini
Bikinis should be all about the material you are buying, if the material doesn't suit you or you don't find it comfortable enough, do not go for it, as simple as that.
If you love ribbed material for the amazing fit it gives and the body-hugging texture it has, you should put your hands on such bikinis. The fabric of ribbed bikinis is super soft and feels refreshing.
Just have a look at the bow detailing it has on the top, now, would you let that go? Absolutely NOT! It has something more to it than just the stripped patterns. Do you remember the times when tops having this pattern and material were immensely popular on IG? The trends are repeating themselves, so you better bring one for yourself earlier than that.
21. Scalloped Trim High-Waisted Bikini
Just in case, you love something that has scalloped trims just like me, you should have one that fits your choices. This beautiful white high-waisted bikini set looks perfect for summers. It has all the beachy vibes you need for planning a trip to beaches.
This bikini is something that seems very basic, but the bold white hues and scalloped trims make it unique in every way possible. Not just that, look at the strapless design the top has, isn't it amazing? It is perfect for summers when we talk about the colors, it will not attract much heat, but do not forget to carry your sunscreens for extra protection that is much-needed.
22. Wraparound Black Bikini Set
Again a bikini having a ruching pattern. Doesn't it look like something models would wear on their vacations?
The wraparound patterns make anything sexier, it does not matter if they are on your top or shorts, you should have something with wraparound patterns. The underwire present with these bikinis provides full support to your beachy mood. Having wraparound patterns both on the top and bottom makes it better to wear and looks stunning.
23. Check Print High-Waisted Bikini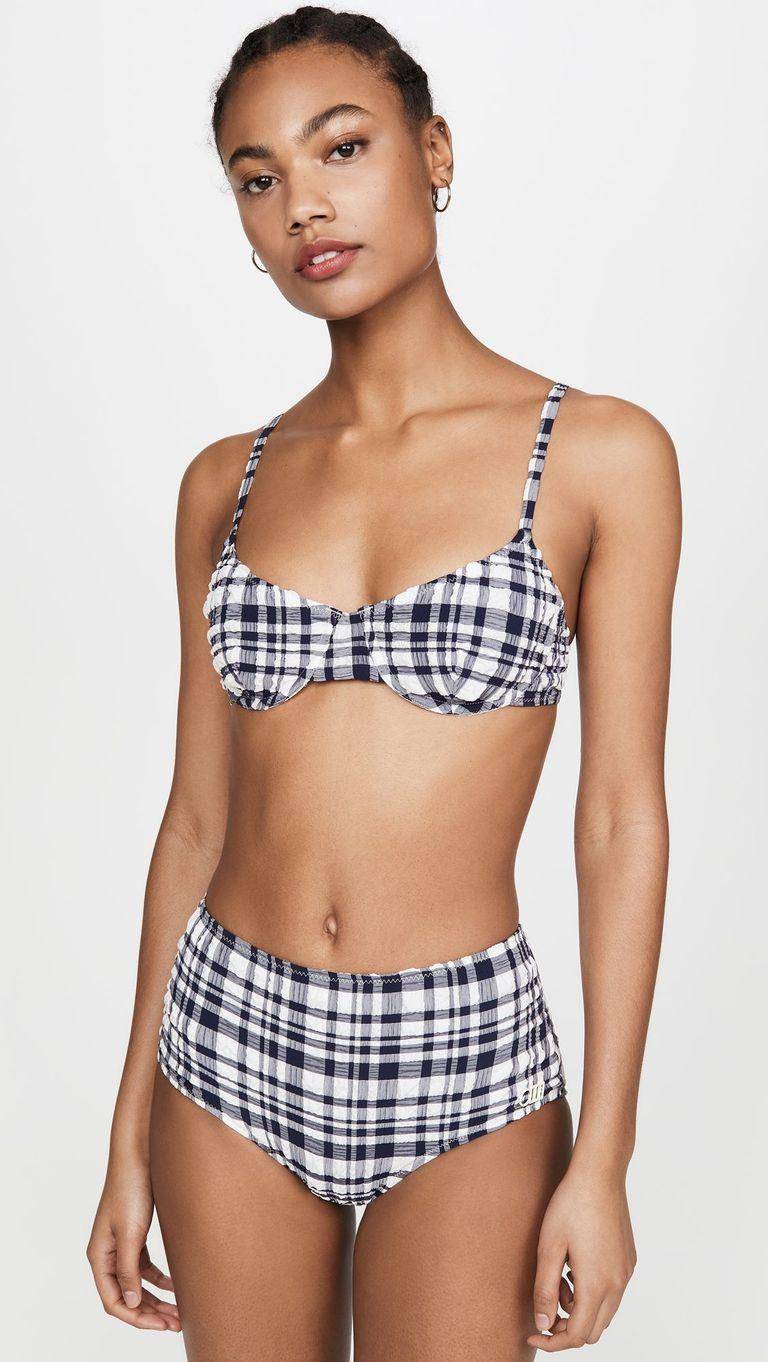 This solid and striped bikini is another amazing idea to purchase a bikini set. You will find tons of black and white-colored bikinis in stores, if you cannot make your mind on which one to buy, you can try this one out.
Sometimes getting a white and black combination checked bikini is a great idea to complement your curves. This bikini is the classic pattern that you can never go wrong with. Do not worry about investing in such bikinis because they are always in trend and can be worn during your family vacations as well.
24. Ruffled High-Waisted Bikini Style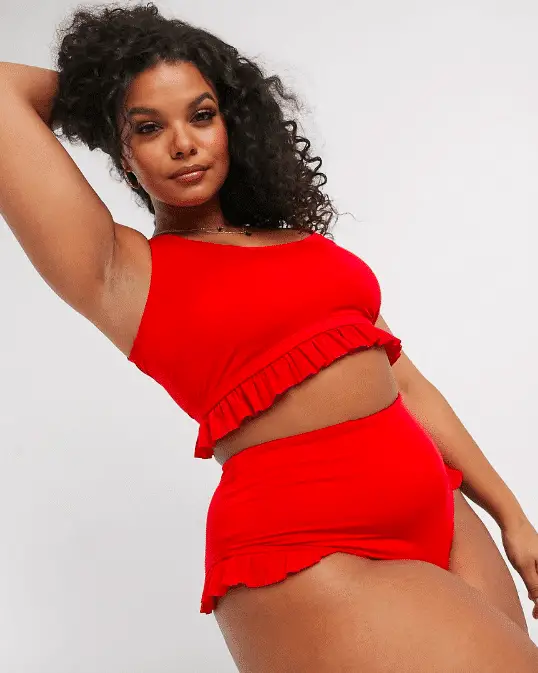 This pleated frills bikini in light red color is our favorite. You will find such types of styles in ASOS. Giving us all the major vibes from the 90s, these bikini sets are best.
The frilly trims attached on the top as well on the bottom make this bikini suit flirty and perfect for a romantic vacation with your base. Not to forget, feel free to use this bikini top on anything you wear, because it will go perfectly paired with white or black high-waisted shorts and jeans.
You can also try mom jeans to rock such styles.
25. Polka Dot High-Waisted Bikini Style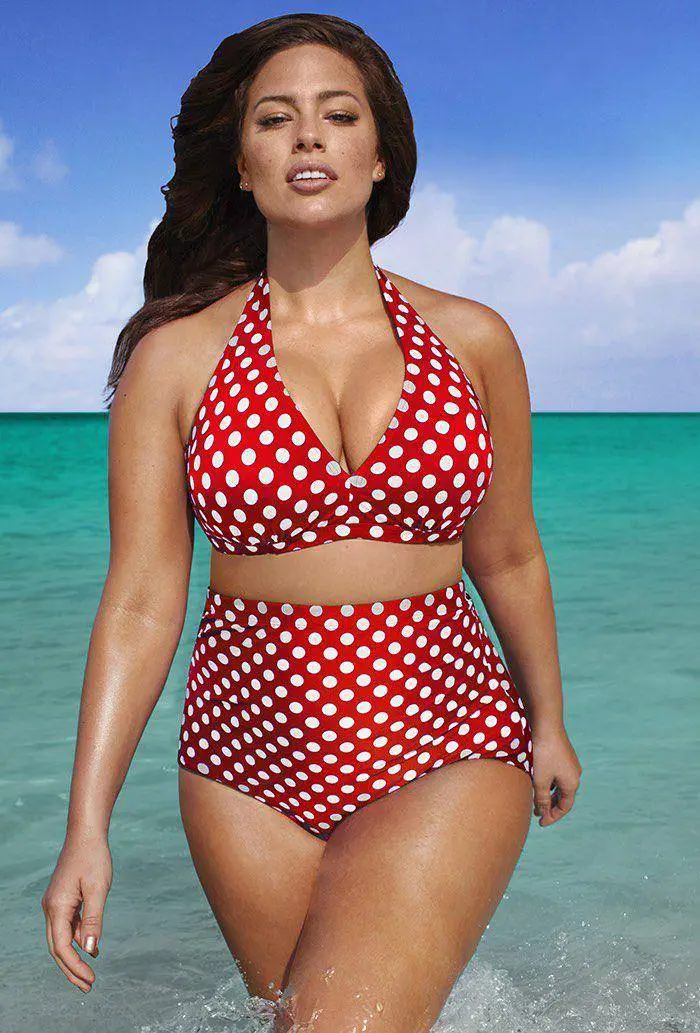 If you are a huge fan of polka dots and want to have a bikini that appears cute with polka dots, you can definitely try this one out.
It looks super cute with edge detailing. On top of everything, the high-waist makes it super comfortable to wear and makes it look stunning than ever.
These were some pretty ideas on what type of high-waisted bikinis to chose from.