Gigi Hadid street style looks you would not want to miss out
New Momma Gigi Hadid never misses out on new trends and contributes her share towards fashion. Gigi Hadid is Victoria's secret angel model featured in multiple international magazines. She is one of the most prominent and well-known faces all over the world in the modeling industry. Both the Hadid sisters, Gigi Hadid and Bella Hadid are extremely beautiful and possess great styling sense.
Hadid has access to most of the big designers like the recent designer that works with her Mimi Cuttrell.
Younger Hadid's sister GIGI has also appeared in music videos with her boyfriend and her baby's father Zayn Malik, one of the most brilliant and popular singers. She wore multiple dresses in the video ranging from cool jackets to sexy black leather dresses. Hadid has also given major indoor fashion goals in the pandemic through her cool and classy Instagram posts.
From jackets inspired by bath-robe to baggy sweatshirts, Gigi Hadid carries the trend to the next level inspiring us to but the looks as soon as possible. Not only she do brilliantly well with her ramp walks, but the supermodel also served us major street style goals in the past few months.
Let us check out some of the most splendid Gigi Hadid street style looks that you will end up buying for yourself and be a bit more photogenic like the supermodel GIGI HADID.
1. Grungy Denim Jacket
Hadid sisters never step out without owning the streets. Gigi Hadid wore this beautiful loose grungy denim jacket with a black crop top underneath it. She complimented her black crop top and jacket with black leather skinny pants.
This outfit of the day made Gigi look super cool. She carried a black handbag and shades along with black leather wedges. Definitely a go-to style for Gigi Hadid street style looks.
2. Modern Touch
Gigi Hadid looked absolutely stunning with her chunky pink sunglasses. She wore flared patent leather black pants with a black crop top.
Gigi Hadid is not a huge fan of accessories. She wore a Black pencil lace heel underneath the whole attire to look trendy and roman.
Gigi Hadid street style look is chic and classy.
3. Snowy Chic
Hadid absolutely nailed this Gigi Hadid street style look. She paired a white turtleneck crop top along with white distressed knee denim. She wore an army green duster jacket to complete the look.
There's no duster that Gigi's closet doesn't have. She's a huge fan of sister jackets and loves layering her clothes. She wore black bottoms along with it that went on to make her look completely dapper.
4. Chickest Whites You've Glimpsed
Gigi Hadid street styles are ultrachic and groovy. Just look at this outfit, totally comfortable, classy, sporty, and super chilled look. Gigi wore a grey sweatshirt with grey sweat pants. The statement white duster made her look elegant.
White bumpy sneakers are in trend nowadays. Gigi figured it out a few months back and nailed this look. Her shades act as cheery on the cake to her entire outfit and persona. Isn't it?
5. Black Slip Dress
Look at G flaunting her curves in this super chic and sexy black bodycon dress. Undoubtedly one of the most amazing outfits Gigi has worn giving us major outfit goals.
Definitely making it to the Gigi Hadid street style looks. Gigi paired her black slip dress with a leopard print duster that worked amazing for her body type. She went with an empty neck showing her pretty neckline and small earrings.
She wore black semi laced heels to complete the outfit and ended up looking extremely gorgeous.
6. Everything 70s Aura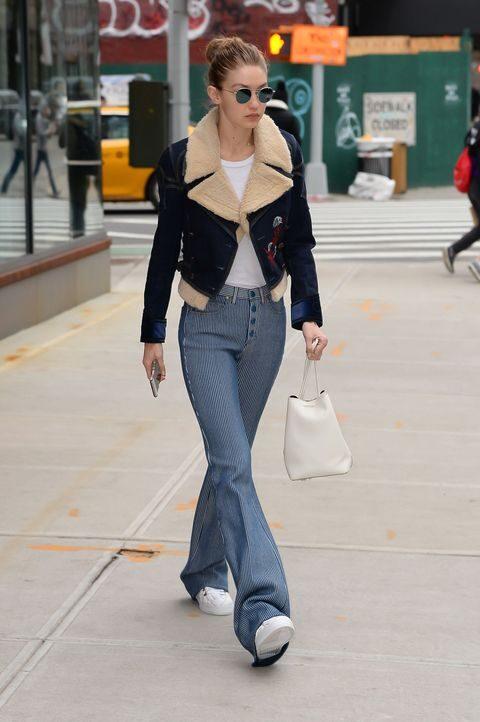 Gigi Hadid seems to be obsessed with the 70s and 80s fashion styles. She includes these kinds of vibes in most of the outfits she chooses to wear and design. Consider this game-changing attire of elder Hadid sister.
This retro look owns a separate fan base in Gigi Hadid street style looks. Gigi wore a minimal white tee-shirt beneath a super chunky and cool jacket. The jacket clearly balanced the massive bottom flares of her not so blue trousers.
Her white sneakers and white handbag totally complimented the entire look along with classy bluish shades.
7. Minimalistic To Trendy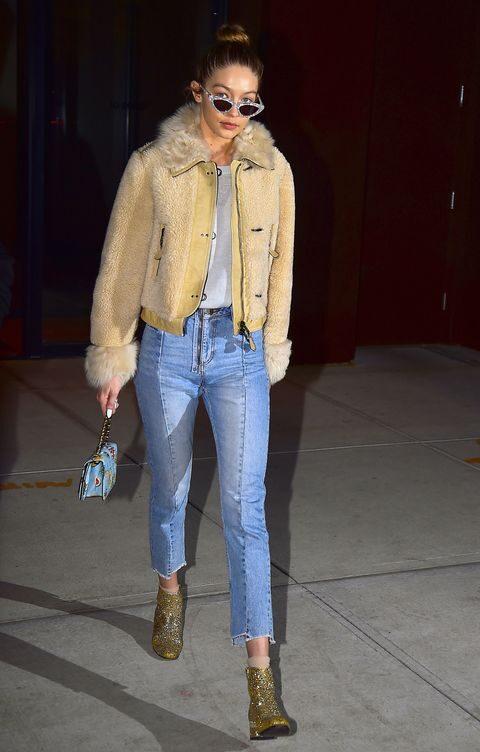 Gigi clearly knows how to add glam to a simple tee-shirt and blue denim jeans. One of the most simple yet classy Gigi Hadid street style looks of the year.
Gigi paired a white simple tee with blue jeans and added glam to the look with her shiny glitter boots. She wore a funky coat over it along with some statement shades that rocked the outfit.
Definitely a dapper look full of self-confidence outshining through her attire and facial features.
8. The overloaded look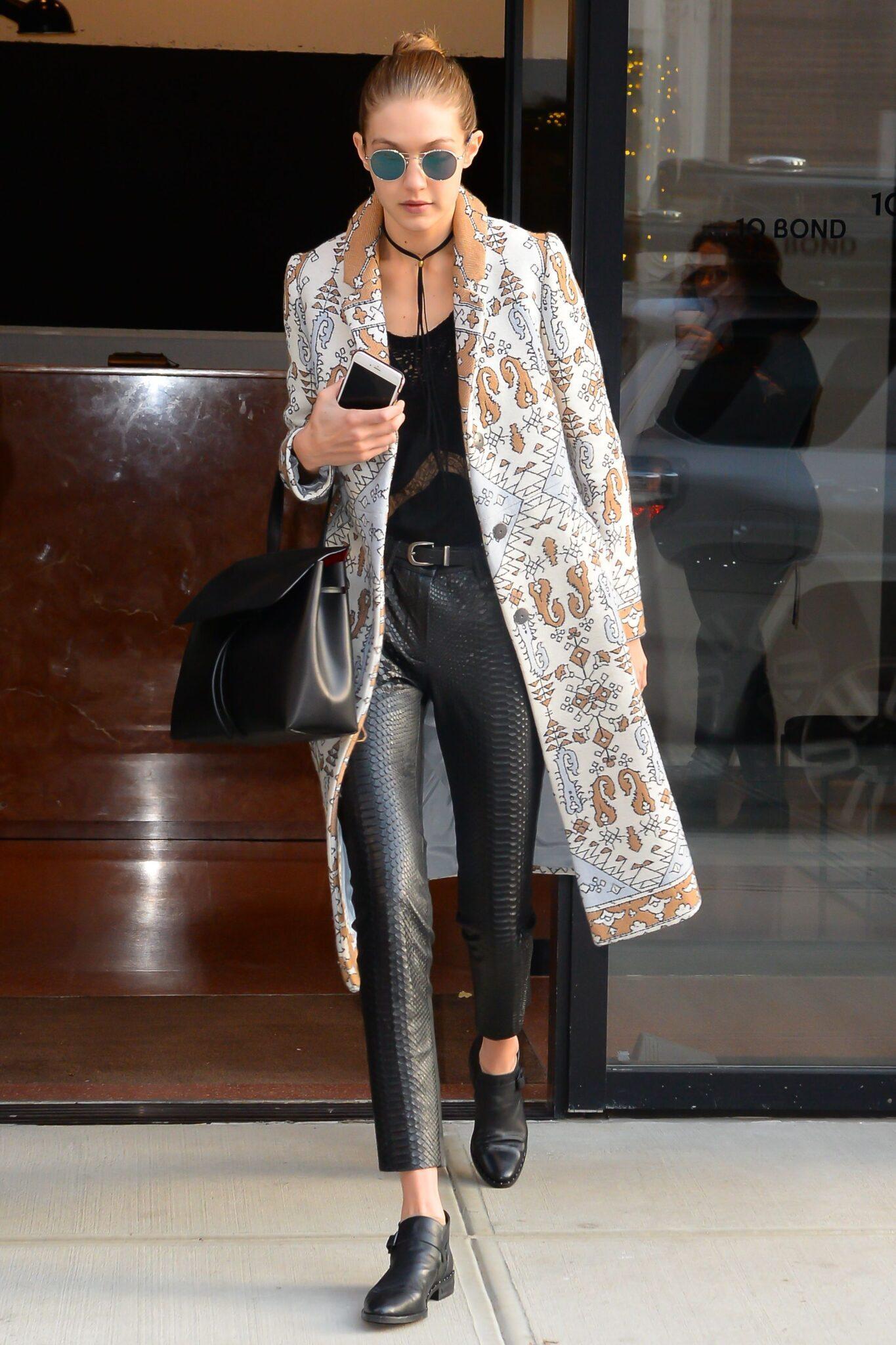 Well, There is nothing Gigi Hadid cannot rock. Don't believe me? Look at this amazing pairing. Snakeskin black pants, black studs, brocade, paired with neutral duster looks adds sensational glory to her effortless looks. Gigi Hadid street style is rocking.
Black lace-like chocker fits her neck making it look longer and elegant. Hadid knows what to pair with any outfit.
As Bella Hadid is obsessed with her handbags and hoop earrings, Gigi Hadid is head over heel in love with her shades and possess a great collection of those.
9. Super Slouchy Gigi Hadid street style look
One of the most known and popular features of prestigious Victoria's Secret Angel models and huge international faces is that they admire the layering of clothes too much. It allows them to use all the outfits and experiment with breath-taking fashion styles.
Not only in the rampage, but Gigi Hadid also walked on the streets of NYC wearing a black turtleneck top beneath a white baggy short. The gorgeous Diva did not stop here. She layered her shirt with a chunky puffy maroon bomber jacket. She went with simple black leather skinny pants to complete the flow of the outfit.
Gigi as usual wore her statement shades with open hair that made her look mesmerizing. Definitely one of my favorite looks from Gigi Hadid street style look book.
10. The Zayn Malik graphic tee look
Like the excellent, gorgeous Model she is, Gigi Hadid is also a wonderful girlfriend. The couple serves us major relationship as well as fashion goals together.
Look at this amazing look. Gigi customized a tee shirt with Zayn's name on it. She paired the tee shirt with a black long leather trenchcoat and similar leather pants. The beauty looked stunner in this outfit paired with black shoes.
Last but not the least, her go-to shades complemented the entire look adding glam to her attire.
11. Back to 50s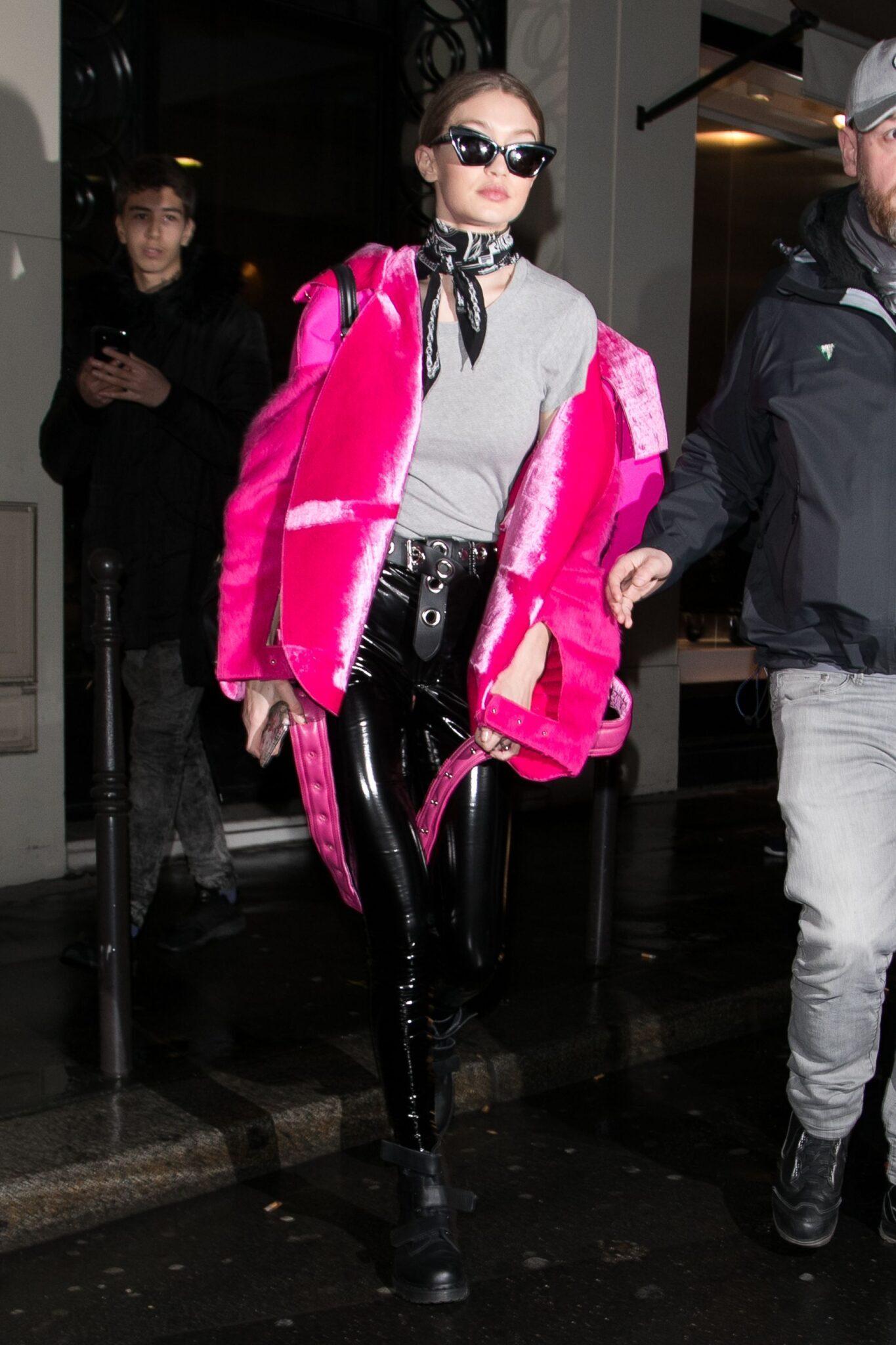 Look at this amazing Gigi Hadid street style-inspired from the 50s. This outfit is something Barbie would love to wear if she's going for a bike ride with Ken. Doesn't it seem like that?
Gigi added so much glam to a basic light grey tt in this outfit. She styled her tee-shirt with black shiny leather pants and her go-to black shoes. The cherry on the cake is her black scarf tied to her neck and pink bomber jacket doing extremely well with her outfit.
As I said earlier, there is nothing the Hadid sisters cannot rock.
12. Chic Cream sweater look
Hadid was spotted in the streets of Paris in these pretty chic cream sweaters paired with ever-stylish mom jeans. The ever-classy model looked gorgeous in this Gigi Hadid street style look.
Gi never sets out without her chunky jackets and blazers that complete her attire. This time Hadid wore an Isabel Marant Coat, and, of course, her Amavii sunglasses. She completed the entire look by pairing Dr. Marten's boots with this look.
A great chic, classy, and splendid look indeed.
13. Bright trench Coat
With this gorgeous outfit, you can spot Gigi Hadid from miles away. Bright Berluti Trench coat is everything you need to have in your closet to look super chic.
Being one of the most stylish outfits from Gigi Hadid street style looks, this is definitely a must-have. Gigi's creative and fashionable layering techniques are something to go gaga over. She wore this pretty bright trenchcoat and checkered pants that complimented her chic style.
The boss lady seems to love turtleneck tops and black trendy shades.
14. Borrowed From The Guys Look
look at this absolute jaw-dropping suit that Gi is wearing. Not only she rocks women's outfits, but Gigi also looks dapper in men's suits, I must say.
She wore this suit from Amiri's collection 2020. The supermodel paired this suit with a white basic tee to loo minimal yet elegant and classy and completely owned the street look.
She carried a similar colored handbag and her favorite shades to complete the outfit.
15. Miss Elegant Look
Gigi Visits the Marc Jacob show in chic style. The model wore a brown turtleneck sweater with a duster coat. Her looks are as usual prodigious and astonishing. She matched her coat and sweater with black knee distressed denim.
Along with the pretty outfit, Gigi rocked those Schutz boots phenomenally. Her shiny handbag was definitely heading with her attire.
Hadid is never gonna get out of trend, in fact, she creates some of her outfits without the help of fashion designers and totally nails it.
16. Couple Goals Alert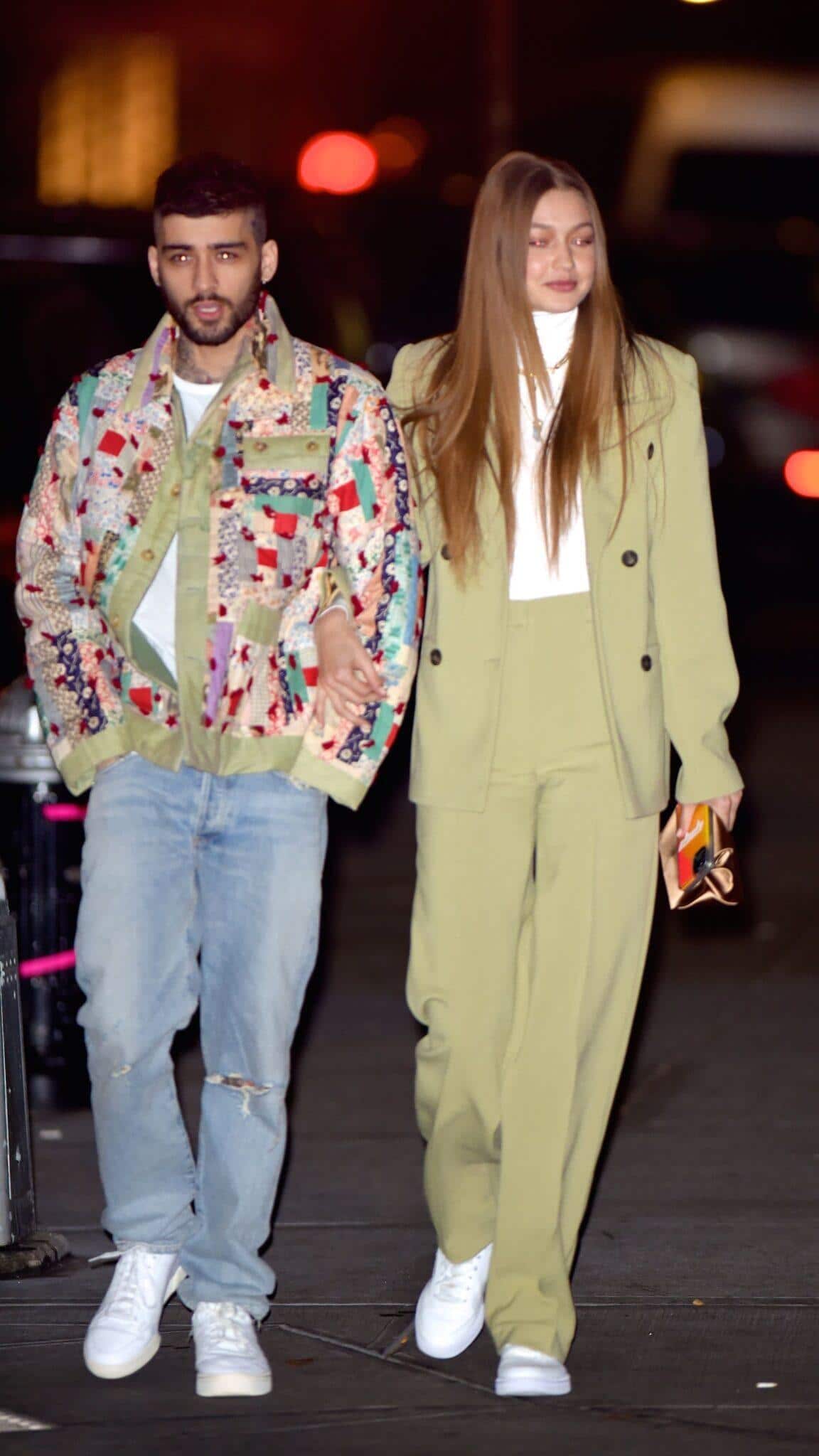 This Gigi Hadid street style or date night look will make you search all over the internet for similar fashionable outfits. Gigi coordinated with Bae Zayn malik wearing a light green suit by Lesyanebo.
take a peek at Zayn malik's jacket, you guys! His jacket has a detailed border of the same color as Gigi's suit. COUPLE GOALS ALERT. Gigi as always complemented this classy, elegant suit with a white turtleneck tee-shirt.
The two were spotted hanging out together with matching Reebok white sneakers. A great combination, indeed.
17. Sheer in SoHo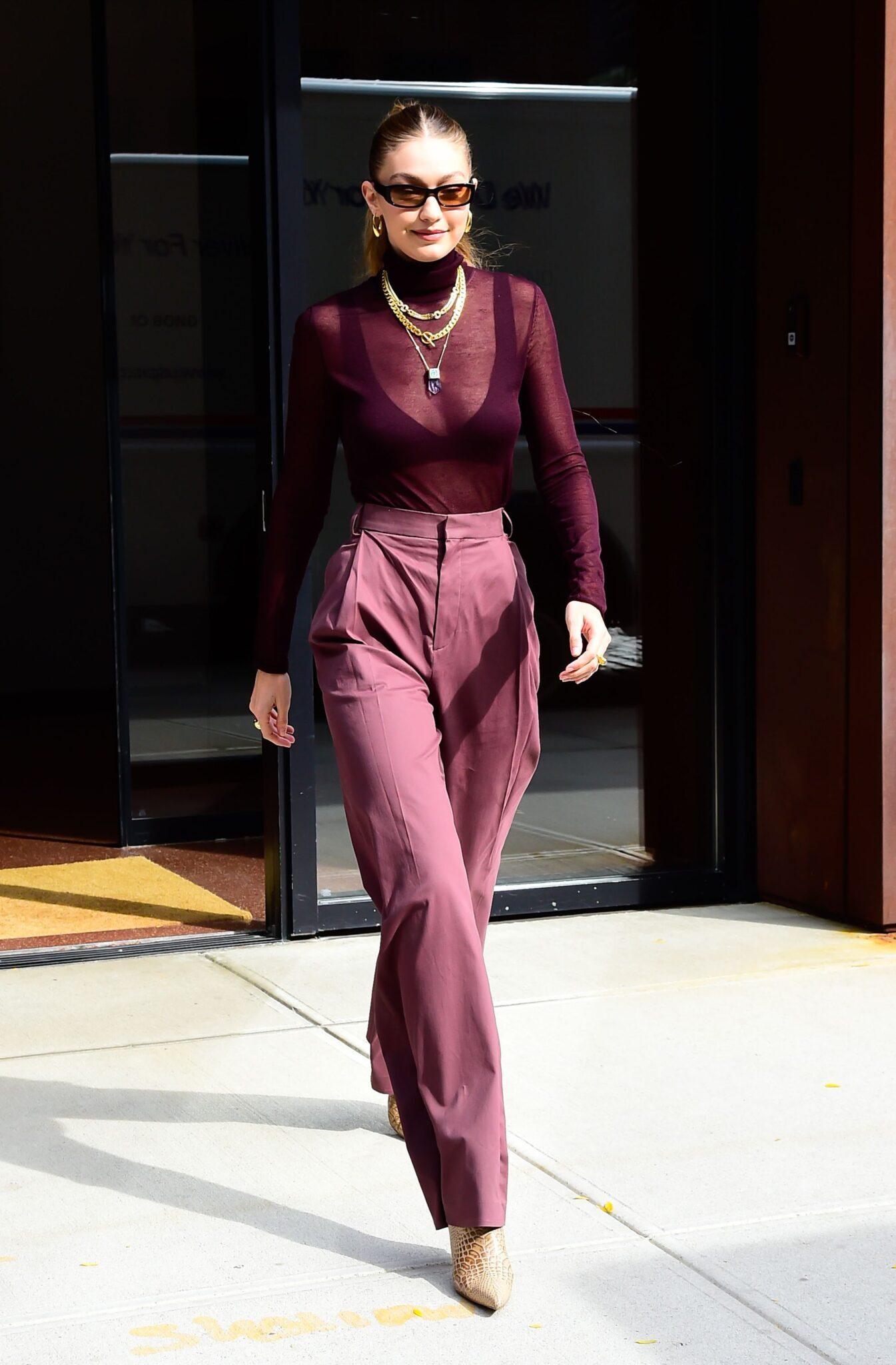 This burgundy look was a must include in Gigi Hadid street style looks. This Diva will never get enough of serving us major fashion goals with her dapper looks. Gigi wore a cos knit bra underneath a burgundy sheer or mesh top and looked stunning.
Her not so skinny trousers complement her cos sweater. She went for leopard print-toed heels instead of her go-to black or white shoes in this outfit.
Not To Mention, her gold hoop earrings, along with layered neck-pieces did complete justice to her look making it cheek and classy.
Last but not the least, HER SMILE!
18. Sporty Gigi Hadid Street Style Look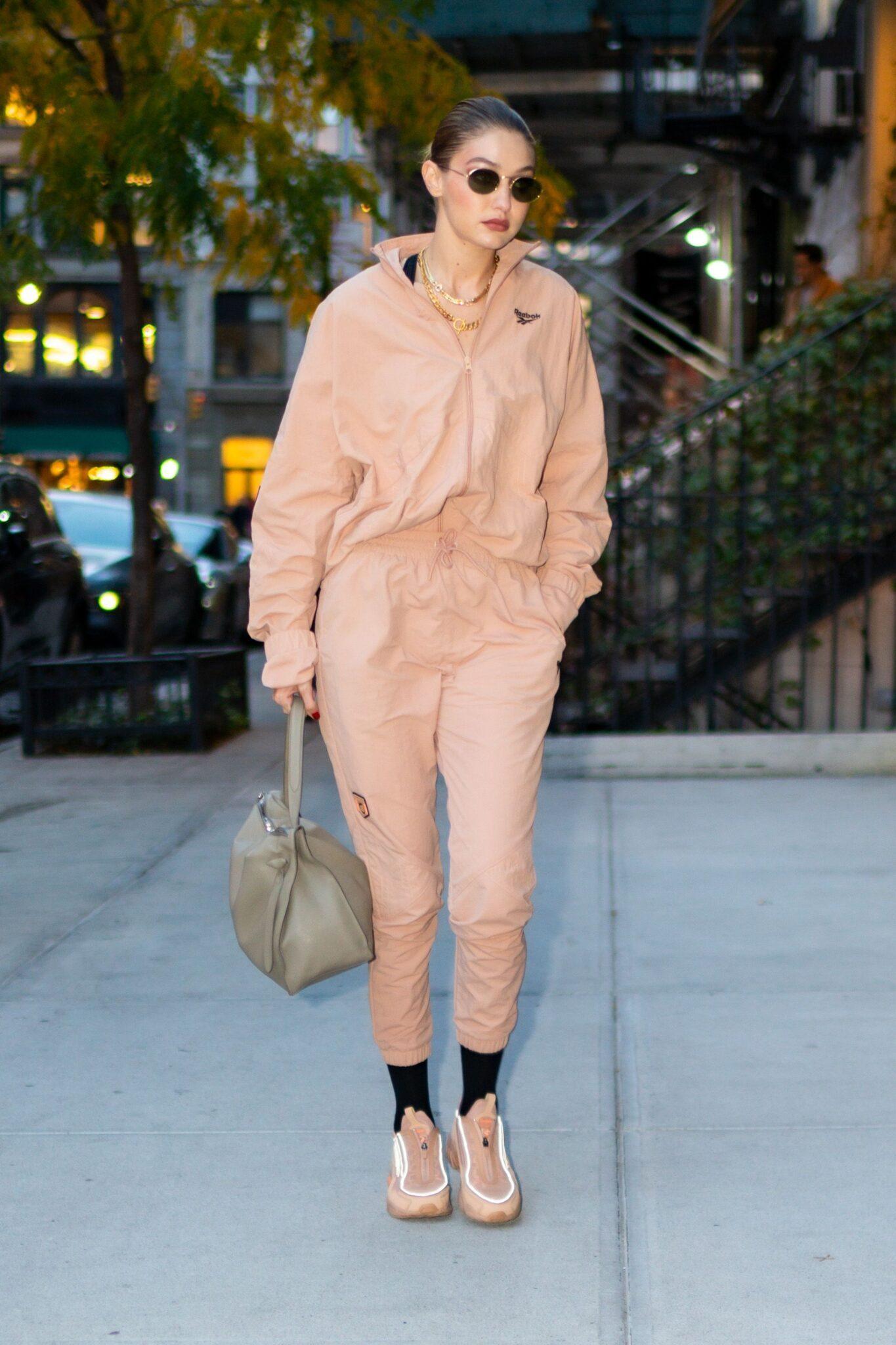 Here comes my favorite look out of all Gigi Hadid street style looks. Gigi was spotted in Manhatten wearing this cool, sporty attire. She is wearing a Reebok co-ed along with pairing sneakers that completely matches her outfit.
She experimented with necklaces and accessories to give a chic look that does justice to her sporty attire. She nails it completely. What do you think guys?
Also, not to forget going for similar shades that Gigi wore.
19. The Most Attractive Tie-Dye Suit
Gigi Hadid street styles are on a different level. Look at this eye-catching, blended suit, she clearly is a stunner. Gigi seems to be obsessed with suits and men's collection. She experiments with a lot of suits these days.
In this picture, Gigi is wearing an Oscar De La Renta suit in a tie-dye style. Gigi completed and styled her look with an Ottolinger bag and amazing white neutral Fendi boots. She looks dapper here.
The magic lies in her shades though. Adds magical glam to every look you go for.
20. The Casual DOPE
Look at this lady! Gigi Hadid street styles vary greatly. Sometimes she is all casual and sporty while at times she's sophisticated and chic. Anyway, she rocks both these genres.
Photogenic Gigi Hadid was snapped on the streets of Milan wearing an Elder Statesman cardigan, DMY sunglasses, and a Fendi bag.
Gigi completed her look and went for AGOLDE shorts in this casual look. She's wearing Dr. Martens shoes complementing her razzle-dazzle look.
These were the top 20 outfits wore by the sensational, gorgeous supermodel Gigi Hadid. Definitely, a few out of these Gigi Hadid street style looks are must in our closet girls.