Light Purple Hair- Ready To Transform?
Light purple hair has outshined every colour trend this year without a doubt. Light purple hair colour will grant you an awe-inspiring look and make your hair look brighter. Another glorious effect of this pastel hue is that it immediately helps you emerge more elegant. Don't believe me? Recall Kylie Jenner in her stunning light purple hair in met 2019.
Pastel purple or light purple hair is a modern softened version of an eccentric purple hair colour that is quickly spreading our feeds currently! We are falling in love with this fascinating hair colour because it presents so much in terms of originality and versatility.
Have it in a metallic ombre, a smoky balayage, a cool purple dip-dye, or maybe in darkened highlights – you will always get exquisite and aesthetic results with these stylish pastel shades!
Although, it is not without a struggle that this magical shade will remain intact long! Prepare your program and wallet, as this gorgeous unicorn mane requires lots of adoring and patience.
You can choose a full-on light purple hair dye or gradually go into the trend by beginning with peekaboo streaks or highlights for less upkeep every five to six weeks. Let's see some essential caring tips for light purple hair and then proceed to some of the most amazing light purple hair colour ideas for your transformation this year.
Light Purple Hair Coloring Tips
For this colouring trend, leave everything to the professional hair colourist. You will honestly be glad you did.
If your hair is darker (basically, your hair is not a light blonde), be ready for one or more lightening procedures to bleach the hair as white as achievable before you can get your perfect light purple hair shade.
Ask the colourist or stylist about utilizing a bond builder. It shields your hair better throughout the colouring process.
Use cold water for rinsing your hair. It preserves the colour in a better way.
Try using a purple shampoo to make the colour last even for an extended time!
You might not want to begin off with an entire purple colour hair. Consider having a light purple highlight or dip-dye to save money and time.
This revised gallery of lovely subtle purple-inspired shades will help you pick which tone checks your complexion and a few faqs that most of you wish to know.
Light Purple Hair Color Ideas
1. Lavender balayage
For pretty ladies looking for a low-maintenance alternative, light purple balayage highlights accommodate well into the bill. To obtain the look, the colourist will hand-paint purple highlights across your mane, putting them in a way that appears natural.
This implies no sharp lines of division as your roots begin to grow out, expanding the required time between upkeeps or touch-ups.
2. Vanilla Lilac Hair
Vanilla Lilac hair combines our passion for the light purple hair trend and blonde mane. The shade features a traditional blonde base slowly transitioning into pretty lilac ends. If you have blond blonde hair naturally, you are the lucky one.
For people with darker hair, reach out to the salon so your stylist can skillfully blend the correct shades for this purple-meets-blonde shade.
3. All-over Lavender
You already know what they say—either go hard or go home! If you are willing to embrace light purple hair fully, permit us to indicate the correct direction. This gorgeous golden purple hue will need bleaching (if you begin with a darker colour). Obtain the look by making the colourist use the perfect lavender or light purple shade you require.
4. Lavender Peek-A-Boo Hair
If you wish to keep the light purple hair colour on the wrong side, consider offering blond purple peek-a-boo hair a shot. This hair dye process involves colouring the bottom layer of the hair with a lavender shade while the remaining hair is of your natural hair colour.
Once you unravel your hair down, no one will learn about your light purple strands. But as soon as you wear it up, you will be putting your bright secret on a full presentation!
5. Pastel Purple Streak
Not prepared to commit to an entire head of light purple hair? Not an issue! Light purple hairstreaks are an excellent way to achieve if you desire to spruce up the strands without colouring your whole head. To obtain the look at home, apply the hair colour or ask the colourist to do it.
6. Rooted Lilac Hair
Cherish the thought of an all-over light purple hair colour but not fond of the maintenance that arrives with it? Rooted lilac hair is the solution to your prayers. This colour technique indicates giving the strands an all-over lilac shade—minus the roots!
The colourist will apply a root smudge process to keep the origins their natural shade, suggesting there will be no apparent line as your hair begins to grow out.
7. Pastel Purple Ombré
Perhaps you would choose a gradual transition into the light purple territory. That is where blond purple ombré hair comes in. As you presumably already know, the ombré strand includes a gradient shift from darker roots to a lighter colour at your ends.
Have the colourist change your natural hair shade into pastel purple ends utilizing a seamless ombré highlighting strategy.
8. Half Pastel Purple And Half Pink Hair
Two hair shades are more suitable than one—or at least that seems the case when it reaches a half and half hair shade. If you adore light purple hair and wish to involve another pastel shade, try getting the finest of both worlds using half and half blond purple hair and pink hair.
Book a meeting with the colourist or DIY the look at home with the Semi-Permanent Hair shade in Purple and Semi-Permanent Hair shade in Pink.
9. Dip-Dyed Lilac Ends
Dyeing your ends is a fantastic way to add dimension to the hairstyle, specifically with lilac dip dye. This method involves staining just the ends of the hair in a pretty lilac hue. Since it needs two colours and some specialized skills to get the suitable tone throughout the tips, we suggest you book an appointment at the local hair salon.
10. Amethyst and Rose Quartz Ombre
Since dark roots are always in trend, a mix of relaxed tones like lavender and Pink looks excellent. They make the lavender-coloured hair appear luxurious and healthy.
11. Multi-Colored Light Purple Underlights
Did peek-a-boo hair catch your interest? If so, you will treasure this following light purple hair colour picture: light purple hair under lights! This highlighting method includes colouring the bottom layer of your hair to give you secret hair colour.
But rather than colouring it all with a single shade, the colourist will put multi-coloured light highlights there. This is an excellent way to rock numerous purple shades without attracting significant attention to the strands when you do not wish to.
12. Lilac Money Piece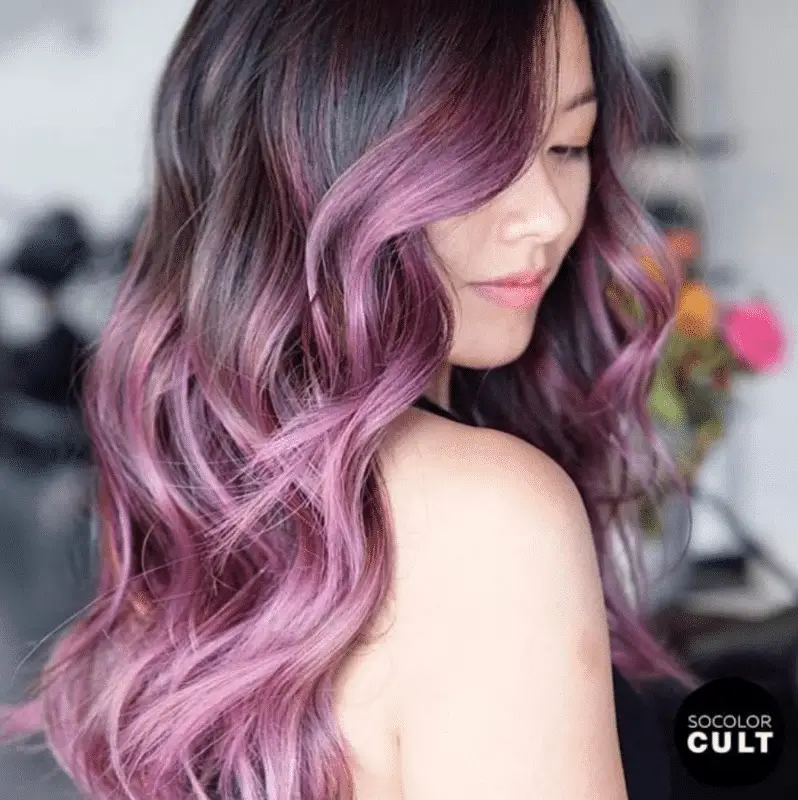 Want your light purple strands to be visible front and center? A purple money piece is an excellent way to make that happen! This arrangement includes face-framing hand-painting highlights from the roots to the ends to illuminate your overall appearance.
Since this look concentrates a lot on the front details of hair, you might want to book an arrangement with the stylist to ensure you get the most satisfactory results possible.
13. Half Pastel Purple And Half Platinum Hair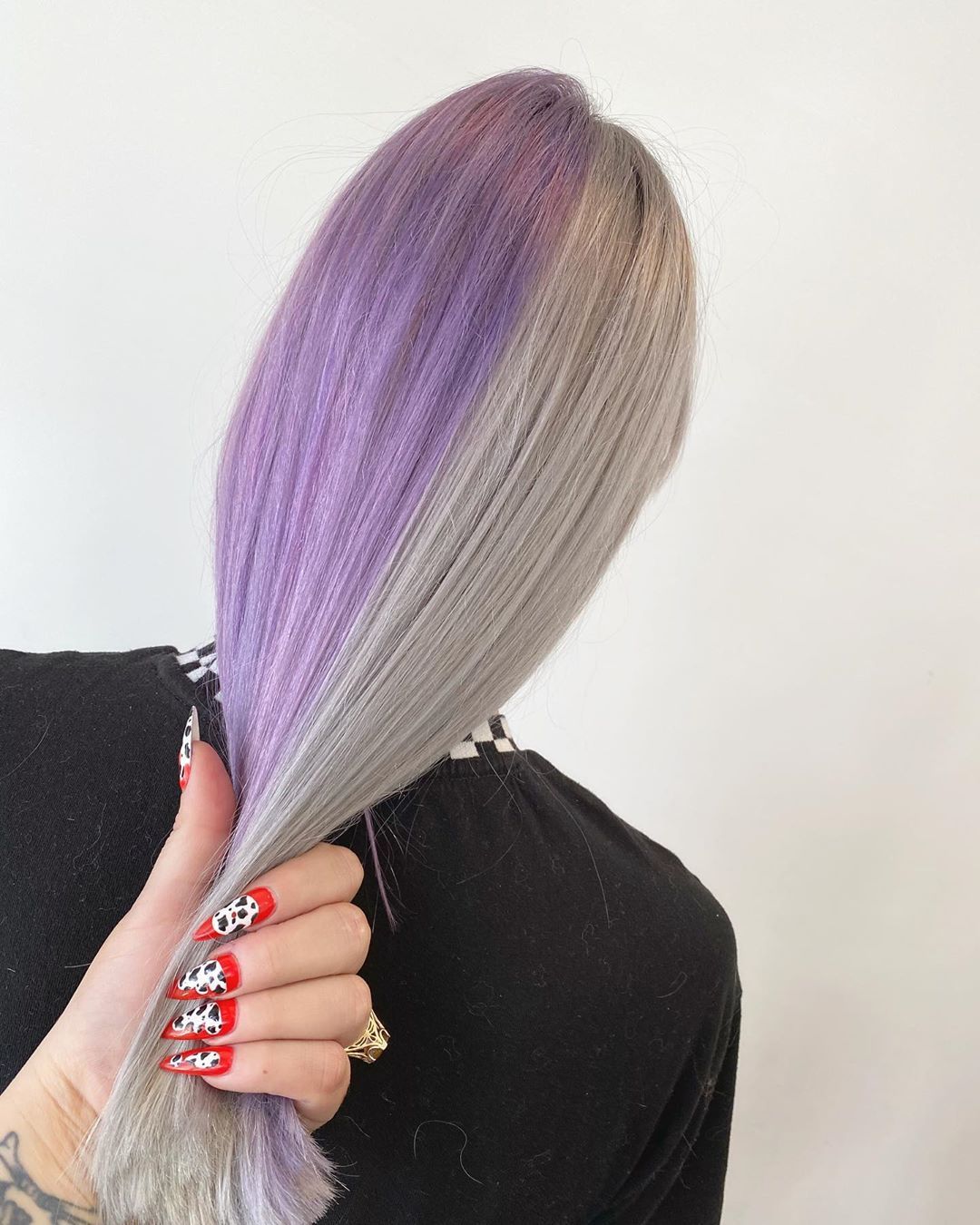 Recall the half and half hair shade we have mentioned before? If you are highly tempted to give the concept a try, light purple goes pretty well with more than simply pale Pink. Try this pastel purple with the platinum blonde combo for hair with a tad bit less colour!
The difference in shades will include dimension to your hair and brighten up the complete look.
14. Fantastic ombre purple hair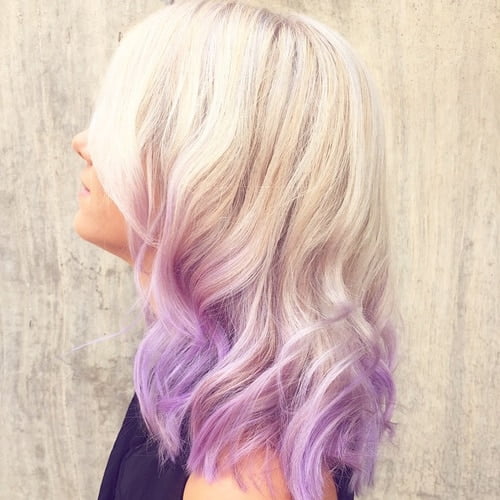 If you do not desire to go too extreme, ask your colourist to complete the natural light brown hue with multiple purple strands covering your face. That will allow you to draw attention and not modify the entire hair shade.
15. Balayage purple hair
You may ask the stylist to add a purple shade to your bleached blonde or naturally blonde hair for a highly striking appearance. If you desire to show off some distinction, let the roots remain dark for a while.
16. Braided purple hair
If you are a woman who adores following trends, you must undoubtedly opt for balayage hair having a base in a light brown shade, roots that are slightly spiced up with a darker hue, and purple highlights. That looks outstanding!
17. Purple balayage with loose curls
There is never too much when it comes to light purple! Let the roots grow out and ask the stylist to make the purple fade, beginning from sources to ends. Add up sassy, pastel waves, and the charming hairdo is ready to shine.
18. Pink, purple ombre mix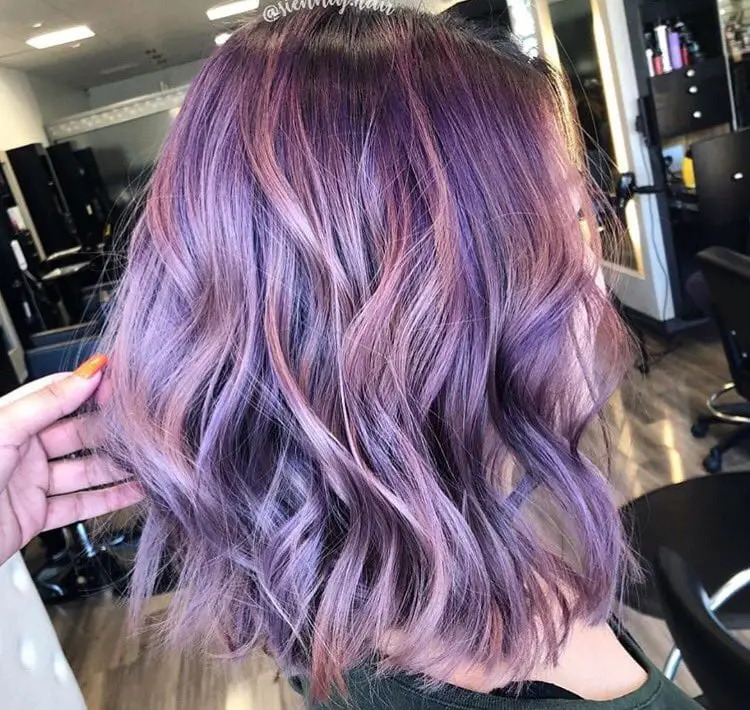 Your light purple ombre hair will look even more shining if you allow other pink tints to settle in your hair. The combination is simply unmatchable!
19. Light purple hair with darker roots
When playing with muted purple shades, do not forget to combine an exclamation point to the colour table. Of course, nothing can defeat the delight of dark roots! You can let them be as they are or proceed for a smooth mixture with a few added colours; whatever your choice is, you will put your mane in the spotlight.
20. Platinum hair colour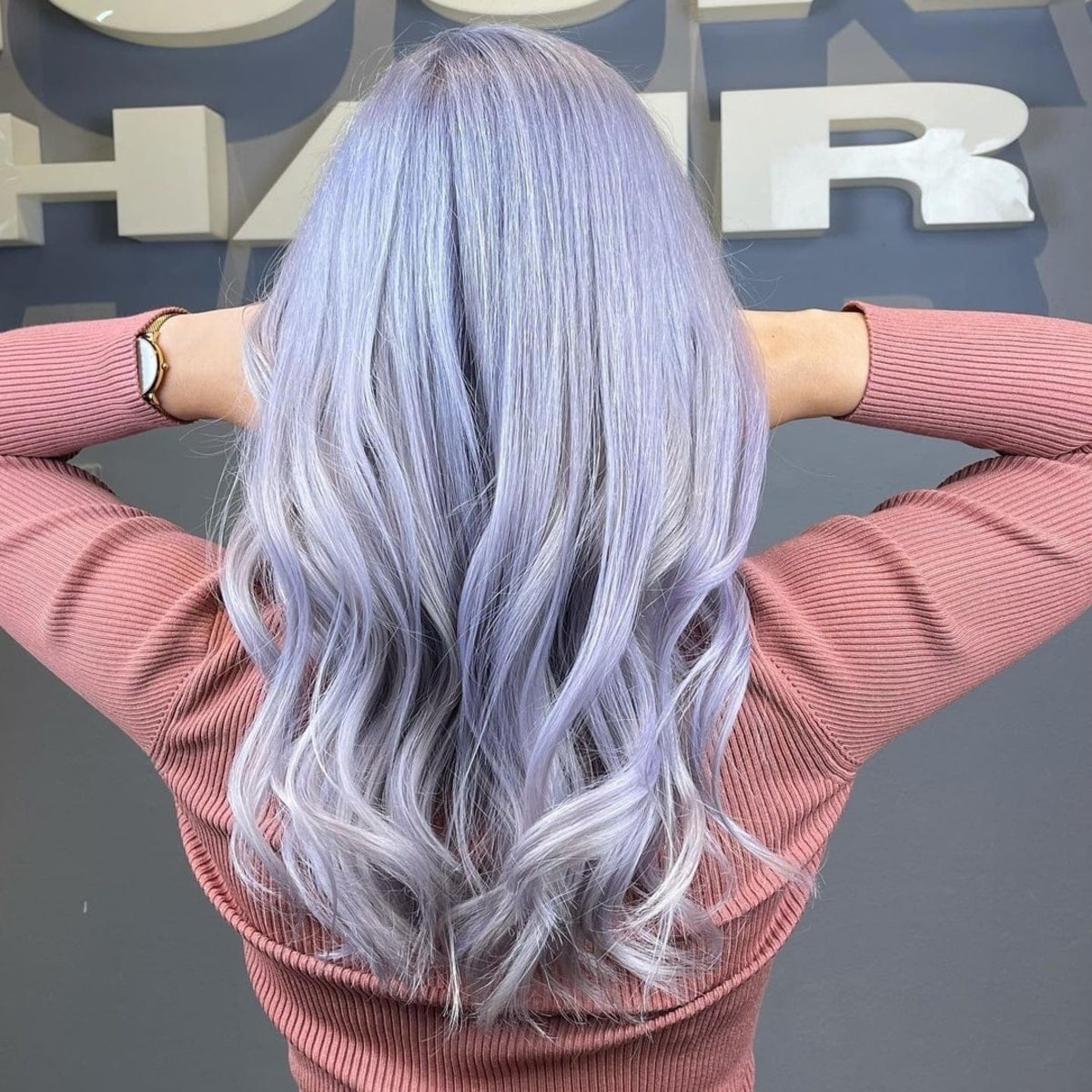 Platinum light purple hair is a marvellous idea if you wish to glorify your existing blonde ash-toned. Taking your hair to a platinum purple needs patience and time as it requires a lot of time to raise the hair light enough to carry the purple tone, except to consume most of the daytime with the colourist.
21. Light purple blonde
A light purple and blonde mix colour results from a violet after your hair has been whitened to level 9+. You can preserve this light purple hair tone with an at-home violet mane. Ensure you do not overuse the shampoo because it can make your hair slightly dull-looking.
Use it once a week with different colour-free cleaners in between, or dilute your coloured shampoo with another plain one to soften the tone if you have a vibrant one.
22. Burgendy red and purple hair
A burgundy-purple and red hair work beautifully with warmer skin tones and darker hair. With such techniques, you do not have to raise your hair to a grade 9. A little warmth within the hair works pretty well with maintaining colour, making this burgundy shade last longer.
You will want to colour the ends based on the starting level, and you must pre-lift the base a bit. You can combine these two hues into a perfect mix.
23. Silver purple hair
You may also go for silver light purple hair and acquire that unique, rocking, and modern colour. Would you like to recreate it? Hairdresser Katerina Dogana from Greece suggests a way to achieve it. She used the balayage method.
It features highlights. She created a slice shadow to look more natural, and then she used a mauve for the perfect colour. For keeping, she recommends using a hair mask with a silver shampoo once every week.
24. Blonde hair with light purple highlights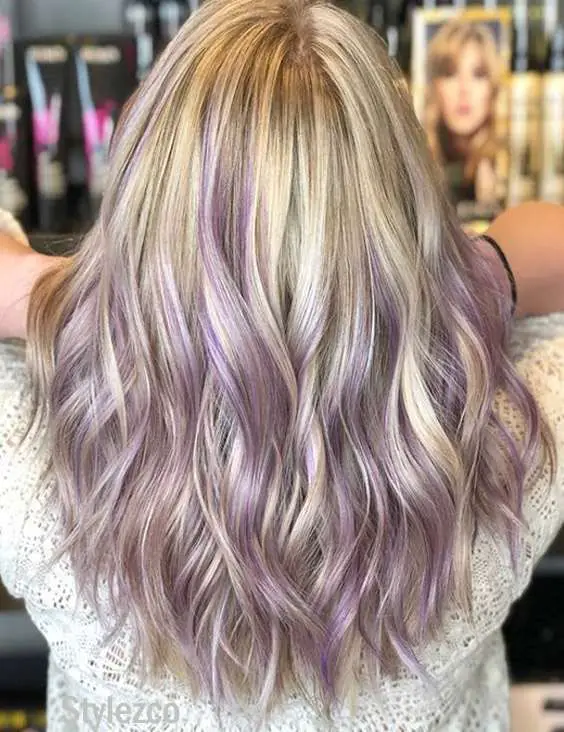 Light purple hair with highlights in blonde is a great complement to add gentle hints of colour to an all-over blond. Have the stylist focus on the delicate purple high in the bottom sections of the hair, so when you move and sway, shades of purple glance through, exposing beautiful light purple highlights.
25. Bright plum purple and berry
This colourful plum purple is excellent for women who want to step out of the box and are willing to dabble in dazzling colours. This light purple hair has a deeper berry shade that can complement a mixture of skin tones to give you a little bit of edge. This colour seems more of the high-maintenance type, and the foremost process is always the most prolonged.
You will be pre-lightened and then overplayed with a mixture of semi-permanent styles to complete this colour. You must come in every four weeks to raise your roots and reapply the colour and trim everything again.
Any hairstyle would be splendid for this shade or cut along as it is healthy. There are also some home maintenance safe shampoos and conditioners for upkeep. And make sure you do not wash your hair every other day.
26. Purple and pink hair romance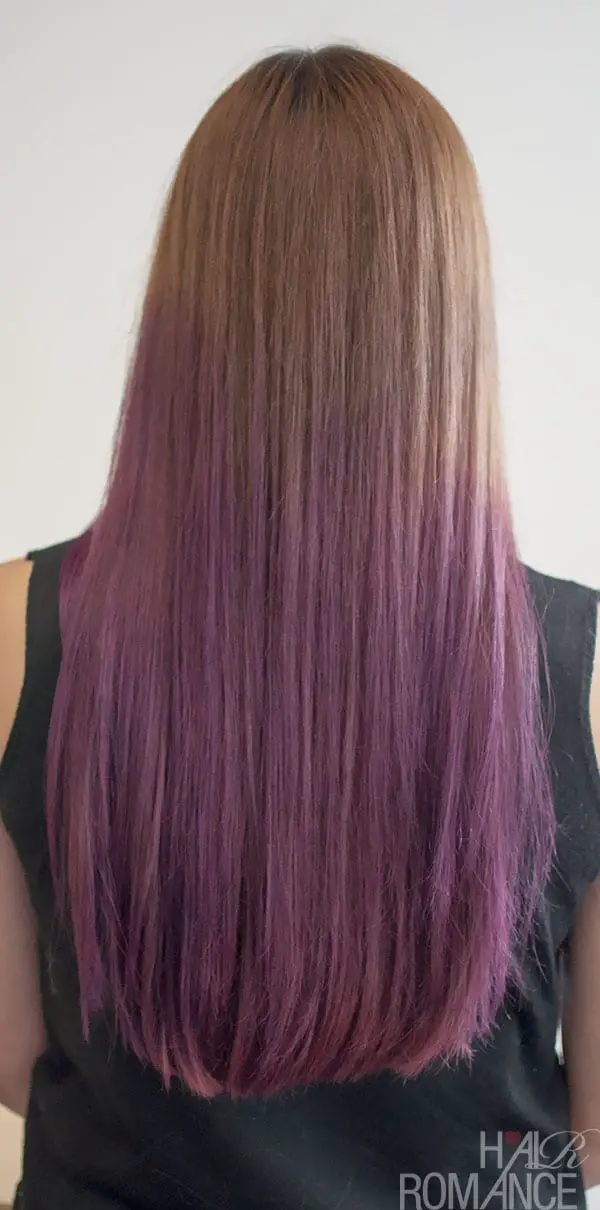 This pinkish-purple hair having purple roots creates a romantic fusion. It looks cute yet edgy. The best thing about this pink and light purple hair is how seamless it combines and how dynamic the colours are! Use shampoo like Olapex to help strengthen the hair's integrity and Pulp Riot colour to accomplish this perfect combination.
Dry shampoo will become a lifesaver for this light purple hair, as the less you wash it, the more dynamic the colour stays.
27. Black to purple melt
This one is a black and light purple hair melt. It is a mix of different shades of purple gradually fading into softer tones to add dimension and a fun look. Use a good hair colour for this look. After your first appointment, see the colourist every three to four weeks to maintain the colour fresh and gorgeous.
Use any sulfate-free shampoo and conditioner and rinse your hair with cold water, as it will help decrease the fading of this magnificent mane. This, coupled with a heat protectant, will improve the longevity of colour.
28. Dusty lilac dream hair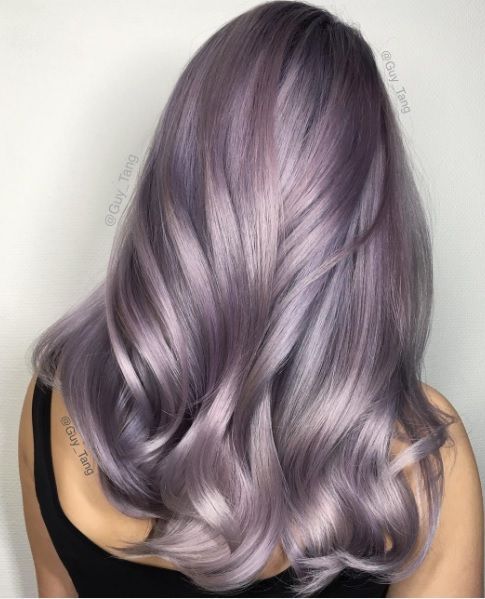 For this shade, use a custom shade conditioner to freshen up the colour between your hair appointments. Colour-safe conditioners and shampoos that are sulfate-free and dry are always your greatest friend when it comes to preserving the colour!
This light purple hair colour is for ladies ready to deal with the high maintenance that arrives with the colour. Use good products, but know it will gradually fade over time. Also, be prepared to make a trip to your stylist every six weeks.
29. Mauve purple hair colour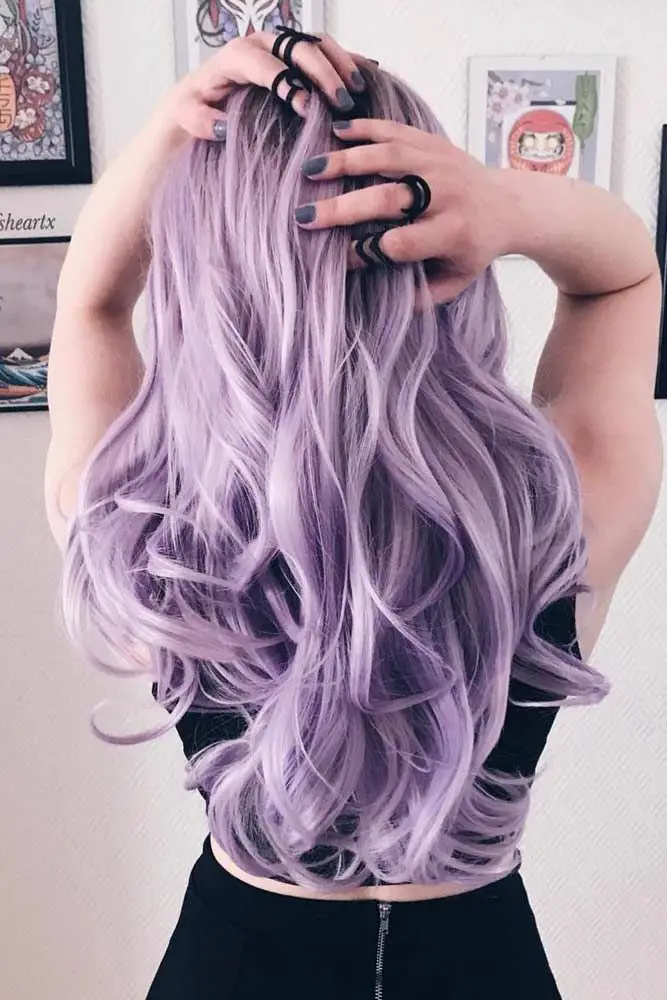 This mauve pinkish light purple hair colour was made using intensity colours merged by taking hair segments and melting them into the colours.
Light purple hair shades like this lavender and mauve are not for ladies who cannot keep up with upkeep, as pastels will fade soon and require a lot of visits to the stylist. It is essential to use the correct aftercare products such as sulfate-free shampoos to maintain them colourful.
30. Pretty periwinkle purple light hair colour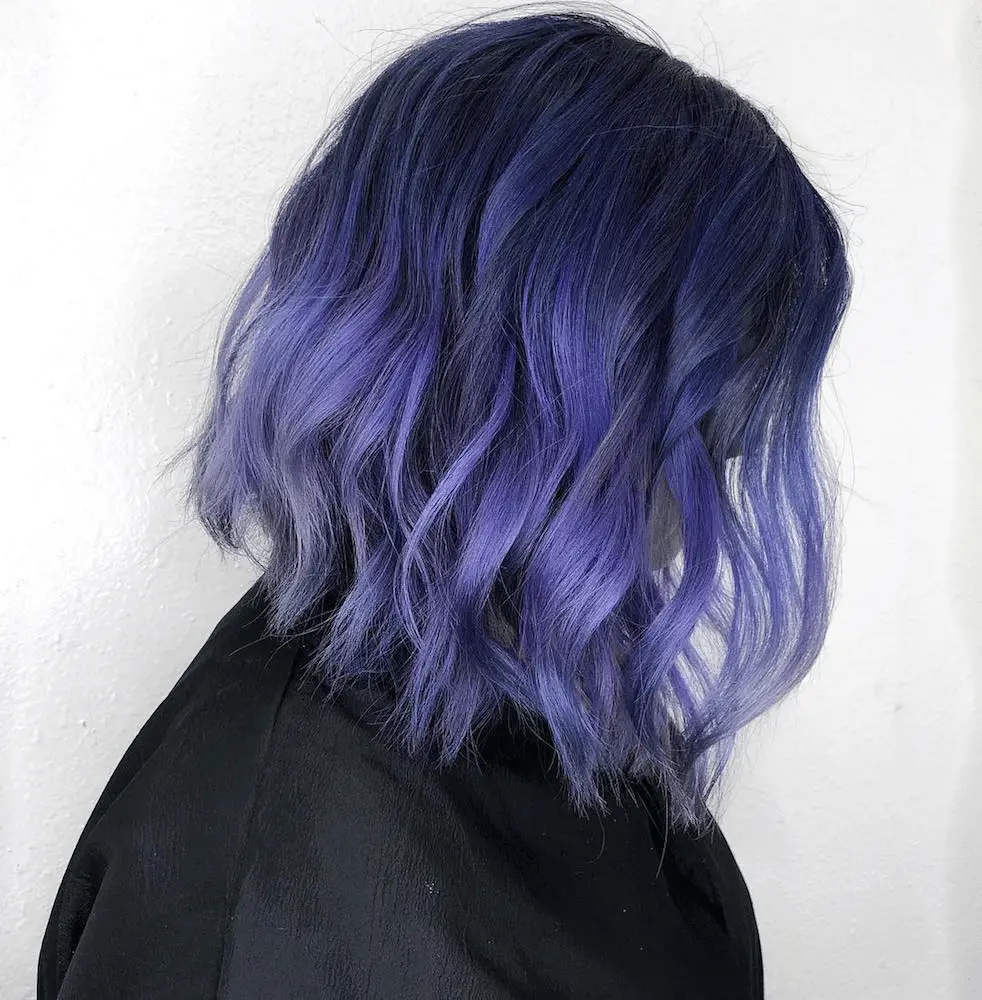 This lovely periwinkle is a vivid coloured hair from roots mixed out to a lighter tone. It would be best to do a full bleach closer to your scalp to attain this look. You must know that accomplishing vivid tones is that more pastel and lighter shade tones will disappear the quickest.
If you wish to keep up the light purple hair colour, you must purchase colour shampoos and conditioners to prevent the dye from disappearing. When it reaches down to the upkeep, showering with cold water is necessary. And maintaining your hair hydrated is essential. The cost of getting your hair coloured is high, and purchasing products to keep must be about the exact cost of getting the hair done.
What does purple hair colour signify?
Every shade, just like every colour, has a secret meaning. Purple colour represents aristocracy, wealth, and monarchy. So, millennials having purple hair might explain their extravagant persona. Purple can designate a mixture of emotions, including tranquility, wisdom, and dignity.
How to find out if you look good with purple hair colour?
People having lighter skin tones must go for light and pastel purples, while those having darker hair and darker complexion can use richer and deeper purples. To put it another way around, if you own a cool undertone, go for a colder purple shade, and if you have a warmer skin tone, stick to a warmer purple.
This is just an opinion; you can always experiment with shades and make the best look as per your choices.
A Few Tips To Maintain The Light Purple Hair Color
Once you choose the best light purple hair shade for your hair, here are some essential tips for maintaining the colour for long-lasting results.
Consider being used to cold showers.
Invest in a particular, colour-saving shampoo
Discover purple hair styling products
Try to guard your purple hair against the harmful rays of the sun
Stay out of the pool because chlorine has been discovered to have a bleaching influence on the hair, which may increase the chances of colour fade. However, if you do have to swim, try wearing a cap to shield your purple locks from the chemicals within the pool water.
Be strategic about your first post-dye job shampoo.