Best Halloween Door Decorations Idea To Create A Spunky Door
We love Halloween, the time of the year when we get to do so much with spooky outfits and crazy themes. Halloween door decorations are not as time-taking and out of budget as you think they are. Do not worry, you don't have to learn witchcraft to create creative Halloween door decorations neither you will have to spend dollars finding things that could help you with your Halloween door decorations.
Here are some rounded-up Halloween door decorations that can help you make your porch look fun, festive, and a bit spooky (because it's HALLOWEEN). Even if you are not having your eyes on planning huge parties or trick-or-treat, having these decorations will enable you to stand out.
Why not give your neighbors a healthy competition this October and get ready with these Halloween door decorations ideas? Gather your DIY spirit and Let's get started.
Fun And Spooky Halloween Door Decorations
1. Create Horror Novel Doors
Scary movies have just begun, what was the source of horror entertainment before that? You guessed it right, Novels. Why not gather some classic horror book ideas to decorate your door this time. You can opt for this great Halloween door decorations idea if you are wearing a costume based on any book character.
Wondering how to make this amazing horror book door? We have all the information gathered. You can use different colored craft paper to cut out very thin, long pieces in the shape of rectangles. You may use any colors depending on your choices but red and black combined appear super cool and spooky for the Halloween theme.
Select your favorite books, draw their titles on your rectangular cuttings. You can use gold pens to write names and outline the structures. Use gold acrylic paints to fill these outlines. Get yourself a double-sided tape to stick these outside your door. At last, add a buffalo doormat or any doormat black in color along with large bushel baskets, and your Halloween door decorations are done.
2. Black Balloon Spiders
If you wish to make your Halloween door decorations even more spooky, add this creepy balloon spider. A little hard work and you are done with this creepy Halloween spider. Let me show you how to make one. Grab two black balloons, preferably one having matt black colors. Blow these balloons and tie them together using knots.
Take a thin wire and wrap furled black frills around it to form eight legs on the spider. You may use black faux fur to create these. Use hot glue to stick them together without overdoing your fingers. After adding all these wires, twist ends of 4 of them, two at the beginning and two at the end.
The last step involves resembling your creepy spider together. Once you resemble this, your spide is Halloween ready.
3. Morgue Decor Door
There are numerous ways through which you can turn your room door or entrance of your house into a spooky one, but having a classic morgue theme for Halloween door decoration is entirely different and unique also, the creepiest idea of them all.
But how do we make the morgue door? Relax, we have got this for you. You can cut 3 pieces of foam core based on your door's size. Attach all these pieces using tight glue or adhesive that can hold them together for a long. Now attach a black paper piece that is cut to the size of the foam. Stick this black piece of paper to the foam using adhesive.
Use stainless steel T-hinges and stick them on the door. After sticking these, use left-over black craft paper to cut out 5 coffin-shaped papers. Paint different letters of the name "Morgue" on them separately. Use red color to paint them. Using double-sided tape, attach them at the top. Use a chain-like design to hang them, although double-sided tapes do the work amazingly.
4. A Vintage Mask Wreath? Yes!
Are you not able to figure out what to do with all the masks you already have? One amazing idea is to use them in your Halloween door decorations. They are already designed for the Halloween theme. It will save a lot of time and labor to make a stunning yet creepy door design using these masks.
Just use these masks and make a unique wreath. If you do not have masks from previous years or cannot find any, you can easily purchase them at low prices on eBay and Etsy. A total of 15 or 20 marks are enough to cover your door and make it look perfectly amazing.
Just take a craft ring or hoops present in your garage and attach all these masks one by one. Remember to layer them and overlap one mask over the other to enhance the finishing it gives.
It is super easy, time-saving, and low cost. The end results will astonish you. Why not try and find masks now itself?
5. Broomstick Door Decor
Witch costumes are getting famous and in trend day by day, if any member in your house has chosen to go with a witch costume this year, having this idea for your Halloween door decorations is probably the most suitable for you. Why not bring some broomsticks and create Halloween decor.
Take two large brooms that you use outside and make two holes in their handle. Use a hammer to attach 5 very small-sized nails in front of your door. hang these brooms upside down on your door. Take other broomsticks preferably smaller in size and attach them to the remaining nails in the upright position (refer to the picture to get a clear understanding).
You may use a spirit board doormat along with Grecian urn planters to enhance the overall look it gives.
This is among the best Halloween door decorations because you can use broomsticks that are no more in use. Also, in case you need to buy new broomsticks, go for this idea. Definitely saves a lot of money.
6. A Candy Corn Door
If you still haven't decided what to put on your door for this Halloween, here is another amazing DIY idea to go for. Let's get inspired by our favorite food from Halloween, Candy Corns.
You can create this easily without having any headaches, want to know how? Just bring a thick artist's paper. You can use different colors preferably yellow, red, mustard colors. If the artists' papers you receive are colorless, use acrylic paints to paint them with colors of your choice. Dry them for a while, then using scissors cut them in the shape of triangles. Try to collect as many as you can.
Attach these to your door using double-sided tapes. You may end woven planters along with a lobster rope doormat. And here you do, your Halloween door decorations are done!
7.Vintage Drama Door
Can we discuss Halloween door decorations without using a vintage drama theme? Trust me, we cannot. Everything vintage is so trendy and up to the mark for any festive decorations. I know it's Halloween but you do not have to choose the creepy theme every year, why not have fun with some vintage drama?
We have a lot to chose from when it comes to the vintage theme, but let's go for Halloween vintage theme. Grab some stickers of pretty vintage pumpkins and prints of harvest style. This is still going to conjure the vibes of Halloween.
Where should you start? Let me tell you where to begin with. Just close all the tabs on your computer and download vintage seed packets preferably fall-themed. Based on your door measurements, download these pictures. Just print them and you are ready with all the props you need, isn't it simple? Just use hot glue or tape to adhere to these on your porch.
You can make this theme more vintage and classic using vintage crate planters. These are absolutely amazing and worth playing, not just Halloween, they will enhance your whole house to appear super trendy and vintage. Wait, what about the doormat? It's Halloween, a doormat that goes with everything will work. Just get yourself a pumpkin doormat and keep using it.
8. A Cobweb Wreath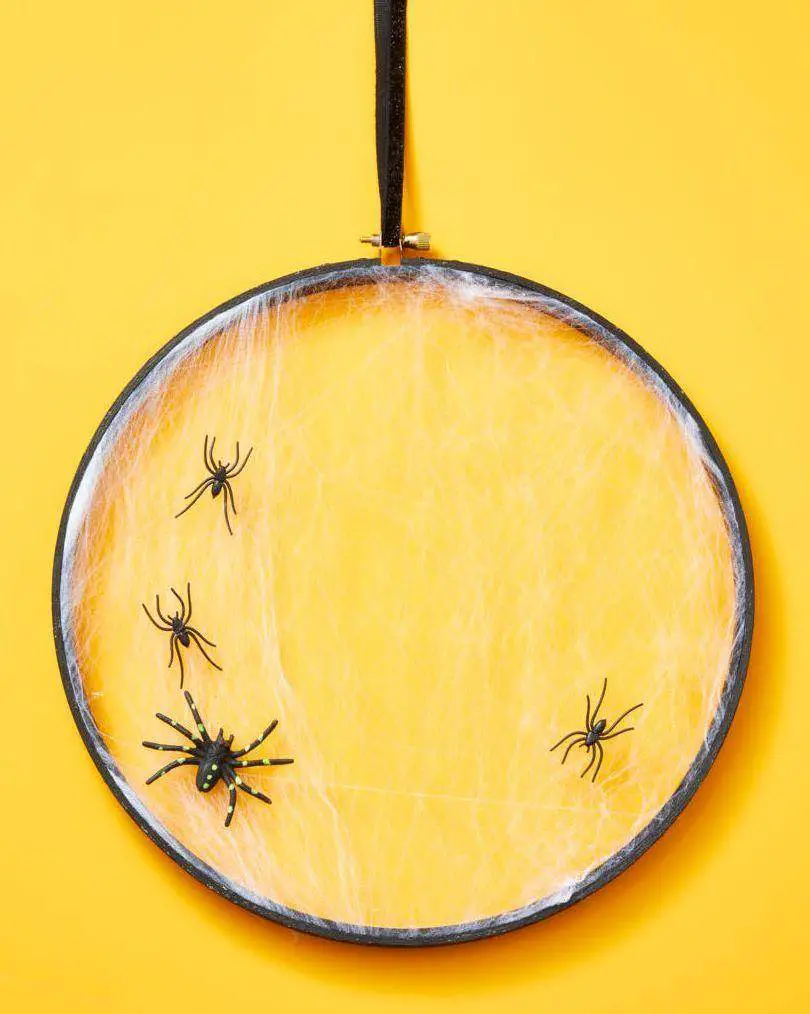 For your Halloween door decorations, this time we have chosen a cobweb theme. All you have to do is create many cobwebs to hand outside your door. You can create only one if you do not want to over-do it. This Halloween season, let's get slightly different and unique with our Halloween door decorations.
Let's see how to design your Halloween cobweb wreath. You might be having embroidery hoops in your house, if not just buy them from nearby stores at cheap prices. Bring a faux cobweb and spread it all over inside this ring. If you feel it's getting bigger compared to the size of your embroidery ring, just cut it.
Add some spiders to the web you have designed. Small faux spiders are great for placing as the effect they give is clearly realistic as you see in the picture taken.
Usually, one large cobweb looks pretty amazing, but if you have slightly smaller embroidery rings, you can place as many as you want. Make sure you are not making it look over-done.
9. Classic Pumpkin Door
Can we not use pumpings for our Halloween door decorations? Not possible, Halloween without pumpkins and lamps is not what we expect. Not all the door decorations for Halloween should remain scary, sometimes using sophisticated means of decorations add glam to our themes.
This time we suggest you channel a pretty and sophisticated vibe by making some chic gilded pumpkins to decorate your door. They are super aesthetic, sophisticated, and cool at the same time.
This becomes one of our favorite Halloween door decorations. If your door is black in color, do not think twice and use this. If you love the vibes so much, just use black craft papers or chart papers to cover the entire length. Do not forget to place few pumpkins at the top.
10. Googley Eyes Decor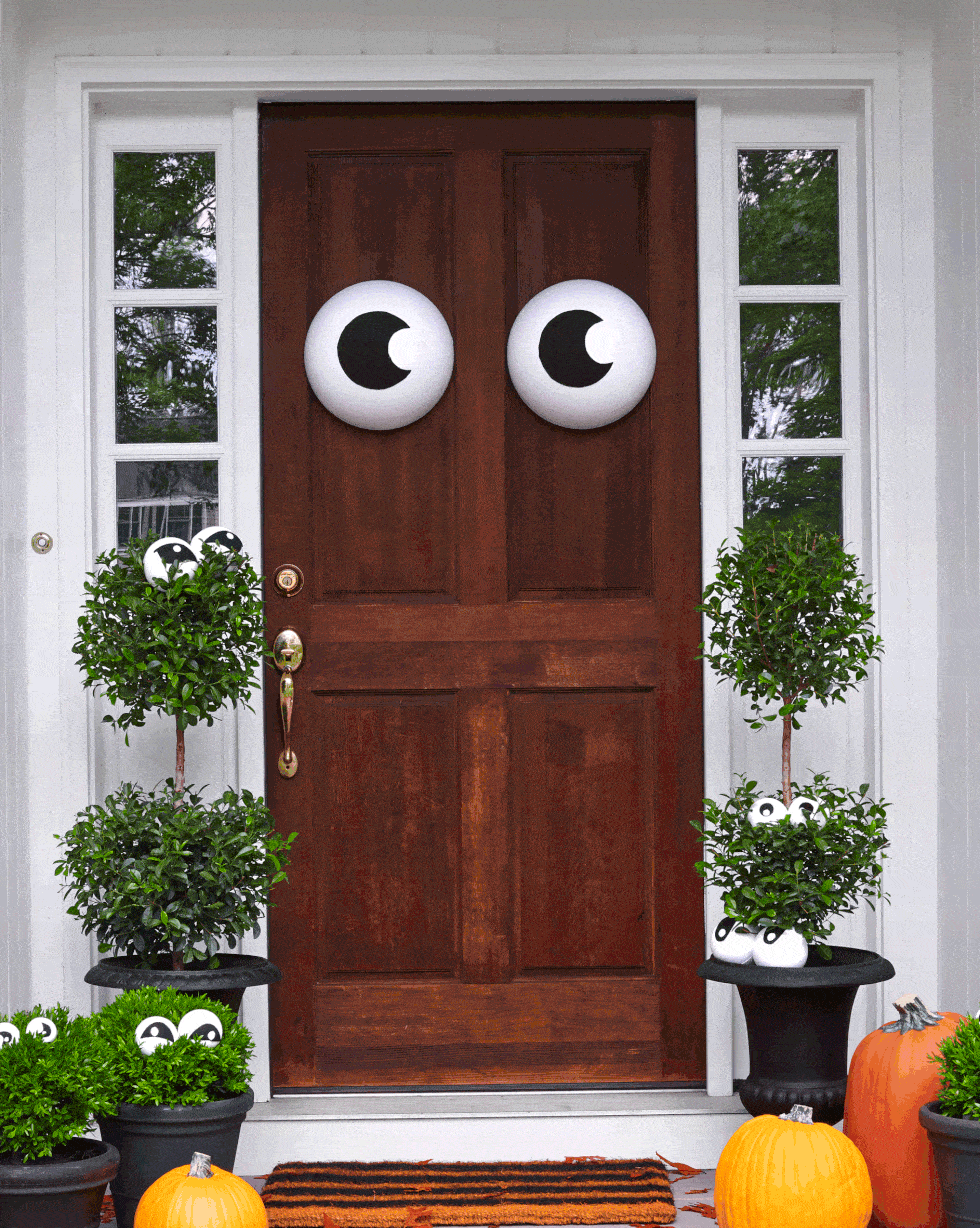 You might have seen googley eye trends everywhere on social media lately. I definitely feel like using them again and again where ever I can. These are so trendy and cute that we cannot get over them any time soon.
The door in front of your house will keep an eye on everyone that has passed by in whichever costume they are wearing. It is so interesting that not only you, all your neighbors will end up loving it.
Just use adhesive-backed felts and cut pupils out of them. Grab half spheres or styrofoam balls and stick these pupils on them. Your google eyes are ready. Just use double-sided tape to stick them to the door. Now make some small google eyes to place in the planters and nearby materials.
Place your pumpkins near your door and you are good to go. Isn't it simple, easy, and trendy?
11. Monster Door Theme
One of my personal favorite Halloween door decorations. You will figure out why is it so popular looking at the picture inserted. This cute furry exterior in purple color clearly means your little trick-or-treat friends will not get scared and enjoy the look.
Look at those friendly teeth and eyebrows, clearly stealing the show. This theme is so pretty, we are barely getting over it. Let's see how to create it easily using DIYs.
Take two foam balls and make eyes on them. Use a white highlighter to paint them. After they have dried fully, cut eyebrows and eyelashes too from black foam. Using hot glue, stick them. Glue these eyeballs at the center and eyelashes beyond the top. Add strings to make a hanging appearance.
Taking purple-colored fur, place it all around the door making a boundary as shown in the picture given. Frame the door beautifully. You can also use command hooks for hanging the eyes. Use some cones of white foam to make the teeth. using double-sided tape, attach them at the top of your door frame.
This purple faux fur is stunning. You can use it for decoration at other events as well. The effect it gives is beyond your expectations. Look how classy, royals, and cure vibes it has. I am sure you might have liked some ideas till now and you have planned how to start, if not, let me show you some more amazing ideas for Halloween door decorations.
12. Keep Out Halloween Door
Here comes the Halloween door decorations idea for all the die-hard fans of our favorite Halloween festival. If you have some patience and the ability to stay committed for long to make this your decoration idea for coming Halloween, look further as it is quite difficult than the others.
You will be using wooden cardboard planks, mini tombstones, and gooey green slime for this creepy door decoration theme.
Let's see how to start with this one. The color of your door does not matter much. Stretch few cobwebs on the entire length of your door randomly and secure them using any masking tapes. You can either use wood to make slates or cardboard that gives the same appearance as wood. Using cardboard is much easier and simpler to remove later.
Paint "keep" sign on one large cardboard or wooden slates and "out" sign on another one. Let it dry completely. After they have dried take some screws and glue them on all 4 corners on cardboard. Now tape these slats to your door.
Now comes the creepiest of them all, design a few gravestones to place them near your doorsteps. Use a rustic plastic chain and hang it from the corner of the door to another preferably on the door lamps if present. For making this creepy ghost, use two wooden slates and place them making a cross. Now using an old white cloth, spread it over the wooden cross to make it look like a ghost residing.
Using black foam paper or any coth, make tiny little eyes for the ghost you have made. You may also use a permanent marker to draw eyes, it looks perfect however you want to end it. Place other rocks near the ghost after writing "RIP" on them. What can be scarier than these Halloween door decorations?
To make green slime flowing on the streets and giving it a creepier finish, you can use vinyl as it appears like dripping slime. using tapes and glue, just adhere these to your stairs and you are ready with the scariest Halloween door decor.
13. Creepy Crow Door Decor
You will see bats and black cats too often in the door decors this year, why not just add another element that is as scary as them but a bit unique? Yes, I am talking about creepy crows. Let's just spice up things using these ominous-looking black crows.
Note: If you have black doors and do not want to add elements that hide your black door theme, do not try this idea out.
For doors having different colors, this is one of the easiest and splendid ideas to go for your Halloween door decorations. It is as simple as you see in the picture inserted. Just use black foam paper or cardboard to cut our certain crow pictures. You can either download and print them using printers or draw one and cut out many using that single piece.
If you have leftover cardboard just use that and paint it black using acrylic paints and your crows are ready. Try making 15 to 20 ominous crows. Using double-sided tapes or hot glue, stick some on your door and the leftover can be stuck on the wall beside your door. You will be happy at the end after seeing the results. It will not take much time and your Halloween door decorations will be done.
14. "Boo" Halloween Door Decorations
This left-covered door designed with fun-kins will blow your mind. It is so beautiful, aesthetic, vintage, and classic at the same time. These artificial and carvable pumpkins used are super amazing and enhance the whole look of your Halloween door decorations.
How to make this Boo door easily? Let me show you the guide. Bring two pumpkins usually artificial of the same length. Using a knife cut them in exact half making 4 pieces. In three of them, print out stencils and cut them to stick over these three. Write the letter "BOO" on these pumpkins. Using golden acrylic paint, color these letters. Stick the pumpkins on your door and place the remaining piece on the floor.
Now using a hand paper of brown, green, and yellow color, cut our leaf-shaped structures. Cut out as many as you can. Place these or stick them using hot glue on all the door lengths. Surround your pumpkins with these leaflets such that it appears like a fallen tree.
You may place two huge brooms on both sides of your door to enhance the effect of this look. Use a simple doormat and place leftover fun-kins on the floor. Wasn't this super quick and simple?
15. Jack-O-Lantern Halloween Special Door
If you are looking for a last-minute Halloween decor idea, these Halloween door decorations are just made for you. You only need to cut, tape, and hang few wrapping papers. Your statement Halloween door decorations are just ready to be visible in few steps. Want to know how to complete your door using this decor idea? Let's get started.
Cover the entire door using orange papers that we often use for packing gifts. Remember to overlap using 2 to 3 papers for better effect. Secure this set-up using masking tape. Using golden or silver glitter paper, cut mouth, nose, and eyes to make your jack-o-lantern. Tape this to your door as shown in the picture attached above. Cut a very small hole on the top of large fun-kins. Insert few leaf branches either from your planters or you can make artificial easily. You can use a fishing line to secure these branches properly to your door.
Use spray adhesives to spray small pumpkins. Dust them with glitters and let them dry for few minutes. Once they dry completely, arrange some pumpkins and cabbages near them and on the steps further. You can also add faux crows to escalate the Halloween feels. Here you go! Halloween door decorations using this design are complete.
16. Witchy-Woo Halloween door decorations
If you have a light in your entryway that glitters pretty well, we suggest you go for this Halloween door makeover.
Once you finish this door decor, the light will make your designs shine and stand out. What else do we need to show off our doorway at night except for glitters? Let's take a quick guide to know how can we make this decor for our entrance doors.
Use a black faux sheet to make a large witch drawing. Cut it out and paste it on your door. Use a shining cloth to make its apparel. You can add glittery bands to make hats and hairlines. Use a broomstick to make it look like it's flying.
Other than the witch material on your door, cut out half-moon-shaped and star-shaped cuttings from your leftover glittery cardboard and stick it all over. Once the sun sets and your entryway light turns on, this will appear magical and the best Halloween door decorations indeed.
17. Scary Bat-Filled Door Decorations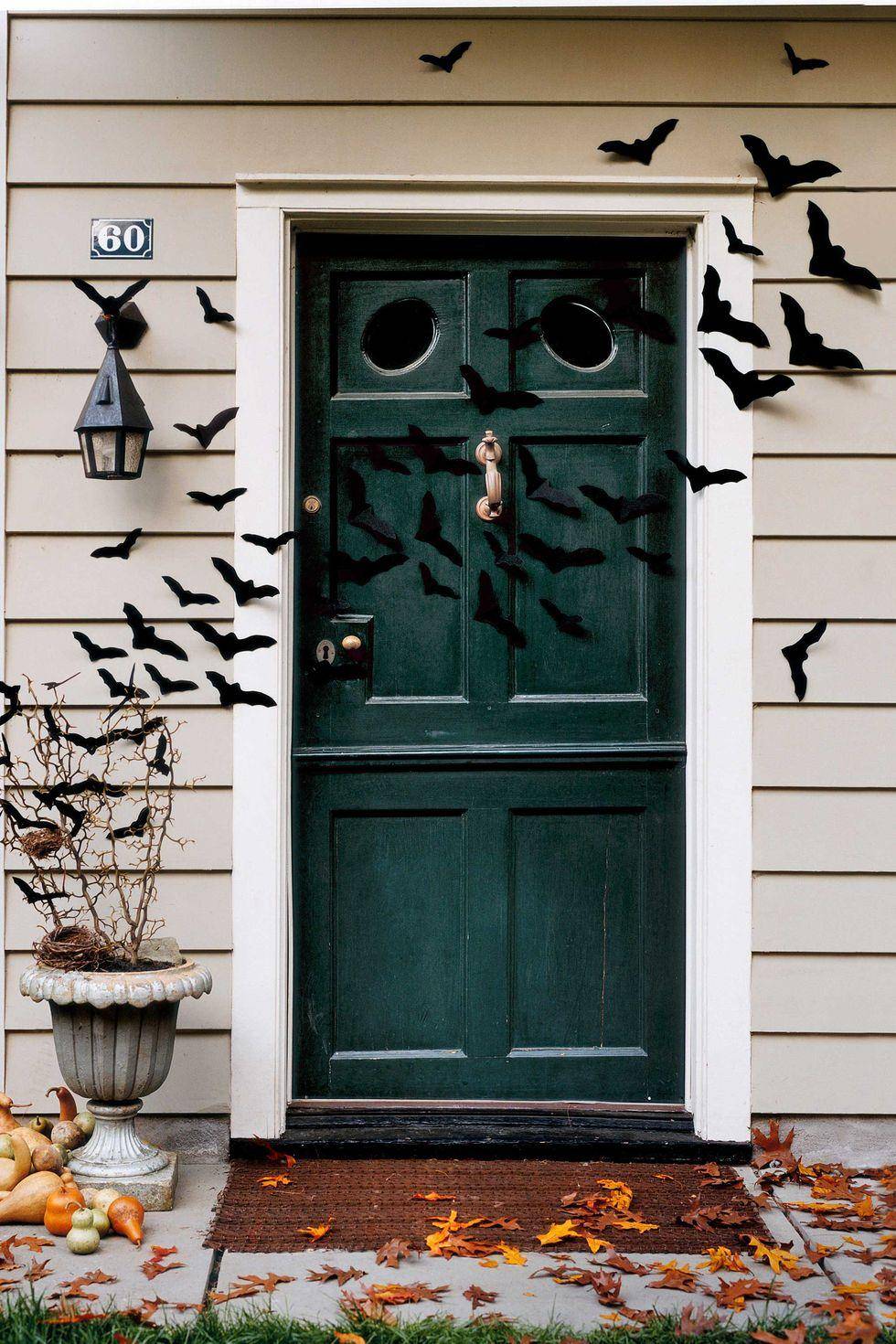 Why not go bold, big, and batty this Halloween? Show your amazing DIY skills to make this stunning decor for your entrance doorway. If you suck at DIYs, do not worry, we completely feel you. In that case, we have some extraordinary Halloween door decorations that appear super cool yet can be done easily. Let's see how to make this one.
The first thing to do is make two circles using matt black paper. Once you are done with making equal circles, just stick them on the door above to make them look like the eyes of your door. Once completed, draw a bat or download images from the internet using black paper. Use foam paper to give it a more realistic touch.
Using the sample design of bat, draw as many bats as you can. Stick them all over your door and nearby wall using tapes or hot glue. For planters placed nearby, use any thin wires and wrap them using brown paper to enhance the look. Use any casual doormat of your choice.
You are good to go with these Halloween door decorations of yours.
18. Creepy Skull Door
You cannot expect Halloween door decorations without using creepy skulls for decor. Skulls are quite difficult to set in because they do not look good in everything. You need to have chic arrangements for skulls to enhance the horror or creepy theme. Let's see what we can do to make your Halloween door decorations splendiferous than ever.
You can get sets of dollar store skulls in the market easily. Make a chain of these skulls using 4 to 5 skulls together. Once you are done with this hanging, let's proceed to other elements of decor. You have to design cobwebs above your door to give it a creepy effect. Use horror lanterns. Pumpinks, eagles, bats, crows, etc can be used as props.
Not to forget, use stones having "RIP" stages and a scary doormat of your choice preferably anyone having dark colors blended.
19. Haunted Home Banners
If you are looking for a Halloween door decorations idea that can be completed within few minutes without doing much, you have to the right place. This Haunted home banner is simply easy, less time-taking, and a little bit spooky to generate your Halloween flames.
All you need is a banner that might be easily available in your kid's closet or nearby stores. If you want to make one using DIYs, just grab a small wooden rod or plastic rod, anything available. Using a sharp object, make two holes on both ends to insert a thread or small rope for hanging it.
Take a black piece of cloth that you do not use often, using acrylic paints and a paintbrush write "home haunted home" on it. Assemble it with the rod and your banner is ready for Halloween. If you wish to do something extra to make it cooler, you can hang some ribbons on the sides.
20. Creepy Cemetery Halloween Door Decorations
Make your door cooler than ever by giving it life using this graveyard Halloween scene featuring a cute ghost from fabric batting. Another super trendy idea is Halloween door decorations or makeovers.
Although it appears quite difficult to make in the first place, it is not. Let's see step by step how you can also achieve this look for your door this Halloween.
Take a white foam and sketch the lower body of the ghost on it same as given in the picture. Using a utility knife, cut this portion out. On the back of this foam-core, place two skewers making the arms of your ghost. To create the head, keep wrapping foam balls in polyester material, After you have formed the covers, keep filling them with foam to complete your friendly ghost.
Wrap the battling around the ghost's body. using black felt, cut the mouth, eyebrows, and eyes of your ghost and adhere them using hot glue or tapes. Once you have completed the ghost, make the moon beyond it using yellow paper and golden detailing.
Take craft paper of any color and using thermocol sheets, cut out letters writing "cemetery" and stick on it to place at the top as given in the picture. Talking about the planters, take empty pots or planters that have lost their life and decorate them using stone pieces.
You can also use skeleton toys that you may find in the kid's store to enhance the theme you have chosen for this Halloween.
21. Again A Monster Door? Yes!
Let's try something funny instead of frightening this year. If you have kids or youngsters who are too scared to face Halloween drama, you can choose this brilliant monster door. This kooky door is absolutely perfect for your family having kids.
As you have previously made googly eyes, mouth, and other structures, made tongue eyes, and a single eyebrow covering both the eyes using craft papers and you are good to go. It is easy and comparatively faster than most of the Halloween door decorations we have gone through till now. To create the background similar as given in the picture, just use any unwanted green cloth basically from a bedsheet, or combine many pieces of green craft paper to make it.
22. Trick-O-Treat Garland
This cute garland of trick-o-treat is perfect for Halloween when you have decided to keep it as simple as possible. Just cut out the letters from your favorite designs or print them from the internet and make a garland out of them.
Isn't it cute and easy with Halloween vibes in it? Using a thread or chains, just attach these letters and adhere them to the door and you are all set with your Halloween door decorations.
23. Creepy Crawly Door
Surprise your guests with this creepy Halloween door decorations idea. This is another great way to make your door look scary, creepy, yet amazing for a Halloween-themed festival. Just use the guide above to make these spiders and styrofoam balls to make cobwebs and spider nets.
Use pumpkins to place on your stairs.
These were some Halloween door decorations that are in trend and absolutely creepy to be done on Halloween. Try them out after finding your favorite.
If you wish to know great ideas other than Halloween door decorations on aesthetic bedroom decor for your kids or yourself, have a look at these amazing designs.