How hard do you think planning a wedding is? Not so much? Well, then you're way too wrong. There's a lot of brainstorming that goes in to make it happen. Besides making huge investments, you have to give your time to the planning of this whole process.
It is not so easy to plan for a wedding. You need to make a huge investment too. Besides that, there are guests, family members, friends, and relatives you need to invite. The list becomes vast, and your budget will exceed. Nowadays, there is a solution to this problem. You can go for a micro wedding with only some selective people to avoid the crowd and make the precious day of your life special.
What is a micro wedding?
Micro weddings are the smaller version of traditional weddings. However, it does not mean that you get wedded at the outhouse or garage wearing your tracksuits. Preferably, it is the ideal way you wanted to get married but on a smaller scale.
The most significant factor is cutting short your guest list. It may be an eight from eighty or just twenty-five from a two-fifty. There is no hard and fast rule that you need to obey for the number of guests, but a micro wedding generally has several invitees with fifty. You can have everything from food to music, as you wanted.
Why Have a Micro Wedding?
Micro weddings are the best way to enjoy your wedding without much tension of inviting a large list of guests and looking after them. The micro wedding will reduce the workload of your family members as they will not have to run here and there pleasing all the people.
Difference between a small and a micro wedding
While in a micro wedding, you can arrange everything on a grand scale with few guests; a small wedding means decreasing everything, including the arrangements, style, and guests. You can even book a part of the restaurant and treat your guests to a small wedding.
Whereas, in a micro wedding, you have a proper venue decoration, like the traditional weddings. It is a lavish and luxurious way to wed with fewer people. A small wedding, on the other hand, focuses on the count of the invitees. Commonly, the guest count of the small nuptials sums up to twenty.
Can a destination wedding be called a micro wedding?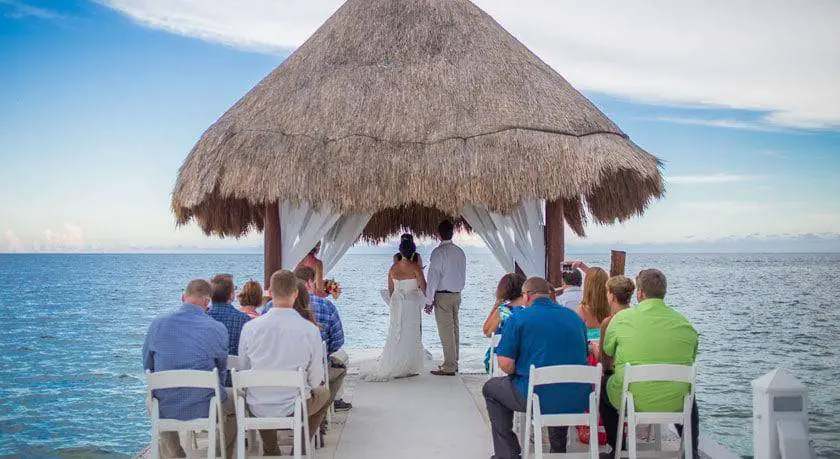 Do you have plans of flying off with few friends and have your wedding? Well, then grab a planner and fly off for a destination wedding. A destination wedding can always be a micro wedding. Few people make you much cozier than many unknown faces. Besides, spending time only with those who are special to you and celebrate your marriage at a place where you always wanted to.
Benefits of having a micro wedding
Are you thinking of not inviting the secretary to your granny or the colleague you just bid a "hi"? Well, that's possible if you choose a micro wedding. Moreover, due to the pandemic, it may happen that a micro wedding shall take the place of the traditional weddings. There are plenty of benefits that you can get if you choose to do a micro wedding. Some of them are:
You can have a relaxed day
If too many guests pop-up, you cannot enjoy your wedding day. You need to arrange food and boozing for them, receive them on their arrival, and connect with them throughout the event.
If you have a short guest list, it will be possible for you to exclude people with whom you don't want to mingle. With few guests, you can stay relaxed and enjoy the special day of your life fully.
The budget for marriages is a big thing. As you lessen the number of guests to the minimum, you can save a lot of money in micro weddings.
You can spend quality time with the people
If you have too many guests at your wedding, it becomes challenging to talk and spend time individually with the guests.
While, in a micro wedding, you can easily spend quality time with guests. You actually can make your day memorable and have fun with them.
You don't have a restriction of time
Whether you want to have a sunset ceremony or a beach wedding, a micro wedding opens up all possibilities. You do not have a time constraint as you have only a few guests who will turn up. Even if you plan to hire a country house and spend a few days there, it is also possible.
You can spend money on decor and gifts
As you have fewer guests, you need to spend less money on food and boozing. Instead, you can spend on gifts that you might give to the invited ones. You can also spend more on decoration or arrange for a dream destination wedding that you waited for.
Things to Consider to Plan A Micro Wedding
Before you start designing for a micro wedding, you have to consider certain facts to plan your wedding properly.
Budget
For arranging a wedding, you need to fix a budget, unlike every other occasion you plan for. Selecting a budget will assist you in dividing the amount of money you require for various purposes in the wedding, like planner fee, party gifts, invitation cards, apparel for both bride and groom, accessories, miscellaneous items, videography, photography, music, floral decor, venue, food, and beverages.
Venue
Fixing a venue should be your top priority. Whether you want your wedding to happen in a country house or a villa or at a beach should be decided first. If you have a dream venue, then you should opt for that. Selecting a venue is essential than inviting. Instead of inviting first and then comprehending that you want to change the location does not sound right.
Number of Guests
Micro weddings always have a meager guest count. It would be best if you were very selective while choosing the people whom you are going to invite. Send invitations only to those who matter to you and those whom you want to be present at your wedding compulsorily.
Type of Decor
You might prefer floral decorations or something much straightforward than that. In a micro wedding, very few eyes will be upon you. So there shall be no one who will judge you. You can decorate with anything that seems feasible to you.
Food Arrangements
Food can't be neglected at a wedding. Though you'll not have people who will only turn up to eat, yet you need to arrange for something decent. In a micro wedding, you are to have a gala time with friends and close ones. So you might experiment with food. Just check that you have them in a sufficient amount so that all those whom you invited can be fed.
How to Plan A Micro Wedding
Decide on Your Must-Haves
Compile a list of non-negotiables that you would like at your ceremony if you want to go forward with a micro-wedding. You and your companion should each have three main things to suggest that you're not going to give up on.
It could be bands playing, an awesome Instagram photographer you've been watching, an open top-shelf bar, an outdoor ceremony, a delicious dinner, a wedding dress of your dream.
Focus on Apparel
As you are planning for going with a micro wedding, there are some things that you need to invest in. The wedding dress, the clothing that the guests will wear should be focused on.
As you will be saving a lot during the wedding, invest more in the clothing for your satisfaction.
Hire a Professional Photographer
Hiring a professional photographer for your wedding will make you cherish your wedding memories even after 50 years of the marriage due to the high quality and creativity of the photos.
For hiring a professional photographer, it is advisable to take as many reviews as possible, choose the best one for you and the style of your wedding, plan the budget with the photographer and meet the person at least once to get an idea if he/she will be able to match your style or not.
Get Creative with a florist
As there is reduced stress of inviting a lot of people and looking after them, you should give most of your attention to the decoration of the venue. This will be a wedding, in a small place, with people with whom you are comfortable and happy.
To make this event more memorable and cherishable, isn't it important to decorate the place of your wedding magically?
Order for a Cake
Celebrating such a big moment of your life with sweets is the best way to start. Cutting cake at the wedding was outdated previously, but nowadays, it has become the trend.
Order a cake from a renowned place, choose the theme and layers of the cake yourself, check for the price, and if possible, taste a small part of the cake or ask for a sample to make sure nothing goes wrong at the main point.
Plan to share personal vows
Taking and sharing vows with all heart is the charm of any wedding. So, why give the credits to the already existing ones when you can create your vows and share them with your partner and the people who matter to you?
Planning your vows and sharing them on the day of your wedding makes the moment close to your heart and your partner will feel valued.
Focus on the style of the invitation
As you will be inviting people who are dear to you, the invitation should be something out of the box, something attractive and as per your style. You can go for hand-painted invitation cards for your favorite people.
After you choose the style of your wedding and decorations, choose the style of your invitation relating to them so that it will make you feel better.
Make space for ample and variety seating
The micro wedding will be a small gathering, the venue will be comparatively small. So, try to arrange as unique and creative a setting as possible to make the wedding feel more chic and homely.
You can add different varieties of seating like sofas, cushioned-chair, round tables, fashionable chairs around them, and many more beautiful and classy arrangements like this.
Hire a planner
Only because your ceremony is smaller does not mean if you want one, you can't justify a scheduler. It will alleviate tension to have someone with excellent supplier connections and who will be there that day to make things go smoothly.
This will make things easy and stress-free for you and you can enjoy the great day with happiness and satisfaction.
Hire a band to have live performances
Live performances, playing tunes of the songs at weddings have become trending now. This creates a pleasant and jovial atmosphere all over.
Before hiring the band, check for their reviews, make them play in front of you, ask for their budget, tell the style of your wedding and what kind of songs you want them to play.
Arrange for a Long wedding table or U-shaped table
Arrange for a long or U-shaped table so that all the guests, along with you and your partner can sit together and have a great time. Talking about the memories while eating food with your loved ones is the best moment you can have on the day of your wedding.
Opt for handwritten menus
If you want to make your guests remember your wedding day always, then arrange things uniquely. Rather than following the old method of just giving the printed menu to your guests, give them handwritten and decorated ones especially with DIYs that would make your guests feel special.
Make a splurge vs. scrimp list
Would you rather involve 12 friends in a five-course meal or keep it informal and then rock out with a DJ? Focus on improving what you splurge on and what you would like to scrimp on. This is unique for every couple, so just sit down and have the discussion on the very same page, or at least agree, with your partner.
Tips to Plan Your Micro Wedding
Here we have some tips for you to plan your micro wedding better, and cherish it forever!
Plan Some Fun Activities For the Guests
Your guests need to have fun as well, and as they are less in number, planning group activities wouldn't be a bad idea at all. Plan the games which can keep all your guests engaged at the same time, and would also ensure that nobody misses out on the fun!
Be imaginative in planning
Planning a wedding isn't easy, and when you are planning a micro wedding, there's ample scope to accommodate your imaginations. Be it with the menu, or the floral decorations, or anything that suits your interest, you can get creative with it as you like.
Your guests will remember how you have welcomed them and thus planning a welcome box for everyone is very important. Be it a box full of chocolates, or sweets, or some charms, make sure it caters to everyone's interests in the guest list.
Take Inspiration from Social Media
One cannot have enough inspiration, and thus looking up to social media may help to evolve your interests. No matter what you are looking for, sites like Instagram and Pinterest can stuff you with ample ideas for your micro wedding.
Takeaway
This micro wedding is going to be your biggest day with your partner and the people who are closest to your heart. So, make it worth cherishing! Double-check every arrangement that you have planned, and make the most of your day by making sure that the things you do at your wedding are worth investing your money on.
Have a happy "Micro Wedding!"