The joy of your soon-to-be child commences during your pregnancy. Readying for your newborn's arrival can be stressful, but your maternity photo session can help to relieve this stress by reminding you of how beautiful your belly is. So, when to take maternity photos?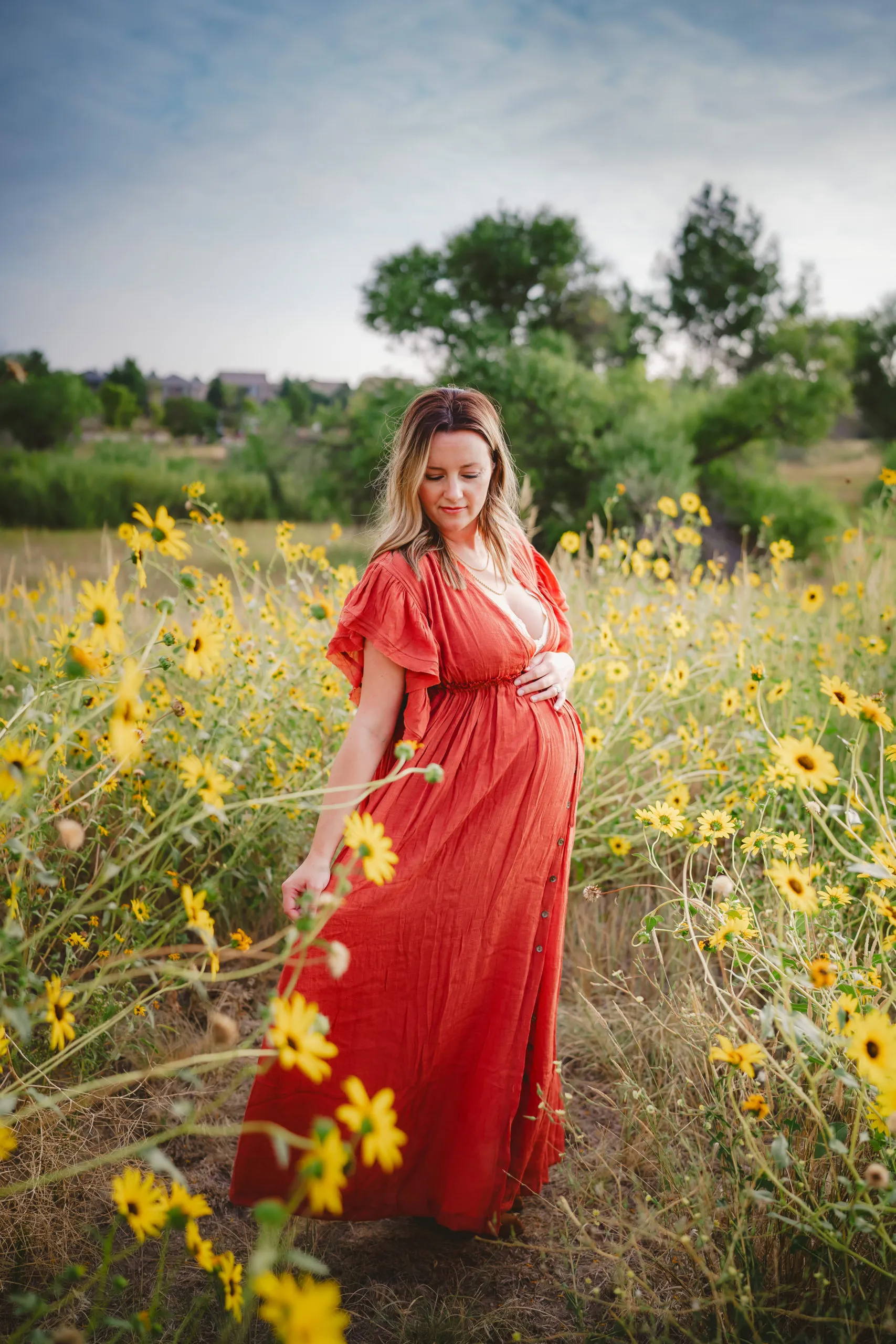 There are many beautiful seasonal photo opportunities, whether you're due around the holidays or in the summer. To take successful photos, you should determine when to take maternity photos to capture your belly in full shape. Maternity photos are important in documenting your journey and will be treasured for a lifetime. Find helpful maternity photography tips, know when to take maternity photos, and other answers in the sections below.
When to take maternity photos? Check the reasons why you should click them
You're counting the days until your baby arrives! You might be thinking about why and when to take maternity photos! Depending on your feelings, you may be unsure whether to invest time and money in professional maternity photos at this stage of your pregnancy.
Perhaps you're self-conscious about how your body looks or unsure about the cost of a photo shoot. While making the finest decision for you and your family is critical, there are numerous reasons why maternity photos are well worth the investment and a decision you won't regret. Here are the reasons to count: 
Rejoice in your pregnancy journey
Pregnancy may not be pleasant for you, especially in the last few months. So, you might be thinking about when to take maternity photos. You may also not want photos of yourself taken as your body grows larger, and you may not want to share images with friends and family. It can be difficult to watch your body change dramatically, and it is easy to lose sight of how miraculous and incredible pregnancy truly is. 
A maternity picture session permits you to focus on the new life your body is creating rather than how you look, and it can remind you of the excitement and pleasure that comes with carrying your child into the world.
Capture the joy and the expectation
Pregnancy is a time to look ahead to the future with hope and delight, regardless of how you sense physically. As you concentrate on raising your new child in the months and years ahead, you may forget what it was like to be enthusiastic about their arrival. Maternity pictures can serve as a reminder of those sentiments in the future. After all, most women only have a few pregnancies in their lives, and you won't regret having a memento of that special time.
Mark this occasion in the growth of your family
You can never have too many family photos. So much of life is a blur, and we frequently forget more than we remember. Whether this is your first or fourth child, your pregnancy is an excellent time to take family photos of you and your partner and your other children. If you schedule regular photo sessions, you can track the evolution of your family over time, which your future self and children will undoubtedly appreciate.
Disclosure of your child's gender or name
A professional maternity session can be fun to announce your child's gender, name, or even both! There are many joyful and creative ways to use photos to announce your child's name or sex to the world, and your photographer would be delighted to assist you. Browse Pinterest for inspiration, or consider the interests or hobbies you and your partner share as inspiration for telling the world your news.
Have a reason to get dressed up
Let's face it: most mothers don't feel beautiful during pregnancy. You might spend much time wearing whatever makes you feel the most comfortable and less time on your hair and makeup. However, maternity photos are the ideal excuse to go all out on your beauty routine, whether doing your hair or visiting a salon for an excellent hairdo. 
Why and when to take maternity photos? Pregnancy is a moment in many women's lives when they desperately need to feel beautiful because they rarely do. A maternity session allows you to bask in your beauty and strength and remind yourself how stunning you are.
Take a moment to get to know your partner
The interactions between couples as they celebrate the new life they've created are one of the fascinating aspects of maternity sessions. Why and when to take maternity photos? Your maternity photo shoot allows you and your partner to reflect on the life you've built together and how much your relationship has changed since the beginning. Furthermore, maternity photos are an excellent way to commemorate a significant change in your family's life and who you are as you prepare to become parents.
Many people have wedding photos on their walls, but imagine having images on your walls from every stage of your family's growth – from marriage to your first child to when you become grandparents. So, why and when to take maternity photos? Maternity photos capture an important moment in time, just like your wedding day. You're welcoming a new child into your lives and home, which is a huge step! It's a moment that deserves professional photography, like your wedding day.
When to take maternity photos?
Schedule your maternity photo shoot in the seventh or eighth month of your pregnancy. During this time, your belly will have a nice round shape, which is ideal for photographing. If you're counting weeks, plan your session for around 30 weeks pregnant. If you take maternity photos after your eighth month of pregnancy, you may experience discomfort. You should avoid taking photos when your belly is too heavy, usually after 35 weeks.
You can take maternity photos as early as 28 weeks if you want to use them for custom baby shower invitations. This will entitle you to use your photos for your baby shower at the beginning of month eight. Although baby showers are typically held in the sixth or seventh month, you can still host your baby shower a few weeks later if your maternity photos are required for your invitations. To meet all of your timeline requirements, consult guides on when to throw a baby shower.
When to take maternity photos with multiples?
You should click maternity photos during your second trimester if you expect multiples. Because you carry more than one, your belly will appear larger during the second trimester. We recommend taking photos at 24 weeks while you're still comfortable and can move around freely.
When to take maternity photos before 36 weeks?
Every rule has an exception, and maternity photos are no exception. While there is an ideal schedule for a maternity shoot, every woman's body changes differently, so there are situations where you can take maternity photos earlier.
Expecting multiples: If you are expecting multiples, organize the maternity photoshoot as earlier as the second trimester, or approximately during 13 to 24 weeks of pregnancy, even if the babies are still weeks from being born!
High-risk pregnancies: As medical advances allow people to choose parenthood later in life, high-risk pregnancies have become more common. Though most high-risk pregnancies are uneventful, the second trimester is the best time to photograph high-risk maternity.
Announcements: If the family intends to use maternity photos for announcements or other printed products, the maternity shoot should occur no later than the beginning of their third trimester or around weeks 27 to 28. Change the timeline to reflect your turnaround time.
When to take maternity photos? Maternity photography tips
Once you've scheduled your maternity session, you should keep a few things in mind as you plan your shoot. Are you shooting around Christmas or New Year's? Perhaps in the spring? This will aid you in deciding what type of backdrops and decor to use.
Follow these simple rules to ensure your photos are timeless, considering maternity outfit ideas, location and decor ideas, and maternity photo ideas for nailing the perfect pose.
Avoid wearing patterns that are too large or distracting.

Instead of using a flash, use natural light.

Make sure your stomach is well moisturized.

Avoid using cluttered or complicated backgrounds or backdrops.

Take 'Straight On' shots only if your baby bump is visible.

To avoid belly marks, avoid wearing tight-fitting clothing right before your session.

Prepare a concept with your photographer ahead of time.
Here are a few more maternity photography tips for expecting mothers to begin their maternity shoot:
Discovering inspiration is the best place to start. When to take maternity photos? Do you have any specific styles or poses for your maternity photos? Do you want to go for a dreamy and whimsical look, something elegant and glamorous, or something classic?
Examine the various maternity photos and ideas to help you decide how you want your photos to appear (a little tip: Pinterest is a fantastic source for motivation). Save the pictures that encourage you and show them to your photographer once you've booked them as a reference. You can also look for photo ideas on Instagram by using relevant hashtags.
Choose a maternity photographer with whom you feel at ease
Now that you've decided on the style of your maternity photos, it's time to find a maternity photographer.
Every photographer, including maternity photographers, has a unique style. Do some research on photographers who specialize in the style you're looking for and their prices. Before booking, speak with them and ask questions to determine which photographer you are most comfortable with.
It is essential to select a photographer who can put you at ease, especially if you are doing personal and intimate shots. It's a plus if the photographer can crack jokes and lighten the mood! Anything that can help you relax during the session is beneficial.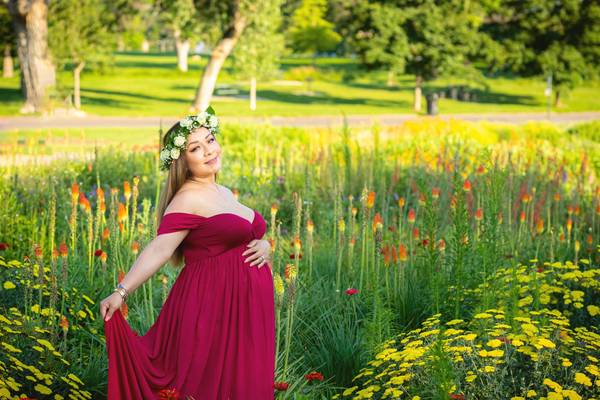 Perform it between 32 and 38 weeks of pregnancy
When to take maternity photos is one of the most frequently asked questions. You will not like to do it too soon when the bump is still small or too late.
The most suitable time to take maternity photos is between weeks 32 and 38 of pregnancy when the bump has gotten round and beautiful, making it look great in photos.
When to take maternity photos? Don't delay booking your photographer when you've decided on a date/week for the session and a photographer you're comfortable working with. You don't desire to miss out on this opportunity because your photographer is already booked on your available dates, so book your photographer months in advance.
Maternity photography: indoors or outdoors? Choose your favorite!
Locations are crucial in setting the tone for your maternity photos. Are you looking for an outdoor location, or would you rather do the session in the comfort of your home? Or perhaps you want to do both?
When you have decided when to take maternity photos, it's up to you to determine where you want to do it; just keep the pros and cons of each location in mind.
While an outdoor location can provide you with a stunning landscape and natural beauty, it can be unsettling when people pass by and stare, especially if you're not used to it.
An indoor session can be additionally private and intimate than an outdoor session. Still, it is more restricted, and you may have to compensate with many more creative poses to keep the photos interesting and unique.
If you decide to do the session outside, start scouting locations near your home when you have decided when to take maternity photos. If you don't like to be the center of attention, make it a point to choose a quiet location. A beautiful location is useless if you are not comfortable in it.
If you want to do the session at home, you can start planning which room you'll use and whether you'll set it up specifically for the session. If you decide to do it in a studio, you should research nearby studios and their prices.
You can also ask your photographer for recommendations, as they are usually aware of the best.
Take note of the lighting
This is particularly crucial if you're shooting at home. When you have decided when to take maternity photos, choose a room with the best natural light exposure and send a photo of it to your photographer before the shoot, so they know what to expect and whether additional lighting is required.
If you have the session outside, your photographer may suggest scheduling it during golden hour. If you're doing it in a studio, you won't have to worry about lighting because your photographer will handle it.
Apparently, your photographer will direct you (and your family) throughout the session, but if you have specific poses in mind, discuss them with your photographer ahead of time, so they can prepare for and incorporate them into the session.
When you have decided when to take maternity photos, it's also a suitable idea to inform your photographer of your limitations. Tell them, for example, if you're not comfortable posing in minimal clothing or if you're a little awkward and need direction in intimate poses.
Make contact with your photographer
When you have decided when to take maternity photos discussing your expectations and concerns with your photographer is always a good idea. How do you want the photographs to appear? Do you want them to retouch any tattoos or marks in post-production?
Your photographer's advice and recommendations can be invaluable, so ask them about locations, outfits, and anything else that could help you create beautiful maternity photos. It's also good to get their opinion on what to prepare, as they often have ideas you haven't considered.
The more you intercommunicate with your photographer, the more easily they will deliver your vision.
Wear outfits that flatter you
Outfits are important in maternity photography, so plan your outfits carefully before the big day. The best outfits reflect your personality and make you feel confident.
When you have decided when to take maternity photos, there are a few things to consider. Choose clothes that draw attention to your beautiful belly, and stick to classic styles and colors to avoid regret later on. Avoid floral prints, checks, too many colors, and heavy jewelry, which can draw attention away from the bump.
When planning your outfits, don't forget to consider the location, weather, and time of the session (especially if it's an outdoor session).
Remove any clothing that is too tight for bare tummy shots
If you decide to have some shots taken with your bare tummy, remove any tight clothing and elastic bands at least 2 hours before the session to allow the marks to fade.
It's best to get the bare tummy shots first so you can change into other outfits later without worrying about leaving any marks on your tummy.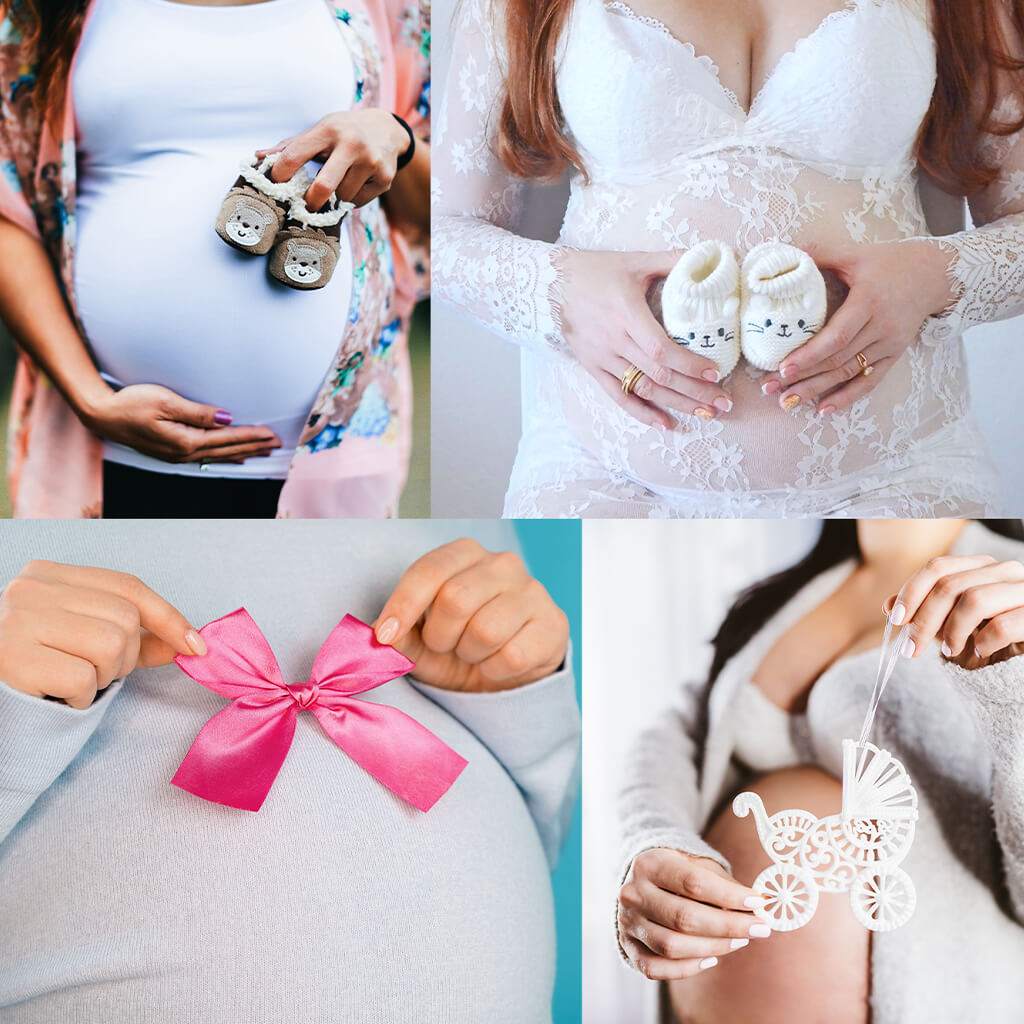 You'll want to remember little details about your pregnancy in the future, so why not include them in the photos?
Bring any items that have meaning to you and your pregnancy to the session and have them photographed with you. It could be ultrasound images, adorable baby shoes or onesies, or even decorative props like balloons or a chalkboard.
When you have decided when to take maternity photos, make them as impressive and personal as you want! Remember not to use too numerous props in a single frame.
Allow enough time for preparation
Set aside time to prepare so you don't feel rushed before or during the session. When you have decided when to take maternity photos, if you think you require the assistance of a professional for your makeup and hair, go for it! 
Pregnant women often feel uncomfortable late in their pregnancies, so it's critical to do things that keep you confident and relaxed, as your mood will be reflected in the photos. Whatever you decide, remember to keep your makeup and hair looking natural.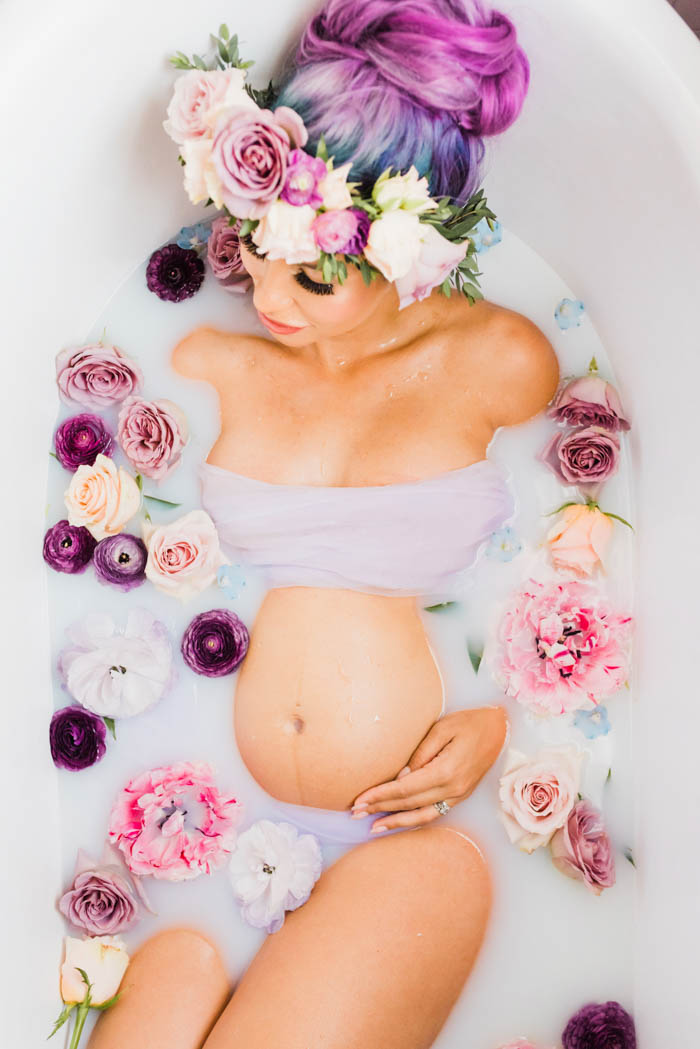 You should moisturize the skin
Pregnancy frequently causes dry skin, which will be visible in the photos. Apply moisturizing lotion before the session, and reapply as needed in between shots.
The baby will be welcomed into the world by the entire family, not just the parents. Bring everyone in the family, including the pets, if you want.
Take advantage of this opportunity to bond and create memories; the photos will serve as a lovely reminder of the time before the baby arrives.
Pay attention to how family members interact with one another
When you have children in your maternity session, it can be difficult to direct them to pose. If they can follow directions well, that's fantastic; if not, don't worry!
When you have decided when to take maternity photos, request that your photographer captures the moments and interactions between you and your family so that you can de-stress and be playful with them without worrying about posing. The candid shots can sometimes tell the best stories.
Also Read: 5+ Best Toddler Shoes And How To Pick The Perfect One
Don't forget to include some romantic couple shots
This is often overlooked when you have children because life can be hectic. As the parents-to-be, ensure you have a few romantic shots of yourself and your partner.
When you have decided when to take maternity photos, it's also a good idea to notify your photographer beforehand so they can remind you during the session if you forget.
Bring snacks and water with you
A maternity shoot can be time-consuming, especially if you intend to change your outfit or location. Pack snacks and water to keep you (and your family) hydrated throughout the session.
The focus of maternity photos should be on the expecting mother and her baby bump, so keep things simple to avoid distracting the viewer.
Make sure the background of any location you choose isn't too cluttered, and stick to simple outfits, accessories, and props.
Finally, unwind and enjoy yourself!
Now that you've accomplished everything you can to prepare, it's time to unwind, have fun, and let your photographer handle the rest!
When you have decided when to take maternity photos, simply remember to smile and enjoy the moment, and you will have a memorable photo shoot.
When to take maternity photos? What is the best maternity photo shoot location?
Option 1: Maternity Photography in a Studio
When you have decided when to take maternity photos, would you prefer a controlled environment for your maternity session? A studio session has numerous advantages.
Maternity portraits in the studio allow us to create classic and timeless pregnancy portraits. The simplicity of the background allows the beauty of the pregnancy and its curves to stand out. Studio sessions also allow for the creation of intimate maternity portraits, such as stunning pregnancy silhouettes and nude portraits.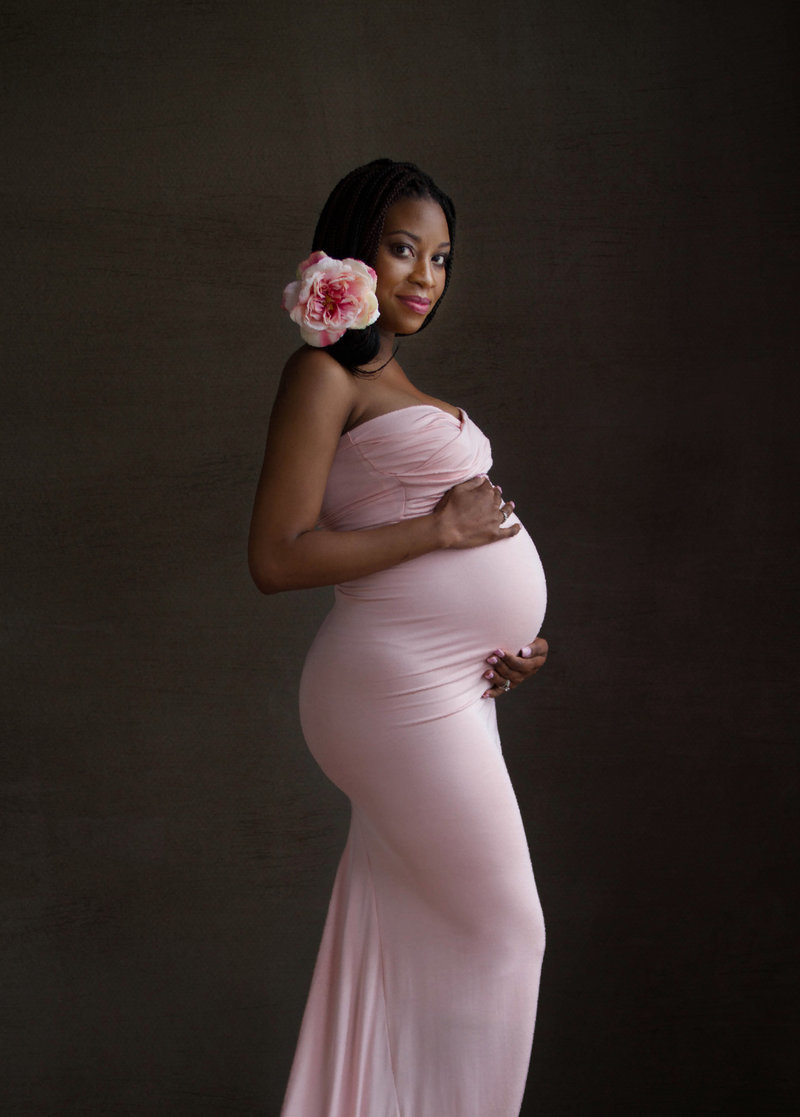 Studio maternity photography also allows us complete control over the environment. There is no harsh lighting, wind or weather, or bugs! Studio maternity photography ensures that the images will be delightful. 
Studio maternity portraiture offers the ultimate convenience, with access to hair and makeup, the photographer's wardrobe, and a clean bathroom. Mothers-to-be can also change outfits several times in a private setting, and there is no need to tidy one's home.
Maternity sessions in a studio are practically perfect – simply show up, and you will be guaranteed fabulous portraits!
Best for…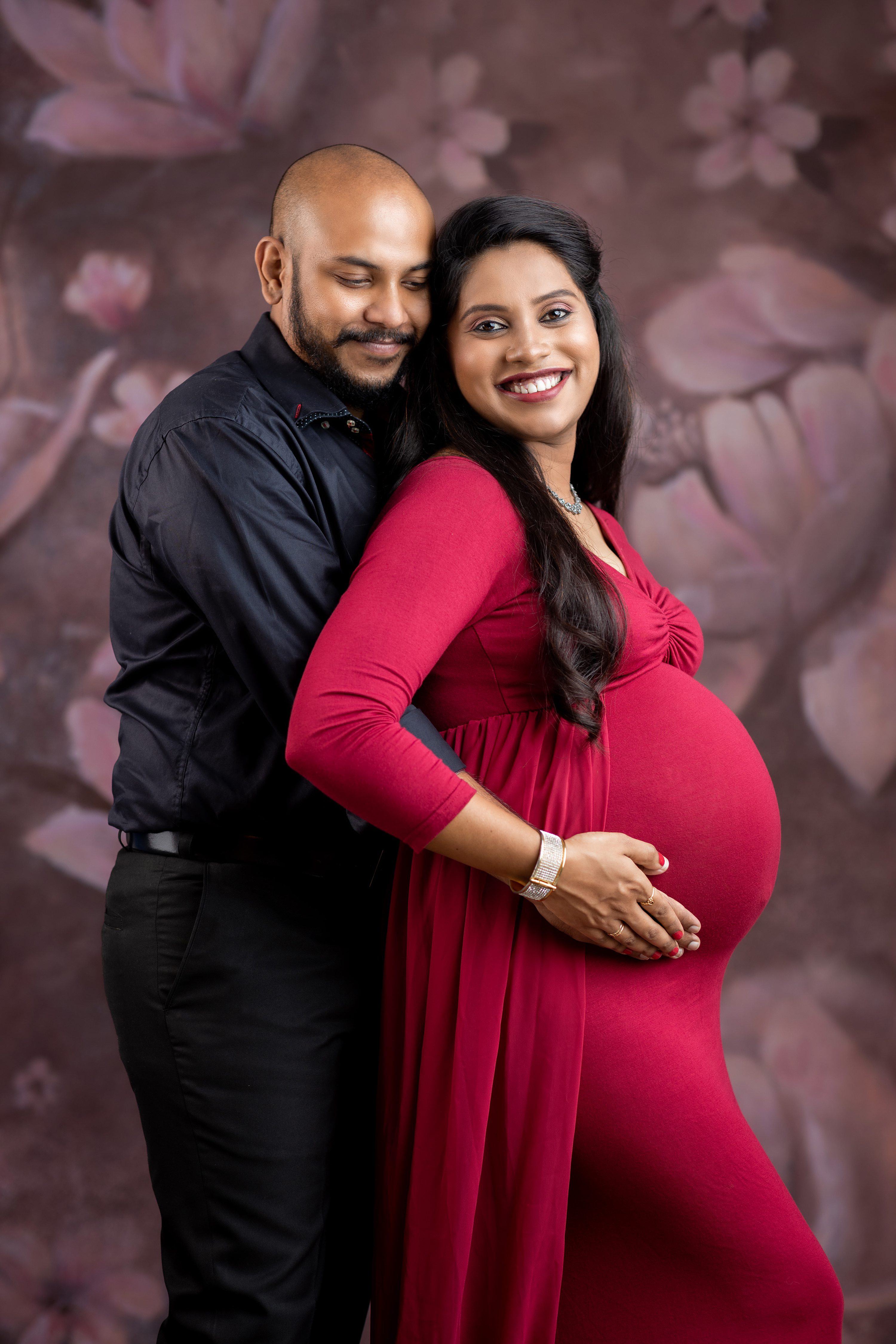 Studio maternity photos are ideal for moms who enjoy classic, timeless portraits or want to do intimate photos. They are also ideal for 'planners,' expecting mothers who want to experiment with different looks, those who want a sense of certainty and control over the final result, private clients, and those who may be unable to reschedule due to weather or other unforeseen circumstances.
Option 2: Maternity Photography in the Outdoors
When you have decided when to take maternity photos, you can consider the outdoor shoot option. The sight of a unique background and color story is one of the most wonderful aspects of outdoor maternity photography. Light and nature are unique to each session, as are the colors, regardless of whether the session takes place in a park, beach, field, or garden.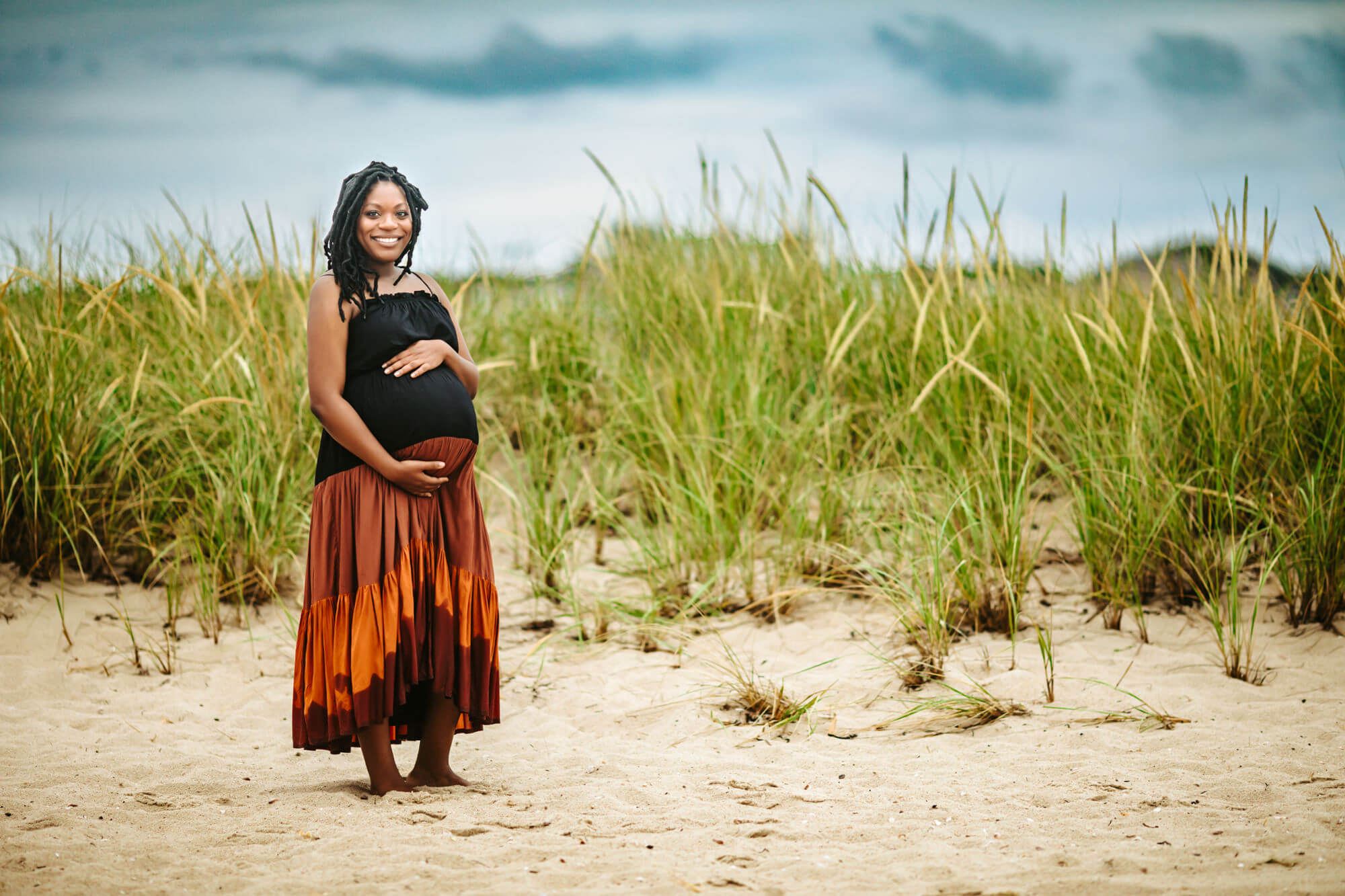 One of the most popular locations for maternity photos is outdoors, in parks, or on the city's vibrant streets. These environments are ideal for maternity photography. As with any portrait session, one's comfort level is critical to producing stunning images. Places to sit and room to roam are excellent choices for large families or those with small children who may want the room to run.
Best for…
Outdoor maternity photos are ideal for daring moms and couples, those who have a sentimental attachment to a beautiful location, and those who can reschedule if necessary (due to weather or other elements).
Option 3: Home Maternity Photography
Finally, maternity photos taken at home have the potential to reveal connections, intimacy, and what life was like before the baby arrived! When you have decided when to take maternity photos, there is no better place to photograph your maternity session than the place you called home, where you lived and loved. In addition, a pregnant woman is usually at ease and at home.
Best for…
Maternity photos taken at home are ideal for those who want to remember their home before the baby arrives and have uncluttered homes with plenty of natural light.
Takeaway
When to take maternity photos? As the expecting mother, you want to be completely satisfied with your maternity photos. Although it may be tempting to photograph your belly until the end of your pregnancy, you should stick to the time frames suggested above, so your photos do not appear uncomfortable. If you feel good during your maternity session, you can expect your maternity photos to be everything you hoped for. Save enough of your favorite photos to include in your baby announcements!